Revealed here (below, press Continued) by this whining rant, Dutchsinse, and those like him, are beginning to get their own 'just deserts' for past weak-kneed acceptance of liberal k***j*w equalitarian multi-culturalism. Others fought it for decades, too often to be confronted by such a**holes as this, who now too late 'see the light'.
- Bob in D.C.
Posted by DanielS on Tuesday, November 25, 2014 at 07:45 AM in Activism, Anti-racism and white genocide, Awakenings, Blogs & Blogging, Ethnicity and Ethnic Genetic Interests, Law & Order, Marxism & Culture War, Popular Culture, The Proposition Nation
Comments (7) | Tell-a-Friend
A couple of days ago I happened across a PDF of Murray's 2003 opus, Human Accomplishment: The Pursuit of Excellence in the Arts and Sciences, 800 B.C. To 1950. Some may view it as an unwieldy attempt to produce an objective analysis from deeply subjective values and tastes. But it is also a beautifully written account of the unsurpassed creativity of the European Mind, and an eloquent retort to those who bandy around notions of human equality above the neck.
The PDF is here.
https://www.gwern.net/docs/2003-murray-human-accomplishment.pdf
Posted by Guessedworker on Monday, November 24, 2014 at 10:47 AM in European culture, IQ and Heredity
Comments (2) | Tell-a-Friend
War is a harvest for the chosen – i.e., not you, or anyone else halfway normal.
Making official what has been de facto for months, Ukrainian President Poroshenko has announced suspension of public services and funds to people of the Eastern Provinces.
Kiev stopped funding for pensions, educational and medical facilities in eastern Ukraine.

For these rebel controlled areas, Poroshenko instructed the Kiev government to cease all activities of state-owned enterprises, institutions and organizations. This cuts-off pensioners, who are on their own, and applies also to the administration of schools, hospitals and ambulance services.
The war has also destroyed infrastructure and homes, leaving many desperate for shelter. With the winter coming on, this is a death sentence to many. Those in jeopardy are afraid to speak-out, terrorized with the threat of death or imprisonment. In the meantime, there is a shocking uncaring among the populace of the unaffected areas. From Poroshenko on down, the attitude is one that this is the choice of the peoples in the Eastern provinces and they are getting what they deserve.
In fact, Poroshenko may well be building a case against himself, a portfolio replete with a litany of war crimes. The people of Ukraine, consuming the "Western" propaganda fed them have all too often become as callous as the YKW who abide of common folk blamed and killed for crimes of The Soviet era and more accurately, for internecine animus stirred-up by Israel's proxies.
It would perhaps not be so surprising for youth to succumb to crass material appeals of the West, nor for that matter, for the callous uncaring of those "Jew-wise" National-Socialists Banderas to be animated by ultra nationalism as a result of Western bribes, propaganda and instigation to war, but even older folks have turned their backs on people they could be looking in the mirror at – turned their backs, ensconced in the expert propaganda, psychological conditioning and bribes from the YKW and their bottomless funds.
Yes, so cynical and ruthless they are in their aims that they would even use "Nazis" to fuel war and fund their harvest. Note who Victoria Nuland met with and promoted in her nation building efforts. These "Nazis" of course, report right back, hands out for another bribe to join The EU. A lot of good that is for European nationalists, yes?
While the people of the East, enculturated to not trust the West (with good reason) resist Westernization, they are caught in a no man's land. They are not in Russia and not under its jurisdiction. Putin's Russia, having a commitment to being a "non-racist" proposition nation is not perfectly innocent of course, from a WN standpoint, but quite reasonably does not want Nato and The EU (or literal Nazis) at its border any more than The US would want Soviet missiles in Cuba or Red Army troops in Mexico.
Putin has been harangued for not helping these people who have been cut-off from the Ukrainian state. However, it is not a part of Russia, it is a part of Ukraine, and Russian lorries carrying food and aid are not always being allowed to get through to the people in need. Where are Victoria Nuland's 5 billion going?
Fuck the EU indeed.
Posted by DanielS on Monday, November 24, 2014 at 09:06 AM in European Nationalism, European Union, Far Right, Global Elitism, Globalisation, Jewish Diaspora, Journalism, Military Matters, White Genocide: Europe
Comments (1) | Tell-a-Friend
by Neil Vodavzny
The particular is the alone distinction of merit, said Blake. This is a view held by bohemians down the centuries. It's also a good definition of non-Enlightenment culture. What I think should be grasped with a degree of clarity is how our minds are kept in the dark by liberal culture. There is a Jefferson Starship track Dark Ages with the line:
Might be the Dark Ages
But we're so happy
Happy to be here with you
Everyone needs a group, it's the human condition. The original group being the family. To the ancient Greeks, adultery was punishable by summary execution for the reason it impuned the woman's loyalty to her "protector" and the production of legitimate children. Rape, by contrast, was a trivial offence. Moderns are offended by violence, but deem dysfunctional families the norm.
Posted by Guest Blogger on Sunday, November 23, 2014 at 07:10 AM in
Comments (2) | Tell-a-Friend
Posted by DanielS on Saturday, November 22, 2014 at 11:20 PM in Anti-racism and white genocide, Awakenings, Crusade against Discrimination in Britain, Demographics, Economics & Finance, Environmentalism & Global Warming, Genetics & Human Bio-Diversity, Globalisation, Health, History, Immigration, Immigration and Politics, Liberalism & the Left, Marxism & Culture War, Race realism, Social liberalism, Social Sciences, White Genocide Project, World Affairs
Comments (0) | Tell-a-Friend
"Political power flows from organisation. No organisation, no power"


So says Jan the White Uniter, the director of a new organisation United White, which seeks to generate the unity that is key to any real advance for the white cause. On the Radio page now, Jan talks to DanielS and GW about his background, awakening, intellectual influences, and his motivations and hopes for United White and for European peoples in all their homelands.
Posted by Guessedworker on Tuesday, November 18, 2014 at 09:31 PM in European Nationalism, MR Radio, White Nationalism
Comments (16) | Tell-a-Friend
Posted by DanielS on Sunday, November 16, 2014 at 10:36 AM in European culture, European Nationalism, European Union, Feminism, Humour, Immigration and Politics, Liberalism & the Left, Marxism & Culture War, Media, Popular Culture, Social liberalism
Comments (2) | Tell-a-Friend

Anti-racism is prejudice. It is not innocent. It is hurting and it is killing people.
After a delay, the administration's final "Affirmatively Furthering Fair Housing" regulation is now expected to be announced in December. Originally scheduled for finalization in October, the new Housing and Urban Development Department rules will force all cities and suburbs to accept subsidized housing in the name of racial diversity, superceding all local zoning ordinances.

The Orwellian-sounding regulation would force some 1,200 municipalities to redraw zoning maps to racially diversify suburban neighborhoods.
While temporarily punting away politically fraught issues may be smart politics, it's cowardly leadership.

Under the scheme, HUD plans to map every US neighborhood by race and publish "geospatial data" pinpointing racial imbalances. Areas deemed overly segregated will be forced to change their zoning laws to allow construction of subsidized and other affordable housing to bring more low-income minorities into "white suburbs." HUD's maps will be used to select affordable housing sites.

It's part of the administration's ambitious agenda to eliminate "racial segregation," ZIP code by ZIP code, block by block, through the systematic dismantling of allegedly "exclusionary" building ordinances. In effect, federal bureaucrats will have the power to rezone your neighborhood.

Of course, Obama and Democrats are loath to inject this decidedly radical issue into the elections, so they'll keep it out of the headlines until after voters go to the polls.

While temporarily punting away politically fraught issues may be smart politics, it's cowardly leadership.

If the president's policies are so popular, why does he have to try to hide them from voters? And who can trust Democrats now distancing themselves from him and his ideas when they voted with him 99% of the time previously?
Paul Sperry, Hoover Institution media fellow and author of "The Great American Bank Robbery," which exposes the racial politics behind the mortgage crisis - government attempt to increase minority home-ownership instigated the sub-prime housing crisis.
http://nypost.com/2014/10/26/obamas-plans-for-a-secret-radical-agenda-after-the-elections/

http://whiterabbitradio.net/white-genocide-white-suburbs-soon-legally-forced-to-accept-racial-diversity
Posted by DanielS on Saturday, November 15, 2014 at 04:04 AM in Activism, Anti-racism and white genocide, Awakenings, Genetics & Human Bio-Diversity, Globalisation, Immigration and Politics, Marxism & Culture War, No particular place to go, Popular Culture, Social liberalism, That Question Again, The Proposition Nation, U.S. Politics, White Communities & Micro-Economies, White Genocide Project, White Genocide: America, White Nationalism
Comments (9) | Tell-a-Friend
by Neil Vodavzny
Thinking yourself into the mind of your protagonist is an old author's trick - a fraternity of which I consider myself a peripheral member - in that an innate facility for words doesn't come easy, but from practice and a hell of a lot of note-taking. This relates to a piece on Anna Magdalena Bach, wife of JS - which just serves to illustrate the limited imaginations of moderns.
Not only were performance and composition closer in the early 18th century, as IH notes, but performers would have been inculcated with the harmonies of baroque. Harmony being notes in a chord, Anna Magdalena likely transcribed them from memory. One tends to forget in the days before mass media, music of a certain style was all that would be heard. There were literally no distractions so what we're likely seeing are Magdalena's inspired guesses based on practice of what would almost be a family or folk tradition.
Such is tradition, and one has to recognize that nurture and nature – see – are very difficult to disentangle. Baroque, and Magdalena's complete grasp of the form, are a very apt metaphor for the harmony of the daily round in the cobbled streets of Weimar (incidentally, just saw his first wife was his second cousin). The milieu is the message.
Posted by Guest Blogger on Tuesday, November 11, 2014 at 07:42 PM in
Comments (1) | Tell-a-Friend
Jan The White Uniter has initiated a new website and will be talking to MR soon..
_______________
Posted by DanielS on Tuesday, November 11, 2014 at 11:33 AM in Activism, Anti-racism and white genocide, Awakenings, Feminism, Health, History, Marxism & Culture War, Popular Culture, Psychology, Social Sciences
Comments (1) | Tell-a-Friend
While defending our ghetto square and the merits of strengthening our grass roots community by preaching there to its choir, deepening our understanding and resolve, it seems that at this point Majority Rights could also do well with forays to visit those down some side streets - to pursue interviews not only with those who are most aligned with our views, but also to follow a path of those who might be slightly off - i.e. slightly antagonistic to our views in a somewhat liberal direction, at least explicitly, while having some implicit sympathy through connection to our square, our cause; such that MR's platform might bring-out that connection with their underlying fairness in concern for our people and our kinds. The more public, known or respectable the person, perhaps the better. They might come to us with an intent to criticize us or save face in cover inasmuch – fine. Perhaps we can stand corrected. That's not so much the problem as coming-up with good candidates for this kind of discussion/debate, those who may be lurking in what are the shadowy side-streets for us. Therefore the reason for this post is to ask for suggestions as to fairly prominent/respectable liberals, etc. Those fairly askance of our views, but not so antagonistic as to be futile to hope to engage. Rather to pursue those who might be ripe to debate GW or another MR representative, to at least hear-us-out. We might see where the dimly lit path takes us…
Posted by DanielS on Thursday, November 6, 2014 at 06:10 AM in Activism, Awakenings, British Politics, Conservatism, Education, Feminism, Libertarianism, MR Radio, Political Philosophy, Popular Culture, Race realism, Social liberalism, Social Sciences, White Genocide Project, White Nationalism
Comments (11) | Tell-a-Friend
While distinguishing characteristics of Europeans may be the relative independence of mature individuals, sovereignty, self sufficience, autonomy and agency, can anybody really doubt that we are socially created and dependent upon cooperation to some extent and somewhere along the line? Lets not be absurd and value individualism so much as to lose its source.
As European peoples, the connections of our social systemic interdependence are protracted and delicate but as such, allow for their creative organization, coordination and the negotiation of win-win scenarios.
If both individual and our whole people are to be valued then in our separatist concern, let us finally share a narrative that honors those who harmonize our people while demonstrating effectiveness in removing interlopers and imposers upon our E.G.I.
For our tenuous but necessary social connectedness is also what allows these patterns of connection to be disrupted by hostile outsiders and the selfish, short-sighted and exploitative of our own - whether less than ordinary folks or elite.
Posted by DanielS on Monday, November 3, 2014 at 05:33 AM in Activism, Anthropology, Crusade against Discrimination in Britain, Ethnicity and Ethnic Genetic Interests, European culture, European Nationalism, Genetics & Human Bio-Diversity, Political Philosophy, Social Conservatism, Social liberalism, Social Sciences, White Communities & Micro-Economies, White Nationalism
Comments (2) | Tell-a-Friend
Too bad this guy is at one of the F nutworks. He seems to have the right instincts and some basic matters correct otherwise…seems to take an MR cue on some issues, e.g., against the Right and in advocating all Europeans. Hopefully he'll see the reasons to drop the F, but this discussion of Celtic tribalism is interesting and irrespective of that.
While acknowledging healthy pre-Christian roots to Halloween and commemorating our persecuted pagan women..
The Witch Trials of Trier in Germany in the years from 1581 to 1593 was perhaps the biggest witch trial in European history. The persecutions started in the diocese of Trier in 1581 and reached the city itself in 1587, where it was to lead to the death of about three hundred and sixty-eight people, and was as such perhaps the biggest mass execution in Europe in peace time. This counts only the executed within the city itself..
..let us also take occasion with that to acknowledge what is probably the most important pre-Christian holiday - one to commemorate European forebears and still practiced in several European countries: November 1rst, a day to commemorate European ancestors.
Male ancestral heroes to complement the ladies:


The 50 murdered by Hitler's orders after The Great Escape
Posted by DanielS on Friday, October 31, 2014 at 02:32 AM in Anthropology, Ethnicity and Ethnic Genetic Interests, European culture, Feminism, Irish Politics, New Zealand Politics, Popular Culture
Comments (18) | Tell-a-Friend
by Neil Vodavzny
Should Australian Aborigines employ marketing devices in the same way as coca cola does? This almost unheard of question was prompted by this piece which almost reads like a joke:
Australia's inaugural professor of poetry has been suspended for his racist and sexist language after a bizarre series of emails in which he called Nelson Mandela a "darky", Tony Abbott an "Abo-lover" and referred to Aboriginal people as "human rubbish tips".

Earning the label "nutty professor" in the local media, Professor Barry Spurr, an Oxford-educated academic and expert on T S Eliot who became the first ever professor of Australian poetry at Sydney University in 2011, was indefinitely suspended after his incendiary emails became public.

In the emails, sent from 2012 until earlier this year, Professor Spurr referred to women as "whores", described South Africa's anti-apartheid campaigner Desmond Tutu as a "witch doctor" and claimed that the "modern Brit" was "the scum of the earth".

Lamenting that Australian society was now less white than in the 1950s, he wrote: "One day the Western world will wake up, when the Mussies [Muslims] and the chinky-poos [Chinese] have taken over."
Although Spurr insists his comments were mockery, some of them, such as BCP and obesity, are close to the mark. The problem is that, nowadays, any style of mockery which has a tribalistic bias is seen as a transgression and therefore not mockery (see prev Lavigne). Spurr's comments could be construed as a bit unfair, but such bias is part and parcel of human history.
Posted by Guest Blogger on Monday, October 27, 2014 at 08:03 PM in
Comments (3) | Tell-a-Friend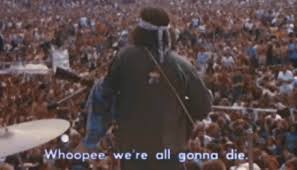 Ayn Rand compared what she said were the "Sex, Drugs and Rock n' Roll values - 'the hippie motives' on display at Woodstock" to
The Apollo 11 project, which had legions of well behaved admirers who descended upon Cape Canaveral to observe its event.
Now, if we couldn't expect hippies, not even John Lennon, to be articulate of what was important about the hippie motive how can we expect Don Black and right wing cohorts to be articulate of their motives?
Don says Timothy Leary was the poster hippie boy with the emblematic phrase, "tune in turn on and drop out." Not exactly.
And his colleague, "Don Advo," preferred Ayn Rand's take on hippies in "Apollo and Dionysus," disparaging hippies by contrast to achieving technocrats, viz. contrasting the Apollo astronauts and witnesses to the Dionysian Woodstock performers and crowd.
But whereas Any Rand's individualist objectivism was motivated to rupture the communality and other organization of European peoples by contrasting it with "heroic" but disingenuous individualism, the hippies did have a very important motive which is continually skirted-over by those who ignore the background of The Vietnam War Draft.
In rebellion against the draft, hippies were there at Woodstock, singing..
"Well, come on all of you, big strong men, Uncle Sam needs your help again. Yeah, he's got himself in a terrible jam way down yonder in Vietnam. So put down your books and pick up a gun, gonna have a whole lotta fun.. and its one, two, three…
What are we fighting for? Don't ask me I don't give a damn, next stop is Vietnam"..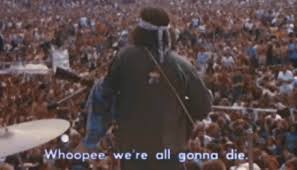 "Ain't no time to wonder why (Being, midtdasein, nah!) whoopee! we're all gonna die!
Yeah, come on Wall Street, don't be slow, why man, this is war au-go-go
Plenty good money to be made by supplying the army with the tools of its trade"

..and wondering like, how about V2 rockets re-directed for a peaceful mission?
In all seriousness…

Buzz was there!
No, the hippies were not protesting The Apollo 11 moon landing!
Their fundamental project was very significant in the advance of European peoples - a quest for midt-dasein - communal being amidst the class of one's people for White males - as opposed to having those basic levels on the hierarchy of needs sacrificed by males in deprivation and privation; where a few males might make it through the stress to the higher reaches (often transformed into sociopaths for the effort), to the higher aims on the hierarchy of needs - e.g., exploring the moon. To where in fact, these traditional trade-offs in gender differentiation were exploited and exaggerated beyond reason.
Sacrificial White males on the way, as in Vietnam, no matter how needless, be damned.
The point is, these motives/needs should not and ultimately, in fact, cannot be mutually exclusive, but must be balanced in optimality. The hippies were not protesting the Apollo landing. They reasonably sought organicism and being in balance to technology. However, they might upset a Jew like Ayn Rand because they were insisting that the intrinsic value of White men - White male midt-dasein - be recognized, in fact its institution was/is a necessary priority.
But the hippies were inarticulate of that motive. Moreover, requisite to their motive of midtdasein was "racism" * - i.e., social classification and necessary discrimination thereof, duty when mature to guard the boundaries thereof - there is no being in one's group without discriminating against its antagonists - ironically prohibited with the newly mis-coined "civil rights" making such requisite discrimination into a veritable taboo and largely illegal in fact. Needless to say that was hard to articulate at the time as it is still now. Midtdasein's articulation was made yet harder by the fact that it could easily be emasculated against the traditional role/motive for males to quest after the top of the hierarchy and man-up in sacrificing the basic needs of the hierarchy. Furthermore, turning back from actualizing the top of the hierarchy apparently belied the whole American project as the "land of opportunity." Indeed, White males would not necessarily want to sacrifice the possibility for the top of the hierarchy either. Nor would they want to sacrifice the middle - relationships with co-evolutionary women:

Sharon

..finally, they absolutely needed the basics on the hierarchy of needs if anything was to be possible for them. Indeed, how dare the powers-that-be try to end this beauty?
Doors locked (doors locked)
Blinds pulled (blinds pulled)
Lights low (lights low)
Flames high (flames high)

My body (my body)
My body

My body (my body)
My body

My body
Is walking in space
My soul is in orbit
With God face to face

Floating, flipping
Flying, tripping

Tripping from Pottsville to Mainline
Tripping from Mainline to Moonville

(Tripping from "Pot"sville to Starlight
Tripping from Starlight to Moonville)

On a rocket to
The Fourth Dimension
Total self awareness
The intention

My mind is as clear as country air
I feel my flesh, all colors mesh

Red black
Blue brown
Yellow crimson
Green orange
Purple pink
Violet white
White white
White white
White white

All the clouds are cumuloft
Walking in space
Oh my God your skin is soft
I love your face

How dare they try to end this beauty?
How dare they try to end this beauty?

To keep us under foot
They bury us in soot
Pretending it's a chore
To ship us off to war

In this dive
We rediscover sensation
In this dive
We rediscover sensation

Walking in space
We find the purpose of peace
The beauty of life
You can no longer hide

Our eyes are open
Our eyes are open
Our eyes are open
Our eyes are open
Wide wide wide!

"That is 'my conviction.."


Still, we hear how hedonistic and bad these people were by people who want to blame White men and associate them with Jewish affectations of the era.
Articulating the motive of White male midtdasein was further complicated by its incommensurability and confusion with Jewish interests and right-wing interests - who sought to associate it with the Jewish radical agenda of Marxism: expressed as imposed liberalism for Whites but by contrast to that relaxation of vigilance, a unionized activism for non-Whites against Whites - the prim "civil rights" and upwardly black power totally incommensurate with White male midtdasein. As was Marcuse's "free love and "poly- morphous perversion" incommensurate with White male midtdasein, especially as bounds of accountability and human ecology were ruptured as "violation of 'civil rights"
The second wave of feminism, another thing wrongly correlated with hippies, was also in fact incommensurate, quite literally incommensurate with White male midtdasein.
In fact, it was the thesis of Betty Friedan, leading exponent of that second wave of feminism, that in order to be healthy, full and free, women needed access to the higher levels of Maslow's hierarchy of needs.
It is apparent how the "high grumbles" which Maslow called higher needs on the hierarchy, and as feminists who followed Friedan's thesis would espouse, could cause extreme friction between White women and White men, who had the "low grumbles" of not wanting to be treated as being so intrinsically valueless as to have to be subject to a draft and die in a senseless foreign war of aggression; and rather than being left alone in peace, being amidst the class of their people, were subject in still further violation thereof - violation of their freedom from association with outsiders as imposed by "civil rights" - violation of freedom from association, violation of midtdasein - taking away the most basic freedom of White men.

Of course Ayn Rand did not like Hippies, they were motioning to group, communal organization of Whites and care that included White male being as an intrinsic value - god forbid they would heal in organic and communal being, to be anything but sheer individuals who would stand no chance against her tribe's hegemony and impositions.
* Needless to say, along with hippies, Ayn Rand found "racism" appalling - disCusting!
Sometime back a fellow calling himself Lonejack agreed with my assessment:
Agree.

As a VN vet, I can attest to most of what you say. The effects of the VN-era conscription – that is, having been forced into slave-soldiering in a non-White country's civil war orchestrated by bankers and corporations, having absolutely nothing to do with the actual defense of a White homeland, and calculatingly prosecuted by LBJ and his Ivy League YKW intelligentsia with absolutely no intent of military victory – reverberate to this day among the White guys who were in our late teens and early twenties during the 60's, more than 50 thousand of whom died in combat, many of whom were captured and tortured, and hundreds of thousands of whom returned maimed, grossly disfigured, and/or dysfunctional only to be vilified, upon their return, by many elements of the society which sent them.

When I returned from overseas, my drop-out from family and society into the flower-child milieu had little to do with civil rights or free love. BTW I do not begrudge those who emigrated to Canada to avoid the draft. And, for those interested, the works of author Tim O'Brien, who "served" an extended "tour of duty" as an infantryman in SVN, are richly descriptive, compelling, and well written IMO.

Commenters on this site (Alt Right) and in other threads who incessantly demand the boomers to go fuck or shoot themselves, while they themselves consider employment with the Navy, CIA, SS, or some other corrupt, terrorist, anti-White ZOG organ of the NWO agenda – as though such employment would be anything more than a convenient way to escape a tough job market – do, I confess, grate. Why on earth would they willingly collaborate with evil, when alternatives, difficult though they be, are available?

My 2-bit rant.
Thank You Lonejack

Posted by DanielS on Wednesday, October 22, 2014 at 10:41 AM in Activism, Anthropology, Anti-racism and white genocide, Awakenings, No particular place to go, Political Philosophy, Popular Culture, Social liberalism
Comments (16) | Tell-a-Friend
Jimmy Marr has upset a writer, the self-confessed lesion John Prager (YNW?), who wrote this article:

Oregon White Supremecist [sic] Who Handed Out 'Anti-Diversity' Flyers Faces Huge Backlash From Community
Well done Jimmy!
Posted by Lurker on Monday, October 20, 2014 at 11:51 PM in
Comments (3) | Tell-a-Friend


http://www.majorityrights.com/audio/AnthonyMigchelsWithJimBowery.mp3
Posted by DanielS on Monday, October 20, 2014 at 02:35 PM in Business & Industry, Economics & Finance, Global Elitism, MR Radio
Comments (2) | Tell-a-Friend
With appreciation of Dr. Lister's recent participation, an abstract distinction re-emerges not only as potentially useful to the struggle in general, but also in explaining what may otherwise be apprehended by Dr. Lister as some of my brute efforts here at MR.
A light-bulb moment in formulating my racial activism occurred when I read a distinction which Hegel made use of, viz., that of "self transcendence vs. self assertion."
I later came to understand that that distinction goes farther back than Hegel and tracing its history may or may not have bearing. But what does have bearing is its teasing-apart now. By its application I am not so literal minded as to limit transcendence and assertion to the self in individual interests only but rather see it as largely a matter of self assertion of one's borrowings from the group's genetic capacities and interests and self transcendence on behalf of, and in payment of, the group's genetic capacities and interests for its assertion – or, crucially and mistakenly the pragmatic activist would argue, a self transcendence beyond the group's interests. To an extent that would often be understood correctly as a mistake of European obsequiousness, whether through Nordic individualism, objectivism, Christianity, etc. or, of course, by Jewish coercion. This was one of the first, clarifying applications for me in making sense of my experience. That for whatever reason, European men were too self transcendent and needed more self assertion.
Around the same time I realized that intellectualism should not be a bad term - rather it makes use of the extant body of literature, conceptual structures and our inherited mental abilities, applying them to organize and make sense of our experience.
The frequent charge of the boring, disingenuous and ill-willed (most recently, by TD at Daily Stormer, who tried to say that I was an "intellectual wannabe" and also tried to say that I was against National Socialism – again, missing the point, deliberately in all likelihood, in claiming those terms only apply to Hitler's regime's distortions thereof) is "pseudo-intellectualism."
Kievsky echoed my sentiments exactly when he made the astute observation that our enemies have weaponized the meme of "intellectualism as unmanly" among European men. My father and older brother ate that up and modeled it perfectly for me, i.e, what brute pragmatism was, making it didactic in fact, closing off other routes by their capacity to get on without conveying articulation of much broad, social sense; to where I had no choice but to take the (daunting) intellectual route as far as I could and as its utility would allow in order to extricate myself from the arbitrary confusion that is the upshot of "no-nonsense" - by which they meant, intellectual structures which served a semi-transcendent purpose of orientation, organizing and making coherent sense of self in relation to the world; or any girlish motivation to even broach such a topic. That was "nonsense" or what others would call "pseudo-intellectualism."
What I would call the more speculative side of the hermeneutic circle.
Because my need for intellectualism was real, not a garish display, I had to keep my eye on its life-line: There is a difference between superfluous display of erudition, an obnoxious critical parsing or an honest effort to get things done - an effort which may in fact, be served by some "intellectual" abstraction or another merged with consensus and utility. I may not be the world's most confident person and I am certainly not claiming to be among the smartest, but what I will claim in confidence is that I keep an eye on relevance; with that, whatever "intellectualism" I deploy is not for the purpose of impressing people, but for its utility in relevant aims. Anyway, if a man is not dealing with reality, then reality will take care of it, yes?
I decided that I would strive after a good balance and blend to incorporate intellectual structures where useful with assertion of self and White group interests against non-White antagonism and liberal uncaring.
My effort to blend these two things may explain why I might seem contradictory and confusing to people, but I am really not. What I am doing is the hermeneutic circle, an engaged process of critique and inquiry, which moves from more speculative attempts at comprehending group patterns – such as self transcendence and self assertion - and closer readings, such as those of genetic compatibility.
Those of bad-will, will attempt to seize upon the more speculative moments to charge me with pseudo-intellectualism, trying to seem smart, using intellectual terms and concepts for the sake of using them, not for a purpose of defending our people. Of course, that's not true; but our enemies are our enemies, the assholes among us are assholes (such as TD).
On the other hand, I, we, go to the assertive side of the hermeneutic circle for its sundry utility: testing the speculative side's truthfulness against the concrete moment, deploying it for the sake of getting something done (e.g., posting a guy with a sign to make it clear that Europeans with sense should agree that "with Jews we lose" - and if that does not inspire the confidence and conviction of confirming what one already knows, should cause them to verify the assertion); in short, the hermeneutic process is to manage the orientative process in relation to reality. But it is a process which requires the speculative, broader temporal and historical comprehension of the pattern as well, particularly to maintain systemic group coherence and accountability.
That is probably why our enemies are so keen for us to not have the "pseudo-intellectualism" to maintain our group orientation.
Ok, Dr. Lister may appreciate that. And for sure, I would like to have an "adult" conversation with mature and scholarly individuals such as him contributing to MR.
But when the word "adult" is used in this context, my antenna goes up that we may get fixed on one end of what should be a corrective back and forth process. The end that I am talking about not wanting to get stuck on, of course, is the self transcendent end, the one that does not test itself and assert itself against reality quite enough if it does not circle back to self assertion.
It is also a matter of assertion of the empirical end, testing and verification, so it is not, as GW might fear, a call to mere practical action.
But again, my initial critical perspective on European peoples, that they/we were having these problems (I am going back to an observation from the mid 80's now), held that is because they/we were too self transcendent. They needed to incorporate more self assertion in terms of their group interests in particular. Now, that is not a contradiction if you recognize that the self is composed of historical/social inheritance – to be marshaled in a new and novel way, displaying agency and difference hopefully, but nevertheless.
A stark contrast illustrating this was that of blacks in their hyper-assertiveness of self and group interests as opposed to Whites in their exasperating self transcendence – imagine a White guy with a high voice saying to a nigger, "kill as many Whites as you want, take my woman and our girls for sex slaves and fuck me in the ass too!"
White men of normal instinct will not "intellectualize" and try to explain White obsequiousness away. A solid intellectual will not view this predicament as an intelligent response from Whites. But a lot of White guys will try to seem smart, tough, "above it" by "explaining" it away, and gain approval from a lot of White females for doing that.
In fact, one of the benefits of intellectualism by contrast is that one can say upon erudition that, "I am being an over-intellectualizing bag of books."
One can do that in an instant whereas one cannot read and digest a hundred good books in an instant. Moreover, as Aristotle so correctly stated, "it takes courage to study." To put out of mind all else that one might attend to in order to cultivate rigorous and long-term views. In line with favoring rigor against arbitrary sensibility, Kant observed that it is easier to return to one's senses than to restore a principle.
Even so, the nagging callings back, mockery from beautiful but tattood women whose pimps make fools of us in their own way, is a call to courage as well, to practical intelligence, not just imaginative, to implement, to apply our theories in reality.
People who have been ensconced among their fellow Europeans and not forced to interact with blacks en mass, for example, may not understand the importance of asserting the word "nigger."
If you cannot assert the word nigger you can barely think it, you can barely defend yourself with the strong assertion of the pattern of blacks to be discriminated against for the testosterone and hyper-assertiveness of a people who can assert themselves in an episode – even having our women cooing despite their marked violence - to the detriment of course, of the broader pattern of Whites, where White men shine. But if we are too timid to assert the word and think its wrong to classify them pejoratively, what might our co-evolutionary young women think?
This is why I take a step back when Dr. Lister calls for an adult conversation. I worry that we are being called into the "universal maturity" which does not take into account our more protracted rate of sexual maturity and the black's more direct route – and the fact that they and other non-Whites obey their own relative maturity, not universal maturity. Young White men in particular need this word "nigger" to signal that they know the pattern, that they know how to counter it, that they know how the Jews are deploying them against us, and that they don't buy it for a moment. No intellectual noodling, no logical contortions* to excuse them for imposing upon us – they are niggers. Moreover, this is a warning to White women as well. There will be no excuses. If that is what you want, you will go and live with them and the consequences of their ways. We are not going to pay for your lack of judgment, your mulatto children, the abuse of our men, their sacrificial sublimation and ancient legacy. With that comes the liberating assertion (for White male being) that miscegenation is equivalent to rape.
All this implies judgment and taste, of course. One does not go around just using this word, but will use it where necessary and effective. For the sake of practicality, one does not treat White women who betray our legacy in the way that Sharia law might, but does take measures to separate from their influence and make them pay (by banishment and cutting them off from shared resources) for the consequences of their bad judgment. We do not pay the price, they do, but they deserve respect of a fair warning, and here it is – that's a nigger and that's what niggers do as a very predictable pattern. Nobody is worth putting-up with it.
Along with self transcendence seems to come a secondary sex characteristic of displaying excessive logical capacity. One way of expressing excessive logical capacity AND independence that may appeal to females as display of dominance and advanced ability is the logical excusing away of non-White affliction on Whites. Moreover, the dishonesty and disingenuousness in regard to one's group interests by self transcendent liberalism, the willingness to put other Whites below and allow them to be extinguished by non-Whites will serve the short term interests of young females. They can identify who is "strong" and "logical" in being that treacherous and independent of group cooperation. More, liberalism, as I have often noted, increases the disorder by breaking group accountability and ecology in favor of individualism, which strengthens the one up position of young females in partner selection. Male and female becomes the chief conceptual organization as opposed to race. As it gives them short term benefits, young females will encourage liberalism and be pandered to by non-Whites (Jews especially, of course) to allow liberal males through their gate-keeping.
By none of this do I mean to be cynical of intellectualism, adult conversations or the professional contributions of Dr. Lister. On the contrary, my hope is to explain my reasoning so that he and people he might value as professional colleagues can find a way to participate. I'm willing to forgo the spitballs and the high hard ones underneath the chin (e.g., we don't need to say "nigger" here) in exchange for a modicum of understanding – I see true intellectualism as a process embracing self assertion of group interests as well as the maturity of self transcendence on behalf of group interests.
Posted by DanielS on Monday, October 20, 2014 at 01:53 AM in Activism, Anthropology, Anti-racism and white genocide, Awakenings, Crusade against Discrimination in Britain, Feminism, Genetics & Human Bio-Diversity, Social Sciences, White Genocide Project, White Genocide: Europe, White Nationalism
Comments (5) | Tell-a-Friend
Robert Ransdell
I'm waiting to hear or read what's not to like about this guy. Though I reserve the right to change my mind, and admit that I am not disposed and have not been looking far and wide for what not to like about him, from what I have heard (some interviews and some text), so far he seems alright.
Greg Johnson criticizes him for wasting his time, but I don't see where Ransdell has said that standard political channels were the only means that he would ever seek - and it is clearly only a strategy to get heard. Moreover, he is also explicit in not recommending or insisting upon this strategy for everyone and all places.
Ok, he is associated with VNN and Stormfront, inspired by Rockwell and to a lesser extent by Pierce, and there may be (probably is) some guilt by association with them and other opinions on those discussion forums, but so far, from what I have heard, he himself has not said anything that I find objectionable. It would be interesting to hear what MR readers think.

Ransdell's site: http://www.thewhiteguard.com/
Posted by DanielS on Thursday, October 16, 2014 at 09:38 PM in Activism, Media, Political analysis, Political Philosophy, Popular Culture, Psychology, That Question Again, U.S. Politics, White Nationalism
Comments (57) | Tell-a-Friend
by Neil Vodavzny
Following the actually convincing win for the Union in the Scottish vote, and the impetus now building with UKIP on the English side of Hadrian's Wall, we are all now becoming embroiled in a constitutional debate: the resolving of the West Lothian Question, which is also now the English Question. But I'm not sure it's been lost on people that this particular English Question, with all its talk of English home rule, does not concern itself at all with race and faith. Meaning, not government but the thing governed.
This relate to being in the Heideggerian sense, no doubt. But oblige me for a moment for digressing into my particular field of fantasy! It's a truism amongst the best epics that Church and State co-exist. Of the ones I'm at least familiar with, there is:
Conan #s18-25, the war between followers of Hyrkanian deity the Tarim and Turanian invaders
Cerebus #s52-63, Church & State (self-explanatory)
Dreadstar, Starlin's opus informed by his Catholicism
Star Wars the film
StarStruck the spoofy comic
Posted by Guest Blogger on Wednesday, October 15, 2014 at 06:35 PM in
Comments (1) | Tell-a-Friend
Black Lies are being circulated in White Nationalism -

"Hitler did not instigate the war"
"He only modestly sought territory 'wrongly' appropriated"

Those claims are demonstrably false from the beginning of Mein Kampf:
"People of the same blood should be in the same Reich. The German people will have no right to engage in a colonial policy until they shall have brought all their children together in one state. When the territory of the Reich embraces all the Germans and finds itself unable to assure them a livelihood, only then can the moral right arise from the need of the people to acquire foreign territory. The plow is then the sword and the tears of war shall produce the daily bread for the generations to come."
- Hitler

Does this statement from the very start of Mein Kampf, from the second paragraph in fact, indicate that Hitler was for peace and the head of a Reich merely, passively victimized? Obviously not. It is clear pseudo-justification typical of the inter-European war-mongering that underpinned his world view. Indeed, this statement makes it clear that Hitler was no pacifist nationalist, but an imperialist; and of course this is just one among many examples in which he makes that plain. What is far more exasperating than alarming is that even where present day White Nationalists are altercast their clear innocence, Hitler advocates disingenuously try to bury, justify and even assimilate the facts of Hitler's intent of inter-European war rather than work to coordinate present- day European efforts to our mutual interests: coordination of nations places an emphasis on mutual non-interference of national sovereignties with one another, but alignment of objectives at the same time. That is very different from what Hitler sought and from what his present day apologists implicate.
Posted by DanielS on Saturday, October 11, 2014 at 08:45 PM in Ethnicity and Ethnic Genetic Interests, European Nationalism, Far Right, History, National Socialism, Popular Culture, The American right, Thread Wars, White Nationalism
Comments (9) | Tell-a-Friend
Two views of the "modern" British Labour Party in all its current fear and confusion, the first from an email sent to me by Graham Lister:
Labour is killing itself - its root in working class solidarity is now just a tiny echo in its ideology/brand. This is the problem with Labourism in the UK in general. The original trade union movement and its nascent party was hijacked by socially left-leaning 'progressive' liberals which turned into a flood following the historic death of the old Liberals. Think the whole Fabian tradition. Liberal reformers that wish to 'reform' society for 'the better'' by the top-down efforts of 'experts' on behalf (and in the best interests naturally) of we plebs that sell our labour to make ends meet.

Of course, the genuine working class involvement kept the liberals semi 'honest' but the two sociological groups always had an uneasy relationship. The socially conservative but economically radical workers (think Red Clydeside, Durham miners etc) and the economically insipid but socially radical liberals/Fabians was always the mix of Labour. But now that organic link to the working class is dead (and has been for some time), thus Labour has hollowed itself out to - at best - the Fabian liberals 'managing' technocratic reform for the 'betterment' of the ignorant masses. Thus, Labour membership is little more than social liberals, worried public sector workers/professionals, upper class careerists/professional politicos (Balls, Miliband et al - mostly privately educated, PPE Oxford graduates and 'special advisors') and ethnics on the make. Interestingly the vast majority of Labour activists are based in London and the SE and from a middle class/upper middle-class background. Look at someone like Bob Crow and the tube workers - they walked away from Labour a number of years ago as they correctly noted it was a waste of their time and effort.

Labour doesn't believe in very much at the top level other than staying on the gravy train - see here - and what it does believe is little more than the naive proposition that racism is the worse evil in human history and one 'solves' it by mixing all people into a grand 'melting pot'. 1960's crap. Plus identity politics for 'worthy victims' of liberal sympathies - ethnic minorities, gays and other sexual deviants (just google the topic of Harriet Harman's pedo sympathies let alone Margaret Hodge's outrageous conduct in charge of Islington council - all tip of the iceberg stuff as Rotherham suggests). Nothing much to do with any serious form of class politics. i.e. basically decent wages for workers.

Clearly for the cause of Scottish nationalism, Labour in Scotland must be politically destroyed - and it's happening. They don't like to give the figures for membership of the Labour party in Scotland but, at best, it's around the 7,000-8,000 mark. The SNP is now approaching 80,000 members. Clearly the Union is a zombie - it's dead or in its death throws yet still lives on for now. Obviously, Labour are now becoming toxic in places like Glasgow and Dundee. Equally obviously, a Scottish MP from a Scottish Westminster seat will increasingly be seen as a liability/unacceptable to English voters in any of the big Westminster cabinet positions (or as a UK wide leader of the Westminster 'main' parties). If one was a young and cynical but ambitious, would-be Scottish politician - with the sense to play the 'long game' - well such a person could only join the SNP. The idea of a Labour party dominated and led by Scots (Smith, Blair - technically Scottish by birth and his father's blood - Brown, Darling et al) and ruling the UK, will be a thing of the past. I cannot see English public opinion tolerating such a state of affairs again.

In England the situation is more complex - ALL three of the smug Westminster parties need, in effect, to be destroyed by an anti-establishment insurgency. Obviously, the liberal elites have all the serious money behind them, the propaganda of the mass media, etc. But what can be taken away from them is their democratic legitimacy. Now in their hearts, no one at Westminster gives a damn about democracy or the plebs. But by the rules of the game and 'in public' that (and what we think) matters enormously. UKIP is indeed a crude mechanism but let's hope for a pincer movement from both UKIP and the SNP in an anti-Westminster uprising.

It's taken me a long time but I now hate the Labour party even more than I hate the Tory party. And that's a lot of hate.
The second offering is mine, and takes the form of a rather sympathetic (well, sort of sympathetic) piece of advice to party members and readers of LabourList, the party's "biggest independent grassroots e-network". So called. It was posted in the aftermath of the pretty disastrous by-election in Heywood & Middleton, which Labour held on a recount from a fearfully healthy and strong-looking UKIP.
Posted by Guessedworker on Saturday, October 11, 2014 at 06:26 PM in British Politics, Liberalism & the Left
Comments (9) | Tell-a-Friend
Judging by his vigilant stream of Ebola updates, it is clear that James considers the threat of Ebola to be under-reported in terms of its significance.
Ebola remiss an alarm for border control as even most objective standards of human ecology ignored by authorities:
The handling of the Ebola threat by institutional bodies such as the Centers for Disease Control, supposedly responsible for safeguarding public health, provide a glaring example of how we cannot rely on them to serve our needs, not even as a by-product of the most ostensibly objective concerns of human ecology.
Furthermore, as the remiss demonstrates that these bureaucracies cannot be entrusted to look-after the interests of our relative human ecologies it should create awareness that now is the time to step-up participation in border re-establishment.
As James explains, the mishandling of the threat of pandemic disease, as in the case of Ebola, has been made evident not only through border crossing, but in a pattern of decades, extending to misreadings of the H.I.V. epidemic by these same responsible institutional bodies - such as the CDC, with its authoritative media organ, "Nature" magazine, taken to be definitive of science journalism and featuring assessments by experts such as Princeton's R.M. Anderson - experts and their fact-checkers who are all too capable of committing fundamental errors in epidemic prediction.
Specifically, Anderson's initial indication for Nature magazine suggested that an increased number of sex partners was not a particularly significant factor in H.I.V. transmission. This took for granted its operating on a relatively homogenous population, with steadier patterns and where outlier behavior is more compartmentalized into niches. Promiscuous heterosexuals in this sort of population were not particularly at risk as their partnering was in linear alignment and separate from the infected homosexual population. However, with the increasing introduction of diverse populations, not only are more promiscuous sorts added to the ranks of the population, but also those more capable of transmitting the disease, those still more recklessly transgressing niches and even those with malicious intent to deliberately transmit the disease.
"Strength in diversity indeed - for pandemic disease!"
The take-away is that European peoples must take initiative in border control to protect the interests of our human ecologies - for our very survival. Institutional bodies entrusted to be competent and concerned cannot be relied upon for even the basics of public health management - they are not even taking into account such basic factors as the mass introduction of alien biology and behavioral patterns on stable human ecologies; the direct introduction of virulence from primeval breeding grounds and bio-power, e.g., of Sub-Saharan Africa - which your European biology may not withstand. In fact, these bureaucrats in their faux-objectivism, whether the result of pandering or being pandered-to, malicious intent, indifference or incompetence at best, are subjecting European populations to experiments that your European biology should not have to hold up-to, as conducted upon you and the ancient human ecology of our European peoples unwillingly, unbeknownst, without consent.
More, for their very nature as fixed places, James likens nation states to immobilized patients in a clinic, and therefore draws the possibility of their susceptibility to pandemic, such as Spanish flue, which spread rapidly through immobilized patient concentrations in Red Cross hospitals after World War I. Immobile as the nations states are then, it is imperative to secure their borders against mobilized virulence.
Ebola having reached The U.S. highlights this fact. Thriving at length, transmissible even from a corpse, passively, potentially mutating airborne transmissability, Ebola can be far more destructive than the H.I.V. epidemic which the CDC blundered about..
James details the analogy in the misreading of H.I.V. and Ebola epidemiology:
Posted by DanielS on Monday, October 6, 2014 at 04:23 AM in Conservatism, Crusade against Discrimination in Britain, Demographics, Ethnicity and Ethnic Genetic Interests, Genetics & Human Bio-Diversity, Globalisation, Health, Immigration, Immigration and Politics, Social liberalism, White Genocide Project, World Affairs
Comments (10) | Tell-a-Friend
Special Ebola Card from SR inside
Posted by Søren Renner on Sunday, October 5, 2014 at 04:11 PM in
Comments (7) | Tell-a-Friend
A blog comment by Enza Ferreri prompts some thoughts on Vico. Of course I do not place comfort or credence in all of Vico's ideas - unlike Johnson, I particularly do not find this comforting: "The idea of history going through the same stages over and over again." Even so, I do respect Vico as the first prominent anti-Cartesian philosopher; who saw that an anti-modernist, turning and reconstructing process was implied by non-Cartesianism. However, I take a more hopeful view that we are not so determined to repeat unpleasantries - rather, we are free to act, at least having some alternative range of functional autonomy and agency to repeat healthy practices and forms of the past, while moving on and advancing to new ways where we are the better for it.
In any event, as he was the first major challenge to Cartesianism, and frequently cited as a forefather of social constructionism proper, I have long treated Vico as pivotal to sound philosophical underpinning of White/European nationalism - this article to note:
Yes, The White Race Is A Social Construct (Contrary to Jewish and Right Wing Denial).

WN may be finally catching-on to these correctives of typical right-wing errors.
Greg Johnson gave a speech on Vico at the recent London Forum. In anticipation, I have already invited him to speak with G.W. or James about this in an M.R. podcast, should any party be willing. As for Enza, she can come visit my town anytime she likes..
Excerpt of Enza Ferreri's comment regarding Greg Johnson's speech on Vico
Vico is a 17th-18th century philosopher from Naples. Most Italians know of him and his theory of the "corsi e ricorsi storici", or the cyclical nature of history. But he's little known in the Anglo-Saxon world, despite having had some influence, especially on James Joyce's books. Vico's Scienza nuova ("New Science") is the basis for Finnegans Wake.

The idea of history going through the same stages over and over again is very far from the contemporary view of history as progress. Vico, according to Johnson, was exceptional, in that he was the first anti-Enlightenment thinker and the only one of his time, despite being himself an Enlightenment thinker in some ways.

Vico postulated a fundamental law of historical development, that follows the same pattern by evolving through three phases: the age of gods, "during which gentile [meaning "pagan"] men believed that they were living under divine rule"; the age of heroes, when aristocratic republics were established; and the age of men, or what we may call "democracy", "when all were recognised as equal in human nature". Here Vico is a son of his "Enlightened" times, when he talks of the necessity to respect "natural reason" and of "the human rights dictated by human reason when fully explored".

At that point man's increased powers of reasoning result in a state of anarchy, when everybody considers himself his own ruler and only looks after his own pleasure and short-term interest. Sounds familiar? It must do, because it's a fairly accurate description of what we are going through now, a description which will become even more faithful as decades, nay years, nay months go by.

Then men get tired of that anarchy and "turn again to the primitive simplicity of the early world of peoples", and to religion. Thus the cycle starts again.

The beauty of it all, said Johnson, is that Vico's view of history enables us to stop trying to mend the present state of affairs, which is beyond repair, and instead look forward to - even accelerate - its end, which will usher a new era.

Or I would put it as "the darkest hour is just before the dawn".

Johnson concluded his speech by saying that, whereas Giorgio Almirante, the leader of the Right-wing Italian party Movemento Sociale Italiano, said, "Julius Evola is our Marcuse, only better", we can say that Vico is our Karl Marx, only better.
Greg Johnson on Vico:
http://cdn.counter-currents.com/radio/Johnson%20on%20Vico.mp3
Posted by DanielS on Sunday, October 5, 2014 at 04:13 AM in Political Philosophy, Social Sciences, White Nationalism
Comments (4) | Tell-a-Friend