Majorityrights Radio > Category: The White Left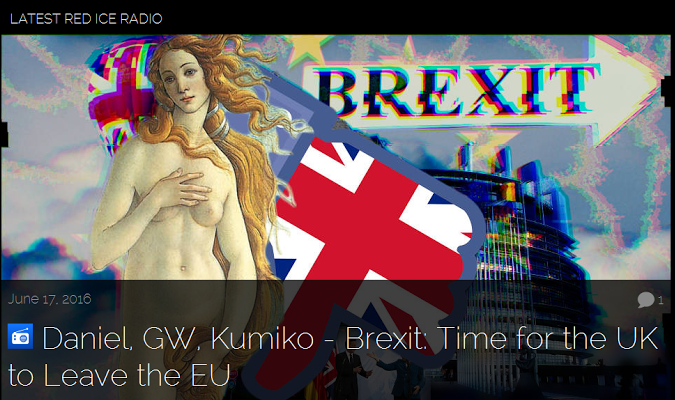 Vote Leave on 23 June.
Summary: This interview was hosted by Henrik Palmgren at Red Ice Radio, and the roundtable discussion was about Brexit and its significance for Europe and the world.
The first hour is freely available for all to download, the second hour is available with a subscription to Red Ice Radio.
The participants on the roundtable were:
Henrik Palmgren: Henrik Palmgren was born in Götaland, Sweden, the land of the Goths. He is the founder and Editor-and-Chief of Red Ice. Henrik is best known as the host of Red Ice Radio and TV, producing most of its content. He is primarily concerned with European heritage, culture and counteracting global internationalists.


Guessedworker (GW): An English nationalist in favour of international nationalism. Having lived in 1950s era Britain, he has since seen his nation undermined by neo-liberalism and Jewish-inspired leftism. He created Majorityrights.com in 2004 as a forum to find solutions for the myriad of problems facing not only the British people, but all European peoples as well.


Kumiko Oumae: The Eurasian affairs contributor for Majorityrights.com. She believes that in order for Europe to control its own destiny – and for it to be a good trade and global development partner for Asian countries – there must be a serious dialogue on Europe's historical role in the world and the justification of that role, as well as how the European states can resolve the crisis of legitimacy that their governments are presently facing. Kumiko also works in the security and defence sector in the United Kingdom.


Daniel Sienkiewicz: An ex-pat American of European descent, living in Europe. He has been troubled by the implications of "anti-racism" and has been testing various means to advocate for European peoples for as long as he can remember. Daniel rejects many common approaches, including all characteristically Cartesian attempts, such as scientism, as ineffective means to solve the problems that currently threaten ethnic Europeans.
We were honoured to have the opportunity to link up with Red Ice Radio in this way, they have our thanks.
Red Ice Radio, 'Brexit: Time for the UK to Leave the EU', 17 Jun 2016:

We begin by discussing Brexit and its significance in the ongoing struggle between nationalism and internationalism. Kumiko argues that, in many ways, the current economic paradigm in the West isn't quite internationalism proper, but rather the United States being allowed to dominate due to passivity on behalf of the European Union. Despite a few minor disagreements, all three guests adamantly support withdrawal from the European Union. We then discuss the original vision of the European Union – that of a unified, more prosperous Europe – and how the elites therein have sabotaged that vision by allowing in millions of non-European immigrants. Later, we talk about the unfortunate lack of patriotism within certain European countries. We conclude this episode with a discussion on the manner in which the mainstream media has used the murder of Jo Cox as an excuse to those in favor of Brexit.
Links: