Majorityrights Central > Category: U.S. Politics
For his insolent defiance of Roger Waters plea that he not play Israel, he might have been singing "We don't need no education" right along with Pink Floyd .....but actually, maybe Jesse Hughes, his friends and fans could use a little. Try a caveat on Abrahamic fellowship.
Jesse Hughes, commencing an Eagles of Death Metal concert, Tel Aviv, 12 July 2015:

Now I'm also going to tell you another true story before I bring the rest of the boys up here. We decided to end the tour in this fuckin' city because we knew we couldn't top it once we got here. That is 87 percent the absolute truth. But then we got this letter from this cocksucker named Roger Waters (jeers from crowd). Do you want to know what I wrote that cocksucker back? Two words: Fuck You!...Fuck You! Ain't nobody goin' to keep me from my people here in Tel Aviv! Ain't Nobody!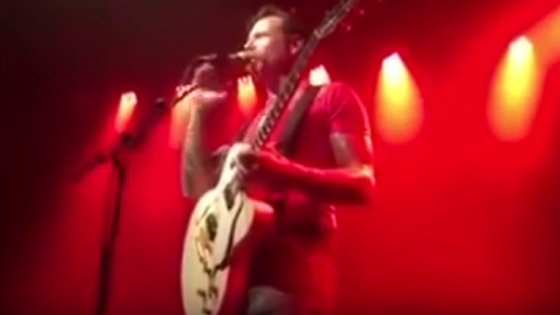 Among other blundering statements, Hughes referred to Israelis as 'his people.' Unless there is something that we don't know about him, they are not his people. The crowd at Bataclan, who should be referred to as "his people", apparently did not know either that Israelis are not their people, or perhaps did not think attending a concert of someone who said that should, would, cost them their lives.
International Business Times, 'Paris attacks: Eagles of Death Metal defied pro-Palestine boycott movement and Roger Waters to play Israel', Nov 20, 2015:

A video has emerged of Eagles of Death Metal berating Pink Floyd founder and anti-Israel campaigner Roger Waters at a gig in Tel Aviv months before the Paris shooting at the Bataclan theatre.

The clip, from the band's Tel Aviv concert in July, shows lead singer Jesse Hughes offering an expletive-laden riposte to a letter sent to the band by Waters urging them to shun Israel. It has been circulated in the wake of atrocities that claimed the lives of 132 people on 13 November.

In it Hughes tells the Tel Aviv crowd the band decided to end their tour in the city because they "could not top it". The audience then boos mention of the Waters letter before Hughes shouts: "You want to know what I wrote that c********r back? Two words: f**k you!"

Waters, who has been accused of anti-Semitism, joined the Boycott, Divestment and Sanctions (BDS) Movement - an anti-Israel pressure group - in 2012. Upon joining he called out to other musicians in an article he wrote for the Guardian: "[This is] a plea to my colleagues in the music industry, and also to artists in other disciplines, to join this cultural boycott."

Roger Waters wrote to Eagles of Death Metal to urge them to boycott Israel.

The Paris attacks brought the video of Eagles of Death Metal back into focus because the formerly Jewish-owned Bataclan theatre which in the past has hosted pro-Israel Army events, and where the band were performing the night 89 people were killed, had supposedly been harassed by pro-Palestinian supporters in 2008.
Jesse Hughes is a "devout Christian." That explains his confusion over who "his people are."
He was interviewed before the Tel Aviv concert by "Consequence of Sound"..
CoS, 'Fly Like an Eagle of Death Metal: An Interview with Jesse Hughes', 1 Oct 2015:

At 43, Jesse Hughes hasn't become an old man just yet. With the energy of a 16-year-old, he makes the most eccentric man in the world sound like a boozy liar.

The Eagles of Death Metal frontman has an opinion — often obscenity-filled — about everything. "But I'm not a bag of wind!" he insists. Around 30 minutes after our prearranged meeting time, before Eagles of Death Metal's show in July, Hughes appears at his trendy hotel in the heart of Tel Aviv with two Israeli locals he just met at the falafel stand down the road. He's dressed in typical Hughes attire: black-and-white-striped t-shirt with the sleeves cut off, suspenders, light jeans, and a neon green trucker cap with "Eagles of Death Metal" printed in Hebrew lettering.

A second after we meet, he's chatting away on a tangent. Hughes is rarely off one. He sounds bluesy, even lusty when he talks, and when he gets especially riled up on a topic, he'll bow his head, slap his knee, and speak like a southern debutant, referring to his fans as "the kids." Hughes is as verbose as your archetypal reverend, hardly getting through his thoughts without breaching into song and then dissolving into giggles. Present him with a handshake or a voice recorder, and the truth serum starts to work.

Yeah, I've been shot before. Look. [shows scar on armpit] It made a canal through one of my muscles. I'll tell you how it went down: I was going through a really ugly divorce, and I'm a devout Christian, so divorce isn't a concept to me. I went through a very typical, clichéd "I served you my whole life, and this is what I get" anger. I weighed about 250 pounds, I was a big ol' redneck boy. I was managing this privately owned chain of video stores and part-time freelancing for the Republican Party and speech writing and shit like that. The most awful thing I could think of immediately was to start taking speed. I lost 80 pounds, got really depressed. My mother called Joshua [Homme] because she felt he was one of the only dudes I listened to.

He dishes it out today. During our conversation, he gets into the full specifics of being saved from addiction by bandmate Joshua Homme, how he's already written half of EODM's next album, and how he's struggling to convince everyone he's a devout Christian who gets high and uses the phrase "titty-wobbling." He talks about his face being a nipple on his album cover as seriously as his faith. "I know what you're thinking — my life's a contradiction," he admits.

It's dark stuff, but Jesse "The Devil" Hughes has a wicked sense of humor — crushing, hypnotic, and frequently laugh-out-loud ridiculous. "My way of thinking is," he shrugs, "it's gonna be harder in hell for me than for y'all. I'm just not going to be the fool that doesn't know why he's there."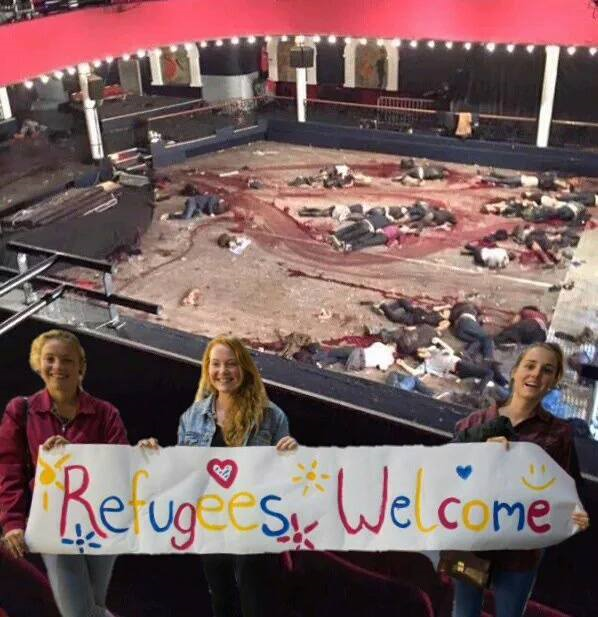 Christianity and its Enlightened step-child play a strong part in the confused identity and allegiance of welcomers as well.. ...and the upshot of that confusion…
________________________________________________________________________
Addendum:
Note that troll JamesUK likes to associate us with the right-wing circus and any sort of unflattering speculation that he possibly can; but I will leave that aside, at least for now in order to address this:
"Didn't you say in a previous posting that Eagles of Death Metal represented white culture?"
I said that the Eagles of Death Metal fans represent implicitly White culture. Evidently their fans are predominantly White genetically; but the fact that the band leader, and likely a significant percentage of their fans, have a confused identity (case in point, thinking that Jews can be a part of their kin) as a result of Christianity and other Jewish crypsis, provides an excellent occasion to address those implicitly White demographics who suffer this confused identity as a result of Christianity.
I was not wrong to treat them as an implicitly White demographic, that remains true.
The band and audience alike reinforce this assumption by appearance, by the likelihood that they are predominantly, genetically White (European).
However, the band's confused identity is misleading from the start, with their name: one associates death metal with paganism, a Nordic paganism defiant of Christianity in particular - and therefore assumes that the band and audience would have little to do with identifying as Israelis, with Judaism, or even its offspring, Christianity - let alone Hughes vehement "devotion."
Hughes' devout Christianity compounds the confused identity by taking his erstwhile White identity and enmeshing it with the Jewish narrative and identity, albeit as servile gentile other in relation to Israel, Jews and other non-Whites - the "undifferentiated gentile others", as GW says.
As Hughes also made clear (unclear rather), in the CoS interview, he is quite contradicted and does not even expect to be recognized by the Abrahamic god.
His fans at the Bataclan also reflect and express this ambiguous identity, but with good natured participation in a bit of carousing, defiant music, irreverent language, devil sign, etc. I say "good natured" because they were apparently healthy, functioning people who had bearings outside of sex-drugs-rockn'roll.
Nevertheless, they lightheartedly though naively frolic with the Jewish god, tweak its nose and defy its rules for some practical latitude despite the unfortunate necessity of trafficking in its terms to some extent for the historical fact of their moral order having been entangled with it for two centuries. They are fooled by it on a profound level, however, as their seriousness, their devout service is reserved for the "other" - not for themselves - as they identify as the other.
That is in contrast the Muslims, who have their own form of puritanical servility to the Abrahamic god, submission to the Jewish god.
By further contrast to the Muslims, a certain amount of ambiguity, variety of sacrament and celebration is good and necessary in the social world of praxis - acceptance of that adds to the claim that the Bataclan audience have an aspect of good naturedness - i.e., an aspect that is not puritanical or fanatical in a way that does not allow their people to be human, social creatures and to be themselves in their particular, idiosyncratic White ways.
A homogeneous looking band and audience that accepts the misnomer of "death metal" provided the first clue that they have a good natured acceptance of some ambiguity, non-purity, i.e., an acceptance even of some relation to aspects of their natural White identity, even if only implicitly.
However, the extent of their connection to the Abrahamic religion contradicts that and brought them into the fold of its absolutizing fight, which will accept no other identity - will not accept White identity as the separate social entity that it is. Some of them came into ultimate confrontation of inhumanity to their humanity in social difference as a people separate from the Jewish god of Muslims.
The confused identity of our people at Bataclan became a confused message that the Israelis accepted disingenuously, that ISIL accepted on face value, that the band, audience, and I, allowed for in good faith - a confusion nevertheless inadvertently passed-on in the news of their death, presenting a perfect reason and occasion to sort-it-out here.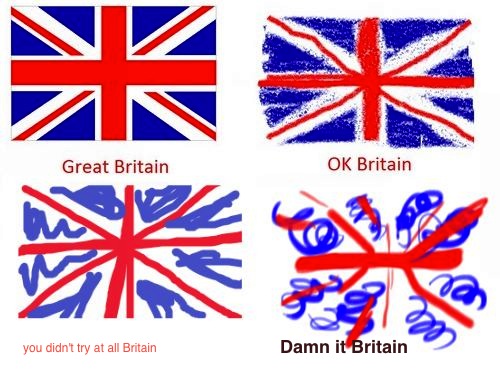 Guess which one of these is applicable to Colin Liddell.
The situation
It is said that one does not always have the luxury of being able to choose where one is sent to fight. What first started out as a criticism carried out by Colin Liddell at the Alternative-Right against Andrew Anglin's Daily Stormer, has morphed into something completely different, because of one line—one truly breathtaking sentence fragment—that Liddell tried to slide past the readers:
Colin Liddell / Alternative-Right, 'Joining the Dots on Andrew Anglin', 08 Nov 2015 (emphasis added):

As for the palatability of Streicher-esque anti-Semitism, it is certainly palatable for many White Nationalists – indeed in-itself it hardly bothers me as history is full of unsavoury characters and I rather like history – but for other Whites, not to mention those Jews who might want to identify as Whites and help our cause (and there are some), it is certainly a different story.
Amazing. Apparently, Colin Liddell is okay with allowing the Jews to form the intellectual equivalent of a forward operating base which would of course be geared entirely toward sabotage, behind the lines of ethno-nationalist movements.
It's one of the most breathtaking things I've ever seen from a European ethno-nationalist, ever.
Now, Majorityrights contributors don't like the Daily Stormer, and our platform differs significantly. I am not defending the Daily Stormer, I have no interest in that, since I disagree with them on almost everything. However, for Colin Liddell to say that there are Jews out there who want to identify as whites and 'help', that is a truly stunning statement. In reality, there are no Jewish groups that have any interest in helping European ethno-nationalists. That is a phenomenon which absolutely does not exist anywhere.
Why should any ethno-nationalist want to give space for Jews to enter a movement that they have been historically hostile toward and are hostile toward even today? It's impossible to understand it. Everyone has criticisms of the Daily Stormer and negative comments to make about the viability of Andrew Anglin's approach, but if the criticism is coming from an angle that is beneficial to the Jewish lobby, then that cannot and should not be accepted.
Excuses, excuses
Many people, including Colin Liddell himself apparently believe that Jews in Europe can be courted as allies because of a perception that the Jews would be antagonistic toward the influx of Muslims and the threat of radical Islam that accompanies it. Here at Majorityrights we take the threat of the Islamisation of Europe very seriously and see it as one of the major problems of the era, a generational conflict that will continue.
However, we do not believe that the Jews can be a real ally in that conflict.
Why do we not believe that? It's because the Jewish position is one where they would like to avoid having terrorists menacing them in their neighbourhoods in Europe, but Jewish civic groups also have no problem whatsoever balancing their concern about that against their other concern which is to avoid having an environment where a single culture predominates in the continent.
See here:
World Jewish Congress, 'Jewish and Muslim leaders urge European Union heads not to pander to extreme-right', 30 May 2011 (emphasis added):

In Brussels, leaders of Islamic and Jewish communities from several European countries today presented a joint declaration to the presidents of the three main European Union institutions. Ahead of a meeting of European religious leaders representing all major faiths in Europe, Bosnian Grand Mufti Mustafa Ceric and Brussels Chief Rabbi Albert Guigui handed the document on behalf of the 33 signatories to Commission President José Manuel Barroso, European Parliament President Jerzy Buzek and European Council President Herman Van Rompuy.

The declaration stresses that "Jews and Muslims live side-by-side in every European country and our two communities are important components of Europe's religious, cultural and social tapestry. Both Muslims and Jews have deep roots and historical experience on this continent." It raises concern about "increasing manifestations of Islamophobia (anti-Muslim bigotry) and anti-Semitism in countries across Europe."

The joint declaration goes on to say: "Bigotry against any Jew or any Muslim is an attack on all Muslims and all Jews. We are united in our belief in the dignity of all peoples" and urges "all Europeans of conscience to put a stop to any group that espouses racist or xenophobic ideologies long before they are in a position to gain legislative or other power. We must never allow anti-Semitism, Islamophobia, xenophobia or racism to become respectable in today's Europe. In that regard, we call upon all political leaders not to pander to these groups by echoing their rhetoric."

The signatories also declared: "We remember together the horrors that took place on this continent in the 1940s - a campaign of mass murder, unique in history, which resulted in the annihilation of one third of world Jewry in the Holocaust. That atrocity and others, such as the mass killing of Muslim civilians in Bosnia-Herzegovina during the 1990s, resulted from the triumph of racist and xenophobic ideologies that demonized those that they targeted."

This Europe-wide interfaith initiative – the first of its kind – was set in motion last December with the first Gathering of European Muslim and Jewish Leaders in Brussels. It is modelled on a similar cooperative effort in the United States organized by the Foundation for Ethnic Understanding. Co-sponsors are the European Jewish Congress, the FFEU, the Muslim Jewish Conference the World Council of Muslims for Interfaith Relations and the World Jewish Congress.
What kind of activities might be necessary in order to make sure that Muslims and Jews would both end up on the same page in that regard? They would have to schedule some kind of symposiums in which the Jewish cultural critics would brief their Muslim counterparts on what works against Europeans and what does not work, and the Jews would have to begin some kind of outreach to so-called European Muslims so that an understanding could be reached, right?
Well, here's an example of that:
International Council of Jewish Women, '2nd European Muslim-Jewish Symposium', 05 Sep 2012 (emphasis added):

[...]

BEST PRACTICES: A EUROPEAN JEWISH MUSLIM DIALOGUE
Jewish as well as Muslim Authorities from Serbia, United Kingdom, France, Germany and Sweden were heard. Several speakers explained the efficiency of their strategies to fight extremism. In Germany where many neo-Nazis groups are violent, the Jews will help the (Turks) Muslims to be heard. They speak out together to defend their rights especially on the important subjects of circumcision, ritual slaughtering, at the government. They want to be sure that their children go through the right path. Their relations as well as their cooperation are excellent and they want to make it official. In United Kingdom, where anti-Muslim bigotry is strong, the extreme right aggravates tensions in promoting hatred and violence in the Muslim districts. Jews will enhance the role of the Muslim righteous who saved Jews during the Holocaust; A conference of British Imams and Rabbis work together productively with the ministries on the field.

The most remarkable step greeted by the participants was the case story of the creation by Rabbi Michel Serfaty of Amitié Judéo Musulmane de France with his partners and his Muslim co-chair Scherazade Zerouala for the Paris district: the bus of Friendship between Jews and Muslims has since 2007 crisscrossed the French towns and suburbs with local press conferences. The most efficient means to fight against discriminations and prejudices are Jews and Muslims involved to speak out together and "SAY NO TO HATRED". Ignorance, fear and contempt breed violence, and that is the way to face it. This action carried on for 9 years, going on round France 8 times, with 10 people, and 15 sub-branches in the country was a challenge: mostly to build a united front to make a correct presentation of the Jew and the Muslim in our work with children and their mothers.

[...]
Jewish lobby groups are triangulating, they are positioning themselves so that in the case where Muslim groups become the largest share of all ethno-religious minority groups in the European Union, they would be ready for that scenario, and could survive in it.
Jews and Muslims are right now in 'the season of twinning', and what a time for them to have chosen to do that! See here:
Foundation for Ethnic Understanding, 'FFEU's 8th Annual Global Season of Twinning', 01 Oct 2015 (emphasis added):

In the face of escalating sectarian violence and increasing expressions of Islamophobia, anti-Semitism and other forms of bigotry across North America, Europe and around the world, thousands of Muslims and Jews will be coming together in scores of cities around the globe to declare: We Refuse to Be Enemies.

We Refuse to be Enemies is the theme of the 8th Annual Season of Twinning, which every November and December brings together Muslims and Jews - and people of other faiths as well - to hold joint events focused on educating communities about one other, working together on behalf of people in need and standing together against bigotry.

The Season of Twinning officially kicks-off on Sunday, November 1 with an Interfaith rally in Trenton, NJ, to be followed by events in Washington, New York, Detroit, Los Angeles, London, Paris, Brussels, Tel Aviv Rabat, Morocco, and scores of other cities in nearly 20 countries around the world. There have already been several events associated with the Season of Twinning over the past several weeks, including an inspiring Interfaith Peace Walk in Melbourne, Australia and a Surfers for Peace aquatic manifestation by Jewish and Muslim surfers off the beach in Biarritz, France.

The Season of Twinning was initiated in 2008 by the Foundation for Ethnic Understanding (FFEU) - a New York-based nonprofit organization dedicated to building a global movement of Muslims and Jews focused on strengthening ties between our communities.

"In the face of multiple crises now roiling Muslims and Jews in the Middle East and around the world and of increasing efforts by demagogues and extremists to incite our communities against each other, it is more critical than ever that Muslims and Jews come out in public to say 'We Refuse to Be Enemies,'" said FFEU President Rabbi Marc Schneier. "We can agree to disagree respectfully on the Israeli-Palestinian conflict while resolving to build ties of communication and cooperation for the betterment of both communities and the larger communities in which we live side by side."

[...]
Quelle surprise! The Jews want to have an amicable relationship with the Muslims. They want to explore the possibility of continuing to undermine the European Union together, while they leave the disagreement about the Israeli-Palestinian conflict in the Levant.
Anyone who understands the strategies that have been used by Jews when dealing with Muslims in the past, should actually not be surprised by any of this. This kind of political manoeuvring has happened in the past:
Jewish History, '710 - 719' (emphasis added):

711 July 19, TARIK IBN ZIYAD (Spain)
A Moslem general. He defeated King Roderick, the last of the Visigoth kings, at the Battle of Rio Barbate (Guadalete) near Xeres de la Frontera. The Jews backed [Tarik ibn Zayid] in his battles. After each city was conquered (Cordova, Granada, Malaga), Jews were often given positions of safeguarding Moslem interests. One of his generals, Kaula al Yahudi, had many Jews under his command.

712 March, TOLEDO (Spain)
The Jewish inhabitants opened the gates for the Moslem invaders under Tarik ibn Zayid marking the end of Visigothic rule in Spain and the beginning of 150 years of peace. Thus began what was known as the Golden Age of Spain. The Iberian caliphate was independent of Baghdad and encouraged the flowering of Spanish-Jewish culture at the same time that it was being suppressed by the Baghdad caliphate.
'150 years of peace'. Also known as '150 years Arab Muslims raping and killing the Europeans'.
Why do the Jews seek a situation where one culture cannot dominate? Why do they want to flood your countries with hostile migrants? The answer is less complicated than you might think:
Rabbi Doug Kahn / Jweekly, 'The wisdom of Earl Raab — at 90', 26 Mar 2009 (emphasis added):

When Earl Raab served as executive director of the Jewish Community Relations Council, he posted in his office an article citing a study that concluded that cigar smokers have a longer life expectancy than non-smokers.

One might wonder about the credibility of the study — but Earl turns 90 next week. His cigar-smoking days are behind him, and the Underwood Noiseless typewriter, on which he banged out hundreds of articles and uncommon wisdom for this paper, is in mothballs.

But Earl and his fertile mind continue to go strong.

Although he retired more than 20 years ago, his influence endures. A man of great humility, who claimed to be the national ping pong champion of the Galapagos Islands during World War II, Earl shaped the field of Jewish community relations nationally.

His genius was to recognize in San Francisco an extraordinary laboratory for studying and shaping the Jewish community at large — which he wrote about in an October 1950 piece for Commentary magazine. He had come to San Francisco on assignment from his and Kassie's farm in Maine and decided never to leave.

In the "From the American Scene" column, Earl wrote a piece titled "There's No City Like San Francisco." In it, he wrote: "There are 55,000 Jews in San Francisco, and not even the historic traces of a ghetto. There is a Jewish community that has been called, with reason, the wealthiest, per capita, in the country. There is at the same time a startling poverty of ant-Semitic tradition. San Francisco, for cities of its size, is the nation's 'white spot' of anti-Jewish prejudice… So far as the city and its institutions are concerned, the Jew is a first-class citizen. It may well be that he can live in San Francisco with a greater degree of personal dignity than in any other large city in the country."

Raabisms will long endure at S.F.-based JCRC, among them: "A certain kind of America" (the idea that American Jews and other minorities are most secure when democratic institutions are strong) and "An educable moment" (Earl's way of explaining why a bad thing happens to a good community and how to turn it into an opportunity).

[...]
In 1993 Earl Raab also wrote:
Earl Raab / San Francisco Jewish Bulletin, 23 Jul 1993:

We have tipped beyond the point where a Nazi-Aryan party will be able to prevail in this country. We have been nourishing the American climate of opposition to bigotry for about half a century. That climate has not yet been perfected, but the heterogeneous nature of our population tends to make our constitutional constraints against bigotry more practical than ever.
That is a positive feedback loop. As the level of heterogeneity increases, so increases the adherence to constraints against 'bigotry' for the sake of civil concordance under liberalism. Those constraints then make it more difficult for anyone to make arguments in favour of taking action against further increases in heterogeneity, which then results in a 'requirement' for more constraints against 'bigotry', and so on.
The same plan is on the agenda for Europe. It's crucial for everyone to understand that this is what their intention is. There are no compromises or negotiations that can be had with the Jews. It is what it is.
Only pretending to be retarded
Later on, a torrent of criticism was poured in Liddell's direction from Daily Stormer and from every other angle, because despite all the differences that may exist between the strands of ethno-nationalist thought in the North Atlantic, most people seem to agree that the Jews are not to be underestimated.
Colin Liddell reacted by effectively claiming that he was only pretending to be retarded, and that they were allegedly trying to troll the Daily Stormer by partially imitating its writing style and extreme rhetoric.
See here:
Colin Liddell / Alternative-Right, 'White Surviv(irl) or Auschwitz of the Internet?', 11 Nov 2015 (emphasis added):

First off, let's deal with my previous article, as it managed to trick most people. It was—in case you hadn't realized—a deferential tribute to the actual style of The Daily Stormer.
This came off as particularly hollow in the context of the Jewish Question, given that when I asked Colin Liddell about whether he still stood by his earlier statements on alliances with Jews, he said that he still stood by those statements, as you can see from the comments sections.
So it was not a pretence of any sort. It's more like Liddell's follow-up post was a form of damage control after he had made a spectacular misstep and didn't want to back down from it.
Greg Johnson of Counter-Currents however seems to have taken the claim of pretence at face value, without addressing the Jewish Question, and so he responded to Liddell, saying:
Greg Johnson, 'White Surviv(irl) or Auschwitz of the Internet?', Disqus comment 2353921213, 11 Nov 2015 18:37:

Well I'm relieved. I took your last article as in earnest and regarded it as a serious lapse by an otherwise sound writer, not as a parody of Anglin himself.
This is really surprising to me. Was he not aware of what Liddell was saying just earlier? The things that Liddell had said, are really 180 degrees contrary to the clearly-articulated and laudable stances that I had come to associate with Johnson. For example, a while ago, Greg Johnson ran this really good article at Counter-Currents:
Greg Johnson / Current-Currents, 'Reframing the Jewish Question', 27 Oct 2015 (emphasis added):

[...]

Some nationalists pursue these questions, but others choose to abstain, merely advocating ethnonationalism but not touching the "J.Q."

I wish to suggest that this framing of the Jewish question is entirely wrong. The Jewish question is not something distinct from ethnonationalism. It is not a separate, higher-order, entirely optional set of questions from which ethnonationalists can recuse themselves. On the contrary, the Jewish question is a simple, straightforward application of the basic principle of ethnonationalism.

If ethnonationalism calls for the replacement of multicultural societies with monocultural ones, then Jews, as a distinct people, belong in their own homeland and not scattered among other nations. Thus if England is to be English, Sweden to be Swedish, Ireland to be Irish, alien populations need to be repatriated to their own homelands, Jews included. That is the ethnonationalist answer to the Jewish question.

[...]
That is exactly the correct stance there.
But that is exactly the opposite of what Colin Liddell was calling for on 08 Nov 2015. Since Colin Liddell thinks that Jews should be part of European ethno-nationalist groups, whereas Greg Johnson clearly visualises a future in which Jews would not be inside the European continent. Quite clearly Johnson does not believe that Jews should be part of European ethno-nationalist groups, or he would not be able to come up with such an opinion.
To repeat, the reason that Greg Johnson is able to conceptualise a future in which Jews are not in Europe, is because he does not see them as part of the European ethno-nationalist advocacy group.
How then can Johnson be okay with Liddell, given that from Johnson's perspective, Colin Liddell would be doing ethno-nationalism precisely wrong? This looks like a clear contradiction.
In fact, Johnson went so far as to ban the commenter UH from being able to post at Counter-Currents, when UH made arguments that were quite similar to those made by Colin Liddell.
Those arguments that were made by the commenter UH, were rebutted by the commenters Verlis and Theodore, here, here, and here.
The need for consistency
The Alternative-Right has a big tent. Their big tent is completely incoherent, because it contains a whole array of people who don't agree with each other on core issues and whose outlooks are totally irreconcilable with each other.
Majorityrights has the correct platform for the advocacy of European peoples, and their regional autonomy. It formulated this platform by firstly considering the diverse opinions of ethno-nationalists. Secondly, after a process of argumentation an authentic theory emerged, which is known as left-nationalism or national-syndicalism. Step three is to equip European peoples with these ideas which are necessary to facilitate a transition toward true ethnostates and to enter into sustainable alliances within regional frameworks.
Having an actual platform and consistently communicating that platform, is more important than trying to create the largest possible tent. The events of the past week only throw the truth of that observation into stark relief.
Kumiko Oumae works in the defence and security sector in the UK. Her opinions here are entirely her own.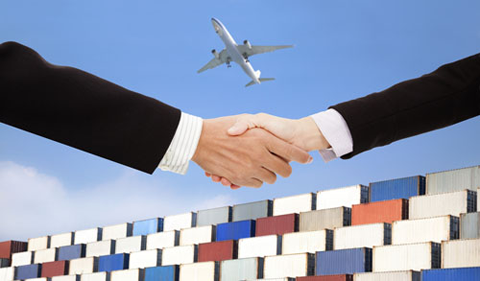 Let's build a good future for all regions!
Overview
The main points covered in this article are:
Broad agreement on the TPP has been reached.
The TPP actually does not incentivise mass migration, it is part of a process which is empowering people to live and work in their own lands.
The TPP is part of a trend of ongoing economic development in South East Asia, Central America and South America, which is concomitant with raising wages in those areas.
Regional imbalance is one of the core components of global economic crisis, which can be remedied by enabling people to actually buy the products they produce.
The advent of a multipolar world means that global ideological hegemony can no longer be easily held by one regional group.
Unlike the disastrous case of NAFTA, it is in fact strategically sound for all ethno-regionalists to endorse the TPP.
It is written with the intent of conveying the necessary information in the shortest amount of time. Read more beneath the fold.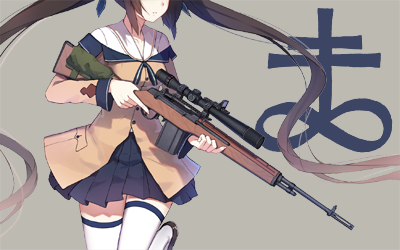 Les armes de Satan c'est la croix de Lorraine, et c'est la même artère et c'est la même veine.
An invitation to debate
If a person browses to the TradYouth website, they will be greeted with a gigantic link to 'the Orthodox Nationalist', which is a page which blatantly promotes Fr. Matthew Raphael Johnson.
Can the Traditionalist Youth Network explain why the blatantly Christian Fr. Johnson is a guiding influence for them?
And if a person reads through many of the articles being published by TradYouth and the Facebook timeline of its SoCal chapter, the influence of this individual and the body of tradition behind him is clear to see in their writing, because it flows through just about everything they write about.
On their 'chapters' page, they have the image of the 'Christ-chan nun' wearing a Christian cross, and the image carries the speech bubble, "Will you 'Deus Vult' for me?" That is a Christian battle cry from the Middle Ages. My response to their request is "Fuck No".
The image I've inset in this post, and the alternative kind of cross contained in it, can be considered as a thematic counterpoint to theirs.
Before I began to write this article, I did consider sending the people at TradYouth an email privately to ask them about their logic and their behaviour. But then I realised that there is nothing that I would ask them in private that can't also be asked in public, so I decided that they should be asked publicly for the sake of transparency.
There is also the fact that TradYouth and Majorityrights are not known for being particularly well-disposed toward each other in the first place, and that would have something to do with the fact that on one hand the TradYouth website is plastered with the symbols of Christian Orthodoxy and the sign of the Christian cross, whereas on the other hand here at Majorityrights we carry the logo of the Fleur de Lise which is the symbol of the Royal Secret whose meaning is the same as that of the Cross of Lorraine.
These are clearly not empty stylistic variations, but in fact represent a clear difference in philosophical and spiritual outlook which has manifested in design choices. TradYouth is pro-Christ. Majorityrights is explicitly anti-Christ and will remain so.
Why even ask for a debate, then?
The gulf of difference between our platforms should not be a reason for debates to be avoided. Nor should the fact that these are 'religious issues' be a reason to sideline them from discussion within an ethno-nationalist context. Many people in various ethno-nationalist groups have said that having frank and honest conversations about these things 'should be avoided' because they can be 'divisive'. But in life, contradictions cannot really be papered over, they must be dealt with and resolved, and so we should see these differences as an opportunity for conversation rather than a reason for refusing to talk to each other.
Can anyone at TradYouth explain why it is that they think aligning themselves to Russian Orthodox Christianity is helpful to the peoples of Europe at this juncture in history? I would like to hear their explanations or their rationalisations for why they have chosen to endorse Christianity. Doing this openly would enable people to evaluate the arguments and choose for themselves.
As many of our readers may be aware, I criticise Christianity frequently, there's a whole category for it.
However, there has been relatively little push-back. Christians and their supporters have been quiet. Almost too quiet. Conversation is needed so that ideas can be further explored.
I therefore would like to invite Matthew Heimbach or Matt Parrot to make contact with me, for the purpose of having an amicable interview and debate on the subject of religion.
Of course, I would make no pretence about my intentions, I would hope that I can convince them of the total and abject poverty of the Christian vision of humans and of the world, that Christianity lacks any kind of European core to it, and that it should be jettisoned as soon as possible. I would hope to have a debate in which all doors are barred in advance. The exits marked with excuses such as "it is tradition" and "people feel comfortable in churches" would be barred in advance.
I would also be happy to discuss the content of the book written by Corneliu Zelea Codreanu, 'For My Legionaries', with them. Codreanu and the Iron Guard were, despite the appearance of being Orthodox Christians, persons who seem to have managed to cloak pagan and anti-Christian ideas under what appeared at first glance to be a 'Christian' symbolism. This was certainly in the 1930s a very tactically astute way of going about their operations.
From reading the book, one can see that Codreanu in fact instructs his followers to openly defy the Abrahamic god for the sake of maintaining the integrity of the Romanian ethnic group and its sovereignty over its own civic space. Under the dogma of Christianity, this in fact would make them effectively non-Christian. In fact, it would not be unreasonable to say that Codreanu's dismissal of the striving for the heavenly afterlife, and Codreanu's veneration of a figure that they referred to as 'the Archangel Michael' who was responsible for such instructions, was in fact thematically akin to the figure of Lucifer as described by John Milton in 'Paradise Lost'.
Just as Lucifer in 'Paradise Lost' is depicted as asserting that it is better to rule on earth and rule in the underworld than to chase the ephemeral promise of some crumbs from the table in a supposed heaven, so too does Codreanu assert that it is better to defend the nation and be consigned to the coldness of the outer darkness, which is to say, 'hell', than it is to be a good Christian and let one's nation be thoroughly destroyed by liberals and Jews for the mere promise of 'heaven'.
I would challenge Matthew Heimbach and Matt Parrot to consider that, and evaluate the situation honestly.
Codreanu's actually-manifest religious views, his laudable dedication to his people was no different than that of the pre-Christian Brythonic pagan religions of the British Isles who believed that everyone goes to one place, the underworld, and that certain geographical sites allowed for close communication with the ancestors who went there, such as perhaps Stonehenge or Newgrange. That is also not very different from those found in Japanese Shintoism, where there is no heavenly reward, there is only the Dark World which stands behind this world. The boundary between this world and the world we can't see would be thinnest at certain locations such as in the forest at Yomotsu Hirasaka, and many other places around the globe.
With those kind of thoughts, choosing martyrdom when placed into battle is only logical, as there is nothing to lose.
Old framework, new framework
For a while now, pro-Christians have attempted to use Codreanu's legacy as an excuse to push their false promises of the afterlife and their false morality.
I posit that Codreanu's legacy should not be understood as an expression of Christianity, and that Codreanu's politics should instead be interpreted as a vibrant and noteworthy expression of paganism and Luciferianism, which rises against the tyranny of the Judeo-Christian god, and which rises against the flabby pacifistic ideas of Jesus of Nazareth.
People ought to fight against having all of humanity digested and turned into the shit of multi-racial 'brothers and sisters in Christ' in the melting-pot of the fleshy bowels of Christ.
In 1930, being tactful about that outlook and cloaking one's real anti-Christian views, was politically astute given what the social environment was like. In 2015, with Christianity on a steep decline among pretty much everyone in the west in the 18-29 age cohort, I can see no reason whatsoever for why anyone would still be bothering to be Christian, unless they actually believed in Christian nonsense. There is certainly no political gain that can be extracted from such a pretence.
The demographic which Christian culturalists are trying to appeal to, are mostly a demographic who don't even believe in Christianity in the first place. Christian culturalists are not only wasting everyone's time, but also spreading Christian values, values which are deeply harmful to ethno-nationalism. If Europeans are moving away from Christianity, no one ought to be inflicting it onto them again. A move away from Christianity is the correct choice.
For anyone who may be rolling their eyes and thinking that this invitation is excessively provocative and radical, you should not regard this as an example of 'Kumiko being edgy'. No, this idea of 'pro-Christian vs. anti-Christian' is a perspective which is thematically salient, because European society has had—broadly speaking—two modes of thought which have been placed in opposition to each other ever since the rise of Christianity.
The famous French poet Charles Pierre Péguy illustrates this in metaphor, which I will excerpt from:
Péguy oeuvres completes 06, page 291 (emphasis):

Les armes de Jésus c'est la croix de Lorraine,
Et le sang dans l'artère et le sang dans la veine,
Et la source de grâce et la claire fontaine;

The weapons of Jesus are the cross of Lorraine,
And the blood in the artery and the blood in the vein,
And the source of grace and the clear fountain;

Les armes de Satan c'est la croix de Lorraine,
Et c'est la même artère et c'est la même veine
Et c'est le même sang et la trouble fontaine;

The weapons of Satan are the cross of Lorraine,
And it's the same artery and it's the same vein
And it's the same blood and the troubled fountain;

Les armes de Jésus c'est l'esclave et la reine
Et toute compagnie avec son capitaine
Et le double destin et la détresse humaine;

The weapons of Jesus are the servant and the queen
And every company with her captain
And the double destiny and the human distress;

Les armes de Satan c'est l'esclave et la reine
Et toute compagnie avec son capitaine
Et le même destin et la même déveine;

The weapons of Satan are the servant and the queen
And every company with her captain
And the same destiny and the same misfortune;

Les armes de Jésus c'est la mort et la vie,
C'est la rugueuse route incessamment gravie,
C'est l'âme jusqu'au ciel insolemment ravie;

The weapons of Jesus are death and life,
It's the rugged road incessantly climbed,
It's the soul up till heaven insolently exploited;

Les armes de Satan c'est la vie et la mort,
Le désir et la femme et les dés et le sort
Et le droit du plus dur et le droit du plus fort.

The weapons of Satan are life and death,
Desire, woman, dice and chance
And the right of the toughest and the right of the strongest.
The two divergent paths spring 'from the same vein', because it is a choice, a perpetually-existing conjuncture which is placed before people as to what they will fight for, and how they will live their life. Look at it socially.
All of a people's original and beautiful traditions, along with its natural self-preserving behaviour, have been labelled as both 'pagan'—a word which literally means 'non-Christian'—and labelled as 'satanic'—a word which literally means 'adversarial [toward Jehovah]'. We live in a world where that dichotomy has been created due of the advent of Christianity.
If someone were to ask me whether I stand with Lucifer—who Christianity, Islam and Judaism would call 'Satan'—the answer I would give to that question is of course 'Yes, I stand with Lucifer, I stand with Satan'.
That would in fact be a logical statement, because whosoever takes up arms against Judaism, against Christendom and against Islam, is ipso facto 'antisemitic', 'islamophobic', 'pro-pagan' and 'satanic'.
There's nothing wrong with being 'antisemitic', 'islamophobic', 'pro-pagan' and 'satanic'. There is no reason to bat an eyelid at such labelling.
Kumiko Oumae works in the defence and security sector in the UK. Her opinions here are entirely her own.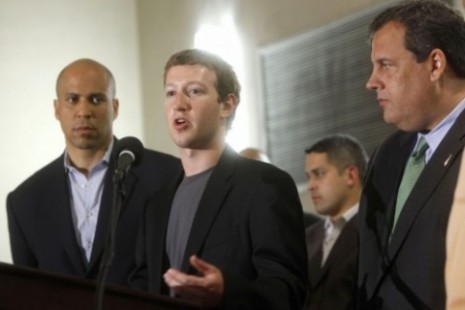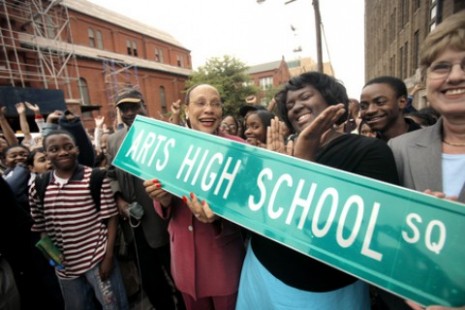 Facebook file photo release: Mulatto, Zuckerberg and Gov. Christie (Mulattoes not to be confused with Anglin. Resemblance coincidental)

Of and for those with a hyper-assertive and wholly undeserving sense of entitlement - e.g., blacks and mudsharks - to those who get what they want, when they want:
Zuckerberg misdirects 100 million dollars and educational resources - wasted on Newark, New Jersey public schools and its overwhelming black student bodies. Of course the talk now is: what happened to the money? Why didn't 100 million dollars help?
Can you imagine?
The centuries of sacrifice that Europeans made to contribute to the scholarly corpus, the days and years that scholars like Gregor Mendel went without female touch and appreciation (while Negroes were accommodating harems).
The lonely suffering that many an intellectual quest entailed to yield knowledge ...
To endure the hatred of liberals, pointedly, often White females whom he lives to love - miseducated to base instinct and anti-White interests, so typically making "anti-racism" a litmus test of initial interaction episodes with White males, whom she typically dismisses on slightest indication of circumspection as "wimpishness" or "nerdishness", and after he "fails" the incitement of her litmus test of "alpha males"- viz. a liberal who shrugs-off all comers, from everywhere - as simply her prerogative, these females for whom he is starved for even talk of concern about heritage, now give their ultimate treasures to blacks, and empower those who take not only the economic capital of centuries, but even his last recourse, his intellectual quest, and force him to teach and educate those, such as blacks, who would torture and destroy him, turn his world into a science fiction nightmare, who take his ultimate treasure, his co-evoutionary women, for apes who have NOTHING to compensate him with, nevertheless proceeding as if they are entitled… still, the powers-that-be and their gate-keepers would even take what remaining consolation, of monetary and intellectual compensation, means by which he may perhaps have found redemption in an exceptional wife, of merit for her commitment to a sovereign life in respect of our peoples.
Liberals try to dismiss his concerns with conciliatory advice: "she's stupid."
Hmm. "She's stupid"...and "she's stupid and she's stupid and she's stupid".. before long "she" has become an uncountable noun….
Uncountable though the noun is, they are "all his fault, because he doesn't man-up."
Not only does she need education ..to become still more liberal, to become still more Judaized and negretized..
He must educate the throngs of Negroes, and Muslims, etc., to make them more capable of his dispossession, of taking his co-evolutionary treasure. It's "civil rights": The involuntary, forced servitude to non-Whites and mudsharks. Everything that he sublimated and sacrificed-for, endured hell and torture for, must go to them. Including a trend of those White women of qualitative difference, who may not have appreciated finer intellectual quest, but may have been sufficient compatriots in a White Class. They'd take not only those of modest intellectual endowment, they would not only embezzle economic means, not only White women and public money to blacks, they would force him into directing his intellectual quest in their service. They would take the means by which he might even find and be found by the exceptions, and rather further equip those who would betray him and those, e.g. blacks and Muslims, who would enslave him and torture him to death, a techno-slave or a nerd slave of some sort wallowing in masochism of cuckold porn.
September 8, 2015

"Covering Innovation & Inequality in Education"

What happened with the $100 million that Newark schools got from Facebook's Mark Zuckerberg? Not much:

A new book delves into how the project went wrong


Dale Russakoff spent four and a half years reporting about Mark Zuckerberg's $100 million gift to Newark public schools for her new book "The Prize: Who's In Charge of America's Schools?"



"The goal of improving education in Newark is not a hopeless one"- Dale Russakoff


Yes, it is hopeless - and worse: it is to rob and rape Europeans not only of their birthright, but of their intellectual history and posterity..
Yes, The Prize… Who's In Charge of America's Schools?... as it was with Brown vs. Board of Education - school desegregation and "civil rights", the prize continues to be wrested from Whites by means of cultural-Marxist coalitions, its most recent permutation with CAIR and its discriminated-against Muslim school boy..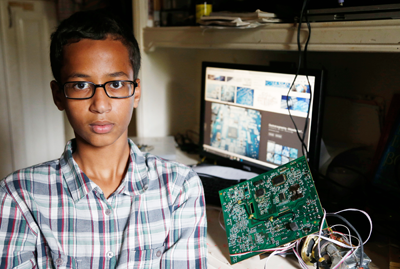 Ahmed Mohamed: Clock Boy.
In the United States, a 14-year old student at Irving MacArthur High School named Ahmed Mohamed brought a device to his school that somehow caused school administrators to call the police, and the police then arrested him.
This is because all of them at least momentarily seemed to have believed that the device he had brought to school was 'a hoax bomb'. It became immediately apparent that it was not a hoax bomb, and was in fact a clock inside of a pencil case.
Subsequently, a media frenzy developed around Ahmed Mohamed, which has led to an outpouring of sympathy directed toward him from various segments of American society.
The incident went viral on social media and the hashtag "#IStandWithAhmed" was the top non-promoted United States trend on Twitter early on Wednesday morning. Some people alleged that Mohamed was arrested only because of his Muslim name, or because of the way he looked. Many liberals and Muslims claimed the situation was a case of 'Islamophobia'.
Many others would be inclined to gloss over this story, filing it away as just being an example of Americans being 'too paranoid about terrorism', embarrassing themselves, and then reversing course.
However, there are actually more interesting patterns at work here.
While I have made comments in this regard in the past, I have been meaning to make a post about this for a long time. Now is as appropriate a time as ever to forefront a critical position toward labor.
In The United States, Labor Day 2015 falls on Monday, September 7th
.................
People may think that as an advocate of a new position that I am calling "The White Left" that I am enormously sympathetic to White labor and that we are ready to hear detailed, practical, step by step, concrete advice, facts and figures as to what White labor ought to do.

On the contrary, I believe White labor are some of the biggest fools that there are, particularly where they do what they do best - dutifully putting their nose to the grindstone to make society run amenably for all. They keep the gears of this neo-liberal ship running smoothly and grinding away at our White EGI. Their labor is basically contributing to a system aimed at their destruction and if they had any sense they would try to find a way out. In effect, they should go on strike.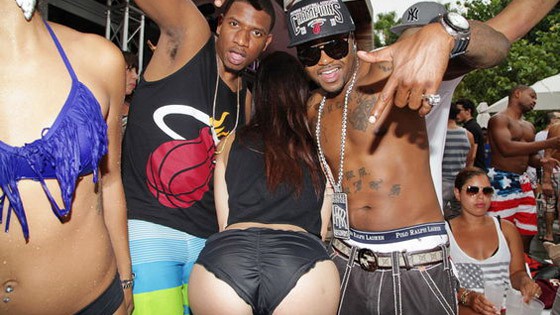 Last years' Labor Day party in Miami, displaying what has become an appropriate image for the state of labor.

You say that you have a family to pay for? You are doing me a favor? I think not.
And if you are contributing to this society, are you even doing your kids a favor?
There are those who maintain that they must participate and work in a way that serves the system in order to take care of their White family and of course that may be true. But it would be tragic if they do not begin to build bridges with other Whites (and select non-White nativist nationalists) toward a unionization of EGI and White economic sovereignty, since the life boat they have put their family on by participating in the system is taking them to drift further and further out into the ocean of non-Whites. They are merely providing their children a superficially comfortable situation within what are destined to be increasingly horrible circumstances - and that comfortable buffer can be taken away in an instant without unionized rules for them to coordinate in defense against neo-liberalism and its Red Left, PC enforcement wing.
Still, so long as the unionization of Whites continues to be demonized by White Nationalists, as they insist on confusing "The White Left" with "The Red Left", as they insist on associating "Third Positionism" with objectivist confusion and right wing crap, such as a religions which do not recognize EGI and concerns for this world as important, we are obviously not ready for a strike. No, don't worry, I am not calling for you to walk away from your salary, for that would mean that we are ready for war of maneuver, ready to take over the system which we all agree is working against our EGI.
We are nowhere near ready for that, as the right wing or the right wing elements of third positionism continually confuse, disorganize and frighten away the popular support necessary for a war of position (conceptual organization, territorial and strategic position) as precursive to support a war of maneuver (taking over government).
In trying to organize a war of position thus, we must first render a theoretical sketch rather than get lost prematurely in the practical and concrete. We are talking metapolitcs: White workers of the world conceptually uniting with the aim of political separatism and sovereignty.
WN still insist upon either identifying as reactionaries, as "the right" or as being "beyond left and right" and as long as third postionism equates to confusion as such, obstructs organized unionizations of our people, and rather merges with counter-productive or downright destructive right-wing perfidy, then we are at the stage of having to stake-out a war of position. Unless we are coordinated there can be no war of maneuver for Whites to take control of our nations and see to our people's interests.
Almost all sites and programs associated with White interests are still determined to argue that "the left" is the enemy or that the term has no utility. I am suspicious of their motives or of the motives of those from whom they gain support and guidance.

The most recent example is Matt Forney, who tried once again to put this needless confusion across. His latest gambit on behalf of his Jewish and neo-liberal masters occurred when talking to Robert Stark.
Matt Forney pushes the counterproductive, Jew prompted line now as something that we need in particular as men - as men we need to move beyond right and left, while favoring the right on balance.
Sure, Matt, we don't want to do anything like unionize in our interests as White men. That would be an awfully fearful thing in the eyes of your Jew masters and your liberal White woman friends. We are "betas" because we don't want their sloppy seconds or is it sloppy one hundred and 22nds? But who is desperate? We are not real men because we advocate a White left (which, as we define it, might look quite a bit like and have quite a bit in common with third positionism) but you are a real man?
We do have bigger fish to fry than poor Matt, who boasts about how he went around screwing and dumping Filipino girls (an appropriate place to aim his revenge?), and so we will leave him to the confused world that he would induce White men into, on behalf of his Jewish masters, supposedly moving beyond right and left - that is to say, beyond the call for White unionization and syndicalism.
To articulate a clear war of position, to where we, as White men, have intrinsic value as designated by union membership, for the first time ever, our inherent social capital recognized, innocent until proven guilty, now that would be a fearful thing indeed to his Jewish and neo-liberal masters.
Can you imagine? People would actually have to treat us and our EGI fairly?
That would be an awfully fearful thing to his Jewish masters and to the objectivists sell-outs, the White sluts who wish to block our war of position, maintain the neo-liberal anarchy and atomization among White men until there is no chance of us seizing power by maneuver…
Keep reading…
Within the disorder of modernity, where puerile females are so one-up and so pandered-to, where their base proclivity to incite genetic competitition is in runaway, uncorrected by the homeostatic control of social group boundaries, it is more than dubious to add another exponent to their poison cynicism.
Andy well articulates a view on the cuckold meme in line with my view thus.
That is, I am not going to jump on that bandwagon. It sucks. It is a meme not without some merit, but largely for a-holes by a-holes too cowardly and self centered to see the radical point. The best angle is not for a-hole males, the kind that screw others, including their own people, when they do not have to, to incite other a-hole males, the ones who let others screw their people all too easily, when they do not have to.
Both of these types represent something outside of authentic European masculinity, its optimal level of sublimation and qualtative expression.
Because it is didcactic incitement, it is prone to play into the hands of our enemies as another way to merely blame White men, to perpetuate and take the heat off of our adversaries - our adversaries who know that these marginal men are interfaced with boundary maintenance and are, therefore, to be disempowered, humiliated, their conservative instinct to be disrupted, to remove their correcive function and doubly punish them despite the fact that they are most likely to be victims rather than responsible party victimizers; but who cares? The true culprits have diverted attention from themselves and will be immune to this additional poisoning of our boundry demarcating marginal peoples - with the more forethinking men incited into oblivion, and the narrow alpha male a-holes left standing, this will play into the hands of those who would Africanize our population, have us more stupid, kindred to blacks and mulattoes, more easily controlled.
No, the far more advisable, more valid critique, one which would in fact entail easier and more reasonable compliance ought to be criticism directed at peurile femalenss, a puerile femaleness that is all too used to being panderd to. They ought to be incited to be more decent, cooperative and fair - in a word, to be worthy of being defended as our co-evolutionary women, mature women, if not ladies.
Until such time, these puerile bitches deserve incitement - Mulatto supremacist BJ machines - whatever you might like to call them, let those who do not deserve that label object and let the ones who do deserve that label try to defend themselves.
It is a puerile femalness that is mean beyond belief in its self righteousness; indeed, in its privilege it is getting away with murder, torture, the destruction of the profoundest evolution for the most idiotic reasons, out of ignorant spite, a puerile femalenss whose acts, while on par with rape, are normalized and institutionalized by the right-wing in foolhearty, naive or disingenuous complicty with Jews, as "natural" acts, or even heroic defiance of the "backward" - which, in incitement, we are supposed to adjust to, as the way it is in "universal maturity."
We all know that puerile females can never do anything wrong.
Scientists and Jews say so.
It is for White men to adust to their infinite wisdom.
If men drag their feet, are unwilling to participate in the paradigm that Jews have outlined, then they are "cuckservatives."
It is another Jewish meme to blame White men, if there ever was one.
Sure, we should adjust to the predilections of puerile females, as pandered to by Jews, Muslims et al, in the cataclysmic destruction of European peoples and our co-evolution.
We should act into the loop, a Jewish loop, engage in such didactic incitement. Rather obviously, we should not. It is far better that the puerile females of Western nations be subject to incitement, to become mature, decent, responsible women. For those who know American females, as they are, and as it stands, know that typically they are egomaniacs.
Worse, they're typically the vilest tyrants - manifest through ceaseless pandering of Jews to their one-up position in partner selection. This has put an exponent by their worst inclinations - incitement to genetic competition and appeal of the brute, episodic view of masculinity, a hyper-assertive, unsublimated masculinity more characterisic of blacks and mulattoes.
And we all know what a wonderful way of life that they create. So wonderful, that we should emultate them on penalty of being called a "cuckservative."
Nice try Mr. Jew.
You won't find me buying into this Jewish meme of "cuckservative."
You might, however, hear me chiding these puerile female tyrants that you've had integral part in creating as "mulatto supremacist B - J machines." (I would like to use the full-out word, but I guess you get the drift).
Incitement of White males at this point is more characterisitc of right wing pefidy. To think, they accuse the left of being against nature. But what do they know about White nature? They're so objective, displaying transcendent, univesal masculine strength - they don't even need anybody else, just their own individual Herculean strength. What it really is, of course, is their own gang of Jewish marshalled punks, piling-on anyone unfortunate enough to be in a vulnerable position, to need their people, their race, to show off in contrast to them for unworthy females and "the objective measurer."
But I do get it when it comes to conservatives and the need to drive a wedge against their Jewish designated "conservatism", which is not conservatism at all, but the propensity to conserve liberalism, to conserve the destruction of Whites. That wedge criticism IS central to our program here at MR.
I just don't trust the cuckservative meme. It's based in a universalist liberal perspecive. It's an incitement generally biased in the wrong direction, piling on White men who've been incited ad infinitum; and as a meme, being slowly nudged beyond reach of normal men; into toxicity for those who would otherwise be best positioned to see the sense of our cause, to swell and empower our ranks. It's playing into Jewish, liberal and puerile hands, deflecting from their responsibility.

A further note on these lines of right wing perfidy…
I recently heard that Angelo John Ganucci had been banned from the campus of Boston University.
Well, that's nothing.
I was banned form campus of The University of Massachusetts at Amerhest no less than four times. I must admit that I got a certain satisfaction in manifesting activism from the other side.
I would walk around campus with a shirt that read:
"Big Mulatto Bro is watching, foil HER Mulatto supremacist dream!"
And sometimes with a shirt which read:
"We have a consensus, black women are ugly!"
That came in handy when encountering interracial couples - because the female was ALWAYS the White one.
I could simply walk in front of them. This was extremely awkward for them and extremely hard for them to respond to.
The black woman, who was being insulted, was not there, the black male was being called-out on the fact that he viewed his own co-evolutionary females as inferior, and the White female, who pretends to be the sensitive social justice warrior, is shown to be the thoughtless pig that she is, e.g., having little or no concern for black women, whose men she is taking away.
Because walking in front of them so that they could read the shirt didn't involve aggressive and loud verbal confrontation, this did not arouse enough attention from third parties to provide one of the occasions that got me thrown off campus. But it did get a potent message across. It was one of the better strategies that I experimented with.
As I have said in other places, "mulatto supremacism" is a confusing, difficult and all too accurate charge for our enemies to handle; that is why I was prevented from posting an article about it on Wikipedia.
It is difficult for them because it does not confronts Jews, blacks, or miscegenators directly, while it calls dramatic, critical attention to the egregious upshot of PC politics.