Majorityrights Central > Category: Race realism
Since I am paying more attention to things Asian as a result of Kumiko's participation here, a couple of videos and a composition of Facebook comments relevant and illustrative of issues that I have been discussing have come to my attention.
Asian illustrations of..
1. Advised social confirmation and elevation: of the value of ordinary routine practices; in this case, participation in social routine.
2. Bad parenting advice: "You are from Sweden" and simply Swedish by proposition - abrogates racial accountability and leaves one susceptible to Jewish trolling for racial divisiveness and strife instead. Why the suspicion of Jewish trolling? Because of a salient example…
3. A composition of fake tweets: attributed to Americans apparently mocking the atomic bombing of Japan:
Captioned "stay 'classy' America" - the fraud and motive to create a division between Whites and East Asians is traceable to Jewish motives.

Coming to these examples throwing light on racial accountability from Asia, one at a time -

1. Advised celebration of ordinary routine:
Kumiko likes Korean and Japanese pop music videos and she showed me this Japanese one.
Participation in..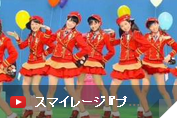 ..routine social service..
If WN can show bearance upon what might otherwise be construed as an appeal to yellow fever by the presentation of this video, there is actually bearing upon an important point that I made in my article about "the dark side of self actualization" and how to otherwise moderate and optimize actualization.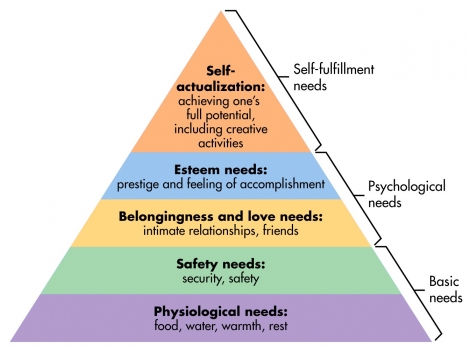 That is to say, one thing that needs to happen in our re-socialization of actualization is for the value of individual self actualization to become part of a rotating and optimizing process of attention, to where it does not always and statically occupy the top of a hierarchy. That over-emphasis has, of course, destabilized and lent to the rupture of our racial/social systemic homeostasis. The inference I've made is that one of the aspects of actualization that needs to be constructed, elevated in importance and encouraged to enjoy is not only a sufficient amount of routine but also routine social participation in our tried and true practices and procedures. That will not only allow us to learn from our forebears but it is also necessary to create a platform for elaboration and innovation; i.e., it is prerequisite and socially as important as actualization. This video shows a song and dance of girls in Japanese postal service uniforms.
The point that I am trying to make is that celebrative or otherwise reverential treatment like this, of the ordinary and social routine, might help to emphasize sufficient sufficience, so to speak, in enjoyment of necessary social routines and with it, an elevation of appreciation of ordinary necessity so that it is not dwarfed nor its vital necessity discouraged by singular social appreciation and veneration of the extraordinary and the sacred.
I hypothesize this elevating celebration of routine (in this case social) practices as one side of the necessary elevation of the social esteem of routine; another side of "routine" elevation would be ceremony and sacral treatment of exemplary practices.
2. Bad parenting advice: The oriental woman in this video was adopted by Swedish parents and brought-up with that idea that she is "simply Swedish, the same as any other Swede", by proposition.
By contrast, if she were taught that she was an adopted girl of Korean descent, who was and should be welcomed as counting of a manageable, benign but accountable enclave of Swedish nationals…
...there is insufficient accountability in insistence upon her parents well meaning but bad advice - simply asserting that she is Swedish just like all other Swedes.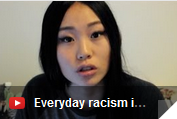 She sets herself up for abuse
Adopted by Swedish parents and growing up in Sweden, she responds to the question from a Swedish man, "where are you from?" that she is "from Sweden." The man responds, "no, where are you really from?"
She takes this as an example of "racism" and tries to correct the man in the motive she perceives of his question, answering that she is "Swedish just like every other Swedish national" - as her parents taught her.
However, I'd guess that the man's question was not "racist" in a negative sense. Yes, it was racial in the sense that he was trying to get an accurate sense of how to classify her, but why? Because he thought negatively of her and of her being in Sweden? Probably not.
He was quite possibly asking her for one or all of the following three reasons:
a) He found her attractive and wanted to know where her sort was from for future and general reference.
b) He found her attractive and saw the question as an opportunity for an ice breaker.
c) If she answered, "Korea", chances are that he would enjoy showing his good-will toward her, by confirming her honest account and her people as really OK, and that as a part of a reasonable and accountable number of her kind of immigration, take occasion to show support for her participation with Sweden.
That is to say, what the man was doing was "racism" by definition in the sense that he was attempting to classify people genetically (not doing the mere liberal thing of pretending to be blind to racial classifications but judging people instead by propositions), but it was, in all likelihood, a benign kind of classifying, motivated by respect and a wish for accountability.
Because she treated it as "racism", i.e., classification for negative motives, she attempted to denounce it and hide behind the well meaning but fundamentally dishonest advice of her parents that as a propositional Swede she was the same as an evolutionary Swede.
As such she denies the possibility of honest accountability that would serve to limit negative treatment of her in Sweden and gain her support from those who have an honest concern for the management of native Swedes.
Instead, for denying accountability and denouncing the account requested as "racist" she sets herself up for abuse from at least two kinds in particular.
She will perhaps get some abuse from jealous and racially concerned Swedes, e.g., Swedish women miffed with yellow fever. That would be understandable if Asian immigration were taken too far at any rate, but when there is no accountability it is likely to be more provocative of the racially sensitive Swede for her to say, "I am the same as you", have the same history, etc. But even at that, it is probable that she did not really receive much of the gaffe from true Swedish women. What abuse that she got and experienced, with truly saddening pain, most likely came from Jewish trolls looking to stir conflict between Whites and Asians.

She gets abused by what probably are some Jewish trolls trying to provoke conflict between Asians and racially aware Whites: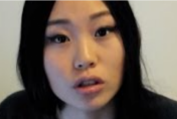 3. What makes me hypothesize Jewish trolling? viz., that Jewish trolls can be trying to provoke her and provoke conflict between Whites and Asians?:
How about this. Kumiko showed me this composition, supposedly of Facebook posts by American people speaking of their own accord, saying that they are happy that Japan sustained nuclear bomb attacks in WWII and would be quite happy for it to happen again.
I grew up in America and for 34 years spent there never encountered an American who would speak remotely like this about Japan or the atomic bombing of Japan. Furthermore, if one reads these comments it is clear by a careful discourse analysis that the writer of all of these comments is one or a few people. If one is more careful still, to take style and motive into account, the Jewish hand is evident.
Though it may seem like obvious trolling to some of us, unfortunately this was apparently taken seriously by some Japanese audiences and even shown on Japanese news as if it were an honest reflection of American sentiments - when in truth, these are not remotely accurate statements of Americans: Stay classy America? No, stay "classy" with your divide and conquer chutzpah Jews - greatest shame is upon you and we are watching you.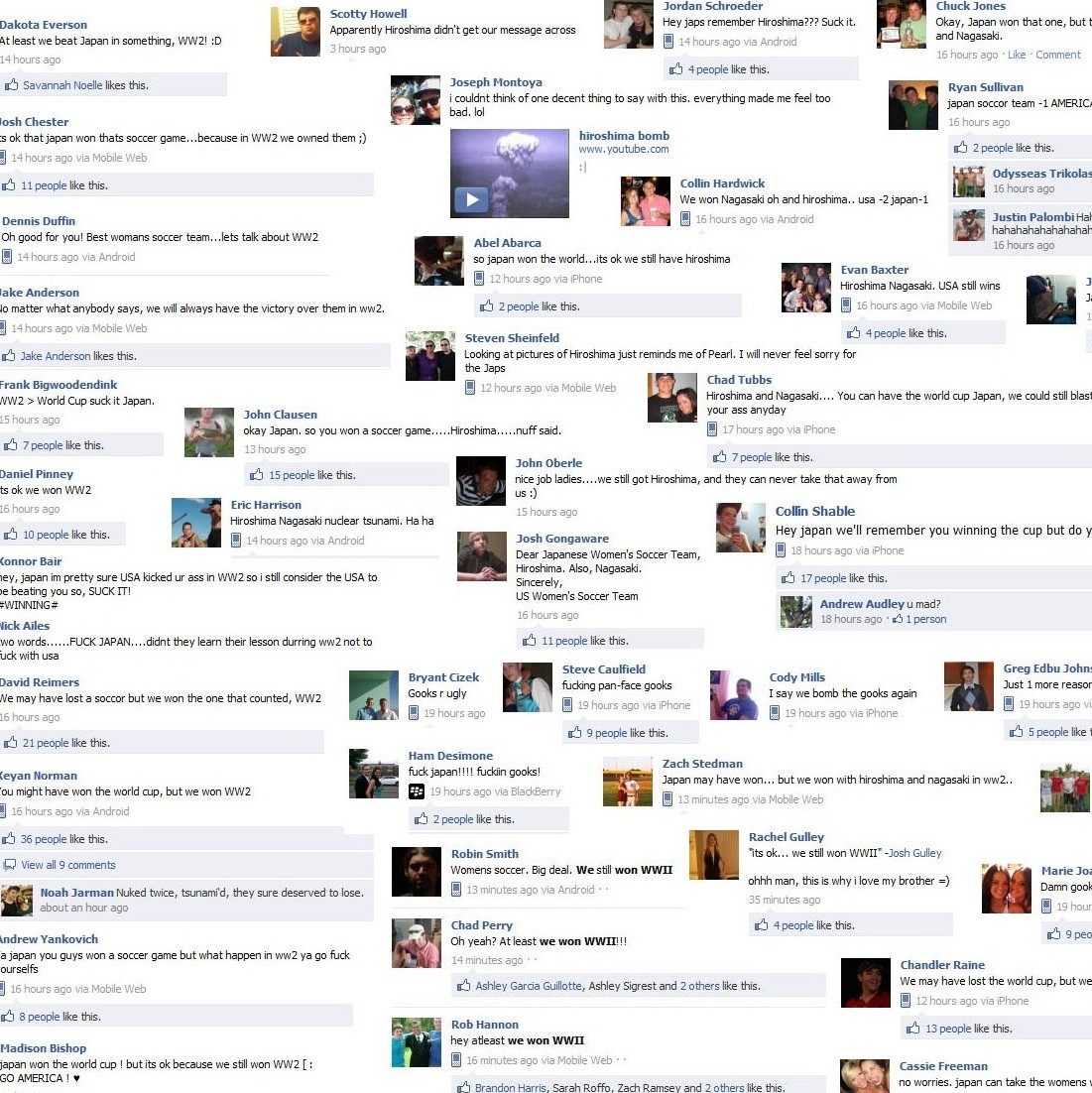 Full composition under the fold..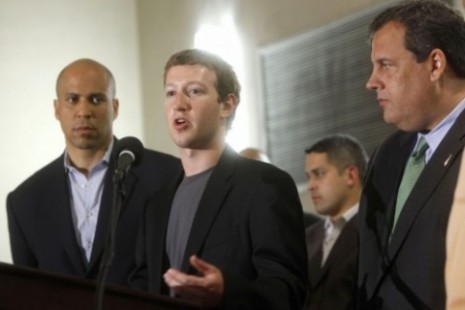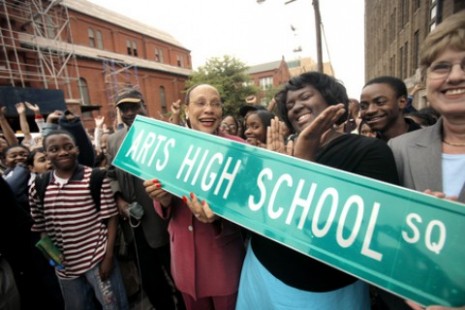 Facebook file photo release: Mulatto, Zuckerberg and Gov. Christie (Mulattoes not to be confused with Anglin. Resemblance coincidental)

Of and for those with a hyper-assertive and wholly undeserving sense of entitlement - e.g., blacks and mudsharks - to those who get what they want, when they want:
Zuckerberg misdirects 100 million dollars and educational resources - wasted on Newark, New Jersey public schools and its overwhelming black student bodies. Of course the talk now is: what happened to the money? Why didn't 100 million dollars help?
Can you imagine?
The centuries of sacrifice that Europeans made to contribute to the scholarly corpus, the days and years that scholars like Gregor Mendel went without female touch and appreciation (while Negroes were accommodating harems).
The lonely suffering that many an intellectual quest entailed to yield knowledge ...
To endure the hatred of liberals, pointedly, often White females whom he lives to love - miseducated to base instinct and anti-White interests, so typically making "anti-racism" a litmus test of initial interaction episodes with White males, whom she typically dismisses on slightest indication of circumspection as "wimpishness" or "nerdishness", and after he "fails" the incitement of her litmus test of "alpha males"- viz. a liberal who shrugs-off all comers, from everywhere - as simply her prerogative, these females for whom he is starved for even talk of concern about heritage, now give their ultimate treasures to blacks, and empower those who take not only the economic capital of centuries, but even his last recourse, his intellectual quest, and force him to teach and educate those, such as blacks, who would torture and destroy him, turn his world into a science fiction nightmare, who take his ultimate treasure, his co-evoutionary women, for apes who have NOTHING to compensate him with, nevertheless proceeding as if they are entitled… still, the powers-that-be and their gate-keepers would even take what remaining consolation, of monetary and intellectual compensation, means by which he may perhaps have found redemption in an exceptional wife, of merit for her commitment to a sovereign life in respect of our peoples.
Liberals try to dismiss his concerns with conciliatory advice: "she's stupid."
Hmm. "She's stupid"...and "she's stupid and she's stupid and she's stupid".. before long "she" has become an uncountable noun….
Uncountable though the noun is, they are "all his fault, because he doesn't man-up."
Not only does she need education ..to become still more liberal, to become still more Judaized and negretized..
He must educate the throngs of Negroes, and Muslims, etc., to make them more capable of his dispossession, of taking his co-evolutionary treasure. It's "civil rights": The involuntary, forced servitude to non-Whites and mudsharks. Everything that he sublimated and sacrificed-for, endured hell and torture for, must go to them. Including a trend of those White women of qualitative difference, who may not have appreciated finer intellectual quest, but may have been sufficient compatriots in a White Class. They'd take not only those of modest intellectual endowment, they would not only embezzle economic means, not only White women and public money to blacks, they would force him into directing his intellectual quest in their service. They would take the means by which he might even find and be found by the exceptions, and rather further equip those who would betray him and those, e.g. blacks and Muslims, who would enslave him and torture him to death, a techno-slave or a nerd slave of some sort wallowing in masochism of cuckold porn.
September 8, 2015

"Covering Innovation & Inequality in Education"

What happened with the $100 million that Newark schools got from Facebook's Mark Zuckerberg? Not much:

A new book delves into how the project went wrong


Dale Russakoff spent four and a half years reporting about Mark Zuckerberg's $100 million gift to Newark public schools for her new book "The Prize: Who's In Charge of America's Schools?"



"The goal of improving education in Newark is not a hopeless one"- Dale Russakoff


Yes, it is hopeless - and worse: it is to rob and rape Europeans not only of their birthright, but of their intellectual history and posterity..
Yes, The Prize… Who's In Charge of America's Schools?... as it was with Brown vs. Board of Education - school desegregation and "civil rights", the prize continues to be wrested from Whites by means of cultural-Marxist coalitions, its most recent permutation with CAIR and its discriminated-against Muslim school boy..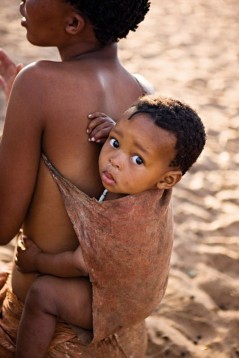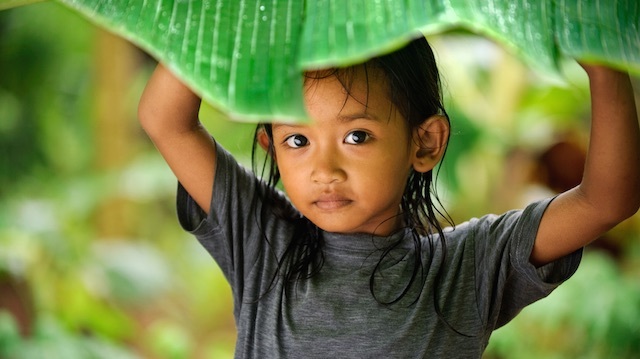 An ancient instinct that is vital: " Wait, who are you? "

What is it really, that is called "xenophobia"?: Article translated and republished from "Nya Dagbladet Analys"



What really is referred to by the word "xenophobia"?

Xenophobia is no human idea, it is not a political ideology. The inherent notion that individuals from other ethnic groups are different is as old as humanity itself.

That political leaders throughout human history have tried to either foment or stifle this innate team spirit does not change its origin or function. Ultimately, while it has often come to be called xenophobia, it is a kind of defense mechanism of an ethnic group. It has a cohesive function but is also vital to the group's survival.

It is easy to think today that racism is obsolete in modern societies, and political ideas that multicultural and multi-ethnic societies are something we can decide to create, and then use various integration programs as a tool to make this work artificially.

It is important to remember that "xenophobia" has always been the human diversity condition. Without this desire or sense of distinction and boundaries no ethnic group could have existed for very long before it would be adulterated and perish again.

The world's major ethnic groups; blacks, whites and Asians, and all its subsets of peoples did not come into existence overnight. It has taken nature tens of thousands, if not millions of years to enrich the earth with the human diversity which we have today. The birth of a new ethnic group has always been dependent on a distinct geographic location. For the purpose of various ethnic groups' birth and continued maintenance, they have always required "xenophobia", more properly termed "alien skepticism" or "stranger caution" as a prerequisite.

The principle or the basic human function is exactly the same as in individuals. An individual who is not skeptical or cautious when confronted with a stranger will not survive in the long run. This instinct is basically in all living creatures on earth and is deeply rooted.

The function and conclusion of prejudices

"Alien skepticism" or "fear" of the unknown is a kind of first line of defense. Here comes the concept of prejudice. An individual always makes a first assessment of the foreigner—a judgment before it knows any details for sure. We must also understand that individual assessment, when the unknown has become known, can shift from prejudice to "judgment", a conclusion based on knowledge.

However, today we are told by the modern political system that prejudice is just ignorance and as soon as this ignorance is gone, the foreigner should be welcomed. In fact, the individual's or group's conclusion could be that the foreigner cannot necessarily be given a pass, and may intend to cause us harm.

Racists in every expression of the negative sense, of course, are also those who want to cause an ethnic group's unity and uniqueness to perish through mixing and division. Many nations and entire civilizations during the history of humanity have vanished for this reason. Either by displacement and extinction or by blending them away out of all recognition.

A true defender of the world's human diversity turns naturally against both extremes of racism and genocide. Moreover, the criminalization of these two extremes is stated in the UN Declaration of Human Rights of 1948, saying that not only is performance of these acts criminal but it is also criminal to instigate them. Thus, the express intent or encouragement to try to create a multi-ethnic society, which inherently violates the right to the preservation of the ethnic and cultural characteristics of the group, or displacement or eradication of a people, could fall within the scope of this crime. In the UN declaration it says, among other things, that the following shall be considered as genocide:

"Deliberately inflicting on the group conditions of life intended to lead to its complete or partial physical destruction; (d) to take measures intended to prevent births within the group; (e) Forcibly transferring children of the group to another group. "

In the ongoing development of today's Sweden where a large number of non-European immigrants are coming to the country, a natural segregation process is marked by Swedes who move away from immigrant areas while various immigrant groups cluster together, and those immigrant groups quickly receive a residence permit and can select where in the country they want to stay. In this way the crime referred-to in the last paragraph concerning genocide may be relevant, eg. in cases where parents are not allowed to put their children into any school but are forced to send them to the local multi-ethnic schools where Swedish children in many Swedish schools already are a minority in their own country.

In the next step they might endeavor to create a multi-ethnic society through the use of integration programs, and this could fall within the scope of "hate crimes" because there would be a restriction of the indigenous group's autonomy.

The general conclusion regarding the question of earth's ethnic diversity is that the property known as "xenophobia" is a necessary evil. The key instead now is to thwart its extremes. The leading political establishment in general seems to dumb-down and exaggerate the image of our instinct for caution, instincts like defense and self-preservation. This they do, among other things, by trying to characterize as a disease, what is actually an instinct and a function that acts as a guarantor for the conservation of all communities, by using a negative-sounding designation such as "xenophobia". If there is an "undue fear" of the unknown, its assessment must of course be something that is considered "reasonable" and make sense, and it needs to exist and be expressed.

There has also been a confusion between the fact that ethnic groups are different and should be valued as such, with the idea that ethnic groups are ranked differently, the two are very different things. The most extreme manifestations of the debate would not even concern themselves with the thought that there are different kinds of people on earth.

This is often presented as options of black and white, where either you accept today's multicultural and ethnic change in Sweden beyond recognition, or you accept hatred and abuse against all immigrants who are in Sweden and the need to advocate a hundred percent purity. Swedes are a generally balanced people and have an absolutely predominant wish for neither of these extremes. Discernment is often the first casualty when debate deteriorates.

Reliance on these extremes and extremists, mainly in politics, business and the media is driving the currently extreme situation. However, what remains and ensures that we can get a more balanced society and social climate in the future, is that our age-old instinct for self-preservation can take on a balanced and natural expression.

Swedes may be very open-minded, but they also have a right to their own preservation.

NYD Analysis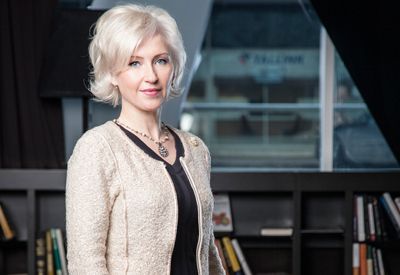 "As a White person, I feel that the White race is threatened today! Are Estonians also so brain-washed now that they start talking some kind of politically correct bullshit?"
- Ojuland said.
This clip (courtesy of Stan Hess) emerges most pertinent in light of Jewish crypsis; along with their twisting and corruption of terms by which we might otherwise organize and understand our people's interests - as opposed to Jewish influence:
This is a crucial distinction to hold-up against the games they will continue to play with our terminology - and an example of those manichean language games comes with the latest Stark broadcast: http://www.starktruthradio.com/?p=1319
With Jewish "Haywire"


and..


"The Truth Will Live"
Rather, The Lies Will Try to Live ...by infiltrating our interests.
These two try to pawn themselves-off as 'Alternative Right, right-wingers"...with upstart they say that "THE Left is the establishment."
(the White Left is the establishment? don't think so):
Jews do not want us to be a White Left. The reason that they do not want that is because it is our best outlook - an orientation which, together with sufficient anarchy, allows for our coordination and strategic evasion of their infiltration. This capacity to evade their infiltration is facilitated by coordination not merely by place but by language - that is why the terms are so important. Shared terminology serves to coordinate our people wherever they might be while at the same time allowing for sufficient anarchy to evade infiltration, counter our enemies and counter corruption - especially tactical in the clear terminological position of a White Left, its eye on elite betrayal and "scabbing" - i.e., any attempted entry into our "union" by non-Whites.
Sure, these Jews are "the Right ..like reading Spengler and Evola"…just so wild and crazy…"but we're appealing to the 'New Generation"...Haywire says, "we're so 'in touch' with the new cultural zeitgest of THE RIGHT."...er, Mulatto Supremacism
"The Left is the establishment"...Jews are just such rebellious trend setters..
"I was at a conference with Richard Spencer and Paul Gottfried..
...I'm really not interested in race…
I want to create a 'new species" - read, Mulatto Cyborg...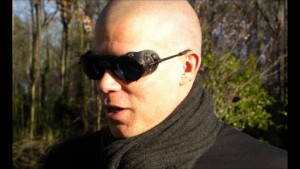 Morpheus Mark, "White men are disgusting", Dyal, nested at Haywire's site, naturally.
Haywire continues: "I'm not really into the race thing, 'race' is a mental thing…
..it's about people who are on like the same wave length..
...people coming together to form new species..
....it's psychic, like Evola"
................................................
On to the matter of looking at us:
Where Lies Don't Try to Live by crypsis, controlling the narrative, twisting our organizational language games, by infiltrating and misdirecting interests, they might just as well be served by provoking misdirection of our own, to where we are fighting our own. Rather than fighting non-Whites, in a manner perhaps such as this:



It's true, Robert, no argument. That's not a lie
As opposed to other right-wingers with whom he may associate and even endorse, just why Ransdell is unoffensive by comparison is beginning to crystallize..
First, contrasting his Rockwell influence..

...to the Pierce influence which captivates others -


Pierce was a scientist, Rockwell was an artist and an advertiser/PR man…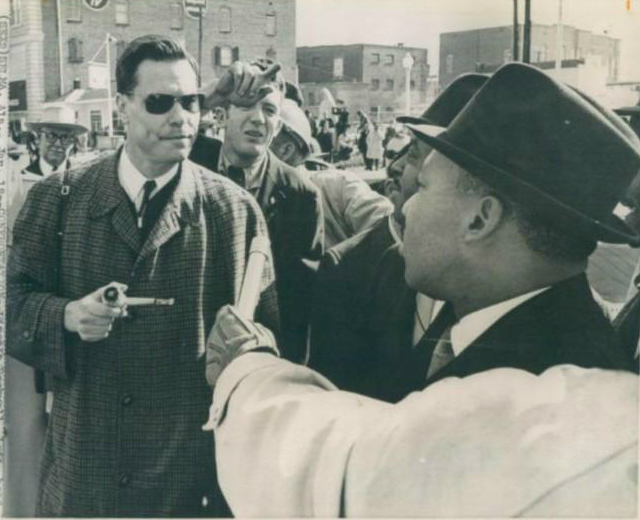 Rockwell confronts the dream of MLK
Rockwell frequently talked about the black issue and the black plague of race-mixing without fretting the rigid paranoia that this was "distracting from the J.Q."
And who was Malcolm The Tenth anyway? - he would be introduced to American audiences by The Hate that Hating Whites Produced - narrated by Mike Wallace, it was a seminal Jewish documentary instigating blacks to riot and violence against Whites.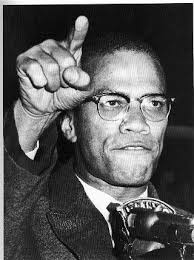 Malcolm X: "The 'honorable' Elijah Muhammad said the black man will rule."
An artist / pr man is better suited for a view and treatment of Praxis - negotiating the fluid, reflexive, social interactive world with practical judgement as opposed to rigid scientific instrumentation; and laws - "Our purpose is the Creator's purpose" ?
Of course "our purpose" should be serving the interests of our race. I'm sure Pierce would have believed that, but he may have wanted to base it more absolutely on scientific law than it could be.
Scientists are indispensable of course, for supplying rigorous information on specifics and broad generalities beyond casual purview, providing critical tools for rhetorical support for what is in fact the appropriate, "human-sized" (scaled) social perspective by which the social artist may dramatize and complete a vision.
But as one might say of Renegade and Daily Stormer, it is not enough to be an artist, one must be a good artist, reflecting good judgment - not always the case in WN.
Typically of the right, Andrew Anglin was one to range from being soft on blacks to showing outright affinity for them until he calculated that normal White men don't like blacks and despise miscegenation. But this was only a calculation by Anglin, not the feeling the comes from trustworthy interest and concern for Europeans broadly, judging from important difference.
While we need some posture and people who display the power of not being perturbed by these matters, to where they can easily mock them, I will speak for myself, confident that other White men also despise people who try to sell the attitude of studied detachment as the one for our race in general - soft-selling blacks and race-mixing, saying that talking about these issues is a waste of time or a distraction from
THE ONLY REAL ISSUE.

Ransdell does talk about blacks in a way that shows that he knows from experience and in a way that can foreshadow the scientifically demonstrable effects to our EGI.
If the word "monocausal" regarding the JQ is going to provoke a paranoid response then how about, irresponsibly "single-issued" and correspondingly inauthentic by way of an irresponsibly narrow platform of response. "With Jews we lose" isn't the same as saying "only Uncle Adolf and nobody should be critical of him; he's perfect, didn't do nothin" or "Only NW Europeans, all others be subordinate, be damned and go to Africa."
Even if he was done-in by a Greek and it bespeaks a little less social aplomb than I may see in him, one nevertheless gets a sense of general goodwill from Rockwell toward his fellow Europeans - I get a sense that his initial inclination toward all of them was friendly, whereas Pierce was rigid.
Coming from Rockwell's context, even the swastika isn't offensive. One gets an underlying sense of irony, humor, playfulness of his social artistry and theatrics - that the swastika is not the literal issue, underneath that is the real issue - defense of European peoples. Rockwell almost certainly could have been persuaded that Eastern Europeans and Southern Europeans were European as well, satisfied by an agreement to maintain distinctions where one could potentially mix away the other to its demise.
On the other hand, even though HE DID NOT wave the swastika around, one gets the sense from Pierce that that was literally the thing.
In the influence of Rockwell as opposed to Pierce, we have a clue as to why Ransdell bespeaks practical judgment (phronesis) and good will to all concerned Whites, while those beholden to Pierce's worldview cling rigidly to Hitler's conflicted, quarter Jew perspective, determined singularly to defend his mother against Jewish assault, with little, or only condescending empathy for Europeans beyond Germanics.
Perhaps I'm being a bit naiive about Rockwell. He was probably a bit rigid too, just not as much as Pierce. The fact that Rockwell was killed by a Greek does say something (perhaps a bit too willing to throw other Europeans under the hate bus?, I don't know the situation well enough to say).

But I can say that while Swedish and other Northern women are beautiful, you might believe me that Southerners can be satisfied with theirs too.
Perhaps Ransdell will turn out to be one, like Kyle Hunt, who cares and sympathizes only for Hitler's view and issues in the end.
Still, one can't help but see better prospects in reasoning with the Rockwell / Ransdell trajectory than the Pierce / Hunt trajectory. For the latter, it is apparently about redeeming Nazi Germany and its scientistic "naturalism". For the former it is apparently more about our race.
We do hate race-mixing


The Hate Bus
It's hard to take Rockwell's antics too seriously. These were largely publicity stunts; the map was not the territory; it is evident that he could see more than one side. "You want integration? OK, lets have integration!" He proceeds to have his Nazi-clad men make themselves comfortable in a synagogue (LOL). On the other hand, one does not get a sense of humor, irony and underlying good will from Pierce. That is not to say that Rockwell was not seriously committed to some mistaken ideas, but one got a sense of a character more amenable to negotiative correction for having a better feel of Praxis.
"You fucked my brother? Yeah, I did and"... scene from Raging Bull:
I must say in defense of my father that he was never physically violent (aside from knocking-over the occasional sofa or hamster cage). But in display of rage, anger and hatred, Raging Bull was mellow by comparison, no comparison to my father, in fact.

This post may not ingratiate me any further with our Nordicist camp, but honest auto/biographical facts may help achieve a fuller picture of what we are up against and how we might cope. Although understanding can sometimes create more conflict than it alleviates, it is not necessarily the case that this will create conflict with the native national interests of northern, or any, European countries - and it may facilitate coordination of our interests.
Captain Chaos said: "Daniel, before you wedge your head any further up your own keister with all this talk of "hermeneutics" you should pay heed to this quote from the philosopher Hume":

"Reason is, and ought only to be the slave of the passions, and can never pretend to any other office than to serve and obey them."
Perhaps by "passion" CC was in fact suggesting something in line with what Ramzpaul was discussing with Stark - that "you should follow and work on what you feel most strongly about, even if you can only manage it as a hobby… that way, even if you don't make much money at it, you will still be spending your life in a way that you find meaningful and enjoyable." GW's ontology project might be concerned to note that "passions" are speaking from our authentic nature and therefore provide an essential impetus in guiding an authentic narrative that mere rationalism cannot.
However, since CC posed empiricism in contrast to hermeneutics, I thought I'd draw upon an extreme example of "passion" to illustrate not only how passions might, but probably should, be ameliorated, crafted and channeled better with hermeneutics.
There is no reason why hermeneutics cannot take heed of the passions, if not follow them - if I were being cute, I'd say that following them would be another narrative (say, like the story of "raging bull"), with its own logic of meaning and action, but particularly as we are talking Hume, I'd tend to look at this as an observation to take under consideration at the empirical end, a part of the "circular" process of inquiry.
It's good feedback though and that is why CC has been missed here.
He must be right that rationalism can be exaggerated. Even so, passions will be mitigated and subject to some rational consideration by socialization. If proposed as an alternative narrative by which to guide one's life, the passions unbridled by the rational cultivation of hermeneutic process and its testing by social concerns would emerge quite speculative; life would be short and/or brutish.
Having been a very temperamental person (still am, some times), and not having had recourse to much rational discourse - being surrounded by people who gave free reign to their passions (temper) and wish to be expediently done with annoyances - I used to use my anger (which was intense, often a rage bigger than I was) as maps to show the way to social critique. It did seem to work to uncover some mysteries, but eventually it was used against me by those who know how to manipulate emotionalism - (as Truck Roy explains that sociopaths skillfully do; they are not moved by empathy with emotional appeals) - especially where I was not in Italy and sociopaths could stereotype me, "other" me and vilify me as a "crazy Italian."

I figure that my father's FANTASTIC displays of temper - histrionics of rage that honestly made "raging bull" seem fairly rational - were an evolutionary product of the small Italian village. It wasn't so much a matter of serious competition, though frightening it was - it was more a matter of entertainment and display to break-up boredom and monotony of a small village. That was apparent in his displays of fantastic rage over quite trivial matters: whereas raging bull had a clear rationale of jealousy, my father's rage over trivia bespoke histrionics of a vague power that was not welcoming any challenges or questions; the only semi-practical aspect of which was to enliven and dramatize matters otherwise unnoticed. Where it was confusing and disorienting, which it was quite, everyone around in the village would be kindred enough so that someone was likely to have affinity and empathy enough to help pick up the pieces of a shattered cortex.
The problem with this evolutionary strategy for me was that I was in America, not an Italian village. Therefore, there was not a community of kindred people around who could be bothered to talk; in fact the rule of individuality, particularly for males, would tend to look upon any such request to talk as manipulative or weakly borrowing against sovereign individuality; thus, you were likely to get a very angry rebuke rather than finding one who could understand and help pick up the pieces in an efficient way. Taking for granted the level of emotionality as the Italian village did may have served in a common population, as Christianity may have served there as well, but not in the antagonistic heterogeneity of The U.S.

"To be born is to be forced to choose to think" - Pascal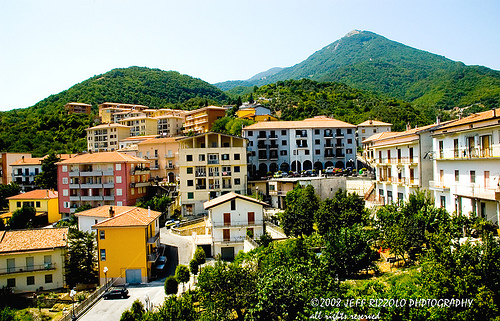 My grandfather's village, Calabritto - a Nordicist might see signs of gang collective in this, or even beginnings of eusociality; the more well-disposed might see optimal communitarianism; and the honest might experience a nightmarish gossip-mill.
Prof Kevin MacDonald talks with GW and DanielS about European individualism, implicit whiteness, the psychology of Jews, and the problem of nationalism dwelling in the past. 1hr 30min; 82.2 MB.
MacDonald At Stockholm, Sweden, April 20th 2015