It is appropriate that her name is Morano...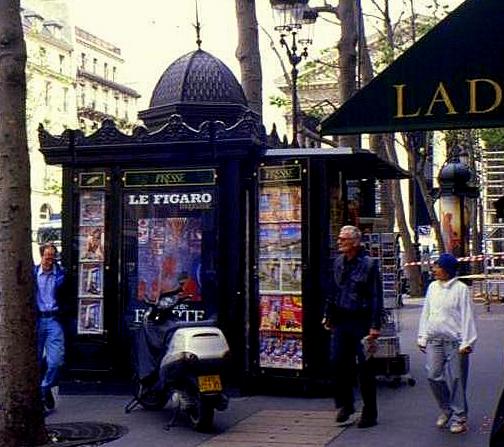 PARIS — Nicolas Sarkozy is threatening to strike a member of his center-right Les Républicains from the party's ticket for the French regional elections in December ...after MEP [Nadine] Morano said Saturday [September 26th] that France was a "Judeo-Christian country … a white race that welcomes strangers."
What is apparently happening here is that Nadine Morano, true to her name, is attempting to use Jewish crypsis to include Jews as "part of the 'White' race"... and that is probably why she has been able to get away with putting the two terms - White and race - together at all in a political context. Otherwise, her "controversial statement" in "defense of Judeo-Christianity" wouldn't be worth a second thought.
What merits re-attention to Morano is this, however. It seems that indeed the masters of discourse are trying to create a false solution to a false polemic and some right wingers are taking the bait: French "intellectuals" (read, "Jews") are trying to frame a discourse where some "Leftist" academics are going "rogue" and becoming "rightists."
Of course there is no mention of the Jew in this "new academic amalgam of left and right" but rather an attempt to create an "intellectual framework" to ruse a coalition against Marine Le Pen for the extent that she represents true ethno-nationalism, i.e., as a representative of the native French - which her father knows very well does not include Jews as "White" nor "Judeo-Christianity" as their rallying cry.
So, lets look at what is behind her, starting with the latest bullshit artist who would try to dupe native Europeans into thinking that he is on their side. His name is Michel Onfray and the Jewish media is trying to create a sensation about how this "former leftist" is now incorporating "the right."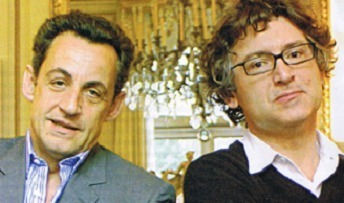 Right-winger Sarkozy has new company from "former leftist intellectual" Michel Onfray
As one reads through the media gibberish, however, it is apparent that Jewish academia is encouraging him to "turn rightward" in order to enable Jews to assimilate Whites, White interests, turn them away from authentic ethno-nationalism and toward a myopic focus against Islam on behalf of "we, the multi-cultural and pluralistic Europe."
J'accuse: Leftist intellectuals turn right

Politico, "Unusual ideological bedfellows in France are uniting against globalization and the euro", Oct. 19, 2015:

PARIS — When the newspaper Libération last month accused self-professed "left of the left" philosopher and best-selling author Michel Onfray of "doing the [far-right party] Front National's bidding," French intellectuals circled the wagons.
Their definitions of left and right, not mine.
..to the rescue from left and right to defend Onfray, they did what intellectuals do in these cases: organize a public debate.
Intellectuals?
The headline of the event, to be hosted at the Maison de la Mutualité on October 20 by political weekly magazine Marianne..
Marianne magazine, created by Axel Kahn, the son of a Jewish father, Catholic mother…the magazine is now owned by Robert Assaraf, a Moroccan Jew ...the magazine calls Nicolas Sarkozy "a right wing candidate."
In support of its sometime contributor Onfray, sets a new standard for navel-gazing: "Can we still debate in France?"

Spoiler alert: The fury stirred up by the controversy offers a good clue to the answer.

Onfray is only the latest French thinker whom government-friendly media and Socialist party officials accuse of pushing ideas similar to the far-right - on immigration, the role of Islam in society and the need to restore France's battered sense of self.
Ah yes, now that Islam is becoming a bit much, enough of Sarkozy's right-wingishness, some are even assimilating the "far-right" to take an audacious stance against… immigration!
They include the moralist philosopher Alain Finkielkraut .."a former left-wing radical and now member of the French Academy who has written several books on the waning of France's traditional republican culture and the country's "unhappy identity" (the title of one of his books);
"Alain Finkielkraut (born 30 June 1949) is a French essayist and public intellectual. He has written books and essays on a wide range of topics, many on the ideas of tradition and identitary violence, including Jewish identity and antisemitism, French colonialism, the mission of the French education system in immigrant assimilation, and the Yugoslav Wars."
Régis Debray, a 1960s companion of Che Guevara who later became an adviser to former Socialist president Mitterrand;
...known for his theory of mediology — a critical theory of the long-term transmission of cultural meaning in human society — and for fighting with Marxist revolutionary Che Guevara (in Bolivia in 1967) and advancing Salvador Allende's "Marxist" régime (Chile, early 1970s)
Eric Zemmour, a far-right journalist and TV debater whose book "Le suicide français" ('The French suicide') on "the 40 years that destroyed France" became an unlikely best-seller last year;
Éric Zemmour was born in Montreuil (today in Seine-Saint-Denis) on August 31, 1958, to an Algerian family that came to Metropolitan France during the Algerian War. He identifies as a Jew of Berber origin, and above all as a French Jew.
..even Michel Houellebecq, recluse novelist whose book, "Submission," describes a future France as an Islamic theocracy.
Besides Jews in support, Onfray has a Marxist revolutionary and a gentile who is willing to go to jail in order to fight Islam (with Jewish blessing). These are supposed to be our friends. They were "the left" and now they are "the right", or leaning "right"...
What they don't know is that we are The White Left and we don't buy their shit for a moment.
Let's carry on then…
The new 'new reactionaries'

The 'controversy' has simmered for a long time. In 2002 the 'left-leaning' magazine Nouvel Observateur was already putting Finkielkraut on its cover to wonder whether he was part of the "new reactionaries."
Not even a good bluff at false opposition.
It is now pervasive and part of the permanent French debate. It hasn't been restricted to the realm of high-brow discourse.
Of course not, the Jewish media would try to promote its controlled opposition as much as possible.
After French Prime Minister Manuel recently criticized Onfray for one of his tirades, he was called "a moron" in return by the philosopher. And earlier this year, Valls was deemed "a bore" by Houellebecq after venturing that he didn't agree with the writer's somber vision.
Gee, these "intellectuals" are daring.
Libération's outburst was prompted by the latest in a long string of provocative statements Onfray has made in recent months, attacking the Socialist government's policies and principles.

In an interview with Le Figaro,
Le Figaro is owned and controlled by Serge Dassault, born Serge Bloch, both his parents are of Jewish heritage.
..on September 8, the writer criticized what he called "the emotional response" to the picture of a dead refugee child that made headlines around the world and prompted French President François Hollande to soften on the issue of quotas for accepting asylum-seeker quotas.
Yes, sure, "the intellectuals" are coming to our European defense on the matter of immigration.
Onfray, who declined a request for comment for this article, went on to accuse France's successive governments of "being contemptuous of the people" — what he calls, using the English term, "the 'old school' people": French blue-collar workers, the unemployed, the poor, the pensioners. As for National Front leader Marine Le Pen, he said: "I don't resent her as much as I resent those who made her possible."
Onfray resents the possibility of European ethno-nationalism emerging.
Sacrebleu!
The dispute comes a few weeks after Jacques Sapir, an economist from the far left who has long campaigned against the euro, suggested the creation of an "anti-euro national liberation front" that might extend up to and including Le Pen's party.
Sapir is a "far left" economist, son of psychoanalyst, Michel Sapir (Sapir = Jewish), he teaches in Russia and is perhaps a part of negotiating a quid pro quo between Russia and Le Pen = continue to ease-up on the Jews and Russia will give you more support.
Sapir added, in a Libération interview, that it was undeniable that the far-right National Front had "changed in the last years." He is also one of France's staunchest defenders of Vladimir Putin's policies, and the author of a blog hailing what he sees as the Russian president's many "successes" both economically and on the international stage.
Like I said.
Trojan horse of globalization

Onfray has called Sapir's idea of an anti-euro alliance "interesting." Some of the philosopher's critics see a bitter irony in the fact that in 2002, he created a "People's University" in Normandy, where he resides, to counter the rising influence of the National Front's ideas. That's the year when the party's founder Jean-Marie Le Pen, father of current leader Marine, made it to the second round of the French presidential election against then-president Jacques Chirac after having defeated Socialist candidate Lionel Jospin.
I.e., Onfray is a useful tool for Jews…
The real split in French politics, as Onfray now sees it, is between the ruling, pro-European elites of both the conservative and socialist parties and the French people, who, he often says, have been betrayed "since 1983" — when then-president Mitterrand, a Socialist, converted to pro-market policies.
Oh yes, the problem is those damn socialists (don't want to take away anything from plutocrats, especially not Jewish ones).
Ideological overlap between the National Front and France's far left is not entirely new. The nationalist party has long sought and received support from French workers disillusioned by the mainstream left parties. Some former communist strongholds are now areas where the FN gets its largest support.
What a surprise! White Leftism works ..all of the people cannot be fooled all of the time.
'This government from the left can't seem to find an intellectual on its side.'
Jews like to use "intellectual" as a code word for their own rhetorical bullshit artists, who will now try to disassociate themselves from the liberalism that their people and flunkies created, that they are here and now calling "the government of the left".
But most truthfully and most crucially, neither will The White Left find a Jew on its side.
Marine Le Pen herself stands a serious chance of winning the Nord-Pas de Calais district in the upcoming regional elections in December. The industry-dominated area was long ruled by the socialist or communist left. The anti-capitalist, anti-U.S. and populist platform of the National Front strikes a chord with voters who resent the changes brought by globalization.
...by Jewish and objectivist sellout globalization.
"Europe is seen by those intellectuals as just a Trojan horse of globalization," said Laurent Joffrin, the editor of Libération who led the anti-Onfray charge. "What unites those intellectuals is opposition in general to modern times - to the governing left, to market-friendly Europe, to immigrants seen as armies of Islam. They never venture to tell us what should be done."
...they found a useful idiot, an objectivist goy liberal to be a convenient foil for their false dichotomy.
Now the greater "intellectuals" are going to rescue us from this fool-hearty liberal.
'The people vs. the euro'

Leftists like Onfray now find themselves agreeing with the other end of the political spectrum on a couple of key themes.

The first is the fate of France's poor and working class – the "proletariat" Onfray says has been abandoned by the right and the left alike. In that vision, the governing left's policies favor the globalized elite and the well-to-do, while catering to the needs of minorities ("the margins," says Onfray) — such as immigrants, homosexuals and women.
...and women? French women are "minorities" that the "intellectuals" are going to defend against on behalf of who? ..and against who? ... seems both Jews and White objectivist sell-outs would like to blame the other.
The second theme is the visceral hostility towards Europe and the euro, seen as constraining economic and social policy and a fatal blow to the infamous "exception française," a large and costly welfare state that's supposed to shield the French from the turmoils of the global economy.

The drama is being played daily in the court of public opinion. Think of it as "the people vs. the euro."
Is that how we should think about it?
"The latest eruption doesn't come in a vacuum," said Pascal Bruckner, an essayist and fiction writer, and one of the few French intellectuals who still presents himself as "pro-Europe, and rather Atlanticist."

"There has long been a tradition of intellectuals defining themselves against the government, and if Valls thinks he can be a book critic, then the reaction is understandable," Bruckner said. "What's striking today is that it looks like this government from the left can't seem to find an intellectual on its side"
Bruckner is another convenient objectivist, a proponent for returning to the enlightenment; with that, Jews can set-him-up as a foil.
Meanwhile, France continues to struggle with the economic crisis. Even as unemployment in the eurozone as a whole has declined steadily since early 2013, it keeps rising in France and may soon go above the monetary union's average.

France's intellectuals grapple with globalization, as does the rest of the society.
They again quote Joffrin, the other objectivist foil:
"This increases the disillusion of traditional left voters," said Joffrin, "because the government so far can't show results for its pro-euro, fiscally strict policies."

The zeitgeist is summed up by the term "sinistrose," the deep-rooted pessimism that has long passed as a trait of the French psyche but is taking a turn for the worse in times of economic and political uncertainty.
The new solution to the enlightenment's radical skepticism, the Jews will tell us how to integrate "right and left" ... waiting ...here comes..
The anti-European feeling even permeates the governing left. When Marine Le Pen last week addressed Hollande in the European Parliament by calling him [Merkel's] "vice-chancellor for the France region," she was only slightly more aggressive than Hollande's former economy minister, Arnaud Montebourg, who was fired from the government last year after saying that France's austerity policies were "dictated by Germany's right."

"Europe here serves as proxy for globalization," said a government adviser, who didn't want to be identified for fear of "adding fuel to the fire." "I call it the defeatist wing of French intellectual life: There's no chance we'll be able to make it, so let's retract and retreat."
No, no, the Jews and their shabbos goy are here to save us from our skepticism…and put our long held prejudices into debate..
And, yes, debate.

The new talk-show culture
The "Saving Philosopher Onfray" operation has no shortage of theatricality. It involves best-selling authors, whose pictures more often than not grace the covers of glossy news magazines, complaining about a "media conspiracy" to silence them.

Onfray's best-selling books provide frequent cover stories for the news weeklies, and Finkielkraut seems like he has a permanent seat on French TV talk shows. Even government-supportive media, such as Libération or L'Obs, are eager takers for interviews with the supposedly silenced reactionaries.
Come the "neutral media" to apply the hand of restraint to these "rogue reactionaries"
Authors with more established "intellectual" credentials, such as Finkielkraut, are pushing back against what they consider an anti-racist or "anti-fascist" thought police. The philosopher recently defended the right of Nadine Morano, a French MP from Nicolas Sarkozy's party Les Républicains, to say France was a "white race" country.
There is the payoff: all this build-up to allow Morano, and her Morano crypsis, to pawn-off Jews as White and manipulate White treatment of out-groups: "France is a Judeo-Christian country … a white race that welcomes strangers."
And the Crescendo of the pilpul - playing the goyem off of one another:
Le Pen's party, he writes in his most recent book, "La Seule Exactitude," must be criticized for itself — because it is a "party of demagogues, ignoring both the complexity of political action and economic laws, promoting the cult of the strong man to the point of making Vladimir Putin not only an ally but a role model."
Marine, your Russian Jewish alliance won't spare you for being a shabbos goy - another one, Onfray, on behalf of French Jews, seeks to assimilate your position and use that against you.
Back to the other useful foil…
Bruckner said it remains to be seen whether the controversy will be "just a prairie fire, chased next week by another piece of news" or a sign that "the divorce will become permanent between the ruling left and the intellectuals."
Yes, sure, we want those "intellectual" Jews to swing rightward ... right where we are not.
In the meantime there is whispering that the big Mutualité meeting might be canceled after all — especially since neither Onfray nor Finkielkraut has agreed to appear as a witness for his own defense.
Didn't you say that what "intellectuals" did best was organize debates?
Take heart, Onfray and friends, Islam didn't come to debate either.
You might take the debate to the Middle-East, take Nadine Morano…she can defend her concept of Judeo-Christian Whiteness ...there.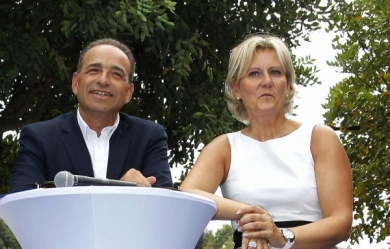 Jean-François Copé (Romanian Jewish father, Algerian Jewish mother) and Morano
Morano has felt that "we need a tonic, and UMP Jean-Francois Copé best placed to embody the word, with strength and ability to address the issues without taboos" ...a representation of the "uninhibited right."