A Conspiracy Theory of A Conspiracy Theory to Divert From White Male Dasein
Conspiracy theorist David McGowan shows the signs of post-hypnotic suggestion in order to get him to do something: to distract from the crucial White male motive of the Viet Nam era – Dasein.
This motive was more than legitimate and it is still vital to reclaim to this day. Had the "hippies" been more articulate it would have been called midt-dasein - there being amidst the class.
As this conspiracy of conspiracy theory goes, the powers that be want so badly to cover that motive that they've got McGowan working under post-hypnotic suggestion to spin a 20 some-odd part saga about how the hippies were a complete CIA operation from top to bottom. For those who want to believe that Jim Morrison was a CIA agent instead of a spoiled, drunken kid, feel free to indulge in McGowan's narrative. You will also find many hide-bound traditional men and women looking to find the hippies an easy excuse for everything that has gone wrong. That would appeal to these kinds who are ready to have you go to war for any excuse that Israel can give – they are unwittingly participating in a diversion from Jewish and oligarch culpability and from the legitimacy and importance of the White male motive of the time.
What suggests that there could actually have been a conspiracy to get this guy to render this conspiracy theory? Let's focus on one salient example:
Look at his discussion of the Altamont incident, when during the Rolling Stones performance, Hunter Meredith was stabbed to death by a Hell's Angel:

McGowan says:
"Many of the accounts of the tragedy at Altamont include the demonstrably false claim that Hunter can unmistakably be seen drawing a gun just before being jumped and killed by the Angels (some accounts even have Hunter firing the alleged gun). The relevant frames from the film are included here for your review. What can certainly be fairly clearly seen is the large knife being brought down into Hunter's back. But a gun being brandished by Mr. Hunter? If you can see one, then you either have far better eyes than I, or a far more active imagination. Or both."
The fascinating thing is, you can clearly see the gun in Hunter Meredith's hand.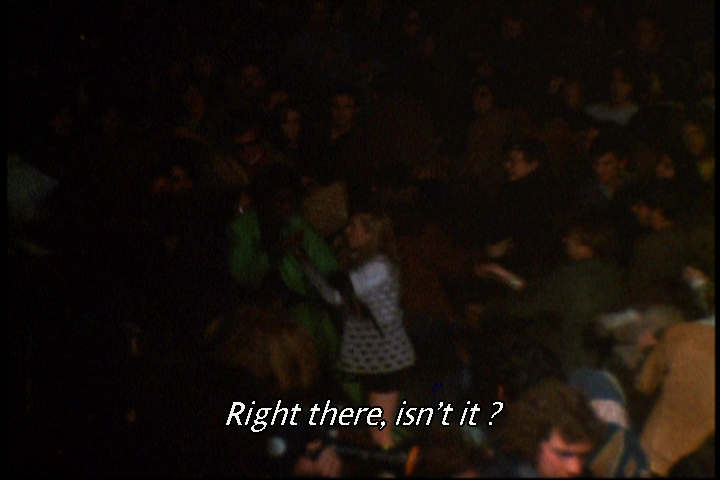 http://www.davesweb.cnchost.com/nwsltr106.html

Just as you will see people under post-hypnotic suggestion say, skip a number that they have been told to forget, McGowan is apparently defying you to not see a gun that you can see plain as day.
If you go through his articles you will see him point to hidden "racist" motives, such as the "tragic" killing of Meredith Hunter, who "did not really have a gun."
Never does he suggest Jewish underhandedness anywhere in his essays.
He claims there was no organic motive for the men of the time, asserting that war protest was not even prominent in the songs of the era: "For What it's Worth?" he says, "was the biggest protest song and it was about riots surrounding the closing of a music bar, Pandora's Box, not about Viet Nam at all."
McGowan conveniently overlooks one of Woodstock's signature moments:
Feel Like I'm Fixin' To Die Rag*:
http://www.youtube.com/watch?v=9HVACPv_KFw
Gentlemen, this is not about making pacifists of us, but about fighting for the right thing, our people, and valuing ourselves enough to do that – ourselves as men as well – our being, specifically our there-being amidst the class of Europeans.
It is about warranting our midtdasein, particularly for White men - a most crucial feature of our ontology.
* Naturally, that there was a draft during the Viet Nam war makes a big difference in organic motivation against it for White men, despite the fact that this song, encouraging its defiance, was written by the all too kosher Country Joe and the Fish.