Depression is caused by concentration of wealth to the point that family formation becomes unaffordable.
Concentration of wealth is reflected in the skyrocketing credit market debt to GDP ratio.
We have been in a managed depression for decades but we are now entering an unmanaged depression: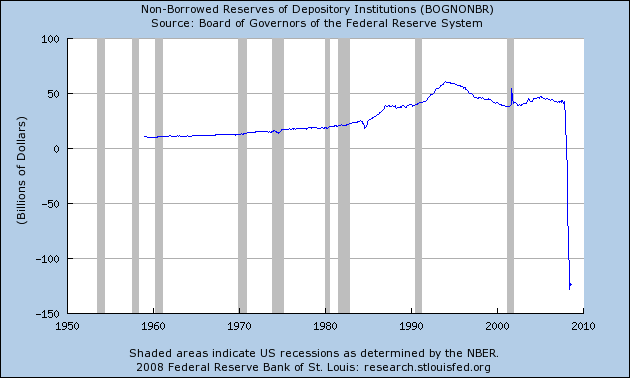 The only way to stabilize the system is unacceptable to our rulers:
Replace taxes on economic activity and virtually all government expenditures with a citizens' dividend funded from a use fee for the net, in-place liquidation value of property rights beyond those that an individual would successfully defend in the absence of government (home and tools/weapons) —a use-fee equal to the risk free interest rate on said in-place liquidation value.
This stops depression by stopping centralization—centralization via private sector rent-seeking and centralization via public sector rent-seeking. The closest we are likely to come to stability is if Obama is elected and imposes a net asset tax. But this will merely trade private sector rent-seeking for public sector rent-seeking as there is no way Obama will let working whites have any of their patrimony back without walking hat-in-hand into their local government offices and/or precinct political meetings to genuflect appropriately. Even then it will be very grudging and selectively doled out only to the most obsequious and "non threatening" of whites—which immediately disqualifies almost all working whites who don't have biracial children.
As I wrote in 1992, prior to either this refinement of my net asset tax proposal or to becoming aware of the nature of Jewish virulence:
When the incentives for productivity become negative due to capital welfare in excess of the economic growth rate, wealth is structurally centralized at the expense of others in the economy. The absolute level of net assets owned by the general population actually decreases so as to increase the net assets of the wealthy. This not only removes all incentives for production and entrepreneurial investment from the economy, but consumer demand collapses as credit is liquidated to pay for necessities. Depression ensues. It is under these circumstances that demands for socialist intervention in the economy via "public investment" take on an air of urgent legitimacy.

In such a desperate environment, Marx's arguments in "Das Kapital" appear as rational and appealing as any made by Schumpeter, Laffer or even Adam Smith. It is therefore critical to understand to what extent socialist criticisms of capitalism are valid so we can credibly argue against their fallacies—particularly when they are promoted during obvious manifestations of capitalism's flaws.
The real reason the sole route to stability is unacceptable to our rulers is explained by a simple analogy:
Such pathological concentration of wealth is to civilization as opiate addiction is to neurophysiology. Jewish virulence is to such concentration of wealth as pushers are to opiate addiction: Such susceptibilities will occasionally manifest in the absence of their promoters but much more often with said promotion. However, the last time in Western Civilization that Jews arguably did not play an important role was when Julius Ceasar crossed the Rubicon to "correct" the tensions between Patricians and Plebeians. Even in this instance their importance in the slave trade may have acted as their current importance in immigration—contributing decisively to wage depression hence wealth centralization.
One may say this much of such "correction by kingship": At least kings—through taxation of wealth—occasionally keep the baronage from too much decadence, as did Henry the VII—by collecting to the royal coffers the economic rents of the realm into the hands of a family that represents the pinnacle of the genetic interests of the populace. Although this hoard of wealth does, itself, lay the foundation for court toadies to eventually corrupt the royal court's blood and morals.
Unfortunately, it apparently does not go without saying that "bailing out the creditors" rather than distributing wealth to the people is only going to increase the debt loading on the people and will only exacerbate, via moral hazard, the tendency to prop up demand with ever-worsening credit scores. But the addict is facing cold turkey and is in no mood to recognize larger realities.
This already insufferable situation is made worse when those who are supposed to be on "our side", like Martin Hutchison, don't recognize economic collapse is due to the decreasing affordability of family formation.
The real cost of reproduction has risen by a factor of 4 since so-called "Greatest Generation" was siring the Baby Boom, but instead of drawing attention to the fact that this helped cause demographic collapse of whites, he participates in laying down a moralistic smoke-screen in statements (all of which are true but unrepresentative of the pressures against family formation visited upon the historically critical demography of the Baby Boomers) like:
# There was the mortgage salesman who bought several rental properties, on the assumption that his income was assured and negative cash flow from the properties didn't matter in an environment of rising real estate prices.

# There was the yuppie anxious to impress his friends and attract the opposite sex, who bought a flashy and mechanically=2 0unreliable a car on a long-term automobile loan.

# There was the two-income professional couple, who thought that by buying a McMansion the size of Chatsworth, their social status would turn into that of the Duke of Devonshire.

# There was the laid-off manufacturing worker, who thought it didn't matter that he could find no job paying more than half his old union pay scale, because credit cards would allow his family to live the good life.

# There was the low-skill immigrant, legal or illegal, who found the wages he could earn were totally insufficient to fulfill his dreams of life in the bountiful United States, but thought that through liberal use of credit cards and maybe a subprime mortgage, affluence might be forthcoming.

# There was the corporate CEO, who understood that buying back stock in his unexciting company and financing the purchase by junk bonds would increase the value of his stock options, but failed to realize that it made long term corporate survival unlikely to impossible.

# Finally, there was the President of the United States, who thought he could pursue an expensive if unsuccessful foreign policy, allow his Congressional colleagues to be thoroughly sloppy on public spending and introduce new social programs that pleased his wife, all without raising taxes.
Hell, even Warren Buffet isn't this depraved. Despite his statement on CNBC of Mon. Dec. 4 2006 that:
I tell the kids coming out of school, they live better than John D. Rockefeller - cool in the summer, hot in the winter.
Here he is, calling attention to the dainty little things of civilization while ignoring the gut-wrenching destruction of job and family stability in the face of exploding real estate prices. But even Warren "my son had 5 kids why can't you?" Buffett, in November 26, 2006 had enough decency to touch the real issues facing his Midwestern employees:
Mr. Buffett compiled a data sheet of the men and women who work in his office. He had each of them make a fraction; the numerator was how much they paid in federal income tax and in payroll taxes for Social Security and Medicare, and the denominator was their taxable income. The people in his office were mostly secretaries and clerks, though not all.

It turned out that Mr. Buffett, with immense income from dividends and capital gains, paid far, far less as a fraction of his income than the secretaries or the clerks or anyone else in his office. Further, in conversation it came up that Mr. Buffett doesn't use any tax planning at all. He just pays as the Internal Revenue Code requires. "How can this be fair?" he asked of how little he pays relative to his employees. "How can this be right?"

Even though I agreed with him, I warned that whenever someone tried to raise the issue, he or she was accused of fomenting class warfare.

"There's class warfare, all right," Mr. Buffett said, "but it's my class, the rich class, that's making war, and we're winning."
Of course, no mention is made of wealth—net assets—property rights—the protection of which is the primary government service—a service for which there is no use fee or tax.
And, of course, it was immediately after he made this statement to one of the less virulent neocon Jews, Ben Stein, that the all-too-typical Jewish media moguls threw a buxom red-headed Jewess into a room with Buffett where he made his Hutchison-esque comment about young people living like Rockefeller.
Giving the devil his due: Clearly there has been a moral corruption as mass media has displaced the church, which itself displaced the father as the moral authority of his household and clearly this moral corruption has taken its toll on heterosexual white men as more and more indulge in sexual predation which places pressures on white women to become more independent.
But equally clear is that young women are immensely powerful in their influence on young men and that for all we hear about how irresponsible and immoral white male youth have become—especially from "conservative" elders—we hear almost nothing about the moral depravity of those elders in failing to recognize that turning over moral indoctrination of their children, sons and daughters, to mass media, "educators" and even their own pastors of their own churches was an abrogation of the most sacred aspect of the relationship between forefathers and sons and daughters. Moreover when those elders indulge in such after-the-fact moralizing as a smoke screen for their having participated in the extraction of wealth from their sons and grandsons via preemptive real estate speculation—and all-too-often—sexual exploitation of younger economically strapped and morally corrupted females—it is a monstrous moral depravity of those elders that must be subjected to just as much exposure as was Tom Brokaw's opiate of the dying GI's: "The Greatest Generation".
Can we then, having put things in a little more perspective, stop this idiocy of intergenerational warfare and point instead to our common enemy that is dividing father against son: the elites that have fallen victim to their human weaknesses within the centralizing temptations of civilization, seduced by their Jewish "advisers"?
And can we recognize the historic pattern here is leading us to another crossing of the Rubicon: watchful not only for Ceasar's moral depravity in failing to promptly distribute land to his men and repatriate the slave population to restore the Republic, but watchful also for the Patrician-serving Brutus who would pretend to take the Republic's part against the tyrant?