On July 1st the Canadian government announced the award of its highest civilian honour, the Order of Canada, to Dr Henry Morgentaler, holocaust personality, humanist and abortionist extraordinaire. Of course, it was ultra-controversial with Canada's Catholic and pro-life groups. But a wave of wider protests have washed up the very steps of the Governor General's house, and scores of past recipients of the award have returned their medals.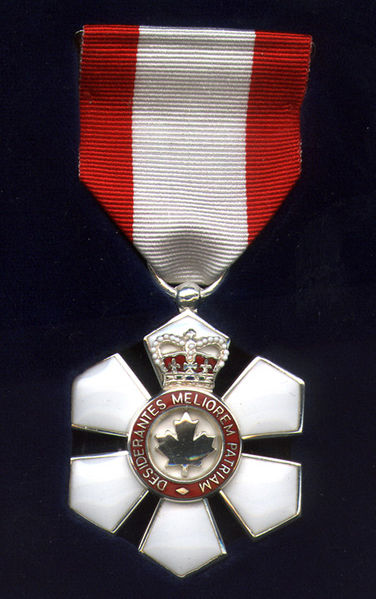 Morgentaler, now 85, describes himself as a Polish Jew who survived Auschwitz from 1944, and was finally liberated by the Russians. He opened his first abortion clinic in 1969, operating at that time outside of the law. Here's a comment from Canadian Cynic blog on his activity in those early days:-
... those of us who were alive and watching the coverage during the time of the Morgentaler "protest", remember a lot more than a man who was standing up for the right to choose. Morgentaler was not upholding some sacred ideal, he was taking advantage of a weak and unconstitutionally written law against the right to choose, (in order to supply a service that many would argue should be provided, to be sure), as a cash business, plain and simple. The best that could be said about his motivation was that it resulted in utilizing clean, sterile, safe procedures.

In essence, he was providing the same services a back-alley coathanger abortionist was, for the same reason, but within the guildelines of medical procedures within the medical community, motivated to do so by the threat of losing his license. When his case came to the light of the media, pro-choice activists flew to his defense, paying his legal bills, encouraging him to open new clinics, and in some cases, even funding the entire startup operation.
And here, if you are wondering, is the legal framework for abortion in Israel, to which Dr Morgentaler did NOT make aliyah after the war, preferring to migrate to Canada and, in due course, to agitate for "personal liberty" in the context of "the silent holocaust".
Circumstances under which abortion is legal

The termination committee approves abortions, under sub-section 316a,[1] in the following circumstances:

1. The woman is younger than seventeen (the legal marriage age in Israel) or older than forty.
2. The pregnancy was conceived under illegal circumstances (rape, statutory rape etc.), an incestuous relationship, or outside of marriage (children born outside of marriage are not considered illegitimate by Jewish standards).
3. The fetus may have a physical or mental birth defect.
4. Continued pregnancy may put the woman's life in risk, or damage her physically or mentally.
Finally, here's a comment from a congratulatory article in today's Guardian:-
karolak
Jul 11 08, 09:58p

Did Dr. Henry Morgentaler abortionist and recent recepient of Order of Canada assume identity of real survivor of Auschwitz Abraham Morgentaler???

Was Morgentaler ever at Auschwitz??? If not, did he lied to us about his medical education in Germany??? Did he become an abortionist in an effort to cover up his ignorance of medicine that was showing in his general "medical" practice????

The "tattooed" number 95077 that Morgentaler remembers so well seems to be way too low. He allegedly arrived at Auschwitz in 1944. Henryk Mandelbaum who arrived at Auschwitz on April 10, 1944 had number 181970.

The only way Morgentaler could get away with his lie would be if Germans were to recycle their numbers. According to this link: http://www.ushmm.org/wlc/article.php?lang=en&ModuleId=10007056

it never happen with Jewish prisoners, and yes numbers were assigned not only in sequential but also in alphabetical order (going by last name of prisoner) in each transport that arrived.

http://www.auschwitz.org.pl/new/index.php?language=PL&tryb=szukaj_adv

Partially salvaged Auschwitz Records show 297 finds of numbers in 95xxx range. Many entries indicate that prisoner died in March or April of 1943. Some were shot dead on 19 of February of 1943, others were shot after an escape attempt on 13 February of 1943

Close numbers

Abelowicz, Chaim

ur.28.10.1910 (S?onim), numer obozowy:95043, zawód:krawiec

Pulchny, Stanis?aw

ur.17.4.1915 (G?ogoczów), numer obozowy:95103, zawód:rolnik

Mijas, Leon

ur.19.1.1921 (Ruda Bia?aczowska), numer obozowy:95176, zawód:górnik

Czerwieniak, Asafan

ur.1912 (Wierchomnia), numer obozowy:95236, uwagi:rozstrz. 19.2.1943 w Au

==================

I found him!!!

Morgentaler was in fact at Auschwitz concentration camp during WWII.

Abramek Morgentaler from Woclawek, that is, who is now living in Israel.

http://www.naszwloclawek.prv.pl/index.php?wloc=zydzi4

Abramek Morgentaler sko?czy? osiemdziesi?t jeden lat, ma si? dobrze, chocia? ostatnio martwi?am si? o jego zdrowie. Piel?gnowany przez cudown? ?on? El? i ca?? rodzin?, szybko powróci? do zdrowia. Kiedy bomby spada?y na Hajf?, jego serce i p?uca zaniemog?y. Modli?am si? do Boga i Bóg mnie wys?ucha?.

Abramek jako trzynastoletni ch?opiec straci? ca?? rodzin?. Niemcy zagazowali jego rodziców i trzy siostry w obozie zag?ady w Che?mnie nad Nerem. On zes?any do obozów pracy i koncentracyjnego w Auschwitz cudem ocala?.

Translation: Abramek Morgentaler just turned 81, he is doing well, I was concerned over his health lately. Nursed by his wonderful wife Eli and whole family, he quickly recoverd. When bombs fell on Hajfa his heart and his lungs failed. I prayed to God , and God heard my prayers.

Abramek as thirteen years old boy lost his whole family.Germans gased his parents and three sisters in Chelm concentration camp. He was send to labour camps and Auschwitz concentation camp, by a miracle he survived.

=====================

Lets see what we have:

Abelowicz, Chaim

born 28.10.1910 (S?onim), prisoner number: 95043, profession: tailor

Pulchny, Stanis?aw

born 17.4.1915 (G?ogoczów), prisoner number: 95103, profession: farmer

Mijas, Leon

born 19.1.1921 (Ruda Bia?aczowska), prisoner number: 95176, profession: miner

Henry Morgentaler claims that his prisoner number was 95077

First name on that list is Jewish and starts with "Ab" and has number 95043 assigned to it. We can safely assume that he was first on a list of prisoners that came on this particular transport.

Other name starts with "Pu" and has number 95103, assigned to it.

Morgentaler starts with "Mo" and he claims that his prisoner number was 95077. It does make sense as M falls between A and P in German alphabet.

————————————

Now we get this:

http://www.theage.com.au/news/World/Remembering-the-end-of-horror-that-was-Auschwitz/2005/01/27/1106415733762.html

"It's much easier not to think about it, not to acknowledge what people did to other people not so long ago," said Polish Jew Abraham Mor-Morgentaler, who spent two years in the camp.

———————————

And we get that:

http://tvnz.co.nz/view/page/425822/470816

"It's much easier not to think about it, not to acknowledge what people did to other people not so long ago," said Abraham Mor-Morgentaler, a Polish Jew who spent two years in Auschwitz. "But if we forget, the genocide may return."

Mor-Morgentaler is one of the few who, by chance or cunning, cheated death at Auschwitz. Most Jews arriving there by cattle trains were sent straight to gas chambers and their bodies burned in one of the camp's five crematoriums.

——————————————————

Now it all starts to make sense Polish Jew Abraham Morgentaler from Woclawek arrives at Auschwitz in January of 1943 and is freed two years later by Russian Army in January of 1945.