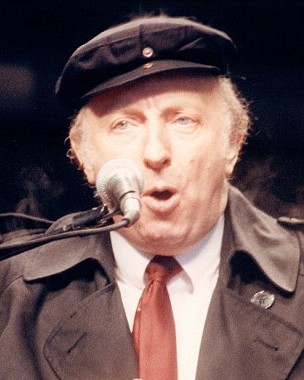 Arthur Scargill
..since we have an international audience, and sarcasm doesn't travel well, I am compelled to say immediately that Arthur Scargill is not GW's best friend, in fact, more like the opposite.
This article will be a work in process in regard to a hypothesis that I have of Scargill, that his successful fight against Edward Heath's conservative government fits in with a broader hypothesis of mine - namely that Jewish interests take the best, most serviceable ideas in terms of social function and organization - specifically in this case, I am talking about the left social concept of unions, guilds, syndicates - and they make them didactic, i.e., Scargill's union activism became didactic for the rubric and concept of the left, by having Soviet, Marxist and ultimately Jewish backing against ethnocentric, native nationalist interests; which forced right wing reaction. It is a reaction also manipulable, of which they will indeed make use in their interests. That is, where they fail to gain compliance with their international leftism - a "leftism" which spells liberalism against native ethnonationalism and tends only to allow for one nativist national union in the end - YKW.
A union is a social concept of members and non members; that is, in and out groups, non-membership, membership, legitimated discrimination and accountability on its basis. This concept can be applied to the level of ethno-nation. It is that level of unionized application especially which Jewish interests oppose - under the rubric of Marxism or the international workers Left, while deftly protecting their own Jewish unionization and nationalism (Jewish ethnocentrism and Zionism). But right wing interests, typically flying under color of objectivism, also tend to oppose this level of national unionization; and tend to conveniently go with their narrow interests as luck affords them or to be bought off by neo-liberal international interests and Jewish interests in opposition to the organization of native nationalism.
Thesis: It is standard operating procedure for Jews that they take good and compelling Left ideas for social organization, such as social unionization, and make them didactic (go over the top in misrepresentation with it to the point of reversal); compelling right wing reaction in their enemies as they are both more manipulable among enemies in that reaction and tending as such to frighten-off would-be popular supporters for the lack of empathic social perspective; its having been made didactic.
By associating himself early-on with Soviet Marxism, and successfully contributing to the overthrow of Heath's conservative government, Scargill was didactically facilitating the concept of international leftism which in the end would leave room for only one unionized nation - Zionism being the only native nationalist union to be allowed; thus it was that Scargill's unions movement was backed by proponents of international leftism and deployed as liberalism against the native national concept of Britain, imperviously forcing a reaction - Thatcher, whose Jewish objectivism acted further as a blunt instrument against the native nationalist union.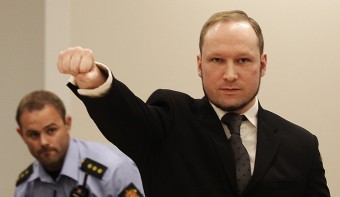 Anders Breivik
Where younger generations don't stay on page with the memo of the one unionized native nation to remain of international leftism, but maintain absolute liberalism against all native nationalisms - as the participants of a Workers' Youth League (AUF) summer camp on the island of Utøya did in their protest against Zionism - then a Zionist Breivik may be coddled to act through the available valves of ethnocentrically sanctioned aggression, that which is allowed by Jewish controlled discourse - coddled as such in his LARP to murder 77 kids in a misguided right wing reaction of nativist nationalism - Jewish interests want White nationalists to be didactic right wing reactionaries and to not be White Left Ethno-Nationalists.
Scargill more recently, still wears the red tie, but…
Coming back to the issue of Scargill, however, I thought he was going to more easily fit into the mold of a liberal, anti-racist, anti-native nationalist rat, masquerading as one concerned with unions and workers. Indeed, from what I know, admittedly not much, as I have not followed this history of British unions and their conflicts through the post World War II years, he perhaps still belongs in that category. There is evidence that he does, that he genuinely could have been a significant threat to the national interests, native and otherwise, of Britain and other European nations:
Early political and trade union activities

Scargill joined the Young Communist League in 1955, becoming its Yorkshire District Chair in 1956 and shortly after a member of its National Executive Committee.[4] In 1957 he was elected NUM Yorkshire Area Youth Delegate, and attended the 6th World Festival of Youth and Students in Moscow as a representative of the Yorkshire miners. In 1958, he attended the World Federation of Trade Unions youth congress in Prague.

[...]

National Union of Mineworkers

Scargill was a leader of the unofficial strike in 1969, which began in Yorkshire and spread across the country.[6] He had challenged Sam Bullogh, the chair of the Yorkshire area's NUM, to act on the working hours of surface workers, given that the union's conference had passed a resolution that their hours be shortened the previous year.[6] When Bullogh (unwell at the time) attempted to rule Scargill as "out of order", he was voted out by the area's delegates and a strike was declared across Yorkshire on the issue.[6] Scargill saw this strike as a turning point in the union's attitude to militancy.[7]

His major innovation was organizing "flying pickets" involving hundreds or thousands of committed strikers who could be bussed to critical strike points to shut down a target. He gained fame for using the tactic to win the Battle of Saltley Gate in 1972, and made it his main tactical device in the 1984 strike. By 1984 however the police were ready and neutralized the tactic with superior force.

In 1973, Scargill was elected to the full-time post of compensation agent in the Yorkshire NUM. (The Yorkshire Left had already decided to stand him as their candidate even before the strike.) Scargill won widespread applause for his response to the disaster at Lofthouse Colliery in Outwood, West Yorkshire, at which he accompanied the rescue teams underground and was on site for six days with the relatives of the ten deceased.[6] At the subsequent enquiry, he used notebooks of underground working from the 19th century, retrieved from the Institute of Geological Sciences in Leeds, to argue that the National Coal Board could have prevented the disaster had they acted on the information available.[6] This performance strengthened his popularity with the Yorkshire miners.[6][8]

A few months later the president of the Yorkshire NUM died unexpectedly, and Scargill won the election for his replacement, the two posts were then combined and he held them until 1981. During this time he earned the esteem of significant sections of the left and the British working class, who saw him as honest, hard-working and genuinely concerned with their welfare,[9] and he was also respected for improving the administration of the compensation agent's post. In 1974, he was instrumental in organising the miners' strike that led Edward Heath to call a February general election.

[...]

Scargill's statements in the years after becoming NUM president divided left-wing opinion with his support of Soviet Communism, most notably when he refused to support the TUC's positions on the Solidarity union in Poland or on the Soviet shooting of the Korean Air Lines Flight 007.[13] One branch of the NUM, at Amnesley in Nottinghamshire, put forward a vote of no confidence in Scargill in Autumn 1983 following his comments on these matters, but Scargill defeated this at a December meeting and won a vote of confidence instead.
It is suggested and with likelihood that his strikes, such as those on the coal mines during Thatcher years, could have been used by the Soviets and could have had disastrous consequences for national security had they not been countered by British security who were aware of underlying Soviet design.
Nevertheless, by recent talks of his - here, 1, 2, and 3 in favor of Brexit and against the European Union, its common market, etc, in which by contrast to neo-liberal interests, he goes so far as to argue against those who would depict as "racism" his and other's objection to immigration, as it is clearly against the interests of native workers, it seems that it is not quite so easy to depict him as running contrary to native nationalism, let alone his means (left unionization) doing that - at least not at first blush. Forgive the newcomers to this issue. While he may well have an outmoded idea of the sort of work and unionization to be protected, his heart appears now to be in the right place and the concept of unionization seems indeed to prevail as the natural recourse for organizing the people against scabs, the traitors and the downright treacherous - yes, including the treacherous by means of imposing immigration against native nationals; i.e., the concept holds up despite the fact that it has been typically misrepresented, including through him, by geopolitical forces trying to put forth Jewish/Zionist internationalism on the one hand and neo-liberalism on the other - both converging at a prescription of liberalism for native European nationalists; and since both sides are controlled by Jews and right wing objectivists, neither side wants anything like the unionization, the syndicalism of left nationalism for native Europeans and White diaspora as it would threaten their interests.
The concern now, of course, is that he is being used again by forces of neo-liberalism to placate naive native workers with promises of a place in obsolete production and protectionism in order to allow the YKW, Zionists and their Russian and American proxies to control the international market and labor - particularly Asia, as its rising interests would have little common ground with Zionist, Jewish and right wing interests as expressed through the Russian Federation and the United States; but may have a great deal to gain by making common cause with Left ethnonationalism among Europe and her diaspora.
More Silk Road News:
But wouldn't Asians traipsing among Europeans be looked upon as "scabs" in this concept, thus not having common interests and at risk to its adoption? Not if they're also characterizable as an accountable union, as opposed to the unaccountable ruse of objectivism.