Tell Your Daughter about Senator Sam Brownback
Daughter:
Daddy, why can't we go in that neighborhood?
Father:
Oh, it's not just that neighborhood but large sections of Johnson and Wyandotte Counties, and Hutchinson, Dodge City, and Emporia, Kansas. You see Senator Sam Brownback wouldn't stop the invasion from Mexico – which started even before you were born. All those places used to be safe and clean neighborhoods. Now, we cannot even travel there, its too dangerous.
Daughter:
Is that why they speak Spanish, and not English? Oh, those Mexicans are so nasty, one slashed my friend's face.
Father:
Yes. Remember how I told you everyone used to speak English in America? Things like langauge and borders meant nothing to Senator Brownback; Yet he loved Agri-business lobby, and feared the ethnic lobbies. As for you and me, well, he could care less. He was more interested in pleasing the readers of the New York Times
Daughter:
What about all the surveillance cameras? Just to get into school each morning I must pass a bio-metric scan The prostitutes crowd our streets. Can't the government do something?
Father:
Because of politicians like Sam Brownback, America has become a surveillance state. But the cameras, scans, and roadblocks are erected not for illegal aliens or thieves, but for the otherwise law-abiding. We are sheeple, Sweetie. We don't fight back; instead we pay our taxes and obey. Willie Sutton was asked "why do you rob banks", Sutton said "that's where the money is".
Senator Brownback with 'the prophet'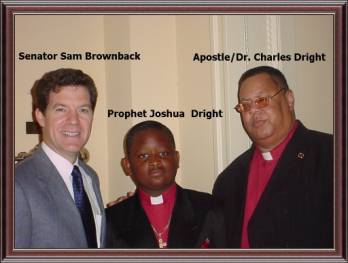 Daughter:
Why didn't you do something Daddy? Why did you let our country become so dangerous and dirty?
Father:
I tried. I never voted for Senator Sam Brownback. I wrote to him every week complaining about his policies. He'd write me back and say he was working hard and that he had signed this and that legislation improving security, yet the situation only got worse. Senator Sam Brownback was a liar, Sweetie.
Daughter:
Is that all you could do?
Father:
Yes, pretty much. I told other people about his
voting record
.
Daughter:
What were those words you called Senator Sam Brownback?
Father:
Skunk… Rat… Liar…Turncoat…Traitor
Daughter:
No, the other words…
Father:
Oh, your mother asked me not to say those words. But ok, I'll say it one more time: "that dirty rotten sack of sh*t".