JFK '63: asks Congress to commit to the proposition that 'race has no place in American life & law'
I love pointing-out to people, right-wingers, who want to blame youth culture of the 60s as the onset and crux of our demise (not you, GW), that Jewish power and influence combined with Modernist naivete were the forces that were the major culprits - and that they were well in force already in the 50s and early 60s, well before kids grew their hair long, listened to rock n' roll and resisted the Vietnam draft.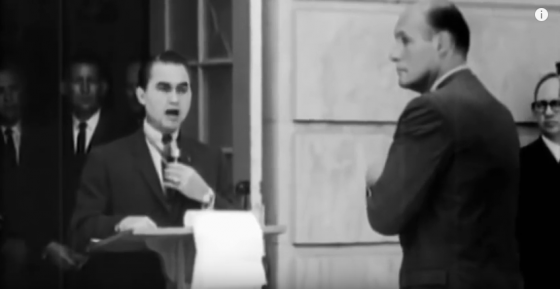 Take note of Michael O'Meara's discussion of how The Soviets and other Marxists/communists used black "civil rights" as a weapon against America; also note my reinforcement that Jewish interests, via Katzenbach, prominently, were only too happy to facilitate what was then more straightforwardly referred-to as "integration."
Kennedy had been ignoring Vice President Lyndon B. Johnson's advice, to "look Southerners in the eye and tell them that integration was a moral and Christian issue."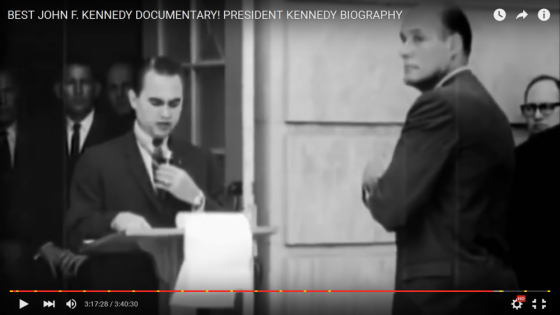 Governor Wallace, posturing as if to stand in the way of integration, is confronted by Katzenbach
Watching Wallace's posturing, President Kennedy decided for the first time in his career to risk his political standing in the South by taking the side of integration. President Kennedy decides to go on national television that night and give a speech calling for a civil rights act to end discrimination in the South.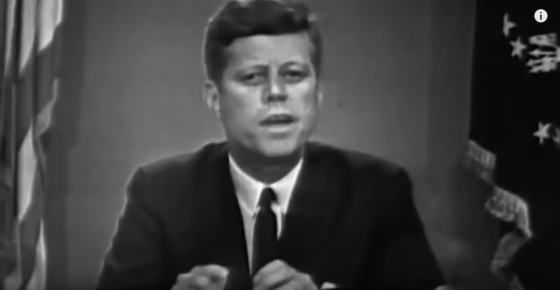 "We are confronted primarily with a moral issue. It is as old as the scriptures and as clear as The American Constitution. The heart of the question is, whether all Americans are to be afforded equal rights and equal opportunities (He 'finally' calls for Federal law ending segregation). Next week I shall ask the Congress of The United States to act, to make a commitment that has not been fully made in this century to the proposition that race has no place in American life or law."
This, GW, is why not only the Arahamic universalism of The Right, but its wedding to Enlightenment style objectivism (and universalism) must be overcome as well - and it is the post modern project, proper, which has undertaken to do that.
Kennedy is also the one who got us into the Vietnam debacle with a strategy of showing strength against communism with "small wars."
The documentary concludes..
'Kennedy set so much in motion in such a short period of time"...
Perhaps the most reliably good outcome of Kennedy biographies are the endings.