You know how it is. A wet Monday morning in unlovely and unloved Croydon. You are behind your window as usual, gazing down the usual room-full of staring, blank-faced applicants. They are bored. You are bored. As usual.
Seated opposite you is the usual unstarved central African female and small, unstarved child. Male. Twenty billion spermatazoa. Just what this country needs.
She is, as usual, very deferential and so soft-voiced you can hardly make out her replies to your questions. Deference isn't to be scoffed at in your line of work. It has its uses. But not this time. Unthinkable. No way.
You check the date of birth in her passport. You check that she knows what she has supposedly written on her application. You check she knows her tragically deceased husband's name. You check she is still staying in her council hostel. You stamp her application documents in three places, retaining the bottom copy to which you attach her spare passport photograph. You hand the other copies to her with that massive disinterest only a deeply bored Immigration and Nationality Directorate officer of several years experience can properly communicate. You duly send her on her way to Floor 2 - from whence, Kafka-style, she will be sent ever onward by other equally bored, equally indifferent Immigration and Nationality Directorate officers.
You file your record of her, return slowly to your seat and, resigned to yet another repeat performance, press your floor-button. The next lucky candidate with the same deferential manner and the same depressingly cock-and-bull story shuffles over. Not a woman, not even an ugly one this time. Your boredom sinks to a new level, a chronic one only just above Utter Desolation.
Then young Birch, who sits next to you, leans over and whispers very soto voce but with that familiar enthusiasm of his, "Other end of the room".
Jeez, MR readers must be thinking, what the hell has this to do with majority rights? Well, only this. You, dear reader, are in the wrong job. Or you would be if you like girls and are ruthless, unprincipled and only too happy to miscegenate.
You see, according to one former government employee all the best Third World girly action is to be had, so to speak, in the immigration service. You think I jest? Not a bit.
The Home Office is investigating claims that immigration officials operated a "sex for visas" scam and ignored vital security checks.

A former administration officer at the major Lunar House immigration centre in Croydon told The Sun women were helped to stay in the UK in return for sex.

Anthony Pamnani, 23, said he quit after four years in disgust at the behaviour, which he claimed also included mocking any "ugly" applicants.

Those considered good looking would be seen straight away while others queue for hours, he said.

The whistleblower, who said his complaints were ignored, also told the paper that vital security checks on immigrants were not carried out.

"One girl came in and told us an admin officer had visited her flat and they had slept together. She got indefinite leave to stay," he said.

Brazilian girls would be given permission to stay in the country longer than their boyfriends for no valid immigration reason.

And passport photographs of women considered too "ugly" to be allowed to stay would also be laughed at and pinned on the wall, he said.
Yeah right ... those exotic Brazilian girls. What's the guy talking about? Brazilian girls? Sambistas no doubt. He's gotta be a fantasist, an attention seeker. Obviously needs a steady relationship with a good woman. And not a Brazilian piece, either. Well no, she couldn't be. Not in grey, ghastly Croydon.
Mind you, there was that sub-Rio gig that Multicult Ken organised a while back on his new North Terrace of Trafalgar Square (right where he wants to plant the Mandela statue).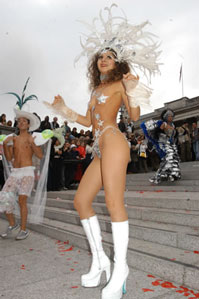 I suppose there might have been some vaguely attractive, Ipanema wannabees there. Somewhere. But that doesn't prove that our decent, public-spirited and iron-willed Immigration and Nationality Directorate officers could ever be tempted to risk their careers, ever be corrupted by steroid-strength power and the turpitudes of female flesh. Good Lord, no. Whatever next, I ask? This is (far too cool) Britannia.