Magic Negro Johnson Saves Humanity?
Bear with me for a moment while I set the stage for the introduction of our Magic Negro du jour.
As I've argued before, a sustainable eugenic civilization should proportionately favor the reproduction of carrying capacity creators. Chief among those creators are inventors. There are vast numbers of minor such inventors, such as my father who won the National Clean Plowing Championships 2 years running by improvising field engineering mods to the standard John Deere plow with bailing wire, but there are few major such inventors, such as Jethro Tull, whose seed drill amplified carrying capacity by as much as an order of magnitude or Norman Borlaug whose "green revolution" has returned billions for other races and so little in terms of population growth for his own lineage or race. So far, few white nationalists would have much to argue with here since the vast majority of carrying capacity creation upon which whites depend is due to white invention, and quite arguably, much more than a billion non-whites walk their land because they were fed by carrying capacity itself largely created by inventions by whites.
But we now face a potential global Malthusian disaster unless there are dramatic technological enhancements: a Malthusian disaster driven less by population growth than carrying capacity loss, a Malthusian disaster within which race war would become necessary in order to defend dwindling carrying capacity. Enhancements of technology are subject, of course, to the availability of capital for inventors which is, itself, subject to Jewish virulence's centralization of economic power with centralization's concomitant corruption of the technology investment class—a dismal prospect unpredicted by "the dismal science"—a prime beneficiary of Jewish virulence as so many "Nobel" Prizes in economics attest. With the consequent destruction of the yeoman class, we are losing our ability to create revolutions in science and technology.
So what to do? Who might come along and save us from this dilemma by providing technological breakthroughs in a situation where white wealth is centralized in the hands of the corrupt? No other race is so responsible for the population overshoot of the planet but no other race is so dispossessed of its own resources with which it might create more carrying capacity—those resources turned, instead, to insane middle eastern wars and suicidal subsidy of hostile ethnicities invading its territories worldwide.
Who will save the world from global race war?
Enter African American Inventor, Lonnie Johnson, pictured here with his billion dollar market "Super Soaker" squirt gun: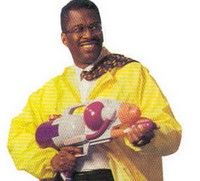 Before you dismiss this little article of mine as mere troll, consider the following facts…
News articles are announcing that Lonnie "Super Soaker" Johnson has invented a fundamentally new and very important way of generating electricity that would raise the world's carrying capacity by as much Jethro Tull's seed drill or Norman Borlaug's green revolution: The Johnson Thermoelectric Energy Conversion System:
"It's like a conventional heat engine," explains Paul Werbos, program director at the National Science Foundation, which has provided funding for JTEC. "It still uses temperature differences to create pressure gradients. Only instead of using those pressure gradients to move an axle or wheel, he's using them to force ions through a membrane. It's a totally new way of generating electricity from heat."
Understand we are not talking about just any old thermocouple, but a dramatically more efficient means of converting ubiquitously available low-grade energy, heat, to higher grade energy, electricity.
This would dramatically raise the efficiency of generating electricity from heat sources as divergent as solar and nuclear. It is so efficient, "electric" cars could burn natural gas for heat to power his electrical generator. It could even let the Theodore Kaczynski's of the world power their log cabins with electricity from their wood burning stoves before letting entropy turn the tree-collected solar energy to back into heat for their cabins.
The skeptic—particularly the racist skeptic—might object that there are such "breakthroughs" announced from crackpots all the time—that Lonnie Johnson's background as an "inventor" of the Super Soaker is evidence of little more than his ability to turn his profits as toy maven to con-artistry. But consider that:
1) Lonnie Johnson is an MIT "Inventor of the Week"
2) His JTEC invention made it through the National Science Foundation's peer review process—a process that is geared toward favoring establishment scientists and weeding out anything too unusual
3) He spent 9 years with NASA's outer planetary missions in which the electrical power source is the far less efficient thermal-to-electric thermopiles of the radioisotopic thermal generator, and winning awards for his part.
How are we to discount a man with such ringing endorsements?
Here are the 3 ways of making sense of this:
1) The government funded science bureaucracy, including MIT, is so submissive to the theocracy of Holocaustianity that it is selling out its credibility to support bogus inventions on the off chance that they might be real and thereby offer moral justification for its policies that have replaced billions of whites with billions of nonwhites despite the long history of white creation of carrying capacity.
2) Lonnie Johnson is the exception that proves the rule but is no less interesting for his being an exception so we should welcome his invention and consider it possible that men of his lineage (whatever it really is) should enjoy more reproductive success than most white nationalists would normally agree is reasonable under a eugenic civilization.
3) White nationalists are just wrong about blacks—Lonnie Johnson isn't the exception that proves the rule, he is the exception that is the tip of the iceberg of potential of Africans.
I'm not going to argue here for one or the other of these interpretations—leaving it to you, my gentle reader, and future historians to decide.