Razib Khan is the designer and chief administrator of Gene Expression blog (gnxp.com). Lately, he has been advertising his availability for web development using PHP (hypertext pre-processor language) and writing well-informed and well-reasoned pieces on genetics or public policy. Anyone thinking of hiring Razib to do such work had better read this entry first.
Here is a screen capture of Razib soliciting writing work (Jan 9, 2006):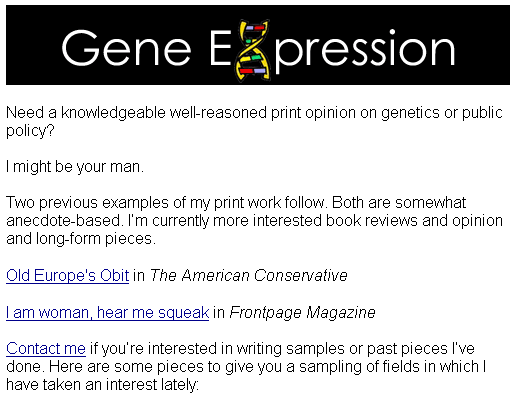 Razib has not added a comma between knowledgeable and well-reasoned. Besides, well-informed is preferable to knowledgeable here. Also, it is unnecessary for him to add "print" to print opinion since it is obvious that he is soliciting writing work. Razib talks about "two previous examples," but his prior writings can only have been written previously, i.e., previous is unnecessary here. Razib forgot to add "in" in "more interested book reviews," and talks about "long-form pieces," a strange phrase for lengthy essays. Now, how would someone with reasonable language proficiency write what Razib has written about?
Here is how:
Need well-informed, well-reasoned arguments concerning genetics or public policy?

I am your man!

Two examples of my publications, both somewhat anecdotal, follow. I'm currently more interested in book reviews, op-eds and lengthy essays.
The statement above says what Razib is trying to express in a much better manner and using 6 fewer words. The screen capture above is a succinct sample of several common themes in Razib's writings: verbosity, poor grammar and poor editing. This is not all though. His writings are also replete with misspellings; unnecessary use of complex words, undoubtedly to make himself appear to be well-informed; and obfuscations and incoherence, which reflect his poor understanding of the underlying matters that he is addressing.
It could be pointed out that although Razib's writing skills are not up to par, he possesses good knowledge of genetics. However, Razib's knowledge of genetics is good only when compared to the average American, which is far from a complement. Geneticists would find many of Razib's writings on genetics curious.
Sometime in 2005, Razib and Jason Malloy were interviewed on evolution and genetics by Infidelguy and the radio transcript is available to registered users.
Razib has an effeminate voice, just as I had suspected, but this is hardly relevant here. What was interesting is that Razib mentioned that there were around 45,000 genes in humans, which is a way-outdated estimate, and the present estimate, which predates Razib's appearance on Infidelguy's show by about two years, is 20-25 thousand genes.
In an entry titled "Beyond the Punnett Square, part n," Razib wrote:
The only moral is one should go beyond the Punnett Square abstraction where phenotypes have simple (monogenic) causes.
Ignoramus Razib did not realize that a Punnett Square illustration of the 6-loci example that he uses, though complex, would show exactly what he described in his article. There are many other equivalent examples reflecting his ignorance.
In an entry titled "8th grade math for the rest of us," Razib wrote:
Godless & I never have gotten around to a "GNXP FAQ." The reasons are rooted in human psychology, this weblog is a hobby, a pastime, and writing an FAQ requires forethought and effort we simply never felt we could spare!
This statement is nonsense. Razib is a prolific writer, and he writes so much that one can be fairly confident that he does not have a real job. The reason Razib and Godless have never gotten around to writing a FAQ is because writing a decent FAQ for GNXP content would require a summarizing ability that is beyond the intelligence of these individuals. It can be clearly seen that Razib is much weaker when it comes to summarizing journal papers than more-easy-to-read books, which shows his inadequate understanding of genetics.
It would be foolish to rely on Razib for an opinion on social policy recommendations that follow from the emerging understanding of genetics, not only for the aforementioned reasons, but also because Razib could not even bring himself to admit that whites have [genetically] higher intelligence than blacks [and also Bangladeshis like himself] on the Infidelguy's show.
Although Razib is not up to par when it comes to writing or knowledge of genetics, he is perhaps a decent web designer. I don't know how well he programs in PHP, but there is a clue as to how elegant a programmer he is: his website. His website uses XHTML, simple javascript and feeds from blogger, all being much simpler to handle than PHP. An examination of XHTML well-formedness of gnxp.com on Jan 9, 2006 revealed 519 errors! Talk about piss-poor coding!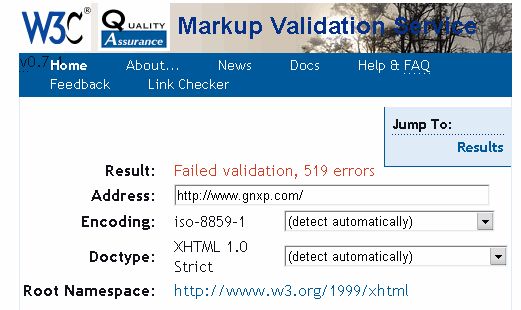 None of the admins at majorityrights.com work in the field of computer software, yet XHTML validation errors at MR are at most only a handful. For example, check the number of XHTML errors in the page that you see before you right now.
The site layout and all side bar content at MR is valid XHTML (would validate as XHML 1.0 strict and XHTML 1.1); the sources of error are poor coding by the commentators and some bloggers. On the other hand, the piss-poor coding example at gnxp.com that I have mentioned above excludes the comments section. It is inevitable that the commentators will occasionally poorly code XHTML, but the bloggers can surely be made to learn proper coding, and I will get around to educating MR bloggers eventually.
Apart from piss-poor coding, Razib's site layout is poorly optimized for search engine friendliness; see a sample source code of GNXP taken on Jan 9, 2006. Instead of calling CSS and javascript from outside the template, he has them inside the template and even though he has a simple two column layout, he uses a table to structure the main content instead of divs. Additionally, the links to the comments sections (by Haloscan) disappear in several browsers if javascript is disabled; it is sometimes necessary to disable javascript for security reasons. Some great design!
I don't think that I need to say much more about how well Razib writes and how suitable he is for writing on genetics and social policy or web designing. His shallowness shows in his redirecting HTTP referrers from MR to a filthy porn site showing mentally ill white women having sex with Negroes; he can't win a debate with us and this is the best he can do.

Anyway, I request readers to post a link to this entry at their websites and various blogs and forums, in a manner similar to the following:
Cool information on Razib Khan of GNXP; Gene Expression blog.
This way, this entry will earn a high Google rank for searches on Razib.