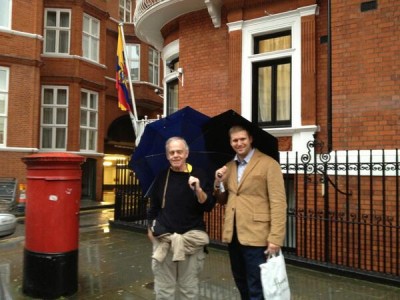 Regnery, Spencer, prime umbrellas of (((Alt-Right))) big-tentosphere
Dear Daniel, I'm a reporter at Reveal News, a news service and public radio program in California. Thanks for responding to my Twitter message.

We're doing some reporting on Richard Spencer and Bill Regnery. I saw the "Richard Thpenther" post on Majorityrights.com, complete with a foto of the 2 of them together, and thought that you could certainly point me in the right direction on some basic factual issues, if you were willing.

So, I'd like to have a conversation. I'm happy to abide by whatever ground rules you set. Here's my bio, if you'd care to check me out, and my contact info is below. Thanks for your consideration, and please let me know how you'd like to proceed.

Looking forward, Lance Williams, Senior Reporter, Reveal from The Center for Investigative Reporting
Before moving on to detail the discussion that I had with Williams, I want to recap the left-right paradigm as it is conceived for majorityrights platform, since Williams was asking for my perspective on matters and since like everything that I've gleaned from academia and niftily re-tooled for our ethnonationlist interests, it has been attacked, no matter how well aimed, how effective and how coherent in those aims. Since I have not been able to overcome this misplaced jealousy, or naivety, bad advice or whatever causes the intransigence of this contentiousness, I must repeat myself.
Recently, I have been challenged again on the concept of left and right that I use. I refuse to back down and shouldn't back down for the utility and intelligibility of the concept of left and right as I conceive it. It is intelligible, intuitive even, as it underlies patterns of ordinary language use. It only becomes confused and counter-productive as people try to play along with the more "sophisticated" versions (perversions, really) that Jews have spun through media and academia; which the disingenuous or naive have bought into - as they disingenuously/naively see it serving their interests - the more "sophisticated version" puts forth an oxymoronic definition - that the left is synonymous with liberalism - an oxymoron indeed, conceiving a "union" without prerogative of membership inclusion and exclusion; in fact, by this definition, a union would be just the opposite, it is a "union" that would constantly seek the opening of its membership bounds, to never exclude any "scab" as its highest value (to unionize the entire world as members of the union, we can only imagine). The "sophisticated" White response and what the Jews want, what those disingenuous/naively going along with the arrangement of their terms do, is to say, "no, I'm not a leftist, not a liberal, I'm on the right! - and I can prove that I am not a racist. I'm pure, not arbitrarily setting union bounds of my racial group, despite merit or not, I'm basing membership on unassailable, objective facts and merit alone."
Ironically, this objectivist response underpins liberalism itself, the very form of the affliction against racial and national maintenance.
Naturally, any halfway intelligent and conscientious White, concerned for White EGI, is going to be mortified that Whites are going along with this, as it puts precious, circumspect patterns at risk and frightens-away potential membership for its lack of accountability. The Jews know this and they promote White identity as right wing because they know that it is going to deter group loyalty where it does not have them reacting into headlong disaster - a trap, fighting on supremacist grounds, (hubris) where they literally become the bad guys who get into disastrous conflict with those that should be their allies (some of them White ethno-nationalists, some of them non-White ethno-nationalists) - vilified as subhuman, these ethno-nationalist adversaries (nemesis) are nevertheless able to fight back very well, and greatly damage the EGI authoritatively designated by the right as its cause, as their adversaries have the collective moral high ground in the concept of social accountability.

Of course those disingenuously/naively going along with the right wing, objectivist version of nationalism, are veering toward two dubious premises with regard to any claims of nationalism: 1) Where otherwise nationalism is not something that just comes together by the invisible hand of nature as it is supposed to, then one or a relatively small number of leaders will assert what is the national group and direct it by their authority which 2) Tends toward limited accountability, as their purported merit for the position is the result of sheer factual (gawd given or sheer natural) merit to make assertions of themselves - it "just wound-up that way" as a result of (gawd given or sheer) nature; and again, the same would supposedly hold true with group and national boundaries - they are supposed to hold up basically because of sheer nature (or gawd). It is a tendency to want to de-emphasize social accountability (to want to have unassailable warrant, to ascribe to oneself innocence/to be unburdened of guilt and responsibility); and to see outcomes as a result of one's sole agency and sheer nature; while minimizing any joint construction and negotiation of those outcomes.
Quite naturally, such a fool's game as this, bereft of social accountability as it is, and has been, is a sucker's game that the Jews (and others, but the Jews most importantly) can take advantage of: it is ripe for them to find some White "leaders" and buy them-off or otherwise hoodwink them into leading, in accordance with Jewish interests, the White sheeple - who naively buy into the right wing, objectivist, "that's the way it isness", and less the matter of social construction and accountability that would allow them to effectively maintain their group defense, or even individual defense, ultimately - deliberate designation, delimitation of group boundaries, would immediately correspond with a form of unionization (you are in the union or you are not); an idea underlying any considered concept of "Left." Whereas the disingenuous and naive go along with the Jewish arrangement of the terms, i.e., that "the left" means unionization only for non-Whites and those antagonistic to White men and their bounds - a prohibition of unionized boundaries for Whites, this is of course an absurd contradiction for Whites - from their end, it is liberalism: a prescription to rupture would-be unionized boundaries, borders, and the social accountability that would facilitate those boundaries and borders by contrast to sheer liberalized mishandling.
Lets pretend for a moment that people are not so retarded as to not be able to understand that and move on.
By contrast, what I have diagnosed as the concept of left nationalism within ordinary language and sustaining a consistent pattern of understanding, making consistent sense, is that: The moment one recognizes the truth by contrast - that we are in interaction, have some social connection and social indebtedness for the origin and maintenance of our manifest form of existence, therefore some responsibility and accountability; further recognizing that we make things together with other people, more or less - more, when we are more obviously responsible for a joint construction and less, but still some, in the agreement of how the more brute facts come to count - we are in the realm of the social and acknowledging the potential for accountability. And once we are in the world of accountability, we are in the world of delimitation, where not just anything goes. We are recognizing social responsibility and then the possibility that we have responsibility more to some than others - more responsibility to those within the "group", the group designated by consensus and negotiated authority; including responsibility to those deserving of membership but requiring incentive to remain loyal, though they are not on top of the game and ready for higher organizational roles at this time.
In sum, leftism is about recognizing the inextricable reality of interaction, social indebtedness and responsibility, therefore the motion for unionization as a means of accountability and group maintenance, designating out-groups and in groups thereupon, with social accountability as such. Nationalism, ethno-nationalism and racial defense, are a matter of larger scale unions.
Rightism is a motion in its ultimate trajectory toward unassailable warrant in objectivity or divine ordinance, to reduce social accountability through purported objectivity, supra-social principles or divine will. Now, one might object that rightists can be nationalists, or responsive to social needs. What I would say to that is that the moment they are doing that, they are doing a "left thing", they are going into the social world and its accountability, left nationalism, but without the premises that would solidly ground and sustain group systemic maintenance inasmuch as they retain rightist premises as their ideal and their aim, the lack of accountability thereof; as such, they are primed for subversion by people willing to use the leverage of collaborative agency against them.
Now lets see how this concept played out when I was queried by "RealNews" senior reporter, Lance Williams.
Majorityrights.com

Dear Daniel,

I'm a reporter at Reveal News, a mews service and public radio program in California. Thanks for responding to my Twitter message.

We're doing some reporting on Richard Spencer and Bill Regnery. I saw the "Richard Thpenther" post on Majorityrights.com, complete with a foto of the 2 of them together, and thought that you could certainly point me in the right direction on some basic factual issues, if you were willing.

So, I'd like to have a conversation. I'm happy to abide by whatever ground rules you set. Here's my bio, if you'd care to check me out, and my contact info is below.

Thanks for your consideration, and please let me know how you'd like to proceed.

Looking forward.

LW

Lance Williams
Senior Reporter
Reveal from The Center for Investigative Reporting
1400 65th St. Suite 200
Emeryville, Ca. 94608
https://www.revealnews.org/
office: 510-809-3175
cell: 415-298-2317
Naturally, at this point, I looked at the RealNews outfit's website, took note of who headed and staffed it, what their basic mission is - obviously very Jewish, very anti-White (pardon the term, as it is misused by those who would misrepresent White ethno-nationalism), very involved in Jewish headed, non-White coalitions, antagonistic to White ethno-nationalism and its necessary alliances.
First on the list: Colored guy, perhaps mixed Semitc origin:
https://www.revealnews.org/author/aaron-sankin

Aaron Sankin
Reporter
.(JavaScript must be enabled to view this email address)
@asankin
415-786-0793
Second on the list, Jewish guy:
https://www.revealnews.org/author/aaronglantz

Aaron Glantz
Senior Reporter
.(JavaScript must be enabled to view this email address)
@Aaron_Glantz
510-982-2967
Third on the list,
Colored guy, who is apparently often assigned to do the audio interviews:
https://www.revealnews.org/author/al-letson

Al Letson
Reveal Host
.(JavaScript must be enabled to view this email address)
@al_letson
510-809-3160
And on it goes; eventually the list comes to Lance Williams, who requested to talk to us and politely did just that (I don't know if he's part Jewish or not, but he clearly doesn't have a big problem working with them):
https://www.revealnews.org/author/lance-williams/

Lance Williams
Senior Reporter
.(JavaScript must be enabled to view this email address)
@LanceWCIR
510-809-3175
The list goes on like this, apparently having some Whites, obviously liberal, a strong representation of those who are not White males, but it is well over-represented by Jews in its staff and at its leadership.
Executive Director:
https://www.revealnews.org/author/robert-j-rosenthal

Robert J. Rosenthal
Executive Director
.(JavaScript must be enabled to view this email address)
@rosey18
510-809-3162
Chair:
https://www.revealnews.org/author/phil-bronstein

Phil Bronstein
Executive Chair
.(JavaScript must be enabled to view this email address)
Bronstein! I'm not sure if he's related to Trotsky, but!

Here is what I prepared, and in fact did say to senior reporter Lance Williams of Revealnews:

First, please let me say a few words about Majorityrights' platform as I've taken it, because it will quickly come to the point of how I have developed it as a corrective to the kinds of errors being made by The Regnery circus, NPI, Richard Spencer and the Alternative Right.
Majorityrights (at this point) advocates White/European ethno-nationalisms and sees itself as allied with Asian and Indio ethno-nationalisms. It does not identify with Jewish interests, as if they are White, it treats them as a separate racial category, outside of the White/European race; and, in fact, does not identify with Abrahamic religions at all - seeing them as destructive [providing maps destructive] to ethnonational interests. It does not identify with Nazism or any kind of supremacism or scientism - by scientism, I simply mean the notion that sheer "nature" and "objective" science should decide our course of action without individual and social correctives and cultivation. We are not Alternative Right, not Right wing in any sense as I conceive right and left to be: The right and with it, liberalism, is based on an idea of objectivism which is short on accountability - "because that's just the way it is according to natural or divine law." It lends itself to disingenuousness and hubris among elites and to naivety in the masses.
The left - a White Left Nationalism and any ethnonationalism as I hold it to be properly defined, is about accountability to the full social group as maintained through a form of unionization - that puts it in contrast to the universalism and pretenses of objectivity of the right; because there are in groups and out groups - you are in the union or you are not and the union - it looks after your relative interests as a member, not solely because of what is deemed your objective merit. It is a perspective which looks after the rank and file, to ensure that they are treated fairly and have incentive to maintain the union even though they may not be on top of the game or marginalized somehow, to make sure that they do not facilitate scabbing of the union so to speak; but it keeps a particular eye on elites, to hold them accountable to group systemic interests, to make sure that they do not betray us since obviously they are capable of doing the most damage. That concern is bringing us to people like Regnery, Spencer and those in the Alt-Right.
Because they take these right wing positions that we reject, positions which people cannot take or are justifiably afraid of, it turns-off a broad base as it is an incompassionate, insane and stupid position; but in order to try to connect with the mainstream and populism, they are forced to cobble together coalitions upon a tacit agreement to tolerate one another's anti-social positions as such - whether its holocaust denial or supremacism, some sort of nutty Abrahamic religion; or, what is stigmatic from a White nationalist point of view, acceptance of Jews in their alliance. These cobbled-together anti-social coalitions of the Alt-Right I call the Alt Right tentosphere - a big tent of different tents. Some tents are completely friendly with Jews.
The template of running the gamut from Nazi sympathy to working with Jews and some members actually being Jews is completely consistent with Regnery, his publishing history and what I see as this strategy of Jewish alliance for shepherding masses into this tentosphere of the Alternative Right.
Now, the concept of the Alternative Right goes back to a 2008 article, edited by Richard Spencer, written by Paul Gottfried (who is Jewish); and with it he was trying to counteract the headlong destruction of Whites who could be valuable to Jewish interests and what he calls "Western values", including Judeo-Christian values as he saw them being destroyed by means of a trajectory from Irving Kristol to the Neo-Cons; a trajectory that did not place enough emphasis on stabilizing enough useful idiots among Whites - the means to keep Whites from reacting too much and to be maintained as useful idiots for Jews was called paleoconservatism - it began with Frank Meyer, a Jewish scholar who shaped Reagan's so called conservatism: Its not really a whole lot more conservative than the neocons because all it does is maintain capitalism (i.e., maintain a liberal economic system), maintain Judeo-Christianity (which for Whites is liberal - moral liberalism, altruism), pay some lip service to the wonderful culture of the west; while allowing for genetic arguments upon which Whites can survive on an "objective" basis; thus the selection for the relative interests and ways in which these useful idiots will be deployed and intermarry will remain with the Jews as the organizing factor among a right wing elitist cadre.
You're witnessing that in Trump. But we need to say a bit more before we move onto Trump.
Now then, why do Regnery and Spencer take this position as "Alt-Right" against the quote "Left"? Well, you need to begin with why Jewish interests would want to take a position against the quote, "left."
Jewish interests have had disproportionate power and hegemonic influence through seven key niches:
1) Media 2) Money and Finance 3) Academia 4) Politics 5) Religion 6) Law and Courts 7) Business and Industry.
Naturally, they don't want organized peons criticizing, dismantling and taking away that power. So what do they do? Well, of course, they look toward the old faithful sell-outs among the White right-wing elitists - offer them deals in turn for compliance, ease their conscience with the objectivist arguments they've always coveted as unassailable warrant, "these are just the facts of life"....and "say, by the way, you've got money, want to keep it and have even more, don't you? You can continue to do well for yourselves ..and you hate those 'lefties' anyway, complaining that they want some of that too, so lets organize a coalition, a "movement" to be popularized against the left. ...make it real stylish and edgy ...appeal to those disaffected millennials in their internet bubbles, we'll call it 'The Alternative Right".
Of course now, a major left unit, left union so to speak, would be the union of ethno-nation. And the Jewish and right wing objectivist way to disrupt that unionization is to encourage right wing reactionary populism and its corollary reactionary liberalism.
Now then, again, Majorityrights platform is conceived so that a proper ethno-nationalist view is not buried by the Regnery circus (as our GW aptly calls it), not buried, enmeshed in what it has been doing with The Right and the Alternative Right.
They are only doing quasi ethno-nationalsim as it is perverted through objectivism and coalition with Jewish interests: fighting against social accountability, going along with the Jewish prescription of trying to represent White interests through right wing means.
Coming back to Regnery, his characterization and relationship with Spencer then: Regnery's father was of German extraction, was a part of the "America First" movement which wanted to keep The US out of World War II. He started a publishing company - it is said that they received some funding from the CIA - anyway, it published right wingers like William Buckley who went on to become notorious among White nationalists for banishing from conservatism anyone he considered anti-Semitic - famously, Joe Sobran, who quipped, "it used to be an anti-Semite was someone who didn't like Jews, now an anti-Semite is someone who Jews don't like"...he added further that this was an expression of "Semitical correctness."
Now we're in the 90's when Buckley is beginning this purge of quote anti-semites from quote conservatism - Sobran was first, Sam Francis hung on a little longer but got bounced as a mainstream exponent at the end of the decade, Pat Buchanan hung on until recently - but all of these guys were hanging on by the thread of their quote "paleo-conservative" response to the "neocons" ...paleoconservatives were Judeo-Christian friendly, therefore they were sufficiently useful idiots provided they didn't get too anti-semitic. .. but some of them did start getting the anti Semitic idea a little too much and Paul Gottfried, a Jewish member of this paleocon cadre began to realize that he was losing the alliance of these useful idiots, so he called for a new and improved paleo-conservatism, an Alternatie Right, to supersede the old paleocons - which were really just Jewish controlled opposition themselves, from the start, and Gottfried and his Jewish cohorts wanted to reconstruct them as such - make them seem like they were rebels against the so-called "Left" which threatened Jewish power and influence. So again, he saw fit to make a deal with elite right wing Whites, both the disingenuous and the naive - naive rebels indeed, especially the legions of bible thumping southerners who are quick to jump into wars for Jewish interests; and to be hoodwinked into friend enemy distinctions drawn on Judeo-Christian biblical lines.
So, Spencer, not long after his abortive attempt at a graduate career at Duke (where he was friends at the time with the very Jewish Stephen Miller of the Trump administration), becomes editor at the Jewish owned Taki's mag - I guess he gets a kosher seal of approval there. While there, he begins to learn some of, many of, the ropes from one of their article writers, Paul Gottfried; and then Spencer moves on to something called Washington Summit Publishing - a Regnery outfit; so he's moving in channels with both Regnery and Gottfried now, as Regnery also publishes Gottfried's books. Moving in circles with both of them: Gottfried and Regnery steward Spencer into Regnery's concept of a right wing big tent (that includes "friendly Jews") in combination with Gottfried's idea to re-instantiate paleoconservatism by adding new tents to the paleoconservative tent, a tentosphere, in the overall form of the Atlernative Right. These contacts bring Spencer directly into Regnery's Charles Martel Society, which includes Kevin MacDonald, Jared Taylor ... Peter Brimelow. But KM is the most important one to turn deals with Jews as he has most of the anti-semitic cred… from there Spencer branches out, in fact, to form a webzine called Alternative Right, which he eventually abandons for more snobbish pedigree with Radix. And his Regnery connection ultimately puts him at the head of Regnery's NPI, which neo-con outcast, the paleocon Sam Francis started and headed until his death, and which Spencer took over after Francis' successor died as well.
While he's busy with that, Jewish interests swooped-in to popularize the term "Alternative Right" so that they could both promote their own entyism and weaken genuine ethno-nationalism. Some right wingers, a bit disingenuous, a bit naive, believe that they can use the term and its tentosphere and the Alternative Right term takes off - including for Richard Spencer, who has come back to it to form a new website with Regnery called AltRight.
They are acting perfectly into the role of useful idiots for Jewish interests in corralling the White vote back into the Republican party, unaccountable objectivism, back into civic American nationalism (which is drastically different from ethno-nationalism), back into credulity of the two party system, back into an American political system which serves Jewish interests and objectivist (sell out) interests, not ethnonationalist interests. It used to be that White ethno-nationalists would say that The Republicans and Democrats were flip-sides of the same coin, and that was roughly true with regard to their systemic racial concerns; but now, "thanks" to the Alt-Right, many of them have been corralled back into the Republican party and back into reconstructing the system, a Jewish and right-wing allied mixer.
The Regnery circus, or the tentosphere, as I call it, that they promote with the Alt-Right, is characterized by Regnery's Germanophilism and elitism, which identify with its mirror image of elitist Jews. The President of Regnery Publishing is Marji Ross, who apparently has affinity and ties with Jewish interests (i.e., she is apparently Jewish) - it seems Jews are ok, provided that they are "against the left", ok with anti PC, some Gemanophilia and some of its foibles - holocaust revisionism and so on. Regnery's paleoconservativism requires a tolerant attitude toward Naziphiles, the scientistic, Judeo-Christians and others, including Jews, who are sympathetic to those aims as they might build a grand coalition between Jewish tents, Germanophiles and the Russian Federation. Richard Spencer, being an elitist snob, half German and having a child with his now ex-Russian wife, is coming from a useful default perspective to be a ring master of that Regnery circus.
It is a strategy that plays not only to Jewish entryism, allowing them to play the angle of the "good" Jews, to play their angle of encouraging "the right and alternative right"; but, in fact, it also appeals to the entryism of America's largest White demographics: German and Irish Americans, the grievances from their particular perspectives, the guilt trips that they do not feel they should be burdened with. They are the most prone to go along with reactionary right wingism as they are most burdened/don't want see any legitimacy in guilt trips; and with that find appealing a simplified way of that unburdening, the idea that the Nazis had it all right and the Allies had it all wrong. Simple. Though it isn't quite so. The Nazis right wing elitism and scientism was, and is, not really ethno-nationalism but an imperialism prone to headlong reaction, Jewish red-caping, mis-direction and counter.
Coming back to Lance Williams' inquiry: "I saw the "Richard Thpenther" post on Majorityrights.com, complete with a foto of the 2 of them together, and thought that you could certainly point me in the right direction on some basic factual issues, if you were willing."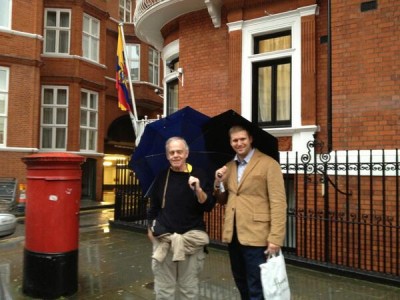 Regnery and Spencer under an initial umbrella, forming the (((Alt Right)) big tent-o-sphere.
To my understanding Spencer and Regnery plan together and go on vacations together (this one in Estonia, I believe). I have no idea what they do together, anything gay or whatever, and I only make fun of Spencer's soft way of talking to use it as a critical handle, to chide him, because I see important epistemological blunders in his and Regnery's platform - more than irritating, it is catastrophic.
They are leading Whites into a circumstance of Jewish defined friend enemy distinctions. Asians, Mestizos, "radical Islam" and "The Left" being the enemy. While radical Muslims are presented as a great enemy, Muslims overall are useful as attack dogs, divide and conquer agents for Jews and right wingers against true left nationalists, including left nationalist Whites and Asians. Muslim compadores serve to work with the right wing to control left nationalisms; and Islam ultimately serves also as a uniter for the naive and disingenuous under the Jewish rubric, those who want the rubric of being against terror, but not other races or Jews; but in fact Islam uses terroristic means of controlling their very liberal tendencies, critically necessary as a stage to awaken left national consciousness and participation to overcome its subression by the Abrahamic and Right wing coalition. The Abrahamic religions of Islam, Christianity and, at top, Judaism are against their Left Nationalist, i.e., ethnonational organization.
Williams asked me about the "heil gate" event and I informed him that (((Mike Enoch))) was the one who started it and that Spencer was in a way set up and in another way going along with it to build up his anti-Semitic cred for the Alternative Right tentosphere.