Ron Paul Demolishes Other Republicans In Online Polls
The mismatch between "Post-ABC News poll, those more tuned into the '08 race" and the post-Republican Candidate debate online polls of ABC and MSNBC goes well beyond normal disparities between "scientific" polling and online polling. Ron Paul leads all other candidates by a more than comfortable margin in the online polls and is hardly even considered a "dark horse" candidate by the offline "scientific" polls. This is made even more interesting if, as has been reported here the MSNBC online poll prior to the debates had Ron Paul with only about 9% vs its present 34%.
Glib explanations that "Ron Paul's supporters are internet addicts…", as have been advanced on neocon sites such as Freerepublic.com, while very unsatisfying, are at least better than the utter silence regarding the glaring disparity from the mainstream media whose own online polls so drastically depart from their "scientific" polls.
Moreover, at present it appears that FOX News is excluding Ron Paul from the upcoming South Carolina debate because:
"the public is better served when serious candidates speak on the issues"
One can't help but entertain the possibility that perhaps some of the disparity is due to Ron Paul's consistent opposition to Neocon "invade the world, invite the world" policy that has taken hold of the mainstream media… that plus the fact that—rare among self-described "libertarians"—he doesn't seem very hypocritical when it comes to recognizing the asset known as national citizenship. (His immigration report card is an astounding B+.)
A quantitative estimate of approximately how far off we can expect these online polls to be is called for…
MSNBC's online poll as of 4:30PM: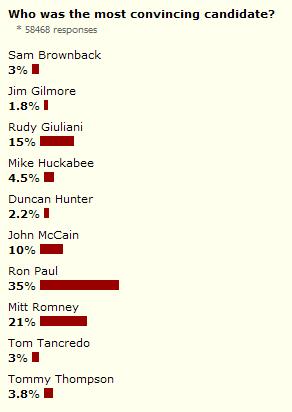 ABC's online poll as of 4:30PM: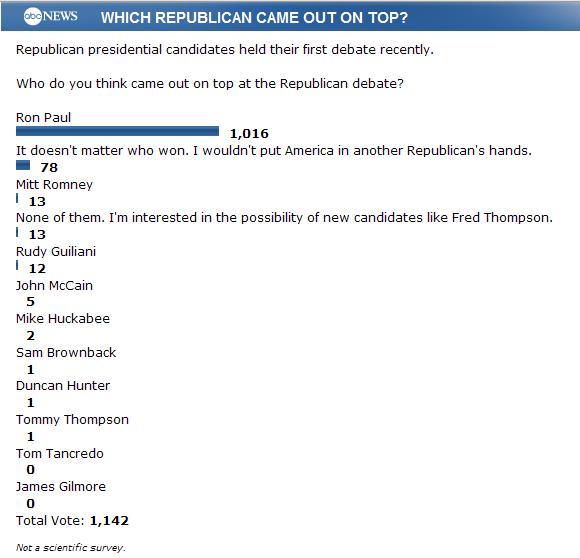 Washington Post/ABC's offline "scientific" poll conducted prior to the debates: