A New Dream Act is Necessary for All the Americas: A New Alliance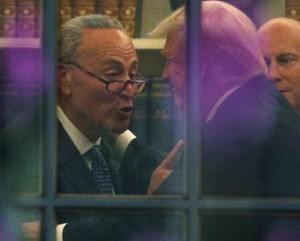 What did you really expect from Trumpstein?
My personal position with regard to so-called "Hispanics" is that we should first of all differentiate among them. "Hispanic" is an egregious term, auguring to do the very worst thing which we seek to stave-off, i.e., to blend away racial distinctions, as the term covers and then tends to politically coerce the blending of Amerindians, Whites, Jews and blacks.
We need to distinguish them hence. We need to distinguish Marrano "huWhites". We need to distinguish those who are black and have anything beyond a small amount of black - they should be looked upon as an out group - not our friends: e.g., Puerto Ricans typically have a significant amount of sub-Saharan African, 25%. Whereas Mexicans on average have only small amount, 4% as evaluated by National Geographic Human Genome Project, Gen 2.0. These kinds, Amerindians and Indios (mixed Indian and White) should be looked upon as people to cultivate as allies.
Certain Caribbean mixes should be shown some compassion in an effort to reconstruct as much as possible the now non-existent pure Indian strains which were forcibly bred-away with African slaves by Spanish conquistadors. Similarly, Indos should be allowed protection from furthering of the mongrelization that was visited upon them by the Spanish conquests.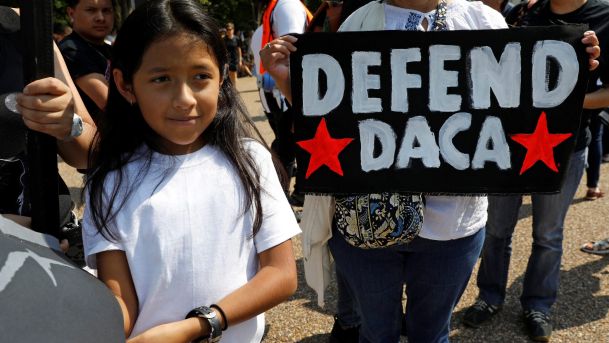 As these historical errors are corrected, "a new dream" act should be enunciated in which the riches and opportunities of the Americas are shared between Whites, Asians and Amerindios in exchange for friendly terms and alliance with Whites against black, Jewish and Muslim imposition.
This must be arranged in accordance with human ecological and resource management - especially population carrying capacity: which tends to be the elephant in the room that liberals overlook in their anti-racist fervor. Make the said kinds friends and hold them accountable to our alliance in pervasive ecology and human ecology of our distinct kinds. We do this deliberately, or we are without a vast alliance, in fact it is arrayed against us as distinct peoples (nationals) and our habitats all…

Opinion // Save DACA: We U.S. Jews Won't Let Trump End the American Dream

On DACA, the president appears unmoved by arguments of compassion, humanity, national interest or common sense. Now is the time to take a stand and take action.

"Dreamers" originally from Ecuador watch Attorney General Jeff Sessions' remarks on ending the DACA program on a smartphone in Manhattan, September 5, 2017. Credit: Drew Angerer/AFP

●DACA 'is being rescinded,' Sessions announces after Trump moves to kill 'Dreamers' program

●U.S. Jewish groups blast Trump's decision to scrap 'Dreamers' program as 'cruel, unnecessary'

●WATCH // Donald Trump vehemently defended 'Dreamers' on Fox News in 2011

The Trump administration moved on Tuesday to terminate the legal status of 800,000 immigrant children and young adults. These young people are currently protected by Deferred Action for Childhood Arrivals. DACA is only available to people who have been in the United States continuously since June 2007, so this decision will exclusively impact kids and young adults who have been in the country for at least 10 years and have impeccably clean records. About three quarters of the so-called "dreamers" have U.S. citizen family members, and one quarter have U.S. citizen children.

DACA is an executive action taken by President Barack Obama in 2012 after decades of failure in Congress to enact any kind of immigration reform. There is broad agreement across party lines that people who were brought to the United States as children by their parents did not make a choice to come here, and therefore should be allowed to stay in the country that they call home. Leaders of both parties, as well as business leaders, faith leaders, and the majority of Americans polled about it, support DACA and have urged President Donald Trump to keep it in place.

>> U.S. Jewish groups blast Trump's decision to scrap 'Dreamers' program as 'cruel, unnecessary'

■ Analysis: Trump's Cruel and Unusual Punishment of Unsullied Dreamers

Like generations of immigrants before, including millions of Jewish parents and grandparents, the parents of these kids have made enormous sacrifices, not for themselves, but in the hope that their children would have a chance at a real future.

These kids are American in all but paperwork, and they are now living in fear. In just a few months, they may not be able to legally work, and will face arrest, jail and deportation. These are kids who have gone to school, made friends, joined teams, grew up, enlisted in the military, went to college, went to work, volunteered and lived normal, American lives. This moment should feel scary, disturbing and eerily familiar to all Jewish Americans.

Ending DACA serves no legitimate policy purpose and in fact, will hurt the U.S. economy. Particularly as we work to recover from Hurricane Harvey, where many DACA recipients are actively taking part in rescue and rebuilding efforts, the cruelty of this decision is in plain view.

Ending DACA will also make us less safe. As losing legal status causes people to recede into the shadows, they will be afraid to call and cooperate with the police. More parents will be afraid to take their kids to school and to church, to the park and to the doctor. More kids will live in fear of the knock on the door that will take their parents away.

HIAS is the global Jewish organization that protects refugees. We stand for a world in which refugees find welcome, safety and freedom. Guided by our Jewish values and history, we bring more than 135 years of expertise to our work with refugees. But our work is just one piece of the larger culture of equality and welcome we strive to create together with our supporters in the American Jewish community. Threats to the DACA program are not only threats to immigrants, but to justice, fairness and the longstanding values of our country.

This country's history of accepting refugees and immigrants has offered generations of Jewish Americans the opportunity to recognize our full human potential and become part of the fabric of America. While there are disturbing elements that would deny this, and their voices are louder now, it is still true. It would be a stunning reversal and betrayal of our history to deny this opportunity to others who have already contributed so much.

The president appears unmoved by arguments of compassion, humanity, national interest or common sense. Now is the time for American Jews to take a stand and take action through elected officials in Congress. We can call Congress and insist that our representatives immediately pass a law that will allow these kids and young adults to stay here legally and permanently. This law must include no conditions or trade-offs, or in any way punish other immigrants.

We must restore basic fairness and morality to the way we treat immigrants in this country, and there is no better place to start than with these young Americans.

Melanie Nezer, Haaretz Contributor, is senior vice president of public affairs for HIAS, the global Jewish nonprofit that protects refugees