What is behind Netanyahu's "gesture" presented last Wednesday to German Chancellor Merkel?
In an ostensible gesture, Israeli Prime Minister, Benjamin Netanyahu, proposed to relieve Nazi Germany ergo present day Germany of complete guilt for the holocaust.
Netanyahu suggested that at the point when Hitler met with the Palestinian Mufti in November 1941, that he did not intend to exterminate the Jews but had a sincere plan to merely expel them to Palestine.
Netanyahu continued, that when the Mufti refused to agree, Hitler asked what then should be done with the Jews? The Mufti responded, "burn them." Netanyahu then claimed with that, that "the Mufti was one of the initiators of the systematic extermination of European Jewry and a partner and adviser to Eichmann and Hitler for the execution of this plan."
..................
Most people would be satisfied with putting Netanyahu's rendition aside for the obvious absurdities that arise to its credibility from the outset. Why would Hitler seriously expect the Palestinians to agree to allow Jews, or any non-Palestinians (but especially Jews), to immigrate to his country? That is, how could it have been a serious proposal by Hitler? The answer is that it could not have been, and it wasn't. It was a bluff, a typical ploy of Hitler's: "well, we tried."
To a lesser extent it was also an occasion to discuss with the Palestinians how they might cooperate with Nazi Germany. However, the idea that Hitler seriously sought council from the Mufti and followed his lead in regard to how to deal with Jews is risible.
There is all kinds of evidence that Nazi Germany, in accordance with Hitler's designs, had already commenced with killing Jews as a solution the Jewish problem as they saw it; and had no problem with killing, exterminating Jews; there is even evidence of an emergent plan that regarding the Jews that he did allow to escape to Palestine, that they were facilitated in going there upon the agreement with Muslims that they would be taken care of there, in subsequent cooperation between Nazi Germany and Muslims to make sure that they could never become ensconced in the area.
..................
No serious ethno-nationalist is accepting Netanyahu's dealing of the card of Hitler's absolution at anywhere near face value.
There are a few relevant exceptions, and it is for their compliant reaction to divide and conquer that Netanyahu plays this card.
1. The philo-semitic counter-jihadists who might be looking to see Israeli actions against Palestinians as more valid than previously understood. They are already in the tank for Israel and Jews, as completely innocent victims and scapegoats. They seek to gain Israel and whatever part of liberal Europe that they can against Islam alone, in perhaps a desperate hope by their non-Jewish component, that Israel will care enough to sincerely help. That is a joke and the plainest level of divide and conquer, which the Gates of Vienna and the Geert Wilders ilk has already bought into.
2. Some foolish Naziphile's who are unfortunately associated with White Nationalism will take the bait in seeking to absolve Hitler from any responsibility for the holocaust; what is more bizarre is that some of these types tend to hope that Russia will be the great White hope of WN. The Russian/Jewish coalition will exploit this delusional hope that it might cooperate with White Nationalism, while doing all it can to prohibit racial nationalism; let alone allowing for the embrace of those who would resurrect Hitler, the arch enemy of its "Great War" - a war which its entire nation knows expended 25 million and which, to this day, would view such resurgence of German Nazism as its greatest threat, were it not so overly prepared for that contingency: hence, why it probably is that they allow Netanyahu some freeplay with that card - in order to keep Russian and Eastern European people under threat.

3. Merkel and liberals of her ilk whose career, power and license have underpinnings in German guilt are the third category who might respond at face value to Netanyahu's ploy. Hence, her characteristic response being the opposite - that "no, no, Germany was fully responsible for the holocaust."
Getting these three groups to react in an overcompensating manner will invoke responses from other national players that can put Netanyahu's divide strategy into fuller effect.The overcompensating response invoked in these groups would tend to highlight and align some of the normal German ethno-nationalist positions with a more Naziphilic position, which will undermine and destabilize Merkel's base by forcing her to distance herself further into her overcompensatingly liberal position in order to maintain her liberal support base. That will then cause few more of the normal ethno-nationalists to display, in frustration, a more forthrightly Nazistic position - nowadays a weak position, as it is limited of itself; divisive not only against German liberals; but normal German ethno-nationalists, who are the authentic opposition to both Merkel and Netanyahu.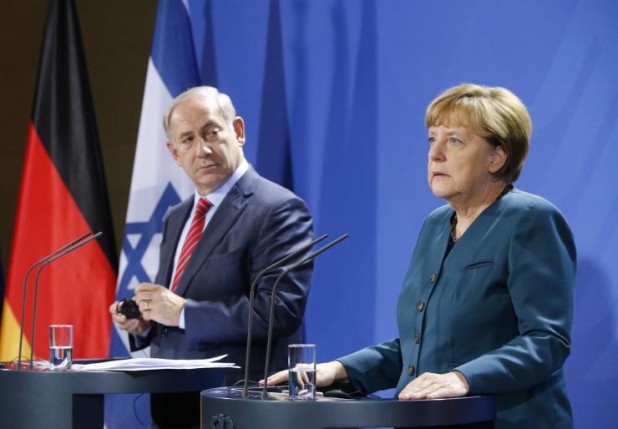 While Merkel looks like a deer caught in the headlights, Netanyahu does not look the least bit concerned, does he? He looks upon Merkel with dismissive contempt, as if to say, "do you seriously think you can do anything about it, piss-ant?"
Netanyahu knew that Merkel would never respond in an ethnonationalist way, in anything but an obsequious, liberal way.
Merkel has already obliged by missing what would be an opportunity for a normal ethno-nationalists to say, "thank you for at least conceding that Germany, especially present day Germany, is not fully responsible for what happened in WW2 and was not, even then, some sort of ex-nihilo source of evil, but had an existential conflict with Jews; that was confirmed by the fact that other peoples had highly analogous difficulties with Jews, which even Nazi Germany was willing to discuss and negotiate to some extent. Not only is it clear that Nazi Germany viewed Jewry as a mortal enemy for plain reasons; it is time for Israel and Jewry to stop pretending to be the sheerly innocent victims and light of the world; the time has long since past when subsequent generations of Germans, let alone the rest of Europe as well, should be subject to the blackmail, extortion and bribes of Israel for a war that took the form of a will to kill those who were seen as the enemy, a mortal threat of a people; in the same kind of war that had been conducted by Israel/Jews themselves, so many times, ranging from those chronicled in the Old Testament - e.g., in The Book of Esther that you quoted before U.S. Congress - to the genocidal crimes of Soviet Jewry just prior to World War II - mass exterminations by Jews which Hitler saw as part and parcel of the existential threat he sought to protect Germans from."
Netanyahu knows her and he knows she won't say that. She would be taken out of power in the moment she spoke that way. While there may be an aspect of restraint in Merkel's response, in that she cares that Germans not overcompensate to theirs and other Europeans' detriment (including for the fact that Jews might just do some nasty things against the German people if she were too flagrant), given that she, herself, has already colluded by setting the worst in motion, that mitigation of potential recrimination is clearly a subservient motivation - she is obviously not overly concerned with the E.G.I. of Germans and other Europeans.
Her concern must be some combination of maintaining her power and some ideals which she holds to be more important than German and other European people. For her ideals, Netanyahu views her with the contempt of a pissant. By pushing her into an ever more compromised liberal position he furthers his interest directly by the dissolution of the German people and any threat of their organized response to what is being done to them by Israel and by Jews more broadly.
By highlighting neo-Nazi efforts to legitimize Hitler, he puts both her and German ethnonationalism in a weak position - forcing her to retrench in her liberal position domestically, less able to compromise against infighting with emergent nationalism, especially displays of 'Nazism"; while there is only so-far that Hitler advocacy can go abroad. If it does gain any momentum, it will lead into conflict with other European nations - especially Eastern European - and fully act-into the divide and conquer scenario which will already be taking form psychologically as a part of Eastern European and Russian reaction.
Still, Netanyahu does not view Putin with quite the same level of disregard. And it is not likely that Putin and Russia, at this point, are going to be highly threatened by the prospects of Nazi Germany soon re-emerging. Nevertheless, Russia's people can be provoked and kept at bay, just as Jews are provoked by their own and kept at bay through fear of resurgent Nazism… It will be used to strengthen propaganda to alienate their people from European ethno-nationalists and from supporting their aims: These people are "Nazis", "fascists", "racists" and "already 25 million were lost in order to defeat them in 'The Great War' - we can never trust them….we must support their liberalization instead."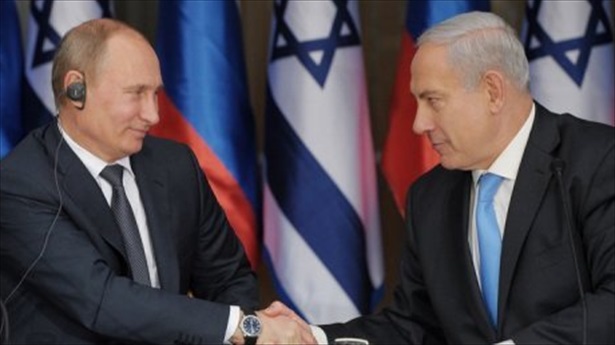 As Eastern European nations, Belarus, Ukraine, Poland and more, are inclined to look incredulously upon that Russian "innocence" and resist being subsumed into Russia's sphere of interest, Russia will be more inclined to allow those who go the way of Europe to be divided, fragmented against others, weakened to powerlessness by the immigration invasion. Russia will cynically allow for divide and conquer and they will try to expand their interests .. in all likelihood, developing closer ties with Israel and Jewish diaspora. That will put a significant damper on hopes of those in German, European and other White ethnonationalists who wish to treat Russia as the great White hope.
Yes, Netanyahu is hoping to divide Europe from Russia. But does the Russian leadership care? Probably not much. They probably have an understanding with Netanhayu. And the real divide and conquer is likely to be in regard to Eastern Europe: still predominantly White and with ethno-nationalistic motivation - with enough experience of Jews to be anti-Semitic, enough experience of Russian/Jewish imperialism to be resistant to its aggrandizement, and, of course, potentially provoked by the resurrections of Hitler so as not to be able to fully cooperate with those who would lord Hitler as the paragon of virtue - hence, Netanyahu's reason to resurrect Hitler's legitimacy, to get people talking in the provocative way of Hitler apologists so as to antagonize any cooperation with Russia, but even more-so, any cooperation with Eastern Europe.
In this way, Netanhayhu can attempt to broker a situation where the Jewish/Russian East and the Jewish/corporate West can divide-up Eastern Europe and put at bay the remaining, homogeneous White ethno-national nations and their cooperation to European resistance. Fortunately, it is not necessary for Eastern European ethno-nationalists to act-into Netanyahu's divide and conquer.
The realistic potential for ethno-nationalist coalitions and regional coalitions are emerging to where the would-be Jewish/Russian brokers will be looked upon not as protectors against Nazism, not even as middle men, not even marginalized in their opinions, but those who will be subject to our will.