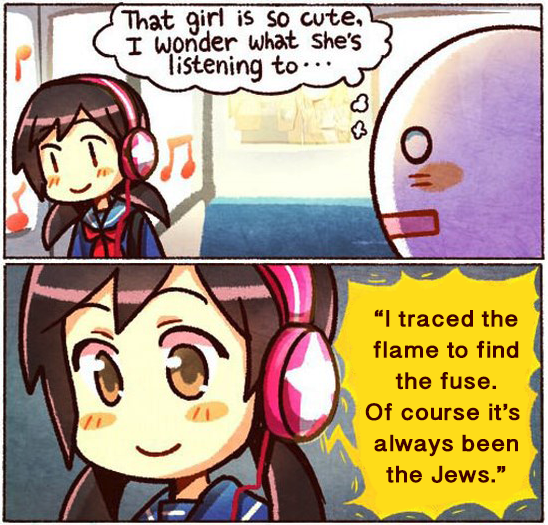 It's true. I think you know where this article is going to go.
One of the most notable features of the Donald Trump phenomenon which is being feted by just about every ethno-nationalist website—except Majorityrights, thank goodness—is the remarkable opportunism and irresponsibility which seems to appear at every turn.
The Donald Trump phenomenon is a presidential candidacy phenomenon which was initiated by the actions of one man, Donald Trump himself, who is trying to subsist off of the pre-existing electoral lobbies inside the Republican party. It is not a movement. It's Donald Trump saying things that he thinks will convince the various contradictory segments of the Republican party voting base to imagine that he empathises with them while you wait with bated breath to see what he'll say next, so that you can write yet another breathless article on how the Trump train 'cannot be stopped'.
Excited People
Just because Donald Trump has managed to weaponise the slack-jawed voters of Iowa against their former owners—for now—does not mean that some great revolution has arrived or that there is a 'train' that is going somewhere. Donald Trump has merely succeeded in getting people who identify as Republican to become excited about voting for the Republican party.
That doesn't make them suddenly not a bunch of disorganised idiots who believe idiotic things. It means that they are now merely an excited bunch of disorganised idiots who believe idiotic things excitedly.
Economic Power Precedes Political Power
Now, some of you are reading this and thinking to yourselves, "Why have these people at Majorityrights always got to ruin everyone's fun?"
Your fun has to be ruined, because it is harmful. Attaching yourself to a political candidate like Donald Trump, and running articles that praise him for an entire electoral season, even though you know that you have no means through which you can control him during his hypothetical presidency because you have no lobby, is a pretty bad idea.
It is said that economic power precedes political power. Where does economic power come from? Not strictly from an abundance of wealth, but rather, from controlled scarcity. For example, if I had control of all water in a country, my power over its governance would be unrivalled. But if everyone could create disparate water-fountains everywhere without my permission, then my power would vanish almost immediately. The same logic applies to political movements, if they are to have any power in the material world at all, then they have to be able to make credible bargains.
In the context of American ethno-nationalist movement figures who claim to appreciate the merits of National Socialism or some variant of it, which kind of economic power should they be aiming to control? They should be aiming to control the one thing which is in abundance everywhere. The people's labour power. Most people in the United States have only their labour power that they can either choose to give to an employer or withhold from an employer, and any movement that were to gain the ability to switch labour on or off at will and at mass, would be one of the most powerful lobbies in the United States. Given that labour union density in the United States hovers around a pathetic figure like 10%, it is not like there is much competition in that realm from the liberals or anyone else.
Despite this, year after year Americans do nothing other than wait for the next white saviour to descend and save them, while paradoxically festooning their websites with the symbols of a labour movement that actually emerged as a 'workers party' from the ground up and not from the top down.
Celebrating for no reason
I've been looking at the on-the-ground reporting that Matt Forney has been doing, as he's been chronicling his adventures in Iowa and a lot of what he's written I've found to be extremely well done and I have no intention of deriding his efforts in that regard.
However, I want to quote something from an article he recently wrote because I think that he has in fact highlighted a large part of the problem without having been aware that it is a problem:
Return of Kings, 'Donald Trump's Presidential Campaign Is The Biggest Political Uprising In Decades', Matt Forney, 27 Jan 2016 (emphasis added):

[...]

Finally, Trump has expanded the conservative base to a degree that no other politician in the U.S. has done in eons. During the introductory speeches, one of Trump's campaign co-chairs asked how many people in the audience had never voted in the caucuses before. Close to half the crowd's hands went up. Trump has done the seemingly impossible: get people who are tuned out of the political process involved again, and supporting conservative principles at that.

It's clear that Donald Trump's combination of nationalist, conservative policy proposals, his personal charisma and his willingness to speak the truth will carry him through the presidential primaries. But the real question is whether he can win Iowa, the only one of the early contests where he's lagged behind: he's been trailing Ted Cruz in the polls for the past month, though he's been posting solid leads in the past week.

[...]
This is precisely the danger. Life has been returned to a party which ought to actually have died. Furthermore, what has been occurring are not 'policy proposals', more so than a disparate collection of forcefully repeated statements and semi-comical tweets, which no ethno-nationalist group has any power to hold him to after he is elected.
In Iowa, who was he actually making deals with? Christian Zionists and Evangelicals. Many of them are highly motivated and are unfortunately not actually stupid at all. Christian leaders do not see Trump as their first choice for president, in fact only 2% of them view him in that way. However, they are nothing if not pragmatic. They realise that they have the ability to command large numbers of people who sit in pews and are receptive to messages that come across the pulpit about who to vote for. They also have an economic bazooka which stems from that organisational power, which enables them to sit down at the table with the highly cynical Donald Trump, and make actual deals with him.
Trump has been calling out to those people as though to bring them to the table from since the very beginning of his campaign. The message that "If I'm president, you're going to see 'Merry Christmas' in department stores, believe me.", which was a probing attempt to see what the reaction would be, was his first outreach. Getting a response that looked like it was backed by a voting block with solid fundraising power (albeit funds that he may not necessarily need but would be helpful to him nonetheless) then led to him increasing the appeal to a new level with his statement on how he intends to "protect Christianity". Next he went on to say that he believes that "Christianity is under siege" and that Christians "don't exert the power" that he thinks they ought to have.
Trump was calling for Evangelicals to make a deal with him. He may get it, but it will be a two-way street, he will have to give them something in order for them to give him something. They see it as a case not where Trump will somehow grant them cultural leadership again, but rather, a case where Donald Trump can be induced to create the environment in which they would be more free to operate. They enter into alliance with him cautiously and with actual representatives on the ground who know what disgusting things they want and how to get those disgusting things.
Platform melted
That ability to go out and make deals and threats, is an ability that American ethno-nationalists do not have, because American ethno-nationalists haven't put anything onto the table that they could threaten to remove from the table. Instead, it was as though Donald Trump approached the American ethno-nationalists and they said about it, "It was love at first sight, we looked at Trump and our platform melted away."
Finding people who are willing to shill for you 24/7 can often be difficult. Generating a good SEO plan with the kind of agility required by a political candidate whose positions change depending on who they are artfully making deals with on any given day, would be gruelling work with an exorbitant cost. Mercifully for Donald Trump, he has almost the entire Alt-Right's followers who reside in the nexus where Twitter, 4chan, Youtube, Facebook, and Reddit meet, who will do all of that work for him for free, and he can ultimately treat them in any way he likes because he is in no way structurally beholden to them. Trump can get amazing results on the internet for $0.
Donald Trump's social media accounts could generate interest all day long, simply by entertaining 'controversial' ideas and statements. Those accounts could then do even better by mocking the responses of 'outraged' social-democratic news sites afterwards. Donald Trump's Twitter and Facebook could become home to 4chan Pepe the Frog memes, which are often witty and which save the campaign staff the effort of having to invent their own memes. That actually happened. Why then should they do any work at all?
'Everything is totally fine and stuff'
Another example of a great misunderstanding, comes from the Daily Stormer, which carried a triumphalist article after Donald Trump initially received a boost in Iowa. The boost was attributable to the Sarah Palin endorsement, and the mathematics of Evangelicals realising that Trump may be the person they would need to make a deal with.
Somehow the Daily Stormer interpreted it like this:
Daily Stormer, 'Trump Jumps 11 Points in Iowa, Dominating All', Andrew Anglin, 24 Jan 2016 (emphasis added):

[...]

It is looking like Trump is actually going to be the next President, short of some insane and unpredictable event.

I'm deeply surprised Jews haven't already launched some serious tricks.

[...]
Is this actually real life?
The Daily Stormer people seem to be unaware that the Jews already launched a collection of serious tricks. Those tricks are known in aggregate as 'the Donald Trump campaign'.