James Damore, an idiot with a "definition" of left / right to serve Jewish & Right Wing interests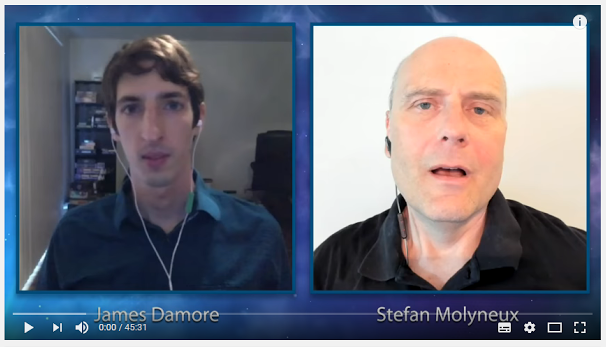 Damore was fired from Google for writing a memo alleging reverse discrimination at Google.
Not only is Damore an idiot by evidence of his rendering of a beginner level, completely idiotic definition of the "the left", a "definition" that is perfectly serviceable to Jewish and right-wing manipulation - i.e., suggesting that "the left is more open, while the right is more closed; the right is dealing with facts while the left is applying merely wishful social/humanitarian concepts to reality" - not only is this not someone worth listening to, but it is shocking that he and his statement would be trending exponentially at the lead among popular searches, such that he would be featured by the partial Jewish alt-liter, Stefan Molyneux - with popular concern far greater than the fact that North Korea (a regime propped up against the enemies of (((the Russian Federation))) now has 60 miniature (i.e., handy) nuclear bombs to deploy against the targets of their prerogative.
Meanwhile, the less naive, more obedient shabbos goy continue with their efforts to (mis)define and mislead people against "the left" as the enemy -
In yet another obnoxious effort to completely confound and conflate the idea of the left with liberalism, Jim Goad brings out someone calling himself "Michael Malice" - doing it again, here at the behest of (((Edwin Oslan's Savage Hippie))) platform:
Jim Goad Savage Hippie
Episode 2: MICHAEL MALICE (theme: LEFT/RIGHT), Aug 2017.
These people cannot be allowed to define what the left, i.e., social unionization, means for us. They cannot be allowed to cast it into universal and liberal terms, as if they are "just dealing with facts" while people concerned with full social groups are "just falsely applying liberal concepts" to reality.