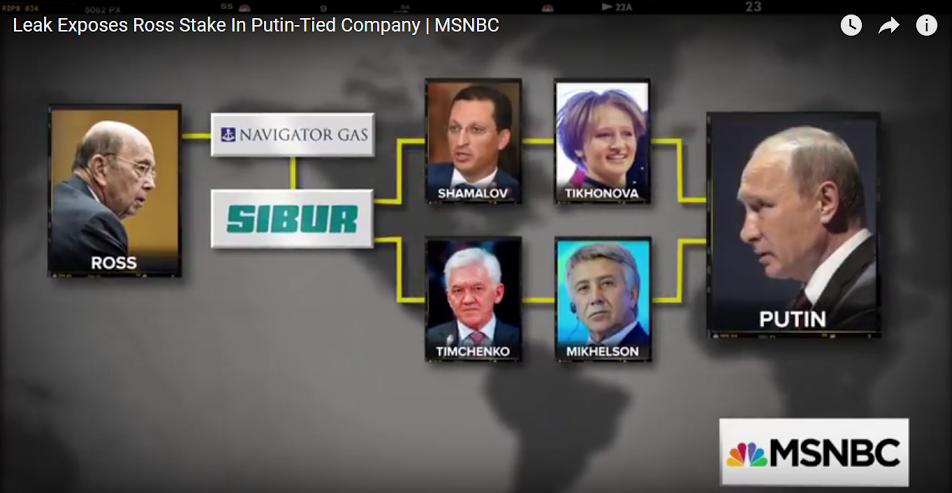 Pardon the liberal sources, but in the case of Democracy Now, for example, it was among the first sources to interview the author of the investigation and the coverage sticks pretty much to what he has to say. Democracy Now is literally an anti-White news program and Jewish as well - beginning with Amy Goodman, of course. Hence they are not going to amplify the wrong doings of Jews per se. Please take that under consideration. Critiques as such and suggestions of alternative sources on the story are welcome.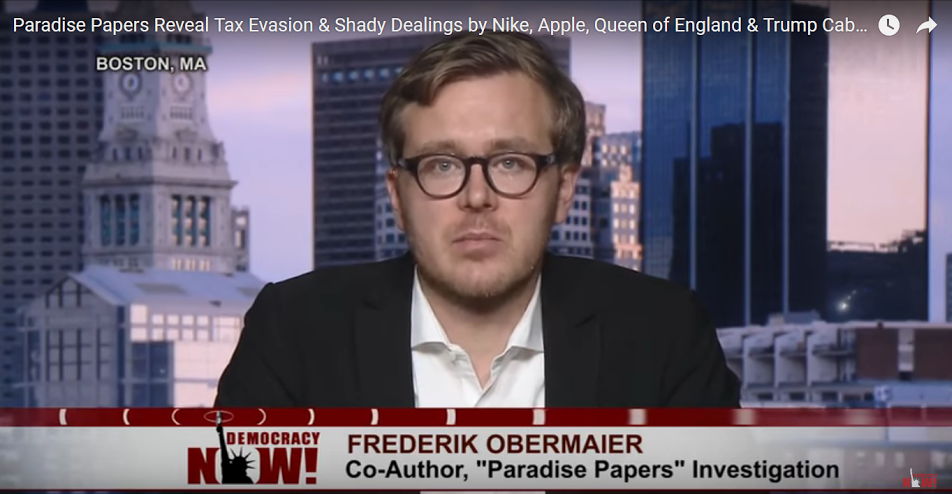 Another bracketed source, Reveal News, can nevertheless help get you into the ballpark on these matters:
Reveal News, "The Paradise Papers", 5 Nov 2017:

Remember the Panama Papers? It was a massive 2015 document leak that exposed a system in which offshore companies enable crime and corruption. The Pulitzer Prize-winning investigation that followed, led by The International Consortium of Investigative Journalists, was a collaboration among more than 100 newsrooms across the world. It led to a flurry of resignations and indictments and took down leaders in Iceland and Pakistan.

This week, Reveal journalists team up with ICIJ for a new bombshell: the Paradise Papers.

This time around, the action is centered on more than 13 million confidential files leaked to Süddeutsche Zeitung and shared with ICIJ's global team of more than 300 journalists. Many of the confidential documents, emails and voicemails come from Appleby, a Bermuda-based law firm. The leaks shed light on how corporate giants move their cash from one offshore tax haven to another.

The Paradise Papers also open questions about President Donald Trump's Commerce Secretary Wilbur Ross' financial ties to Russian companies.

And they disclose how Facebook and Twitter received backing from Kremlin-controlled Russian banks. This comes at a time when the two tech giants are facing scrutiny by the U.S. Justice Department and Congress.

This global collaboration involves a team of journalists from 67 countries. Reveal is the first U.S. public radio show and podcast to tell the story through audio. Don't miss this episode, and stay tuned for a series of partners' text stories on our site in the coming days.

Dig Deeper

Read: Offshore trove exposes Trump-Russia links and piggy banks of the wealthiest 1 percent
Read: Kremlin-owned firms linked to major investments in Twitter and Facebook
Explore: The Paradise Papers
Yet another bracketed source:
Vice News, "The Paradise Papers present a serious challenge for democracy", 6 Nov 2017:

The Trump administration's billionaire commerce secretary Wilbur Ross owns a stake in a shipping company that does large amounts of business with another firm partly owned by Vladimir Putin's son-in-law and a Putin ally sanctioned by the U.S. government.

The Kremlin plowed millions of dollars into U.S. tech firms Facebook and Twitter, through a Russian intermediary who also invested in a real estate fund run by President Trump's son-in-law and White House adviser Jared Kushner.

The disclosure of the Paradise Papers spotlights an open secret of the modern economy: A large and growing share of the world's wealth is hidden in a network of offshore tax havens that directly links the world's wealthy, powerful, and politically connected.

READ: Everything you need to know about the massive Paradise Papers leak

The worst offenders

Estimates of the size of this parallel economy are staggering. Roughly $7.6 trillion in financial assets, 8 percent of the world's total, is secreted away in tax havens such as Switzerland, Luxembourg, the Cayman Islands, Singapore, and Bermuda, according to University of California, Berkeley economist Gabriel Zucman's 2015 book "The Hidden Wealth of Nations."

There's considerable variation in exactly how much wealth is hidden by residents of different countries. The rich in the Gulf States and Russia are the worst offenders, with roughly 57 percent and 52 percent of financial wealth, respectively, kept in tax havens. Zucman's estimate for the U.S. is roughly 4 percent.

And the very existence of such wealth has far-reaching implications. For one thing, it means that the wealth inequality that has grown in recent decades is likely much worse than it currently appears on paper, as significant amounts of wealth are not included in calculations of wealth inequality, which are based on reported taxes.

It also means the U.S. Treasury is missing out on roughly $35 billion in revenue annually, Zucman estimates in his book. (In fairness, for the U.S. that's not as large a problem as corporate tax avoidance, which cuts U.S. tax collections by roughly $130 billion a year.)

Breeding inequality

But in a world where the wealthy are increasingly central to the political system, there are also corrosive political implications to personal tax avoidance, as details of the Paradise Papers make plain. At best, those undisclosed business alliances present serious conflicts of interest as politics around the world is increasingly dominated by the richest members of society. At worst, they create the infrastructure for outright corruption, especially for a Trump administration replete with billionaires and multi-millionaires.

In part, this reflects the changing nature of world inequality. According to Branko Milanovic, an economist who studies inequality around the world at the Graduate Center of the City University of New York, in the past the world's rich and poor were largely determined by which countries they lived in. Compared to the world at large, Americans were by and large rich. Chinese were, by and large, very poor.

But today, inequality is driven by the differences within countries. In other worlds, the richest in China, Russia, and the Gulf States have far more in common with one another than they do with the average worker in their own country.

Unseen influence

By hiding their wealth, America's richest are effectively entering into a quasi-legal underworld — an exceptionally polite and well-dressed underworld that relies on well-compensated attorneys and tax consultants. That puts them in close contact — given the small numerical size of the global 1 percent — with the dictators, political cronies, quasi-criminal organizations, and outright gangsters who also avail themselves of tax evasion services.

Given the outsized political influence of the 1 percent — and in the case of the Trump the large role the demographic specifically plays in the administration — there's a high risk of conflicts of interest, if not outright corruption.

The disclosure of those conflicts also risks further undermining respect for democracy, which already seems to be waning. Polling shows Americans' trust in the government continues to hover at near-historical low of roughly 20 percent.

For their part, the rich whose business dealings were outlined in the Paradise Papers have said they've done nothing wrong, and all of their dealings were lawful. And that might be true.

But then again, they're rich. They're the ones who are making the laws.