The Alt-Right, equipped with a Kremlin/Israeli backed notion of Imperium, returns to Charlottesville
The Alternative Right, equipped with its Kremlin / Israeli backed notion of Imperium, returned to Charlottesville -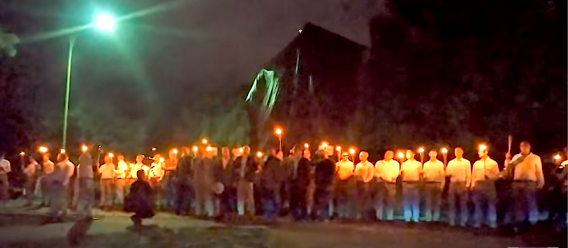 Alt-Righters back in Charlottesville, in front of statue of Robert E. Lee which is covered and slated for removal.
The Hill, "White nationalists return to Charlottesville", 7 Oct 2017:

White nationalists returned to Charlottesville, Va., on Saturday less than two months after one person was killed and dozens were injured when violence broke out after the "Unite the Right" rally.

White nationalist leader Richard Spencer led a group of roughly 30 white nationalists, who gathered at Emancipation Park, according to the Charlottesville's CBS affiliate.

Spencer announced the return on a live stream on Twitter.

The scene was similar to the white nationalist protest in the normally quiet college town in August.

The group carried tiki torches and chanted "You will not replace us," by a statue of Confederate Gen. Robert E. Lee in the park. They also reportedly said, "we will be back."

"Hello Charlottesville, we're back and we're going to keep coming back. You will not replace us, you will not erase us," a protester on a megaphone said.

"The left wing establishment is built around anti-white policies," Spencer told the group.

The group also chanted "The South will rise again" and "Russia is our friend."

The rally comes less than two months after violence erupted in the town between "Unite the Right" protesters and counter protesters.

The alt-right rally, which was meant to protest the removal of the statue of Lee, reignited the debate over the future of Confederate statues and monuments across the country.