The Left did it! The Left told you Trump was an Anti-Semite and see?! He's not anti-Semite at all!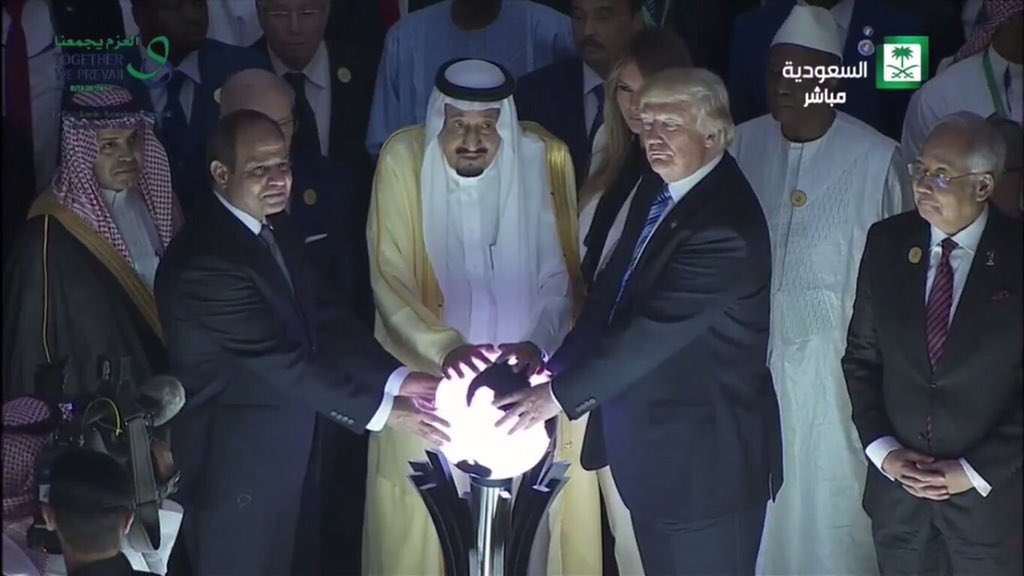 Trump feels the Israeli/Saudi orbit expanding over Qatar and (it is hoped) Iran as well.. (photo Matt Troller, Twitter).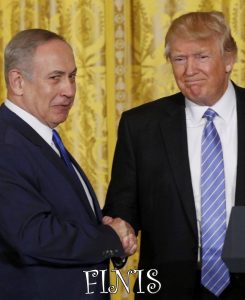 "Being on the left means never have to say, 'I'm sorry.'"

But the greatest lesson is this: Next time the Left gets hysterical, just assume the hysteria is fraudulent. There has been no exception to this rule in my lifetime. And that includes the hysteria about Trump-campaign "collusion" with Russia. - Dennis Pager, National Review, 13 June 2017.

Let's give credit where it's due. The Right says Trump is Not anti-Semitic and that's absolutely true. In fact, he's quite philo-Semitic. They go further to suggest that The Left is getting away with hysterical accusations by pulling at liberal heartstrings - and as the nominal protectorate of full group interests, including compassion for marginals, wouldn't "The Left" be in a good rhetorical position to do just that?


National Review, "Remember the Hysteria about Trump-Induced Anti-Semitism", 13 June 2017:

The hysteria was genuine. The anti-Semitism wasn't.

As I document in my book Still the Best Hope: Why the World Needs American Values to Triumph, which is an explanation of Americanism, leftism, and Islamism, hysteria is a major tactic of the Left. If you think about it, there is never an extended period of time — one year, let's say — during which society is not engulfed by a hysteria induced by the Left. The mother of them all is global warming, or "climate change," as the Left has come to call it (because the warming was not quite enough to induce widespread panic). Hysterics such as billionaires Al Gore and Tom Steyer, along with virtually all the Western news media, warn us that the existence of life on earth is threatened by carbon emissions.

But in its longevity, global warming is almost unique among left-wing hysterias. In general, left-wing hysterias last for much less time, from a few months to a year or two. And when they end — because the hysteria is widely recognized as fraudulent — they're immediately dropped and completely forgotten. The Left never pays a price for its hysteria.

Take, for example, the hysteria the Left created by charging President Trump's election with the unleashing of unprecedented amounts of anti-Semitism and racism in America. Being attuned to the Left's use of hysteria, I knew it was hysteria at the time. In the March 7, 2017, issue of the Jewish Journal, I wrote a column titled "There Is No Wave of Trump-Induced Anti-Semitism or Racism." It was all a lie. That's why you hardly hear anything now about an alleged wave of racism or anti-Semitism in the country. What rankles those who have a passion for justice is that the mendacious fomenters of the hysteria have gotten away with it.

So, as a Jew who understands how much damage left-wing Jews have done to the real fight against anti-Semitism, I think that some of these people are worth mentioning. Perhaps the individual who most spread the lie of Trump-induced anti-Semitism was a previously unknown man named Steven Goldstein, executive director of the previously unknown Anne Frank Center for Mutual Respect in New York.

[...]

Well, guess what. It turned out that President Trump was entirely right: There was no eruption of anti-Semitism in America, let alone one emanating from the White House. Furthermore, "those asking the question" did indeed deserve to be "lashed out" against.

And why aren't we hearing any more about Trump-induced anti-Semitism in America? Because law-enforcement officials reported that a disturbed Israeli-American Jewish teenager in Israel was the source of nearly all the threats against Jewish community centers. And that a handful of other threats to them came from an angry, obsessive black radical trying to frame an ex-girlfriend.

Will any of those who spread the lie and hysteria about Trump-induced anti-Semitism now apologize?

I wrote the answer to that question about 35 years ago: "Being on the left means never have to say, 'I'm sorry.'"

But the greatest lesson is this: Next time the Left gets hysterical, just assume the hysteria is fraudulent. There has been no exception to this rule in my lifetime. And that includes the hysteria about Trump-campaign "collusion" with Russia.

Read full article at National Review,