According to Wolff book: Trump was shocked by presidential victory. He had run with anticipation of a loss to Hillary based on her "fake" media support which he could parlay into a "real" media empire by contrast; Bannon warned presidential victory would spotlight Trump's Russian money laundering; Melania cried in stress over "botched plan gone right" which actually landed the presidency for Donald.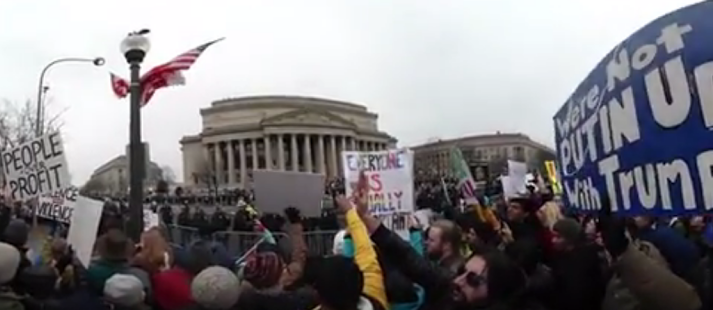 NewsWeek, "Trump Was Horrified When He Won the White House and Melania Cried, Book Claims", 3 Jan 2018:

No one on Donald Trump's presidential campaign team thought Trump would actually become president—and they didn't really want him to either, according to excerpts from Michael Wolff's book published Wednesday in New York magazine.

Now-President Trump, Vice President Mike Pence, Donald Trump Jr., campaign manager Kellyanne Conway and first lady Melania Trump were all reportedly left dumbfounded and afraid on the night of the election in 2016, the book claims. Shortly after 8 on election night, it became clear that Trump had a real shot of becoming president. Wolff wrote that Don Jr. said his father "looked as if he had seen a ghost. Melania was in tears—and not of joy." Steve Bannon, who helped run the Trump campaign and helped Trump's team through the transition, said he saw Trump morph from "a disbelieving Trump and then into a horrified Trump."

A week before the election, Trump was sure he would lose the presidency. But still, according to Wolff's book, he told Ailes that it was "bigger than I ever dreamed of. I don't think about losing, because it isn't losing. We've totally won."

Then he actually won.

Wolff's claims match various reporting on Trump's election: He certainly wanted the fame that goes along with running a successful campaign, but critics theorized that he wasn't quite as happy claiming the job of president. In February, The New York Times reported that Trump misses his access to "fans and supporters — an important source of feedback and validation." The Associated Press wrote that Trump didn't even want to live in the White House.

But Wolff's new book claims Trump and his campaign never planned to win and never wanted to accept the job that comes along with a victory. So once he did take office, the West Wing was in disarray, with Bannon, Ivanka Trump and Jared Kushner all operating in a free-form environment. Bannon, especially, saw his role as creating the "soul" of the White House, according to Wolff. And Trump's own behavior was credited as not befitting the White House.

"Nothing contributed to the chaos and dysfunction of the White House as much as Trump's own behavior," Wolff wrote. "The big deal of being president was just not apparent to him. Most victorious candidates, arriving in the White House from ordinary political life, could not help but be reminded of their transformed circumstances by their sudden elevation to a mansion with palacelike servants and security, a plane at constant readiness, and downstairs a retinue of courtiers and advisers. But this wasn't that different from Trump's former life in Trump Tower, which was actually more commodious and to his taste than the White House."

Wolff's book Fire and Fury: Inside the Trump White House is to be published by Henry Holt & Co. on January 9.
The Hill, "Bannon warned Russia probe would focus on money laundering: report", 3 January 2018:

Former White House chief strategist Stephen Bannon warned that the special counsel investigation into whether the Trump campaign colluded with Russia would focus on money laundering, according to a book to be published next week.

The revelation is included in "Fire and Fury: Inside the Trump White House," a new book by Michael Wolff. The Guardian, which has viewed a copy, published several stories on Wednesday about the book, which includes interviews with Bannon and President Trump.

Trump's former campaign chairman Paul Manafort was charged with money laundering in an October indictment brought by special counsel Robert Mueller, as was his associate Richard Gates.

In Wolff's book, Bannon identifies Weissmann, an attorney on Mueller's team, as a "money-laundering guy."

"You realize where this is going," Bannon said in the book. "This is all about money laundering. Mueller chose Weissmann first and he is a money-laundering guy. Their path to fucking Trump goes right through Paul Manafort, Don Jr and Jared Kushner. … It's as plain as a hair on your face."

"They're going to crack Don Junior like an egg on national TV," Bannon said, referring to the president's eldest son, Donald Trump Jr.

The former White House chief strategist also spoke about the 2016 meeting between Trump Jr. and a group of Russians, describing it as "treasonous."

And Bannon in "Fire and Fury" mentioned connections between Trump's son-in-law, Jared Kushner, and loans taken out from the German Deutsche Bank that have come under scrutiny in relation to the investigation.

In December, federal prosecutors subpoenaed Deutsche Bank for records tied to Kushner's family's real estate business, Kushner Companies.

"It goes through Deutsche Bank and all the Kushner shit," Bannon said of the probe. "The Kushner shit is greasy. They're going to go right through that. They're going to roll those two guys up and say play me or trade me."

Business Insider, "I know why Steve Bannon let Michael Wolff into the White House", 4 Jan 2018:

- Michael Wolff's new book, "The Fire and the Fury," is rocking the Trump White House, and it hasn't even been released yet.

- It has the president turning on former adviser Steve Bannon. This is in part because Bannon helped Wolff gain incredible access to the White House.

- Why? Add this to the long list of ego-driven media mistakes made by the administration - a costly one at that.

- What Bannon didn't count on was that Wolff isn't a soldier in his army.

I feel like I write this all the time, but the White House is in chaos.

The Trump administration is being thrown by the forthcoming publication of Michael Wolff's book "The Fire and The Fury: Inside the Trump White House."

The excerpts, until now jealously guarded at select media outlets like New York Magazine and NBC for weeks, tell of a shockingly incompetent president and the in-over-their-heads aides who openly disrespect him. It is chaos, and someone let Wolff take a front seat and watch it all.

That person, by all accounts, was former White House adviser Stever Bannon. While Trump may have known that the biographer of his idol, Rupert Murdoch, was on site, it was Bannon who ensured Wolff had access.

Why? Consider it one part self-aggrandizement, another part a desire for acceptance, and wholly and completely a continuation of Bannon's desperate search for ideological allies.
That was clear to me last August - during what we can now call Michael Wolff's artist residency at the White House - when I was invited to dinner with him at the Hay Adams Hotel where he stayed.

What exactly do you do here?

I got the invitation to dinner from Alexandra Preate. After everyone gets the book, you'll know her name.

In it, Wolff describes her as a "witty conservative socialite" (a fair assessment) who enjoys her champagne. Her personality is equally bubbly. Over the year and some in which she'd been working with Steve Bannon, that personality contrasted well with his dark Breitbart stars. So when Trump won, her work moved from New York City to Washington.

Now, what Wolff makes clear in a small excerpt of his book that I've seen, is that Preate had a presence in the White House, but worked for Bannon.

But what's harder to do is give what she did for Bannon a name - it ranged from general assistance with media to introductions to handling this and that important thing. There are people who do such things in various capacities and levels of importance hanging around this White House like barnacles, adding to its confusion.

What they do for whom or when is unclear.

Through all that chaos, though, it was Bannon who ensured that Wolff was on hand. The AP's White House reporter, Zeke Miller, said that every time he saw Wolff there it was with an "appointment" badge rather than a "press" badge.

A source close to the White House says that Wolff had no handler, but ingratiated himself by saying that the White House was cooperating with book, and pointing to previous interviews he'd done.

Not only did Wolff roam fairly freely, it seems; he listened rather freely, too. At dinner Preate spoke openly about Bannon's meetings and schedule, and talked about the accessability of White House Staff for future book interviews. It was comfortable and familiar. She spoke candidly about White House comings and goings. The Russia investigation was a "nothing burger" (a phrase we should surely ban) and Trump was an amazing "accidental" president.

In what is current White House fashion, Preate loyally conveyed that her boss - above others - had the true flame of Trumpism inside of him.

At Breitbart, Bannon is used to commanding a pack of ideological drones disguised as reporters, deploying them to write this or that for the good of his cause.

Through Preate and through this entire process he was trying to form a version of the truth, just like he does on Breitbart and has done with films and other media in the past.

The problem, though, was that Bannon was too focused on his truth to accept another. Wolff is not a soldier in his army; he's a writer. And as Joan Didion said, "Writers are always selling someone out."

Tabloids are real, too - sometimes

In an effort to dismiss Wolff's book, White House press secretary Sarah Huckabee Sanders called it "tabloid gossip" and "trash" from an author that "no one has ever heard of." Wolff didn't even interview Trump, she pointed out.

But of course this book isn't about Trump; it's about his White House.

And there is no doubt that Steve Bannon had heard of Wolff before this book was conceived. Wolff is the part of the type of New York City media cabal both he and Trump court and manipulate while professing to detest.

Wolff is establishment. Like I said, Wolff wrote a Murdoch book, and there's no faster way to make Trump happy than by putting him on the same level as his idols. It's a very simple seduction.

Bannon is a bit more complicated, but not necessarily less transparent. Leading up to the inauguration, Wolff gave Bannon a platform for his ideas beyond the Breitbart circle. Wolff is the reason Wall Street read The Hollywood Reporter last November, and cringed as Bannon described his 1930s fever dream of a money-squandering infrastructure project where America would just "throw it up against a wall and see if it sticks."

We've seen Bannon go open kimono for presumed ideological allies before too. Perhaps you'll recall his interview with Robert Kuttner at The American Prospect last August. The one where he bragged about his power in the White House and called for economic war with China. It's part of what got him fired.

Bannon reached out to Kuttner because Kuttner shared some of his economic views on China. He thought that alone gave him and Kuttner common ground. Everything else, he thought, could be forgotten for that one cause. Bannon was desperately searching for allies then, and he needs them even more now.

Wolff wore a guest badge because, as far as Bannon was concerned, he wasn't the press; he was an ally. Bannon extended the Medici-like relationship he has (or maybe had, according to certain reports) with the Mercers to the media in order to achieve his political ends. He was commissioning media for the Trump administration the way an Austrian nobleman might commission a symphony in C.

And yes, this was also for Bannon's own aggrandizement. He's been criticized for that in this White House - a pristine example of a dozen pots calling a kettle black.

That seems pretty clear in Wolff's book, at least from what I've read.