Trump's "New Deal": Ethnonationalism for blacks, proposition nationalism for you, gentile other - what else is new?
Trump's "New Deal" promises massive assistance to blacks on the basis of their race - what else is new?
Blacks are the only group for which Donald Trump has proposed a plan of help on the grounds of their race/ethnicity.
What else is new? This only further ensconces their status as quasi feudal lords: a people of privilege, a people of a different set of laws, a people whom we cannot discriminate against, of enhanced penalties for crimes against them ("hate crime" laws), a people whom we must hire, a people whose children we must pay for (and try to) educate - with knowledge for which we sublimated, endured pain and indifference and ridicule to acquire, while they, the blacks, have been pampered and lavished - a people whom we must serve.
We are their servants…not because they add value to our lives - quite the opposite (they take away from us vastly, markedly in regard to EGI) but because they are backed by terror - the intimidation of their bio-power, hyper-assertiveness, aggression, violence, destruction and Jewish machination.
This is to say nothing of the trillions in welfare, government handouts and programs, while their advocates demand "reparations" from generations who had nothing to do with their oppression in history but have in fact been penalized hideously for it - to the point of societal and national displacement, rape, murder and genocide.
Donald Trump is the kind of cowardly sell-out who has aided and abetted this circumstance.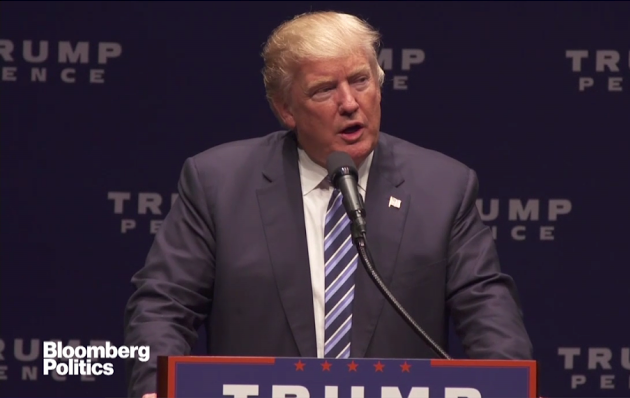 "Trump's New "Deal", shafting the goyim of the world on behalf of blacks.
Bloomberg, "Donald Trump proposes new deal for black Americans", 27 Oct 2016:

Today I want to talk about how to grow the African American middle class and provide a New Deal for black America.

That deal is grounded in three promises

1) Safe communities

2) Great education

3) High paying jobs

My vision rests on a principle that has defined this campaign right from the beginning. You've seen where we've come from and where we are right now. It's called 'American first'.

Every African American citizen in this country is entitled to a government that puts their jobs, wages and security first.

One of the greatest betrayals has been the issue of immigration.

Illegal immigration violates the civil rights of African Americans.

That's what's been happening (applause).

No group has been more economically harmed by decades of immigration than low income African American workers.

I will also propose tax holidays for inner city investment; a new tax incentive to get foreign companies to relocate in blighted American neighborhoods; and they will do that. it will be worthwhile; it's called incentive - they will do it.

I am very humbled, beyond words, to be the nominee of the Party of Abraham Lincoln, a lot of people don't know that, its the party of Abraham Lincoln. And it is my highest and greatest hope that the Republican party can be the home in the future and forever more for African Americans and the African American vote; because I will produce and I will get others to produce; and we know for a fact it doesn't work with the democrats; and it certainly isn't going to work with Hillary.
And so Donald Trump's agenda to rope implicit White Nationalists back into the Republican proposition nationalism - a naivete seized upon for the Jewish race mixing agenda - suckering "the Alternative Right" with dog whistles to anti-PC, has become apparent, all but explicit.
Trump's New Deal: ethno-nationalism for blacks - the only group proposed help on basis of race/ethnicity - proposition nationalism for gentile others, a.k.a., the goyim.
"That deal" is grounded in three promises
1) Safe communities - can only be done relatively, with partial success only, through a Giuliani type active policing - a burden and social expense which would not be necessary in a White ethnostate.
2) Great education - can only be done at a terrible cost to non-blacks - we must (try to) educate them - with knowledge for which we sublimated, endured pain and indifference and ridicule to acquire, while they, the blacks, have been pampered and lavished, to do nothing but indulge themselves and have offspring - a people whom we must serve.
3) High paying jobs - they already have that: blacks are vastly over represented in government jobs that are easy, well paying, with good benefits, reasonable hours, vacation time and overtime pay available for those want it. As for the corporations, there is no more coveted and lavished employee than a black from privileged education and of those precious few at the higher end of the bell curve to round out their quota and non-racist credentials. Disobey at the price of being sued and otherwise maneuvered into the loss of your enterprise ...while government contracts are set aside for black businesses and private contracts are compelled to use black contractors as well.

So what else is new?
Donald must not try breaking those promises of privilege, promises granted in cowardice to the hyper-assertive, hyper-aggressive, rioting, Jewish lawyer backed black American populace.
But we are supposed to hate: Mexicans, who are either White, close to White, identify and assimilate as such, or more AmenIndian, benign and minding their business where not helpfully industrious; we are supposed to resent and penalize Asians ..so that they can remain the labor force to pay for black and Jewish privilege.
Yes, sure, Trump is playing 57 dimensional chess, so are his supporters - right.