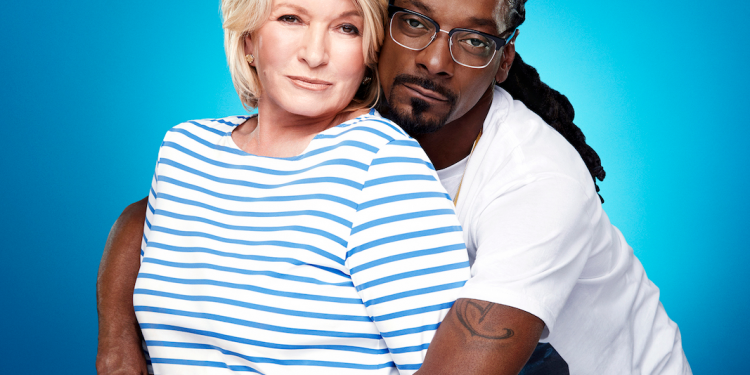 Though this article posted at Alt-Right doesn't do much good with the topic - quite to the contrary, it seems suspiciously conciliatory and accepting - the headline is nevertheless accurate:
"Martha Stewart And Snoop Dogg Herald End Of An Old America."
Indeed.
Alt-Right Guest Blogger, "Martha Stewart And Snoop Dogg Herald End Of An Old America",

The ol' gal just had to try and stay hip and relevant.

Submitted by Norman Burgundy

As many of us are nervously watching our waists while eye-balling leftover pumpkin pie and other fatty foods in the fridge in the odd, frantic period between Thanksgiving and Christmas (which used to be called "Advent"), Martha Stewart, the queen of American home decor and official gatekeeper of (mostly white) American holiday dinners, has inaugurated the 2017 holiday season by launching a television show with a former convicted drug dealer, pimp, and hip artist who claims to smoke 80 marijuana joints a day.

Surprising?

Yes, but, upon further reflection, not really, for the story of the rise and fall of Martha Stewart from fashion model and media mogul to single and visibly depressed old lady is the story of the rise and fall of America in our boring, depressed, and degenerate but still tolerably tasteful age.

Rising from a notoriously hot-tempered basement run catering service boss to the head of a global media empire, Martha Stewart, ironically the daughter of Polish parents, kept alive the last flames of American wholesome WASPness in the 90s and into the 21st century. Martha's flagship magazine Martha Stewart Living, filled with recipes for "Slow Cooker Pot-Roast" and guides for "Reusable Lunch Bags" became a sort of Bible for stuff white people like and made sure that the comfy cozy Eisenhauer America won by the greatest generation at least made it through era of George W Bush and the iphone.

Martha Stewart in her prime was a living icon for American whiteness. Martha had a knack for mom things that made them cool and even "feminist"–but not in a gross cat lady librarian sort of way. Martha transcended political barriers and made even such boring white people things like "DIY Lip Balm" and "Preserving Fall Leaves" seem chic and attractive. Her holiday specials were always splendidly and triumphantly white with tables full of "Perfect Roast Turkey" and the very goyish "Glazed Holiday Ham."
I will take my point of departure from there. Why?
Because the article goes on to take a strangely sympathetic, hypnotic and reassuring position - for the enemies of our people. For example -
On the show, despite Martha moments, Snoop's black cat charm largely makes Martha look like the confused and angry white neighbor who is forced to deal with the nouveau riche homeboy next door.
- and the article concludes:
On the campy and awkward, "Martha and Snoopy's Potluck Dinner Party," Martha Stewart, once the platinum blonde queen of the American home, has become like a formerly mighty circus bear who is awkwardly trotted out in front of a nervous crowd that revers more the memory of what she once was than what is before their very eyes.

However, at home on the pages of her elegant magazine and her very tasteful and very, um, white-looking website, Martha is still Martha, ready with a tray of delicious holiday treats and a perfected warmly WASP accent.

While our country goes down the diversity drain and Christmas seems less Christmasy every year, we can be sure that all of Martha Stewart's days will be merry and bright and all her Christmases will be very white.
So lets get down to brass tacks:
One might have left Martha Stewart a possible out, that she was going-with a bit of nervous levity in the Justin Bieber roast, fraught as it was with negro gutter "humor", in order to ease past a particularly straight-forward and sickening query of the negro, Snoop Dogg, under the guise of more "humor."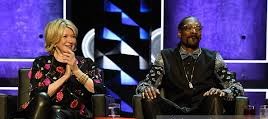 What I (Snoop Dogg) wanna' know is have you (Natasha Leggero) ever sucked a black dick, you fox? No, I really wanna know! Martha Stewart (applauds and smiles, apparently thinks this is delightful) along with plenty of Whites in attendance.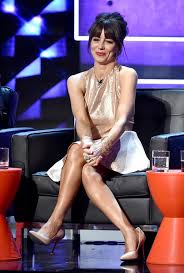 Natasha Leggero
Though he admitted that he seriously wanted to know.
The episode that I'm referring to was at the Justin Bieber roast. You can't find it on Youtube now. Someone must have realized (unlike Martha) that it was that offensive:
Snoop Dogg: "What I wanna' know is have you ever sucked a black dick, you fox?"
Martha Stewart: claps, smiles and laughs.
Snoop Dogg: "No, I really wanna know!"
For Martha Stewart to go on some years later to become a full-on ally in his cause, to become a conduit of mulatto supremacist b.j. machines?
After Martha Stewart was born in the funk of Jersey City, New Jersey, her family moved to the all White Nutley, New Jersey - a White enclave protected as such despite the climate of "civil rights" and black nightmare cities such as East Orange and Newark, encroaching just adjacent to Nutley.
She took this for granted and there is no excuse for her. She is a disgusting pig.
In a most public forum and on stage, what Snoop Dogg would like to know from Natasha Leggero.
Am I stodgy traditionalist? Hardly. But I do remember a time (as recently as the 70's and early 80's) when you did not see White woman with blacks - not in public, anyway, because White men would not accept it, and White women knew it wasn't cool, they had a sense of how irresponsibly destructive it would be. I live in a city, a White city, where it is still uncommon to see these pairings. That is to say, I know that it is possible and realistic to not have to put up with this. And that's the way it should be with our countries: If women want to be with blacks, if they think it it's funny, a light and breezy matter, their absolute prerogative in dalliance, let them go live with them - in their countries, under their governments. Don't dare make us support these pairings and their offspring.