Majorityrights News > Category: Can't Turban the Orban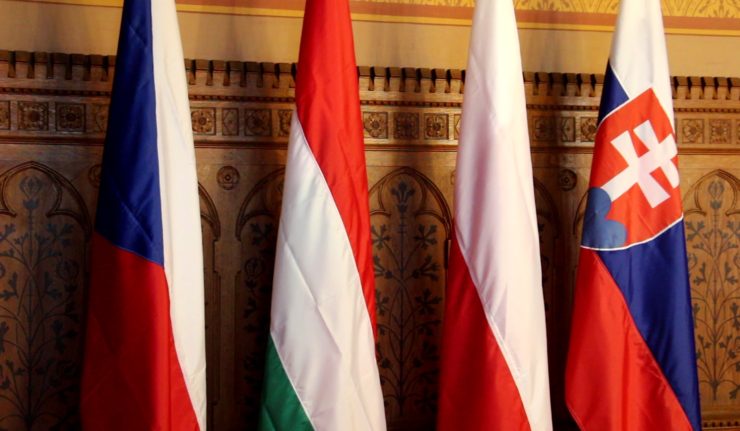 Take away the Trojan Horse that is Christianity, and replace it with a moral order that is authentic to European ethno-national interests and you've got an example of a sound ethno-national coalition in the Visegrad Group.
Visigrad Posy, Why so much fuss about the Visegrad Group?"

By Gabor Toth, President of the V4-China association, 8 Feb 2018:

Visegrad Group – In the recent years, the international media has helped make the profile of the V4 rise significantly. It is fair to say that the V4 have never been so important and well-known around the world as nowadays. But why is that? This formation has been around since 1335! In its modern form, it has been active since its resurrection in the 1990s. So how come we haven't really heard about it until about 2015-16?

And why the fuss about the V4, especially in European politics?

The story goes back to 2015, when a great number of both refugees and migrants mainly from the Middle East and Africa arrived at the borders of Hungary. They wanted to pass through, so they can go to Germany, Sweden and other western European countries. The Hungarian government did not allow this, saying that entering the territory of the EU can only be done legally, based on the existing treaties. The other three V4 countries quickly joined Hungary's position, while some western countries criticized Hungary for the move.

As the burden of the crisis became heavier, the profile of the V4's stance grew stronger. Today, only two years later, the situation has escalated so much that many experts see the V4, being the leading formation of CEE, as the only viable and strong enough opposition to the politics of Western Europe. A very clear divide has taken shape between East and West. To the west, countries that have accepted migration and multiculturalism, to the east, countries that wish to remain as they have always been. To the west, countries that are abandoning the idea of nation states and Christianity as the foundation of Europe, to the east, countries that want to stick to this foundation. Of course, this is not that simple, but these are the basic differences between the two sides.

In other words, the V4, lead by Viktor Orban, the Hungarian prime minister, have emerged as representatives of a future Europe that keeps its traditions, historic background and spiritual foundation, while some western countries, such as France, Belgium and Holland represent a future Europe with mixed societies and a way of life based on a progressive idea that the continent can be great without clearly separated nation states and many different religions can coexist, because it has happened in other places before, such as the United States.

But what will the peoples of Europe choose? Or is it really a choice they face?

History has the answer, and it is clear.

Europe and its people cannot and will not simply erase or even compromise their Christian roots and national pride. It is foolish for anyone to think that they will. It is rooted too deep in their genes, their traditions, even in their everyday habits…

This article does not mean to judge who is right or wrong. These are facts of history and those of us that live on this continent know it, even if this is something we don't think about on a daily basis. However, when European people feel that their way of life and long spiritual foundations are questioned or even threatened, they raise their voice. This has been going on since the end of 2015, and it's been getting more and more vocal. All eyes on Italy and Germany now. Will they take the position of the V4 and Viktor Orban? Those that say they will not, are likely to lose their bet, because all indicators show that the "opposing" side cannot come up with a clear vision for a future Europe where all peoples can live in peace and prosperity without having to change their foundations drastically. And even if that side did have a clear alternative, chances are high that the peoples of Europe would reject it, because in their mind Europe can hardly be greater than it was in those times when it was leading the world…

In football, there's a saying: "don't change a winning team". Europeans love football, but more importantly, this is the way they think about being a collection of strong, Christian nation states, too. They have absolutely no reason to change their ancient, winning formula.

Interestingly, however, some western countries call for a "United States of Europe", which is considered by some to be the alternative to the V4's position.

But this is not entirely true, because individually strong, Christian nation states must also find a way to unite and work out a way to organize themselves into a strong, unified block. Europe is crying for a strong leader to finally get it out of the rut it's been stuck in for a long period now. With troubles mounting on the borders of Europe and inside as well, this becomes more and more essential. Especially, if military conflicts escalate around her borders.

We can predict, that the dispute between East and West may very easily be settled in a way that Europe will turn back to its original strength by becoming a "United States of Europe", but not at all the way some western countries imagine it, instead, as an empire of strong nation states, coordinated by the already existing, soon-to-be drastically reformed European institutions, such as the Council and the Committee. The issue is NOT with the way the EU was born and developed. It is with the way it is organized and lead.

Weak leadership and governing without a solid ideological foundation that people agree with is what's causing the difficulties the EU is facing. Reorganizing the institutional system and placing strong leaders in their top seats, with a Council president, given that the council goes back to being the strongest of the three main institutions, which it was always meant to be. Recognizing that Christianity will make Europe great again, and instead of fighting it, using it as a starting point to reestablish the relationship of church and state, bringing back the "winning formula". These are the steps Europe is going to take, if it follows the clear pattern of history.

Time will tell how quickly the so-called "Hungarian model" (having found a modern way of church and state relations) will spread further, but the process has begun and is speeding up notably.

The next question is Europe's future partners in trade, because this major resurrection of the "old" Europe means a totally new alliance system as well. As power shifts from the West to the East, China's new silk road seems to be the clear alternative. China needs a strong Europe, and Europe needs China, and the "One belt, One Road" initiative presents itself as this new alliance system with the potential to make Europe great again.

Moreover, China's approach toward CEE countries is also evident, with the 16+1 platform and several projects already underway.

Interestingly, the V4 are in an historic position, because they hold the key to Europe's revival, as well as the success of the 16+1. Hungary holds the presidency of the V4 until July 2018, which gives a significant advantage to the Hungarian prime minister, Orban, who is considered to be the leader of the conservative camp in Europe, and considered to be the most friendly and pragmatic leader in Europe by the Chinese.

Ironically, the "United States of Europe" that Mr. Schulz talked about would also need a strong leader, and today, there is simply no match to the success of Mr. Orban as a politician in the EU, so even if the people voted for a European President, it would not be surprising at all, if they voted for him. Of course, this is not what Mr. Schulz or other EU leaders would be happy about. While current EU leaders struggle to find solutions to their problems, something powerful is happening in the eastern front. The V4 have started to build the new Silk Road, and China appreciates this enormously.

In the coming years, as the divide between western and eastern Europe deepens, watch for the rapidly developing sentiment, that opening to the East is what will provide the solution.
Diversity Macht Frei, "It's too late for Germany': German feminist SJW admits she got it wrong on immigration, plans to emigrate to Poland", 5 Feb 2018:

In 2012 Rebecca Sommer founded the refugee aid association Arbeitsgruppe Flucht + Menschen-Rechte (AG F+M) [Working Group Asylum + Human Rights]. At the end of 2015, this artist, photographer and journalist and documentary maker applauded Angela Merkel's decision to open German's borders to the "refugees" who had been blocked in Hungary, despite the vacuum effect this would create. "At that time I wanted to help everyone and truly believed that all these people were fleeing hell and were in a state of complete distress," the German activist explained in an article published by the conservative Polish weekly Do Rzeczy on 15 January, discussing how she woke up to reality.

In 2015, her NGO had almost 300 volunteers who were giving German courses to the new arrivals.

…"I thought their medieval view was going to change with time…but after having seen these situations occur repeatedly and observing what was happening around me, as a volunteer, I have had to recognise that the Muslim refugees have grown up with values that are totally different, they have undergone brainwashing from childhood on and are indoctrinated by Islam and absolutely do not intend to adopt our values. Worse, they regard we infidels with disdain and arrogance."

"It was a jarring perception when I noticed that these people I had helped, who were eating, drinking, dancing and laughing with me, who didn't pray, who didn't go to the mosque, who didn't respect Ramadan, who made fun of religion and deeply religious people, called me 'the stupid German whore' when they were eating my food and were in my garden."

…Rebecca Sommer says she is not an isolated case, that many other volunteers also came ultimately to have the same perception and that there are now far fewer volunteers ready to work with the new arrivals today in Germany. She also acknowledges that, through their numbers, these Muslim immigrants pose a threat to the German way of life, and that this will get worse with family reunification.
She also told the Polish weekly magazine Do Rzeczy that she personally knows Germans who are getting ready to emigrate to Poland because they had have enough, and she added: "If Poland and Hungary do not give in on this question, you could become countries that some Germans and French will flee to. You could become islands of stability in Europe."

Islands of stability but also democracy because Rebecca Sommer also notes that democracy no longer really exists in Germany….When the human rights activists wanted to denounce forced conversions to Islam in Indonesia, her account was blocked.

This Berlin woman no longer dares to go out on her own on New Year's Eve and she has already been attacked five times by men speaking Arabic!

She thinks it is already too late for Germany and she plans to emigrate for her retirement. Political Islam is present everywhere, including in the government, in political parties, in the police and schools. With family reunification, millions of additional Muslim immigrants are going to come. In the German capital where she lives, entire districts are already dominated by the Muslim community which forms a parallel society.
Breitbart, "Anti-Mass Migration Central European Nations Volunteer €35 Million To Reinforce EU Borders", 15 Dec 2017:

The four central nations that comprise the Visegrad group (V4) have set aside 35 million euros to help European Union (EU) member states protect the political bloc's external borders against illegal mass migration.

The four countries that make up the Visegrad group, Poland, Hungary, Czech Republic and Slovakia, have all agreed to donate the money to protect the EU external border in an announcement this week. All four countries are attending a EU conference to discuss migration issues beginning Thursday AP reports.

Slovakian Prime Minister Robert Fico commented on the move saying, "if we will see good projects in the future, first of all, projects that are effective, we are ready to spend even more money because we really want to show solidarity."

Mayor

Laszlow discusses overwhelming success of Hungary's border fence

- "instituted because we're 'normal" - the fence cut migration to Hungary by 99%

Some of the countries in the V4 group have been accused of a lack of solidarity by some in EU leadership. The Hungarian government has been particularly critical of those in Brussels who have argued about solidarity.

Breitbart London @BreitbartLondon

EU Dismisses Hungarian Request for 'Solidarity' over Border Controls, 'We Won't Support Fences'http://www.breitbart.com/london/2017/09/04/eu-dismisses-request-border-securitty/ 10:00 PM - Sep 4, 2017

EU Dismisses Hungarian Request for 'Solidarity' over Border Controls, 'We Won't Support Fences.'

Hungarian government spokesman Zoltan Kovacs replied to the EU elites in September writing, "The distorted narrative that is spun from Brussels attempts to convince European citizens that somehow European solidarity should be connected to accepting migrants, many of whom have crossed illegally into the territory of the EU."

Kovacs also argued that Hungary had funded EUR 883.2 million from its own budget in order to protect the EU external borders.

Hungarian Prime Minister Viktor Orban, who has consistently argued against mass migration, said Thursday that the new injection of cash will also go toward helping control illegal migration from Libya.

The EU, along with Italy have funnelled money into Libya to help train coastguard recruits and some allege that the Italians have even paid local warlords to stop the influx of migrants.

All four Visegrad group countries continue to refuse to participate in the EU's migrant redistribution scheme with Prime Minister Fico noting, "Quotas do not work, they are ineffective, the decision on quotas really divided the European Union."
Poland is correct to denounce Richard Spencer in his neo-Molotov-Ribbentrop larp.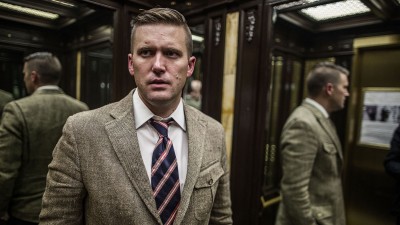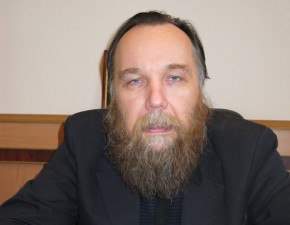 While the Polish government is not perfectly articulate of its reasons to denounce Richard Spencer for his advocacy of a counter productive world view, they are not far off the mark and not wrong to reject him either.
Typical of American right wingers, Spencer is nursing a neo-Germanophilic world view, overly sympathetic to the German imperialism of the world wars (and antagonistic to Great Britain's 'interference'), with a new twist that would larp and valence a re-empowered German / Russian axis - i.e., a newly got up Molotov-Ribbentrop agreement for an "imperium", i.e., imperialism that would run rough shod over the interests of many necessary allies - Hungary rejected him for the same reason Poland rejects him for the same reason Britain rejected him for the same reason Japan would reject him (for the same reason all of Asia would reject him for the same reason Zionism embraces him, for the quid pro quo reasoning that comprador wielding right wing enterprises embrace him) etc. - while his larped empire (Lisbon to Vladivastok) would be governed by whom? Apparently he would depend heavily on working with Jewish interests to facilitate (maneuver) his Russo-Germanic grand civic Euro larp, in Duginesque delusion of grandeur - a delusion coddled by ((())).
News Week, "Richard Spencer Is Too Racist for Poland's Right-Wing Government", 27 Oct 2017:

Poland's right-wing government doesn't want white supremacist Richard Spencer to visit the Eastern European country, calling him a "threat" to democracy.

Spencer was scheduled to speak at a conference organized by Poland's far right to celebrate Polish Independence Day on November 11, but the country's Foreign Ministry condemned the alt-right leader, whose condemnation of diversity has found support among neo-Nazis, whose ideological predecessors invaded Poland and killed millions during World War II.

"As a country which was one of the biggest victims of Nazism, we believe that the ideas promoted by Mr. Spencer and his followers could pose a threat to all those who hold dear the values of human rights and democracy," the Polish Foreign Ministry said in a statement, adding that Spencer's views are in conflict with Poland's legal order.
Poland is not beyond criticism in its brand and particular expressions of nationalism, but Richard Spencer is highly dubious in his imperial larp; and the Poles are correct to denounce Spencer and like apologists for the imperialist aspirations of Nazi Germany and the casualties it left in the wake of its aspired imperialism, relevantly in this case, the Poland that came back not as "a gift of Woodrow Wilson", but through the endurance and perseverance of Polish nationalism through 123 years in exile during the tri-partition; and then again through 50 years in exile during the Nazi and Soviet regimes.
WSJ,"Hungary and Slovakia Must Admit Refugees as Part of European Union Relocation Program, Court Rules", 6 Sept 2017:

Ruling comes amid rising tensions between the EU's Western and Eastern members over whether the bloc has the authority to resettle refugees.

The EUs top court on Wednesday ruled that Hungary and Slovakia must admit migrants as part of a refugee relocation program, a significant victory for Brussels that resurfaces deep disagreements over immigration policy within the bloc.

The ruling comes amid rising tensions between the EU's Western and Eastern members over whether the bloc has the authority to resettle refugees in countries whose politicians have called for refugee bans, an issue which has roiled politics across the region since a major influx of people two summers ago.

In Hungary, a senior official said the government wouldn't accept the ruling. The prime minister and his cabinet were in a meeting immediately after the news broke to discuss legal and political options to oppose it.

Prime Minister Viktor Orban has consistently rejected the idea of refugee quotas and instead asked the EU to contribute to a border fence his government erected to prevent migrants from entering the country. European Commission chief Jean-Claude Juncker in an interview with the German newspaper Sueddeutsche Zeitung on Wednesday rejected that request and said Hungary must show solidarity with other nations in dealing with the refugee burden.

"ECJ confirms relocation scheme valid. Time to work in unity and implement solidarity in full," tweeted EU migration commissioner Dimitris Avramopoulos.

Officials in Slovakia said they would soon issue a more detailed response but initially appeared to accept the ruling. "Of course we respect the decision made by the court," said Slovak Foreign Ministry spokesman Peter Susko.

In its judgment, the European Court of Justice rejected legal arguments brought by the two countries and said that the EU was right to set up an emergency relocation program in 2015, at the height of the migration crisis that swept the continent. The program was aimed at redistributing more evenly across the bloc up to 120,000 asylum seekers who had arrived in Greece and Italy. Only 28,000 people were moved under that program, which was supposed to be completed this autumn.

In 2015 the program was adopted by a majority vote with Slovakia, Hungary, the Czech Republic and Romania opposing. Poland at the time agreed to the program, but a new government in Warsaw subsequently changed course and refused to take in any refugees. Poland also backed Slovakia and Hungary in the proceedings before court.

The case is a likely to fuel ongoing spats that Poland and Hungary are engaged in with the European Commission, the bloc's executive branch. The fights center on what Brussels considers democracy-eroding measures being put in place in the two countries. The commission has separately started legal proceedings against Hungary, Poland and the Czech Republic for refusing to accept any asylum seekers under the relocation plan. If they don't change course by the time a ruling is made, the countries could face financial penalties.

The Wednesday ruling follows a legal opinion by the court's top lawyer, who said in late July that the two countries' case should be dismissed.
...if there was ever a doubt that the European Union is evil, that removes it.
New Observer, "Orban: Hungary is a "Refuge for Europeans," and Uses Tax Money to Boost Birthrate", 24 July 2017:

Hungarian Prime Minister Viktor Orbán has announced that his nation will "remain a place where Western European Christians will always be able to find security"—and that his government is using taxes on multinational companies to fund social policies to spur families to have more children.

Speaking at a cultural festival in Baile Tusnad, Romania, Orbán also said that the European Union, together with Open Society founder—and Hungarian Jew—George Soros was seeking a "new, mixed, Muslimized Europe."

He went on to say that Hungary's border fences, supported by other Central European countries, "will block the EU-Soros effort to increase Muslim migration into Europe."

While Hungary opposed taking in migrants "who could change the country's cultural identity," Orban said under his leadership, Hungary would remain a place where "Western European Christians will always be able to find security."

He also said that Hungary's opposition parties were no match for his government, and that he would win the next election in April 2018.

"In the upcoming campaign, first of all we have to confront external powers," Orban said.

"We have to stand our ground against the Soros mafia network and the Brussels bureaucrats. And, during the next nine months, we will have to fight against the media they operate."

Recent legislation in Hungary seeks to close or expel the Budapest-based Central European University, founded by Soros in 1991. There are also new rules about non-governmental organizations funded at least partly from abroad.

Orban reiterated his charge that Soros-funded NGOs want to weaken Hungary's security with their advocacy for asylum-seekers and said Hungary had managed to stop the "migrant invasion" with razor-wire fences on its borders with Serbia and Croatia.

In the speech, broadcast by Hungarian state media, Orban repeated his claim that the EU leadership was encroaching on member states' rights and trying to apply policies, such as increased immigration, which he said were opposed by most Europeans.

Orban said Poland, which is under pressure from the EU because of attempts to put its Supreme Court under political control, had replaced Hungary as the target of the EU's "chief inquisitor," whom he identified as European Commission Vice-President Frans Timmermans.

"The main target of the inquisition, the example of national governance to be weakened, destroyed and broken is Poland," Orban said, vowing to defend the Polish government. "Hungary will use every legal possibility in the European Union to be in solidarity with the Poles."

Finally, Orban said Hungary's low birth rate made the country an "endangered species," and that the government was using taxes on multinational companies to fund social policies that would spur families to have more children.
However much of a taboo one is breaking by saying it, there is no cultural identity in a population without a stable ethnic composition

Visigrad Post, "Full speech of V. Orbán : Will Europe belong to Europeans?" 24 July 2017:

Viktor Orbán's speech at the 28th Bálványos Summer Open University and Student Camp, 22 July 2017, Tusnádfürdő (Băile Tuşnad, Romania)

Hungarian Prime Minister Viktor Orbán: "First of all, I'd like to remind everyone that we started a process of collective thinking 27 years ago in Bálványosfürdő, a few kilometres from here. That is where we came to a realisation. Just think back: at that time, at the beginning of the nineties, most people – not only in Hungary, but also across the whole of Central Europe – thought that full assimilation into the Western world was just opening up to us again. The obvious approach was adjustment to that world: to in a way shed our skin and grow a new, fashionable Western skin. From this it followed that in our politics we would simply need to copy what they were doing in the West. Back then – 27 years, 28 years ago – we came together here, and we thought that we freedom fighters living on this side of the Iron Curtain could also have something valuable to say to a Europe which had by then been living in peace, freedom and prosperity for forty years. Back then we weren't surrounded by television cameras, and our words commanded no attention whatsoever.

Now, however, they do. And if I were to name the most important event, the most important Hungarian and European event of the past year – the twelve months since our last meeting – I would say that it is the strengthening of the Visegrád Four. Although there was a presidential election in the United States, and not so long ago the French presidential and parliamentary elections swept away the entire French party system – which are both important things – I'm convinced that the most important development of the past year has been the Visegrád Four cooperation becoming closer than ever before. We can say that Warsaw, Prague, Bratislava and Budapest are speaking with one voice. This is a great achievement, as these are countries which are very different in their characters. Here we have the enthusiastic Poles, the ever-cautious Czechs, the sober Slovaks and the romantic Hungarians; and yet we are able to speak the same language. We can be truly proud of this.

It is customary for the Open University presentations to seek to give an account of the extent of change over the past year, also in a broader civilisational context. Certainly not everyone remembers that in 2009, after his election, President Obama made his first important speech abroad in the city of Cairo. This year the newly-elected US president delivered his first important speech abroad in the city of Warsaw. To illustrate the extent of the changes, it's enough to quote a few sentences from the speech made by the American president in Warsaw. I'll quote from it now:

"We have to remember […] that the defence of the West ultimately rests not only on means, but also on the will of its people to prevail and be successful and get what you have to have. […] Our own fight for the West does not begin on the battlefield. It begins with our minds, our wills and our souls. […] Our freedom, our civilization and our survival depend on these bonds of history, culture, and memory."

He then went on to say: "So together let us all fight like the Poles: for family, for freedom, for country and for God."

Ladies and Gentlemen,

These words would have been inconceivable anywhere in the Western world two years ago. This is the extent of the change that is taking place around us. This, perhaps, is the point at which I should greet Piotr Naimski and the Polish delegation led by him. He is the President of the Hungarian-Polish Parliamentary Group in Warsaw. Welcome, Dear Polish Friends.
New Observer, "Poland Tells EU: No, We Won't Take Your Fake Refugees", 22 May 2017:

The Polish government has told the European Union that they will not take in any of the "redistributed" nonwhites pretending to be refugees from Greece or Italy as that plan only aggravates the invasion problem and does not solve it.

Reacting to the EU's threat last week that Poland—and Hungary—would face unspecified sanctions unless they agreed to take part in the "redistribution" of the fake refugees arriving in Italy and Greece, Polish Justice Minister Mariusz Blaszczak told a news conference in Brussels that his country's "position is consistent and clear—we oppose relocation."

Speaking after a meeting of EU justice and interior ministers, Blaszczak said that the redistribution arrangement "does not only fail to solve the migration problem, it aggravates it. It encourages more waves of migrants from Africa and Asia to come, which also provides a big source of income for smugglers and people traffickers."

He went on to cite nonwhite terrorist attacks in France, Belgium, and Germany since late 2015 in which fake refugees had taken a leading role.

Red dots indicate terrorist attacks. While no red dots occur in Poland.

Under a plan agreed in 2015, the European Commission has demanded of EU member states that they all admit a quota from a total of 160,000 nonwhite invaders "stuck" in Italy and Greece.

Poland and Hungary alone have refused to admit any, citing security concerns and announcing their opposition to the mass Third World invasion of Europe.

Last week, the European Commission said it would decide next month on possible legal action against Poland and Hungary over the migration issue.

The process will likely end up in court and entail financial penalties in the form of the withdrawal of EU subsidies.