Majorityrights News > Category: Can't Turban the Orban
Visigrad Post, "The Visegrád Group Will Not Yield to Blackmail, and Hungary Strengthens Anti-Immigration Policy", 28 March 2017: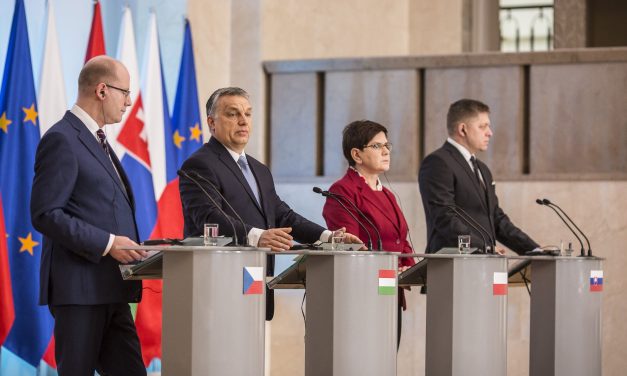 Poland, Warsaw – The leaders of the Visegrád Group, meeting in Warsaw on Tuesday (March 28th), denounced with one voice the European blackmail and diktat over them regarding migration policy.
The four prime ministers strongly opposed the idea of ​​linking the distribution of EU funds to the EU's migration policy.
"The idea of ​​linking the funds due to us from the EU with migration policy is bad. Together as the Visegrad Group, we cannot be intimidated, "Hungarian Prime Minister Viktor Orban said at a joint press conference with his Czech counterpart Bohuslav Sobotka, Slovakian Robert Fico and Polish Beata Szydlo.
"The Visegrad Group, including Poland, will never accept this blackmail, nor be dictated conditions. We are saying clearly that the migration policy that has been followed up until now by the EU has not proved its worth, and we must learn from it, "Szydlo insisted.
Hungary continues anti-immigration policy
On the same day, the law allowing detention of illegal immigrants and asylum-seekers entered into force in Hungary. "Hungary is now in a position to respond even if the agreement between the EU and Turkey fails. We are able to stop any wave of immigration on the Serbian-Hungarian border, "Orban said, adding that "the Austrians and Germans can now sleep peacefully."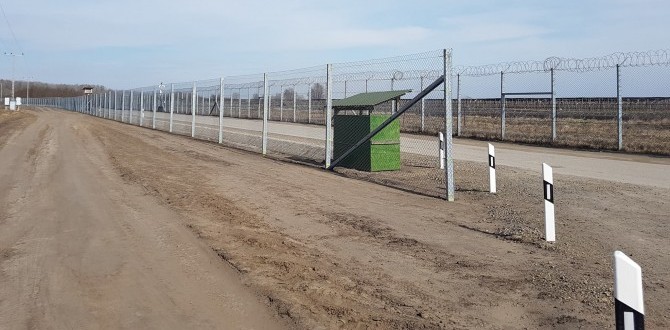 The second fence will be completed by summer, the Hungarian Interior Ministry said.
It is important to note, however, that migrant detention centers are not prisons. Placed on the border, asylum seekers and illegal immigrants are allowed to leave for Serbia at any time, if they do not wish to follow the legal procedures for entering into Hungary, Schengen and the European Union.
Visigrad Post, "Orbán: Brussels Must be Halted, and Hungary Must Stand Up Against International Capital", 24 March 2017:
Hungary – Prime Minister Viktor Orbán called March 15 an "indisputable proof" of the Hungarian nation's past, present and future, at a commemoration of the 1848-49 revolution and freedom fight on Wednesday, March 15.

Speaking in front of the National Museum, the prime minister said that European nations are in a "state of revolt", with the "winds of 48 blowing again on the continent". Over the past years European nations once again revolted against "the hypocritical alliance of the Brussels bureaucrats, the liberal international media and the insatiable global capital," Orbán said.

First the British, then the Americans rebelled, to be followed by others this year, he added. Orbán stressed the need for Brussels to take off the "masks of hypocrisy", and opt for straight speech and an open discussion of the future.

Orbán emphasised that the resettlement of illegal migrants must be prevented, the network financed from foreign funds made transparent, and the right to regulate taxes, wages and utility prices kept in national competence.

Orbán called March 15 an "indisputable proof" of the Hungarian nation's past, present and future. "We, living in the Carpathian Basin, at the buffer zone of cultures, empires and civilisations, can be proud of the greatest triumph of all, winning all wars for the survival of our homeland, our nation," he said.

He said 1848 had become a "moral compass" for the nation, one that shows who is "loyal, patriotic, dedicated and brave" on the one hand, and exposes "pettiness, perfidy and efforts to kill dreams and destroy the nation" on the other. The prime minister insisted that national unity should be retained and cemented day by day.

"But what should we do with those who want unrest and division rather than peace and unity . whose only pleasure lies in spoiling the holiday of others," he asked, referring to a group whistling during his speech. "It would be easy to mock them but we should not do that," he said adding that Hungarians should "stand their ground on the horizon of building the nation rather than in the skirmishes of petty parties."

"From the horizon of the Hungarian nation, one can choose the road that leads us to the wide gate of greatness or the one that leads to the swamp of hatred," he said.

Article originally published at Daily News Hungary.
Visigrad Post, "V. Orbán: "Hungary is in a State of Siege", March 2017:

Hungary – Migrants are detained, police and army reinforced, and a second fence set up at the border. There is less talk of migrants arriving through the Balkans, yet Hungary is getting ready for a new wave. For Prime Minister Viktor Orbán, Hungary is in a state of siege.

Hungary "shouldn't risk changing the basic ethnic character of the country," he recently reaffirmed during an intervention at the Hungarian Chamber of Commerce and Industry, convinced that this would lead to a " depreciation of its value "and to "chaos ".

"How to do this?" he asked. "First, by preserving ethnic homogeneity. One can say such things now, which you would have been executed for during the past few years, as life has proven that too much mixing causes trouble," he said.

However, the Hungarian Prime Minister is not opposed to immigration, despite everything. And he is even more in favor of immigration — if it comes from Europe. Whether it is Ukrainian from the Eastern part of the country, or Westerners in Budapest. His recent remarks inviting with a note of sarcasm the Western refugees in Hungary did not pass unnoticed.

On the other hand, Viktor Orbán is firmer than ever on non-European immigration, and in particular illegal immigration.

Hungary in a state of siege

The border barrier, erected during the summer of 2015, is being reinforced by a second fence. Equipped with various electronic devices to improve the surveillance and reactivity of the territorial protection forces, this second barrier should make the border impermeable. This is at least what the Hungarian government hopes, fearing a new wave of migrants.

"We can not take it easy, now we are also in a state of siege, and even if the migratory wave has diminished, it has not stopped," said Prime Minister Orbán in front of new police recruits who took the oath to defend Hungary at the risk of their lives, if necessary.

For the strong man of Budapest, security is the precondition for Hungary and Europe to have a bright future. Security, and the rule of law.

"Laws must apply equally for everyone, also for those migrants who come here, and no kind of foolish human rights mumbo jumbo can overwrite this."

"Immigration is the Trojan horse of terrorism," recalled Mr Orbán. "We can not count on Brussels and on the European Union. They only make the task harder for us. We can only rely on ourselves," he said in front of the young recruits of the border hunters.

New treatments of migrants

Hungary has also taken it upon herself to openly contravene certain international conventions, as evidenced by criticism from the EU and the UN. But this is fully assumed.

Henceforth, Hungary systematically expells any clandestine intercepted on her soil. Their return to Serbia is automatic. Asylum seekers are now detained in closed centers, where they are housed in containers, in order to prevent fraudsters from using this procedure only to enter the EU and then to continue their illegal journey, as did almost unanimously the "asylum seekers".

Meanwhile, the globalist press is trying to pass off the Hungarian guards as sadistic and malicious torturers, using "proof" like photos and testimonies of migrants in Serbia. But this new, unfounded and disproportionate attack will not affect the government, strongly supported by the Hungarian population on the issue of migration.

According to Viktor Orbán, Hungary is today one of the safest countries in Europe. And he intends to preserve this asset in order to lead the country towards the economic revolution he intends to undertake.
Visigrad Post, "Hungary's PM Orbán: Nowhere Do Human Rights Prescribe National Suicide", Jan 2017:

Hungary – The Hungarian government goes further in its opposition to non-European immigration, both illegal and legal. Viktor Orbán made again a strong speech against "national suicide" and meantime, the government announces its will to put an end to the residency bonds.

In front of 532 new deputy border guards, Viktor Orbán explained, on Thursday, January 12, that their job will be to protect Hungary's borders and the safety of all Hungarians, "and that of all of Europe as well, as has been the fate of the nation for hundreds of years".

"Terror attacks, riots, violence, crime, ethnic and cultural clashes all show us that those who come do not want to live our lives," Orbán told the border guards. "They want to continue living their lives, just on the European standard of living. We understand them but we can't let them into Europe. Nowhere do human rights prescribe national suicide."

Asylum-seekers will be detained in close camps from now on

Systematic detention of migrants arriving in the country will be put in place, explained Viktor Orbán on Friday, January 13, during his weekly talk at the public radio. "We have reinstated alien police detention in the cases of those whose application to enter Europe has not yet been legally judged". "As long as there is a verdict outstanding (in their asylum applications) they cannot move freely in Hungary," said the Hungarian PM.

Under pressure from Brussels, the UN refugee agency and the European Court of Human Rights, Hungary in 2013 suspended the practice of detaining asylum applicants. The close camps are demanded by Jobbik's vice-president and mayor of a little town at the border with Serbia, László Toroczkai, from the beginning of 2015, the same man that asked for the fence first in Hungary.

"Since then there have been terror acts in western Europe," Orbán said Friday". Any legal regulation that facilitates terror acts must be changed in the interests of our own self-defense." He said he was aware that this "openly goes against the EU", taking the risk of an open-conflict with Brussels, once again.

No more residency bonds

Three months ago, the constitutional bill against mandatory quotas of migrants, proposed by the ruling Fidesz, failed due to the surprise boycott of the vote by the right-wing populist party Jobbik, which wanted to add into the bill the suppression of the residency bonds. These bonds allow non-EU citizens to buy a Schengen permanent residency permit.

Really harsh discussions took place in the Hungarian parliament between the national-conservative ruling Fidesz and the right-wing populist Jobbik on these bonds. Security threats, suspicion of high corruption and treason toward the Hungarians — who reject non-European immigration — were the main arguments of the Jobbik.

Eventually, the government will suspend indefinitely the program, claiming these bonds are not necessary anymore since ratings agency Moody's upgraded the country's credit rating. Several scandals of corruption related to these bonds merged in 2016 and it is most likely that the government wanted to put an end to this failed program. Therefore, no more residency bonds requests will be accepted from April 1.
Visigrad Post, "Visegrád Countries To Launch Radio Station Early 2017", 17 Nov 2016:

Visegrád countries – The four Visegrád Group countries are planning to launch a radio station at the start of next year, the head of Radio Poland told Hungarian public television M1 on Tuesday.

Barbara Stanislawczyk said the programmes to be broadcast in Polish, Czech, Slovak, and Hungarian would be aimed at presenting the cultures of the member countries and focusing on topical political issues. She said that the region's importance was gaining weight in Europe and highlighted the importance of the media in that tendency. The new station would also promote cooperation between radio people in the four countries, Stanislawczyk added.

Source : Daily News Hungary
While Duda and Orbán's invocation of the centrality of Christianity to the nationalist cause will be disconcerting to many of us more wise to the fact that it is a Jewish Trojan horse, we should be charitable enough to understand that it has been, and remains still, a culturally habituated way of saying "not Jewish."
It is up to us to support native European nationalist efforts by pointing-out that this is a provisional distinction at best, albeit a 2,000 year old provision, which has had a way of binding nationalist masses and yoking their identity with Noahide laws (as Kumiko astutely observes) - thus, ultimately, to Jewish control if we do not successfully liberate ourselves from the false identity that is the "Gentile" (as GW astutely observes) - an "identity" which knows no distinction other than "the undifferentiated other" to Jews and its beholdenness to its Jewish forebears for its messiah and its law.
Enough sour grapes for now. There is certainly hope in Duda's concordance with Orbán in furtherance of the Intermarium project on display at the commemoration of the 1955 Hungarian Uprising -
Visigrad Post, "Duda and Orbán against Brussels' sovietisation", 24 Oct 2016:

Hungary, Budapest – On Sunday, October 23, Hungary celebrated the start of the '56 uprising. In front of the Hungarian parliament, Hungarian Prime Minister Viktor Orbán and Polish President Andrzej Duda gave a strong speech against the current policy of the European Union, about Christianity and about the deep friendship between Poland and Hungary.

Polish President Duda greeting the crowd. MTI Fotó: Szigetváry Zsolt

In front of thousands of people gathered on the place Kossuth, in the center of Budapest, Hungarian PM Orbán and Polish President Duda made a speech welcomed by Hungarian and Polish citizens. President Duda first talked in front of the crowd. The Polish President started his speech by saying few words in Hungarian. Hungarians "have always been friends" and they can always rely on Poland, "even in difficult moments of the future," said Andrzej Duda.

Poland is "proud and grateful" that it was able to provide aid to the Hungarian revolution, Duda said, and noted that his people had sent 44 tonnes of medicine and medical equipment as well as 800 litres of blood to Hungary shortly after the uprising broke out. "Poles are proud that the grandchildren of 1956 heroes have, symbolically, Polish blood in their veins", the president said. In Hungary's freedom fight "thousands died, but after some decades, finally, you recovered your freedom through much suffering and sacrifice," Duda said. He also voiced his conviction that "through hard work both Poles and Hungarians will achieve the living standards of western societies", reports Hungary Today.

Concerning the traditional friendship between the two countries, Duda said that they together "carry on the thousand-year-old Christian tradition in Europe", and insisted that those traditions were just as important as freedom. "God bless Poland and Hungary, glory to the heroes of the Hungarian revolution," Duda said concluding his address.

Viktor Orbán during his speech on Sunday, October 23

"Protect Brussels against Sovietisation"

Then, Prime Minister Orbán gave his speech. The European Union must not be turned into a "modern-age empire"; the community must not be replaced by a "United States of Europe", Hungarian Prime Minister Viktor Orbán said on Sunday. Viktor Orbán said that "freedom-loving peoples of Europe must save Brussels from Sovietisation".

"We, Hungarians, want to remain a European nation, rather than become an ethnic minority in Europe," Orbán insisted. "It is only our national independence that can save us from being devoured by an empire," Orbán said, and argued that it was that very "national idea" that had saved Hungary from being integrated into the Soviet Union. As descendants of 1956, Hungarians "cannot let Europe cut the roots that had once made it great and also helped us survive communist oppression," Orbán said. He added that Europe could not be "free, strong, and respectable without the revitalising power of nations and two thousand years of Christian wisdom". The prime minister insisted that Hungary had chosen "the hard way" when it "preferred children of its own to immigrants, work to speculation, earning a living to becoming a slave of indebtedness, and protecting borders to surrendering".

Hungarians will always fight for freedom and will achieve it "even in the most hopeless of situations," Prime Minister Viktor Orbán said at the state commemoration marking the 60th anniversary of Hungary's anti-Soviet uprising of 1956. "We, Hungarians, have a talent for freedom, we have always known how to use it. He warned that freedom is "not a final state but a way of existence; just like swimming: you stop doing it and you will sink". The question is always this simple: whether we decide on our own fate or other people," he added. October 23 is a day on which Hungarians should be proud, the prime minister said.

History puts Hungary in the mainstream of disputes on the future of Europe every 30 years, the prime minister said. He argued that in 1956 Hungary attempted to "shift the Iron Curtain east of our borders", then in 1989 the country opened its western borders "so that Germans could find a way to Germans". And most recently, Hungary "had to close its borders to stop the influx of migrants from the south", he said. Hungary will not falter "even if those whom we are trying to protect attack us from behind"; we have "the courage to face injustice… and Europe can always rely on us," Orbán said.
Visgrad Post, "Orbán plans to double the Hungarian army and rise patriotism among children", 19 Oct 2016:

Hungary – Prime Minister Viktor Orbán said he had taken the necessary steps in order to double the Hungarian army's personnel from 2017. Orbán also wishes the military instruction of children to develop, especially using sport. The Hungarian PM wants it to serve as a counter-culture to reinforce social cohesion, patriotism and the spirit of sacrifice.

The Hungarian army is modernizing since 2010 and the return to power of Viktor Orbán, but it is unsatisfactory for the strongman of Budapest, in a context which sees, he said, "the neighbors rearming themselves." Viktor Orbán said in an interview given to the Catholic radio Katolikus Rádió he will almost double the size of the Hungarian Army from 2017. The Magyar Honvédség, the Hungarian army, has in its ranks 30,000 soldiers, of which 23,000 are active military and which has approximately 4-5,000 operational troops. Orbán wants to recruit 20,000 reservists.

Hungary is a member of NATO and is theoretically obliged to spend 2% of its annual GDP on defense. So far, the defense budget in Hungary stagnated just below 1%. The government of Viktor Orbán plans to launch a gradual growth until 2022 regarding the budget allocated to the army by increasing it of 0.1% of GDP each year. This recruitment campaign echoes the recent police recruitment campaign in order to protect the southern border from the migration wave.


Viktor Orbán wants to use the army as a tool of counter-culture

Beyond this strengthening of the Hungarian Army, Orbán also wants the army to be present in schools, especially in the area of sport. The Minister of Defense stated that the project is to strengthen "patriotic commitment and spirit of sacrifice" among youngsters. This will be realized also by "proposing more and more to young people, in the light of the national interest, to be volunteering in the reserve," added the Minister. A new sport institution of the army will be created for the purpose, aiming to reach schoolchildren from the age of 7. This plan is to be part of his plan for a "cultural counter-revolution".

The Defense Minister has since January already mentioned some parts of these projects. He has talked about the government's commitment to strengthen the "military school program", so that children would learn in school the basic military knowledge. The Minister explained that this is in order to introduce a kind of counter-culture to give the children a morality and a way of thinking based on patriotism. According to Mr Simicskó, Defense Minister since November 2015, sporty and patriotic life style are out of fashion because "young people are at their computer, so the social and sens of civic responsibility are minimal"
It is a particularly good and important idea to instill patriotism in children.
TNO, "Hungary Votes No to Invasion", 2 Oct 2016:

More than 90 percent of Hungarians who participated in Sunday's referendum have rejected the European Union's "refugee distribution" plan—setting the stage for a dramatic clash in Brussels which could cause the EU to split.

Prime Minister Orbán's victory has however been soured by a low turnout, which needed to be above 50% to be binding.

If the turnout is below 50 percent, the government will still claim victory and press ahead with measures to prevent the "distribution" of the nonwhite invaders—who were invited to Germany by chancellor Angela Merkel.

The question asked of voters was: "Do you want the European Union to be able to mandate the obligatory resettlement of non-Hungarian citizens into Hungary even without the approval of the National Assembly?"

Hungarian Deputy Prime Minister Zsolt Semjen has already announced that the government has "received a political mandate to protect the country from Brussels."