Majorityrights News > Category: Can't Stun the Hun
Poland is correct to denounce Richard Spencer in his neo-Molotov-Ribbentrop larp.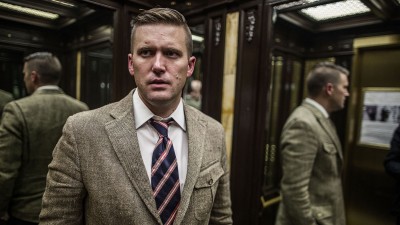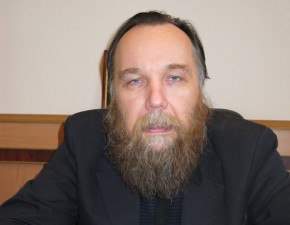 While the Polish government is not perfectly articulate of its reasons to denounce Richard Spencer for his advocacy of a counter productive world view, they are not far off the mark and not wrong to reject him either.
Typical of American right wingers, Spencer is nursing a neo-Germanophilic world view, overly sympathetic to the German imperialism of the world wars (and antagonistic to Great Britain's 'interference'), with a new twist that would larp and valence a re-empowered German / Russian axis - i.e., a newly got up Molotov-Ribbentrop agreement for an "imperium", i.e., imperialism that would run rough shod over the interests of many necessary allies - Hungary rejected him for the same reason Poland rejects him for the same reason Britain rejected him for the same reason Japan would reject him (for the same reason all of Asia would reject him for the same reason Zionism embraces him, for the quid pro quo reasoning that comprador wielding right wing enterprises embrace him) etc. - while his larped empire (Lisbon to Vladivastok) would be governed by whom? Apparently he would depend heavily on working with Jewish interests to facilitate (maneuver) his Russo-Germanic grand civic Euro larp, in Duginesque delusion of grandeur - a delusion coddled by ((())).
News Week, "Richard Spencer Is Too Racist for Poland's Right-Wing Government", 27 Oct 2017:

Poland's right-wing government doesn't want white supremacist Richard Spencer to visit the Eastern European country, calling him a "threat" to democracy.

Spencer was scheduled to speak at a conference organized by Poland's far right to celebrate Polish Independence Day on November 11, but the country's Foreign Ministry condemned the alt-right leader, whose condemnation of diversity has found support among neo-Nazis, whose ideological predecessors invaded Poland and killed millions during World War II.

"As a country which was one of the biggest victims of Nazism, we believe that the ideas promoted by Mr. Spencer and his followers could pose a threat to all those who hold dear the values of human rights and democracy," the Polish Foreign Ministry said in a statement, adding that Spencer's views are in conflict with Poland's legal order.
Poland is not beyond criticism in its brand and particular expressions of nationalism, but Richard Spencer is highly dubious in his imperial larp; and the Poles are correct to denounce Spencer and like apologists for the imperialist aspirations of Nazi Germany and the casualties it left in the wake of its aspired imperialism, relevantly in this case, the Poland that came back not as "a gift of Woodrow Wilson", but through the endurance and perseverance of Polish nationalism through 123 years in exile during the tri-partition; and then again through 50 years in exile during the Nazi and Soviet regimes.
WSJ,"Hungary and Slovakia Must Admit Refugees as Part of European Union Relocation Program, Court Rules", 6 Sept 2017:

Ruling comes amid rising tensions between the EU's Western and Eastern members over whether the bloc has the authority to resettle refugees.

The EUs top court on Wednesday ruled that Hungary and Slovakia must admit migrants as part of a refugee relocation program, a significant victory for Brussels that resurfaces deep disagreements over immigration policy within the bloc.

The ruling comes amid rising tensions between the EU's Western and Eastern members over whether the bloc has the authority to resettle refugees in countries whose politicians have called for refugee bans, an issue which has roiled politics across the region since a major influx of people two summers ago.

In Hungary, a senior official said the government wouldn't accept the ruling. The prime minister and his cabinet were in a meeting immediately after the news broke to discuss legal and political options to oppose it.

Prime Minister Viktor Orban has consistently rejected the idea of refugee quotas and instead asked the EU to contribute to a border fence his government erected to prevent migrants from entering the country. European Commission chief Jean-Claude Juncker in an interview with the German newspaper Sueddeutsche Zeitung on Wednesday rejected that request and said Hungary must show solidarity with other nations in dealing with the refugee burden.

"ECJ confirms relocation scheme valid. Time to work in unity and implement solidarity in full," tweeted EU migration commissioner Dimitris Avramopoulos.

Officials in Slovakia said they would soon issue a more detailed response but initially appeared to accept the ruling. "Of course we respect the decision made by the court," said Slovak Foreign Ministry spokesman Peter Susko.

In its judgment, the European Court of Justice rejected legal arguments brought by the two countries and said that the EU was right to set up an emergency relocation program in 2015, at the height of the migration crisis that swept the continent. The program was aimed at redistributing more evenly across the bloc up to 120,000 asylum seekers who had arrived in Greece and Italy. Only 28,000 people were moved under that program, which was supposed to be completed this autumn.

In 2015 the program was adopted by a majority vote with Slovakia, Hungary, the Czech Republic and Romania opposing. Poland at the time agreed to the program, but a new government in Warsaw subsequently changed course and refused to take in any refugees. Poland also backed Slovakia and Hungary in the proceedings before court.

The case is a likely to fuel ongoing spats that Poland and Hungary are engaged in with the European Commission, the bloc's executive branch. The fights center on what Brussels considers democracy-eroding measures being put in place in the two countries. The commission has separately started legal proceedings against Hungary, Poland and the Czech Republic for refusing to accept any asylum seekers under the relocation plan. If they don't change course by the time a ruling is made, the countries could face financial penalties.

The Wednesday ruling follows a legal opinion by the court's top lawyer, who said in late July that the two countries' case should be dismissed.
...if there was ever a doubt that the European Union is evil, that removes it.
New Observer, "Orban: Hungary is a "Refuge for Europeans," and Uses Tax Money to Boost Birthrate", 24 July 2017:

Hungarian Prime Minister Viktor Orbán has announced that his nation will "remain a place where Western European Christians will always be able to find security"—and that his government is using taxes on multinational companies to fund social policies to spur families to have more children.

Speaking at a cultural festival in Baile Tusnad, Romania, Orbán also said that the European Union, together with Open Society founder—and Hungarian Jew—George Soros was seeking a "new, mixed, Muslimized Europe."

He went on to say that Hungary's border fences, supported by other Central European countries, "will block the EU-Soros effort to increase Muslim migration into Europe."

While Hungary opposed taking in migrants "who could change the country's cultural identity," Orban said under his leadership, Hungary would remain a place where "Western European Christians will always be able to find security."

He also said that Hungary's opposition parties were no match for his government, and that he would win the next election in April 2018.

"In the upcoming campaign, first of all we have to confront external powers," Orban said.

"We have to stand our ground against the Soros mafia network and the Brussels bureaucrats. And, during the next nine months, we will have to fight against the media they operate."

Recent legislation in Hungary seeks to close or expel the Budapest-based Central European University, founded by Soros in 1991. There are also new rules about non-governmental organizations funded at least partly from abroad.

Orban reiterated his charge that Soros-funded NGOs want to weaken Hungary's security with their advocacy for asylum-seekers and said Hungary had managed to stop the "migrant invasion" with razor-wire fences on its borders with Serbia and Croatia.

In the speech, broadcast by Hungarian state media, Orban repeated his claim that the EU leadership was encroaching on member states' rights and trying to apply policies, such as increased immigration, which he said were opposed by most Europeans.

Orban said Poland, which is under pressure from the EU because of attempts to put its Supreme Court under political control, had replaced Hungary as the target of the EU's "chief inquisitor," whom he identified as European Commission Vice-President Frans Timmermans.

"The main target of the inquisition, the example of national governance to be weakened, destroyed and broken is Poland," Orban said, vowing to defend the Polish government. "Hungary will use every legal possibility in the European Union to be in solidarity with the Poles."

Finally, Orban said Hungary's low birth rate made the country an "endangered species," and that the government was using taxes on multinational companies to fund social policies that would spur families to have more children.
However much of a taboo one is breaking by saying it, there is no cultural identity in a population without a stable ethnic composition

Visigrad Post, "Full speech of V. Orbán : Will Europe belong to Europeans?" 24 July 2017:

Viktor Orbán's speech at the 28th Bálványos Summer Open University and Student Camp, 22 July 2017, Tusnádfürdő (Băile Tuşnad, Romania)

Hungarian Prime Minister Viktor Orbán: "First of all, I'd like to remind everyone that we started a process of collective thinking 27 years ago in Bálványosfürdő, a few kilometres from here. That is where we came to a realisation. Just think back: at that time, at the beginning of the nineties, most people – not only in Hungary, but also across the whole of Central Europe – thought that full assimilation into the Western world was just opening up to us again. The obvious approach was adjustment to that world: to in a way shed our skin and grow a new, fashionable Western skin. From this it followed that in our politics we would simply need to copy what they were doing in the West. Back then – 27 years, 28 years ago – we came together here, and we thought that we freedom fighters living on this side of the Iron Curtain could also have something valuable to say to a Europe which had by then been living in peace, freedom and prosperity for forty years. Back then we weren't surrounded by television cameras, and our words commanded no attention whatsoever.

Now, however, they do. And if I were to name the most important event, the most important Hungarian and European event of the past year – the twelve months since our last meeting – I would say that it is the strengthening of the Visegrád Four. Although there was a presidential election in the United States, and not so long ago the French presidential and parliamentary elections swept away the entire French party system – which are both important things – I'm convinced that the most important development of the past year has been the Visegrád Four cooperation becoming closer than ever before. We can say that Warsaw, Prague, Bratislava and Budapest are speaking with one voice. This is a great achievement, as these are countries which are very different in their characters. Here we have the enthusiastic Poles, the ever-cautious Czechs, the sober Slovaks and the romantic Hungarians; and yet we are able to speak the same language. We can be truly proud of this.

It is customary for the Open University presentations to seek to give an account of the extent of change over the past year, also in a broader civilisational context. Certainly not everyone remembers that in 2009, after his election, President Obama made his first important speech abroad in the city of Cairo. This year the newly-elected US president delivered his first important speech abroad in the city of Warsaw. To illustrate the extent of the changes, it's enough to quote a few sentences from the speech made by the American president in Warsaw. I'll quote from it now:

"We have to remember […] that the defence of the West ultimately rests not only on means, but also on the will of its people to prevail and be successful and get what you have to have. […] Our own fight for the West does not begin on the battlefield. It begins with our minds, our wills and our souls. […] Our freedom, our civilization and our survival depend on these bonds of history, culture, and memory."

He then went on to say: "So together let us all fight like the Poles: for family, for freedom, for country and for God."

Ladies and Gentlemen,

These words would have been inconceivable anywhere in the Western world two years ago. This is the extent of the change that is taking place around us. This, perhaps, is the point at which I should greet Piotr Naimski and the Polish delegation led by him. He is the President of the Hungarian-Polish Parliamentary Group in Warsaw. Welcome, Dear Polish Friends.
Gateway Pundit, "Czech Republic Joins Poland, Hungary and Slovakia in Refusing EU-Imposed Migrants", 10 June 2017:

The Czech Republic has joined its Central European neighbors in officially announcing a withdrawal from the European Union's 2015 migrant resettlement program.

After much criticism of the scheme, which seeks to resettle an initial 160,000 migrants from Italy and Greece across EU member states, the Czechs have finally withdrawn citing concerns over security and the ''dysfunctionality'' of what has been criticized as a shambolic program.

Prague had accepted only 12 of the 1,600 migrants required by Brussels before leaving the program, which imposes quotas on all 28 member states under threat of sanction.

The resettlement scheme was the EU's initial response to the near Biblical wave of migrants which arrived in autumn 2015 following Angela Merkel's decision to open Germany's borders.

In April, Czech Interior Minister, Milan Chovanec, had stated that his government would have to decide whether resistance to the EU's quotas was worth the massive fines such a refusal would incur. On Monday, Chovanec announced their decision, a definitive withdrawal based on concerns over terrorism and the vetting of migrants, mainly Muslims from the Middle East.

The decision was supported by a majority of parties across the political spectrum, with even left-wing parties, including the Communist Party, welcoming the announcement.
New Observer, "Poland Tells EU: No, We Won't Take Your Fake Refugees", 22 May 2017:

The Polish government has told the European Union that they will not take in any of the "redistributed" nonwhites pretending to be refugees from Greece or Italy as that plan only aggravates the invasion problem and does not solve it.

Reacting to the EU's threat last week that Poland—and Hungary—would face unspecified sanctions unless they agreed to take part in the "redistribution" of the fake refugees arriving in Italy and Greece, Polish Justice Minister Mariusz Blaszczak told a news conference in Brussels that his country's "position is consistent and clear—we oppose relocation."

Speaking after a meeting of EU justice and interior ministers, Blaszczak said that the redistribution arrangement "does not only fail to solve the migration problem, it aggravates it. It encourages more waves of migrants from Africa and Asia to come, which also provides a big source of income for smugglers and people traffickers."

He went on to cite nonwhite terrorist attacks in France, Belgium, and Germany since late 2015 in which fake refugees had taken a leading role.

Red dots indicate terrorist attacks. While no red dots occur in Poland.

Under a plan agreed in 2015, the European Commission has demanded of EU member states that they all admit a quota from a total of 160,000 nonwhite invaders "stuck" in Italy and Greece.

Poland and Hungary alone have refused to admit any, citing security concerns and announcing their opposition to the mass Third World invasion of Europe.

Last week, the European Commission said it would decide next month on possible legal action against Poland and Hungary over the migration issue.

The process will likely end up in court and entail financial penalties in the form of the withdrawal of EU subsidies.

Visigrad Post, "The Three Seas Initiative: Strengthening Cooperation in Central and Eastern Europe", 13 May 2017:

By Olivier Bault.

Poland, Helenów – Pressed between Moscow's energy and military pressure in the east, and the economic and ideological pressure of Brussels, Berlin and Paris to the west, twelve Central and Eastern European countries are taking part in the Three Seas Initiative (The Adriatic, Baltic and the Black Sea) aimed at strengthening regional cooperation and infrastructure in the fields of transport, telecommunications, energy and the environment. On 4 May, Polish President Andrzej Duda's Head of Cabinet met the foreign advisors of the Presidents of the Three Seas countries near Warsaw: the Visegrád Group countries (V4: Poland, Czechia, Slovakia and Hungary), the Baltic States (Lithuania, Latvia and Estonia), as well as Austria, Romania, Bulgaria, Slovenia and Croatia. The aim was to prepare for the summit which is to be held by these countries in Wrocław, in southwestern Poland, next July, after last year's Dubrovnik summit in Croatia.

The message that the participating countries want to spread, according to Andrzej Duda's Chief of Cabinet, however, goes in the direction of integration and solidarity with the European Union as a whole. With regard to infrastructure, this includes strengthening the previously neglected North-South links rather than the West-East links.

The Three Seas Initiative has been at the center of Polish foreign policy since the Conservatives (PiS) came to power in Warsaw. Already between the two World Wars, Poland had dreamed of a great "Międzymorze" Federation of the countries of Central and Eastern Europe to resist together the supremacy of Soviet Russia and Germany. If this project derived its inspiration from the history of the Republic of the Two Nations, the union of the Kingdom of Poland and the Grand Duchy of Lithuania which extended to its peak (around 1600) from the Baltic to the Black Sea, geopolitics of the 1920s and 1930s did not make it possible to realize it. Polish President Andrzej Duda, elected in 2015, re-launched the idea, this time in the framework of enhanced cooperation within the European Union, with Croatian President Kolinda Grabar-Kitarovic.

It is unclear whether US President Donald Trump will attend the Wrocław summit but he has been invited.

Translated from French by the Visegrád Post.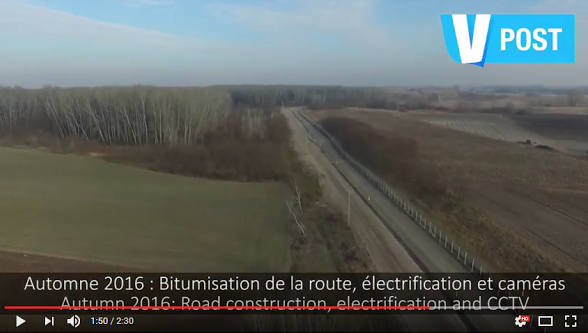 Visigrad Post, "The indisputable success of the Hungarian border fence", 15 May 2017:
Hungary – The second fence on the southern border of Hungary is complete. Hungary is now endowed with the most monitored border in Europe, whose effectiveness is indisputable.
Along the 155 km of the border with Serbia, the anti-migrant barrier has been reinforced with a second fence, motion detection systems and thermal cameras, and an asphalted road between the two fences. It took about 15 million euros to erect this second barrier. The cost of mobilizing soldiers and policemen at the border has not yet been established, but the results are there: since 28 March, no one has been able to cross the border illegally.
If, however, anyone succeeds in passing, it is unlikely that they will continue their journey. Any clandestine intercepted in Hungary is taken back to the crossing point of the southern border, to the Serbian side. They are recorded as illegals and are no longer able to file asylum applications.
Prevention is better than cure
This could be the watchword of the government, which, in erecting this reinforced barrier, complied to the urgent demand of Mayor László Toroczkai, vice-president of the right-wing populist Jobbik party, and also mayor of Ásotthalom, a town along the Serbian border that gained worldwide infamy after his viral video aimed at discouraging migrants from passing by his place.
"I asked for the barrier in 2014. From its construction in 2015, the results were very convincing," the Hungarian local official told to the Visegrád Post. "The double barrier was and is necessary, as is the strong police presence on the ground, as no barrier completely deters those who want to cross. This Monday, police discovered a 1-kilometer long tunnel made by smugglers … " The government maintains that the barrier was all the more necessary as the wave of immigration of 2015 would be only the first of a potential long series.
Erdogan's recurring threats to the European Union, in particular, and the millions of Africans waiting in Libya are pushing the Hungarian government to believe that the pressure on its southern border is only temporarily low, and the Hungarian authorities are now on a permanent war footing to deal with the migratory waves.
A vision shared by László Toroczkai, who commented during our phone call that "this barrier and the means to curb mass immigration will not just be necessary in the years to come, but also in the coming centuries."