Majorityrights News > Category: Human Ecology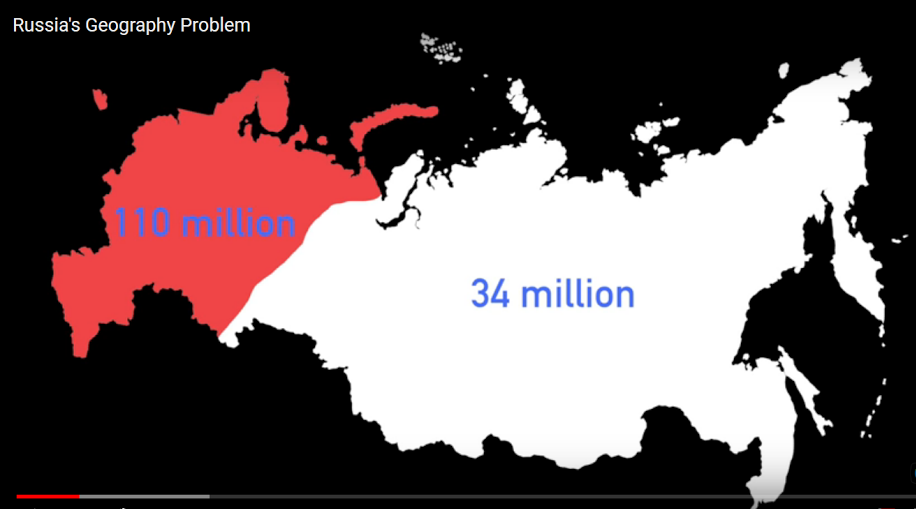 Related Story: European & Asian Regional Alliance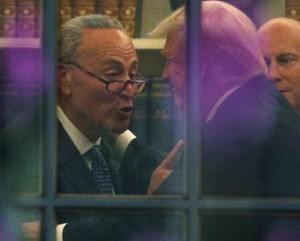 What did you really expect from Trumpstein?
My personal position with regard to so-called "Hispanics" is that we should first of all differentiate among them. "Hispanic" is an egregious term, auguring to do the very worst thing which we seek to stave-off, i.e., to blend away racial distinctions, as the term covers and then tends to politically coerce the blending of Amerindians, Whites, Jews and blacks.
We need to distinguish them hence. We need to distinguish Marrano "huWhites". We need to distinguish those who are black and have anything beyond a small amount of black - they should be looked upon as an out group - not our friends: e.g., Puerto Ricans typically have a significant amount of sub-Saharan African, 25%. Whereas Mexicans on average have only small amount, 4% as evaluated by National Geographic Human Genome Project, Gen 2.0. These kinds, Amerindians and Indios (mixed Indian and White) should be looked upon as people to cultivate as allies.
Certain Caribbean mixes should be shown some compassion in an effort to reconstruct as much as possible the now non-existent pure Indian strains which were forcibly bred-away with African slaves by Spanish conquistadors. Similarly, Indos should be allowed protection from furthering of the mongrelization that was visited upon them by the Spanish conquests.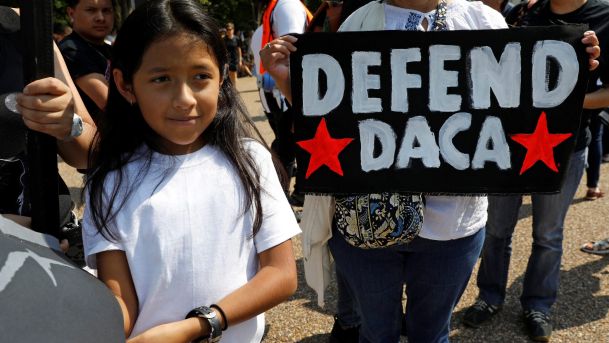 As these historical errors are corrected, "a new dream" act should be enunciated in which the riches and opportunities of the Americas are shared between Whites, Asians and Amerindios in exchange for friendly terms and alliance with Whites against black, Jewish and Muslim imposition.
This must be arranged in accordance with human ecological and resource management - especially population carrying capacity: which tends to be the elephant in the room that liberals overlook in their anti-racist fervor. Make the said kinds friends and hold them accountable to our alliance in pervasive ecology and human ecology of our distinct kinds. We do this deliberately, or we are without a vast alliance, in fact it is arrayed against us as distinct peoples (nationals) and our habitats all…

Opinion // Save DACA: We U.S. Jews Won't Let Trump End the American Dream

On DACA, the president appears unmoved by arguments of compassion, humanity, national interest or common sense. Now is the time to take a stand and take action.

"Dreamers" originally from Ecuador watch Attorney General Jeff Sessions' remarks on ending the DACA program on a smartphone in Manhattan, September 5, 2017. Credit: Drew Angerer/AFP

●DACA 'is being rescinded,' Sessions announces after Trump moves to kill 'Dreamers' program

●U.S. Jewish groups blast Trump's decision to scrap 'Dreamers' program as 'cruel, unnecessary'

●WATCH // Donald Trump vehemently defended 'Dreamers' on Fox News in 2011

The Trump administration moved on Tuesday to terminate the legal status of 800,000 immigrant children and young adults. These young people are currently protected by Deferred Action for Childhood Arrivals. DACA is only available to people who have been in the United States continuously since June 2007, so this decision will exclusively impact kids and young adults who have been in the country for at least 10 years and have impeccably clean records. About three quarters of the so-called "dreamers" have U.S. citizen family members, and one quarter have U.S. citizen children.

DACA is an executive action taken by President Barack Obama in 2012 after decades of failure in Congress to enact any kind of immigration reform. There is broad agreement across party lines that people who were brought to the United States as children by their parents did not make a choice to come here, and therefore should be allowed to stay in the country that they call home. Leaders of both parties, as well as business leaders, faith leaders, and the majority of Americans polled about it, support DACA and have urged President Donald Trump to keep it in place.

>> U.S. Jewish groups blast Trump's decision to scrap 'Dreamers' program as 'cruel, unnecessary'

■ Analysis: Trump's Cruel and Unusual Punishment of Unsullied Dreamers

Like generations of immigrants before, including millions of Jewish parents and grandparents, the parents of these kids have made enormous sacrifices, not for themselves, but in the hope that their children would have a chance at a real future.

These kids are American in all but paperwork, and they are now living in fear. In just a few months, they may not be able to legally work, and will face arrest, jail and deportation. These are kids who have gone to school, made friends, joined teams, grew up, enlisted in the military, went to college, went to work, volunteered and lived normal, American lives. This moment should feel scary, disturbing and eerily familiar to all Jewish Americans.

Ending DACA serves no legitimate policy purpose and in fact, will hurt the U.S. economy. Particularly as we work to recover from Hurricane Harvey, where many DACA recipients are actively taking part in rescue and rebuilding efforts, the cruelty of this decision is in plain view.

Ending DACA will also make us less safe. As losing legal status causes people to recede into the shadows, they will be afraid to call and cooperate with the police. More parents will be afraid to take their kids to school and to church, to the park and to the doctor. More kids will live in fear of the knock on the door that will take their parents away.

HIAS is the global Jewish organization that protects refugees. We stand for a world in which refugees find welcome, safety and freedom. Guided by our Jewish values and history, we bring more than 135 years of expertise to our work with refugees. But our work is just one piece of the larger culture of equality and welcome we strive to create together with our supporters in the American Jewish community. Threats to the DACA program are not only threats to immigrants, but to justice, fairness and the longstanding values of our country.

This country's history of accepting refugees and immigrants has offered generations of Jewish Americans the opportunity to recognize our full human potential and become part of the fabric of America. While there are disturbing elements that would deny this, and their voices are louder now, it is still true. It would be a stunning reversal and betrayal of our history to deny this opportunity to others who have already contributed so much.

The president appears unmoved by arguments of compassion, humanity, national interest or common sense. Now is the time for American Jews to take a stand and take action through elected officials in Congress. We can call Congress and insist that our representatives immediately pass a law that will allow these kids and young adults to stay here legally and permanently. This law must include no conditions or trade-offs, or in any way punish other immigrants.

We must restore basic fairness and morality to the way we treat immigrants in this country, and there is no better place to start than with these young Americans.

Melanie Nezer, Haaretz Contributor, is senior vice president of public affairs for HIAS, the global Jewish nonprofit that protects refugees

Darwin Digest: North, East and West Africa. ..."We" was Not Kangs.
Theresa May confirms white man attacked Muslims leaving mosque after Ramadan prayers

Security at mosques across the UK will be reviewed in the wake of the Finsbury Park terror attack, the Prime Minister has said. More follows…

Independent, 19 June, 2017 - Here is Theresa May's statement in full:

"This morning, our country woke to news of another terrorist attack on the streets of our capital city: the second this month and every bit as sickening as those which have come before.

"It was an attack that once again targeted the ordinary and the innocent going about their daily lives – this time British Muslims as they left a Mosque having broken their fast and prayed together at this sacred time of year.

"Today we come together - as we have done before – to condemn this act and to state once again that hatred and evil of this kind will never succeed.

"The Government's Emergency Committee, COBRA, has just met and I can set out what we know about what happened, and the steps that we are taking to respond.

"Just after twenty-past midnight, the Metropolitan Police received reports that a van had been driven into a crowd of people on Seven Sisters Road in Finsbury Park.

"Officers were in the immediate vicinity as the attack unfolded and responded within one minute.

"Police declared it a terrorist incident within eight minutes.

"One man was pronounced dead at the scene; eight injured were taken to three separate hospitals; while two were treated at the scene for more minor injuries.

"The driver of the van - a white man aged 48 - was bravely detained by members of the public at the scene and then arrested by police.

"The early assessment by the police is that the attacker acted alone.

"Our thoughts and prayers this morning are with the family and friends of the man who died and those who were injured.

"On behalf of the people of London – and the whole country – I want to thank the police and the emergency services once again for responding as they always do with great professionalism and courage.

"Extra police resources have already been deployed to reassure communities, and the police will continue to assess the security needs of Mosques and provide any additional resources needed, especially during this final week before Eid Al-Fitr, a particularly important time for the whole Muslim community.

"This was an attack on Muslims near their place of worship. And like all terrorism, in whatever form, it shares the same fundamental goal.

"It seeks to drive us apart; and to break the precious bonds of solidarity and citizenship that we share in this country.

"We will not let this happen.

"When I stood here for the first time as Prime Minister last Summer I spoke about our precious belief in the Union – not just the bond between the four nations of the United Kingdom – but the bond between all our citizens, every one of us, whoever we are and wherever we are from.

"At the heart of that bond is a belief in the fundamental freedoms and liberties that we all cherish; the freedom of speech; the freedom to live how we choose and yes, the freedom to practice religion in peace.

"This morning we have seen a sickening attempt to destroy those freedoms; and to break those bonds of citizenship that define our United Kingdom.

"It is a reminder that terrorism, extremism and hatred take many forms; and our determination to tackle them must be the same whoever is responsible.

"As I said here two weeks ago, there has been far too much tolerance of extremism in our country over many years – and that means extremism of any kind, including Islamophobia.

"That is why this Government will act to stamp out extremist and hateful ideology – both across society and on the internet, so it is denied a safe space to grow.

"It is why we will be reviewing our Counter-Terrorism strategy and ensuring that police and security services have the powers they need.

"And it is why we will establish a new Commission for Countering Extremism as a statutory body to help fight hatred and extremism in the same way as we have fought racism – because this extremism is every bit as insidious and destructive to our values and our way of life and we will stop at nothing to defeat it.

"Today's attack falls at a difficult time in the life of this city, following on from the attack on London Bridge two weeks ago – and of course the unimaginable tragedy of Grenfell Tower last week, on which I will chair another meeting of Ministers and officials later today.

"But what we have seen throughout – whether in the heroism of the ordinary citizens who fought off the attackers at London Bridge; the unbreakable resolve of the residents in Kensington; or this morning the spirit of the community that apprehended this attacker – is that this is an extraordinary city of extraordinary people.

"It is home to a multitude of communities that together make London one of the greatest cities on earth.

"Diverse, welcoming, vibrant, compassionate, confident and determined never to give in to hate.

"These are the values that define this city.

"These are the values that define this country.

"These are the values that this government will uphold.

"These are the values that will prevail."
Symbolically enough, assumes Enoch Powell's Wolverhampton seat.

Diversity Macht Frei, "Blacks celebrate white genocide: Negress elected to Enoch Powell's old seat."

10 June 2017:

LONGSTANDING LABOUR activist Eleanor Smith has made history by becoming the West Midlands' first African Caribbean MP – but she's also won a seat which is of enormous historic importance to the black community.

The swing seat of Wolverhampton South West was once the constituency of controversial Tory MP Enoch Powell, the politician behind the notorious Rivers of Blood speech which he gave 49 years ago warning of the consequences of unchecked immigration.

Smith, a hospital theatre nurse, who became the first-ever black woman president of Unison in 2011/2012 took the marginal seat by storm, scooping 49 per cent of the vote and beating Tory hopeful Paul Uppal by more than 2,000 votes.

In victory, after just two hours' sleep, she was quick to pay tribute to the local people who voted for her, saying: "Our team was built from the community and the trade union movement – Unison – helped me greatly. The trade union movement put me where I am today, along with the community who came out and helped me win this seat.

"Through The Voice I'd like to personally thank everyone who voted for me in what turned out to be the highest ever turnout of 71 percent. We did it together as a community from the grassroots upwards and I certainly won't let you down.

"We have a wonderfully diverse community here in Wolverhampton, which is a microcosm of the UK and rich in so many different faith groups.

"As a health professional, I am standing up to defend the NHS. From my own experience of being a nurse on the the front line – I was working until only recently doing 12-hour shifts – we can see what's happening and we don't like it. I have got to defend this."

Her other pledge is to move from her home in Northfield, Birmingham, near to where she worked at Birmingham's Women's Hospital, to live in the constituency she will serve.

She told The Voice: "You cannot support your constituency if you don't know what is going on there. I intend to have my finger on the pulse in my own patch."

Smith also pledged to tackle homelessness in Wolverhampton and youth unemployment which currently stands at 27%.

On the issue of taking over Enoch Powell's old seat, she told The Voice: "I feel it closes that chapter now for good."

Powell's full "Rivers of Blood" speech, not read by Powell himself, however.
New Observer, " Germany Spent €20 Billion on Invasion in 2016", 24 May 2017:

The German government in 2016 provided €9.3 billion euros ($10.4 billion) to its sixteen states for assisting nonwhite invaders pretending to be refugees and a further €11 billion euros on welfare handouts in Third World countries in failed efforts to halt the flow.

The figures are from a federal government report approved and published by Chancellor Merkel's cabinet on Wednesday.

A total of €5.5 billion was spent on invaders who were seeking asylum and were not yet recognized by the state. The funds spent within Germany also went towards an "integration package" that cost €2 billion, while €400 million was spent on shelter for "asylum seekers" and €350 million on "unaccompanied minors."

The state of North Rhine-Westphalia received the most funding (€1.2 billion), followed by Bavaria (€860 million) and Baden-Württemberg (€728 million)

The Federal Ministry of Finance announced that €11 billion were spent directly on "additional measures to fight the causes of forced migration and displacement."

These measures include welfare and handouts in African states, none of which has made the slightest impact on halting the sub-Saharan invasion of Europe.

In fact, if anything, it has speeded up the invasion, as the Africans see for themselves that the Europeans apparently have an endless flow of cash they can throw about—and white-provided cell phone technology allows them to tell their families back home how well they are living once in Europe.
While stories like this have been pushed under the rug, for that we have to thank those who've pushed and those who have accepted a definition of the "left" as liberal internationalism opposed to unionized defense of natives - especially of the working class. The Sikh community warned would-be coalitions about Muslim grooming but there was no White Left to hear them and take them up in coalition-building. However, now that the Jewish controlled Right points out these stories in compassion to Whites, it's ok to pay attention to them.
The actress stars in a gripping new drama about the Rochdale abuse scandal Credit: Jeff Gilbert

DT, "Lesley Sharp: 'What happened to the girls in Rochdale is never far from my mind", 15 May 2017:

Lesley Sharp still remembers how she felt when she read about the widespread scandal of teenage girls being sexually abused in Rochdale. "I felt desperately sad, because it's a real shock in the 21st century, where we're fortunate to live in amazing country like the UK, that there are areas where young women feel so desperate about what their future should be," says the 57-year-old actress quietly.

47 children are thought to have been groomed and sexually exploited by men in Rochdale between 2005 to 2008 and ignored by authorities. "I remember finding that shocking," says Sharp. "I was just perplexed and horrified by the idea that these girls had initially been treated as somehow deserving of what had been meted out to them. I don't think just because this case came to the fore that this situation has gone away. I think it's still out there."

Sharp's passion about ending child sexual exploitation in the UK is ongoing - she has been a Barnados ambassador for several years - but it is also reflected in her latest role. Anonymising the victims, BBC One's drama, Three Girls, depicts the real-life abuse of teenage girls in Rochdale. Sharp plays Detective Constable Margaret Oliver, the police officer who was so appalled by the way the force handled the girls' cases that she eventually resigned.
ItaliAnthro, "Mediterranean Sea as Genetic Barrier", 16 June 2014: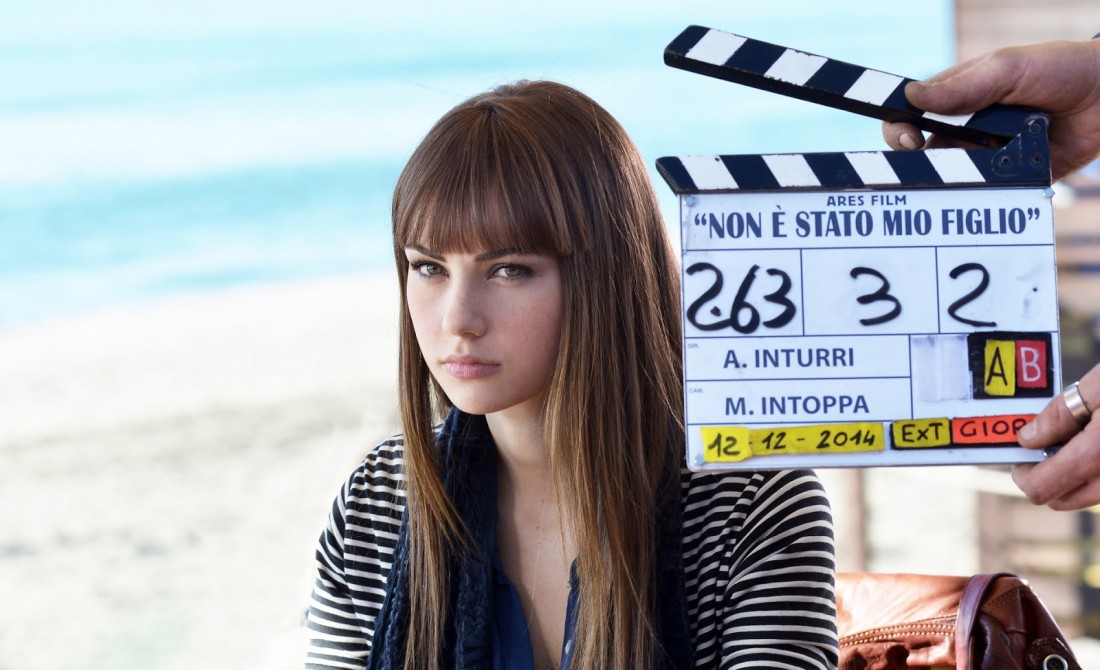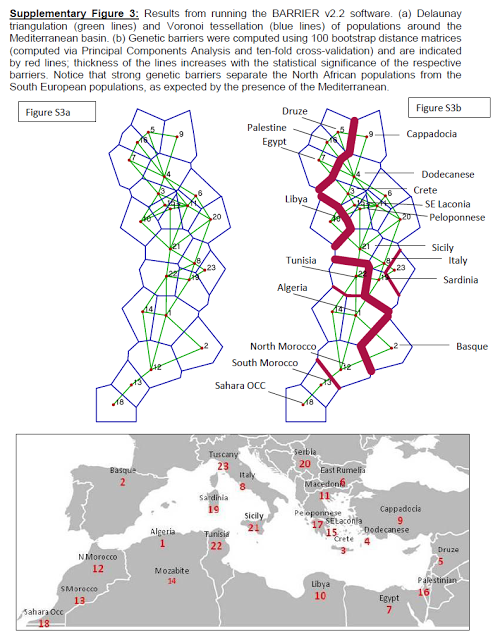 This new study confirms that the Mediterranean Sea has acted as a strong barrier to gene flow through geographic isolation following initial settlements. Samples from (Northern) Italy, Tuscany, Sicily and Sardinia are closest to other Southern Europeans from Iberia, the Balkans and Greece, who are in turn closest to the Neolithic migrants that spread farming throughout Europe, represented here by the Cappadocian sample from Anatolia. But there hasn't been any significant admixture from the Middle East or North Africa into Southern Europe since then.

Genes Mirror Geography Across the Mediterranean Basin

We first used principal components analysis (PCA) to visualize the genotypic distances between studied populations. Populations on the southern and northern coasts of the Mediterranean appear to be separated by the geographic barrier of the Mediterranean Sea. The role of the Mediterranean Sea as a barrier for gene flow among populations was also supported by our analysis using the BARRIER software, which implements Monmonier's maximum difference algorithm. In accordance with this finding…the PCA distribution of the populations closely resembles the geographic map of the countries circling the Mediterranean Sea. On this PCA "map" of populations, the east coast of the Mediterranean Sea is appropriately occupied by the Palestinians and the Lebanese Druze. Yemenites and Bedouins branch out from the Mediterranean populations and are closer to the populations of the Near East.

[...]

Seljuk Turks settled in Anatolia in the 12th century AD; however, the Anatolian Cappadocians we included in this study belong to the population that have kept the religion and the language of the pre-Seljuk Cappadocians and, therefore, most likely carry the genetic makeup of the ancient Anatolians. The only important gene flows from Near East to Europe must have occurred in prehistoric times and, as genetic evidence suggests, the most prominent migrations should have occurred during the Neolithic.

[...]

Although the Southeastern Mediterranean islands seem to have acted as a bridge from Anatolia to Southern Europe, the relatively small degree of gene flow between the African and the European coasts shows that the Mediterranean Sea also had a barrier function as also suggested with studies of mtDNA polymorphisms. Thus, the Mediterranean seems to have facilitated the migrations of Neolithic farmers along its Southern European coast but it mostly acted as an isolating factor between its European and African coasts.

Adua del Vesco is from Messina, Sicily