Majorityrights News > Category: Human Ecology
While stories like this have been pushed under the rug, for that we have to thank those who've pushed and those who have accepted a definition of the "left" as liberal internationalism opposed to unionized defense of natives - especially of the working class. The Sikh community warned would-be coalitions about Muslim grooming but there was no White Left to hear them and take them up in coalition-building. However, now that the Jewish controlled Right points out these stories in compassion to Whites, it's ok to pay attention to them.
The actress stars in a gripping new drama about the Rochdale abuse scandal Credit: Jeff Gilbert

DT, "Lesley Sharp: 'What happened to the girls in Rochdale is never far from my mind", 15 May 2017:

Lesley Sharp still remembers how she felt when she read about the widespread scandal of teenage girls being sexually abused in Rochdale. "I felt desperately sad, because it's a real shock in the 21st century, where we're fortunate to live in amazing country like the UK, that there are areas where young women feel so desperate about what their future should be," says the 57-year-old actress quietly.

47 children are thought to have been groomed and sexually exploited by men in Rochdale between 2005 to 2008 and ignored by authorities. "I remember finding that shocking," says Sharp. "I was just perplexed and horrified by the idea that these girls had initially been treated as somehow deserving of what had been meted out to them. I don't think just because this case came to the fore that this situation has gone away. I think it's still out there."

Sharp's passion about ending child sexual exploitation in the UK is ongoing - she has been a Barnados ambassador for several years - but it is also reflected in her latest role. Anonymising the victims, BBC One's drama, Three Girls, depicts the real-life abuse of teenage girls in Rochdale. Sharp plays Detective Constable Margaret Oliver, the police officer who was so appalled by the way the force handled the girls' cases that she eventually resigned.
ItaliAnthro, "Mediterranean Sea as Genetic Barrier", 16 June 2014: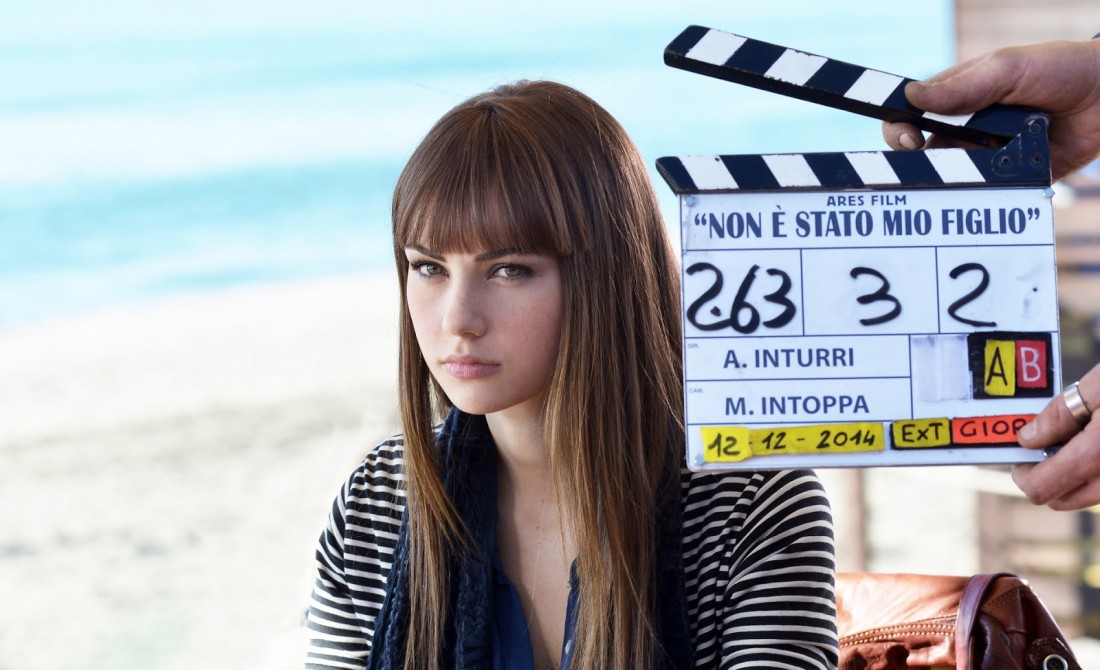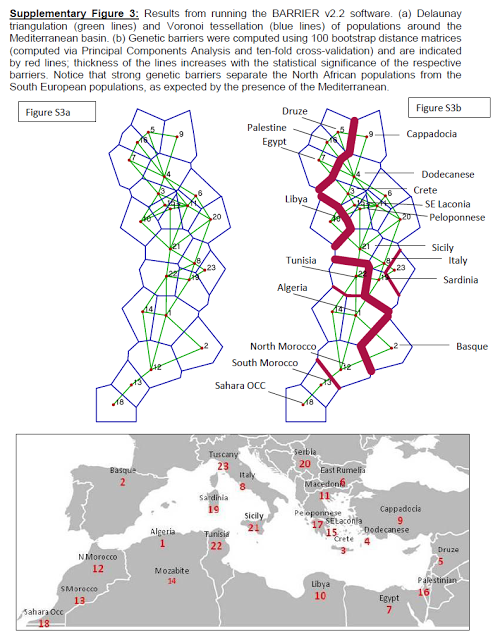 This new study confirms that the Mediterranean Sea has acted as a strong barrier to gene flow through geographic isolation following initial settlements. Samples from (Northern) Italy, Tuscany, Sicily and Sardinia are closest to other Southern Europeans from Iberia, the Balkans and Greece, who are in turn closest to the Neolithic migrants that spread farming throughout Europe, represented here by the Cappadocian sample from Anatolia. But there hasn't been any significant admixture from the Middle East or North Africa into Southern Europe since then.

Genes Mirror Geography Across the Mediterranean Basin

We first used principal components analysis (PCA) to visualize the genotypic distances between studied populations. Populations on the southern and northern coasts of the Mediterranean appear to be separated by the geographic barrier of the Mediterranean Sea. The role of the Mediterranean Sea as a barrier for gene flow among populations was also supported by our analysis using the BARRIER software, which implements Monmonier's maximum difference algorithm. In accordance with this finding…the PCA distribution of the populations closely resembles the geographic map of the countries circling the Mediterranean Sea. On this PCA "map" of populations, the east coast of the Mediterranean Sea is appropriately occupied by the Palestinians and the Lebanese Druze. Yemenites and Bedouins branch out from the Mediterranean populations and are closer to the populations of the Near East.

[...]

Seljuk Turks settled in Anatolia in the 12th century AD; however, the Anatolian Cappadocians we included in this study belong to the population that have kept the religion and the language of the pre-Seljuk Cappadocians and, therefore, most likely carry the genetic makeup of the ancient Anatolians. The only important gene flows from Near East to Europe must have occurred in prehistoric times and, as genetic evidence suggests, the most prominent migrations should have occurred during the Neolithic.

[...]

Although the Southeastern Mediterranean islands seem to have acted as a bridge from Anatolia to Southern Europe, the relatively small degree of gene flow between the African and the European coasts shows that the Mediterranean Sea also had a barrier function as also suggested with studies of mtDNA polymorphisms. Thus, the Mediterranean seems to have facilitated the migrations of Neolithic farmers along its Southern European coast but it mostly acted as an isolating factor between its European and African coasts.

Adua del Vesco is from Messina, Sicily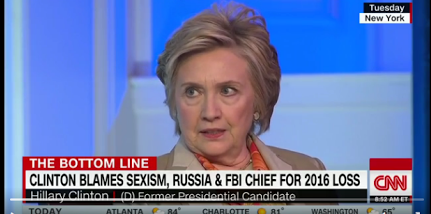 We should be more eager to suspect Jewish deep state insiders who wanted Trump to win.
'It takes a lot of work to lose to Donald Trump.'
Indeed, and that is why it looks like she may have gotten some "gentle encouragement" (read, subtle bum steer - part of a lot of work from (((insiders)))) to not bother addressing typical White Americans - she would have won if she could have been at all bothered to treat them like normal human beings with legitimate concerns; rather than placing herself exclusively on the side and among an entourage of blacks, liberal feminists, married gay couples, etc. - anything to be in-the-face of Whites about the new, "tolerant", America; i.e., basically anything to represent a cartoon of the political correctness that is totally intolerant of, and eager to ignore the concerns of White Americans; demonstrating more of the same, not giving a fig about them, as they've experienced for decades.
The Hill, "Axelrod on Clinton: 'It takes a lot of work to lose to Donald Trump", 3 May 2017:

Democratic strategist David Axelrod says Hillary Clinton would be well served to move on from last year's presidential election and stop talking about it.

"It takes a lot of work to lose to Donald Trump," Axelrod told CNN on Wednesday. "Let me tell you, he was the least popular presidential candidate to win in the history of polling."

Clinton on Tuesday said she takes responsibility for her 2016 presidential election loss, but added she would have won if not for FBI Director James Comey, Russian hackers and WikiLeaks.

"If the election had been on Oct. 27, I would be your president," she told CNN at a Women for Women event in New York on Tuesday, referencing Comey's letter informing Congress that the FBI had discovered new emails that appeared pertinent to an investigation into Clinton's handling of classified material.

"It wasn't a perfect campaign - there is no such thing - but I was on the way to winning until a combination of Jim Comey's letter on Oct. 28 and Russian WikiLeaks raised doubts in the minds of people who were inclined to vote for me and got scared off."

Axelrod called the 2016 race a "miserable slog" and said nobody in America wants to relive it "except the combatants who keep going back to it."

"She has a legitimate beef because Comey's letter was instrumental I think in her defeat, so in a narrow sense she is right about it," Axelrod said.

"But Jim Comey didn't tell her not to campaign in Wisconsin after the convention. Jim Comey didn't say don't put any resources into Michigan until the final week of the campaign," he continued.

"And one of the things that hindered her in the campaign was a sense that she never fully was willing to take responsibility for her mistakes, particularly that server."

Axelrod then offered a piece of advice for Clinton.

"If I were her, if I were advising her, I would say, 'Don't do this. Don't go back and appear as if you're shifting responsibility.' ... She said the words 'I'm responsible,' but the — everything else suggested that she doesn't really feel that way," he said.

"And I don't think that helps her in the long run, so if I were her I would move on."

Axelrod was chief strategist for both of Barack Obama's presidential campaigns and worked in the Obama White House as a senior adviser.
...he gets the wrong answer, of course. Garbage in means garbage out:
Emile Bruneau recently invited Muslim students and staff at the University of Pennsylvania to help him figure out one of the most pressing questions of our time: How can we stop despising each other?
Bruneau wanted to know more about what kind of arguments effectively combat common prejudices: that Muslims are terrorists, that they don't want to assimilate, that they are intolerant and hate American freedom. Liberals often believe that Muslim women are oppressed. He enlisted members of the Muslim Students Association to look for videos they thought might prove persuasive. He thought firsthand experience with discrimination might be helpful. (He's also working with former white nationalists.) He was looking, he told them, for "individualized psychological medicine."
What worked best was a "very cerebral" video from Al Jazeera in which a Muslim woman said blaming all Muslims for terrorism was like blaming all Christians for the actions of Westboro Baptist Church or the KKK.
The question to ask is not, "how can we bridge our divides and induce Abrahamic religions and peoples to accept one another?"
It is rather to ask, "how can we disabuse people of Abrahamic religion and its universal imperialism in order to defend ethno-nationalism and human ecology against it; and failing completion of that task, contain its extant effects on people; keep our sane interests from being affected by its intransigent elements and lingering influences?"
Communicology is a fascinating and eminently useful discipline that we will be applying here at MR - correctly, unlike this effort from the Annenberg school. Nevertheless, there are some interesting take-away propositions here - notably, that Americans are low information decision makers, therefore equipping them with particularly helpful analogies for them to rationalize their coming to a position we like for them (in our case, we would want them to come to a natural and healthy ethnonationalist position for them and their people) is liable to work better than emotional appeals, despite a commonly ascribed-to school of thought which holds emotions to be the effective means to that end.
Philly.com, "Penn professor uses science to bridge the political divide", 2 April 2017:


Emile Bruneau studies conflict between groups and how to combat prejudice at the University of Pennsylvania's Annenberg School of Communication.

Emile Bruneau recently invited Muslim students and staff at the University of Pennsylvania to help him figure out one of the most pressing questions of our time: How can we stop despising each other?

Muslims and Christians may have been the groups he had in mind that day, but Bruneau, a child of California hippies who took an unusual route to Penn's Annenberg School for Communication, ultimately has broader goals in mind. What if there is a psychological key that could defuse the animosity between hate-filled groups around the globe? That includes U.S. Republicans and Democrats, who, his research has found, are almost as alienated from one another as Palestinians and Israelis. The only difference, he said, "is that we're not actually killing each other."

Most of us think the antidote to hate and close-mindedness is emotional. But, so far, Bruneau's research shows that the way to the mind is not necessarily through the heart. In fact, he believes, the way to the heart is through the mind.

Bruneau wanted to know more about what kind of arguments effectively combat common prejudices: that Muslims are terrorists, that they don't want to assimilate, that they are intolerant and hate American freedom. Liberals often believe that Muslim women are oppressed. He enlisted members of the Muslim Students Association to look for videos they thought might prove persuasive. He thought firsthand experience with discrimination might be helpful. (He's also working with former white nationalists.) He was looking, he told them, for "individualized psychological medicine."
Backgrounding & Taken For Granted - Resistance is Futile. Add from Det Nya Landet - translation "Big Mulatto Brother"?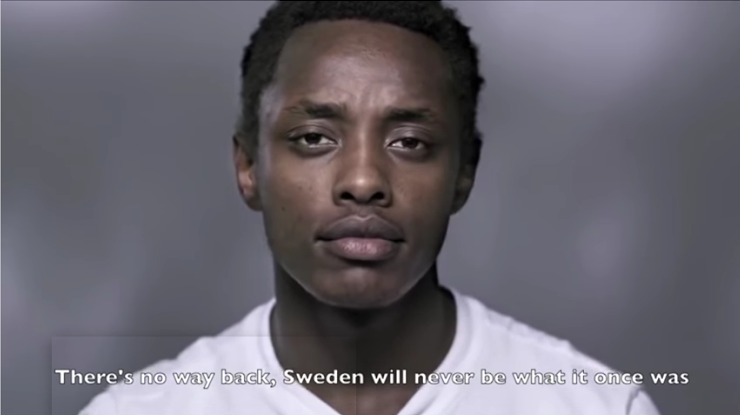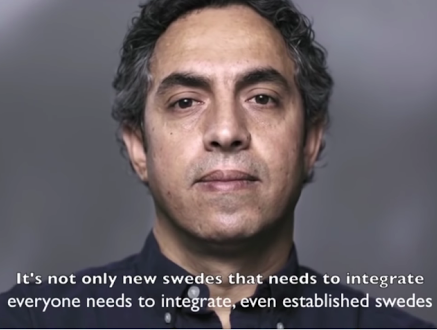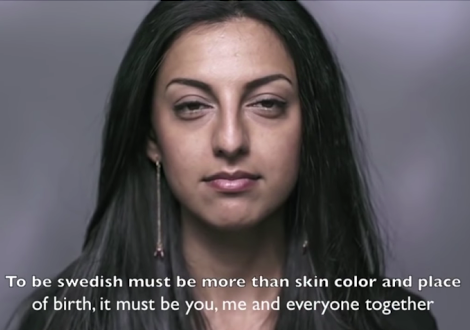 Below is another marketing campaign advert suggesting that "resistance is futile" - this one coming from the EU is a bit more subtle: It is an EU add run in Poland, and it is as if to suggest that blacks are to be taken for granted as a significant component of European history. However, in this instance, the "resistance is futile" message is not spoken, it is in the background - two blacks comfortably sit in the background of the same restaurant scene and a mulatto girl is fore-fronted; thus, backgrounding and taking for granted the interracial relationship of her parents.
The EU is backgrounding the racial integration of blacks, presenting to naive audiences (naive as to the bio-power of an invasive species) or audiences perhaps aware, but not in a position to voice objections (literally the case when these images are whisked-by semi-subliminally), that the place of blacks among them is something to be taken for granted. Resistance is futile, nobody will agree with your objection, it is taken for granted already.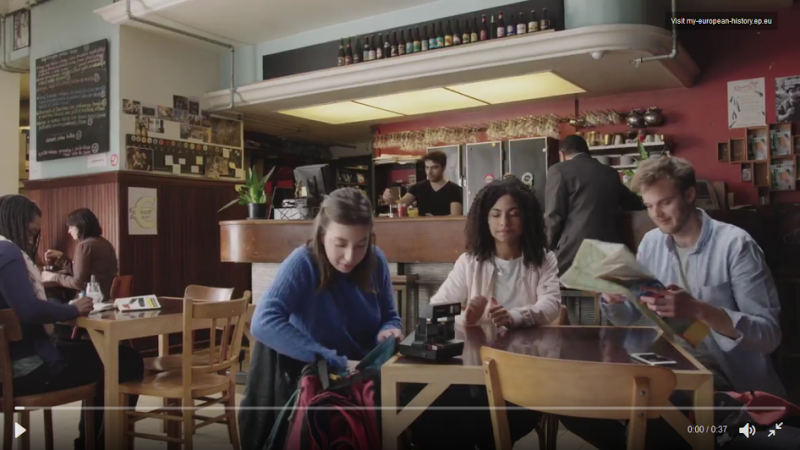 This is a screen shot from a quick add distributed by The European Union and shown in Poland to promote The EU's "My European History" program. Of seven people in the add, 3 are black. Of the blacks, a mulatto girl is centrally featured in the add, while the other two blacks are placed in the background, taking for granted their place in Europe and its history. The girl's mulattoness is also a form of backgrounding and taking for granted.
The add came by way of Twitter:
Parlament EuropejskiVerified account @Europarl_PL

My House of European History to kolekcja opowieści o Europie. Zgłoś swoją → https://my-european-history.ep.eu/?locale=pl ! RT i udostępnij!

#StoriesofEurope
Allow all white South Africans the right to return to Europe

The idea that white South Africans have the right to return to Europe is based in the concept of indigenous rights and self determination.

The white South African population currently faces ethnic cleansing and persecutions at the hands of the ANC government, the EFF, and various individual anti-white aggressors. Over 4000 white farmers have been brutally murdered, often including torture and rape and mutilation. Many white South Africans today live in poverty and squalor as a consequence of the ANC government's Black Economic Empowerment policy which shuts whites out of the labour pool.

Based on the Israeli government's policy of allowing all Jews the right to return to Israel, we believe it is not only advisable but morally obligatory that Europe should allow all white South Africans the right to return.

As it currently stands, many white South Africans who try to apply for citizenship to European countries such as the Netherlands and UK are rejected. Many of these white South Africans seeking citizenship are direct descendants of the very same European nations that reject them.

Obviously certain details of this policy are subject to deliberation. For instance, whether the white South Africans would have the right to return to any European nation of their choosing, or if they would specifically have the right to return to whatever nation the majority of their ancestry is from (which in most cases would be the Netherlands or UK).

Also this would extend to whites in Zimbabwe and Namibia, given that they face a similar situation. But white South Africans are the largest population group of whites in southern Africa by far, so that is why the name of this petition references them specifically.

Sign this petition
55,854 supporters
19,146 needed to reach 75,000
Lara Gravenor signed this petition -

Please help us by signing our petition for White South Africans to return to Europe.

I just signed the petition "European Commission: Allow all white South Africans the right to return to Europe" and wanted to see if you could help by adding your name.

Our goal is to reach 75,000 signatures and we need more support. You can read more and sign the petition here:

Thanks!
Lara

This petition will be delivered to:

Council of the European Union
Rodrigo Herhaus de Campos of Joinville, Brazil, started this petition with a single signature, and now has 55,854 supporters.
Updates:
Success! The mainstream media is already talking about us:

Express: White South Africans 'fearing for their lives' ask EU for right to 'return'
Petition to establish reservation areas for the indigenous peoples of Europe
Breitbart, "Pro-Life Leaders on Judge Gorsuch's Nomination
- Donald Trump 'A Man of His Word", 31 Jan 2017:

National pro-life leaders are applauding President Donald Trump's Supreme Court pick, Judge Neil Gorsuch of the Tenth Circuit, to take the seat of the late Justice Antonin Scalia.

"We want to express our thanks to President Trump for nominating a man of such stellar quality as Neil Gorsuch to the Supreme Court," said Operation Rescue president Troy Newman. "One of the reasons I endorsed Trump for president was because of the strong promises he made to pro-life leaders. Now, after less than two weeks in office, he is keeping those promises, and we are very encouraged. He has proved himself to be a man of his word."

"The nomination of Judge Neil Gorsuch to the United States Supreme Court is a tremendous victory for religious freedom and, indeed, for the entire nation," said Father Frank Pavone, national director of Priests for Life. "His reasoned opinions in decisions upholding the rights of groups who — like Priests for Life — have challenged the Obama administration's HHS mandate show that he respects the rights of Americans of all beliefs. His statements in favor of upholding the Constitution are totally in line with those of the late Justice Antonin Scalia. President Trump has made an excellent choice."

Regarding the nomination of Gorsuch, Leonard A. Leo, Trump's Supreme Court Advisor, said the announcement fulfilled the promise the president made to the American people.

"Judge Gorsuch possesses keen intellect, independence of judgment, integrity, courage, and a sense of fairness that is grounded in the Constitution and laws as they are written," Leo said in a statement. "This is what the President very much wanted in a nominee."

"Under our Constitution, power ultimately rests with the people," he added. "This ideal is at the core of Justice Scalia's legacy. As we heard from President Trump's inauguration speech, it is at the core of the President's agenda, and it's very much at the core of what Neil Gorsuch's record is as a jurist."

Rep. Diane Black (R-TN), a member of the Congressional Pro-Life Caucus, reacted to Gorsuch's nomination in a statement:

I applaud President Trump for nominating a fair-minded Constitutionalist like Judge Gorsuch to serve on our highest court. With this selection, President Trump has chosen a respected jurist who will uphold both the spirit and the letter of our law. I am especially encouraged by Judge Gorsuch's opinions in the cases of Hobby Lobby vs. Sebelius and Little Sisters of the Poor vs. Burwell, which display a clear respect for religious freedom that has been missing in too many corners of Washington over the last eight years. He is uniquely qualified for this role, having already been confirmed without opposition to the Tenth Circuit Court of Appeals by the US Senate in 2006, and I know that he will be a worthy successor to the esteemed legacy of Justice Antonin Scalia.

Family Research Council president Tony Perkins attended the White House announcement. He said in a statement:

I was pleased to witness President Trump follow through on his promise and select a nominee from the list he presented during the campaign. The president has been very clear on the type of justices that he would appoint: textualists who will not issue rulings based on the shadows of the Constitution.

Judge Gorsuch's record over the last 14 years, especially on religious liberty, gives Americans every reason to believe he will make a fine Supreme Court justice. His reputation as a judge with integrity and dedication to the Constitution should be an encouragement to all Americans.

Kristan Hawkins, president of Students for Life of America, the nation's largest pro-life youth organization, said:

We are thrilled with Judge Neil Gorsuch's nomination to the US Supreme Court by President Trump, who is continuing to fulfill campaign promises at a breakneck speed. A strict Constitutionalist and firm supporter of religious freedom and liberties dictated by the Founding Fathers, Judge Gorsuch is an excellent replacement for the late Justice Scalia, and one who has the potential to leave a powerful legacy.

The Supreme Court was of great concern to voters this past November and the Senate should take swift action to confirm Judge Gorsuch to the high Court to ensure a full slate of Justices. The Senate unanimously confirmed Judge Gorsuch to the 10th US Circuit of Appeals and they should follow their previous example. We aren't tired of winning yet.
Related Stories:
Rep. Steve King Files Idiotic Federal Pro-Life 'Heartbeat Bill'.
Poland's PiS Party Endorses Draconian Anti-Abortion Law
US Supreme Court: 9 very powerful & influential people - which ones (((are)))?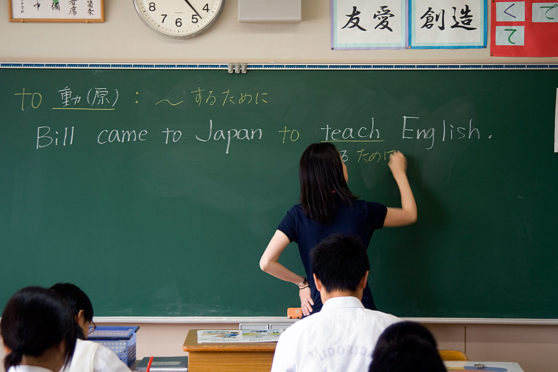 A couple of weeks ago (((Steve Sailer))) hypothesized in the Taki's Magazine article, "Choose Your Words Wisely" (4 Jan 2017), that right-wing populist nationalism was taking off in western countries NOT because of, say, any nefarious orchestration by Russian Jews, but rather perhaps because western elites, in their white, self destructive, integrationist madness all share the same lingua franca - English - and are therefore more easily seduced into eachother's madness.
One reason it's happening over much of the planet is because the various establishment elites have become so homogenous in their ideology, unconsciously egging each other on into more extremism. For example, after the normally cautious Angela Merkel made her historic refugee blunder in 2015, Hillary Clinton repeatedly endorsed Merkel's foolhardiness, even as the German leader herself came to regret her imprudence.

But the corporate press has been no more aware of its own drift toward anti-border fanaticism than a fish notices it's wet. Thus, the American establishment's increasingly comic conspiracy theory blaming its political failings on a nefarious Kremlin plot. After all, what else could explain why voters did not respond appropriately to the media's furious instructions to elect Hillary besides Muscovite mind-control rays?

A sensible exception has been Fareed Zakaria, who pointed out last month:

The one common factor present everywhere, however, is immigration. In fact, one statistical analysis of EU countries found that more immigrants invariably means more populists. One way to test this theory is to note that countries without large-scale immigration, such as Japan, have not seen the same rise of right-wing populism.

That raises the question of why Japan's ruling class didn't feel the necessity of going down the same mass-immigration path as did so many other advanced countries: Why is Japan such an exception?

"The coming global monoculture of English could be highly productive…until it's not."

One reason is that Japan isn't a white country, so it's immune to white guilt. Sure, the Japanese abused other East Asians 1931– 45, but that was in the name of organizing against white colonialism. So hassling Japan isn't a high priority like it is for Germany.

Another reason is that Japan is linguistically quite isolated from the growing worldwide dominance of the English language.

If elites unthinkingly think alike, one reason could be because they increasingly share a language: English. Across much of the world, English is becoming the lingua franca. ...