Majorityrights News > Category: The White Left
"We must secure the existence of our people and a future for White children."

TRI-COLORED TREASON - by David Lane

Afflict me no more with your hypocrisy. If you insist on worshiping your executioner, then depart from me, for it is treason against the White race, against nature, against civilization, and against the Gods.

I have come under attack for articles I have written entitled The Right Wing, Cowards, Liars, Screwballs and David Lane on Religion. Also for naming one of the pro-american, anti-communists who profess to care about the continued existence of the White race. I come now to apologize for naming the specific individual and to admit my error. I will now indict them all.

You tell me you are anti-communist and you care about your White kinfolk? Well it was America who turned several million White men over to the Soviets to be outright murdered or die a slow death in slave camps in 1945. But you love America; is it delusion, cowardice, or race treason?

You tell me you are anti-communist and you care about the survival of the White race? Well, the Germans would have destroyed Communism and provided a secure base for the existence of our race in our European homeland fifty years ago if America hadn't intervened to save the Soviet Union and destroy our racial saviors. But you love America; is it delusion, cowardice, or race treason?

You tell me you are anti-communist and you care about your fellow White kinfolk? The Soviet enslavement of two hundred million White people would have ended decades ago except for the financial support of America. But you love America; is it delusion, cowardice, or race treason?

You tell me you hate Communism for what it does to White people in the Soviet Union. But Federal judges destroy and terrorize millions of little White children with their forced busing and integration plans, untold thousands of White women are raped by Negroes every year, the White race is now overrun and mixed probably beyond the point of no return, as a policy of the American government, and you love America. Is it delusion, cowardice, or race treason?

You tell me you hate Communism for what it did or what it does to the White people of Rhodesia and South Africa. Well, it was American political and economic pressure that destroyed White Rhodesia and now destroys White South Africa. And you love America; is it delusion, cowardice, or race treason?

It's a lot safer to talk about those mean, nasty old Communists over there, than to tangle with the head of the snake, the seat of jewish world power, the real murderer of the White race, isn't it? You could end up dead like Robert Mathews, or in prison forever like the Brüder Schweigen. But then I guess we all choose our own priorities. For some its political, economic or religious systems, and for some it's the biological existence of the White race, do or die. Get one thing straight all you double thinkers, self deluders, deceivers and dabblers: America is the murderer of the White race, and if we are to have any chance of resurrecting our race while there is still a gene pool to work with then we are going to face reality, discard our delusions, speak of and act on, the single greatest issue of all time, racial survival.

Oh no you say, it isn't America that's the head of the snake, the murderer of our race, it's just that some bad guys grabbed the reins of "our" government a few years or decades ago. I showed you the real history of "your" government, and America's dominant religion and you ignored me. As always happens when dogma is contradicted by fact, the believers react in the same ways. A few investigate the allegations and accept reality. Others pretend the unpleasant facts don't exist, and still others fly into a rage directed at those with the effrontery to check belief with reason. Or perhaps you just believe that "ancient history" is of no importance or effect. So let's discuss present day America.

You are quite correct that the entirety of the entity called America is not necessarily synonymous with the government in power. America is comprised of many interrelated parts and we will consider the most important components that make the whole: (1) Military power; (2) Police power; (3) Economic tenets; (4) Political tenets; (5) Religion; (6) News media; (7) Entertainment media; (8) Sports; (9) Demographics.

When I am through if you are still able to say the words "White American" then leave the company of sane men, for you can no more be both White and American than you can stop the motion of the planets. If you are not an implacable enemy of America, and all it has been and all it is, you are a traitor to the existence of our race. And if you support the aims or continued existence of the political entity known as America then your treason cannot be calculated in the words of mortals.
American tech companies are gearing up to protect the thousands of workers they rely on every year who aren't U.S. citizens and don't have green cards.

Silicon Valley has aggressively backed legislation to protect and expand the H-1B program for temporary workers, but President Trump appears to have other ideas. He is reportedly preparing to sign a new immigration-related executive order that includes an effort to overhaul the H-1B visa program, putting in place protectionist rules that would upend the way Silicon Valley recruits talent.

Tech leaders have been warning of a "brain drain" since Election Day — and now there's talk of companies moving employees to Canada.

A leaked draft of the executive order disseminated by Vox featured vague wording, calling for plans to "alter" the H-1B visa program, although experts point out that such changes would require an act of Congress. The draft order also discusses reforming programs that allow foreign students into the U.S. — since they pay full price, they're an important source of tuition dollars for top-flight public universities — before then entering the American workforce.

A spokesperson for the United States Citizenship and Immigration Services, which is part of the Department of Homeland Security, said that USCIS does not comment on pending legislation or executive actions.

Designed as a temporary visa for skilled workers, the H-1B became a way for corporate America to bring in highly skilled foreigners without having to tackle the permanent resident program — i.e., green cards, which are capped by country of origin, a rule that disproportionately affects places like China and India. When the program was introduced in 1990, about 800 H-1Bs were issued. By 2014, that number had grown to more than 160,000.

Both Republicans and Democrats are now pushing for reform of the program, ostensibly in order to protect U.S. workers.

GOP opposition to the H-1B in particular has been mounting for some time, but Republican politicians have generally been wary of either stifling some of America's most successful companies or taking on immigration reform and infuriating the party's anti-immigration base. Not all Republican politicians, however; in 2015, Alabama Sen. Jeff Sessions — Trump's nominee for Attorney General — introduced bipartisan legislation aimed at curtailing the number of visas given out.

A recent bipartisan effort to tackle the issue took the form of a Senate bill introduced by Iowa Republican Chuck Grassley and Illinois Democrat Dick Durbin that aimed to reform the program by creating higher salary floors for H-1B visas and making sure U.S. workers are given first dibs on potential H-1B jobs.

Two of Trump's top advisers who reportedly crafted the refugee ban — ex-Breitbart CEO Steve Bannon and former Sessions adviser Stephen Miller — have also taken aim at Silicon Valley in the past. Earlier in January, Miller is said to have proposed both completely scrapping the lottery system used to award H-1B visas and increasing the minimum salary companies must pay visa holders in order to prevent the undercutting of more expensive American labor. Before Bannon was tapped as Trump's campaign chief, he suggested in a 2015 interview with Trump that "when two-thirds or three-quarters of the CEOs in Silicon Valley are from South Asia or from Asia," it could undermine "civic society."

Silicon Valley says in no uncertain terms that its success is due in part to its meritocratic embrace of anybody from anywhere who has the talent to compete. As Google CEO Sundar Pichai, who emigrated to the U.S. from India, told columnist Walt Mossberg, "In Silicon Valley, being an immigrant doesn't matter. It's the ideas that matter. We are able to build products for everyone because we attract talent from around the world."
​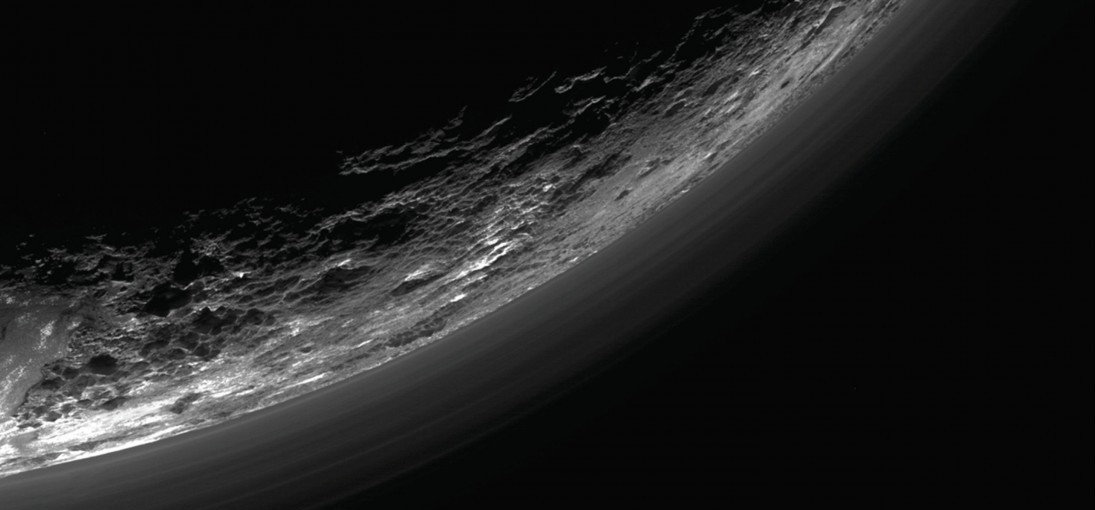 This is the kind of reach a European-Asian Alliance is capable of, even while heavily burdened: imagine what we could accomplish if we were not saddled by the YKW, their Abrahamism (Judaism, Islam and Christianity), complicit right-wing arrogation and liberal irresponsibly - pinning us down with the irresponsible among us, their consequences; as well as in obsequiousness toward, and over-burdened necessity to defend against, African aggression and bio-power, Muslim colonization ("Hijra") and terror.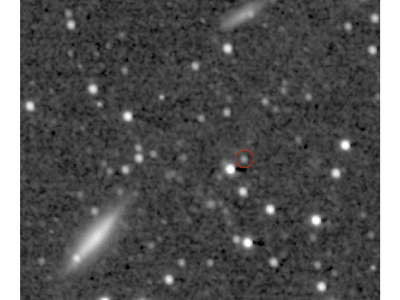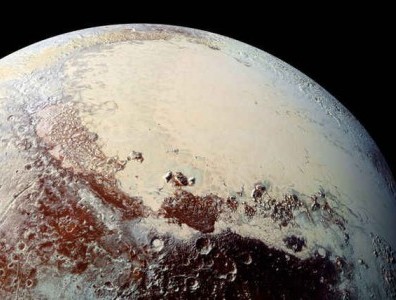 Nasa, New Horizons image gallery.
Iohannis stops accession of Muslim Prime Minister

Visigrad Post, "Romania On The Brink Of A Political Crisis", 28 Dec 2016:

Romania – President Klaus Iohannis rejected the nomination of the country's first ever Muslim – and woman – candidate for Prime Minister, Sevil Shhaideh.

After winning the election early December, the PSD – Social Democrats – had to nominate a candidate for the office of Prime Minister. The president of the PSD, Liviu Dragnea is unable to become Prime Minister as he has been preliminarily refused by President Iohannis as he has been convicted for electoral fraud. Hence, he proposed Sevil Shhaideh, and it was likely he'd run the government through her.

Although President Klaus Iohannis asked the Social Democrats to pick someone else to lead the government, but he did not give any reason for this rejection.

Mr Dragnea has previously suggested he will fight any attempt by the president to block his choice of Prime Minister. "If Iohannis rejects our proposal, I'm not going to make a second one. We'll see each other in some other place," he said.


Sevil Shhaideh - rejected nominee for Romania' first ever Muslim – and woman - Prime Minister

Following the rejection, Mr Dragnea said he could begin the process of seeking to remove Mr Iohannis as president. "It seems the president clearly wants to be suspended," Mr Dragnea said. "We'll weigh our options very carefully, because we don't want to take emotional decisions. We don't want to trigger a political crisis for nothing, but if we come to the conclusion that the president must be suspended, I won't hesitate." As a matter of fact, several political observers claim that the two refusals – the first one, unofficial, of Dragnea, and the second one of Shhaideh – are unconstitutional.

On December 28, Mr Dragnea proposed Sorin Grindeanu as candidate for Prime Minister. President Iohannis is expected to name the Prime Minister on December 29. According to the Romanian constitution, if the candidate is not nominated by the President, the parliament will be dissolved and new elections will be held.
President Iohannis is indeed going along with the nomination of Grindeanu -
Sofia Globe "Romanian president designates Grindeanu new prime minister", 30 Dec 2016:

President Klaus Iohannis has designated veteran leftist Sorin Grindeanu as the new Romanian head of government. Previously, Iohannis refused to endorse a female, Muslim candidate who was criticized for her inexperience.

The 43-year-old Sorin Grindeanu would have 10 days to unveil his cabinet and seek the parliament's vote of confidence after being named by Iohannis on Friday.

The process is expected to go smoothly for the former telecommunications minister after the triumph of his moderate left PSD party in the parliamentary election earlier this month. The PSD won 45 percent of the seats and now holds a firm majority with their junior partners, the ALDE.

Grindeanu is a mathematician who has served as deputy mayor of the western city of Timisoara.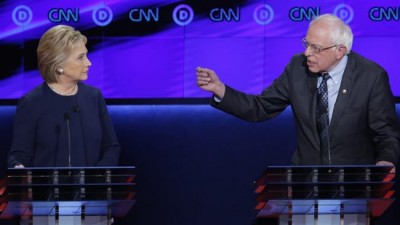 Former Democratic US presidential candidate Hillary Clinton listens as rival and US Senator Bernie Sanders speaks at a presidential primary debate in Flint, Michigan, March 6, 2016. (Photo by Reuters)
That such a lame and Red Leftist candidate as (((Bernie Sanders))) could have been a viable candidate - viz., the issue being raised through one credible poll that he would have beaten Trump handily - goes to show that there could be popular support for a White Left platform. It further indicates that there was a game being played with Hillary-Sanders-Trump to preclude the emergence of the White Left.
"US Senator Bernie Sanders could have defeated Trump: Poll", 13 Nov 2016:

Bernie Sanders would have defeated Donald Trump in the presidential election by a large margin if he had been the Democratic presidential nominee instead of Hillary Clinton, according to a pre-election poll.


Sanders, one of the 2016 Democratic presidential candidates, would have received 56 percent of the vote for the White House, while Trump would have won 44 percent, according to a national survey conducted by Gravis Marketing two days before the November 8 presidential election.

Moreover, independent voters, who made up about 30 percent of American voters this year, favored Sanders over Trump, 55 percent to 45 percent, the poll found.

Clinton, by contrast, lost independent voters to Trump by six percentage points, according to exit polls.

According to the RealClearPolitics average of polls from May 6 to June 5, Sanders was supported by 50 percent of voters, compared to Trump's 39 percent, an 11-point advantage.

During an interview in May, Sanders acknowledged his advantage over Trump: "Right now, in every major poll, national poll and statewide poll done in the last month, six weeks, we are defeating Trump often by big numbers, and always at a larger margin than secretary Clinton is."

Those polls were of course based on a hypothetical scenario, five months from Election Day. However, Sanders' popularity among young and working-class voters might have led to an election victory; voters that Trump ultimately won.

Emails released by Wikileaks have revealed that officials from the Democratic National Committee (DNC) sought to undermine Sanders' bid to win the party's 2016 presidential nomination.

Sanders' supporters argue that Clinton's loss could be attributed to her reluctance to fully focus on America's vast economic inequality and tougher regulations on US financial markets.

Sanders, 75, has not ruled out the possibility of another presidential bid.

Numerous polls taken before the presidential election showed that Clinton and Trump were deeply unpopular politicians, while Sanders enjoyed very high popularity.

Clinton, a former first lady, US senator and secretary of state, was viewed by many voters as a corrupt member of the elite Washington establishment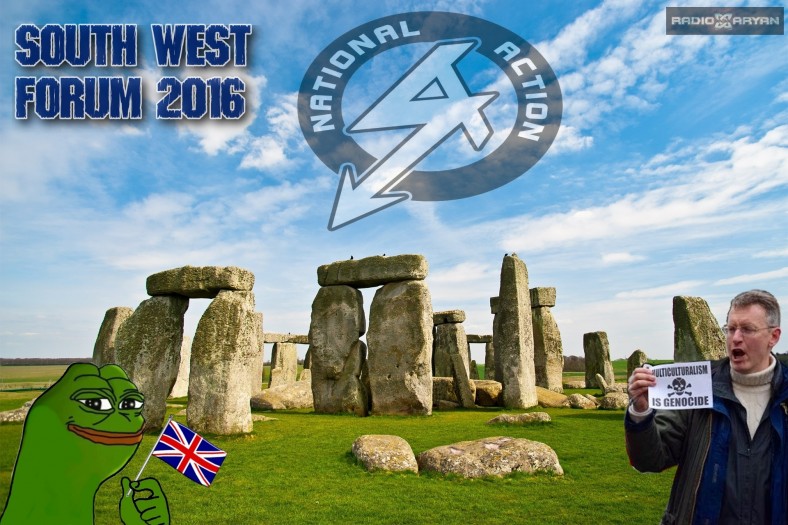 South West Forum: White British Nationalists, Max Musson, Ian Fotheringham and Jez Turner.
Paradise Island, A Parable by Max Musson which discusses the advantages of in-group preference.
TNO, "The War for Germany", 14 Oct 2016:

German patriots are waging an increasingly violent struggle in the fight in defense of their homeland, and in the first nine months of 2016, have carried out 63 arson attacks, and 556 "damage to property" attacks, which have resulted in six deaths.

Patriots have also been named as carrying out 213 illegal gatherings, 16 violations of the arms act, 4 explosive offenses, 4 serious assaults, 507 "summary violations," and 527 "propaganda offenses."



The figures were released by the German Federal government in the Bundestag in answer to a detailed question from a member of the Green Party.

The figures also broke down attacks in regard to those committed by invaders and communists, although these are proportionally far fewer than those committed by the patriots.

According to the statistics, which were compiled up to and including September 12, 2016, the breakdown of offenses reported to the police were as follows:

Homicide

Invaders: 1; Communists: 0; Patriots: 6.

Assault:

Invaders: 42; Communists: 29; Patriots: 405.

Arson

Invaders: 0; Communists: 8; Patriots: 63.

Explosive offenses:

Invaders: 0; Communists: 0; Patriots: 4.

Breach of the Peace:

Foreigners: 2; Leftists: 10; Patriots: 8.

Serious Assault:

Invaders: 0; Communists: 4; Patriots: 4.

Kidnapping

Invaders: 0; Communists: 1; Patriots: 1.

Robbery

Invaders: 0; Communists: 0; Patriots: 5.

Blackmail

Invaders: 1; Communists: 0; Patriots: 0.

Resisting Police Officers

Invaders: 1; Communists: 15; Patriots: 10.

"Summary Violations"

Invaders: 47; Communists: 67; Patriots: 507.

Damage to Property

Invaders: 5; Communists: 136; Patriots: 556.

Threats/Coercion

Invaders: 25; Communists: 2; Patriots: 116.

Propaganda Offenses

Invaders: 3; Communists: 2; Patriots: 527.

Racial Incitement

Invaders: 1; Communists: 0; Patriots: 1,069.

Illegal Gatherings

Invaders: 5; Communists: 59; Patriots: 213.

Violation of the Weapons Act

Invaders: 0; Communists: 1; Patriots: 16.

Other Offenses

Invaders: 19; Communists: 40; Patriots: 507.

With regard to these categories, it should be borne in mind that the German government classes any sort of public utterance expressing concern over the extent of the nonwhite invasion of that country as "racial incitement," while it broadly categorizes even the slightest reference to the Third Reich under "propaganda offenses."