Majorityrights News > Category: Discourse Analysis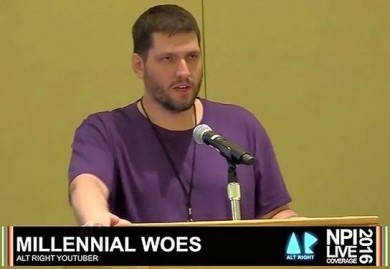 Mirror, 9 Jan 2017: "Racist vlogger who became global YouTube sensation unmasked"
...etc., so the headline and the hit piece reads.
On 5 June '15, Millennial Woes came to Majority Rights and left a comment * insisting that his link be removed from this site because I, DanielS, would not accept his friend, The Truth Will Live, a.k.a. (((Ruth))), as a part of our struggle, let alone as having a place to define our terms. I consider his position in her regard to have been naive at best, but probably more like an unsavory deal with the tentosphere. I really don't approve of this defense of the Jewish tent of the tentosphere. In addition, his going along with the Alt-Right's attribution of "THE Left" as the enemy is unacceptable; finally, he is annoying in coupling this attempt to join the Alt-Right in muting our platform, while perhaps garnering some of our ideas and auguring to misdirect them.
Even so, the doxing and smearing of him by a purportedly objective news source, The Mirror, is way out of line. Even I don't think he is remotely that bad or that he deserves that. But then again, beware the right, Alt-Right too - it's an unstable arrangement - the right has come back to bite countless adherents and those with misfortune to find themselves on the other side of their reactions over the years.
* The Millennial Woes comment that I am referring-to comes as the second in a series of three comments dated 3 - 5 June 2015, viz., #6, #14 and #17 and occurs withing the post called "The Lies Will Try To Live But They're Not White, They're Jewish."
Posted by Millennial Woes on Wed, 03 Jun 2015 12:27 | #6

Ruth, who has the channel "The Truth Will Live", is a close friend of mine. She and I speak regularly about the key issues of the alt-right, including the JQ, and she is on-board with all of it. In particular, residing in a Somali-heavy area of the US, she has to deal with their shit just like the rest of us do, and she hates it and opposes immigration from the Third World as wholeheartedly as any of us do.

To repeat, she is a close friend of mine and I know that she is a good, kind, decent person. I think it is wrong of you to besmirch her unless you have some evidence that she is a fake.

PS. And no, she didn't ask me to write this post! AFAIK she doesn't even know about this article.

Posted by Millennial Woes on Fri, 05 Jun 2015 11:41 | # 14

DanielS,

I understand your position, and I do understand the danger. However, I cannot stand by as my close friends are bad-mouthed when they have done nothing wrong whatsoever. (Note that you conflate Ruth's statements with Rachel Haywire's, when they are two very different people.)

Though I am grateful to your site for linking to my channel this last year or so, I ask you to remove that hyperlink now. I do not want to be associated with a site, however worthy it might be, that insults and dismisses my own friends.

Thank you, MW.

Posted by Millennial Woes on Fri, 05 Jun 2015 20:26 | # 17

DanielS "One extreme is to do the Christian services bit, helping Africans to no end. The other is to not care." She says it is wrong and extreme because they cannot take care of themselves well enough and it is the White man's burden to help them.

This golden rule is one of the most Jewy things imposed on Whites from the Bible.

MW: That's very strange, because it was I, a non-Jewish, non-religious, British-native white guy, who introduced Ruth to the idea that the White Man's Burden is a real thing - having arrived at this belief myself without any help, Jewish or otherwise. I came up with it, of my own volition, based on my own observations of my (white, non-Jewish, non-religious) people.

DanielS If you are that defensive of these women then we would view your link as a bum steer anyway.

MW: I don't even know what that phrase means. All I'm asking for is decency. Without a shred of evidence, you are ascribing a calculating, deceitful nature to a woman who simply doesn't have such a nature. If defending her makes me "defensive," so be it.
Millennial Woes argues that I conflate Ruth and Rachel Haywire, but I do not. In fact, my position with regard to Ruth was developed with interviews of her separately. Nor was I picking on her without evidence or for trivial reasons - it is most important to separate White advocacy from her sort of influence. For the record, I did not conflate Ruth's position with Rachel's: Ruth wanted to define the left for us, to encourage Abrahamism, she said that she believes in "the White man's burden" (that we owe help to Africans); and in the end she would pursues an agenda to have us treat Jews as a part of our cause, having kindred issues and concern for Western culture. But for a myriad of reasons, it is critical that there be White advocacy platforms free of Jewish influence (active influence, in particular), however benign it may appear (and the reason to discriminate against this one (((Ruth's positions))) wasn't really particularly hard to discern).
Tory MP Philip Hollobone said: "Migration Watch's forecasts have always been thoroughly reliable."

Express, "BREXIT WARNING: 12 MILLION more migrants to arrive in UK in 25 years without hard Brexit", 29 Dec 2016:

MASS immigration will continue at "unacceptable" levels for at least two decades unless Britain makes a full break with Brussels, a report predicted last night.

Figures showed that annual net migration to the UK from EU countries would be unlikely to fall below 155,000 in the "medium term" if the country stays in the EU's Single Market.

And the Government's ability to reduce the influx will be "extremely limited" as long as the EU's free movement rules remain in force.

The disturbing forecast of near-record levels of migration for years ahead was set out in a report from the population think tank Migration Watch. It was being seen last night as a devastating blow to campaigners for a so-called "soft Brexit" that retain the UK's full Single Market membership.

[...]

"An increase of anything like 12 million in just 25 years is, quite simply, unacceptable to the British public and certainly not what they voted for in the referendum."

Tory MP Philip Hollobone said: "Migration Watch's forecasts have always been thoroughly reliable and are the best we are going to get from anyone.

[...]

"The picture they paint is completely unacceptable.

"We simply can't stay in the Single Market if it means we are going to get that sort of level of immigration.

"Above all, people voted in the referendum for a change in our approach to immigration."

[...]

"Total net immigration will add 12 million people to the population in just 25 years, more than the equivalent of the entire current populations of Bulgaria and New Zealand."

He added: "Theresa May needs to set out in no uncertain terms that when the UK leaves the EU it will also cease to be a member of the Single Market.
Heidegger midtdasein

LARB, "Heidegger and Anti-Semitism Yet Again: The Correspondence Between the Philosopher and His Brother Fritz Heidegger Exposed", 25 Dec 2016:

FOR QUITE SOME TIME, there has been a fair bit of murmuring and speculation surrounding the letters exchanged between the philosopher Martin Heidegger and his brother Fritz. Those who had seen the more than 500 pieces of correspondence, which have been stored at the German Literature Archive in Marburg since 2014, knew how explosive they would be. But in accordance with the wishes of Heidegger's family, they were not allowed to quote from them. But now — apparently in response to the intense international debate surrounding Heidegger's anti-Semitism triggered by the publication of the Black Notebooks three years ago — the family has agreed to release an abridged version of the letters, written between 1930 and 1946, in a newly published volume called Heidegger und der Antisemitismus ("Heidegger and Anti-Semitism") (Verlag Herder, Freiburg 2016). Inside these pages one finds an unvarnished picture of the philosopher's political disposition. In the Black Notebooks, a kind of diary of thoughts, Heidegger approached anti-Semitism from a philosophical remove, but these personal letters published expose him as a bona fide, unrepentant anti-Semite. They also show that — in contrast to prevailing beliefs — the Freiburg professor was politically well informed, and was an early and passionate supporter of National Socialism.

As early as the tail end of 1931, the 43-year-old Heidegger sent his brother a copy of Adolf Hitler's Mein Kampf for Christmas, praising the future dictator's "extraordinary and unwavering political instincts." Heidegger interprets the right-wing conservative minority cabinet under Reich Chancellor Franz von Papen — which governed with the help of President Hindenburg between June and December 1932 — as a Jewish conspiracy. And he complains that the Jews are:

gradually extricating themselves from the mood of panic into which they had fallen. That the Jews were able to pull off such a maneuver as the Papen episode just shows how difficult it will be to push back against everything represented by Big Capital (Großkapital) and the like.
Mark Collett:

Nationalism should never be about being edgy and scaring people. We aren't some 1% motorcycle club, with the motto, 'no one likes us and we don't care.' ..we aren't trying to scare people or offend them. In fact, we are trying to offer scared people hope…and our people have plenty to fear.
Theresa May will chair a meeting to discuss the issue.

"CYBER-WARFARE: Putin launches 'propaganda campaign' against Britain, officials claim."

RUSSIA is engaged in a "campaign" of propaganda and cyber-warfare against Britain, Government officials have acknowledged for the first time. British officials are concerned about growing Russian influence on UK institutions. Theresa May will chair a National Security Council session within weeks to discuss the issue after senior Whitehall figures claimed the Kremlin is responsible for a plot to sabotage the UK with espionage and misinformation.

This comes after Barack Obama directly challenged Russia in an astonishing response to reports by US intelligence services claiming November's general election was hacked under Vladimir Putin's watch..

The outgoing President vowed the US would retaliate to the suspected espionage, and said the country would take action "at a time and place of our own choosing".

He added: "Don't do this stuff to us, because we can do this to you."

US officials have expressed near-certainty Putin supervised the data breaches which brought Hillary Clinton's presidential campaign to ruin.

One official said: "If anything, given his background as a KGB officer, Putin has a much tighter grip on all Russian surveillance operations, civilian and military, foreign and domestic, than any democratic leader does."

And in a cabinet meeting two months ago, top intelligence officers and civil servant voiced worries the same scale of threat from Moscow could extend to Britain.

A source told the Times: "There was an agreement on the need to do more across Whitehall to understand and assess and formulate options on how to reposed to Russian activities."

Security services fear British institutions and companies have been infiltrated by Russian agents – some of whom could even be UK citizens.

And last night it was revealed several leading academics at Cambridge University left an intelligence forum following concerns over Russian interference.

The head of the armed forces earlier this week urged for counterintelligence efforts to be ramped up in an attempt to catch Russian cells.

Air Chief Marshal Sir Stuart Peach said: "We need to pay more attention to counterespionage and counterintelligence to protect our hard-won research, protect our industry and protect our competitive advantage."

The extent of Russian infiltration in Britain is believed to be more severe than during the Cold War.
* Yes, that's (((Klitchko))) in avid attendance, front and center.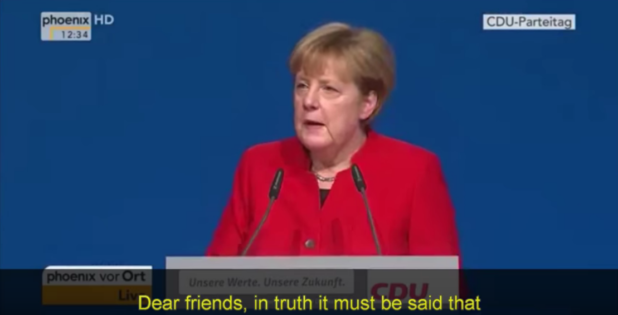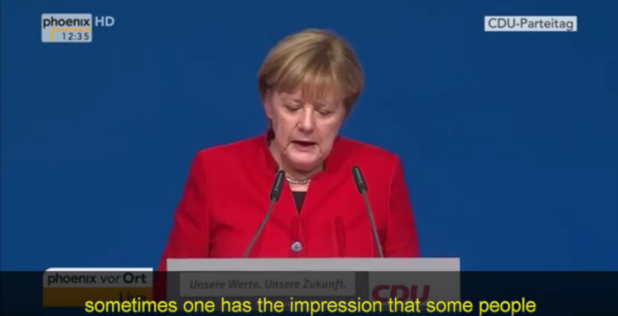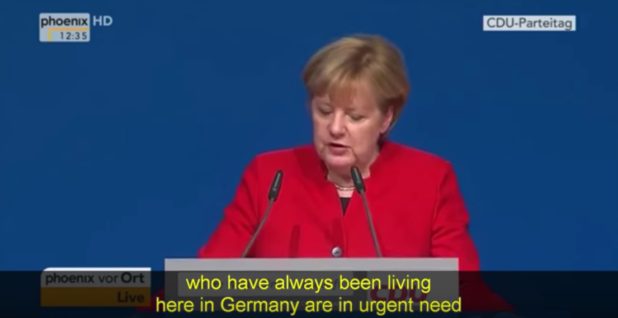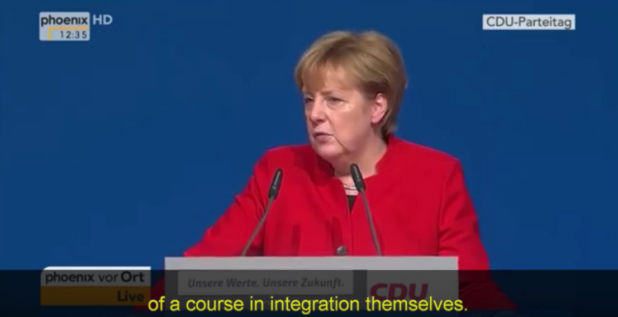 [...]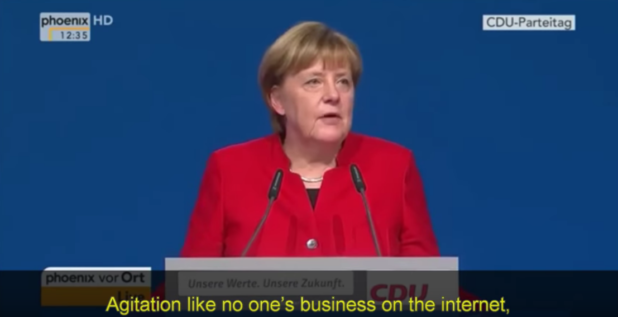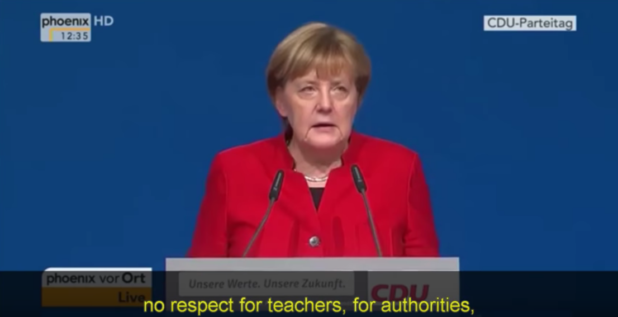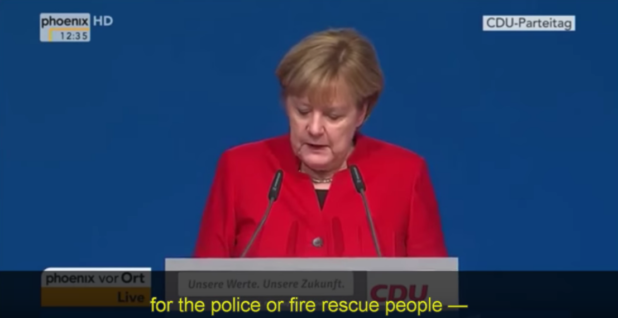 [...]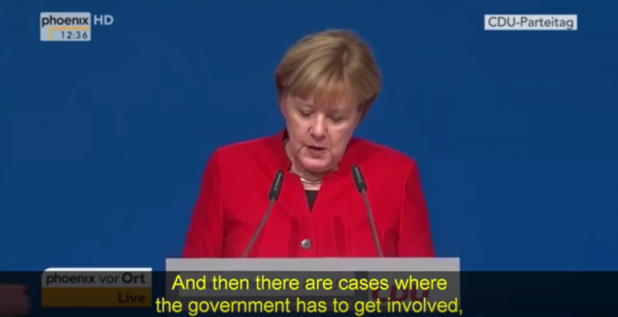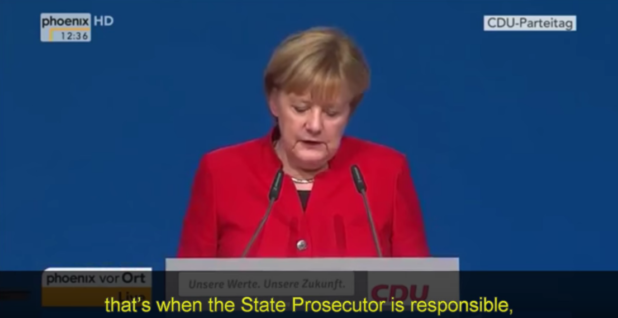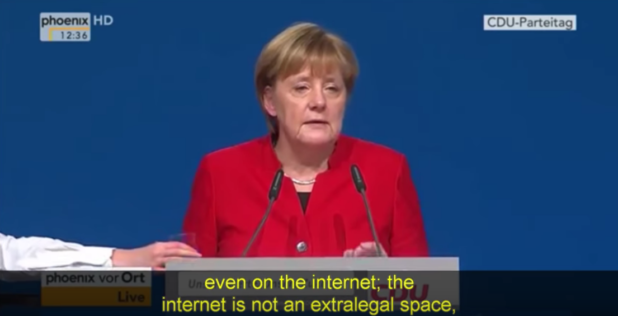 ..........
Israeli missile attack on the Al-Mezzeh Airport, west of Damascus.

TNO, "Israeli Attack as Aleppo End-Game Nears", 7 Dec 2016:

Israel has launched another devastating airstrike in Damascus in a desperate attempt to thwart the final defeat of the terrorist "rebels" in the Syrian city of Aleppo.

The latest Israeli attack took place on an airport in Damascus near Syrian President al-Assad's personal home on Wednesday morning.

The Syrian Arab News Agency reported that the "Israeli enemy launched at 3:00 a.m. Wednesday a number of surface-to-surface missiles from inside the occupied territories to the west of Tall Abu al-Nada (hill) that landed in the surroundings of al-Mezzeh Airport west of Damascus."

The attack was part of the "desperate attempts of the Israeli enemy to support the terrorist groups and raise their deteriorating morale," SANA added.

"This attack will only make the Syrian Arab Army even more determined to cut off the hands of the terrorist agents of the Zionist entity, which should be held fully responsible for the repercussions and consequences of these criminal attacks."

SANA concluded that the attack "came a week after the air force of the Israeli army fired from the Lebanese airspace two missiles on al-Sabboura area in the western countryside of Damascus, in an attempt to divert attention from the successes which the Syrian army has been making against the terrorist organizations."

The Israeli attack came as Syrian army forces, backed by ground units from Hezbollah and Iran, ousted the ISIS and other U.S., U.K., French and E.U.-backed "rebel" terrorists from Aleppo's Old City area.

After terrorizing inhabitants of the city for years with torture, and murders of the most demented kind, the terrorists have now played a "humanitarian" card, asking for a five-day "ceasefire" to allegedly allow remaining civilians to be evacuated.

This cynical ploy—clearly aimed at seeking "world sympathy"—is an attempt by the shrinking terrorist forces to shore up their collapsing front line by seeking time to bring up reinforcements.

More than 30,000 civilians had already crossed over into safe areas set up by the Syrian government-held west Aleppo.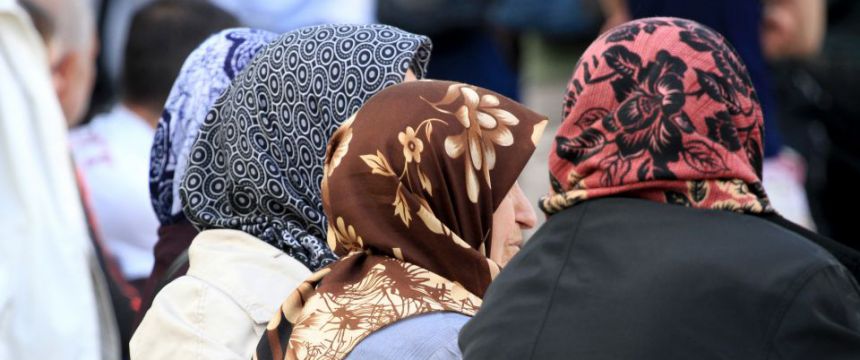 Incubators with headscarfs is what the Islamic incursion in Berlin has made of these women (Photo: picture alliance / dpa)
JungeFreiheit, "Demographic repression: Space without people."
Breitbart, "Germany: Nearly 40 Per Cent of Under Fives Now 'Migrant Background', 21 Sept. 2016:

Following the release of figures which reveal almost four in ten children under five have foreign roots, Michael Paulwitz says the demographic change will be the death of Germany's welfare state.

The journalist and historian predicts that "hard struggles" over resources will take place when ethnic Germans are a minority, and that native Germans "will inevitably lose out".

Mr Paulwitz' article follows the release on Friday of official figures from the Federal Statistics Office. While they show 21 per cent of the total population currently have a migrant background he notes that such people are disproportionately represented in the younger age cohorts.

One in three people aged under 18 who are resident in Germany have foreign roots, and the number jumps to 36 per cent among people under five.

This, he ominously points out, "allows one to appreciate where [Germany] is headed". Mr Paulwitz points to the demographics of Berlin, where people with a migration background comprise 30 per cent of residents.

Mr Paulwitz also mentions that ethnic Germans are already minority in the district centre and many of the surrounding central districts.

With these trends in mind, he observes: "First in the cities, later throughout the country, ethnic Germans are to become a minority in their own city and in their own country.

"Will Germany still be, in the coming years and decades, the land of the Germans when immigration of people from non-European cultures continues at a high level?" Mr Paulwitz asks.

The historian writes that "one does not need much imagination to imagine how profoundly the population picture will change within the next two decades".

He calls attention to the fact that in this timeframe many current pensioners will die and that the, mainly German lineage, cohort of 45 to 65 year olds — those "at the peak of their working lives" with regards to paying taxes — will have withdrawn from the workforce.

The demographic statistics for this year also show that people with foreign roots are twice as likely to be unemployed than Germans and are significantly more likely to have been educated to only a lower secondary school level, or have no education background at all.

Mr Paulwitz writes: "The social and redistributive state as we know it will no longer be affordable at its present level when the population is no longer dominated by ethnic Germans, and is a multicultural population mix."

Collected in mid 2015, the Federal Statistics Office data fails to reflect the more than 1.6 million migrants who arrived in 2015 and the first half of 2016, or the huge number of estimated illegal immigrants living in Germany.

Mr Paulwitz points out that while Angela Merkel's open door policy was a "dramatic escalation" of previous policies, even before she "opened the lock" a quarter of people aged between 15 and 45 had foreign roots in 2014.

He contends that these demographic trends can only increase as, "through family reunification, this number [1.6 million] is expected to at least double if not multiply".

Furthermore he observes there is an "inexhaustible supply" of Arabs and Africans who want to move to Germany. The historian typifies them as "second, third and fourth sons" of families, who are "demanding" but "lack the education or drive to create their own wealth".

Taking all of this into account, Mr Paulwitz diagnoses a grim future for Germany and its native population. He forecasts "hard struggles over resources will be the result" and contends that ethnic Germans are "pacified" and "ageing".

Considering the huge number of people with foreign roots already present, their far higher fertility rate and no sign of an end to the country's policy of importing hundreds of thousands of migrants a year, Mr Paulwitz says indigenous Germans "will inevitably lose out". He also foresees that "the sexual assaults, a result of the surplus men imported, will increase".

Mr Paulwitz concludes: "A government that decides to change the ethnic and cultural structure of the country without asking its people violates the principle of popular sovereignty, constitutional lawyer Dietrich Murswiek has said … It's surprising that citizens have begun to fight it at the ballot, but more surprising is that so few are doing so."