Majorityrights News > Category: Discourse Analysis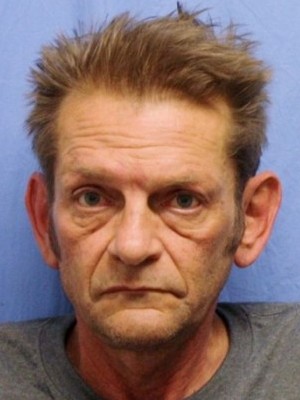 Adam W. Purinton: It's too late to instruct him on Schmittian lines of proper friend/enemy distinction.
Denver Post, "He yelled 'Get out of my country,' witnesses say, and then shot 2 men from India, killing one", 24 Feb 2017:

A 51-year-old man faces first-degree murder charges after shooting three men in an Olathe, Kan., bar Wednesday night, police say, reportedly telling two of them, local Garmin engineers from India, to "get out of my country."

One of the Indian men, Srinivas Kuchibhotla, 32, died in the hospital later from his gunshot wounds.

Authorities would not classify the shooting as a hate crime, but federal law enforcement officials said Thursday they are investigating with local police to determine if it was "bias motivated."

Adam W. Purinton, 51, of Olathe, was also charged with two counts of attempted first-degree murder for shooting two other patrons at Austin's Bar and Grill: Alok Madasani, 32, of Overland Park, Kan. and 24-year-old Ian Grillot, who tried to intervene.

Madasani had been released from a hospital Thursday and Grillot continued to recover.

Witnesses told the Kansas City Star and The Washington Post that Purinton was thought to have been kicked out the bar Wednesday night before the shooting took place.

"He seemed kind of distraught," Garret Bohnen, a regular at Austin's who was there that night told The Post in an interview. "He started drinking pretty fast."
Denver Post, "Some witnesses say Kansas shooting was racially motivated", 24 Feb 2017:

A bartender at Austins Bar and Grill in Olathe, Kansas, said that Adam Purinton used "racial slurs" before he started shooting on Wednesday night as patrons were watching the University of Kansas-TCU basketball game on television.

Srinivas Kuchibhotla, 32, died at an area hospital, police said. Alok Madasani, 32, and Ian Grillot, 24, were hospitalized and are in stable condition, they said. The Linkedin accounts for Kuchibhotla and Madasani say that they were engineers working at GPS-maker Garmin and had studied in India.
A whole bar in cuck attendance to the coddled black American basketball player but Adam W. Purinton decides to take his final stand to try to kill two or three people he thought were Middle Eastern - "terrorists hanging out in the bar? routing for the wrong team of black athletes?" or, was Purington "drawing the line", and saying "damn it! I'm not having those sand-Negroes supporting Negro ball too!" Not likely. Nor is it likely that Purinton was taking the H1B Visa angle into account, since his rage was directed toward people he took to be Middle Eastern and for their Middle Easternness and its imposed displacement of White Americans, not for any alleged affirmative action or salary undercutting importation of Indians to displace White IT specialists.
This serves to illustrate that not only do many would-be White Nationalists need to learn to sublimate their grievances better, but need to do that in line with becoming MUCH more articulate about friend / enemy distinctions - who is who and what is what.
The crusade against racial discrimination and categorization of peoples is much to blame in keeping people inarticulate about proper friend / enemy distinctions. The only "consolation" in this instance is that one White guy used the "non-discrimination" principle to try to come to the aid of two people, Indians, who should be in the friend category.
Ibid, Denver Post, "He yelled 'Get out of my country!", February 24, 2017:

He reportedly came back into the bar and hurled racial slurs at the two Indian men, including comments that suggested he thought they were of Middle Eastern descent. When he started firing shots, Grillot, a regular at the bar whom Bohnen called "everyone's friend," intervened.
AFF, "Breaking News, 1 Dead, Three Shot, Including Marine", 24 Feb 2017:


Srinivas Kuchibhotla (center), 32, died at a hospital, while 32-year-old Alok Madasani (left) and 24-year-old Ian Grillot (right) are hospitalized in stable condition, police said.

According to Local News KCTV 5.

Grillot said in an interview from his hospital bed that when the gunfire started, he hid until nine shots had been fired and he thought the suspect's gun magazine was empty.

"I got up and proceeded to chase him down, try to subdue him," Grillot said in a video from the University of Kansas Health System. "I got behind him and he turned around and fired a round at me."

Grillot said that the bullet went through his hand and into his chest, just missing a major artery.

"It's not about where (the victim) was from or his ethnicity," Grillot said. "We're all humans, so I just did what was right to do."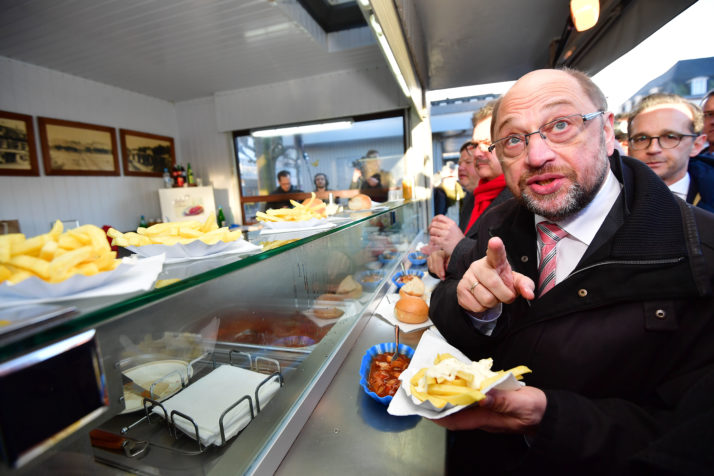 Wow, such a breadth of choice
The Germans are non-ironically having an election in which Angela Merkel and Martin Schulz are the two front runners.
The choice seems to be quite simple.
Either you vote for Angela Merkel's CDU and face the death by demographic replacement which will surely arrive by the year 2050 as things continue as they are, or alternately you vote for Martin Schulz's SPD and face the death by demographic replacement which will surely arrive by the year 2050 as things continue as they are.
There are some policy disagreements that they have on other issues and usually I would actually go to the length of highlighting them and describing them, but when it comes to the issue of Germany it frankly doesn't even matter anymore. After all, if Germany is going to seriously cease to exist as a nation then making projections about a nation which will not even be populated by the same people would be a pointless exercise from the perspective of ethno-nationalism. It is extremely sad.
In any case, let's see how the situation looks in the polls at present, for this thoroughly pointless election:
POLITICO, 'SPD in the lead according to German poll', 19 Feb 2017:

Germany's Christian Democrats (CDU/CSU) have slumped to second place in an opinion poll conducted by the Emnid institute, with the Social Democrats (SPD) in the top spot for the first time since 2006.

The SPD's climb comes after the party picked the former President of the European Parliament, Martin Schulz, as its candidate for chancellor.

Emnid's poll of 1,885 voters found that the SPD would get 33 percent of the German vote, while Chancellor Angela Merkel's CDU and its Bavarian sister party, the Christian Social Union, would get 32 percent.

Schulz's party has gained 12 points in the last four weeks, according to German newspaper Bild am Sonntag.

The SPD's surge in the polls will add more pressure on Merkel, as she seeks her fourth term as chancellor within an uneasy CDU/CSU alliance. Merkel has faced tough criticism from the sister party over the controversial decision to temporarily open Germany's borders to refugees in 2015.

This the latest in a series of polls that shows SPD's rapidly rising popularity among German voters. Emnid's poll chimes with separate findings by Politbarometer, a long-standing German election poll from German broadcaster ZDF, which showed Friday that only 38 percent of voters would like to see Merkel carry on her job as chancellor and that 49 percent preferred Schulz.

But Germany hasn't completely fallen out of love with Merkel. ZDF's poll also found that 71 percent of Germans think that the current chancellor is doing a good job, despite her party's drop in popularity.

German elections are scheduled for September.
Such vibrant campaigning
Meanwhile, the way that Martin Schulz is conducting his campaign has drawn criticism from Wolfgang Shaeuble, a very strange-looking criticism at first brush:
POLITICO, 'Wolfgang Schäuble: Martin Schulz is the German Donald Trump', 10 Feb 2017:

Martin Schulz, the German center-left's candidate to be chancellor, is behaving like U.S. President Donald Trump, according to German Finance Minister Wolfgang Schäuble.

"If Schulz calls upon his supporters to chant 'Make Europe great again' then that's almost literally [like] Trump," Schäuble told Der Spiegel in an interview published Friday.

He said Schulz, a former European Parliament president, was acting in a "populist way."

Schäuble said Schulz needed to "think a little [bit more]." He warned that in times when there is a surge in populist movements, politicians should be careful with their language.

The SPD's move to nominate Schulz as their candidate for chancellor in the September 24 federal election led to a surge in party membership applications. Opinion polls show that backing Schulz helped the party to its highest approval rating since 2013.
At first a person would think, "Hmm, something is very wrong here, in what important way does Martin Schulz resemble Donald Trump, aside from the use of a similar campaign slogan?"
Surely Schaeuble is just a ridiculous old man who is approaching senility, and he has begun to make even less sense than usual in his statement?
Nevertheless I decided to actually give Schaeuble's statement some thought. Could I manage to find some unintended 'sense' in Schaeuble's seemingly nonsensical statement?
After about twenty milliseconds of deep thought – which in neurological terms is basically 'instantly' – I arrived at the answer. First, take a look at this quote concerning Schulz:
Haaretz / Avraham Burg, 'Say a big 'thank you' to Martin Schulz', 14 Feb 2014:

[...] Martin Schulz, the president of the European Parliament, is a close friend of mine. On most issues connected to the Israeli-Palestinian conflict we disagree. He is closer to the Israeli mainstream, and his positions resemble those of Labor Party chairman Isaac Herzog. He once told me, during a frank and stern conversation, "For me, the new Germany exists only in order to ensure the existence of the State of Israel and the Jewish people." [...]
Secondly, take a look at this quote concerning Trump:
The Hill / Elliot Smilowitz, 'Trump: 'Stay strong Israel,' my inauguration is approaching', 28 Dec 2016:

President-elect Donald Trump on Wednesday morning ripped the Obama administration's treatment of Israel and pledged to end the "disdain and disrespect" for the country.

"We cannot continue to let Israel be treated with such total disdain and disrespect. They used to have a great friend in the U.S., but not anymore. The beginning of the end was the horrible Iran deal, and now this (U.N.)! Stay strong Israel, January 20th is fast approaching!" Trump wrote in a series of tweets. [...]
If you look at it from that angle, then Schaeuble accidentally spoke a kind of truth in the midst of his babbling, somehow.
There indeed is a resemblance between Schulz and Trump. From the perspective of Jewish Zionists in the global sense, the two individuals are almost completely identical.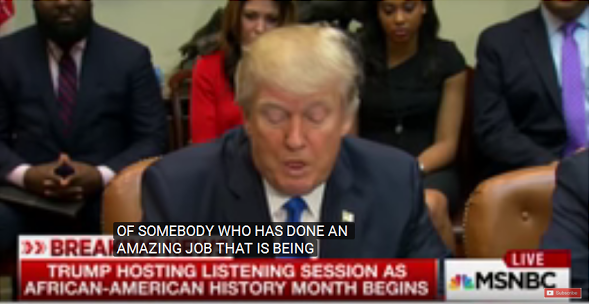 "Frederick Douglass as an example of somebody who has done and amazing job
.....that is being recognized more and more, I notice."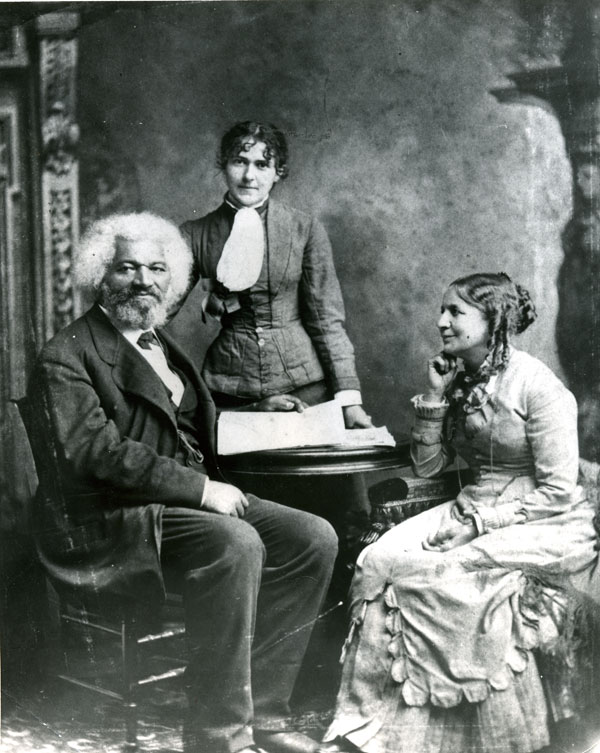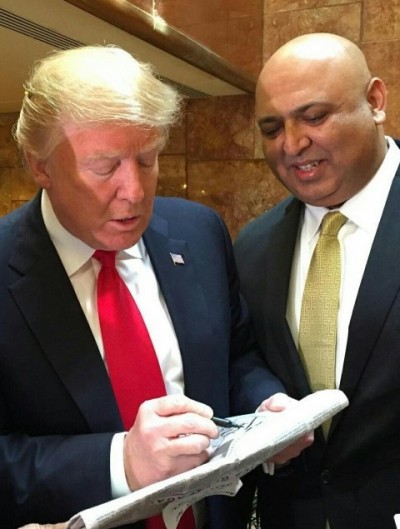 "Don't be surprised if the money he used to buy-up American real estate came from U.S. foreign aid" - TT. Pictured, Trump signalng 181 dimensional chess with Pakistani-American real estate tycoon, Sajid Tarahas, founder of 'Muslims for Trump.'
BBC, "Trump's Hindu, Sikh and Muslim power brokers", 24 Jan 2017:

When Indian-American industrialist Shalabh "Shalli" Kumar donated close to a million dollars to the Trump campaign, many in the community dismissed it as a poor investment.

But today, Mr Kumar is the go-to guy not just for Indian-Americans chasing opportunities in the new administration but apparently for the Indian officials seeking contacts with Trump aides.

A leading Indian TV channel NDTV introduced him as "the man with a direct line to Trump" on their show. Another top-ranking Diaspora website, The American Bazar, has called him "the most influential Indian-American power broker" in DC.

And Kumar isn't complaining about this new celebrity status. "I would like to be the bridge between the two sides," he told the BBC. "I have arranged two big meetings between Indian officials and leading figures in the Trump team."

A majority in the Indian immigrant community have traditionally supported Democrats and Trump's anti-immigrant campaign rhetoric seemed to have further alienated many.

Kumar says he and his Republican Hindu Coalition mobilised Hindu Indian-Americans votes in swing states like Florida.

Their message? Trump was the anti-terrorism candidate, and would help India and US see greater collaboration in defence, energy and manufacturing.


Trump's anti-Muslim rhetoric did appeal to some Hindus, but whether that actually swayed the community at large is unclear.


Kumar is not the only one whose stock has soared with a Trump victory.

Pakistani-American Sajid Tarar, who is a Muslim, and Sikh-American Jesse Singh, sided with Mr Trump at the peak of his anti-Muslim barbs. They were pilloried by their own communities for doing so. One exit poll suggested more than three-quarters of Muslims voted for Clinton.

Mr Tarar's Facebook inbox used to be swamped with negative messages, calling him a "disgrace to Pakistan and Islam".

But on the morning of 9 November, his phone wouldn't stop ringing. Mr Tarar had more than 80 messages congratulating him on Mr Trump's victory and how he had made Pakistan proud.

He says the Pakistan embassy reached out to him to facilitate a call between Pakistani Prime Minister Nawaz Sharif and the President-elect.

"I sent out a few emails and the call happened," says Mr Tarar, a real estate businessman.
Well, that day wasn't actually today. Besides, American White Nationalism stopped making sense even on its own terms quite a while ago, around about the time when a sizable portion of them began to seriously endorse a certain New York real-estate developer named Donald Trump during the GOP Primary campaign.
Nevertheless, I'll start with a quote from The Right Stuff:
The Right Stuff, 'Requiem for a Dead Presidency', 20 Jan 2017:

Today, this hallowed Day One of the Trump Age, we watch the man who has ran this country for the last eight years fly off into the distance on his presidential chopper and into the curio cabinet of political kitsch, a relic of a party that no longer exists.

[...]
Unsurprisingly, TRS is extremely enthusiastic about the result that has been brought about. But they are not the only ones. Also, this person is enthusiastic:
And so is this one:
That is the outcome which they've delivered. But that's not all there is to it. Let's go to David Duke's recent radio broadcasts on the inauguration of Trump, since they act as a barometer for 'the movement' in America as a whole. It has been observed that he tends to echo the general median of where White Nationalism in America is standing on any given issue.
On 20 January 2017:

So right out of the gate, Duke basically admits that 'there are Jews around him'. That's an understatement if I ever saw it.

Mobilised them behind what? Elevating Jared Kushner to the position of being the most powerful Jewish person to ever exist in the world?

It's actually saddening to see this level of hype being attached to Donald Trump. How on earth can the election of Donald Trump be considered 'a more important event' than the Battle of Tours or the breaking of the Siege at the Gates of Vienna?
These quotations are going to be haunting people later on.
On 16 January 2017:

David Duke's analysis of the TRS scandal is of course completely divorced from facts, but that's not even the most important part of this. Notice how the core principle which American White Nationalists claimed to adhere to, the position of taking a strong line on the 'Jewish Question', is completely abandoned by the wayside.
On 18 January 2017:

To actually answer this ridiculous question, the answer is: No.
No, they are not doing 'good work'. Can anyone actually tell me what 'work' the TRS people have done that has actually been of any use? Is there anything at all measurable?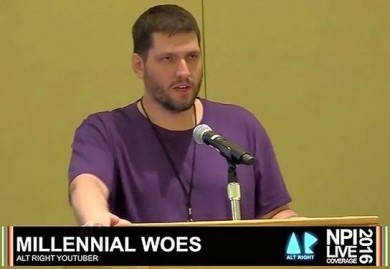 Mirror, 9 Jan 2017: "Racist vlogger who became global YouTube sensation unmasked"
...etc., so the headline and the hit piece reads.
On 5 June '15, Millennial Woes came to Majority Rights and left a comment * insisting that his link be removed from this site because I, DanielS, would not accept his friend, The Truth Will Live, a.k.a. (((Ruth))), as a part of our struggle, let alone as having a place to define our terms. I consider his position in her regard to have been naive at best, but probably more like an unsavory deal with the tentosphere. I really don't approve of this defense of the Jewish tent of the tentosphere. In addition, his going along with the Alt-Right's attribution of "THE Left" as the enemy is unacceptable; finally, he is annoying in coupling this attempt to join the Alt-Right in muting our platform, while perhaps garnering some of our ideas and auguring to misdirect them.
Even so, the doxing and smearing of him by a purportedly objective news source, The Mirror, is way out of line. Even I don't think he is remotely that bad or that he deserves that. But then again, beware the right, Alt-Right too - it's an unstable arrangement - the right has come back to bite countless adherents and those with misfortune to find themselves on the other side of their reactions over the years.
* The Millennial Woes comment that I am referring-to comes as the second in a series of three comments dated 3 - 5 June 2015, viz., #6, #14 and #17 and occurs within the post called "The Lies Will Try To Live But They're Not White, They're Jewish."
Posted by Millennial Woes on Wed, 03 Jun 2015 12:27 | #6

Ruth, who has the channel "The Truth Will Live", is a close friend of mine. She and I speak regularly about the key issues of the alt-right, including the JQ, and she is on-board with all of it. In particular, residing in a Somali-heavy area of the US, she has to deal with their shit just like the rest of us do, and she hates it and opposes immigration from the Third World as wholeheartedly as any of us do.

To repeat, she is a close friend of mine and I know that she is a good, kind, decent person. I think it is wrong of you to besmirch her unless you have some evidence that she is a fake.

PS. And no, she didn't ask me to write this post! AFAIK she doesn't even know about this article.

Posted by Millennial Woes on Fri, 05 Jun 2015 11:41 | # 14

DanielS,

I understand your position, and I do understand the danger. However, I cannot stand by as my close friends are bad-mouthed when they have done nothing wrong whatsoever. (Note that you conflate Ruth's statements with Rachel Haywire's, when they are two very different people.)

Though I am grateful to your site for linking to my channel this last year or so, I ask you to remove that hyperlink now. I do not want to be associated with a site, however worthy it might be, that insults and dismisses my own friends.

Thank you, MW.

Posted by Millennial Woes on Fri, 05 Jun 2015 20:26 | # 17

DanielS "One extreme is to do the Christian services bit, helping Africans to no end. The other is to not care." She says it is wrong and extreme because they cannot take care of themselves well enough and it is the White man's burden to help them.

This golden rule is one of the most Jewy things imposed on Whites from the Bible.

MW: That's very strange, because it was I, a non-Jewish, non-religious, British-native white guy, who introduced Ruth to the idea that the White Man's Burden is a real thing - having arrived at this belief myself without any help, Jewish or otherwise. I came up with it, of my own volition, based on my own observations of my (white, non-Jewish, non-religious) people.

DanielS If you are that defensive of these women then we would view your link as a bum steer anyway.

MW: I don't even know what that phrase means. All I'm asking for is decency. Without a shred of evidence, you are ascribing a calculating, deceitful nature to a woman who simply doesn't have such a nature. If defending her makes me "defensive," so be it.
Millennial Woes argues that I conflate Ruth and Rachel Haywire, but I do not. In fact, my position with regard to Ruth was developed with interviews of her separately. Nor was I picking on her without evidence or for trivial reasons - it is most important to separate White advocacy from her sort of influence. For the record, I did not conflate Ruth's position with Rachel's: Ruth wanted to define the left for us, to encourage Abrahamism, she said that she believes in "the White man's burden" (that we owe help to Africans); and in the end she would pursue an agenda to have us treat Jews as a part of our cause, having kindred issues and concern for Western culture. But for a myriad of reasons, it is critical that there be White advocacy platforms free of Jewish influence (active influence, in particular), however benign it may appear (and the reason to discriminate against this one (((Ruth's positions))) wasn't really particularly hard to discern).
Tory MP Philip Hollobone said: "Migration Watch's forecasts have always been thoroughly reliable."

Express, "BREXIT WARNING: 12 MILLION more migrants to arrive in UK in 25 years without hard Brexit", 29 Dec 2016:

MASS immigration will continue at "unacceptable" levels for at least two decades unless Britain makes a full break with Brussels, a report predicted last night.

Figures showed that annual net migration to the UK from EU countries would be unlikely to fall below 155,000 in the "medium term" if the country stays in the EU's Single Market.

And the Government's ability to reduce the influx will be "extremely limited" as long as the EU's free movement rules remain in force.

The disturbing forecast of near-record levels of migration for years ahead was set out in a report from the population think tank Migration Watch. It was being seen last night as a devastating blow to campaigners for a so-called "soft Brexit" that retain the UK's full Single Market membership.

[...]

"An increase of anything like 12 million in just 25 years is, quite simply, unacceptable to the British public and certainly not what they voted for in the referendum."

Tory MP Philip Hollobone said: "Migration Watch's forecasts have always been thoroughly reliable and are the best we are going to get from anyone.

[...]

"The picture they paint is completely unacceptable.

"We simply can't stay in the Single Market if it means we are going to get that sort of level of immigration.

"Above all, people voted in the referendum for a change in our approach to immigration."

[...]

"Total net immigration will add 12 million people to the population in just 25 years, more than the equivalent of the entire current populations of Bulgaria and New Zealand."

He added: "Theresa May needs to set out in no uncertain terms that when the UK leaves the EU it will also cease to be a member of the Single Market.
Heidegger midtdasein

LARB, "Heidegger and Anti-Semitism Yet Again: The Correspondence Between the Philosopher and His Brother Fritz Heidegger Exposed", 25 Dec 2016:

FOR QUITE SOME TIME, there has been a fair bit of murmuring and speculation surrounding the letters exchanged between the philosopher Martin Heidegger and his brother Fritz. Those who had seen the more than 500 pieces of correspondence, which have been stored at the German Literature Archive in Marburg since 2014, knew how explosive they would be. But in accordance with the wishes of Heidegger's family, they were not allowed to quote from them. But now — apparently in response to the intense international debate surrounding Heidegger's anti-Semitism triggered by the publication of the Black Notebooks three years ago — the family has agreed to release an abridged version of the letters, written between 1930 and 1946, in a newly published volume called Heidegger und der Antisemitismus ("Heidegger and Anti-Semitism") (Verlag Herder, Freiburg 2016). Inside these pages one finds an unvarnished picture of the philosopher's political disposition. In the Black Notebooks, a kind of diary of thoughts, Heidegger approached anti-Semitism from a philosophical remove, but these personal letters published expose him as a bona fide, unrepentant anti-Semite. They also show that — in contrast to prevailing beliefs — the Freiburg professor was politically well informed, and was an early and passionate supporter of National Socialism.

As early as the tail end of 1931, the 43-year-old Heidegger sent his brother a copy of Adolf Hitler's Mein Kampf for Christmas, praising the future dictator's "extraordinary and unwavering political instincts." Heidegger interprets the right-wing conservative minority cabinet under Reich Chancellor Franz von Papen — which governed with the help of President Hindenburg between June and December 1932 — as a Jewish conspiracy. And he complains that the Jews are:

gradually extricating themselves from the mood of panic into which they had fallen. That the Jews were able to pull off such a maneuver as the Papen episode just shows how difficult it will be to push back against everything represented by Big Capital (Großkapital) and the like.