Majorityrights News > Category: Discourse Analysis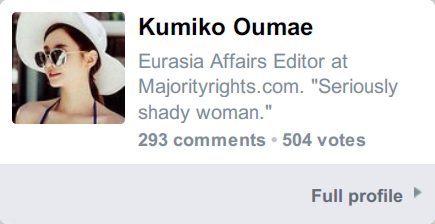 My
Disqus profile
card as of 17 Apr 2017. Follow me, I'm lots of fun.
Introduction
As far as I'm aware, I've really made some figures in American White Nationalism upset with my latest two articles, 'Donald Trump authorises reckless airstrikes against the legitimate government of Syria', and 'Silk Road News: First demonstration cargo train departs London for Yiwu, China'. But it doesn't end there.
'Armed recon'
It looks like my presence on Disqus comments threads has finally become the target of something resembling a rag-tag opposition. I have to say it took them long enough, given that I've been actively and openly voicing my opinions on that platform since Autumn 2015. Some people have now been drawn into mounting a weak and pathetic campaign against me and against Majorityrights.com generally.
Why am I jokingly calling this article 'armed recon' in the title? Because it has been kind of like the internet equivalent of that process, in the Vietnam era sense. See this definition:
Armed Reconnaissance: A mission with the primary purpose of locating and attacking targets of opportunity, i.e., enemy materiel, personnel, and facilities, in assigned general areas or along assigned ground communications routes, and not for the purpose of attacking specific briefed targets.
In simple terms, it means going out there and thrashing around methodically in the brush and then seeing who comes out to shoot at you and what tactics they use while doing so.
That's basically how all this started. I offer my unvarnished and real opinion, as always, and then I see who agrees and who disagrees. Here's an example of that:
Disqus / AltRight.com, 'Trump is Trophy Hunting in North Korea', 15 Apr 2017:
And another example in a different thread:
Disqus / AltRight.com, 'Meet Globalist Gary', 14 Apr 2017:
These are clear stances.
What kind of person—if anyone—might appear out of the brush to tell me that I'm not allowed to hold those opinions because they are dangerous and that I had better sit down and shut my whore mouth immediately?
Well, I hit the jackpot.
Out comes Ted Sallis with an absolutely insane narrative:
Ted Sallis / EGI Notes, 'Silk Road News: Asian Infiltration of AltRight.com', 15 Apr 2017:
Apparently I've 'infiltrated' AltRight.com by simply commenting there like anyone else can do.
Are you surprised? I'm not surprised. After I made the comment about Gary Cohn, things got slightly interesting. One of the figures who seems to be associated with the American White Pride Network (AWPN.net) who was commenting under the name 'Celestial Time', began to obliquely defend Gary Cohn and the rest of the Zionist Trump administration. Seriously, that happened. You can read the thread to see how that played out.
In summary: My assertion was that Bob Whitacker's mantra and the 'anti-White' discourse concept had been appropriated by Zionist forces and used as a method for defending Zionists. Their response was to laughably claim that my viewpoint on that was in and of itself an 'anti-White' viewpoint.
They say that my anti-Zionism is 'anti-White': I fire back
The entire conversation then devolved into a handwringing crybaby session on the part of the AWPN guy, who basically proceeded to redefine 'anti-White' to mean any opinion which happens to hurt his feelings, or could be conceivably interpreted by other White people as being hurtful to their feelings.
That's about as vague as the definition of 'anti-Semitism'. Incidentally, if they had chosen to use 'anti-Semitic' as their accusation toward me rather than 'anti-White', it would have made no functional difference because both discourses are being used to defend objectively Zionist outcomes.
So I went with the 'whisper gently into the megaphone' approach:
Disqus / AltRight.com, 'Meet Globalist Gary', 15 Apr 2017:
I am terrible, aren't I? Profound butthurt on the part of my opponent ensued. I can't be given a 'free pass' to 'belittle' the apparently 'White' people who are upset about my comments! I must be held to account!
There is an easy way to understand how that kind of surreal outcome could manifest. You only need to know that Argumentum ad Asiatica is the new Argumentum ad Hitlerum. 'Anti-White and anti-American' is the new 'anti-Semitic'. Up until now, the masters of cultural critique did not have a method for shutting down Asian criticisms of Zionist policies. The rise of Trump as a Zionist, and the affinity that certain pro-White activists have for Trump, means that by some historical accident Zionism is now effectively sheltering under 'Whiteness' in the American context.
Anyone who doubts this only needs to watch any of the top trending videos on Rebel Media's youtube channel, which is controlled by none other than Israeli Zionist Ezra Levant. The trend is absolutely obvious.
Donald Trump card trick

I don't know if you've had fun with this article, but I have.
I once heard about something called the 'Donald Trump card trick'. It really illustrates how the Donald Trump campaign, as well as the Alt-Right opinion leaders who supported him, have run their operation. Let's call this trick 'The Donald'.
Check it out, it goes something like this.
To gain admission to the show, you have to basically mortgage your entire future for a generation or more. Having done that, you are in. You do that first.
So, secondly, they open a perfectly ordinary deck of cards, and you will be shown that they are indeed all different. Let's say that the campaign is the card trick, and let's say that the followers and voters have been asked by Trump, to pick a card.
Trump fans the cards out, and he acts like the selection of the cards doesn't really matter. It's an old magician's trick; the selection of the card actually always matters. But you have to be a certain kind of nonchalant if you want to do a force.
And so Trump says, "Pick a card." And the voters and supporters come together and pick a card and it's the Jack of Hearts. Trump doesn't know that. So the Trump campaign takes the card and slides it back into the deck.
Now, don't forget, it's the Jack of Hearts. It's now somewhere in the middle of the deck.
Trump then gives the cards a shuffle while he's talking. Now, the patter does not matter, Trump can say absolutely anything that pops into his head. Let's say, "I've got a perfectly ordinary deck of cards here, and Mexicans are rapists."
And then he shuffles a little bit more, and "I still have a perfectly ordinary deck of cards here, and Asian countries are ripping us off on trade via currency manipulation."
And then he gives them another little shuffle and puts in a little bit more misdirection, like, "I could shoot somebody on fifth avenue and I wouldn't lose any votes", and, "She had blood coming out of her eyes, blood coming out of her whatever", "They are ripping us", and "We're going to build a big, beautiful wall."
And when election time comes, after all this misdirection, all this shuffling, all this handling of the cards, Trump then has the card on top.
Clean-handed, and with great flourish, he produces the card, turns it around and holds it out, and says, "Is this your card?"
And it's the…
Eight of Spades, not the Jack of Hearts.
Because he's a fucking idiotic Zionist tool and so are you.
Kumiko Oumae works in the defence and security sector in the UK. Her opinions here are entirely her own.
Related Articles: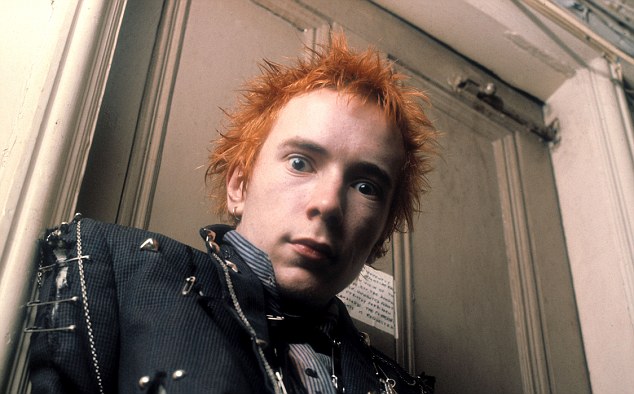 A liberal, not a leftist
MjolnrMagazine, "WHY JOHNNY ROTTEN CAN GO F*** HIMSELF", 13 April 2017:

Never mind the bollocks, although it's very difficult where John Lydon is concerned. John Lydon, once styled Johnny Rotten, suddenly jumped onto the Brexit and Trump bandwagons and into the headlines a couple of weeks back, which caused a bit of a stir among the chatterers of society. Over the past forty years, Lydon has been groomed as a cultural ambassador by those in power, while playing the old game that he is somehow an anti-establishment rebel. The unfortunate thing is that many on the Alt Right - rather like what happened with Donald Trump - seem to have been taken in by him, so let us take a look at this new 'hero' and the cultural movement known as punk at large, which John Lydon as Johnny Rotten represented.
This could be a good article if corrected for the Jewish red cape and its misdirection into rightism or the "no left (social unionization) or right" reaction by contrast. I will add some annotation that would have helped a better telling of the story.
Let us begin with Lydon's origins and rise, for these are intertwined with the punk phenomenon at large. Lydon's immediate heritage is Irish, hence the title of his autobiography: Rotten: No Irish, No Blacks, No Dogs - the title being based on a typical sign on properties to let in the 1950s. The 'No Irish' part, which may look strange to us today, can be explained by the IRA terrorism of the time and also by the behaviour of Irish gypsies, otherwise known as Travellers. I remember in the good old days before political correctness, many public houses and inns would have signs on the entrance saying 'No Travellers'.

It is clear, then, from the book's title that he identifies his own purported second-class citizen status with that of the Negro, who, at the time of Lydon's birth, had only been in the country in any meaningful sense for barely a decade. This has extended to raising his elderly wife's half-caste grandchildren like a good little cuck. He has always identified himself with the Other and has an Irish rather than British passport to foreground his at least civic otherness. He therefore also identifies himself as working class in a Marxian sense, his idea of working class as being antagonistic to traditional British and even European norms. He talks about being purportedy working class at every given opportunity.


(((McLaren))), the YKW behind punk and its "ideology"

Certainly, his parents were working class, but is Lydon? There are two ironies here: the first is that he has married Nora Forster, a German publishing heiress fourteen years his senior; the second is that he has never done a working-class job in his life, manager Malcolm McLaren having turned him into a pop singer at the age of eighteen. Lydon is as bourgeois as they come. Indeed, it is telling that the venue for the very first Sex Pistols concert was St Martin's Art College, about as middle-class as one can get. I must point out that I have nothing against anyone who is born into one class or another, but John Lydon has spent his entire life sneering at the middle classes despite his own bourgeois existence.

As regards that sneer - and the sneer worn by punks in general - one must look at the chief architect of punk rock itself, Malcolm McLaren. Born into a family of Jewish diamond merchants on his mother's side and raised by his Jewish grandmother, McLaren was heavily influenced at art college by the Situationist avant-garde movement, led by French Communist Guy Debord and his Jewess wife Michèle Bernstein. On the artistic level, Situationism was a Leftist attack on the arts through absurdist or provocative happenings that deconstructed traditional norms and underpinned the May 1968 cultural revolution in France and Germany. The ultimate goal was to normalise the idea of a dictatorship of the proletariat.
We need to pause in the article here. Whenever you see a situation where Jews, Whether Marx, The Frankfurt School or McLaren, are defining a movement, its terms and their deployment, that should send up immediate red flags that the protection and interests of the native European nationalist union is not at heart - on the contrary, coalitions and anarchist forces are being drummed-up to attack these interests, terms are being reversed from their normalizing semantic content in order to confuse - the leftist unionization for fair treatment of workers; to protect them against scab labor (including migrants), to allow them to function unexploited alongside other vital functions/roles of society, is absurdly confounded with liberalism - with scabbing, dissolution of accountability, degeneracy of vital functions - not all of which can be captured by a "dictatorship of the proletariat" - a non genetic, economic group by Jewish design; and in opposition to the genetic union of the nation by contrast. That said, lets continue to look at the Jewish boondoggle against native nationalism that was Punk…
McLaren's store

Starting with the shop that became SEX, a fetishwear retailer co-managed with fashion designer Vivienne Westwood, McLaren applied this ideology firstly to clothing and then to music. Clothing included t-shirts with two homosexual cowboys naked from the waist down and red leather fetishwear emblazoned with the hammer and sickle for the New York Dolls. John Lydon, a young nihilistic eighteen-year-old without any discernable talent but self-defined by what he hated, fit the bill perfectly for McLaren's new musical project. Lydon could not sing a note in tune, but this was a plus point, as was his green hair, overall ugliness and 'I hate Pink Floyd' t-shirt.

The story of Glen Matlock within the band is interesting. The only member who could actually play to a good level, he was ousted when McLaren caused friction between Matlock and Rotten. This made way for the talentless drug addict known as Sid Vicious. Matlock co-wrote all but a handful of the band's songs and was just too good for a band with the intention of marketing crap to the masses. McLaren also set up post-punk band Bow Wow Wow, with its thirteen-year-old half-caste lead singer, Annabella Lwin, born Myant Myant Aye to a Burmese father and English mother. Lwin appeared naked on Bow Wow Wow's debut album as McLaren assaulted traditional norms with miscegenation and child pornography. You will never watch the video to McLaren's single 'Double Dutch' in the same way again.

Lydon is very fond of telling how he exposed Jimmy Savile as a paedophile. It is interesting though that he has tried to ban the recording of his comments back in 1978 from public usage in order to sell them as part of his latest album. Ever the altruist. He has also always been suspiciously quiet about his own ex-manager McLaren's involvement in the world of paedophilia. Financed by both the BBC, under the auspices of (((Alan Yentob))), and EMI, in 1980 McLaren began creating an ostensibly music-related magazine that would be a more risqué version of Smash Hits, which had just been launched two years previously. In reality, the publication, originally titled Playkids, but then changed to Chicken, would serve to get child pornography into the mainstream. McLaren attempted to get the aforementioned Annabella Lwin to do a full-frontal nude shoot, but after she became distressed and tearful, brought in a replacement thirteen-year-old girl. Fortunately, enough concerns about the magazine ensured its shelving.

Punk rock was essentially a perversion of pub rock for middle-class Leftists.
Correction: Punk rock was perversion of pub rock as a vehicle to enlist naive/disingenuous middle-class liberals into rebellion against native nationalism.
For all the talk of it being a roots, working-class movement that 'just sprang up', it was in reality orchestrated by middle-class communists, who used a (sometimes miscegenated) underclass rabble as a musical battering ram against traditional norms. Pub rock, with bands like early Slade, Captain Beefheart, The Who and The Sensational Alex Harvey Band, was what punk rock purported to be.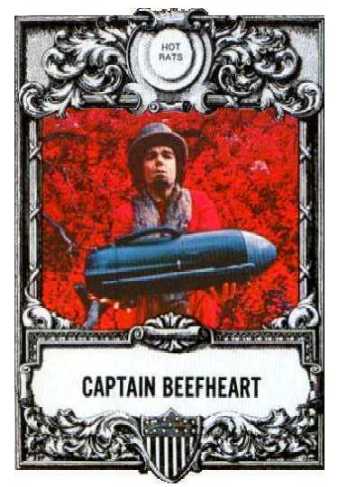 I've seen both the Who and Captain Beefheart, have enjoyed them both - particularly Captain Beefheart on album - but they shouldn't be accorded undue philosophical significance and authenticity (as they tend to be accorded).
Incidentally, my father rated the latter as the best live band he had ever seen. Bands like the Sex Pistols were fawned over by the Leftist media
Fawned over by the Jewish and (what is for us) liberal media.
and catapulted into the mainstream, while Beefheart and Harvey remained genuinely underground.
Beefheart's producers tried very hard to make him a commercial success; it wasn't in his nature to be commercial - it was just the opposite.
And therefore I say to Johnny Rotten in a style he might appreciate: Go fuck yourself, you fake posturing establishment shill.
That I can agree with. Good ending to the story.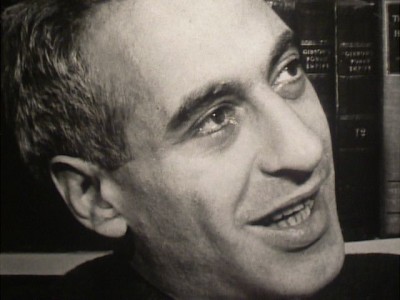 Frank Meyer, father of (((Paleocons))), grandfather of "The Alternative Right."
With the attack on Syria and the confirmation of Gorsuch to the Supreme Court, The Trump administration's (((paleocon agenda))) has come to explicit fruition - any pretenses to wear its new wardrobe lent by the Alternative Right in their disingenuous/naive trendy support has been thrown off - cucks: they've been used. The denial of having been used as paleocons takes the form of saying "Trump has gone neocon", when in fact, he hasn't changed - he has just come out in the open with the paleoconservatism that's always been behind the Alternative Right.
This turn of events should serve to illustrate why the terms we have to defend and negotiate our way in ethnonationalism are crucial to navigate our proper course. The terms to organize and understand our defense are not jargon, they are not complicated but they are very important.
If they were not important, Jewish interests would not have been so intent upon getting White advocates to identify their enemy as "the left" and to divert them into "the Alternative Right" big tent, which is just (((paleoconservatism))), revised with trendy terms, memes and a few more provisional adjunct circles to ease the entryism of Jews and sufficiently didactic right wingers (Captainchaos, take note) - largely a millennial generation internet bubble circle jerk; wherein they tell themselves that they are "rebelling" against boomer generation (((neoconservatism))), so that they can blame that instead of taking responsibility for having been hoodwinked in the garbed up (((paleoconservatism))) which had them as millennial fogies, getting behind Trump: "The Alternative Right" has aided, abetted, deepened entanglement and embrace of Whites with Jewish/Zionist interests.
While not naming the neocons explicitly, (((John K. Press)))'s "culturalism" - published at Alternative Right - is definitively paleoconservative by contrast to neoconservatism.
With Trump's coming out into the open in his paleocon agenda, Alt Righters are quickly encouraged to divert blame to the "neocons."
(((Edmund Oslan))), who identifies as Alt Right and contributes to Alternative Right.org as well, cites Trump as having gone "Neocon" - Savage Hippie Episode 41 – Did Trump Go Neocon, or Is He a Crackhead?
Matt Heimbach and Sven Longshanks follow suit, blaming boomer generation neoconservatism for Trump's actions in Syria.
MacDonald with Red Ice blames Trump for succumbing to neocon influence: Neocons to Remove Assad, Trump Buys the MSM Lie.
It goes without saying that the flagship of the AlternativeRight - viz Alt Right - would toe the Alternative Right/Paleocon line: Neocon Puppet Donald Trump Announces His Unilateral Attack On Syria.
Counter-Currents depicts their rightist contrast to Trump's Syrian venture "neoconservatism" as well, not seeing the culpability which its rightism shares with all of the above for playing a part in support of Trump, not having extricated themselves from paleoconservatism.
All the while, the paleocon jargon that entangles would-be White advocacy with Jewish interests under the rubric of the alternative right is protected and defended against clarification and correction.

Concerns for balkanization of the US are in order but not mutually exclusive to other ethnonationalist concerns - they occur in hermeneutic process, attended to as relevant - for those in The US, perhaps a predominantly regular concern.
...he gets the wrong answer, of course. Garbage in means garbage out:
Emile Bruneau recently invited Muslim students and staff at the University of Pennsylvania to help him figure out one of the most pressing questions of our time: How can we stop despising each other?
Bruneau wanted to know more about what kind of arguments effectively combat common prejudices: that Muslims are terrorists, that they don't want to assimilate, that they are intolerant and hate American freedom. Liberals often believe that Muslim women are oppressed. He enlisted members of the Muslim Students Association to look for videos they thought might prove persuasive. He thought firsthand experience with discrimination might be helpful. (He's also working with former white nationalists.) He was looking, he told them, for "individualized psychological medicine."
What worked best was a "very cerebral" video from Al Jazeera in which a Muslim woman said blaming all Muslims for terrorism was like blaming all Christians for the actions of Westboro Baptist Church or the KKK.
The question to ask is not, "how can we bridge our divides and induce Abrahamic religions and peoples to accept one another?"
It is rather to ask, "how can we disabuse people of Abrahamic religion and its universal imperialism in order to defend ethno-nationalism and human ecology against it; and failing completion of that task, contain its extant effects on people; keep our sane interests from being affected by its intransigent elements and lingering influences?"
Communicology is a fascinating and eminently useful discipline that we will be applying here at MR - correctly, unlike this effort from the Annenberg school. Nevertheless, there are some interesting take-away propositions here - notably, that Americans are low information decision makers, therefore equipping them with particularly helpful analogies for them to rationalize their coming to a position we like for them (in our case, we would want them to come to a natural and healthy ethnonationalist position for them and their people) is liable to work better than emotional appeals, despite a commonly ascribed-to school of thought which holds emotions to be the effective means to that end.
Philly.com, "Penn professor uses science to bridge the political divide", 2 April 2017:


Emile Bruneau studies conflict between groups and how to combat prejudice at the University of Pennsylvania's Annenberg School of Communication.

Emile Bruneau recently invited Muslim students and staff at the University of Pennsylvania to help him figure out one of the most pressing questions of our time: How can we stop despising each other?

Muslims and Christians may have been the groups he had in mind that day, but Bruneau, a child of California hippies who took an unusual route to Penn's Annenberg School for Communication, ultimately has broader goals in mind. What if there is a psychological key that could defuse the animosity between hate-filled groups around the globe? That includes U.S. Republicans and Democrats, who, his research has found, are almost as alienated from one another as Palestinians and Israelis. The only difference, he said, "is that we're not actually killing each other."

Most of us think the antidote to hate and close-mindedness is emotional. But, so far, Bruneau's research shows that the way to the mind is not necessarily through the heart. In fact, he believes, the way to the heart is through the mind.

Bruneau wanted to know more about what kind of arguments effectively combat common prejudices: that Muslims are terrorists, that they don't want to assimilate, that they are intolerant and hate American freedom. Liberals often believe that Muslim women are oppressed. He enlisted members of the Muslim Students Association to look for videos they thought might prove persuasive. He thought firsthand experience with discrimination might be helpful. (He's also working with former white nationalists.) He was looking, he told them, for "individualized psychological medicine."

Illustrations by Sophia den Breems

"Why Trump's ties to Russia would be way worse than Watergate"

- Sarah Kendzior, Flyover Country Correspondent, 30 March 2017:

At 5:25 am on Monday, March 20, Donald J. Trump logged onto Twitter and wrote: "James Clapper and others stated that there is no evidence Potus colluded with Russia. This story is FAKE NEWS and everyone knows it!"

Hours later, at a congressional hearing assembled to investigate foreign interference in the 2016 presidential election, FBI director James Comey confirmed the FBI probe into Trump's ties to Russia that same day. Comey confirmed that Trump and "individuals associated with the Trump campaign" had been under investigation for Russian collusion since late July, and that the investigation was still ongoing.

Contrary to Trump's assertion, this statement was not "fake news," nor was it news at all to those who had followed the Russian interference story since it broke last summer.

In August 2016, former Democratic Senator Harry Reid implored Comey to reveal information about Russian interference that he said "is more extensive than is widely known and may include the intent to falsify official election results," adding that the public had the right to know before the November election. Comey responded, notoriously, not by revealing that Trump was under FBI investigation, but by implying that Hillary Clinton was, in an "October surprise" faux email scandal that was retracted only after the rumor had damaged her campaign.

Reid wrote to Comey again in late October and reemphasized the Russian threat: "It has become clear that you possess explosive information about close ties and coordination between Donald Trump, his top advisors, and the Russian government – a foreign interest openly hostile to the United States, which Trump praises at every opportunity… and yet, you continue to resist calls to inform the public of this critical information."

After Trump won, calls for an investigation into Russian interference began in late November, led by Republicans like John McCain and Lindsay Graham as well as Democrats like Elijah Cummings, Maxine Waters, and Adam Schiff, the latter of whom led the interrogation of Comey and NSA head Michael Rogers at the March 20 hearings. Though it has falsely been portrayed by both the Trump administration and some media outlets as a Democrat-led witchhunt, Russian interference in the election was always a bipartisan concern. Any threat to both national security and sovereignty is a bipartisan concern, and the reluctance of the Trump administration to cooperate with the investigation has long been an ominous indication of his limitations and loyalties.

Instead of watchdogs, we have lapdogs

If you were the president of the United States, sworn under oath to protect and serve the public, wouldn't you want foreign interference in your campaign to be investigated – at the very least, to prevent the recurrence of similar actions?

Or would you try to impede the investigation, by smearing those who seek it (among them intelligence officials, legislators, and reporters) and by installing officials who either benefit from the Russian relationship (like Secretary of State Rex Tillerson), seem selected in order to obfuscate the Russian relationship (like Attorney General Jeff Sessions), or both?

Trump chose to assemble an administration designed to cover up and aid his shady dealings with the Kremlin, leading to an administration so spectacularly corrupt and inept it has no corollary in US history.

Here's where it currently stands:

The President is under investigation for colluding with a foreign power. He is being investigated by an oversight committee, the head of which, Republican representative Devin Nunes, has functioned less as a watchdog than a lapdog, providing information about the investigation of Trump to Trump in a breach of protocol. And this was not Nunes' only misdeed: he was also present at a January meeting between Turkish officials and Trump's former National Security Advisor, Michael Flynn, who in February resigned in disgrace after being revealed to be working secretly for the Turkish and Russian governments for millions of dollars.

In short, the US has employed a president suspected of treason, an oversight committee head who refuses to do oversight, and a national security advisor who undermined US national security.

The Trump clan and the Russian spy recruiter

Unfortunately, that's only the beginning. There is also attorney general Jeff Sessions, who has had to recuse himself from the Russia interference investigation because he is implicated due to multiple meetings with Russian ambassador Sergei Kislyak during the campaign. (Sessions is not alone; Kislyak, rumored to moonlight as a spy recruiter, also met with Flynn, Trump's son in law Jared Kushner, and Trump, though all have mysteriously foggy memories of these encounters.)

Then there's Secretary of State Rex Tillerson, recipient of an "Order of Friendship" medal from Vladimir Putin, who does not seem to know why he is even in office, admitting this week, "I didn't want this job, my wife told me to do this." Unfortunately, Tillerson came to that revelation only after inflaming military tensions with North Korea.

On top of that, the Trump administration contains a burgeoning and possibly illegal nepotistic dynasty (Jared and Ivanka, currently getting security clearances and White House office space despite no experience in government)....

Classical liberals make a two-paragraph declaration of obsolescence
No one ever thought that classical liberals would ever get around to actually acknowledging that they are fine with getting you and your family killed by roving bands of Islamic 'migrants' who are permanently conducting hijra for the past 1400 years and are always looking for a new location to park their reactionary socio-economic caravan of rampant misogyny, homophobia, mestizaje and genocide, but here it is:
Charles Johnson / FEE.org, 'Why Free Immigration is a Right', 30 Mar 2017:

Well good God, of course it is morally wrong for nations to pursue their "self-interest" in anything, and especially in border control policies. People have self-interests that matter, morally; nations do not. Nations are toxic hellholes of false identity and purveyors of monstrous political violence.

Nations are not rational people; they are not free associations or contractual agreements; they are unchosen, coercively assembled collectives, whose interests are typically an abortion of, if not an outright war against, the moral interests of individual people which actually deserve to be cultivated, practiced and respected. For anyone committed to individual liberty, a nations' "interests" deserve no notice at all except to trample them underfoot.
So, there is that. That happened. A classical liberal man actually wrote those paragraphs, and he was not intoxicated when he wrote them.
That excerpt really is basically a two-paragraph declaration of ideological obsolescence on the part of classical liberalism.
Apparently if you pre-emptively use force so as to prevent your enemies from pillaging your lands and killing your family, that makes you 'a bad person' or something. Crucially though, it also happens to make you a winner, which I think is the most important thing.
Separately, Charles Johnson is indeed correct when he says that nations are 'coercively assembled collectives' which wage 'outright war' against 'the moral interests of individual people'. The process of state formation is indeed an inherently violent array of actions from which all other actions of the state cannot be extricated, and the law itself is essentially an opinion with guns and detention facilities behind it. That is completely true.
With that said, though. Does anyone actually care?
Literally nobody even cares, so whatever
When asked to choose between the 'liberty' to have some individuals make moral choices in complete chaos and uncertainty, versus the 'monstrous political violence' of the state which creates stability and guarantees the safe existence of the people from which actual prosperity flows, the people should always choose the state.
Liberty has to be properly understood as not 'freedom from', but rather 'freedom to'. The task of the state is to steer a course that allows for the flourishing of prosperity without undermining the social-economic position of the dominant class which creates and reproduces state power, and without significantly undermining the ethnic composition of the people within the jurisdiction of the state's territory, as genes are a productive force and as such are a factor in the creation of the prosperity atop which the state subsists.
Talking to the invaders is useless
If someone virtue-signalled to Arabs through enacting lax border policies and then framed it as an act of kindness in the social media domain in the hopes that this would somehow smooth integration (still a stupid idea, of course, as integration is a stupid idea), it would actually be just liberals signalling to other liberals in a de facto echo chamber, because Arabs actually barely find time to read their own Arabic print media much less finding time to read English language in the social media domain. This is a fact that is known among most security consultants and among almost anyone who has ever been involved in Information Operations in Mesopotamia after 2003. 'The Arab man in the street' does not read. The Arab guy in the street has a political understanding gleaned from the oral pronouncements of his local Imam, a surface level understanding of current events from Arab language television, and a tangle of mutually contradictory conspiracy theories shared orally or across social media. In the case where social media is used, engagement-rates among Arabs are low, which is to say, they do not actually click links.
Almost 100% of the hearts and minds 'messaging' that classical liberal thinktanks who are trying to 'defend values' have engaged in, has actually been sent into an echo chamber of Europeans and Americans congratulating each other for crafting increasingly sophisticated narratives which all point toward strategically stupid conclusions which undermine European security.
Meanwhile, the mostly male Arab Muslim migrant wave has been ignoring it all while sitting in an ideological trash dumpster of misogyny and homophobia, as they despise all the progressive gains that have been made in regions of the world other than theirs. They have no respect for any other ethnic group and they believe that it is their mission to demographically infest the whole planet.
Safe beneath the watchful eyes
Without security there can be no real freedom. Most people know this almost instinctively, and that is for example why the United Kingdom's referendum on membership of the European Union delivered up a 'Leave' result.
The British people have displayed a revealed preference for the untrammelled full spectrum dominance of the British security state led by Theresa May and Amber Rudd, rather than a European Union which has fallen under the de facto control of Angela Merkel.
We can conclude from this that the British people enjoy actually winning at counter-terrorism more than they enjoy virtue-signalling to a foaming tide of Arab Muslim 'migrants' who can barely find time to read their own Arabic print media much less reading English in the social media domain.
The British people don't actually believe in classical liberalism. They believe in being real people. And that is a reason for optimism.
Classical liberal 'freedom' supposes that individuals can be abstracted from their origins, their environment, the context in which they live and where they exercise their choices, that is to say, abstracted from everything that makes them who they are specifically, and not someone else. It supposes that the individual is always prior to her ends. However, there is nothing that can prove that the individual can apprehend herself as a subject completely free of any allegiance, free of any form of determinism. There is no reason why she would prefer that form of 'freedom' over any other social good. Such a conception ignores commitments and attachments to clans or spiritual sects, bonds of blood and soil, long-term economic class interests, and the fact that nations are the deepest and most enduring source of political experience. Classical liberal 'freedom' is a purely formal conception, which is completely incapable of capturing the rich tapestry of what a real person is.
The real person seeks 'love' and 'eternity'. 'Love' is the wish that someone or something should continue to flourish forever, or at least, that they should 'get the last word' in the world before the story of humanity ends. In that sense, love is a desire to pursue victory and create a meaning where there was originally none. When standing alone, the individual is always defeated and approaching death alone is the most final of all defeats. But while death is a threshold which must be crossed and can only be crossed alone, it does not have to be approached alone. If the individual can pool her identity with the group, so that she becomes one with the will of the group as it solves the historical tasks which have been placed before it, then she is all-seeing and all-knowing forever and ever—capable of knowing what she is, and what she can become. She is really free and has attained 'eternity'.
Victory becomes attainable. We become the gendarmes who protect the actualisation of eternal love so that others can become part of it. We never die because this empire never dies, as it is constructed not only in the physical domain, but is also fortified in the domain of the mind. As such, we are expected to fight eternally for it.
We are not afraid of the conflicts that lie ahead and we are not sorry about anything.
Because love will emerge victorious over terror.
Kumiko Oumae works in the defence and security sector in the UK. Her opinions here are entirely her own.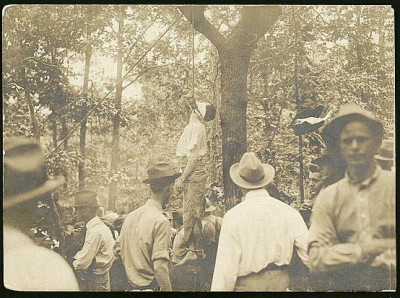 *Important editorial note: Though in this review Alexander Baron refers to Leo Frank as "white" in a few places, Majorityrights does not categorize Jews as "white."
The Lynching Of A Guilty Man reviewed by Alexander Baron
The Leo Frank Case subtitled The Lynching Of A Guilty Man is the third volume in a massive study The Secret Relationship Between Blacks And Jews. The first volume was published in 1991, so this is no rush job. It is also clearly a book written with an agenda, but even vested interest can speak the truth. And the obvious vested interest of the Nation Of Islam comes as a welcome counterpoint to the concealed vested interest of the rest of the American media which unthinkingly points the finger at a black suspect in spite of the conviction of a white* one.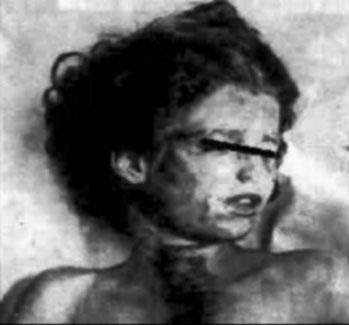 For those not au fait with this notorious case, it began when the body of Mary Phagan was found in the basement of the Atlanta Pencil Factory on April 26, 1913. The young worker had been murdered quite brutally for no apparent reason. The Negro security man who found the body quickly became a suspect - something that is more or less taken for granted nowadays unless the person who finds a body clearly has no connection with the victim, eg a hiker happening upon a skeleton.
Newt Lee aside, there was no shortage of more promising suspects, and two soon emerged: the factory manager/part owner Leo Frank, and his gofer Jim Conley. Although Conley was linked to the killing by forensic evidence, in particular two ludicrous notes written from the perspective of the victim, the authorities went with the prosecution of the white* man while Conley testified as an accessory after the fact. Frank was convicted and sentenced to death, but after extensive failed appeals his sentence was commuted. This led to outraged prominent citizens kidnapping him from the State Penitentiary, driving him back to Atlanta, and stringing him from a tree by his neck.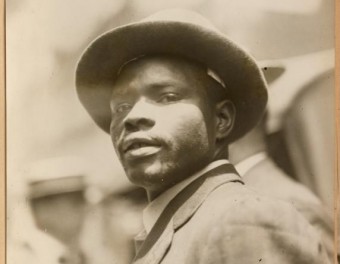 A century and more on there remain two competing narratives; the official and accepted narrative is that Leo Frank was innocent and Jim Conley the villain of the piece. Some might find that surprising as Conley was never indicted for the crime and Frank was never cleared officially in spite of enormous posthumous lobbying by especially the misnamed Anti-Defamation League. This book adheres to the second narrative, that ridiculous as Conley's tale may have been, he was in fact totally innocent, an accessory only after the fact, having found himself in a truly invidious position, a man of humble estate - in effect a third class citizen - who was told he must follow the orders of his boss or else.
In the past quarter to half century, quite a few authors have come out in support of this narrative, but none more impressively than the dedicated Leo Frank website and now this minutely documented book.
If anyone believes the fact that the forensic evidence pointing to Conley should have indicted him and him alone, here are two cases from the 1980s that show how wrong this kind of reasoning can be. In March 1984, the black American Sylvester Smith was accused of violating two young girls, cousins. As all the parties involved in this case were black, there was no racial angle. The girls had clearly been interfered with sexually, and unsurprisingly, Smith was convicted. Twenty years later he was cleared on appeal, the shocking truth was that the real perpetrator was a 9 year old boy (who went on as an adult to commit a murder). The girls had been coached by their grandmother to point the finger at Smith to protect him. After her death, they recanted.
An equally shocking case that made international headlines was that of Lindy Chamberlain. In 1980 while camping at Ayers Rock, Australia, her baby daughter Azaria was snatched by a dingo. She was convicted of the murder based largely on forensic evidence, but nearly six years later, more reliable forensic evidence was found - the girl's matinee jacket near a dingo lair.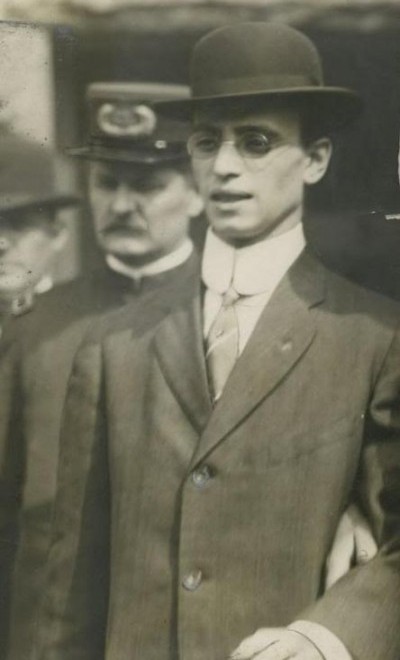 In the Mary Phagan case, the forensic evidence against Jim Conley (the notes) was outweighed by the forensic and other evidence against his boss, in particular there was evidence that the girl has been murdered upstairs. Almost all the other evidence pointed to Frank, everything from his demeanour to his willingness to point the finger at everyone else including at first Newt Lee. Conley on the other hand remained cool as a cucumber, so either he was a psychopath and a potential future Oscar winner, or he really was telling the truth, however outrageous or crazy his story may have sounded. But when the facts are all in, it wasn't that outrageous, it wasn't that crazy, and justice was done in the Deep South, both for Mary Phagan and for a black man whose word many of Frank's supporters believed should carry no weight at all.
A few criticisms are in order:
In the Preface, the claim is made that an "unknown posse" lynched Frank, and that he was and remains the only Jew ever lynched in America. The posse was hardly unknown, its members did not bother to hide their faces, and indeed appeared proud of their work. Later in the book it is made clear that their identities were in no way secret. The doubtful honour of being the first Jew lynched in America appears to belong to Samuel Bierfield in 1868, but neither he nor Frank were lynched because they were Jews.
Frank was hardly the most important Jew in the Deep South as claimed; he was certainly far from the wealthiest, and was the New York Times the world's most important newspaper? The most important in America maybe, but not more important than the London Times. And was World War One raging in 1913?
The reason the crime was committed and how it was committed are both laid out in impressive detail, as are the attempts by Leo Frank to point the finger of suspicion initially at Newt Lee, and then at anyone else without mentioning the fact that Conley was at the pencil factory at the material time. Why would he not do that? The only logical reason is that he didn't want Conley to open his mouth, and once Conley did, he too had to be accused. The book raises too the interesting speculation that Frank was considering murdering Conley – the only direct witness – as well.
The FBI is now investigating a story that almost everyone intuitively knew was true from the start:
The Hill, 'FBI probing far-right news sites: report', 20 Mar 2017:

The FBI is investigating whether far-right news websites contributed to Russia's interference in the 2016 presidential election, according to a new report.

The probe is focused on discovering whether Russian operatives used conservative outlets to help spread stories favoring now-President Trump, McClatchy said Monday.

McClatchy confirmed with two people familiar with the inquiry that the FBI's Counterintelligence Division is driving the investigation.

The sources said Russian operatives seemingly strategically timed computer commands called "bots" to blitz social media with pro-Trump stories.

The bots were used at times when Trump appeared struggling with 2016 Democratic presidential nominee Hillary Clinton, they continued.

McClatchy's sources said the bots mainly created millions of Facebook and Twitter posts linking to articles on far-right websites including Breitbart News, InfoWars and the Kremlin-backed RT News and Sputnik News.

The sources added that some of the stories were false or contained a mixture of fact and fiction.

Federal investigators are now examining whether the far-right news organizations took any actions aiding Russian operatives, they said.

The bots could have amplified pro-Trump news on Facebook and Twitter, regardless of the outlets' knowledge or involvement, the pair of sources noted.

"This may be one of the most impactful information operations in the history of intelligence," one former U.S. intelligence official told McClatchy, speaking on the condition of anonymity due to the matter's sensitivity.

FBI Director James Comey earlier Monday confirmed the Department of Justice (DOJ) is scrutinizing Russia's meddling in the 2016 race, including any possible ties between Moscow and officials from Trump's election campaign.

"As you know our practice is not to confirm the existence of an ongoing investigation," he said during a House Intelligence Committee hearing.

"But in unusual circumstances where it is in the public interest, it may be appropriate to do so," Comey added, noting the DOJ had authorized him to break bureau policy and publicly disclose the probe.

"This is one of those circumstances. I can promise you we will follow the facts wherever they lead."

Comey added the FBI's investigation began in late July and will include an assessment of whether any crimes were committed.
During the campaign itself, Louise Mensch had reported on basically the same thing. You can revisit that at Heatstreet, and I'll just give you an exerpt from that:
Heatstreet, 'How Russia's Twitter Bots And Trolls Work With Donald Trump Campaign Accounts', 20 Oct 2016:

If you've been following the Twitter fiasco that is the Donald Trump campaign, you will be aware of his association with the Alt-right and with Russia bot accounts.

Broadly speaking, Trump has two categories of support on Twitter. Alt-right trolls, and Russian bot accounts pretending to be patriotic Americans.*

In many cases, these two groups cross over. The altright contains actual humans, such as @prisonplanet, and many, many bots.

In this article I shall however examine the way in which Russian bots are created and used to follow and boost Trump online.

It is not that Donald Trump does not have widespread support. He does; even at his current polling lows, his support includes millions of Americans. It is, rather, that Trump's supporters are incredibly unlikely to use Twitter.

Broadly speaking ,Trump's real supporters aren't on Twitter – and Trump's Twitter supporters aren't real.

[...]

Three such bots that I videoed in the act of using this method were @Commander6080, @Sbragusa, and @jamesdgriffin. All have profiles that pretend to be Americans and to live in the USA.

How might this affect a twitter trend? What is the point of it? One scientist theorized as follows. It is a "fake trend" theory called "A Handoff":

Let's say you had a hashtag you wanted to get trending. You have a thousand bots (or Russian Trolls) and a popular account like Ricky Vaughn. You have the bots start using the hashtag, they start flooding twitter until it gets a high count (but not in the top 20 trends) then have a real person, Ricky Vaughn, start pitching the hashtag to his followers. Here is where the window of timing kicks in: within minutes, Ricky Vaughn can have something trending, but before he gets the hashtag to the top 15 you have almost all of the bots automatically delete their tweets with the hashtags. You've now started "a trend" quickly and have had it associated with "Ricky Vaughn" and not a 1,000 odd bots or Russian trolls.

[...]
This whole arrangement of social media manipulation is part of the communication operations side of the modern form of Russian Active Measures. The most remarkable thing about this arrangement is how it is tactically innovative and well-timed to exploit a particular weakness in American society specifically, but it is strategically unsophisticated because Russian commanders have also permanently ruined their own country's reputation among the international journalist community and among most people on social media.
It's highly abnormal for an entire country to transparently do something like that. Why would they choose to so carelessly and openly abandon even the appearance of any kind of 'normality' on national level?
There are a few reasons as to why they would have chosen to behave this way, but all of them seem to be capable of being summarised like this: Russian commanders may have been willing to sacrifice their country's perceived journalistic integrity in the eyes of most of the world, because they've already given up on the idea that they could ever create a narrative that could appeal to a broad audience. Instead, Russia is seeking to cultivate a very particular audience in Europe and North America (excluding the United Kingdom which they seem to be abandoning). They are seeking to cultivate that roughly 20% of the population which is somewhere vaguely in the nationalistic spectrum and is disillusioned about the political situation in their country, but also lacks grounding and experience in how the world actually works. Russian commanders want to shape the media experience through which those people will come to terms with the world around them, and thus, create a long-term 'following', even if those followers are not necessarily aware of what it is that they are following.
The utility of this is clear. 20% of a population is enough to seriously impact the operation of political institutions in western democracies which operate in a pluralistic mode. Russian journalism is not seeking to be liked by everyone, or even trusted. Russia just wants 20% of any given European population to be responsive to their input because that is the bare minimum that they need.