Majorityrights News > Category: Muslim Incursions
While growing up a child refugee in Britain he acquired the accent that would have him nicknamed among the infam four, 'the Beatles', heard promoting the mania of their terror campaign…
The Infam Four: El Shafee Elsheikh ( far right), one of the four infamous ISIS murderers, identified as a "child refugee" accepted into Britain. The other three were also admitted into Britain through legal immigration channels.

TNO, One of the four ISIS murderers infamous for appearing in the "Jihadi John" decapitation videos has been revealed as a former "child refugee" granted "asylum" in Britain through that country's open doors "asylum" policy.

The former "child refugee" has been named as El Shafee Elsheikh, whose family managed to swindle their way into Britain—and UK citizenship—by claiming to be "refugees" from the Sudan in the 1990s.

Elsheikh was one of four nonwhite invaders in Britain who went off to join ISIS in Syria when that "caliphate" was at its height.

The group to which Elsheikh belonged (named as Alexandar Kotey, Aine Davis, and Mohammed Emwazi) was nicknamed the "Beatles" by the media because of their British accents.

Emwazi was born Muhammad Jassim Abdulkarim Olayan al-Dhafiri in Kuwait, and moved to Britain as a six-year-old with his family in 1994. He was dubbed "jihad John" and was the most famous of the group, doing the speaking on the numerous decapitation videos they produced.

Emwazi was killed in an air strike in November 2015.

Davis—the mixed race grandson of Jamaican trombonist in the 1980s UK "Ska" band, The Specials—was arrested in Turkey while planning a new attack and sentenced to seven-and-a-half years' jail for membership of terrorist organization in May 2017.

In 2014 Davis's wife, Amal El-Wahabi, 27, became the first woman in the UK to be jailed for terrorism offences connected to Syria after she was caught paying a smuggler to take €20,000 in cash to Turkey for her husband.

Kotey is also of mixed-race origin—Ghanaian and Greek-Cypriot—and he, along with Elsheikh, were arrested by Kurdish fighters in the east of Syria at the beginning of 2018.

The two were identified and handed over to American Special Operations forces, who confirmed their identities using fingerprints and other biometric measurements.

Together, the four nonwhites—all of who were initially based in London—beheaded atr least 27 hostages and tortured many more.

It is still not clear what is going to Kotey and Elsheikh. They could be put on trial in the US for killing American hostages, or they could be returned to the UK for trial.

Some reports have said that the two have had their UK citizenship stripped—something that is only possible if they have been naturalized as British nationals, and have citizenship of another nation.

No matter what their eventual fate, one thing is clear: the open borders "asylum" policy and the promotion of mass Third World immigration by successive UK governments has proven to be a disaster, and may yet destroy Britain forever.



Beheading of 21 Egyptian Coptic Christians in Libya by ISIL functionaries.

"UN: ISIL holds several thousand blank passports"

NKWorld, 9 Feb 2018:

The United Nations has warned that fighters belonging to the Islamic State militant group may be using blank Syrian passports to cross borders.

The UN Security Council on Thursday released a report prepared by experts on the militant group and other terrorist organizations. It is based on information collected from local UN staff and governments of member states.

The report says the group has collected travel and identification documents from fighters coming from outside Syria and Iraq for potential use in travel. It also says the group has thousands of blank Syrian passports. It adds that they may be used by fighters seeking to return home or relocate.

Croatian Tomislav Salopek in 2016

The report also says the group continues to try to maintain and expand its influence despite recent setbacks in Iraq and Syria. It says the group is sending fighters and weapons to Libya and Somalia.

It also notes that the group obtains funds through systematic human trafficking.

The report says the group commands between 1,000 and 4,000 fighters in Afghanistan, including Afghan defectors from the Taliban as well as militant Islamist groups in Pakistan and Uzbekistan.

It warns that the Islamic State group continues to pose a significant and evolving threat around the world.


Arrow points to Millenial Filipino ISIL recruit
Diversity Macht Frei, "It's too late for Germany': German feminist SJW admits she got it wrong on immigration, plans to emigrate to Poland", 5 Feb 2018:

In 2012 Rebecca Sommer founded the refugee aid association Arbeitsgruppe Flucht + Menschen-Rechte (AG F+M) [Working Group Asylum + Human Rights]. At the end of 2015, this artist, photographer and journalist and documentary maker applauded Angela Merkel's decision to open German's borders to the "refugees" who had been blocked in Hungary, despite the vacuum effect this would create. "At that time I wanted to help everyone and truly believed that all these people were fleeing hell and were in a state of complete distress," the German activist explained in an article published by the conservative Polish weekly Do Rzeczy on 15 January, discussing how she woke up to reality.

In 2015, her NGO had almost 300 volunteers who were giving German courses to the new arrivals.

…"I thought their medieval view was going to change with time…but after having seen these situations occur repeatedly and observing what was happening around me, as a volunteer, I have had to recognise that the Muslim refugees have grown up with values that are totally different, they have undergone brainwashing from childhood on and are indoctrinated by Islam and absolutely do not intend to adopt our values. Worse, they regard we infidels with disdain and arrogance."

"It was a jarring perception when I noticed that these people I had helped, who were eating, drinking, dancing and laughing with me, who didn't pray, who didn't go to the mosque, who didn't respect Ramadan, who made fun of religion and deeply religious people, called me 'the stupid German whore' when they were eating my food and were in my garden."

…Rebecca Sommer says she is not an isolated case, that many other volunteers also came ultimately to have the same perception and that there are now far fewer volunteers ready to work with the new arrivals today in Germany. She also acknowledges that, through their numbers, these Muslim immigrants pose a threat to the German way of life, and that this will get worse with family reunification.
She also told the Polish weekly magazine Do Rzeczy that she personally knows Germans who are getting ready to emigrate to Poland because they had have enough, and she added: "If Poland and Hungary do not give in on this question, you could become countries that some Germans and French will flee to. You could become islands of stability in Europe."

Islands of stability but also democracy because Rebecca Sommer also notes that democracy no longer really exists in Germany….When the human rights activists wanted to denounce forced conversions to Islam in Indonesia, her account was blocked.

This Berlin woman no longer dares to go out on her own on New Year's Eve and she has already been attacked five times by men speaking Arabic!

She thinks it is already too late for Germany and she plans to emigrate for her retirement. Political Islam is present everywhere, including in the government, in political parties, in the police and schools. With family reunification, millions of additional Muslim immigrants are going to come. In the German capital where she lives, entire districts are already dominated by the Muslim community which forms a parallel society.
Sick of living in fear, destruction and betrayal of her German nation's people, German woman calls for others to join her in Bottrop, Germany protest.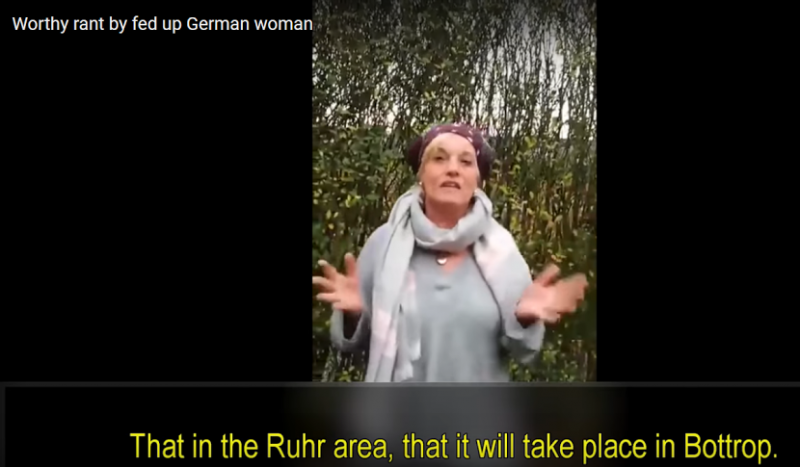 Now, one should beware that this opposition is at least somewhat controlled - note the Gates of Vienna and Rebel Media, etc. sponsorship at the end of the video; but it probably still provides a way to voice some aspects and semblance of ethnonational sanity, as this woman does.

Squawker, "Greece Fights Back", 23 Jan 2018:

Over four hundred thousand flag waving patriots joined together yesterday. In a display of purely Nationalistic based pride that seemed almost out of place in today's modern diversity first Europe. Taking to the streets in protest of neighboring country Macedonia, a nation they feel has stolen an important part of their heritage and culture. Here below is some drone footage of the rally, which provides a proper sense of just how large this crowd truly was.

Not everyone was thrilled by the huge turnout however. Including Greece's Liberal government, who made their disapproval of the entire event quite clear before it even began. With multiple senior lawmakers today calling the event an irresponsible act, that only fanned the flames of the over 25 year long feud with neighboring Macedonia.

The political disapproval for the rally is likely why despite a purported 68% of Greeks backing the protests overall goals, the crowd yesterday was met with an incredibly large militarized police presence. A presence that sadly and almost inevitably led to numerous reports of violence and the crowd clashing with authorities.

The Greek government even attempted to use its control of the media to limit the influence and reach of the protest. With the state controlled national broadcaster ERT, purposely not mentioning the largest demonstration in Greek history on their nightly news broadcast.

Beyond even these blatant examples of Government censorship, the real story however might just be the fact that the Greek people appear to have seemingly run out of patience for the Anarcho-Liberal extremists living among them. With witnesses claiming to have seen a handful of protesters break away from the crowd and throw a Molotov cocktail into a building widely known to be used by a local Antifa chapter operating in the city. While no damage was done to neighboring houses, nor anyone injured in the attack as the house was empty at the time. The Antifa occupied house was in fact completely destroyed in the ensuing blaze.

Government opposition leader Kyriakos Mitsotakis called the rally a demonstration of "the indignation of Greek citizens towards a government that acts secretly and, with its acts and omissions, shows that it is incapable of serving national interests." This declaration in support of the rally was met with an official government spokesperson quickly calling Mitsotakis "unreliable, irresponsible and populist." Proving once again that anyone who has his own people's interests at heart, is considered unacceptable by the Liberal ruling political class.

Despite the blow back from their own Government, the people of Greece don't appear to be backing down. With the rally this weekend revealing just how many were still willing to take to the streets and openly display their love of country and national heritage. Some even, whether right or wrong, even dared to back up those words with actions against those who might otherwise want to quiet them. It's uncertain for now if this violence was merely a one off or signs of continued conflict to come, but we do know for sure that the peaceful protests at least will be continuing. With another demonstration set for February 4th, this time located in the capital city of Athens itself.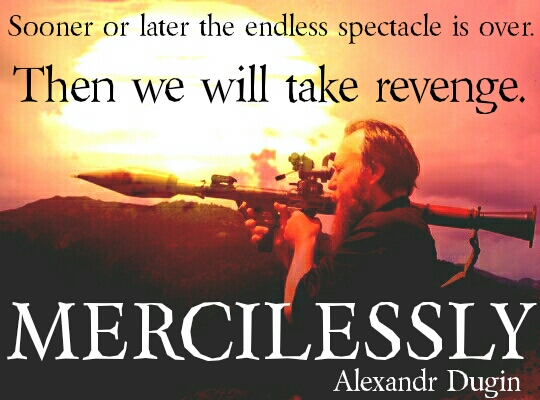 The Russian Federation
is still crying
: "Nobody likes traitors. Apparently, Kurds will stay alone with Turkish armed forces. Neither Damascus nor Moscow will provide any assistance to them. And only Kurdish leaders are responsible for that" - Alexandr Dugin.
It is a good sign that they are, along with their People's Protection Unit (YPJ), putting imperialist Turkey, US, Russia and Israel in a bind.
Having their origin in separation from the Jewy treachery of Soviet Russia, its imperialism, its Muslim Turkish cohorts, in favor of left nationalism in order to wrest national independence for the Kurds, it would be ideal if this Asian backed left nationalism could sheer off the eastern half of Turkey and, along with fellow ethnonationalists from the west, put the squeeze on those rats. The imperial Russian Federation is still crying that the Kurds have rejected them. In causing consternation for the JewSA, Russovitz and Israel's Turkish Friends, they are causing ethnonational consternation for imperial Israel as well.
Now, the Kurds have different facets and we are talking favorably about the ideal form and purpose of their left nationalism, not any assistance or alignment that some of them may have provided for radical Islam - on the contrary, that is just another form of imperialism.
Jerusalem Post, "Turkish and Syrian threats in Afrin put U.S., Russia in a bind, 19 January 2018:

What does it all mean for Israel?


People hold flags of People's Protection Unit (YPJ) as they walk during a protest against Turkish attacks on Afrin, in Hasaka, Syria, January 18, 2018. . (photo credit: RODI SAID / REUTERS)

On Friday, Turkey increased its shelling of the Kurdish-held Afrin enclave in northern Syria. According to the Kurdish People's Protection Units (YPG) up to 70 artillery shells were fired during the night.

While Turkey has threatened to invade the Kurdish area, which it says is being controlled by terrorists aligned with the Kurdistan Workers Party, Syria has threatened to shoot down Turkish warplanes in case of any attack on Syria's territory. The war of words in northern Syria puts the US and Russia in a bind because the US is allied with the Kurds in eastern Syria while Russia has been a close ally of the Syrian regime.

Since mid-January, there have been rumors and threats of a Turkish invasion of Afrin. The area has been controlled by the YPG since the early years of the Syrian civil war. In eastern Syria, the YPG and its affiliated Syrian Democratic Forces (SDF) have been successful at defeating Islamic State. However, in northern Syria, the Kurds have only come to control the thinly populated mountainous area of Afrin.

The autonomous canton is home to around one million people. The area is surrounded by Turkey on two sides and in Syria it borders areas controlled by Syrian rebel groups. The Kurds in this area have remained mostly outside the Syrian conflict because the Syrian rebel groups represent a buffer from most of the heavy fighting.

However, the Kurds here also have a complex relationship with the Syrian regime. They have not opposed Russian military personnel, for instance, who have been spotted in the Afrin area, and the YPG maintains amicable contact with the Russians, who are the Syrian regime's closet ally.

Since the fall of 2016, when Turkey began to intervene in Syria, the YPG has been targeted by the Turks and their Syrian rebel allies. When Turkey and those allies moved into the area between Jarabulus and Kilis in 2016, it was widely seen as an offensive not only against ISIS, but also to make sure the Kurdish forces did not get any closer to the Turkish border to link up Afrin with the areas they control in eastern Syria.

In March 2017, the US, which has been working closely with the SDF and YPG against ISIS, sent vehicles to Manbij to ward off any Turkish attack on its Kurdish partners. This was an important symbol because it showed the US had drawn a clear line around its partner forces and would warn off any attack. The US shot down a Syrian plane in June 2017 that was operating close to the SDF as well.

However, US-led coalition spokesman Ryan Dillon put out a statement on January 16 saying it is not operating in Afrin and the Pentagon told the Turkish news agency Anadolu that it was not involved with the YPG in Afrin. "We don't consider them as part of our defeat ISIS operations," a Pentagon spokesman said. This is a clear message to Turkey that the US would not be involved in any sort of operations if they happened in Afrin.

However, the US has indicated the US will be remaining in eastern Syria for the foreseeable future. Secretary of State Rex Tillerson reiterated this pledge Wednesday. The US has often urged Turkey to keep its focus on fighting ISIS, rather than mission creep that would lead to conflict with the Kurds. Any conflict with the Kurds would inevitably complicate the US mission in eastern Syria, because it would cause the Kurds in the east to want to aid their comrades in Afrin.

Turkey has posited that any operation into Afrin would be with rebel groups and that the operation is carried out "for them," and Turkey is "helping our brothers," according to statements from the Turkish Presidency. However, this poses problems because the Syrian rebels that Turkey wants to work with against Afrin are busy fighting the Syrian regime in Idlib, where they are hardpressed, suffering civilian and military loses.

Nevertheless Turkey's defense minister Nurettin Canikli vowed on January 19 that Ankara would carry out the operation, according to Turkish media. "The threat level against Turkey is increasing by the day. This operation will be carried out and we will combat terrorism." At the same time, the Syrian regime warns that any incursion could bring Syrian air defense into the picture. Syrian Deputy Foreign Minister Daisal Mekdad warned Friday that any attack on Afrin would be an act of "aggression" against Syria.

According to Al-Jazeera, Russia has moved military observers in Afrin "away" from the area, closer to Syrian regime-held territory. Any attack would therefore not harm the Russians who have become a key arbiter of issues in Syria. Russia has hosted the Astana and Sochi talks about the future of Syria, meeting with Turkey, Iran and Syria's governments. In Afrin, Russia is the key player because it has relations with all sides and it has warmed relations with Turkey over the last six months.

However, Russia has remained mum on any potential Turkish operation. It must balance its interests in cultivating relations with Syria, with its support of Damascus and its relations with the Kurds. Wishing to see itself as the broker of peace, Russia would hope that there is not a major Turkish incursion. That means any Turkish action might be limited, as it has been before, and the war of words is intended more to test the waters with the US, Russia and Syria, than lead to a major attack jeopardizing the lives of thousands.

For Israel, what does this mean? A similar scenario will eventually play out near the Golan, without Turkey but with the regime seeking to test the US, Jordan and Israel's resolve with Russia in the background. Afrin therefore matters greatly to the region and what transpires there will tell us about the future of Syria.
The New Observer, "White Race Doesn't Exist" says Rome's top bracket", 16 Jan 2018:

The White race does not exist, and to say it does is "ignorant," the President of the Jewish Community of Rome, Ruth Dureghello has announced on Twitter.

"It's inconceivable that in 2018 one must repeat to ignorant ones that there doesn't exist a white race to defend, 80 years after the promulgation of the racial laws," Dureghello wrote in Italian on her twitter feed.

She was reacting to a remark made by Attilio Fontana, a candidate of the Northern League party for the governorship of the province of Lombardy, earlier this week when he said that the Third World invasion of Europe was going to lead to the extermination of the white race.

Fontana, who is running with support from a center-right alliance, whose backers include former Premier Silvio Berlusconi, made the comments on Sunday on Radio Padania, which is run by the Northern League.

The controlled media in Italy was in uproar over his comment.

He said that being unwilling to "accept all" immigrants "isn't a question of being xenophobic or racist, but a question of being logical or rational.

""We can't [accept them all] because they don't all fit; we must make choices," Fontana said. "We must decide if our ethnicity, if our White race, if our society must continue to exist or if it must be cancelled out, because there are many more of them than us and they are much more determined to occupy this land than we are."

Though Fontana's remarks are completely accurate— given current nonwhite invasion levels and the staggering reproduction rates of nonwhites already present in western Europe, that part of the continent is due to be majority nonwhite by 2040 or 2050 - the controlled media in Italy went into "uproar" over the comment.

Not even Fontana's backtracking satisfied the hysteria. He later claimed it was "a lapse, an error in expression. I meant to say we must all re-organize a different kind of welcome, respecting our history, our society."

Meanwhile, the Northern League's charismatic leader, Matteo Salvini, refused to back down and said that Fontana had rightly raised a worry about an "invasion" by Muslims.

Salvini defended Fontana and said his party in government will "regulate every Islamic presence in the country." "Our culture, society, traditions, way of live are at risk," he said. "An invasion is underway."

The vote for governor is being held on March 4.

* Dureghello's reference to the "80 years after the promulgation of the racial laws" in her tweet is in relation to the racial laws promulgated by the Mussolini in 1938 which sought to keep Italy European, and which excluded Jews from holding position of public office, political parties, trade unions, banks, insurance companies, higher education, and all media in Italy.
'Refugees' by way of Israel with money enough from there for a one way ticket to Europe.

New Observer, "Africans Deported from Israel "Appear" in Rome", 9 Jan 2018:

African invaders who were earlier "voluntarily deported" from Israel to Rwanda with a $3,500 payment each have been found and interviewed in Rome, according to the United Nations High Commission on Refugees.

According to a statement issued by UNHCR spokesperson William Spindler at a press conference today at the Palais des Nations in Geneva, at least 80 of the Africans deported from Israel were interviewed by UN representatives "between November 2015 and December 2017 in reception centres and informal settlements in the Rome area."

The UNHCR statement called on the Jewish ethnostate not to proceed with its plans to deport nearly 40,000 Africans, as announced in November last year.

The UNHCR said that it was making the appeal to Israel after "some 80 cases were identified in which people relocated by Israel" had taken "onward journeys to Europe via Libya."

"All 80 cases involved Eritrean refugees or asylum seekers who were "interviewed by UNHCR staff in Rome," the statement said, adding that the Africans then travelled "hundreds of kilometers" through South Sudan, Sudan and Libya "after being relocated by Israel."

From Libya, they had crossed the Mediterranean to invade Europe,

"The interviews–all with adult males, some with family members still in Israel–took place between November 2015 and December 2017 in reception centers and informal settlements in the Rome area. All had entered Israel via the Sinai," the UNHCR statement continued, peppering each sentence with patently bogus claims that the invaders have been "tortured and mistreated" at every step—a standard tactic by those seeking to justify the Third World invasion of Europe.

"Most said they had been transferred from Israel to a country in Africa and provided with a lump sum of US$3,500 dollars. However, the situation on arrival was different to what most had expected and with little further support provided beyond accommodation on the first night," the UNHCR statement continued, providing some insight into how the Jewish state is getting rid of its African spongers.

"In light of this, UNHCR is seriously concerned over Israel's plans announced on January 1st to forcibly relocate Eritreans and Sudanese to countries in Africa or have them face indefinite detention," UNHCR statement said.

"Official statements that the plans may eventually target families and those with pending asylum claims, or that asylum seekers might be taken to the airport in handcuffs, are particularly alarming.

"At a time when UNHCR and partners in the international community are engaged in emergency evacuations from Libya, forced relocation to countries that do not offer effective protection and the onward movement of these people to Libya and Europe is particularly worrisome.

"There are some 27,000 Eritreans and 7,700 Sudanese in Israel. Since Israel took over refugee status determination from UNHCR in 2009, only ten Eritreans and one Sudanese have been recognized as refugees.

"Another 200 Sudanese, all from Darfur, were granted humanitarian status in Israel and there was an announcement that another 300 will follow. Israel has not received any Eritreans or Sudanese since May 2016."

Remarkably, the UNHCR said that it was prepared nonetheless to help the Jewish state get rid of its Africans:

"UNHCR stands ready to work with Israel to find alternative solutions for the protection needs of asylum seekers, in line with international standards. This includes resettlement out of Israel, as has happened previously", the statement ended.