Majorityrights News > Category: Muslim Incursions
Chapo Trap House on How Richard Spencer Plays the Liberal Media, 14 June 2017:

Matt Christman

Angela Nagle (7:53): They think (also) that women making the completely voluntary choice to have children with a non-White man is White genocide (laughs) you know, it's just so ridiculous, I mean…

Matt Christman (8:05): interjecting sarcastically: Ah, excuse me, but, "cultural Marxism" much? Frankfurt School?

Angela Nagle (8:10): Laughs uproariously

Matt Christman (8:14): "It's not of their own volition."

Angela Nagle (8:14): laughing

Matt Christman (8:15): Porn! Jewish produced porn has brainwashed them into thinking that big dicks are more pleasurable to have sex with.

Angela Nagle (8:22): Continues to laugh in approval of the sarcasm.

Matt Christman (8:24): They literally believe that by the way.
It has always been theoretically uncomfortable when White advocates White knight or try to counter "the misogyny" of White advocacy on behalf of White mudsharks by suggesting that they are sheerly brainwashed by cultural Marxsim.
I have tended to lay off these arguments as I believe there is truth to cultural coercion and veritable psy-ops of cultural Marxism and demoralization through Jewish porn; and it is a help to take a step away from completely deterministic, objectivist arguments; better still, as opposed to the White genders blaming one another, to look critically at Jews, who have been egregiously critical of us and divisive of White men and women. These angles are true enough to consider along with being helpful to take the pressure off of gender antipathy and to put the social realm and culture (by which I mean rule structured practices) into play.
However, the cultural Marxism angle has always been insufficiently explanatory when dealing with "voluntary" miscegenation and White genocide. The little discourse above provides occasion for correction.
Angela Nagle might believe that outbreeding is not killing European genotypes; here White advocates haven't done that bad in showing that it (coercion that suppresses breeding of a race) can meet with the UN definition of genocide.
Matt Christman might think that all White advocates believe miscegenation and outbreeding is only a result of brainwashing; and maybe some do. But his and Angela Nagle's mockery exposes a puerility and weakness of their own argument, which calls for exploitation through the added sophistication of the hermeneutic circle.
White females, as any females, do have base drives that can incite genetic competition, miscegenation, incline toward strong black men with big weenies (though even I, in my distaste and disrespect for blacks on the whole, would not reduce miscegenation to only these causes) an inclination that can be activated under certain circumstances - particularly by pandering to them in atavistic circumstances such as the disorder of modernity. However, for a self proclaimed leftist, Nagle is making a surprisingly reductionist, liberal, right wing argument in saying "it's completely voluntary." There are definitely cultural rule structures that are encouraging and promoting it; and even more significantly, there are heavy taboos against criticizing it; even literal laws against taking critical and opposing stances against it. These are cultural/political violation of even the most reasonable and natural extent for mature White men (and women) to protect their kind.
This would be a part of the pleasure pain matrix that Matt Christman invokes. As White men overcome their right wing reactionary position and adopt the reality of social construction and the hermeneutic circle, they will not have to accept the "way it is-ness" of Matt Christman's "White knighting" on behalf of mudsharks (likely overcompensating pandering for the fact that he is ugly - about as ugly as the typical black woman - and desperate to be in the good graces of Jews, if not part Jewish himself).
But as we step into hermeneutics, we move beyond the tropism of the high contrast porn episode of the gargantuan black weenie and the White woman. But first, porn does some corrective favor in the sense that it is compelled to show that we White men can be quite well hung - so, if that's what a woman feels she needs. Finally, porn does not tend to reveal the fact that blacks are not necessarily heavy hung; I don't need to belabor this point here, except for the fact that their Not having a big weenie does not suddenly make them OK to intermarry with by our estimation. And as a very fundamental point, we are not discriminating against White guys with big Weenies.
Our kind was averse to blacks as children, before sexuality was even an issue, let alone weenies. After that it was the presumtuousness, arrogance, hyper-assertiveness, aggression, brutal antagonism and violence against Whites. Things that the puerile might find titillating, perhaps puerile girls, but not us. Along the way, we noticed subtleties of our female co-evolutionaries which we found compelling; and the physicality of blacks generally displeasing by contrast, let alone their behavior and the fall-out of their way of life.
We did not expect that we would be blamed for everything and told we owe them everything, including those we might hope to be our wives and daughters. We never could have imagined that we would be expected to accept this in servitude. We thought others would naturally think as we do, and though some naive adults thought it was a good idea to integrate us with blacks, when we got old enough, that we would join the rest of normal Whites who want to get away from them and be with Whites.
That didn't happen in any articulate way. And we have to confront not only the fact of cultural Marxism, but that our enemies are playing the objectivist angle where it works against us - heavily now that they've hoodwinked the Alt Right and other large tracts of popular culture to argue against PC and "the left."
We have to confront the fact of thrownness, that our group co-evolutionaries can miscegenate, but by the same token, thrownness, we are thereupon able to invoke and collaborate on cultural rule structures; it is not something that we have to accept as just the way it is, merely a voluntary choice that owes nothing to the tens of thousands of years of evolutionary struggle that went into our differentiation; along with its hundreds and thousands of years of social capital.
Even if they argue that some black guy might provide a more pleasurable moment and episode than some White guy, might be more confident (and coherent of identity, in part as a Jewish backed thug coalition) in the Jewish provoked disorder of modernity, where the rule structure of our guard and classificatory boundary is down, we can easily counter that plenty of us White guys are going to provide not only quite fine moments, but as we rebuild our full class, a far more pleasurable and satisfying way of life than the blacks manage.
With that, rather than mocking and laughing at the servitude of black interests that has been imposed upon White men, we will be having the last laugh as we send miscegenators and their half cast broods to live with blacks and the way of life that they create. They will either accept that or the recognition that they are indeed the supremacists and slave masters who need to be overturned by any means necessary. Do you know Angela and Matt, a White guy might not want to be a slave, paying for the babies of the mudsharks who destroy the genome bestowed them through tens of thousand of years of struggle, might just find a White woman's face and skin color more appealing, a European's way of life more pleasurable.
Angela Nagle claims to be open to talking to people who are dealing in topics forbidden by PC. We have offered to talk to her and that remains a standing invitation.

The march in London was attended by thousands, with one Twitter user putting the demonstration's attendance figure at 30,000. Ex-servicemen marched alongside the Football Lads Alliance in a demonstration against recent terror attacks that have hit the UK.

Daily Mail, "Thousands of football supporters march" in London, 8 Oct 2017:

Thousands of football fans marched against extremism today at a protest attended by English Defence League founder Tommy Robinson.

The ex-English Defence League founder appeared to be reporting on the march for The Rebel Media, but was also spotted smiling with supporters

The Football Lads Alliance (FLA) descended on London for a demonstration condemned by charity Stand up to Racism (SUTR) as well as Labour's shadow home secretary Dianne Abbott. Dianne Abbott was among the signatories of a statement penned by Stand up to Racism, who said the group should make clear there is no place for right-wing extremists to speak on the march.

FLA founder John Meighan said the event was organised to show concern at a 'recent upsurge' in UK terrorist attacks, according to the Evening Standard.
Although hobbled by the kinds of constraint that Tommy Robinson is beholden to, including Dianne Abbott's "Stand Up to Racism" (SUTR) statement, the march's implicit Whiteness is overwhelming, and is cause for optimism that it will have momentum to carry beyond superficialities of anti-nativist political "correctness."
"Miss Grand Myanmar", Shwe Eain Si, has been stripped of her title just days before she was due to compete in a leading international beauty pageant by organizers Miss Grand International. The nineteen year old had released a video statement in which she basically told the truth about the cause of the crisis in Rakhine State - Mancinblack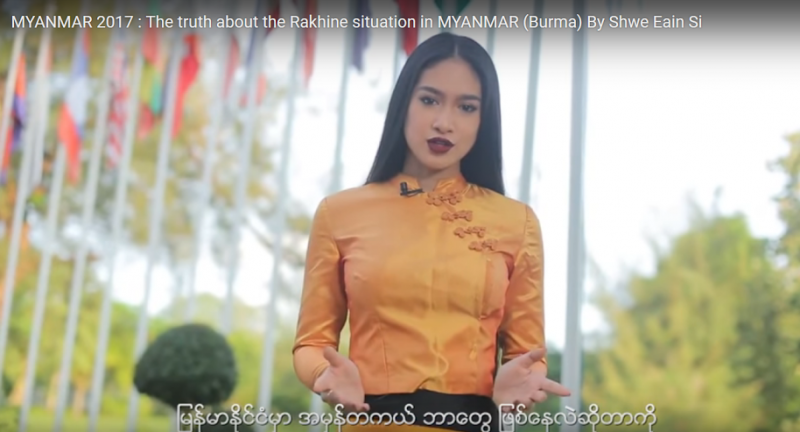 The Local, "Marseille attacker released by police day before stabbing rampage", 2 Oct 2017:

Tragic: The two victims of the Marseille knife attack were identified by their first names as cousins and best friends Mauranne (left) and Laura (right), both 20

The man who stabbed two young women to death in Marseille in an attack claimed by the Islamic State group used seven different identities and had been arrested just days earlier, French prosecutors said Monday.

The man who stabbed two young women to death in Marseille in an attack claimed by the Islamic State group used seven different identities and had been arrested just days earlier, French prosecutors said Monday.

Authorities said the man, who was shot dead by anti-terror troops after Sunday's attack outside the southern city's main train station, had previously used a Tunisian passport under the name Ahmed H., 29.

But investigators are seeking to confirm his identity as the attacker—who had a history of petty crime but was not on a jihadist watch list—used seven aliases, anti-terror prosecutor Francois Molins told reporters.

"The method of the attacker, a knife attack at a train station, responded to a permanent call from the terrorist group Daesh," Molins said, using another name for IS.

The jihadist group's propaganda agency Amaq claimed the killer was one of its "soldiers", while a source close to the investigation told AFP no solid evidence linked him to IS.

The attack in France's second biggest city followed a string of stabbings around Europe claimed by or blamed on Islamist radicals.

The man killed two 20-year-old cousins from the eastern city of Lyon. One was studying in Marseille and the other was visiting her for the weekend.

Molins confirmed that witnesses heard the attacker shout "Allahu Akbar" (God is Greatest) as he lunged at the women with a 20-centimetre (eight-inch) knife before threatening soldiers, who shot him dead.

The attacker's fingerprints showed he had had seven brushes with the law since 2005—most recently when he was arrested last week in Lyon.

He presented the Tunisian passport to police, saying he was divorced, used "hard drugs", and had no fixed address.

The shoplifting charges were dropped for lack of evidence, and local authorities "were not able to take a decision to deport him," Molins added. He was released on Saturday.

'Barbaric act'

Police evacuated Marseille's ornate Saint Charles station after the attack, temporarily halting all train traffic on some of France's busiest lines.

"I was on the esplanade just in front of the station," Melanie Petit, an 18-year-old student, told AFP. "I heard someone shout 'Allahu Akbar' and I saw a man who seemed to be dressed all in black."

French President Emmanuel Macron tweeted Sunday that he was "deeply angered by this barbaric act".

The attack comes as parliament prepares Tuesday to vote on a controversial anti-terror bill that transfers some of the exceptional powers granted to police under a 22-month-old state of emergency into national law.

France has been under a state of emergency since the IS gun and bomb attacks in Paris in November 2015—part of a string of jihadist assaults that have left more than 240 people dead over the past two years.

But rights groups warn that making parts of the state of emergency permanent would give police too much free rein in handling terrorism suspects.

Knives have been the weapon of choice in a string of smaller-scale attacks, in recent months, mainly targeting troops from the 7,000-strong Sentinelle anti-terror force set up to patrol the streets and vulnerable sites such as stations and tourist attractions.

In most cases, the attackers were shot dead at the start of their rampage, before they could kill others.

The Marseille attack came only days after IS released a recording of what it said was its leader Abu Bakr al-Baghdadi urging his followers to strike their enemies in the West.

The French government has deployed troops and its air force to the Middle East and is a leading partner in the US-led international coalition fighting IS in Iraq and Syria.
DM: The man, who was aged between 30 and 35, has not been formally identified.

On Friday the attacker – who was a North African of either Algerian or Tunisian origin – was arrested in Lyon for shoplifting.

He had no papers on him and was in 'an irregular situation in Europe', so giving the authorities a chance to place him under judicial control.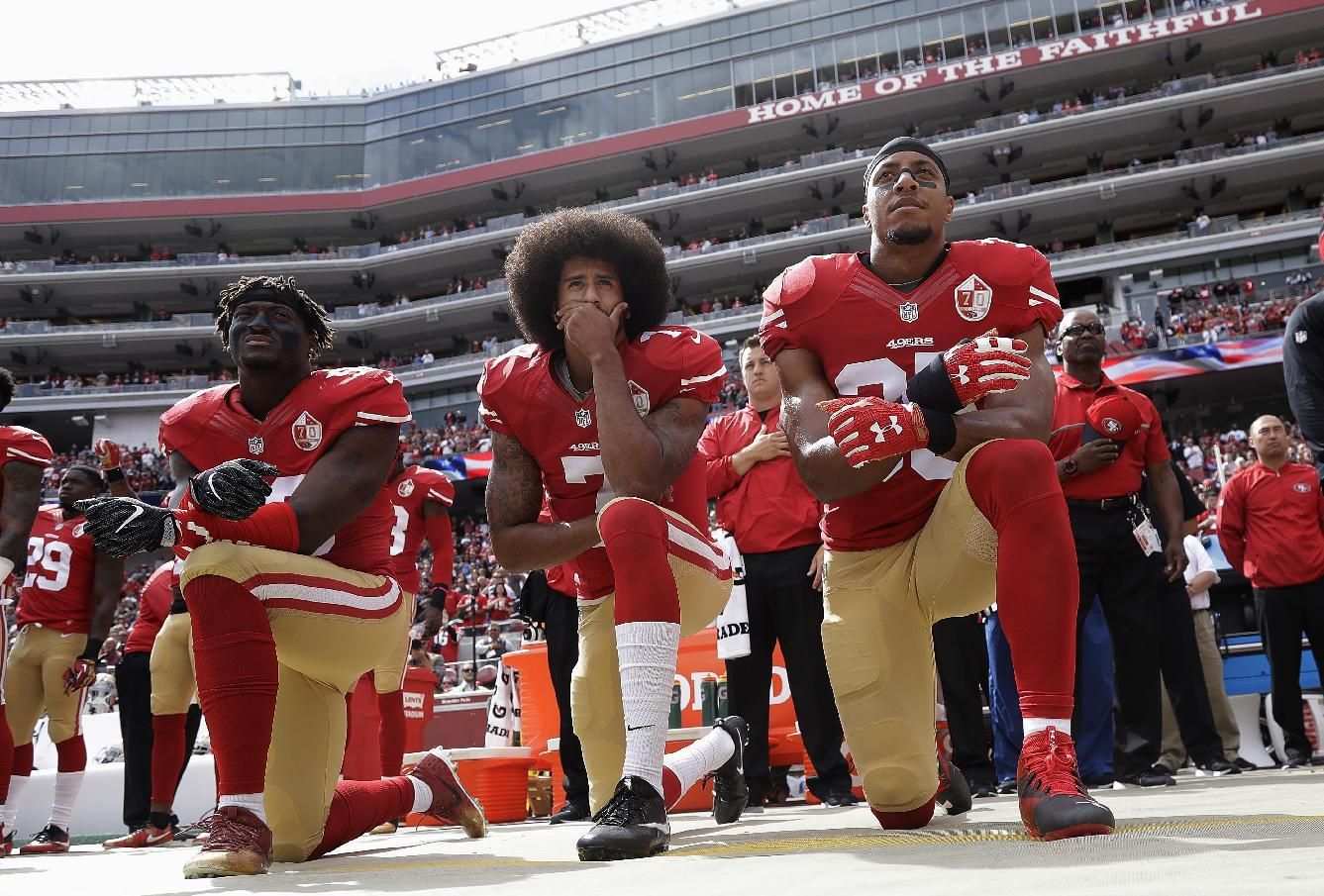 The Kaepernickan Revolution Not
As ethno-nationalists, we should bear accord with those who would hold that the American flag represents propositional liberalism and ever represents as such, an adversary to ethno-nationalism.
While it is theoretically valid for black football players to protest the history of slavery that is taken for granted in the anthem, it was not just any Whites who brought them to the Americas, it was right wing hubris that brought them to the Americas.
There was no bigger error in history than to bring African slaves to the Americas - a classic right wing hubris compounded ultimately in its disingenuous liberal expression of anti-racism that was not only disastrous for the human ecologies of the Americas both native American and White, but an economic short-cut that threw the world's economy into a perilous imbalance in relation to Asia; an imbalance from which it has not recovered.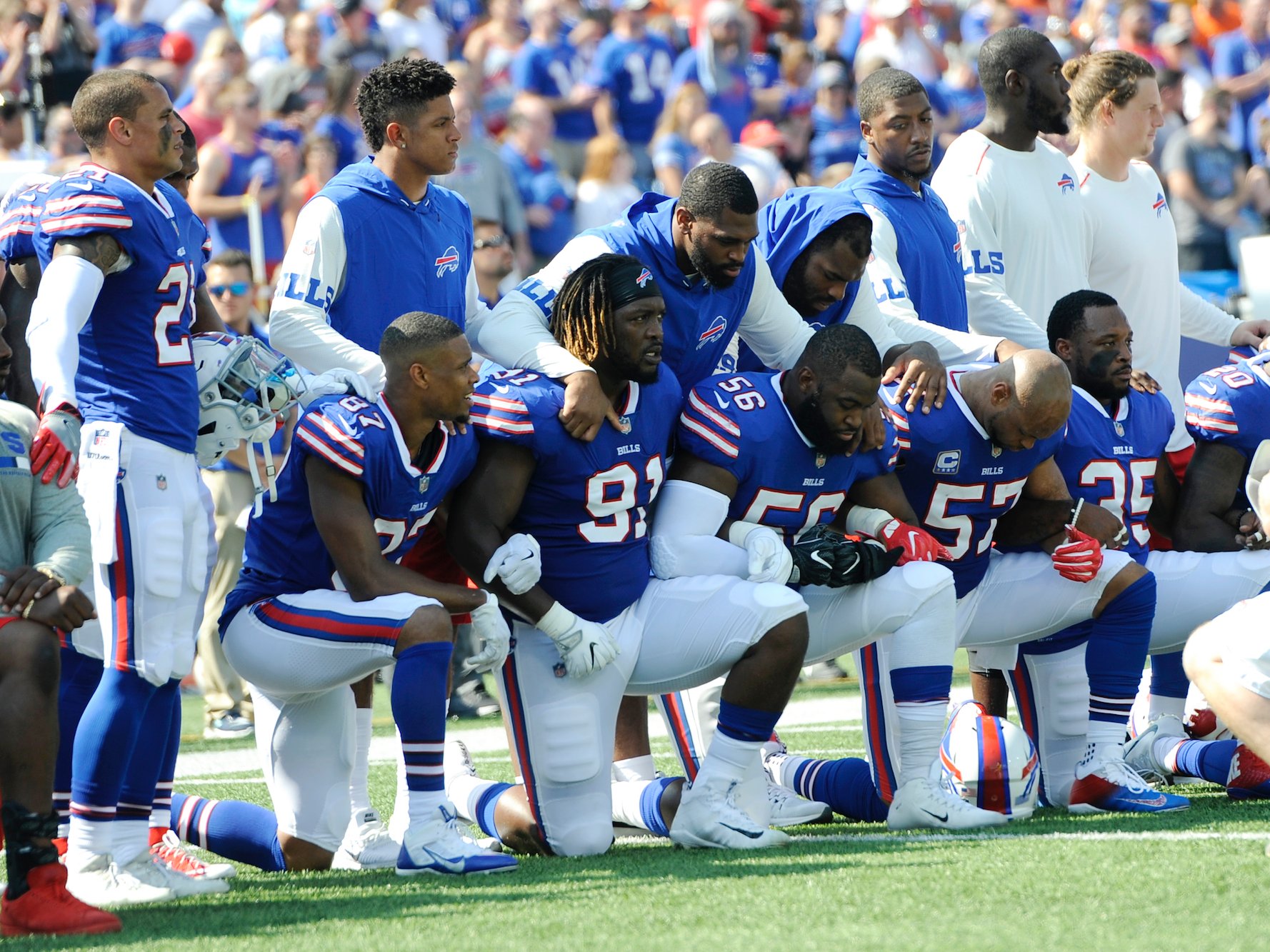 It is a hubris for which we, as ethnonatiolists, have little responsibility and deserve no penalty where we fight the right wing system that brought this about -
Nevertheless, the liberal system will continue to try to penalize us, and disingenuously wall paper our difference from these right wingers, will do all it can to associate our liberation with the right. Many Whites will take the bait - our "enemies" are trying to divide us from our "brothers", the black Americans - so says the idiot, Father Francis.
It was a hubris, typical of the right wing, falsely and vainly comparing Africans to others - of course finding them "wanting and in need of help" - they are just misguided by the YKW, it is not that these right wingers are complicit with destroying the ethnonationalsm that never would have forcibly mixed Africans with Whites and Native Americans - as they did, in the cases of some tribes to virtual extinction.
Their idea of "inequality" is based on false comparison. In a world where Heidegger can only hope to guide Europeans to be at home in their skins, in their land, among their folk, in a world where the African is always at home, always comfortable, never at a loss and always ready to assert as much - there is no more self righteous, hyper-assertive, aggressive, no more alpha a male, than the black.
Madison Avenue knows this, knows that the puerile follow the alpha, that's why it leads with it in marketing campaigns; the rest of Jewry knows this too, ready in its institutional positions to pander to the puerile, both male and female.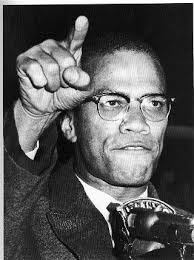 Thus, we must beware when blacks are upheld as making a revolutionary protest. We must be aware of black nature. Black nature is of Alpha R selection, and like a male lion, it will do nothing but be brought tribute and breed with supplicant females.
The talented tenth, mostly Mulattoes, who are able to function somewhat as leaders of their community, serve to articulate the narratives of how the system supposedly oppresses blacks: but the system does not oppress blacks, the system reacts to blacks and tries to placate them, pays tribute to them.
Blacks are natural compradors and henchmen of the system.
For this creature, "revolution" means solidifying its being imbued in the American power structure; its nature is right wing - whether it can rule or not, this is what it always aims for: "The honorable Elija Muhammad said the black man will rule" - Malcolm X - a Muslim, of course, not a left nationalist. The wish to "rule over others" or the belief in its destiny is right wing.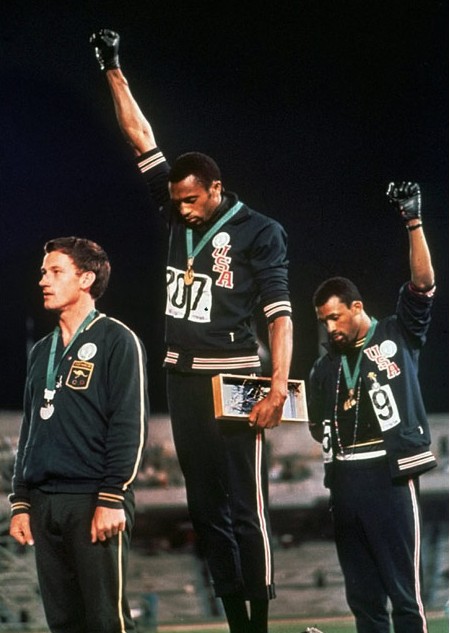 Blacks will not be revolutionaries of America - America will adjust to them in its puerile idolatry, enshrinement and institutionalization: not only paying them millions and lavishing them with adulation and women for their sports and entertainment, but making endless excuses to engraft them further in the power structure - as illustrated by sports reporter Bob Costas, saying that Kaepernick's protest is an expression of true American patriotism; and indeed it is. Blacks, adulation of them, no matter how perverted, no matter how unjust, brutal and violent, no matter how lavished with undue reward as a pattern, they are to be adulated as a part of the American institution. And as the admired alpha R selection breeders that they are, they are free to go through women, including what probably should have been your wife, and leave litters of babies behind - everyone else's social problem, while you wonder how you might pay for one of your own and give it a decent environment.
Their males and the females they impregnate and discard at their convenience are placed on US welfare - to the servitude of everyone else, not to mention that their less athletically capable brothers and sisters are to be set aside government programs, well paying government jobs with solid benefits; also affirmative action and special provisions in corporate America and academia as a result of civil rights court actions (the consent decrees) are to be given them ...not because they are revolutionaries, but because they are an integral part and parcel of feudal enforcement.
What revolution is going to come from these people? Their protest is the protest of consummate alpha pigs, whose tribute is not yet 1,0000 percent granted by the obsequious.
They are not motivated to overturn America; they are motivated to imbue themselves, engraft themselves inexorably within this most powerful right wing system in the world.
Colin Kaepernick, the Mulatto (who looks part Jewish) has a (Egyptian-Muslim) girlfriend who was taught by Jewish professors that America was founded by slave holders - and so it was. She pointed out that a part of the National Anthem - verses that nobody ever sings, knows or adheres-to, verses that were written hundreds of yeas ago by right wingers - can be used as a publicity stunt to further engraft themselves into America's power structure; this, by pretending on the basis of these long ago verses that they are oppressed in their multi-million dollar football contracts.
She tells a story based on the Jewish wall papering of the White Class, that Whites put blacks in jail for the arbitrary racism of it, not because they want to defend themselves from violent criminals.
In truth, and at best, blacks might alert dissent from American patriotism in this protest, and finally disgust White Americans and others enough to disabuse them of their negrophelia.
But would-be ethnonationalists are not likely to suspend disbelief in the black liberation narrative, as the protest is allowed to proceed and is commended by the liberal, the right wing (they merge) powers that be - they know how to play and deepen the beholdenness of the puerile to the position of blacks as "leaders" of the so called vanguard. Blacks are the ultimate "Whitey be cool stick" for liberals, for the right wing, for puerile females who wish to retain undue privilege, to license.
There should be no enthusiasm from revolutionaries for this protest. Only cold analysis. The danger is to us, that in sympathy and admiration for blacks, as Madison Ave knows, it will only help them to become embedded in "a revolution" of the American system which is no revolution, it is its mere reconstruction, and has them only more privileged in their elite tenth, especially, which will be highly protective and ethnocentric of the rest of black Americans - which will have little concern for the pesky concerns of other's rank and file.
The Kaepernickan revolution Not
Madison Ave. knows how stupid Whites can be in their right wing reaction, like those of Stormfront, the unbearably stupid "Father Francis" who says blacks should be grateful for having been brought to America for all the good its done them, and Whites should be proud for having liberated the slaves… how benign blacks are, their nature not really so destructive that Whites cannot live with them, they're just a bit misguided by the YKW. Yet in truth it was the right wing that brought them upon us and unleashed these hyper assertive primitives upon us. They have done no White people a favor, least of all in the virtue signal of liberation and tolerance of a Father Francis - idiot.
Our admiration for their assertion in valid recognition of an ancient injustice of America must be cut short; for they are not liberators, they have been inflicted upon working class Whites and native Americans by right wingers. It is an alpha capacity known all too well to Madison ave and the rest of Jewry to create followers among those who would become assimilated to Mulatto supremacism.
Blacks are not revolutionaries because they are the descendants of alpha selection and alphas are not revolutionaries - blacks will only be bulwarks of the status quo.
One has but to watch the Vietnam documentaries to see that America's liberal propositionalism is a dubious if not disingenuous and totally destructive prospect to support and export - viz., it illustrates why any conscientious person should be a revolutionary with regard to America.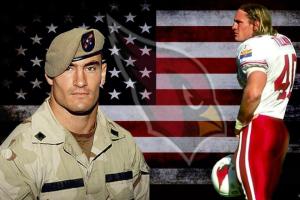 Some Americans find this out when after signing up for wars in patriotic enthusiasm, they come to realize that they are being used in the most abject way:
Ironically, this is the case of Pat Tillman - the NFL player who left a lucrative contract in order to fight in Iraq - who President Trump invoked as a true patriot in contrast to the kneeling black footballers. If Tillman were alive, he'd be kneeling during the national anthem as well; he did not have opportunity for such widely publicized protest because he was apparently executed by "friendly fire", when he exasperated fellow troops in Iraq by expressing strong denunciation of the war.
Yes, the mulatto Kaepernick got a tip that attention may be garnered by the liberal press looking for left cover where the National Anthem reveals America to have been on the wrong side side of ethno-nationalism, the workers, "the hirlings."
But it is up to White ethnonationalism to take the exposure of those flagrantly dissatisfied with the American flag, even those who in economic terms perhaps should not be dissatisfied, as a point of departure to coordinate matters of ethnic genetic interests, ethnonational liberation with Indios, Amerindians and Asians.
Lyrics

O say can you see, by the dawn's early light,
What so proudly we hailed at the twilight's last gleaming,
Whose broad stripes and bright stars through the perilous fight,
O'er the ramparts we watched, were so gallantly streaming?
And the rockets' red glare, the bombs bursting in air,
Gave proof through the night that our flag was still there;
O say does that star-spangled banner yet wave
O'er the land of the free and the home of the brave?

On the shore dimly seen through the mists of the deep,
Where the foe's haughty host in dread silence reposes,
What is that which the breeze, o'er the towering steep,
As it fitfully blows, half conceals, half discloses?
Now it catches the gleam of the morning's first beam,
In full glory reflected now shines in the stream:
'Tis the star-spangled banner, O long may it wave
O'er the land of the free and the home of the brave.

And where is that band who so vauntingly swore
That the havoc of war and the battle's confusion,
A home and a country, should leave us no more?
Their blood has washed out their foul footsteps' pollution.
No refuge could save the hireling and slave
From the terror of flight, or the gloom of the grave:
And the star-spangled banner in triumph doth wave,
O'er the land of the free and the home of the brave.

O thus be it ever, when freemen shall stand
Between their loved homes and the war's desolation.
Blest with vict'ry and peace, may the Heav'n rescued land
Praise the Power that hath made and preserved us a nation!
Then conquer we must, when our cause it is just,
And this be our motto: 'In God is our trust.'
And the star-spangled banner in triumph shall wave
O'er the land of the free and the home of the brave!
It is not valid for protests, which would be rightfully directed against right wingers, to be allowed to brush and wall paper all Whites as privileged implementors and beneficiaries across the board (talking about taking genetic interests, quality of life and stress or lack there-of into the equation, not just economic numbers) of that right wing hubris - as ethnonationalists, it is dubious to admire these blacks in their protests. Their assertion is right wing, and to wish to share in their assertiveness is the way of puerile females and right wing pandering to that powerful gate-keeping position in the disorder of modernity. Madison Ave knows this, Jews know this, that they can shepherd the sheep through the alpha….Stormfront and the unbearable "Father Francis" apparently are oblivious to this, the alpha nature of blacks that his techno-nerdom allows him to weasel around, to build psychological fire walls around and do calculative gymnastics to sympathize with the blacks who are being pushed-out by Mexican gangs - rather than saying "go Mexicans!" as we do, they sympathize with these blacks on multi-million dollars of collective welfare, government jobs and programs, multi million dollars in celebrity careers ... they protest their "oppression".... for they are not revolutionaries, they are a part of their same right wing system, and seeking only to engraft themselves more fully into its central governance.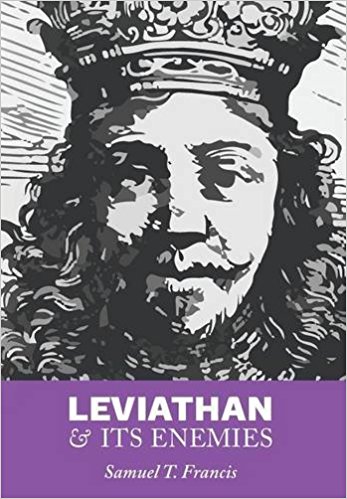 Sam Francis was creating 'young fogies' - Alex Linder.
It's going to require some nuance, but it is important to explain why James Lawrence is a walking piece of dog shit masquerading as a human being, a manifestation shown in his article at (((Alternative Right))):
Alternative Right, "THE COSMOPOLITAN CLASS", 24 Sept 2017.
In brief, James Lawrence has elevated Sam Francis young fogeyism = an aspiration to conceive of oneself as precociously wry in protection of the "traditional" already Jew infested culture against "progressivism." This is anti modernism without being sufficiently post modern (to incorporate the best while leaving behind the worst of both modern and inherited ways), as it stops with a neo-traditionalism, read (((paleoconservatism))).
Now, Francis, and by proxy Lawrence, have some things right.
Namely, that there is a significant portion of influential White people circulating among our elite functions who do not have our ethnonational interests at heart. More, that there is a managerial elite who want to share in this self interested good fortune, who will thus also betray ethno nationals in order to gain favor of this elite, internationalist power.
It is also true that both these kinds of White people can gain international backing by importing foreigners against Whites (or exporting elitist interests, e.g., compradors, against ethnonationals) and they can and do also virtue signal by sacrificing Whites and quelling any backlash against foreign impositions on ethnonationalism.
But I more accurately and descriptively call these people right wingers, and their underpinning objectivism: which is directed by Jewry - hence, Lawrence's commitment to end his article in (((his masters))) bidding by espousing the "true right" on behalf of (((paleoconservatism))) against "the left"..."the Cosmopolitans" and the occasional bad Jew - yes, they have bad ones too, he knows.
Here Lawrence takes a turn into disingenuous speculation, by saying these Whites who betray eithnonationalism are not "traitors" - well, objectivists are not perfectly described as "traitors", true - they are loyal to their own subjective interests through a disingenuous pretense of objectivism or naively subject to the subjective/relative interests of others through the pretense of objectivism.
Although there are distinct patterns of the treacherous Whites among elite positions, there is not necessarily a well organized elite group to which they subscribe as Lawrence would provide for the diversion of conspiracy theorists - it is more facile than that.
Indeed, the only real reason to circumscribe it so perfectly with the designation of a "Cosmopoitain" elite which is strictly loyal to its in group, is to function as a tool for Jews to deflect attention away from what is indeed their more organized half of the elite internationalist equation. So that they can point to their (((paleocons))), who can say, "see? we are the good ones", we have paleocons who are on your side, not like those bad Jews, we're here with you to protect your (((Christian traditions))) against those "Cosmopolitan elites" and the occasional bad Jew, like Soros and neo cons like William Kristol.
That is to say, like the site Alternative Right, James Lawrence is disguising, perhaps even to himself, the fact that he is kissing Jewish ass in order to keep his means to power afloat.
White elites who betray our interests are indeed one giant pole of our problem, but their loyalty functions a bit more arbitrarily on the happenstance of subjective fortune and selling out; along with the mutual admiration and facile croneyism of their "objective" attainment, which is why, in their unaccountabilty, they are so easily bribed and outmaneuvered by the Jewish group, which is organized as a distinct group in its relative interests (is it good for Jews?) and which will send forth posers as representatives of (((paleoconservatism))) against the "Cosmopolitan" elite.
That is to say, objectivism functions in a much more slippery way against ethnonational interests and Jewry knows how to play it - e.g., through reactionary narratives like those of Sam Francis and James Lawrence. It is a nebulous, quasi group created de facto by the ever present temptation of facile betrayal in self interest, and that is why it requires the ever present default vigilance of accountability through left nationalism and its White variant, the White class, White Left nationalism.
Why I Left The Altright, Sept 20, 2017:

viz., regarding AltRight.com Inc.

Jason Reza Jorjani writes:

A recent piece of trash 'journalism' in The New York Times entitled "Undercover With the Alt-Right" features video footage of me that was obtained surreptitiously and under false pretenses. It has been deceptively edited to make it appear as if I am advocating genocidal extreme right-wing policies. The five minute clip has been spliced together from a two hour meeting in a pub. My nightmarish prediction of a future that would follow from Western policymakers' failure to address the Muslim migrant crisis in the present has been taken out of context and made to appear as if it is advocacy for "concentration camps and expulsions and war… at the cost of a few hundred million people." It is one thing for such a deceptive film clip to have been produced by the Antifa organization Help Not Hate, it is another altogether for it to be embedded into a New York Times article. Jesse Singal and the Times are responsible for libel – or worse. I had a long and heated conversation with Mr. Singal in the course of which I clarified the concealed context of my butchered statements, but he did not convey my clarification in a responsible fashion when reproducing Antifa's slanderously spliced misquotes of me.

The article also suggests that the Alt-Right Corporation was created in a context that involved my dialogue with individuals in the Trump Administration, and that our aim was to become their policy advisement group (comparable to the Straussian think tank inside the Bush-Cheney Administration). In this context, the one-sentence parenthetical reference to my August 15th resignation from the Alt-Right Corporation and Arktos Media makes it appear as if I left the corporation only because lines of communication to people who had the ear of President Trump were cut off. It is true that my greater responsibilities to the Iranian opposition were not the sole cause of my departure. The formation of the Iranian United Front during the very same days as the Charlottesville disaster were only an opportunity to leave an organization with which I was already profoundly dissatisfied – an organization that I created. The New York Times hit piece did get one thing right, I was in fact "the architect of the Alt-Right Corporation." I suggested it to Richard Spencer. I'm afraid the time has come to confess why I did that, and to explain what the organization was supposed to be as opposed to what it has become.

Just after a very warmly received speech on "Occult Science and the Organic State" at the Identitarian Ideas conference in Stockholm in October of 2016, Daniel Friberg hired me as the Editor-in-Chief of Arktos Media – the press that had published my first book, Prometheus and Atlas, which went on to win the 2016 Parapsychological Association Book Award (the PA is a serious scientific organization accredited by the AAAS). In November of 2016, on the heels of President Trump's electoral victory, I attended the National Policy Institute conference in Washington DC in my capacity as a book distributor. In addition to being Editor-in-Chief, I was also the Head of Arktos US, so I was there manning the book stand. Richard Spencer and I had barely known each other for 24 hours when he called me up to the stage to present my vision for the future evolution of Arktos under my editorship. But subsequent events would draw us together.

You see, on account of the grossly distorted propaganda perpetrated by mainstream media infiltrators who lingered at our private dinner after the NPI press conference was dismissed, a mere handful of Roman saluting folks out of the more than 300 attendees cheering for Richard's speech were used to tar the entire gathering as some kind of Neo-Nazi rally. Less than a month after #Hailgate, a very prominent academic Philosophy blogger ran a story branding me as a "Neo-Nazi". The Leiter Report on me identified both my doctoral granting institution, the State University of New York at Stony Brook, and my place of work, the New Jersey Institute of Technology. Shortly thereafter, at a SUNY Stony Brook faculty meeting, I was denounced as an "Aryan White Supremacist" and a review of my doctorate was suggested with a view to making a public statement that would, for all intents and purposes, invalidate my degree in the eyes of my present employer and any future employers. The faculty forgot that I was still subscribed to the department listserv, and I was afforded the possibility of preparing a preemptive response that warranted further media coverage within the academic sphere. Leiter, however, dug his heels in.

Even the community of rebel scientists who had embraced me just months earlier, by honoring Prometheus and Atlas with the highest award in their circles, turned on me with a vengeance. Fortunately, thanks to the intervention of two prominent scientists whose names I will not mention, but one of whom is a Nobel Laureate, discussions about expelling me from the Parapsychological Association (PA) and the Society for Scientific Exploration (SSE) ended with a decision to publicly uphold the apolitical character of these organizations. Privately, however, the damage was done. I became a heretic even among heretics.

When the post-Hailgate writing was on the wall for me in academia, Richard Spencer visited New York for a few days. His right hand man, former Radix journal editor 'Hannibal Bateman' (who I really respect), slept over in my apartment and Richard and I got to spend a lot of time together. Between a business lunch at my favorite Persian restaurant on one day, and a long evening that ended with a Dionysian, intoxicated hours-long discussion at my apartment, my idea for a corporatist unification of the major institutions of the Alt-Right movement was seeded in Richard's psyche. But Richard did not know something about this act of inception, which I commemorated by leaving an Easter egg for the future in this picture that I suggested we take in front of Hermes, the Trickster, that evening.

What Richard did not know I disclosed to him about a month later during a late night dinner at the Hamilton restaurant in DC. After publishing Prometheus and Atlas with Arktos Media, I was approached by some people who had already been aware of my (entirely voluntary and unpaid) high-level advisement work with the (501c3 non-profit) Iranian Renaissance organization. These individuals facilitated some initially promising private meetings with incoming Trump Administration policy makers, with the aim of interesting them in our vision for an Iranian cultural revolution. They wanted to help build a new Persian Empire that would offer the West a staunch ally in the war against a nascent Islamic Caliphate. I was told that my book, Prometheus and Atlas, expressed exactly the kind of vision that they had for the future evolution of Man.

Hillary Clinton had given the so-called "Alt-Right" a great deal of unwarranted media attention, to the point where she helped to damn-near mainstream what she herself had described as a "fringe" movement. If the total mess that was then the Alt-Right could be unified, under my intellectual and ideological leadership, then it could be used to forward the aims that these backers claimed to share in common with me. This would have involved a course-correction that extricated the Alt-Right from the ghetto of "White Nationalism" – or as the mainstream media calls it, "White Supremacy" – toward a discourse of Indo-European identity. This inclusion of the Persian, Indian, and Buddhist traditions of the Eastern Aryan world was integral to another key aim: to transform divisive and defensively weak ethno-nationalism into a different vision for a new world order than the deracinating one of soulless globalist financiers. An inclusively identitarian Indo-European Community would be strong enough to take on China and Islam in the battle for planetary hegemony, as humanity faces existential threats from convergent advancements in technology that promise a superhuman future but could also yield a horrifyingly transhuman dystopia. My second book, World State of Emergency, basically lays out what we had in mind.

I corporatized the Alt-Right because a corporate structure allows for both outside investment and hierarchical governance. The key was to have a real brain installed at the pinnacle of the hierarchy. I was supposed to be the conduit for a major investment during the formative phase of the Alt-Right Corporation, and thereby assume its leadership – at least as far as fundamental questions of ideology were concerned. After listening to my explanation of who my potential backers were, and of what capabilities they had (which I urge him, even now, not to disclose for his own sake), Richard agreed that granted such an investment would be forthcoming I would be on point. What was especially compelling to him was the promise of direct engagement, through me, with people inside the White House such as Steve Bannon – something my backers suggested that I could, and should do, but that would not be possible with Richard at the helm. (Bannon, an avid reader of Julius Evola, is consequently familiar with Arktos, one of the only two English language publishers of Evola's writings.) After this meeting with Richard, I went on to discuss this scenario with every single core board member of our company, including Arktos CEO Daniel Friberg. In February of 2017, during another Identitarian Ideas conference in Stockholm, where the lead-in to my speech on "The Failure of Democracy" hinted at my central role in forming the Alt-Right Corporation, Daniel and I even shook on this deal.

That policy speech, in February of 2017, just a few weeks after the formation of the Alt-Right Corporation in late January, was supposed to be a prelude to the investment that I was promised would come later the same month. Well, the investment did not come in February. I was told that the funds would certainly be available by March. Then it was explained to me why there would have to be another delay until May. Meanwhile, Daniel Friberg had moved from a 53% shareholding in Arktos Media to 82%. This was never supposed to happen. I was promised the funds to buy out troublesome shareholders at Arktos and become Daniel's partner, rather than his employee.

I am afraid that I cannot disclose the reason for the repeated delays without also revealing the precise source of the funding and classified information about the particular persons involved in securing it. Suffice it to say, consulting open source material in the mainstream media will inform you that beginning in February of 2016, there was a sustained campaign by Neo-Cons and Neo-Liberals to derail the Trump Train. This began with the dismissal and threatened prosecution of General Michael Flynn, and continued with the sidelining of Steve Bannon. (Eventually this ended with the train-wreck of Bannon being forced out in August, the month I resigned from the Alt-Right.)

In addition to losing my opportunity to acquire a major shareholding in Arktos, Richard and Daniel increased their shares in the Alt-Right Corporation at my expense by making a deal involving what Richard admits was "monopoly money." Richard "sold" his website altright.com to the corporation, while Daniel made his website Metapedia a joint holding as well. At a board meeting on May 9th, Richard and Daniel came up with arbitrary monetary values for their websites, $10K and $15K respectively, and gave themselves 25% and 30% of our corporate shares, reducing my shareholding to 10% in the process. Initially, we had a 'knights of the round table' share structure, with each partner as an equal shareholder, a provisional arrangement arrived at as we awaited the funding that would have established me as the majority shareholder. If I were to apply the same principle that they did with their "monopoly money" deal, the scale of investment that I was supposed to bring in to the Alt-Right Corporation would have left me with something like a 95% shareholding.

Moreover, once the ownership of altright.com was officially handed over to our board, during a board meeting Tor Westman, who I insisted be brought onto the board in the first place (against Richard's objection), suggested that not everyone on the board should have access to the domain account information. Daniel added that not everyone on the Arktos Board had access to the Arktos website domain information (he meant me), and that it should be handled on a "need to know" basis. While this discussion, which took place with me present, was couched in terms of a suspicion of Henrik Palmgren of Red Ice, who was absent, Richard rightly understood Daniel's remarks as aiming to exclude me and agreed by replying, "I don't think Jason would go in and change anything, but…" He didn't need to finish the sentence. He only added that after restricting the access to Richard, Daniel, and Tor, the passwords should be changed.

What is worse is that in the long months of the Spring of 2017, as I waited for funding to materialize, I watched the corporation that was my brainchild turn into a magnet for white trash. Exactly the kind of people who were supposed to be sidelined by my centralization and corporatization of the Alt-Right were cultivated by Richard as the populist base for 'his' movement. I was sorry to see Daniel's Arktos affiliated and European-centered Right On journal, which had been in the business of publishing serious intellectual content when John Morgan was editing it, merged into an altright.com news and 'perspective' platform that has about as much perspective as a tabloid. The comments sections of our website devolved into a cesspool filled by the most despicable pond scum, former 4-chaners who would routinely pile on in trolling attacks against me every time I published something with a bit of intellectual content. "Iranians is brown poo-poo people" kind of sums it up. I decided to stop contributing until the investment came in and I could really clean things up. When Daniel and Richard agreed to lazily use Daniel's "Points of Orientation" from his pamphlet, The Real Right Returns, as the basis for an ideological statement to appear on the website, consulting the serious philosopher on the board to help edit it was only an afterthought to them.

In May, at a meeting in London, I was assured by the investors that the obstacles had at last been cleared and I could expect our collaboration to begin in June. When I reported this to Richard at a New York lunch at the end of the same month, he thoughtlessly and angrily dismissed a plan that the investors had shared with me for creating an economic and security corridor from the Baltic Sea to the Black Sea and across to the Caucasus. This "Neo-Scythian" Ukraine-based approach to the long-term revitalization and liberation of Europe – linked to a future, post-Islamic Greater Iran via the Caucasus – offended the Russophilia that has been fostered by his wife.

So I cannot say I was surprised when the backers ultimately failed to follow through with their long-promised investment. By late June the movement was long past its embryonic stage. A deformed creature, a mindless Frankenstein's monster had already entered the world. Of course this would not have happened if, between February and May, the angel investors had made good on their promises. Even though they are now responsible for my being libeled in the New York Times, potentially at the cost of my career in academia, I will not reveal their identities. It would catalyze a mainstream media scandal that none of us want to see. I am not interested in testifying before Congress, because the truth I would have to tell is stranger than fiction.