Majorityrights News > Category: Mulatto Supremacism
Reuters, "Polish PM draws link between London attack and EU migrant policy", 23 Mar 2017:

Poland's prime minister drew a link on Thursday between an attack in London targeting the British parliament and the European Union's migrant policy, saying the assault vindicated Warsaw's refusal to take in refugees.


Poland's Prime Minister Beata Szydlo holds a news conference at the end of a European Union leaders summit in Brussels, Belgium, March 10, 2017. REUTERS/Yves Herman

Five people, including the attacker, were killed and about 40 injured on Wednesday after a car ploughed into pedestrians near the British parliament. Police believe the attack was "Islamist-related", but have given no details about the attacker, who they say was acting alone.

Poland's right-wing, eurosceptic government has refused to accept any of the 6,200 migrants allocated to it under the European Union's quota scheme that is designed to share the burden of taking in the large numbers of migrants and refugees who have come to Europe over the past two years.

"I hear in Europe very often: do not connect the migration policy with terrorism, but it is impossible not to connect them," Polish Prime Minister Beata Szydlo told private broadcaster TVN24.

Earlier this week the EU's migration commissioner, Dimitris Avramopoulos, on a visit to Warsaw, warned member states against failing to host refugees to help alleviate pressure on frontline states bearing the brunt of arrivals across the Mediterranean.

"The commissioner should concentrate on what to do to avoid such acts as yesterday in London ... Poland will not succumb to blackmail such as that expressed by the commissioner," Szydlo said.

"The commissioner is coming to Warsaw and trying to tell us: you have to do what the EU decided, you have to take these migrants .... Two days later another terrorist attack in London occurs," she said.

The leader of Szydlo's ruling Law and Justice party (PiS), Jaroslaw Kaczynski, said back in 2015 that refugees could bring diseases and parasites to Poland, which is staunchly Roman Catholic and has very few Muslim immigrants.

The migrant issue is just one of several over which Poland is at odds with the EU.

Also on Thursday Szydlo said Poland might not accept a declaration EU leaders are due to endorse in Rome this month that will chart the bloc's course after Britain leaves unless it addresses issues Warsaw considers crucial.
Breitbart, "EU Says They Can Force All Members, Including Poland, to Take Migrants", 21 March 2017:

WARSAW, Poland (AP) — The European Union's commissioner for migration says there are ways to make all EU members states comply with the program of relocation of migrants among them.

Dimitris Avramopoulos made the statement Tuesday in Warsaw, where he is visiting the growing European border guard agency, Frontex.

Poland is refusing to accept migrants, arguing they are chiefly economic migrants, not war refugees, and may potentially pose a threat.

The relocation plan is intended to ease the pressure on countries that have taken the brunt of the migrant wave: Italy and Greece.

Without naming Poland, Avramopoulos said the EU has the "tools, the means and the power" to convince all members to comply and will make an assessment of response by the end of September. He mentioned no sanctions.
Avramopoulos

Since 1 November 2014 he is serving as EU Commissioner for Migration, Home Affairs and Citizenship in the Juncker Commission.

Avramopoulos has a friendly relation with the Turkish President Recep Tayyip Erdoğan since they were Mayors of Athens and Istanbul respectively. He is deemed one of the main proponents of Greek-Turkish rapprochement.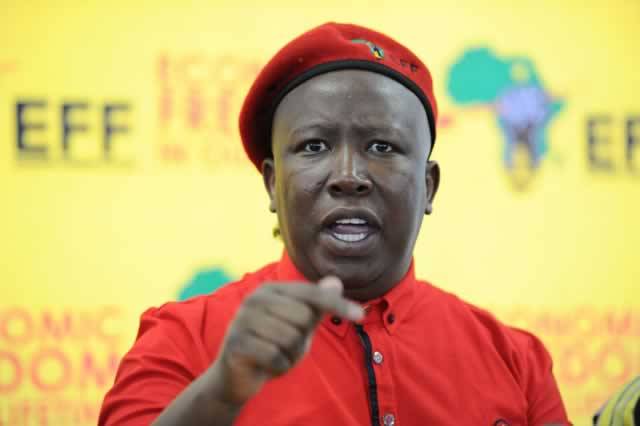 Julius Malema
URGENT: Suidlanders Reach out to Americans to Stop South African White Genocide. Source: occidentaldissent.com, Mar 16, 2017:

For a few days now, I had been getting calls from an unfamiliar number. I assumed it was just a solicitor trying to sell me something. After what seemed like the second or third time I have been called from this unknown number, I answered the phone this morning.

It turns out that I was being contacted by a South African group called the Suidlanders. A trusted comrade in the movement had given them my number. They are in the United States on a speaking tour to raise awareness about the rapidly worsening situation for Whites in South Africa. The Suidlanders are essentially the South African equivalent of our doomsday preppers except that they are prepping for the very real possibility of a Zimbabwe-style White Genocide.

None of what I was told by the Suidlanders this morning came as a surprise. I've been blogging about South Africa for years now. In recent months, I have written about the White ghettos, the black-on-white crime, particularly the horrific murders, and the news that President Jacob Zuma had thrown in his lot with Julius Malema and was calling for a united black front to dispossess White landowners. I've already written about it twice on my own initiative urging President Trump to intervene in South Africa and Congress to impose economic sanctions on South Africa.

So anyway, I was told the situation in South Africa is even worse than I thought. The ANC is losing power in South Africa after a 23 year reign. They are responding by scapegoating the White community for South Africa's problems. A civil war is a real possibility. The Suidlanders believe that a full blown crisis could be upon the White community within a month or two. They are over here to raise money in the event that they have to implement their Emergency Plan.

Here are some things you can do to help:

1.) Contact your representatives in Congress and urge them to impose economic sanctions on SA. I've already done so.

2.) Publicize this story on social media. Let's get the word out on Facebook, Twitter, YouTube. If you have a platform or radio show, contact the Suidlanders at .(JavaScript must be enabled to view this email address) to arrange an interview to discuss the situation in South Africa.

3.) If you support the South African cause, consider donating to the Suidlanders through their website.

4.) Pressure the Trump administration to intervene in South Africa. We made refugee crime in Sweden a big story. The South Africans are in much greater need of our help.

5.) Create buzz about this issue so it will enter the news cycle. Talk to your friends about it.

Note: Check out the podcast the Suidlanders did with Jared Taylor. If you are pressed for time, skip ahead to the 29:00 minute mark to get to the gist of the situation.
* Apartheid did apparently leave Asians to fend for themselves against Black Africans - and it is the reason many fled to The UK.
The New Observer, "61,697 Invaders Land in Europe: Jan. 2017", 14 March 2017:

At least 61,697 nonwhites pretending to be refugees landed in Europe during January 2017—a figure of 1,991 per day, every day—revealing that the mass The invasion is still ongoing and shows no sign of stopping.


According to the newest report from the European Asylum Support Office (EASO), titled "Latest asylum trends — January 2017 Number of applications for international protection in the EU+1," the 28 E.U. states plus Norway and Switzerland recorded "61,697 applications for international protection."

Of that number, 93 percent of were "first-time applications" (that is, there was no previous application lodged in the same EU+ country), and 3 percent of all applicants "claimed to be unaccompanied minors (UAMs)."

Of the UAMs, 20 percent claimed to be Afghans, 10 percent claimed to be Eritreans, and 8 percent claimed to be Gambians.

Those claiming to be Syrians constituted only 13 percent of the total of applications in the EU+, meaning that fully 87 percent of all the Third Worlders now invading Europe do not come from that "war zone" (a phrase used advisedly, because the majority of Syria is under government control and there is therefore no reason for anyone to seek "asylum" in any country).

As in December 2016, the report continued, Syria and Afghanistan remained the top "two countries of origin in January 2017," but Nigeria replaced Iraq as the third-ranked country of origin.

In January 2017, EU+ countries recorded 7,647 "Syrian" applications, 4,915 "Afghan" applications, and 4,417 Nigerian applications—even though there is of course no reason at all for Nigerians to be seeking asylum anywhere.

These top-three citizenships together accounted for 28 percent of all applications lodged in the EU+. Iraqis ranked fourth with 3,703 applicants, while the top 10 list of applicant citizenships for January was completed by Eritreans (2,737), Pakistanis, (2,611), Albanians, (2,092), Guineans, (1,822), Iranians, (1,788), and Bangladeshis (1,493).
The New Observer, "Mass Invasion of Spain Reaches New Height", 14 March 2017:

At least 43 percent of the 15,755 The invaders who lodged "asylum" claims in Spain during 2016 have been granted leave to remain, while the applications of a further 20,370 are still being considered, official figures have shown.

The number of invaders pretending to be asylum seekers broke all records in 2016, and only 3,395, or 21.6 percent, were "declined" refugee status.

The only good news is that only 355 of those accepted have been given "full refugee status," while the remainder were given "subsidiary protection," which is a temporary status.

However, with good behavior, most of the "subsidiary protection" recipients can go on to gain permanent residence in Spain—or other equally liberal European states, which still believe that there is a "refugee crisis" instead of a straightforward nonwhite racial invasion of Europe underway.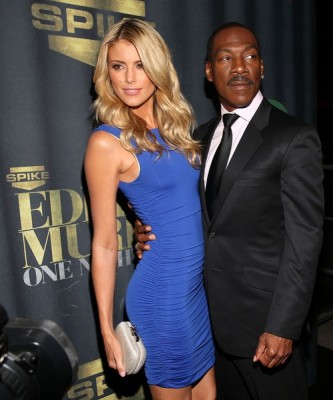 Maybe she should be "sifted-out", or maybe the naturalistic fallacy is cuck narrative itself.
- that nature can and OUGHT to take care of these matters unmediated by cultural (social rules) intervention.
Thank you for your understanding and support, acru ballist. I realize that unfortunately a huge percentage of Whites are used to this Jewish viral symbiosis - it seems at this point as if it is almost written into the genetic code of a huge percentage, now expressed as the Trump voter and Alternative Right - wherein Whites become more and more assimilated to Jews themselves - inasmuch as they remain HuWhite, compliantly accepting their role of being cows to breed stock that blacks and Jews can, in turn, breed with at their discretion.
But I think that this argument veers in the direction of passive naturalistic fallacy:
acru ballist: Maybe, this is evolution of the White People. A sifting out of the weak-minded, the 'mud-sharks', the gullible, the order-takers. Is the parasite controlling this process? It definitely does not need the strong, healthy and rebellious.
A naturalistic fallacy that Jews and Jew advocates like Brett Stevens would want us to accept as prescription - good right wing dolts, "nature" decides what is exactly good and true for us, unmediated by human, cultural intervention. At one time, when mudharkery was a rarity, I might have been more susceptible to arguments that it was me who isn't being naturally tough enough, but then, as it became commonplace and you began to see women who could not be considered merely something for the scrap-heep, the idea of merely letting "nature" weed out those without loyalty, judgement, intelligence, whatever it is that they are supposed to lack became more obviously an insufficient position to take.
...
Continuing with my response to Stevens article, next he goes on to say:
Brett Stevens: Whether or not Jews are a symptom of this problem, they are not its source.
DanielS: One can and should say that they are not the only source, but one should also add that they are a predominant source of our problems who should clearly be looked upon as another people and NOT among our "friends", to say the least.
Brett Stevens: Even more, whipping people up in a fury against them fails because it both distracts us from the actual cause, and inspires people to do ignoble things like genocide. We do not need to kill those who might appear to be our enemies; we need to fix ourselves, which includes excluding everyone else.
DanielS: I never said that it was our objective to genocide Jews or anyone else. Our objective is separatism from them and other non-European peoples, and sovereignty. That implies fixing our own problems for ourselves, thank you very much. We just need the Jews to butt-out.
Brett Stevens: It is the same way with the African-Americans. Some wish to blame them, but the actual cause is diversity, which in fact gets more deadly if it involves "nice" groups because then your people hybridize with them, erasing the original population. This type of soft genocide leaves behind a civilization capable of none of the great acts of the old.
DanielS: As I have said in many places, "Diversity" has been a Jewish red cape: because in a straight forward sense it would mean that different people co-exist in respect of each other maintaining their differences. However, in light of the Jewish marketing campaign of "Diversity" and the reaction to the reality of it in Jewish practice - which means imposition of alien integration against those goyim looking to maintain their difference - Jewish media disingenuously altercasts rights of display to suckers like Pat Buchanan who would argue against "Diversity" and, in effect, for integration (as opposed to "the sewer of multiculturalism and diversity" we should all speak English, be Christians, etc). Integration used to be the straight forward Jewish agenda back in the 60's and 70's but now they hide that agenda behind "diversity" and get Whites to react against diversity and into integration.
As far as the "nice" blacks go, I have long argued that the Uncle Tom and the Oreo are more dangerous than the ghetto thug in the long run because the thug is didactic whereas the Oreo and Uncle Tom, in "being so nice", open the gates for the pattern, which is more the thug and destructive to Whites. As far as this leaving behind a less capable populace, well, your Jewish friends would know, that's why they have imposed "diversity" and integration on our patterns while prohibiting it in Israel and among their more orthodox diaspora.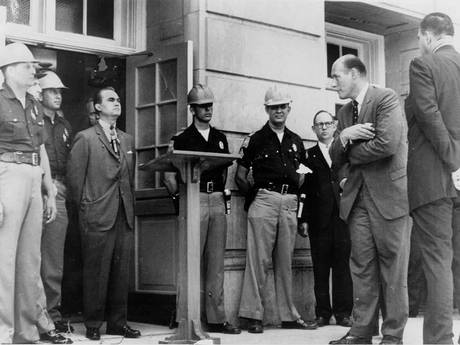 Katzenbach imposing integration upon Whites, in the days before that agenda was hidden behind the Jewish red cape of "diversity."
...and yes, just as we can "blame" (i.e., recognize) in Jews their inborn biological behaviors, uncaring and exploitative of our people to an extreme, and thus see the need to discriminate against them and separate from them, so too can we "blame" (i.e., recognize) in blacks an inborn lack of impulse control, along with an inborn tendency to aggression and hyper-assertiveness - translating to group predatory behavior as expressed typically in this episode in South Africa; and hence the need for "artificial selection", i.e., cultural rules of discriminatory separatism.
If you notice, at the beginning of this clip, the woman and her son were completely relaxed, had inculcated and cultivated no instinctual rules in vigilance for the inborn pattern of predation that would manifest in that moment: the anti-apartheid conditioning had worked that far to their detriment.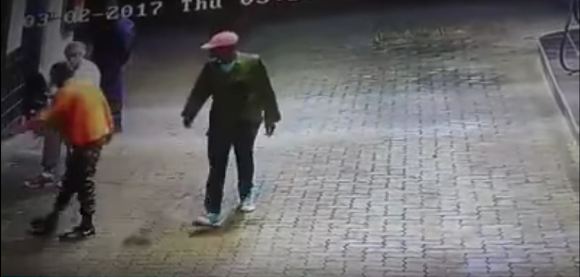 Predators sensing prey.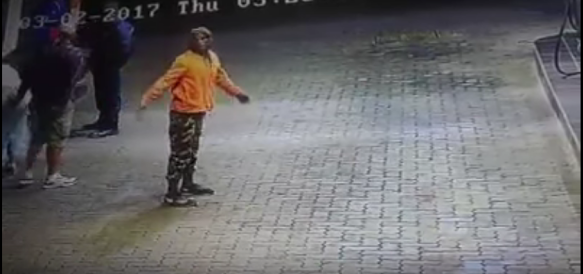 Predator signaling to pack that the coast is clear for the attack. White woman's son can now be seen in left of screen.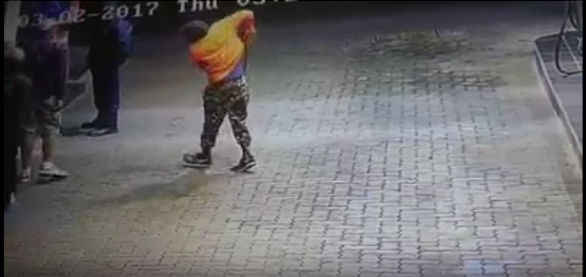 Predator pulls-out his weapon.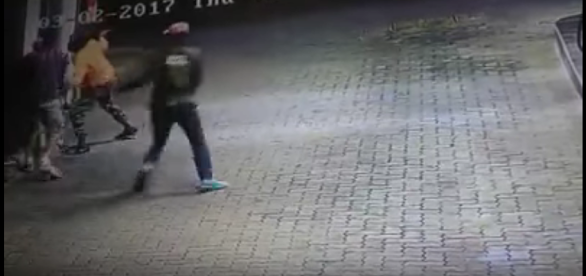 They start to attack the mother.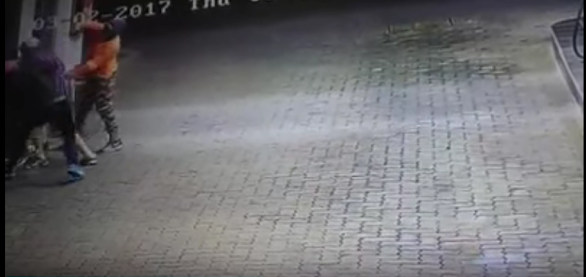 When the son tries to protect her, they try to hold him and aim for the back of his neck.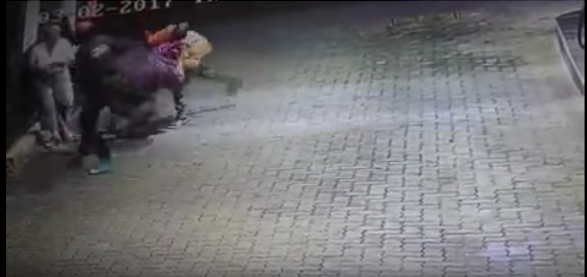 While they hold the mother, the son begins to put up a valiant fight.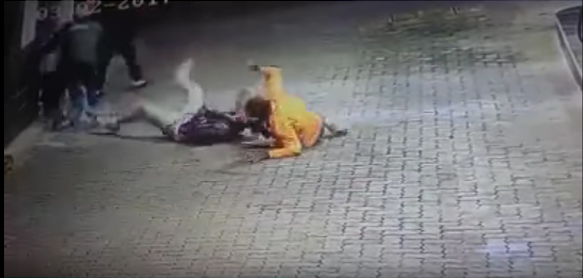 Outnumbered, they are subject to more beating before escaping (this time).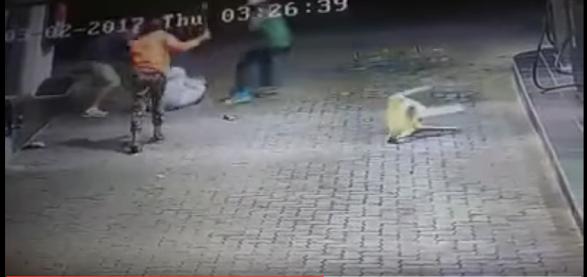 White man and his mother subject to the natural state of black predation.
RT, a propaganda organ of "Active Measures," is pressuring a private London club to have open doors liberalism. Cirque le Soir nightclub in Soho has a policy standard for private clubs, of not allowing-in groups of unaccompanied males. When confronted with a group of black male athletes, a bouncer for the club apparently observed their demeanor and added what was perhaps a code-reason for discrimination - "too urban." RT jumped all over that for being racial profiling, racial stereotyping and therefore "racist".
Nevertheless, if "too urban" was indeed a code word for a black group with a dangerous profile, it would merely be a practical observation and precaution to take to discriminate against them. Young black males, especially in groups (including wealthy professional athletes) are statistically far more violent; and the club was exercising what should be its right as a free and private club to deny servitude, to protect its interests and protect is clients.
The freedom of London clubs to defend not only their businesses, but their patrons against profiles known to be violent and otherwise destructive is apparently of no concern to RT and Active Measures. This is a swift route to the destruction of our native European EGI and the naive among us who lack meaningful experience of blacks in numbers.
The kind of liberal "anti-racist" propaganda that RT is engaging-in goes back to the days of The Soviet Union - it put such pressure on The US to atone for its history of slavery that it empowered liberals to destroy untold numbers of innocent Whites, attempting by their sanctioned means (The Constitution and The Golden Rule), compelled by their politicians and (((those coercing))) their politicians to force them to try to live the impossible - "Thou Shalt Not Discriminate", "Thou Shalt Not have senses and defend yourself", "Thou Shalt Enter into involuntary contract" - "thou" must live pure in pure servitude, fresh White prey: un-hypocritical, ideologically living-up to the pure banner of "freedom and liberty for all" - non-discrimination: this has led basically to the destruction of America - America did not win the cold war. When you cannot discriminate against blacks, you are not free and you have big problems.
"Deep ecologists" may argue that blacks are returning American cities like Baltimore, Detroit and New Orleans—the city these athletes are nominally playing for—that they are returning these cities harrowed by blacks to a "state of nature." It is a feral state indeed: let those who advocate non-discrimination against them go and live with them.
RT's charges of "racism", compelling Whites and White institutions to leave themselves vulnerable to black aggression - a phenomenon that any fool would instinctively know to be on guard and discriminate against - is unconscionable.
The Alt Right is incredibly naive as it continues to treat The Russian Federation as being in perfect alignment with White Nationalism - its great White hope even: what they are actually doing is serving as free propaganda for a very cynical Kremlin.
RT, "NFL players turned away from London nightclub for being 'too urban", 1 March 2017:

A popular London nightclub which allegedly barred a group of American football NFL stars for being "too urban" is being accused of racial profiling.

The New Orleans Saints team members had booked a table at Cirque le Soir nightclub in Soho, but said on arrival the bouncer turned them away for being "six big guys" and "too urban" – a phrase often used as a euphemism for black.

The nightclub has since denied it would turn anyone away based on ethnicity, but has a policy of not admitting all-male groups.

Mark Ingram Jr, 27, a running back, was with Sterling Moore, 27, BW Webb, 26, Vonn Bell, 22, all defensive players, and two friends when they tried to get into the club on Monday.

The players were visiting London in preparation for their game at Wembley in October against the Miami Dolphins as part of the NFL's international series.

Mark Ingram II
✔
@MarkIngram22

Is this what 6 big "too urban" guys look like?! @CirqueLeSoir @TheVonnBell7 @SterlingMoore @OhGi_3Dawg3 @burtleyc @Flintsbadguy #AllSmiles
2:10 AM - 28 Feb 2017

Ingram tweeted: "We pull up to Cirque le Soir where we have reservations and this is what they tell us. They told us we were 'six big guys' that are too 'urban' but nobody taller than 5'11!"

Following the tweet, the hashtag #TooUrban began trending on Twitter. Many have accused the club of racial profiling.

Suzanne @girls_with_guts

@MarkIngram22 one of the #toourban "big guys" next to my 5'7" daughter…ooooh he's so scary. @CirqueLeSoir your moms didn't

D @barker1980

I'm confused. This is the same place that called @MarkIngram22 #TooUrban ? https://twitter.com/cirquelesoir/status/827565983720230912 …
3:54 AM - 28 Feb 2017

84 84 Retweets
116

Chris @burtleyc

Thanks to everyone for support! Historical socioeconomic and racial prejudices still impact society. I'm from Flint, proud to be #TooUrban
10:47 PM - 28 Feb 2017

Sly Gemstone @SlyGems

Thanks to everyone who has reached out to us! Stereotyping and discrimination are real in our world. Never let anyone define you! #TooUrban
7:23 AM - 1 Mar 2017

Gillian 'Slick' E. @SlickEToffee

#TooUrban So are white British celebs gonna boycott @CirqueLeSoir or do they only stand up against American racism?
12:46 PM - 1 Mar 2017

The club is a favorite with US music stars including Rihanna, Lady Gaga and Kanye West, and actor Leonardo DiCaprio.

In response to criticism, a nightclub spokesperson said: "All of the team at Cirque le Soir are really upset by the suggestion that there was anything malicious in our turning away of Mark Ingram and his friends. We proudly celebrate diversity, not only as part of our shows, but as part of who we are.

"We would not dismiss anyone as 'too urban' and we would not turn anyone away on the basis of their ethnicity, sexuality or any other characteristic, other than those expressed in our door policy.

"Admitting an all-male group goes against our policy and is clearly stated on Facebook and all reservation confirmation emails."