Majorityrights News > Category: Mulatto Supremacism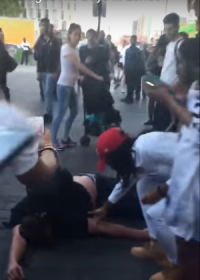 In what is becoming a "no-go zone" for Whites in East London, a group of blacks savagely beat two Whites passing through; one White is seen sprawled unconscious while blacks gather around to snap pictures of him in his helplessly beaten, unconscious state. The few Whites passing by the event do nothing and offer no help; except for one White guy who runs interference for the second victim at the end of the sequence.
Mandy taking an 'usie' with friend.

The Hawkeye, Remembering The Life of 'Mandy", 23 August 2015:

You could always find her at the Wesley serving others and surrounded by people who truly cared. Her name was Ming-Chen Hsiao, but others called her "Mandy."

Mandy was an international student who recently graduated with her master's degree in May. Three months later, she died from a stab wound at her apartment right off the campus.

The unfortunate incident left many shocked, especially those who knew her personally.

Tra'von Washington was a close friend of Mandy's who said her death was almost unreal.

"I would always see her almost every day, so after a while I started wondering what was going on with her," said Washington, a senior kinesiology major.

Washington said he was in complete disbelief once he found out he wouldn't see Mandy again.

He said humility is one of many ways to describe the kind of life she lived.

"She was never afraid to ask for help," said Washington. "And I feel like that's what most people can get from Mandy."

Here's Mandy trying on sunglasses while shopping.

Washington said Mandy was looking for "different types" of jobs before she died and that the next chapter of her life were looking bright. He said her sudden death has taught him a valuable lesson.

"We all should just cherish our life and the people around us because we never know when that person is going to leave," Washington said.

He misses her dearly, but he said he will continue to carry on her life example.

Kristin Gadwa said she will miss her too. She said one thing that always stood about Mandy was her heart. "She taught me how to love," said Gadwa, director of missions at the Wesley. "It's the biggest thing she did."

Gadwa said she still giggles when she thinks about Mandy riding her bike into the parking lot at the Wesley. "We always knew it was her by how she rode her bike and how she held herself," Gadwa said.

Gadwa said Mandy showed her and the Wesley family something they will never forget.

"She taught us how to serve people," said Gadwa. "And it was a good thing for all of us to learn to do that."

While those who remember Mandy mourn and celebrate her life, they eagerly wait to find out what exactly happened to their beloved friend.

Detective Reggie Brown of the Monroe Police Department said that details of the homicide can't be released at this time.

"Our detectives are diligently following leads," said Brown. "We do have some tips that could possibly help solve the case and at this time we are working hard and tirelessly to solve this case."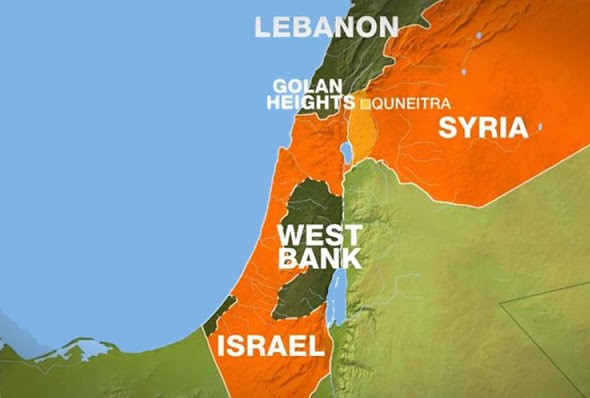 NewObserver, "Israeli Air Force Bombs Anti-ISIS Forces in Syria", 23 Apr 2017:
The Israeli Air Force has carried out two bombing raids against anti-ISIS army forces in the west of Syria as part of the [Israeli imperialist state's] long-running campaign to disrupt the Syrian government's military campaign against the terrorist army.
According to a report by the Syrian Arab News Agency (SANA), a military source announced that the "Israeli enemy's warplanes fired two missiles at 18:45 from within occupied territory at a military position in the surroundings of Khan Arnabeh in Quneitra countryside, causing material damage."
The "occupied territory" being referred to is the Golan Heights, which Israel seized in 1967, and annexed against all international law.
The SANA report said that the Israeli "aggression came after an attempt by terrorists to infiltrate military positions in Quneitra countryside was foiled and the terrorists suffered heavy losses."
This, SANA said, "proves that Israel provides direct support to terrorist organizations," adding that their source "affirmed that such desperate attempts will not dissuade the Army and Armed Forces from continuing to crush the terrorist groups that act as Israel's proxy in the area."
A follow-up report in Al Jazeera revealed that Sunday's attacks targeted fighters loyal to the Syrian government in the Naba al-Fawwar area of Quneitra province, which is located in the 30 percent of the Golan Heights that is not under Israeli occupation.
Three fighters from the pro-government National Defence Forces (NDF) were killed and at least two more were wounded in the attack, an NDF official said.
The terrorist armies fighting Syria's Bashar al-Assad government and its allies control much of the Quneitra area.
Unusually, the Israeli Army confirmed that it had targeted positions inside Syria in retaliation for mortar fire that hit the northern part of the occupied Golan Heights.
"The Israeli army targeted the source of the fire," an army statement said without giving further details.
In reality, the terrorist groups operating in the area against the Syrian government often operate close to Israeli lines—because Israel treats their wounded in hospitals inside the Jewish state, and it is therefore inevitable that the Israeli side will be hit occasionally by stray rounds.
The Israelis however always take these stray rounds as an excuse to bomb Syrian government positions.
The Jerusalem Post even admitted as much, saying that the Israeli attack was due to "errant rocket fire" caused by "fighting between Hezbollah and regime troops against rebel groups near Ain Ayshaa, Samadiniyah Sharqiyah & Madinat al-Baath near Quneitra."
The other excuse which the Jewish [imperialist] state uses to attack the anti-ISIS forces in Syria is that they are "carrying weapons to Lebanon" to fight Israel—as if Syria could at this stage spare such military effort.
The Lebanese Hezbollah organization—most famous for defeating the 2006 Israeli invasion of Lebanon—is one of the Syrian government's key military allies, providing tens of thousands of troops on the ground in the fight against ISIS.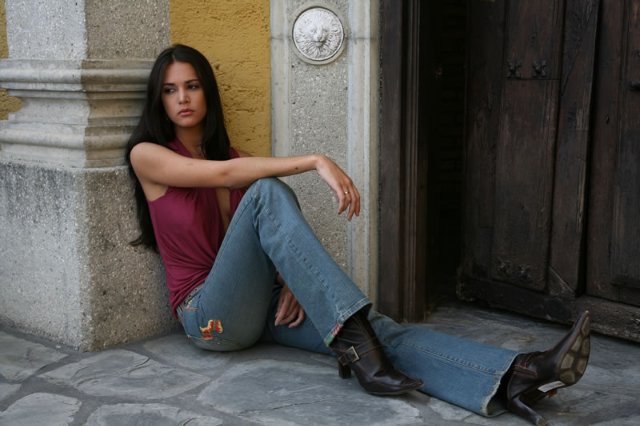 Former Miss Venezuela, Monica Spear, murdered with her boyfriend in 2014
1 Caracas, Venezuela 119.87
2 San Pedro Sula, Honduras 111.03
3 San Salvador, El Salvador 108.54
4 Acapulco, Mexico 104.73
5 Maturin, Venezuela 86.45
6 Distrito Central, Honduras 73.51
7 Valencia, Venezuela 72.31
8 Palmira, Colombia 70.88
9 Cape Town, South Africa 65.53
10 Cali, Colombia 64.27
11 Ciudad Guayana, Venezuela 62.33
12 Fortaleza, Brazil 60.77
13 Natal, Brazil 60.66
14 Salvador, Brazil 60.63
15 St. Louis, U.S.A. 59.23
16 Joao Pessoa, Brazil 58.4
17 Culiacan, Mexico 56.09
18 Maceio, Brazil 55.63
19 Baltimore, U.S.A. 54.98
20 Barquisimeto, Venezuela 54.96
New Observer, "Race and Crime: The Most Dangerous Cities in the World", 24 April 2017:

The new list of the 50 most dangerous cities, compiled from official government policing figures, has been published on the Canadian-based Worldatlas news service, and shows that the worst crime rates appear in the cities with the largest racially mixed populations.

Eight of the 50 most dangerous cities—including the top ranked one—are in Venezuela, two are in Honduras, one is in El Salvador, five are in Mexico, three are in Colombia, four are in South Africa, one in Jamaica, 21 in Brazil, four in the USA, and one in Guatemala.

According to the figures, Caracas, Venezuela, has risen to the number one spot with 119.87 murders per 100,000. That city surged ahead of San Pedro Sula in Honduras, which formerly held top place with 171.2 murders per 100,000 people in 2015 (this rate has since dropped to 111.03 in 2016).

The clear link between race and crime has been highlighted once again with the release of the 2016 rankings of the world's most dangerous cities—and the fact that every single one of them, including those in the U.S.—have majority nonwhite populations.

The report said that "some of the factors that may be to blame" for the murder rates that measure over 100 include illegal drug distribution, extensive poverty, and gangs.

For example, a rise in mass killings and escalating violence between gang members has resulted in the murder rate of San Salvador practically doubling in a year from 61.21 to 108.54, allowing it to take the third spot.

August was the most violent month in San Salvador, with more than 900 killings, including an unprecedented 52 deaths registered in a single day.

The other two cities that complete the top five most dangerous places in the world are Acapulco, Mexico and Maturin, Venezuela.

Four cities in the United States have a place among the top 50 most dangerous cities in the world (on the basis of murder per capita statistics). St. Louis ranks 15th on the list with a murder rate of 59.23 per 100,000 inhabitants, a rise from 2015's rate of 49.93, making it the most dangerous urban area in the country.

The city is also present in rankings based on considerations for other crimes—the Missouri city has a burglary rate of 606.9 per 100,000 and an aggravated assault rate of 317.7 per 100,000. This has led many to the conclusion that St. Louis is the most dangerous city in the U.S.

Also of note is Baltimore, Maryland's position on the list. In 2015, it was ranked 40th with a murder rate of 33.92. For 2016, however, it rose to 19th with a murder rate of 54.98 per 100,000 people.

Detroit is the third city included in the 2016 ranking of the world's most dangerous cities in terms of murder rates. With its 43.89 murders per 100,000 people, it is a bit further down the list than St. Louis, but is still classified a dangerous place. Factoring in all violent crime Detroit tops the list of the most dangerous cities in the United States.

Although Chicago is often cited as the most dangerous urban area in the United States, even with a near record-breaking 762 murders in 2016, the murder rate remains at 28.2, making its position fall further on the list.

New Orleans falls further down with 41.44 murders per 100,000 residents a year.

The most dangerous cities in the world, as listed according to ranking, name, and murder rate per 100,000, are as follows:

1 Caracas, Venezuela 119.87
2 San Pedro Sula, Honduras 111.03
3 San Salvador, El Salvador 108.54
4 Acapulco, Mexico 104.73
5 Maturin, Venezuela 86.45
Small boats facilitate invasion

New Observer, "Italy: 2,074 Seaborne African Invaders Land in One Day", 15 April 2017:

The ongoing African invasion of Europe continues to speed up, with 2,074 Africans landing in Italy in just one day.

The mass invasion—by [Africans] who have absolutely no right to claim asylum anywhere, and who are motivated purely by what they can get by way of charity handouts from liberal Europeans—is aided and abetted by the "rescue" missions run by private leftist charities and naval units from various European states.

An Italian coast guard spokesman told media that on Friday last week, 19 such "rescue operations" by his nation's coast guard, or ships operated by non-governmental organizations, had plucked the 2,074 invaders from "16 rubber dinghies and three small wooden boats."

The fact that the Africans were in such small vessels shows once again that they do not even have to cross the Mediterranean, but only have to set sail from the coast of Libya before being picked up by the Europeans and transported in comfort and safety to Europe—instead of being dumped back on the nearby African coast as they should be.
Alphagame, "The Coalburner's Daddy", 8 April 2017:

This is why you don't let your daughters mudshark:

Gunfire on Friday morning claimed the lives of a St. Paul father and the two teenage daughters he doted on.

The shooting at a Payne-Phalen apartment also left the girls' mother clinging to life.

Immediately after the shooting, authorities began a frantic search for one of the victims' daughter — an 18-month-old girl. Police found the toddler safe and arrested the man who was hiding with her in a shed not far from the apartment.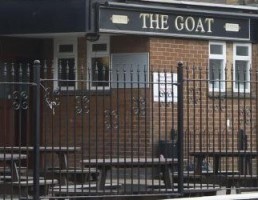 #6: What color the attackers were: Jez - "The Goat Pub, where the attackers of the Kurdish Iranian (asylum seeker) came from serves Zambian food and is known as 'a black pub."
James Fulford, VDare - "While it is occasionally a den of iniquity like the Star Wars Cantina, it is less multicultural than that famous tavern, and the licence holder is named Ngoma…

Yes, the Goat, while it claims to be a family friendly pub, is a family friendly Zambian pub, and its customers are mostly black."
Visigrad Post, "The Visegrád Group Will Not Yield to Blackmail, and Hungary Strengthens Anti-Immigration Policy", 28 March 2017: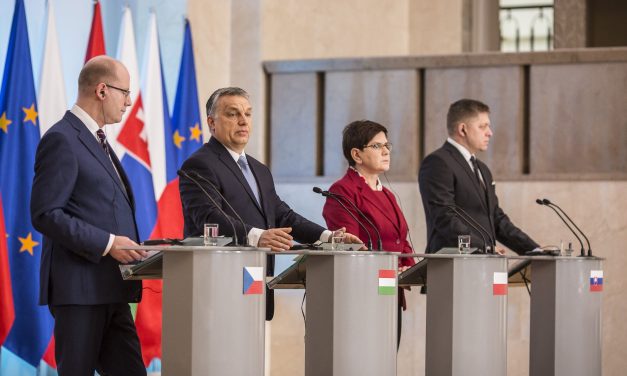 Poland, Warsaw – The leaders of the Visegrád Group, meeting in Warsaw on Tuesday (March 28th), denounced with one voice the European blackmail and diktat over them regarding migration policy.
The four prime ministers strongly opposed the idea of ​​linking the distribution of EU funds to the EU's migration policy.
"The idea of ​​linking the funds due to us from the EU with migration policy is bad. Together as the Visegrad Group, we cannot be intimidated, "Hungarian Prime Minister Viktor Orban said at a joint press conference with his Czech counterpart Bohuslav Sobotka, Slovakian Robert Fico and Polish Beata Szydlo.
"The Visegrad Group, including Poland, will never accept this blackmail, nor be dictated conditions. We are saying clearly that the migration policy that has been followed up until now by the EU has not proved its worth, and we must learn from it, "Szydlo insisted.
Hungary continues anti-immigration policy
On the same day, the law allowing detention of illegal immigrants and asylum-seekers entered into force in Hungary. "Hungary is now in a position to respond even if the agreement between the EU and Turkey fails. We are able to stop any wave of immigration on the Serbian-Hungarian border, "Orban said, adding that "the Austrians and Germans can now sleep peacefully."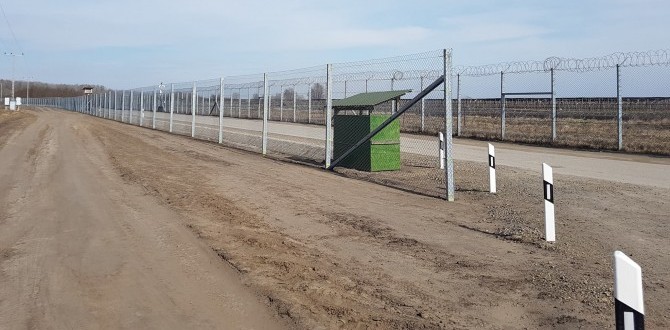 The second fence will be completed by summer, the Hungarian Interior Ministry said.
It is important to note, however, that migrant detention centers are not prisons. Placed on the border, asylum seekers and illegal immigrants are allowed to leave for Serbia at any time, if they do not wish to follow the legal procedures for entering into Hungary, Schengen and the European Union.