Majorityrights News > Category: Intermarium

Ferenc Almássy and Norbert Hofer in Vienna. II.2017

Visigrad Post, "Norbert Hofer: the FPÖ is Likely to be the First Party at the Next Elections and We'll Get Closer to the Visegrád Countries", 8 Feb 2017:

Austria – Interview with Norbert G. Hofer, member of the FPÖ, the Austrian national-liberal party: "The FPÖ will probably be the first party at the next elections […] If we manage to govern, there will also be a very close contact with the states of Visegrád." The outgoing candidate in the second round of the Austrian presidential elections in 2016, Norbert Hofer, received the Visegrád Post in his office of the Austrian parliament.

We talked about the United States, Russia, China, energy, hyperloop, the Habsburg Empire and the Order of St. George.

Interview conducted in Vienna on 3 February 2017 by Ferenc Almássy.

Ferenc Almássy: The news prompts me to start with this question. Donald Trump is now President of the United States. If he implements what he has promised to do, and it seems to be well on its way, the United States should move towards more isolationism, but also possibly towards cooperation with Russia. What are the consequences for Europe, particularly Central Europe? And what do you hope, or do you fear, regarding Austria?

Norbert Hofer: I do not think that the US will be isolated. But I believe that they will do everything they can in order to bring production back to America, because this is supposed to secure the jobs in the US. And I believe that Europe must react to it, because if Europe does not do everything in its power to become economically stronger again and remembers what the founding fathers – Charles de Gaulle, Adenauer – wanted this European Union, this European Community to become, namely economically strong cooperating states, so that they could work together for mutual understanding and avoid leading to war against each other.

Here Europe must react and we must also try to bring production back to Europe. More and more enterprises are leaving our continent, going somewhere else; but people have to live from something, and it is wise to produce here and not in countries where there are fewer environmental requirements, where there are fewer social requirements.

The idea that you are producing where the goods are needed is, from my point of view, the correct path, and this is where Europe must concentrate upon, in all friendship with the USA, in all friendship with Russia, and also in friendship with China. But states represent interests and also the European Union must represent interests, namely the interests of the domestic economy, of the domestic workers and the consumers who live here. This is what we must pay attention to.
TomDispatch: "Is President Trump Headed for a War with China?" All Options Are "On The Table" - Rajan Menon, 12 Feb 2017:

Forget those "bad hombres down there" in Mexico that U.S. troops might take out. Ignore the way National Security Adviser Michael Flynn put Iran "on notice" and the new president insisted, that, when it comes to that country, "nothing is off the table." Instead, focus for a moment on something truly scary: the possibility that Donald Trump's Washington might slide into an actual war with the planet's rising superpower, China. No kidding. It could really happen.

Let's start with silver-maned, stately Rex Tillerson, Donald Trump's pick for secretary of state. Who could deny that the former ExxonMobil CEO has a foreign minister's bearing? Trump reportedly chose him over neocon firebrand John Bolton partly for that reason. (Among other things, Bolton was mustachioed, something the new president apparently doesn't care for.) But an august persona can only do so much; it can't offset a lack of professional diplomatic experience.

That became all-too-apparent during Tillerson's January 11th confirmation hearing before the Senate Foreign Relations Committee. He was asked for his view on the military infrastructure China has been creating on various islands in the South China Sea, the ownership of which other Asian countries, including Taiwan, the Philippines, Vietnam, Malaysia, and Brunei claim as well . China's actions, he replied, were "extremely worrisome," likening them to Russia's annexation of Ukraine's Crimean peninsula, an infraction for which Russia was slapped with economic sanctions.

The then-secretary-of-state-designate — he's since been confirmed, despite many negative votes — didn't, however, stop there. Evidently, he wanted to communicate to the Chinese leadership in Beijing that the new administration was already irked beyond measure with them. So he added, "We're going to have to send China's leaders a clear signal: that, first, the island building stops and, second, your access to those islands is not going to be allowed." Functionally, that fell little short of being an announcement of a future act of war, since not allowing "access" to those islands would clearly involve military moves. In what amounted to a there's-a-new-sheriff-in-town warning, he then doubled down yet again, insisting, slightly incoherently (in the tradition of his new boss) that "the failure of a response has allowed them to just keep pushing the envelope on this."

All right, so maybe a novice had a bad day. Maybe the secretary-of-state-to-be simply ad-libbed and misspoke… whatever. If so, you might have expected a later clarification from him or from someone on the Trump national security team anyway.

That didn't happen; instead, that team stuck to its guns. White House Press Secretary Sean Spicer made no effort to add nuance to, let alone walk back, Tillerson's remarks. During his first official press briefing on January 23rd, Spicer declared that the United States "is going to make sure we defend our interests there" — in the South China Sea, that is — and that "if those islands are in fact in international waters and not part of China proper, then yes, we are going to make sure that we defend international territories from being taken over by one country."

And what of Trump's own views on the island controversy? Never one to pass up an opportunity for hyperbole, during the presidential campaign he swore that, on those tiny islands, China was building "a military fortress the likes of which the world has not seen." As it happened, he wasn't speaking about, say, the forces that Hitler massed for the ill-fated Operation Barbarossa, launched in June 1941 with the aim of crushing the Red Army and the Soviet Union, or those deployed for the June 1944 Normandy landing, which sealed Nazi Germany's fate. When applied to what China has been up to in the South China Sea, his statement fell instantly into the not-yet-named category of "alternative facts."

Candidate Trump also let it be known that he wouldn't allow Beijing to get away with such cheekiness on his watch. Why had the Chinese engaged in military construction on the islands? Trump had a simple answer (as he invariably does): China "has no respect for our president and no respect for our country." The implication was evident. Things would be different once he settled into the White House and made America great again. Then — it was easy enough to conclude — China had better watch out.

Standard campaign bombast? Well, Trump hasn't changed his tune a bit since being elected. On December 4th, using (of course!) his Twitter account, he blasted Beijing for having built "a massive military complex in the middle of the South China Sea." And it's safe to assume that he signed off on Spicer's combative comments as well.

In short, his administration has already drawn a red line — but in the way a petulant child might with a crayon. During and after the campaign he made much of his determination to regain the respect he claims the U.S. has lost in the world, notably from adversaries like China. The danger here is that, in dealing with that country, Trump could, as is typical, make it all about himself, all about "winning," one of his most beloved words, and disaster might follow.

Whose Islands?


China claims disputed islands are 'sacred territory'

A military clash between Trump-led America and a China led by President Xi Jinping? Understanding how it might happen requires a brief detour to the place where it's most likely to occur: the South China Sea. Our first task: to understand China's position on that body of water and the islands it contains, as well as the nature of Beijing's military projects there. So brace yourself for some necessary detail.

As Marina Tsirbas, a former diplomat now at the Australian National University's National Security College, explains, Beijing's written and verbal statements on the South China Sea lend themselves to two different interpretations. The Chinese government's position boils down to something like this: "We own everything — the waters, islands and reefs, marine resources, and energy and mineral deposits — within the Nine-Dash Line." That demarcation line, which incidentally has had ten dashes, and sometimes eleven, originally appeared in 1947 maps of the Republic of China, the Nationalist government that would soon flee to the island of Taiwan leaving the Chinese Communists in charge of the mainland. When Mao Ze Dong and his associates established the People's Republic, they retained that Nationalist map and the demarcation line that went with it, which just happened to enclose virtually all of the South China Sea, claiming sovereign rights.

This stance — think of it as Beijing's hard line on the subject — raises instant questions about other countries' navigation and overflight rights through that much-used region. In essence, do they have any and, if so, will Beijing alone be the one to define what those are? And will those definitions start to change as China becomes ever more powerful? These are hardly trivial concerns, given that about $5 trillion worth of goods pass through the South China Sea annually.

Then there's what might be called Beijing's softer line, based on rights accorded by the legal concepts of the territorial sea and the Exclusive Economic Zone (EEZ). Under the U.N. Convention on the Law of the Sea (UNCLOS), which took effect in 1994 and has been signed by 167 states (including China but not the United States), a country has sovereign control within 12 nautical miles of its coast as well as of land formations in that perimeter visible at high tide. But other countries have the right of "innocent passage." The EEZ goes further. It provides a rightful claimant control over access to fishing, as well as seabed and subsoil natural resources , within "an area beyond and adjacent to the territorial sea" extending 200 nautical miles, while ensuring other states' freedom of passage by air and sea. UNCLOS also gives a state with an EEZ control over "the establishment and use of artificial islands, installations, and structures" within that zone — an important provision at our present moment.

What makes all of this so much more complicated is that many of the islands and reefs in the South China Sea that provide the basis for defining China's EEZ are also claimed by other countries under the terms of UNCLOS. That, of course, immediately raises questions about the legality of Beijing's military construction projects in that watery expanse on islands, atolls, and strips of land it's dredging into existence, as well as its claims to seabed energy resources, fishing rights, and land reclamation rights there — to say nothing about its willingness to seize some of them by force, rival claims be damned.


Subi Reef, being built into an artificial island-landing strip in 2015

Moreover, figuring out which of these two positions — hard or soft — China embraces at any moment is tricky indeed. Beijing, for instance, insists that it upholds freedom of navigation and overflight rights in the Sea, but it has also said that these rights don't apply to warships and military aircraft. In recent years its warplanes have intercepted, and at close quarters, American military aircraft flying outside Chinese territorial waters in the same region. Similarly, in 2015, Chinese aircraft and ships followed and issued warnings to an American warship off Subi Reef in the Spratly Islands, which both China and Vietnam claim in their entirety. This past December, its Navy seized, but later returned, an underwater drone the American naval ship Bowditch had been operating near the coast of the Philippines.

There were similar incidents in 2000, 2001, 2002, 2009, 2013, and 2014. In the second of these episodes, a Chinese fighter jet collided with a US Navy EP-3 reconnaissance plane, which had a crew of 24 on board, less than 70 miles off Hainan island, forcing it to make an emergency landing in China and creating a tense standoff between Beijing and Washington. The Chinese detained the crew for 11 days. They disassembled the EP-3, returning it three months later in pieces.

Such muscle flexing in the South China Sea isn't new. China has long been tough on its weaker neighbors in those waters. Back in 1974, for instance, its forces ejected South Vietnamese troops from parts of the Paracel/Xisha islands that Beijing claimed but did not yet control. China has also backed up its claim to the Spratly/Nansha islands (which Taiwan, Vietnam, and other regional countries reject) with air and naval patrols, tough talk, and more. In 1988, it forcibly occupied the Vietnamese-controlled Johnson Reef, securing control over the first of what would eventually become seven possessions in the Spratlys.

Vietnam has not been the only Southeast Asian country to receive such rough treatment. China and the Philippines both claim ownership of Panatag (Scarborough) Shoal/Huangyang Island, located 124 nautical miles off Luzon Island in the Philippines. In 2012, Beijing simply seized it, having already ejected Manila from Panganiban Reef (aka Mischief Reef), about 129 nautical miles from the Philippines' Palawan Island, in 1995. In 2016, when an international arbitration tribunal upheld Manila's position on Mischief Reef and Scarborough Shoal, the Chinese Foreign Ministry sniffed that "the decision is invalid and has no binding force." Chinese president Xi Jinping added for good measure that China's claims to the South China Sea stretched back to "ancient times."

Then there's China's military construction work in the area, which includes the building of full-scale artificial islands, as well as harbors, military airfields, storage facilities, and hangars reinforced to protect military aircraft. In addition, the Chinese have installed radar systems, anti-aircraft missiles, and anti-missile defense systems on some of these islands.

These , then, are the projects that the Trump administration says it will stop. But China's conduct in the South China Sea leaves little doubt about its determination to hold onto what it has and continue its activities. The Chinese leadership has made this clear since Donald Trump's election, and the state-run press has struck a similarly defiant note, drawing crude red lines of its own. For example, the Global Times, a nationalist newspaper, mocked Trump's pretensions and issued a doomsday warning: "The U.S. has no absolute power to dominate the South China Sea. Tillerson had better bone up on nuclear strategies if he wants to force a big nuclear power to withdraw from its own territories."

Were the administration to follow its threatening talk with military action, the Global Times added ominously, "The two sides had better prepare for a military clash." Although the Chinese leadership hasn't been anywhere near as bombastic, top officials have made it clear that they won't yield an inch on the South China Sea, that disputes over territories are matters for China and its neighbors to settle, and that Washington had best butt out.

[...]
Visigrad Post, "Hungary's PM Orbán: Nowhere Do Human Rights Prescribe National Suicide", Jan 2017:

Hungary – The Hungarian government goes further in its opposition to non-European immigration, both illegal and legal. Viktor Orbán made again a strong speech against "national suicide" and meantime, the government announces its will to put an end to the residency bonds.

In front of 532 new deputy border guards, Viktor Orbán explained, on Thursday, January 12, that their job will be to protect Hungary's borders and the safety of all Hungarians, "and that of all of Europe as well, as has been the fate of the nation for hundreds of years".

"Terror attacks, riots, violence, crime, ethnic and cultural clashes all show us that those who come do not want to live our lives," Orbán told the border guards. "They want to continue living their lives, just on the European standard of living. We understand them but we can't let them into Europe. Nowhere do human rights prescribe national suicide."

Asylum-seekers will be detained in close camps from now on

Systematic detention of migrants arriving in the country will be put in place, explained Viktor Orbán on Friday, January 13, during his weekly talk at the public radio. "We have reinstated alien police detention in the cases of those whose application to enter Europe has not yet been legally judged". "As long as there is a verdict outstanding (in their asylum applications) they cannot move freely in Hungary," said the Hungarian PM.

Under pressure from Brussels, the UN refugee agency and the European Court of Human Rights, Hungary in 2013 suspended the practice of detaining asylum applicants. The close camps are demanded by Jobbik's vice-president and mayor of a little town at the border with Serbia, László Toroczkai, from the beginning of 2015, the same man that asked for the fence first in Hungary.

"Since then there have been terror acts in western Europe," Orbán said Friday". Any legal regulation that facilitates terror acts must be changed in the interests of our own self-defense." He said he was aware that this "openly goes against the EU", taking the risk of an open-conflict with Brussels, once again.

No more residency bonds

Three months ago, the constitutional bill against mandatory quotas of migrants, proposed by the ruling Fidesz, failed due to the surprise boycott of the vote by the right-wing populist party Jobbik, which wanted to add into the bill the suppression of the residency bonds. These bonds allow non-EU citizens to buy a Schengen permanent residency permit.

Really harsh discussions took place in the Hungarian parliament between the national-conservative ruling Fidesz and the right-wing populist Jobbik on these bonds. Security threats, suspicion of high corruption and treason toward the Hungarians — who reject non-European immigration — were the main arguments of the Jobbik.

Eventually, the government will suspend indefinitely the program, claiming these bonds are not necessary anymore since ratings agency Moody's upgraded the country's credit rating. Several scandals of corruption related to these bonds merged in 2016 and it is most likely that the government wanted to put an end to this failed program. Therefore, no more residency bonds requests will be accepted from April 1.
EUObserver, "The rise and shine of Visegrad", 30 Dec 2016:
The Visegrad leaders have made their voices heard on the EU stage.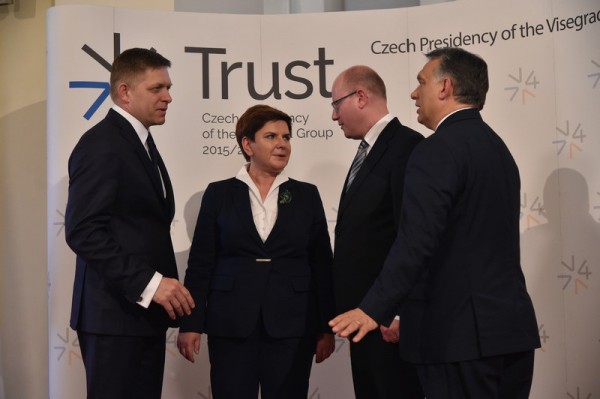 From left to right, Robert Fico, Beata Szydlo, Bohuslav Sobotka and Viktor Orban. (Photo: Czech government)
The name of a quiet medieval town in Hungary – Visegrad – has in recent times become synonymous with the word "rebellion" in Brussels.
Others, particularly if they are from one of the four countries in the loose association of the Visegrad Group, might argue that it stands for "alternative".
V4 countries are trying to weigh in on the EU's soul-searching process which was launched at a summit in Bratislava in September. (Photo: Kurt Bauschardt)
The group, also known as V4, was formed in Visegrad in 1991 and is comprised of the Czech Republic, Hungary, Poland and Slovakia. It has remained relatively obscure for almost 25 years.
Then the migration crisis hit.
The EU's inability to handle the crisis, combined with a tilt in the power structure within the union after the Brexit vote and increasingly bellicose and eurosceptic leaders in Hungary and Poland, has thrust the group to the fore.
In 2016, V4 leaders have pushed for a change in the EU's migration policy and has refused to accept asylum seekers under the EU's quota system. They also called for reform of the EU after the Brexit vote.
"The V4 basically fulfilled the role it was created for in the first place, to be a powerful lobby organisation." Daniel Bartha, the director of the Budapest-based Centre for Euro-Atlantic Integration and Democracy, told Euobserver.
"It now holds on to a significant number of votes in the European Council to offset Germany."
The original sin
Diplomats refer to a meeting of interior ministers in September 2015, when the four states were out-voted on migrant quotas, as the "original sin" that emboldened the group.
The V4 countries disagreed with the mandatory part of the system - even though in the end Poland, under its previous government, did not vote with the rest of the Visegrad nations - and particularly disliked how the European Commission rammed through its German-inspired proposal.
A year after the migration quotas were introduced, Slovak prime minister Robert Fico declared the idea politically dead. "Quotas today clearly divide the EU, therefore I think they are politically finished," he told journalists while his country was holding the rotating EU presidency.
Eastern EU states were not the only ones that did not like the quota system, but they were the most vocal about it, with Hungary and Slovakia challenging it in the EU Court of Justice.
Strong anti-immigrant rhetoric coming from the Visegrad leaders was initially criticised, but eventually the focus of the EU's migration policy shifted from taking in asylum seekers and distributing them fairly, to reinforcing border control and shutting down migration routes.
The issue has finally forced the realisation in the corridors of the Berlaymont, the EU commission's headquarters, that V4 countries could not be ignored.
But as one EU official observed, commission president Jean-Claude Juncker still surrounds himself with a small circle of close aides and is less open to influence from the V4.
The official gave the example of the commission proposal on "posted workers", which would require companies from the eastern EU to pay as much to their workers sent to Western Europe as their western counterparts.
In principle, the proposal makes sense in a single market, and some Western European states have long objected to easterners undercutting local wages. But 11 national parliaments objected to the commission's proposal, the bulk of them eastern nations. The commission decided in July to move ahead with the proposal anyway.
After Brexit vote
The Brexit vote was a shock to the EU, but it reinforced the V4's presence.
It has been interpreted as a vote against the ruling elite and mainstream politics, a public sentiment that Hungarian and Polish leaders have been successfully exploiting. Those two nations took it as a sign that the EU needs to change, and they were ready with an alternative.
"The European Commission hasn't fully understood what happened in the British referendum," Polish prime minister Beata Szydlo told reporters in July, when her country took over the V4 rotating presidency.
"The EU needs to return to its roots. We need to care more about the concerns of citizens and less about those of the institutions."
Similarly, Hungarian prime minister Viktor Orban said in June that democratic legitimacy for the EU can only come from the member states.
"We have to return to the notion that the basis of the EU is not its institutions, but the member states. The democratic feature of the EU can only be reinforced through the member states," he said after the British referendum.
There is yet a concrete proposal, but in the Slovak capital in September, the 27 member states kicked off a soul-searching "Bratislava process" to explore how the EU could be reformed to win back citizens, and the V4's ideas are bound to be influential.
"After Brexit, the EU's political centre of gravity has shifted towards the east," said analyst Daniel Bartha.
"France has had a declining economy since the early 2010s, so it has been less potent in offsetting Germany's dominance on the continent. New power centres are destined to emerge in the union."
But the V4's rise in EU politics might only be temporary, as many issues divide the four nations and would hamper their ability to influence EU politics.
"The harmony only exists from the outside. Migration is the key issue where the four agreed. On everything else – for instance energy – there is little agreement," said Bartha.
He cited as an example relations with Russia – a friend to Hungary but still regarded as a threat in Poland.
And Slovakia's government has largely muted its opposition to EU migration policy during its presidency of the EU Council.
EU officials have suggested engaging with the "more reasonable" elements within the V4 – Slovakia and the Czech Republic – to separate them from Poland and Hungary whenever possible.
"They need our gestures. It is that moment," argued one EU official.
Iohannis stops accession of Muslim Prime Minister

Visigrad Post, "Romania On The Brink Of A Political Crisis", 28 Dec 2016:

Romania – President Klaus Iohannis rejected the nomination of the country's first ever Muslim – and woman – candidate for Prime Minister, Sevil Shhaideh.

After winning the election early December, the PSD – Social Democrats – had to nominate a candidate for the office of Prime Minister. The president of the PSD, Liviu Dragnea is unable to become Prime Minister as he has been preliminarily refused by President Iohannis as he has been convicted for electoral fraud. Hence, he proposed Sevil Shhaideh, and it was likely he'd run the government through her.

Although President Klaus Iohannis asked the Social Democrats to pick someone else to lead the government, but he did not give any reason for this rejection.

Mr Dragnea has previously suggested he will fight any attempt by the president to block his choice of Prime Minister. "If Iohannis rejects our proposal, I'm not going to make a second one. We'll see each other in some other place," he said.


Sevil Shhaideh - rejected nominee for Romania' first ever Muslim – and woman - Prime Minister

Following the rejection, Mr Dragnea said he could begin the process of seeking to remove Mr Iohannis as president. "It seems the president clearly wants to be suspended," Mr Dragnea said. "We'll weigh our options very carefully, because we don't want to take emotional decisions. We don't want to trigger a political crisis for nothing, but if we come to the conclusion that the president must be suspended, I won't hesitate." As a matter of fact, several political observers claim that the two refusals – the first one, unofficial, of Dragnea, and the second one of Shhaideh – are unconstitutional.

On December 28, Mr Dragnea proposed Sorin Grindeanu as candidate for Prime Minister. President Iohannis is expected to name the Prime Minister on December 29. According to the Romanian constitution, if the candidate is not nominated by the President, the parliament will be dissolved and new elections will be held.
President Iohannis is indeed going along with the nomination of Grindeanu -
Sofia Globe "Romanian president designates Grindeanu new prime minister", 30 Dec 2016:

President Klaus Iohannis has designated veteran leftist Sorin Grindeanu as the new Romanian head of government. Previously, Iohannis refused to endorse a female, Muslim candidate who was criticized for her inexperience.

The 43-year-old Sorin Grindeanu would have 10 days to unveil his cabinet and seek the parliament's vote of confidence after being named by Iohannis on Friday.

The process is expected to go smoothly for the former telecommunications minister after the triumph of his moderate left PSD party in the parliamentary election earlier this month. The PSD won 45 percent of the seats and now holds a firm majority with their junior partners, the ALDE.

Grindeanu is a mathematician who has served as deputy mayor of the western city of Timisoara.
Sun: "Britain to send hundreds of soldiers to Poland to ward off Russian troops, as UK looks to Warsaw as a key Brexit ally"

Prime Minister hoping to cement relations with her Polish counterpart ahead of fraught EU negotiations

BRITAIN will send 150 troops to help protect Poland from Russian aggression as Theresa May looks to secure Warsaw's backing in Brexit talks.

A summit between the PM and her Polish counterpart Beata Szydlo [was held] in an effort to stand up to bolshie Putin and allay Polish fears about its citizens remaining in the UK after Britain leaves the EU.

Theresa May is trying to cement ties with Polish counterpart Beata Szydlo ahead of Brexit negotiations

The deployment of troops from the Light Dragoons will be based in the northeastern town of Orzysz, just 100km from the key Russian enclave of Kaliningrad, from April.

It is here that Russia is planning to base Nuclear-capable missiles posing a major threat to cities in northern Europe.

While the deployment is small compared to Russia's vast military, the gesture is intended to be symbolic of the UK's commitment to her NATO allies and Britain's ties to Poland.

Theresa May said on Sunday: "We share a clear commitment to take our co-operation to the next level and to firmly establish the UK and Poland as resolute and strategic allies.

"We will never forget the Polish pilots who braved the skies alongside us during World War Two … nor the valuable contribution made by so many Poles in our country today.

"I am determined that Brexit will not weaken our relationship … rather it will serve as a catalyst to strengthen it."


Deployment of 150 troops will be stationed near the border with Kaliningrad, a key Russian enclave

Brexit-related talks will likely rile EU leaders after Brussels banned member states from formal negotiations with Britain before Article 50 is triggered in March next year

While the British deployment will be small the symbolic gesture is intended to help secure Anglo-Polish ties
Visigrad Post, "Slovakia Prevents Islam From Becoming A State Religion", 1 Dec 2016: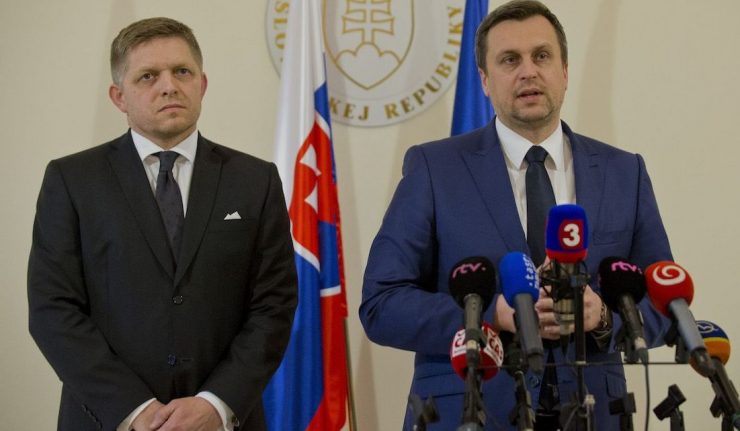 That's the way to do it: make Islam illegal.
Slovakia – On Wednesday 30 November the Slovak parliament passed a law proposed by members of the coalition of Prime Minister Robert Fico to prevent Islam from gaining official status in Slovakia.

The Slovak National Party (SNS) proposed that, in order for a religion to be formally recognized by the State, it should have at least 50,000 members -instead of the 20,000 members before that law- and so to have State grants and run its own schools.

For the time being according to the latest statistics Slovakia has 2,000 Muslims, 5,000 according to the Slovak Islamic Foundation. On the 5.4 million inhabitants in Slovakia, 62 per cent declare themselves Roman Catholics.

The president of the Slovak National Party Andrej Danko said on this subject that "Islamization begins with a kebab and this is what happens in Bratislava, we must be aware of what we could face in 5 or 10 years … We must do everything in our power to ensure that no mosques are built in the future."

The law was approved by two-thirds of the Slovak parliament, including the ruling coalition headed by left-wing prime minister Robert Fico and opposition parties. The Nationalist Party The SNS then proposed that not 50,000 but 250,000 should compose an official religion, which was immediately rejected.