Majorityrights News > Category: Silk Road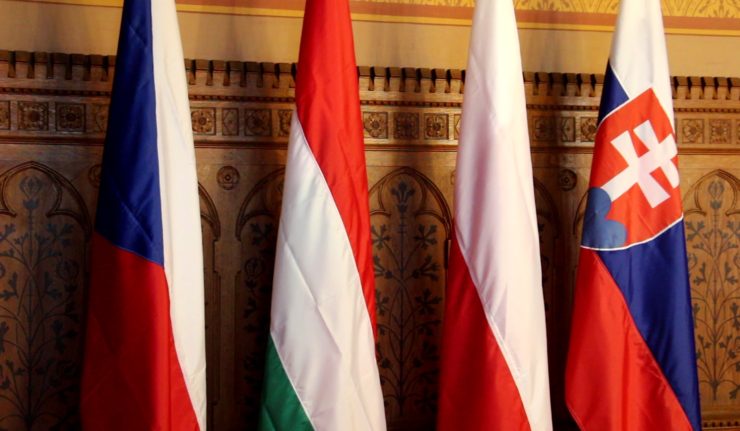 Take away the Trojan Horse that is Christianity, and replace it with a moral order that is authentic to European ethno-national interests and you've got an example of a sound ethno-national coalition in the Visegrad Group.
Visigrad Posy, Why so much fuss about the Visegrad Group?"

By Gabor Toth, President of the V4-China association, 8 Feb 2018:

Visegrad Group – In the recent years, the international media has helped make the profile of the V4 rise significantly. It is fair to say that the V4 have never been so important and well-known around the world as nowadays. But why is that? This formation has been around since 1335! In its modern form, it has been active since its resurrection in the 1990s. So how come we haven't really heard about it until about 2015-16?

And why the fuss about the V4, especially in European politics?

The story goes back to 2015, when a great number of both refugees and migrants mainly from the Middle East and Africa arrived at the borders of Hungary. They wanted to pass through, so they can go to Germany, Sweden and other western European countries. The Hungarian government did not allow this, saying that entering the territory of the EU can only be done legally, based on the existing treaties. The other three V4 countries quickly joined Hungary's position, while some western countries criticized Hungary for the move.

As the burden of the crisis became heavier, the profile of the V4's stance grew stronger. Today, only two years later, the situation has escalated so much that many experts see the V4, being the leading formation of CEE, as the only viable and strong enough opposition to the politics of Western Europe. A very clear divide has taken shape between East and West. To the west, countries that have accepted migration and multiculturalism, to the east, countries that wish to remain as they have always been. To the west, countries that are abandoning the idea of nation states and Christianity as the foundation of Europe, to the east, countries that want to stick to this foundation. Of course, this is not that simple, but these are the basic differences between the two sides.

In other words, the V4, lead by Viktor Orban, the Hungarian prime minister, have emerged as representatives of a future Europe that keeps its traditions, historic background and spiritual foundation, while some western countries, such as France, Belgium and Holland represent a future Europe with mixed societies and a way of life based on a progressive idea that the continent can be great without clearly separated nation states and many different religions can coexist, because it has happened in other places before, such as the United States.

But what will the peoples of Europe choose? Or is it really a choice they face?

History has the answer, and it is clear.

Europe and its people cannot and will not simply erase or even compromise their Christian roots and national pride. It is foolish for anyone to think that they will. It is rooted too deep in their genes, their traditions, even in their everyday habits…

This article does not mean to judge who is right or wrong. These are facts of history and those of us that live on this continent know it, even if this is something we don't think about on a daily basis. However, when European people feel that their way of life and long spiritual foundations are questioned or even threatened, they raise their voice. This has been going on since the end of 2015, and it's been getting more and more vocal. All eyes on Italy and Germany now. Will they take the position of the V4 and Viktor Orban? Those that say they will not, are likely to lose their bet, because all indicators show that the "opposing" side cannot come up with a clear vision for a future Europe where all peoples can live in peace and prosperity without having to change their foundations drastically. And even if that side did have a clear alternative, chances are high that the peoples of Europe would reject it, because in their mind Europe can hardly be greater than it was in those times when it was leading the world…

In football, there's a saying: "don't change a winning team". Europeans love football, but more importantly, this is the way they think about being a collection of strong, Christian nation states, too. They have absolutely no reason to change their ancient, winning formula.

Interestingly, however, some western countries call for a "United States of Europe", which is considered by some to be the alternative to the V4's position.

But this is not entirely true, because individually strong, Christian nation states must also find a way to unite and work out a way to organize themselves into a strong, unified block. Europe is crying for a strong leader to finally get it out of the rut it's been stuck in for a long period now. With troubles mounting on the borders of Europe and inside as well, this becomes more and more essential. Especially, if military conflicts escalate around her borders.

We can predict, that the dispute between East and West may very easily be settled in a way that Europe will turn back to its original strength by becoming a "United States of Europe", but not at all the way some western countries imagine it, instead, as an empire of strong nation states, coordinated by the already existing, soon-to-be drastically reformed European institutions, such as the Council and the Committee. The issue is NOT with the way the EU was born and developed. It is with the way it is organized and lead.

Weak leadership and governing without a solid ideological foundation that people agree with is what's causing the difficulties the EU is facing. Reorganizing the institutional system and placing strong leaders in their top seats, with a Council president, given that the council goes back to being the strongest of the three main institutions, which it was always meant to be. Recognizing that Christianity will make Europe great again, and instead of fighting it, using it as a starting point to reestablish the relationship of church and state, bringing back the "winning formula". These are the steps Europe is going to take, if it follows the clear pattern of history.

Time will tell how quickly the so-called "Hungarian model" (having found a modern way of church and state relations) will spread further, but the process has begun and is speeding up notably.

The next question is Europe's future partners in trade, because this major resurrection of the "old" Europe means a totally new alliance system as well. As power shifts from the West to the East, China's new silk road seems to be the clear alternative. China needs a strong Europe, and Europe needs China, and the "One belt, One Road" initiative presents itself as this new alliance system with the potential to make Europe great again.

Moreover, China's approach toward CEE countries is also evident, with the 16+1 platform and several projects already underway.

Interestingly, the V4 are in an historic position, because they hold the key to Europe's revival, as well as the success of the 16+1. Hungary holds the presidency of the V4 until July 2018, which gives a significant advantage to the Hungarian prime minister, Orban, who is considered to be the leader of the conservative camp in Europe, and considered to be the most friendly and pragmatic leader in Europe by the Chinese.

Ironically, the "United States of Europe" that Mr. Schulz talked about would also need a strong leader, and today, there is simply no match to the success of Mr. Orban as a politician in the EU, so even if the people voted for a European President, it would not be surprising at all, if they voted for him. Of course, this is not what Mr. Schulz or other EU leaders would be happy about. While current EU leaders struggle to find solutions to their problems, something powerful is happening in the eastern front. The V4 have started to build the new Silk Road, and China appreciates this enormously.

In the coming years, as the divide between western and eastern Europe deepens, watch for the rapidly developing sentiment, that opening to the East is what will provide the solution.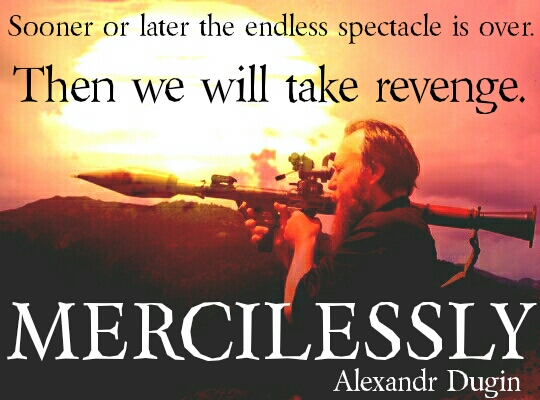 The Russian Federation
is still crying
: "Nobody likes traitors. Apparently, Kurds will stay alone with Turkish armed forces. Neither Damascus nor Moscow will provide any assistance to them. And only Kurdish leaders are responsible for that" - Alexandr Dugin.
It is a good sign that they are, along with their People's Protection Unit (YPJ), putting imperialist Turkey, US, Russia and Israel in a bind.
Having their origin in separation from the Jewy treachery of Soviet Russia, its imperialism, its Muslim Turkish cohorts, in favor of left nationalism in order to wrest national independence for the Kurds, it would be ideal if this Asian backed left nationalism could sheer off the eastern half of Turkey and, along with fellow ethnonationalists from the west, put the squeeze on those rats. The imperial Russian Federation is still crying that the Kurds have rejected them. In causing consternation for the JewSA, Russovitz and Israel's Turkish Friends, they are causing ethnonational consternation for imperial Israel as well.
Now, the Kurds have different facets and we are talking favorably about the ideal form and purpose of their left nationalism, not any assistance or alignment that some of them may have provided for radical Islam - on the contrary, that is just another form of imperialism.
Jerusalem Post, "Turkish and Syrian threats in Afrin put U.S., Russia in a bind, 19 January 2018:

What does it all mean for Israel?


People hold flags of People's Protection Unit (YPJ) as they walk during a protest against Turkish attacks on Afrin, in Hasaka, Syria, January 18, 2018. . (photo credit: RODI SAID / REUTERS)

On Friday, Turkey increased its shelling of the Kurdish-held Afrin enclave in northern Syria. According to the Kurdish People's Protection Units (YPG) up to 70 artillery shells were fired during the night.

While Turkey has threatened to invade the Kurdish area, which it says is being controlled by terrorists aligned with the Kurdistan Workers Party, Syria has threatened to shoot down Turkish warplanes in case of any attack on Syria's territory. The war of words in northern Syria puts the US and Russia in a bind because the US is allied with the Kurds in eastern Syria while Russia has been a close ally of the Syrian regime.

Since mid-January, there have been rumors and threats of a Turkish invasion of Afrin. The area has been controlled by the YPG since the early years of the Syrian civil war. In eastern Syria, the YPG and its affiliated Syrian Democratic Forces (SDF) have been successful at defeating Islamic State. However, in northern Syria, the Kurds have only come to control the thinly populated mountainous area of Afrin.

The autonomous canton is home to around one million people. The area is surrounded by Turkey on two sides and in Syria it borders areas controlled by Syrian rebel groups. The Kurds in this area have remained mostly outside the Syrian conflict because the Syrian rebel groups represent a buffer from most of the heavy fighting.

However, the Kurds here also have a complex relationship with the Syrian regime. They have not opposed Russian military personnel, for instance, who have been spotted in the Afrin area, and the YPG maintains amicable contact with the Russians, who are the Syrian regime's closet ally.

Since the fall of 2016, when Turkey began to intervene in Syria, the YPG has been targeted by the Turks and their Syrian rebel allies. When Turkey and those allies moved into the area between Jarabulus and Kilis in 2016, it was widely seen as an offensive not only against ISIS, but also to make sure the Kurdish forces did not get any closer to the Turkish border to link up Afrin with the areas they control in eastern Syria.

In March 2017, the US, which has been working closely with the SDF and YPG against ISIS, sent vehicles to Manbij to ward off any Turkish attack on its Kurdish partners. This was an important symbol because it showed the US had drawn a clear line around its partner forces and would warn off any attack. The US shot down a Syrian plane in June 2017 that was operating close to the SDF as well.

However, US-led coalition spokesman Ryan Dillon put out a statement on January 16 saying it is not operating in Afrin and the Pentagon told the Turkish news agency Anadolu that it was not involved with the YPG in Afrin. "We don't consider them as part of our defeat ISIS operations," a Pentagon spokesman said. This is a clear message to Turkey that the US would not be involved in any sort of operations if they happened in Afrin.

However, the US has indicated the US will be remaining in eastern Syria for the foreseeable future. Secretary of State Rex Tillerson reiterated this pledge Wednesday. The US has often urged Turkey to keep its focus on fighting ISIS, rather than mission creep that would lead to conflict with the Kurds. Any conflict with the Kurds would inevitably complicate the US mission in eastern Syria, because it would cause the Kurds in the east to want to aid their comrades in Afrin.

Turkey has posited that any operation into Afrin would be with rebel groups and that the operation is carried out "for them," and Turkey is "helping our brothers," according to statements from the Turkish Presidency. However, this poses problems because the Syrian rebels that Turkey wants to work with against Afrin are busy fighting the Syrian regime in Idlib, where they are hardpressed, suffering civilian and military loses.

Nevertheless Turkey's defense minister Nurettin Canikli vowed on January 19 that Ankara would carry out the operation, according to Turkish media. "The threat level against Turkey is increasing by the day. This operation will be carried out and we will combat terrorism." At the same time, the Syrian regime warns that any incursion could bring Syrian air defense into the picture. Syrian Deputy Foreign Minister Daisal Mekdad warned Friday that any attack on Afrin would be an act of "aggression" against Syria.

According to Al-Jazeera, Russia has moved military observers in Afrin "away" from the area, closer to Syrian regime-held territory. Any attack would therefore not harm the Russians who have become a key arbiter of issues in Syria. Russia has hosted the Astana and Sochi talks about the future of Syria, meeting with Turkey, Iran and Syria's governments. In Afrin, Russia is the key player because it has relations with all sides and it has warmed relations with Turkey over the last six months.

However, Russia has remained mum on any potential Turkish operation. It must balance its interests in cultivating relations with Syria, with its support of Damascus and its relations with the Kurds. Wishing to see itself as the broker of peace, Russia would hope that there is not a major Turkish incursion. That means any Turkish action might be limited, as it has been before, and the war of words is intended more to test the waters with the US, Russia and Syria, than lead to a major attack jeopardizing the lives of thousands.

For Israel, what does this mean? A similar scenario will eventually play out near the Golan, without Turkey but with the regime seeking to test the US, Jordan and Israel's resolve with Russia in the background. Afrin therefore matters greatly to the region and what transpires there will tell us about the future of Syria.
Breitbart, "Anti-Mass Migration Central European Nations Volunteer €35 Million To Reinforce EU Borders", 15 Dec 2017:

The four central nations that comprise the Visegrad group (V4) have set aside 35 million euros to help European Union (EU) member states protect the political bloc's external borders against illegal mass migration.

The four countries that make up the Visegrad group, Poland, Hungary, Czech Republic and Slovakia, have all agreed to donate the money to protect the EU external border in an announcement this week. All four countries are attending a EU conference to discuss migration issues beginning Thursday AP reports.

Slovakian Prime Minister Robert Fico commented on the move saying, "if we will see good projects in the future, first of all, projects that are effective, we are ready to spend even more money because we really want to show solidarity."

Mayor

Laszlow discusses overwhelming success of Hungary's border fence

- "instituted because we're 'normal" - the fence cut migration to Hungary by 99%

Some of the countries in the V4 group have been accused of a lack of solidarity by some in EU leadership. The Hungarian government has been particularly critical of those in Brussels who have argued about solidarity.

Breitbart London @BreitbartLondon

EU Dismisses Hungarian Request for 'Solidarity' over Border Controls, 'We Won't Support Fences'http://www.breitbart.com/london/2017/09/04/eu-dismisses-request-border-securitty/ 10:00 PM - Sep 4, 2017

EU Dismisses Hungarian Request for 'Solidarity' over Border Controls, 'We Won't Support Fences.'

Hungarian government spokesman Zoltan Kovacs replied to the EU elites in September writing, "The distorted narrative that is spun from Brussels attempts to convince European citizens that somehow European solidarity should be connected to accepting migrants, many of whom have crossed illegally into the territory of the EU."

Kovacs also argued that Hungary had funded EUR 883.2 million from its own budget in order to protect the EU external borders.

Hungarian Prime Minister Viktor Orban, who has consistently argued against mass migration, said Thursday that the new injection of cash will also go toward helping control illegal migration from Libya.

The EU, along with Italy have funnelled money into Libya to help train coastguard recruits and some allege that the Italians have even paid local warlords to stop the influx of migrants.

All four Visegrad group countries continue to refuse to participate in the EU's migrant redistribution scheme with Prime Minister Fico noting, "Quotas do not work, they are ineffective, the decision on quotas really divided the European Union."
The New Observer, "Netanyahu: Race-mixing to Destroy Liberal Jews", 3 Dec 2017:

Israeli Prime Minister Benjamin Netanyahu has reportedly predicted that racial mixing between liberal Jews and non-Jews will wipe out Reform Judaism in America by 2070—and that as a result, the Jewish ethnostate must prepare itself for survival without being supported by the US.

The comments, first reported by the Hebrew-language Makor Rishon daily newspaper in Israel, have highlighted two important facts: firstly, that Netanyahu is acutely aware of the threat to racial identity posed by racial mixing of any sort; and secondly, that the liberal Jews in America are behind the support that country provides to Israel.

In the original report, Netanyahu said that Reform Judaism—which, according to Pew Center estimates, represented 35 percent of American Jews—"would disappear within two generations due to assimilation."

The publication of the report in Makor Rishon caused an uproar amongst Jews in America, and Netanyahu's office issued an oblique denial in a tersely-worded statement which said that the report was "inaccurate and do not reflect the Prime Minister's views." It was significant that the statement did not specifically deny using those words, a tactic often employed by politicians as a way of publicly backtracking from comments.

Makor Rishon's diplomatic correspondent, Ariel Kahana, however, confirmed that Netanyahu repeated the assessment several times in private talks, and that Israel's ambassador to the United States, Ron Dermer, has been heard making similar projections.

According to Kahana's reports, Netanyahu spoke of the scenario of the demise of Reform Judaism as a threat to Israel, saying the Jewish state needs to prepare for a day when it would no longer enjoy the base of support provided today by the Jewish community in the United States.

As the Jewish Telegraphic Agency pointed out, Netanyahu has been criticized by leaders of Reform Judaism "in the United States and beyond" over his government's refusal to implement a compromise that enlarges the space devoted to allowing Jewesses to pray at the Western Wall, as well as its support for a bill that would give the Orthodox Chief Rabbinate formal control over conversions—which would further cement Israel's ban on marriages between Jews and non-Jews.

The JTA makes no reference to the real reason for the split between "left" and "right" wing Jews, namely on how best to present Israel to the outside world.

The JTA also ignored the other elephant in the room—the fact that the Jewish lobby in America and European countries still all support Israel and its racial policies—while vehemently attacking any white people who dare to say that they seek to emulate Israel's plans to protect itself from being overrun by racial aliens.

Netanyahu's assessment that liberal Jews in America will disappear due to racial mixing is based on reportedly high intermarriage rates with non-Jews amongst that community.

This is however unlikely to affect the power of the Jewish lobby, because the Conservative and Orthodox branches of American Jewry—together the majority of Jews in the US—still maintain their Jews-only marriage policies, and will not disappear.

In fact, it is precisely the Orthodox Jews who wield such strong influence over the Donald Trump administration, which is proof in itself that the disappearance of Reform Jews will not dramatically affect the power of the Jewish lobby in America.

As the Israeli Haaretz newspaper reported in April 2017, the "New Jewish Elite of the Trump Age" are the "ultra-Orthodox and pro-Israel Hawks."

Haaretz reported that "among many moves aimed at reversing his predecessor's policies, President Trump recently decided not to make public the White House visitors logs.

"Had they been open, the lists would reveal the profound change 100 days of a Trump administration had brought about to the Jewish community's power structure.

"The atmosphere has changed, at least for us. There's a sense of familiarity and greater receptivity and that makes a better atmosphere," said Abba Cohen, vice president for federal affairs at Agudath Israel of America, a group representing the ultra-Orthodox stream."

The real threat to Jewish power in America will only come when—and if—America tips majority nonwhite, because the Jewish Lobby's power is directly linked to the presence of a majority white electorate—as controlling the electoral choices of a majority nonwhite population will prove much harder to do.
I've published this full article by The New Observer in order to allow the article to build up to this last - crucial - paragraph:
"The real threat to Jewish power in America will only come when—and if—America tips majority nonwhite, because the Jewish Lobby's power is directly linked to the presence of a majority white electorate—as controlling the electoral choices of a majority nonwhite population will prove much harder to do."
It makes a point, inadvertently in all likelihood, and it is a chief point that Kumiko has become vigilant about - that non-Whites who are aware of the JQ, its power and destruction to ethno-nationalism, are being compelled where they are observant, to oppose White advocacy in general (just as the Jews would have it via controlled reaction to cultural Marxism) because it (right-wing reaction) has become engrafted with Jewry and their agenda. The Alt-Right is no relief from this fact; quite the opposite, it is the ultimate in crypsis as it basically has a quid pro quo relation with Jewry's right wing position upon its full ascendancy (approximately following the 2008 American housing bust).
And so, while David Duke, KM, TRS, Mark Collett et al. will continue to make excuses for (((Trump's administration))); some Alt Right tents will bolster their JQ cred by apologetics for Nazi Germany; but generally they will wield the anti-social stigma that Jewry will encourage among Whites; while other tents among their big tent will be in their circuit ready to express their "compassionate side" by running apologetics with and for Lauren Southern, John K. Press, Mike Enoch and Faith Goldy…. in their broader sphere will be Stephan Molyneux, Breitbart, Fox etc.
That is to say, the Alt Right and its perspective against "the left" has been and remains a Jewish trick at the most fundamental, epistemic level of (against) praxis; a trick which non-White and White ethnonationalists alike cannot afford to ignore. For it is the anti-social right, bereft of social accountability in propensity for naturalistic fallacy and unhinged idealism that has precipitated wars catastrophic for everybody except for the ultimate benefit of YKW.

The UN General Assembly hall (illustrative). Photo: UN.

JNS.org – "In an unprecedented move, Israel on Tuesday co-sponsored a draft resolution against Syria that was submitted by Saudi Arabia at the United Nations Human Rights Council", 15 Nov 2017:

The resolution, which was also backed by the US, France and Germany, passed with an overwhelming majority of 108 countries voting in favor, 17 voting against and 58 abstaining.

17 Nov 2017: Saudi FM, "Hezbollah Is a 'First-Class Terrorist Organization." Saudi Foreign Minister Adel al-Jubeir described Hezbollah on Thursday as a "first-class terrorist organization" that should lay down its arms…

Although Israel has previously supported resolutions submitted by Saudi Arabia at the UN, it has never signed on as a co-sponsor.

In a statement delivered prior to the vote, Saudi Arabian Ambassador to the UN Abdallah Al-Mouallimi slammed the "the grave deterioration in the state of human rights in Syria."

When the list of the resolution's co-sponsors was read aloud, Syria's UN envoy, Bashar al-Jaafari, mockingly congratulated Riyadh for Israel's direct involvement, stating that it served as evidence of a secret Israeli-Saudi alliance. The Syrian ambassador also accused all of the resolution's co-sponsors of supporting terrorism.

"The Assad regime, with full support from Iran, has been slaughtering its people mercilessly and with incomprehensible cruelty for years," Israeli Ambassador to the UN Danny Danon responded. "Israel, which for years has been providing humanitarian aid to Syrian civilians hurt by these atrocities, stands together with the international community against this murderous regime."

Israel's co-sponsoring of the Saudi resolution came a week after the Israeli Foreign Ministry reportedly instructed its envoys to launch a global diplomatic campaign against Iran and the Lebanese terror group Hezbollah, and in support of Saudi Arabia and its allies.
The resolution would overturn United Nations Security Council Resolution 1559, guarantor of Lebanon's sovereignty.
Related: Bashar Al-Assad, a proper Left Nationalist, a socially conscientious man.