Majorityrights News > Category: Silk Road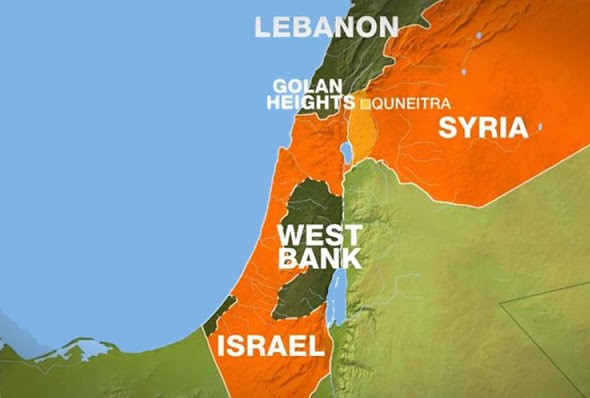 NewObserver, "Israeli Air Force Bombs Anti-ISIS Forces in Syria", 23 Apr 2017:
The Israeli Air Force has carried out two bombing raids against anti-ISIS army forces in the west of Syria as part of the [Israeli imperialist state's] long-running campaign to disrupt the Syrian government's military campaign against the terrorist army.
According to a report by the Syrian Arab News Agency (SANA), a military source announced that the "Israeli enemy's warplanes fired two missiles at 18:45 from within occupied territory at a military position in the surroundings of Khan Arnabeh in Quneitra countryside, causing material damage."
The "occupied territory" being referred to is the Golan Heights, which Israel seized in 1967, and annexed against all international law.
The SANA report said that the Israeli "aggression came after an attempt by terrorists to infiltrate military positions in Quneitra countryside was foiled and the terrorists suffered heavy losses."
This, SANA said, "proves that Israel provides direct support to terrorist organizations," adding that their source "affirmed that such desperate attempts will not dissuade the Army and Armed Forces from continuing to crush the terrorist groups that act as Israel's proxy in the area."
A follow-up report in Al Jazeera revealed that Sunday's attacks targeted fighters loyal to the Syrian government in the Naba al-Fawwar area of Quneitra province, which is located in the 30 percent of the Golan Heights that is not under Israeli occupation.
Three fighters from the pro-government National Defence Forces (NDF) were killed and at least two more were wounded in the attack, an NDF official said.
The terrorist armies fighting Syria's Bashar al-Assad government and its allies control much of the Quneitra area.
Unusually, the Israeli Army confirmed that it had targeted positions inside Syria in retaliation for mortar fire that hit the northern part of the occupied Golan Heights.
"The Israeli army targeted the source of the fire," an army statement said without giving further details.
In reality, the terrorist groups operating in the area against the Syrian government often operate close to Israeli lines—because Israel treats their wounded in hospitals inside the Jewish state, and it is therefore inevitable that the Israeli side will be hit occasionally by stray rounds.
The Israelis however always take these stray rounds as an excuse to bomb Syrian government positions.
The Jerusalem Post even admitted as much, saying that the Israeli attack was due to "errant rocket fire" caused by "fighting between Hezbollah and regime troops against rebel groups near Ain Ayshaa, Samadiniyah Sharqiyah & Madinat al-Baath near Quneitra."
The other excuse which the Jewish [imperialist] state uses to attack the anti-ISIS forces in Syria is that they are "carrying weapons to Lebanon" to fight Israel—as if Syria could at this stage spare such military effort.
The Lebanese Hezbollah organization—most famous for defeating the 2006 Israeli invasion of Lebanon—is one of the Syrian government's key military allies, providing tens of thousands of troops on the ground in the fight against ISIS.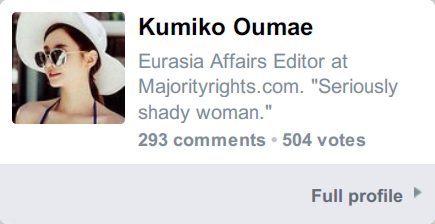 My
Disqus profile
card as of 17 Apr 2017. Follow me, I'm lots of fun.
Introduction
As far as I'm aware, I've really made some figures in American White Nationalism upset with my latest two articles, 'Donald Trump authorises reckless airstrikes against the legitimate government of Syria', and 'Silk Road News: First demonstration cargo train departs London for Yiwu, China'. But it doesn't end there.
'Armed recon'
It looks like my presence on Disqus comments threads has finally become the target of something resembling a rag-tag opposition. I have to say it took them long enough, given that I've been actively and openly voicing my opinions on that platform since Autumn 2015. Some people have now been drawn into mounting a weak and pathetic campaign against me and against Majorityrights.com generally.
Why am I jokingly calling this article 'armed recon' in the title? Because it has been kind of like the internet equivalent of that process, in the Vietnam era sense. See this definition:
Armed Reconnaissance: A mission with the primary purpose of locating and attacking targets of opportunity, i.e., enemy materiel, personnel, and facilities, in assigned general areas or along assigned ground communications routes, and not for the purpose of attacking specific briefed targets.
In simple terms, it means going out there and thrashing around methodically in the brush and then seeing who comes out to shoot at you and what tactics they use while doing so.
That's basically how all this started. I offer my unvarnished and real opinion, as always, and then I see who agrees and who disagrees. Here's an example of that:
Disqus / AltRight.com, 'Trump is Trophy Hunting in North Korea', 15 Apr 2017:
And another example in a different thread:
Disqus / AltRight.com, 'Meet Globalist Gary', 14 Apr 2017:
These are clear stances.
What kind of person—if anyone—might appear out of the brush to tell me that I'm not allowed to hold those opinions because they are dangerous and that I had better sit down and shut my whore mouth immediately?
Well, I hit the jackpot.
Out comes Ted Sallis with an absolutely insane narrative:
Ted Sallis / EGI Notes, 'Silk Road News: Asian Infiltration of AltRight.com', 15 Apr 2017:
Apparently I've 'infiltrated' AltRight.com by simply commenting there like anyone else can do.
Are you surprised? I'm not surprised. After I made the comment about Gary Cohn, things got slightly interesting. One of the figures who seems to be associated with the American White Pride Network (AWPN.net) who was commenting under the name 'Celestial Time', began to obliquely defend Gary Cohn and the rest of the Zionist Trump administration. Seriously, that happened. You can read the thread to see how that played out.
In summary: My assertion was that Bob Whitacker's mantra and the 'anti-White' discourse concept had been appropriated by Zionist forces and used as a method for defending Zionists. Their response was to laughably claim that my viewpoint on that was in and of itself an 'anti-White' viewpoint.
They say that my anti-Zionism is 'anti-White': I fire back
The entire conversation then devolved into a handwringing crybaby session on the part of the AWPN guy, who basically proceeded to redefine 'anti-White' to mean any opinion which happens to hurt his feelings, or could be conceivably interpreted by other White people as being hurtful to their feelings.
That's about as vague as the definition of 'anti-Semitism'. Incidentally, if they had chosen to use 'anti-Semitic' as their accusation toward me rather than 'anti-White', it would have made no functional difference because both discourses are being used to defend objectively Zionist outcomes.
So I went with the 'whisper gently into the megaphone' approach:
Disqus / AltRight.com, 'Meet Globalist Gary', 15 Apr 2017:
I am terrible, aren't I? Profound butthurt on the part of my opponent ensued. I can't be given a 'free pass' to 'belittle' the apparently 'White' people who are upset about my comments! I must be held to account!
There is an easy way to understand how that kind of surreal outcome could manifest. You only need to know that Argumentum ad Asiatica is the new Argumentum ad Hitlerum. 'Anti-White and anti-American' is the new 'anti-Semitic'. Up until now, the masters of cultural critique did not have a method for shutting down Asian criticisms of Zionist policies. The rise of Trump as a Zionist, and the affinity that certain pro-White activists have for Trump, means that by some historical accident Zionism is now effectively sheltering under 'Whiteness' in the American context.
Anyone who doubts this only needs to watch any of the top trending videos on Rebel Media's youtube channel, which is controlled by none other than Israeli Zionist Ezra Levant. The trend is absolutely obvious.
Donald Trump card trick

I don't know if you've had fun with this article, but I have.
I once heard about something called the 'Donald Trump card trick'. It really illustrates how the Donald Trump campaign, as well as the Alt-Right opinion leaders who supported him, have run their operation. Let's call this trick 'The Donald'.
Check it out, it goes something like this.
To gain admission to the show, you have to basically mortgage your entire future for a generation or more. Having done that, you are in. You do that first.
So, secondly, they open a perfectly ordinary deck of cards, and you will be shown that they are indeed all different. Let's say that the campaign is the card trick, and let's say that the followers and voters have been asked by Trump, to pick a card.
Trump fans the cards out, and he acts like the selection of the cards doesn't really matter. It's an old magician's trick; the selection of the card actually always matters. But you have to be a certain kind of nonchalant if you want to do a force.
And so Trump says, "Pick a card." And the voters and supporters come together and pick a card and it's the Jack of Hearts. Trump doesn't know that. So the Trump campaign takes the card and slides it back into the deck.
Now, don't forget, it's the Jack of Hearts. It's now somewhere in the middle of the deck.
Trump then gives the cards a shuffle while he's talking. Now, the patter does not matter, Trump can say absolutely anything that pops into his head. Let's say, "I've got a perfectly ordinary deck of cards here, and Mexicans are rapists."
And then he shuffles a little bit more, and "I still have a perfectly ordinary deck of cards here, and Asian countries are ripping us off on trade via currency manipulation."
And then he gives them another little shuffle and puts in a little bit more misdirection, like, "I could shoot somebody on fifth avenue and I wouldn't lose any votes", and, "She had blood coming out of her eyes, blood coming out of her whatever", "They are ripping us", and "We're going to build a big, beautiful wall."
And when election time comes, after all this misdirection, all this shuffling, all this handling of the cards, Trump then has the card on top.
Clean-handed, and with great flourish, he produces the card, turns it around and holds it out, and says, "Is this your card?"
And it's the…
Eight of Spades, not the Jack of Hearts.
Because he's a fucking idiotic Zionist tool and so are you.
Kumiko Oumae works in the defence and security sector in the UK. Her opinions here are entirely her own.
Related Articles:
Visigrad Post, "The Visegrád Group Will Not Yield to Blackmail, and Hungary Strengthens Anti-Immigration Policy", 28 March 2017: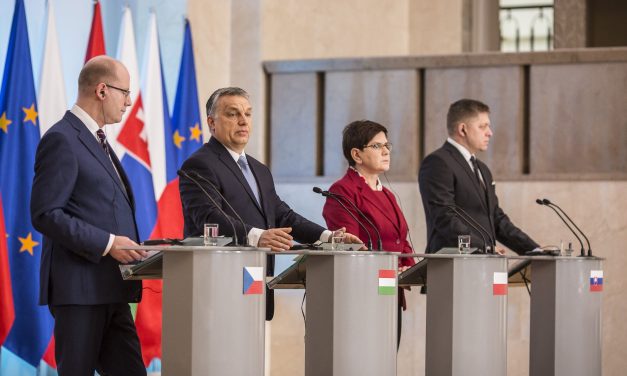 Poland, Warsaw – The leaders of the Visegrád Group, meeting in Warsaw on Tuesday (March 28th), denounced with one voice the European blackmail and diktat over them regarding migration policy.
The four prime ministers strongly opposed the idea of ​​linking the distribution of EU funds to the EU's migration policy.
"The idea of ​​linking the funds due to us from the EU with migration policy is bad. Together as the Visegrad Group, we cannot be intimidated, "Hungarian Prime Minister Viktor Orban said at a joint press conference with his Czech counterpart Bohuslav Sobotka, Slovakian Robert Fico and Polish Beata Szydlo.
"The Visegrad Group, including Poland, will never accept this blackmail, nor be dictated conditions. We are saying clearly that the migration policy that has been followed up until now by the EU has not proved its worth, and we must learn from it, "Szydlo insisted.
Hungary continues anti-immigration policy
On the same day, the law allowing detention of illegal immigrants and asylum-seekers entered into force in Hungary. "Hungary is now in a position to respond even if the agreement between the EU and Turkey fails. We are able to stop any wave of immigration on the Serbian-Hungarian border, "Orban said, adding that "the Austrians and Germans can now sleep peacefully."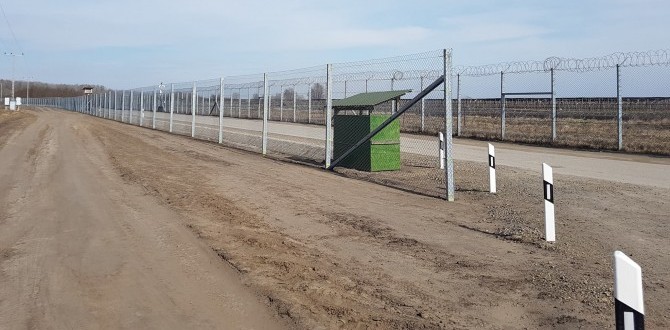 The second fence will be completed by summer, the Hungarian Interior Ministry said.
It is important to note, however, that migrant detention centers are not prisons. Placed on the border, asylum seekers and illegal immigrants are allowed to leave for Serbia at any time, if they do not wish to follow the legal procedures for entering into Hungary, Schengen and the European Union.

Illustrations by Sophia den Breems

"Why Trump's ties to Russia would be way worse than Watergate"

- Sarah Kendzior, Flyover Country Correspondent, 30 March 2017:

At 5:25 am on Monday, March 20, Donald J. Trump logged onto Twitter and wrote: "James Clapper and others stated that there is no evidence Potus colluded with Russia. This story is FAKE NEWS and everyone knows it!"

Hours later, at a congressional hearing assembled to investigate foreign interference in the 2016 presidential election, FBI director James Comey confirmed the FBI probe into Trump's ties to Russia that same day. Comey confirmed that Trump and "individuals associated with the Trump campaign" had been under investigation for Russian collusion since late July, and that the investigation was still ongoing.

Contrary to Trump's assertion, this statement was not "fake news," nor was it news at all to those who had followed the Russian interference story since it broke last summer.

In August 2016, former Democratic Senator Harry Reid implored Comey to reveal information about Russian interference that he said "is more extensive than is widely known and may include the intent to falsify official election results," adding that the public had the right to know before the November election. Comey responded, notoriously, not by revealing that Trump was under FBI investigation, but by implying that Hillary Clinton was, in an "October surprise" faux email scandal that was retracted only after the rumor had damaged her campaign.

Reid wrote to Comey again in late October and reemphasized the Russian threat: "It has become clear that you possess explosive information about close ties and coordination between Donald Trump, his top advisors, and the Russian government – a foreign interest openly hostile to the United States, which Trump praises at every opportunity… and yet, you continue to resist calls to inform the public of this critical information."

After Trump won, calls for an investigation into Russian interference began in late November, led by Republicans like John McCain and Lindsay Graham as well as Democrats like Elijah Cummings, Maxine Waters, and Adam Schiff, the latter of whom led the interrogation of Comey and NSA head Michael Rogers at the March 20 hearings. Though it has falsely been portrayed by both the Trump administration and some media outlets as a Democrat-led witchhunt, Russian interference in the election was always a bipartisan concern. Any threat to both national security and sovereignty is a bipartisan concern, and the reluctance of the Trump administration to cooperate with the investigation has long been an ominous indication of his limitations and loyalties.

Instead of watchdogs, we have lapdogs

If you were the president of the United States, sworn under oath to protect and serve the public, wouldn't you want foreign interference in your campaign to be investigated – at the very least, to prevent the recurrence of similar actions?

Or would you try to impede the investigation, by smearing those who seek it (among them intelligence officials, legislators, and reporters) and by installing officials who either benefit from the Russian relationship (like Secretary of State Rex Tillerson), seem selected in order to obfuscate the Russian relationship (like Attorney General Jeff Sessions), or both?

Trump chose to assemble an administration designed to cover up and aid his shady dealings with the Kremlin, leading to an administration so spectacularly corrupt and inept it has no corollary in US history.

Here's where it currently stands:

The President is under investigation for colluding with a foreign power. He is being investigated by an oversight committee, the head of which, Republican representative Devin Nunes, has functioned less as a watchdog than a lapdog, providing information about the investigation of Trump to Trump in a breach of protocol. And this was not Nunes' only misdeed: he was also present at a January meeting between Turkish officials and Trump's former National Security Advisor, Michael Flynn, who in February resigned in disgrace after being revealed to be working secretly for the Turkish and Russian governments for millions of dollars.

In short, the US has employed a president suspected of treason, an oversight committee head who refuses to do oversight, and a national security advisor who undermined US national security.

The Trump clan and the Russian spy recruiter

Unfortunately, that's only the beginning. There is also attorney general Jeff Sessions, who has had to recuse himself from the Russia interference investigation because he is implicated due to multiple meetings with Russian ambassador Sergei Kislyak during the campaign. (Sessions is not alone; Kislyak, rumored to moonlight as a spy recruiter, also met with Flynn, Trump's son in law Jared Kushner, and Trump, though all have mysteriously foggy memories of these encounters.)

Then there's Secretary of State Rex Tillerson, recipient of an "Order of Friendship" medal from Vladimir Putin, who does not seem to know why he is even in office, admitting this week, "I didn't want this job, my wife told me to do this." Unfortunately, Tillerson came to that revelation only after inflaming military tensions with North Korea.

On top of that, the Trump administration contains a burgeoning and possibly illegal nepotistic dynasty (Jared and Ivanka, currently getting security clearances and White House office space despite no experience in government)....
Visigrad Post, "V. Orbán: "Hungary is in a State of Siege", March 2017:

Hungary – Migrants are detained, police and army reinforced, and a second fence set up at the border. There is less talk of migrants arriving through the Balkans, yet Hungary is getting ready for a new wave. For Prime Minister Viktor Orbán, Hungary is in a state of siege.

Hungary "shouldn't risk changing the basic ethnic character of the country," he recently reaffirmed during an intervention at the Hungarian Chamber of Commerce and Industry, convinced that this would lead to a " depreciation of its value "and to "chaos ".

"How to do this?" he asked. "First, by preserving ethnic homogeneity. One can say such things now, which you would have been executed for during the past few years, as life has proven that too much mixing causes trouble," he said.

However, the Hungarian Prime Minister is not opposed to immigration, despite everything. And he is even more in favor of immigration — if it comes from Europe. Whether it is Ukrainian from the Eastern part of the country, or Westerners in Budapest. His recent remarks inviting with a note of sarcasm the Western refugees in Hungary did not pass unnoticed.

On the other hand, Viktor Orbán is firmer than ever on non-European immigration, and in particular illegal immigration.

Hungary in a state of siege

The border barrier, erected during the summer of 2015, is being reinforced by a second fence. Equipped with various electronic devices to improve the surveillance and reactivity of the territorial protection forces, this second barrier should make the border impermeable. This is at least what the Hungarian government hopes, fearing a new wave of migrants.

"We can not take it easy, now we are also in a state of siege, and even if the migratory wave has diminished, it has not stopped," said Prime Minister Orbán in front of new police recruits who took the oath to defend Hungary at the risk of their lives, if necessary.

For the strong man of Budapest, security is the precondition for Hungary and Europe to have a bright future. Security, and the rule of law.

"Laws must apply equally for everyone, also for those migrants who come here, and no kind of foolish human rights mumbo jumbo can overwrite this."

"Immigration is the Trojan horse of terrorism," recalled Mr Orbán. "We can not count on Brussels and on the European Union. They only make the task harder for us. We can only rely on ourselves," he said in front of the young recruits of the border hunters.

New treatments of migrants

Hungary has also taken it upon herself to openly contravene certain international conventions, as evidenced by criticism from the EU and the UN. But this is fully assumed.

Henceforth, Hungary systematically expells any clandestine intercepted on her soil. Their return to Serbia is automatic. Asylum seekers are now detained in closed centers, where they are housed in containers, in order to prevent fraudsters from using this procedure only to enter the EU and then to continue their illegal journey, as did almost unanimously the "asylum seekers".

Meanwhile, the globalist press is trying to pass off the Hungarian guards as sadistic and malicious torturers, using "proof" like photos and testimonies of migrants in Serbia. But this new, unfounded and disproportionate attack will not affect the government, strongly supported by the Hungarian population on the issue of migration.

According to Viktor Orbán, Hungary is today one of the safest countries in Europe. And he intends to preserve this asset in order to lead the country towards the economic revolution he intends to undertake.
ASPI - The Strategist, 'Would a US–China trade war pay dividends to Australia?', 09 Mar 2017:

Among many other colourful characters, Donald Trump's cabinet appointments include two protectionist and anti-China hardliners, Robert Lighthizer and Peter Navarro, who sit at the helm of US trade and industry policy. That decision confirms a belligerent change of tack in Sino­–American economic relations. But what are the implications for Australia?

A number of monetary economists, including Saul Eslake, have warned that a potential escalation to a full-blown China–US trade war poses the single biggest economic threat to Australia. That position argues that the already struggling global economy can't face a superpower trade war, likely to be triggered by the Trump administration at the monetary level, when the RMB/USD exchange rate will reach the unprecedented level of 7 to 1 (it's currently sitting at around 6.9). Furthermore, a falling Chinese currency combined with protectionist measures in the US will dampen the Chinese economy by way of reduced volumes of exports and higher interest rates that will spread across the Asia–Pacific. According to such reasoning, that could have negative impacts for Australia's economy; prices for iron ore, coal and natural gas could possibly drop—we'll know by the middle of the year.

However, it's questionable that such crisis would be detrimental to Australia. In fact, focusing on monetary dynamics alone fails to capture the role of industrial production and regulatory arrangements in the global supply chain.

On the contrary, after triangulating the trade and industrial data of the US, China and Australia and considering the current trade regulatory framework, there are substantial reasons to argue that Australia is well placed to fill the gaps left by a wrecked US–China trade relationship at the best of its industrial capacity. Australia is indeed one of a handful of countries to have solid free trade agreements in place with both the US and China.

As it currently stands, the annual US–China trade balance is worth over US$600 billion—around the yearly value of Australia's overall trade volumes.

Australia's rocks and crops economy—in particular the growing productivity potential of its agricultural and mining sectors—is strong enough to rise above global monetary tensions and falling commodity prices, thanks to rising export volumes to both the US and China. It appears that the harder the two superpowers use their trade relations as leverage in their strategic competition, the harder they'll need to look for other sources to sustain their industrial production levels and corporate supply chain.

In a trade war scenario, the possible initial hiccups in the global supply chain will likely be short-lived. In fact, let's consider that about half of US imports are estimated to be made of intra-firm trade, and that protectionist measures from abroad tend to have insignificant effects on the production input of Chinese State-owned firms. Thus, multinational corporations are proven to be particularly adept at quickly replacing the flows of their industrial production and distribution, as is shown by history.

In other words, in the event of a Sino–American crisis, the major trading actors in both countries will be able and willing to promptly move their business somewhere else.

Thanks to the existing spaghetti bowl of international economic partnerships, Australia is in prime position to be this "somewhere else" for both countries. In fact, Australia is the second largest economy and Sino–American trading partner of the only six countries that have in place free trade agreements with both the US and China, including South Korea, Singapore, Chile, Peru and Costa Rica.

The liquefied natural gas (LNG) trade is a significant case study for Australia in this instance. Australia is the world's second largest LNG exporter, and is set to become the first by 2020. It exports more than $16 billion a year of LNG and by 2020 the LNG industry is expected to contribute $65 billion to the Australian economy, equating to 3.5% of its GDP. 2016 saw the start of LNG exports from the US and an unprecedented boost of Chinese imports. In a trade war scenario, the US would be locked out of China's thriving market and thus LNG prices would rise even higher than they already have. With sharply rising production capacity, Australia needs to expand and diversify its customer base to keep the lion's share of the global LNG market. China's response to Trump's trade policy is set to dampen the rise of a strong emerging competitor of Australia's highly lucrative LNG industry, and thus open up new commercial frontiers.

The LNG example clearly shows that Australia's economy would benefit from a contained US–China trade crisis. Nevertheless, should that trade crisis escalate beyond the economy, Australia's luck may run out.

The Chinese leadership doesn't hide the fact that promoting international economic integration outside of the US control serves the purpose of carving greater geopolitical autonomy and flexibility in the global decision-making processes. Beside Trump's trade policy, Xi Jinping's diplomatic strategy may also speed up the end of the US­–China detente initiated by Nixon and Kissinger in the 1970s. It remains to be seen whether China will also pursue hard-line policies to push the US outside of the Asia–Pacific. In that instance, Australia would be caught between a rock and a hard place.

If the US­–China trade war were to escalate to the geopolitical level, the American order in the Asia–Pacific would enter uncharted waters. For one thing, such an unsavoury development may compel Australia to make a clear choice between trading with China and preserving America's security patronage.

Giovanni Di Lieto lectures International Trade Law at Monash University.
One of the most interesting things about all this is that while Australia is going to be compelled to make that choice, the choice has essentially already been made through the pattern of trade relationships which Australian politicians have chosen to cultivate.
The only way that Australia would choose the United States in that scenario, would be if Australians decided that they would like to deliberately take a massive economic dive so that they can 'Make America Great Again' even though that is not their country, and so that they can avoid being called 'anti-White' by the legions of anonymous Alt-Right trolls roaming around on Twitter using Robert Whitacker's 'mantra' on anyone who won't support the geostrategic and geoeconomic intertests of the United States, the Russian Federation, and Exxonmobil specifically.
Given that we know that Australians don't care about America or Russia more than they care about the economic prosperity of their own country, the outcome is already baked into the cake. AFR carried an article last year which can be used to forecast what is likely to happen, and I'll quote it in full here now:
AFR.com, 'How our free trade deals are helping Australian companies right now', 17 Nov 2016 (emphasis added):

Free trade should be embraced, not feared.

It has lifted living standards, grown Australia's economy and created thousands of jobs.

While it is becoming more popular to denounce globalisation and flirt with protectionism, we cannot turn our back on free trade.

Australia's economy has withstood global challenges and recorded 25 years of continuous growth because we're open to the world. Since Australia's trade barriers came down, we've reaped the rewards.

Trade liberalisation has lifted the income of households by around $4500 a year and boosted the country's gross domestic product by 2.5 per cent to 3.5 per cent, creating thousands of jobs.

One in five jobs now involve trade-related activities. This will grow as liberalised trade gives our producers, manufacturers and services providers better access to billions of consumers across the globe, not just the 24 million who call Australia home.

However, not everyone sees the value of free trade. Some see it, and the forces of globalisation, as a threat to their standard of living, rather than an opportunity to improve it.

When it comes to free trade, we often hear about the bad but not the good.

The nature of news means the factory closing gets more coverage than the one opening.

Chances are you heard about the Ford plant closing, but not the $800 million Boeing has invested in Australia and the 1200 people who work at their Port Melbourne facility.

You may have heard about Cubbie Station, but not heard that its purchase staved off bankruptcy, and has since seen millions of dollars invested in upgrades of water-saving infrastructure, a doubling of contractors, more workers, and of course, money put into the local economy supporting jobs and local businesses.

Key to attracting investment, jobs

The free trade agreements the Coalition concluded with the North Asian powerhouse economies of China, Japan and Korea are key to attracting investment and creating more local jobs.

The Weilong Grape Wine Company has said the China-Australia Free Trade Agreement is the reason it's planning to build a new plant in Mildura.

This is a story being played out across the country.

Businesses large and small, rural and urban, are taking advantage of the preferential market access the FTAs offer Aussie businesses into the giant, growing markets of North Asia.

Australian Honey Products is building a new factory in Tasmania to meet the demand the trifecta of FTAs has created.

Owner Lindsay Bourke says the free trade agreements have been "wonderful" for his business. "We know that we are going to grow and it's enabled us to employ more people, more local people," he said.

It is the same story for NSW skincare manufacturer Cherub Rubs, who will have to double the size of their factory. "The free trade agreements with China and Korea really mean an expansion, which means new Australian jobs manufacturing high-quality products," said Cherub CEO John Lamont.

It is easy to see why the three North Asian FTAs are forecast to create 7,900 jobs this year, according to modelling conducted by the Centre for International Economics.

Australia has a good story when it comes to free trade. In the past three years, net exports accounted for more than half of Australia's GDP growth.

Exports remain central to sustaining growth and economic prosperity. Last year exports delivered $316 billion to our economy, representing around 19 per cent of GDP.

This underscores the importance of free trade and why it is a key element of the Turnbull Government's national economic plan.

The Coalition is pursuing an ambitious trade agenda, and more free trade agreements, to ensure our economy keeps growing and creating new jobs.

On Friday I arrive in Peru for the Asia-Pacific Economic Cooperation (APEC) Ministerial Meeting.

Free trade will be at front of everyone's mind.

With the future of the Trans-Pacific Partnership (TPP) looking grim, my ministerial counterparts and I will work to conclude a study on the Free Trade Area of the Asia-Pacific (FTAAP), which sets out agreed actions towards a future free trade zone.

We will also work to finalise a services road map, which will help grow Australian services exports in key markets including education, finance and logistics.

More to be done

The Coalition has achieved a lot when it comes to free trade, but there is more to do.

Momentum is building for concluding a free trade agreement with Indonesia, work towards launching free trade agreement negotiations with the European Union continues, we've established a working group with the United Kingdom that will scope out the parameters of a future ambitious and comprehensive Australia-UK FTA and we're continuing to negotiate the Regional Comprehensive Economic Partnership (RCEP), which brings together 16 countries that account for almost half of the world's population.

The Turnbull government will continue to pursue an ambitious free trade agenda to keep our economy growing and creating more jobs.

Meanwhile Opposition Leader Bill Shorten continues to build the case for Labor's embrace of more protectionist policies, claiming he will learn the lessons of the US election where it featured heavily.

What Labor doesn't say though is that by adopting a closed economy mindset, they will close off the investment and jobs flowing from free trade. They're saying no to Boeing's $800 million investment in Australia and the Cubbie Station improvements; they're saying no to businesses like Cherub Rubs and Australian Honey Products building new factories and the many local jobs they will create.

Steven Ciobo is the Minister for Trade, Tourism and Investment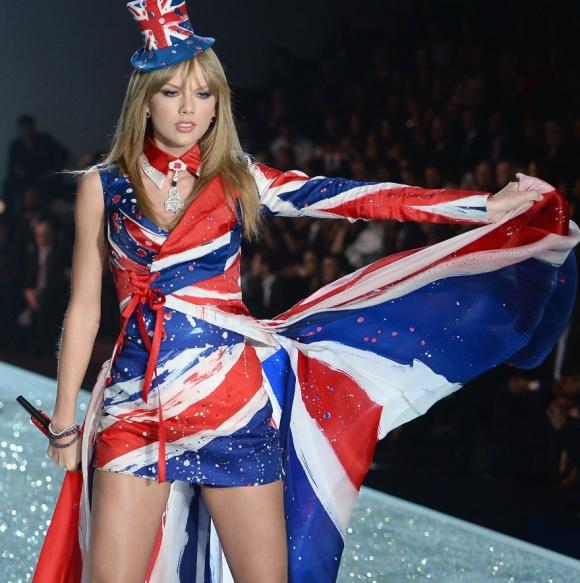 What's not to love about all this?
I really think I love Anglo-Saxons. This is going to be fun, isn't it?
When Mr. Ciobo spoke of 'a working group with the United Kingdom that will scope out the parameters of a future ambitious and comprehensive Australia-UK FTA', he was not joking. That is happening and it is likely going to be another window that the UK will have into the formation of both RCEP and FTAAP, even though technically the UK is not physically in the Indo-Asian region.
I wrote an article several days ago called 'A view of Brexit from Asia: Britain as a Pacific trading power in the 21st century.' I chose at that time not to mention the Australian or New Zealand interface at all, but that article's main point should be viewed as being reinforced by the point I've presented in here now.
I have also written an article today called, 'US Government to build American competitiveness atop socio-economic retrogression and misery.' It's crucial to understand that time is of the essence, since the Americans are at the present moment in relative disarray compared to the rest of us. The Americans have not yet tamed and pacified the various economic actors in their own country, they are still working on that, and they also have yet to form a coherent internationalist counter-narrative to the one that is being enunciated by the governments of Britain, Australia, New Zealand, Japan, South Korea, Taiwan, China, and so on.
Some of you may be mystified by that statement. What do I mean that the Americans don't have a coherent 'internationalist counter-narrative'? I mean that while they are capable of explaining and rationalising their own position as a narrowly 'America first' position in a way that is pleasing to Americans, they are not able to export that view to regular people anywhere else in a way that would induce any other European-demography country to comply with America's geoeconomic interests.
After all, if the Alt-Right people are going to careen all over the internet essentially screaming, "put America first ahead of your own country's interests or be accused of White genocide", and alternately equally absurdly, "you're an evil Russophobe who supports White genocide if you invested in BP instead of Exxon", then they should not expect that they are going to win the sympathy of anyone who is neither American nor Russian.
I want to say to British people, to Australians, to New Zealanders, to Canadians, Commonwealth citizens in general, that you know, it's been a long time since you've taken your own side. This coming phase is going to be a time when it will become possible to do precisely that.
The time is fast approaching when it will be possible to choose neither America nor Russia. You'll be able to finally choose yourselves and your own geoeconomic interests, and you'll be able to choose to trade and associate with whoever else in the world you want to trade and associate with.
Kumiko Oumae works in the defence and security sector in the UK. Her opinions here are entirely her own.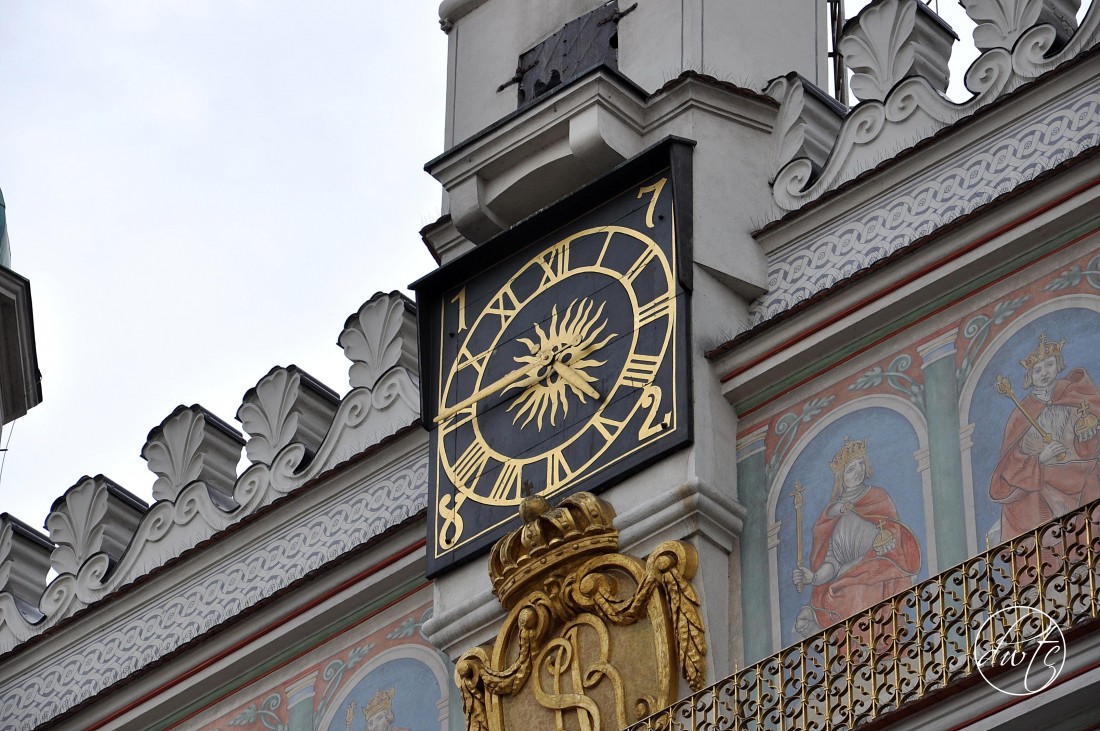 Western Voices World News, "Poland: Europe's Vanguard Nation," 1 March 2017"

In spite of its own internal issues, like every other European nation has, Poland refuses to take a single refugee because of 'security' fears. Poland has accepted less asylum-seekers per capita than almost any other European nation.

Poland will not be accepting a single refugee "because there is no mechanism that would ensure safety", the most powerful politician in the country has said.

Jaroslaw Kaczynski is the leader of Poland's ruling Law and Justice (PiS) party. PiS takes a nationalist, right-wing stance on most issues, vocally opposing EU plans to house and feed refugees fleeing the Syrian civil war and other humanitarian crises.

In a political broadcast published on YouTube, he said: "After recent events connected with acts of terror, [Poland] will not accept refugees because there is no mechanism that would ensure security."

The European Union has recently suggested that countries should be asked to accept a quota of refugees, or pay €250,000 (£200,000) for each asylum-seeker they turn away.

The money raised would be given to countries such as Greece, Germany and Italy who are currently housing a disproportionately high number of refugees.

But Mr Kaczynski also spoke out in opposition to these plans, which would see Poland asked to meet a quota of 6500 refugees or provide over €1.6bn (£1.25bn) in support for the humanitarian effort.

"Such a decision would abolish the sovereignty of EU member states – of course, the weaker ones," he said. "We don't agree to that, we have to oppose that, because we are and we will be in charge in our own country,"

Since taking control of the Polish government in 2015, the autocratic PiS has seized control of state media and the civil service, as well as passing a law to cripple the Polish supreme court by landing it with an unworkable caseload.

In 2015, Mr Kaczynski claimed that refugees were bringing "various parasites and protozoa" to Europe, including dysentery and cholera. PiS were elected on a vehemently anti-refugee and Eurosceptic platform.

With a population of nearly 40,000,000, Poland has a lower quota than other large European nations, though it is also a relatively poor country.

Last year, Eurostat found Poland accepted just 0.21 asylum-seekers per 1000 citizens, compared to 0.5 per thousand in the United Kingdom or 8.43 in Sweden.
An interesting story appeared at ASPI today, regular people have now become aware of the existence of the 'left of launch' strategy. Which you can read about at the links included in the Cyber wrap 154 which I've reproduced in full below.
The utility of having people know about the 'left of launch' strategy is that it even further reduces the credibility of any of Donald Trump's feigned hyperventilating about the alleged (and in fact non-existent) 'threat' of Iran ever attaining a nuclear weapon, much less having the ability to use such a weapon against anyone.
Armed with this information, it is possible for people to go out into the world and make the case that even if one were to entertain the idea that Iran were willing to create some improbable doomsday scenario, there is no need for anyone to send a single American aircraft, tank, or armoured patrol vehicle anywhere near Iran in order to avert such a scenario.
If Donald Trump and his supporters continue to behave like Iran is a 'major nuclear threat' despite the existence of the 'left of launch' strategy in public view, there is only one place that such a ridiculous narrative can be actually originating from, and that place is Israel. That is the case which should be made over and over again, until it becomes a kind of mantra.
Here's ASPI's Cyber wrap:
ASPI - The Strategist, 'Cyber wrap 154', 08 Mar 2017 (emphasis added):

Welcome back to your weekly fix of cyber news, analysis and research.

The New York Times reported last Saturday that, back in 2013, President Barack Obama ordered cyber sabotage operations against Pyongyang's nuclear weapons program. The persistently high failure rate of the US's kinetic antimissile weapons, despite significant investment, reportedly prompted Obama to consider a cyber supplement. The project to pre-emptively undermine missiles in their development stages, known as a 'left of launch' strategy, receives dedicated resources at the Pentagon and is now President Trump's to play with. However, experts are concerned that this kind of cyber offensive approach sets a dangerous precedent for Beijing and Moscow, particularly if they believe that US cyber operations could successfully undermine their nuclear deterrence capability.

Staying stateside, the future of the NSA's spying powers are under scrutiny this week as elements of the Foreign Intelligence Surveillance Act (FISA) approach sunset. Section 702 of the Act forms the basis for the NSA's monitoring of foreign nationals' communications around the globe in the interests of national security. It was under this FISA authority that the US's infamous "big brother" program PRISM—revealed in the Snowden disclosures of 2013—was established.

While the legislation is designed for foreign targets, there have long been concerns it could be used to surveil US citizens through their contact with foreigners. Human rights advocates such as the American Civil Liberties Union are protesting the renewal of this legislation in defence of international privacy. The issue also has the trans-Atlantic data-sharing agreement on thin ice, especially given that EU Justice Commissioner Vera Jourova has made it clear that she 'will not hesitate' to suspend the painstakingly crafted arrangement should the US fail to uphold its stringent privacy requirements.

That task may be even more difficult after WikiLeaks' overnight release of a dossier, dubbed 'Vault 7', detailing the CIA's cyber espionage tools and techniques. WikiLeaks released over 8,000 documents it claims were taken from a CIA computer network in the agency's Center for Cyber Intelligence. The documents detail the agency's expansive and sophisticated cyber espionage capability, including compromising the security common devices and apps including Apple iPhones, Google's Android software and Samsung televisions to collect intelligence.

China's Foreign Ministry and the Cyberspace Administration of China this week launched the country's first International Strategy of Cooperation on Cyberspace. The Strategy outlines China's basic principles for cyber diplomacy and its strategic goals in cyberspace. Encouragingly, the Foreign Ministry's Coordinator for Cyberspace Affairs Long Zhao stated that 'enhancing deterrence, pursuing absolute security and engaging in a cyber arms race…is a road to nowhere'. Unsurprisingly, the Strategy offers strong support for the concept of cyber sovereignty, stating that 'countries should respect each other's right to choose their own path of cyber development', and emphasises the importance of avoiding cyberspace becoming 'a new battlefield'. You can read a full English language version of the Strategy here.

The revelation that the Australian Signals Directorate (ASD) was temporarily forced to rely on diesel generators during last month's heat wave has prompted the government to significantly upgrade to the agency's infrastructure. The Minister Assisting the Prime Minister for Cyber Security told Parliament on Wednesday that it was recommended by ActewAGL and the NSW Department of Environment that ASD switch to back up power on 10 February as part of state-wide load shedding to protect power supplies. The new $75 million project, funded by the Defence Integrated Investment Program, is intended to bolster the intelligence agency's resilience.

Several cyber incidents have kept the internet on its toes this week. The Amazon Simple Storage Service cloud hosting service went down last week, knocking hundreds of thousands of popular websites and apps offline. The disruptive incident, originally described by the company as 'increased error rates', was actually not the result of cyber criminals or hacktivists, but that of an employee's fat fingers entering a command incorrectly—whoops! Yahoo is in the doghouse (again) with the awkward announcement in its annual report to the Security and Exchange Commission that 32 million customer accounts are thought to have been compromised through forged cookies. This isn't to be confused with the entirely separate and very embarrassing loss of 1 billion accounts in a 2013 breach, which recently cost the company $350 million in its acquisition deal with Verizon and CEO Marissa Mayer her annual cash bonus. And if you've been tracking the #cloudbleed saga, catch up with some post-mortems here, here and here.

Finally we've got you covered for your weekly cyber research reads. A new Intel report, written by the Centre for Strategic and International Studies, examines the discrepancies in cyberspace that put defenders at a disadvantage. Titled Tilting the Playing Field: How Misaligned Incentives Work Against Cybersecurity, the report reveals the gaps between attackers vs. defenders, strategy vs. implementation and executives vs. implementers, offering recommendations to overcome such obstacles. And get your fix of statistics from PwC's annual Digital IQ assessment based on a survey of more than 2,000 executives from across the world. The research reveals that only 52% of companies consider their corporate Digital IQ to be 'strong,' a considerable drop from 67% last year.