Majorityrights News > Category: Silk Road
New Observer, "Orban: Hungary is a "Refuge for Europeans," and Uses Tax Money to Boost Birthrate", 24 July 2017:

Hungarian Prime Minister Viktor Orbán has announced that his nation will "remain a place where Western European Christians will always be able to find security"—and that his government is using taxes on multinational companies to fund social policies to spur families to have more children.

Speaking at a cultural festival in Baile Tusnad, Romania, Orbán also said that the European Union, together with Open Society founder—and Hungarian Jew—George Soros was seeking a "new, mixed, Muslimized Europe."

He went on to say that Hungary's border fences, supported by other Central European countries, "will block the EU-Soros effort to increase Muslim migration into Europe."

While Hungary opposed taking in migrants "who could change the country's cultural identity," Orban said under his leadership, Hungary would remain a place where "Western European Christians will always be able to find security."

He also said that Hungary's opposition parties were no match for his government, and that he would win the next election in April 2018.

"In the upcoming campaign, first of all we have to confront external powers," Orban said.

"We have to stand our ground against the Soros mafia network and the Brussels bureaucrats. And, during the next nine months, we will have to fight against the media they operate."

Recent legislation in Hungary seeks to close or expel the Budapest-based Central European University, founded by Soros in 1991. There are also new rules about non-governmental organizations funded at least partly from abroad.

Orban reiterated his charge that Soros-funded NGOs want to weaken Hungary's security with their advocacy for asylum-seekers and said Hungary had managed to stop the "migrant invasion" with razor-wire fences on its borders with Serbia and Croatia.

In the speech, broadcast by Hungarian state media, Orban repeated his claim that the EU leadership was encroaching on member states' rights and trying to apply policies, such as increased immigration, which he said were opposed by most Europeans.

Orban said Poland, which is under pressure from the EU because of attempts to put its Supreme Court under political control, had replaced Hungary as the target of the EU's "chief inquisitor," whom he identified as European Commission Vice-President Frans Timmermans.

"The main target of the inquisition, the example of national governance to be weakened, destroyed and broken is Poland," Orban said, vowing to defend the Polish government. "Hungary will use every legal possibility in the European Union to be in solidarity with the Poles."

Finally, Orban said Hungary's low birth rate made the country an "endangered species," and that the government was using taxes on multinational companies to fund social policies that would spur families to have more children.
"Malmström in Tokyo to clinch trade deal in time for G20."

The European Union and Japan said on Tuesday (21 March) they intend to complete talks for a free trade agreement with Japan by the end of the year.

European Commission President Jean-Claude Juncker dispatched the EU's top trade officials to Tokyo Thursday (29 June) for crucial talks to seal a long-awaited deal with Japan.

After four years of talks, the two sides are working toward signing a deal at a G20 meeting in Hamburg next week, but Juncker said further work was needed.

"There are still a few sticking points. I have therefore sent the European agriculture commissioner and the trade commissioner to Japan," Juncker said.

Trade Commissioner Cecilia Malmström and Agriculture Commissioner Phil Hogan will arrive on Friday (30 June) for talks with Japanese Foreign Minister Fumio Kishida.

Clinching a deal would be a victory for free-trade advocates after US President Donald Trump pulled the United States out of the Trans-Pacific Partnership this year, dealing a possibly fatal blow to the mooted 12-nation deal.

Juncker said he wanted the negotiations to be finished before Japanese Prime Minister Shinzo Abe holds talks with Juncker and EU President Donald Tusk in Brussels on July 6.

"The trade agreement with Japan, if it materialises, is important. And I am assuming that it will materialise," Juncker said at a pre-G20 press conference with EU leaders in Berlin.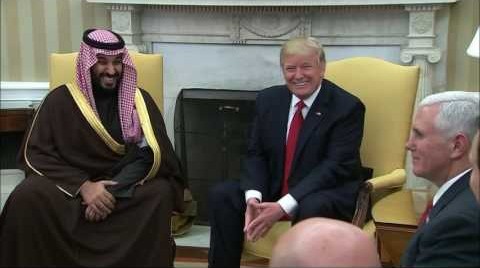 Trump the great deal -maker not.
It means that Trump has helped to make matters much worse by encouraging Saudi Arabia's King Salman to elevate his 31-year-old son Mohammed bin Salman to first in line to the throne - in a "dramatic reordering of the kingdom's line of succession that will have far-reaching consequences for the key US ally and the Middle East as a whole."...
CNN, "What Saudi Arabia's royal reshuffle means for the world", 21 June 2017:

What does it mean for the US?

The key US priorities in the Middle East are stability and predictability, and the appointment of the relatively inexperienced Mohammed bin Salman is undoubtedly a shift away from that.

As defense minister, the prince has taken a hard line with Qatar, Iran and Yemen—and the US should expect to find itself increasingly caught up in the ebb and flow of the region's ever-increasing political tensions.

The current diplomatic crisis between the Saudis and Qatar—Riyadh is trying to isolate Doha over claims that the latter supports terrorism—is a study in diplomatic tightrope-walking for the US.

Washington is publicly backing the Saudis over the spat—which has been led on the Saudi side by the new crown prince—while at the same time maintaining its large military base in Qatar.

Now, with a more gung-ho crown prince set to take charge, it is fair to assume that the Saudis will double down on its hardline positions on Qatar, Iran and the Yemen conflict.

What does it mean for Qatar?

In the short term, it's hard to tell. The message to Qatar is clear: Expect more of the same. Mohammed bin Salman's appointment means that the hard line taken by the Saudis is here to stay—and that no older, wiser voices are going to swoop in and moderate the stance any time soon.

What does it mean for Iran?

The move will further destabilize an already dangerously unstable situation.

Earlier in June, the Iranians pointed the finger at Saudi for a terror attack in their capital, Tehran. They then used this as a reason to fire missiles into Syria—a shot across the proverbial Saudi bow.

Tension between the two has been slowly building recently, and Mohammed bin Salman has taken a hard line against Iran. "We are a primary target for the Iranian regime," he said in one recent interview. "We won't wait for the battle to be in Saudi Arabia. Instead, we'll work so that the battle is for them in Iran."

Again, without more experienced voices around him, the new crown prince will feel emboldened to pursue his vision of a larger Sunni alliance, in which Saudi Arabia is the unchallenged leading power in the Middle East. This could lead to a dangerous miscalculation.

What does it mean for the Yemen conflict?

This is a conflict that Mohammed bin Salman has played a large part in—assisting the Yemeni forces in fighting off Iranian-backed Houthi rebels. In some respects, it is his war and he has to see it through.

But this is more than about saving face; Saudi stability is linked to Yemeni stability and, for that reason, the kingdom needs to continue supporting Yemen.

The brutal reality is that the conflict in Yemen is an Iran-Saudi proxy war, and the new crown prince one of its architects. It is not going to be solved through diplomacy any time soon.

Will the new crown prince loosen up Saudi's conservative culture?

Forget about the monarchy lifting the ban on women driving any time soon. That will happen on the Saudis' time frame—regardless of international pressure to change the law—and whatever they say, it is not a priority. One day it will arrive, but it's not coming fast.
Gateway Pundit, "Czech Republic Joins Poland, Hungary and Slovakia in Refusing EU-Imposed Migrants", 10 June 2017:

The Czech Republic has joined its Central European neighbors in officially announcing a withdrawal from the European Union's 2015 migrant resettlement program.

After much criticism of the scheme, which seeks to resettle an initial 160,000 migrants from Italy and Greece across EU member states, the Czechs have finally withdrawn citing concerns over security and the ''dysfunctionality'' of what has been criticized as a shambolic program.

Prague had accepted only 12 of the 1,600 migrants required by Brussels before leaving the program, which imposes quotas on all 28 member states under threat of sanction.

The resettlement scheme was the EU's initial response to the near Biblical wave of migrants which arrived in autumn 2015 following Angela Merkel's decision to open Germany's borders.

In April, Czech Interior Minister, Milan Chovanec, had stated that his government would have to decide whether resistance to the EU's quotas was worth the massive fines such a refusal would incur. On Monday, Chovanec announced their decision, a definitive withdrawal based on concerns over terrorism and the vetting of migrants, mainly Muslims from the Middle East.

The decision was supported by a majority of parties across the political spectrum, with even left-wing parties, including the Communist Party, welcoming the announcement.
Alt-Right story with afew editorial remarks [in italics]...
Alt-Right, "BATTLE OF RAQQAH BEGINS: ISIS FAST AS THEIR ENEMIES CLOSE IN", 30 May 2017:

Jihad without nibbles.

After several weeks of cautious advancing, the US-backed, largely Kurdish-manned Syrian Democratic Forces (SDF) [editorial note: Kurdish-manned, Syrian Force - ideally, those are ingredients we want on our side] have now begun their assault on the ISIS capital of Raqqah.

In a clear insult to Muslims around the world, the assault has been timed to coincide with period of Ramadan [Since we're not being gingerly about their traditions, how about making their religion and its practices illegal in our nations?], a month of fasting in the Islamic lunar calendar. During Ramadan strict Muslims, like the members of ISIS, will abstain from nutrition during hours of daylight. As SDF forces are largely secular of Marxist in their ideology [Apparently at the behest of right wing superiors, the author of the article appears to be dog whistling the Marxist, "Left" thing in order to encourage the Alt-Right audience into thinking that the left nationalists who form a natural opposition to Isil, Islam and other right wing ideologies, are the bad guys], this will ensure that ISIS forces will be physically weakened in the street battles ahead.

Already SDF forces have reached the edge of the city. While ISIS forces are clearly intending to fight to the death, it is believed that the Islamist group has already its their capital to Deir ez-Zur, a town 90 miles down the Euphrates river.

Meanwhile, taking advantage of the hot weather and the weakened conditions of the opponents, SDF forces have started making rapid advances to the south of the city in a clear effort to cut it off.

Meanwhile ISIS forces in Raqqah have two main priorities. One is to prevent civilians from leaving the city, so as to keep as many "human shields" as possible and limit the amount of US-led coalition bombing. In order to prevent people fleeing the battle, roadblocks have been set up.

The other priority is to ensure that people are observing Ramadan fasting rules. Already there have been reports of ISIS arresting an old man for not fasting and whipping other civilians for the same offence. It's going to be a long, tough Ramadan [One hopes that this is pure sarcasm, but has to wonder whether there is a tinge of sympathy here for a religion that means us no good].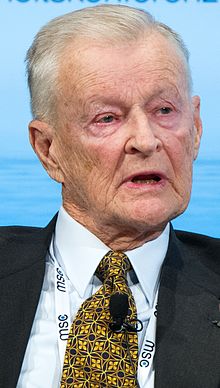 Zbigniew Brzezinski, whose "great chess game" thinking was behind some of the better geo-strategy that Obama and other Presidents are given credit for, has died. Unfortunately, it is a wisdom and judgment not in evidence in Trump - at all - whatever check and balance to Israeli influence that Obama had put in place through Brzezinski's coaching has been purged.
Obama was frequently given credit for resisting Israeli wishes - notably to go against the Iran Deal. But it would have been under the literal advice of Zbigniew Brzezinski to get behind the Iran Deal. The deal was perfect for the power of business interests to exercise its liberalizing effect not only for Iran, but against an eminently dangerous US comlicitness with Israeli-Russian Federation hegemony; along with complicitness to Islamic compradors and abetment of terror.
Say what you want about a cold war mindset, it taught western strategists to look at the Russian Federation and to not be naive about it.
The Russian Federation is not an ethno-state, and like the US, where it is not entirely mixed-up with Jewish interests, it is subject to right wing reactionary and imperialist politics.
The Alt-Right belatedly, grudgingly, acknowledges Jewish power and influence interwoven with not only Trump, but the Kremlin and Putin - it has even been forced to see the quid pro quo that Kumiko diagnosed - "support Israel and your Alt-Right can have backing - its a deal" - however, like David Duke, it will do anything but lay blame on its part for making these deals - what it will not see is the right wing shabbos goyim aspect of right wingers doing what right wingers do - blinding (themselves or others, depending) to their people's broad interests and selling them out for their narrow interests - including selling out in deals with Jews. Clearly the right does not have Israeli interests under control. It does not have and will not allow the concept that would do it. That would mean having to acknowledge what fuck-ups they are, how inane their concept, how typical that they would put Trump in power, blinding to the obvious, deal making, shaking hands with their fellow enemies of ethnonationalism.
They're ok with blaming Jews - and if Kumiko is able to force them to admit to a deal having been offered to them, they might even acknowledge it, almost acknowledge that they took the deal - so long as their masters allow them to lay blame on the "bad" Jews (not the "good ones" du jour); but they will not lay blame on the inherent defect of their right wing platform (heck, their Jewish masters wouldn't allow it), let alone specify the fact that for its inherent instability its adherents are bound to do it again; let alone will they call attention to the fact that they are using and being used for the supremacist, imperialist interests of Israel, its diaspora, its cohorts, the US, the Russian Federation ...add Turkey, Saudi and others to that equation.
If Jews say Asians and Asian ethnonationalism are the enemy, and a Judeo-Christian West is the answer to 'radical' Islam, black and mestizo population imposition, it's a deal for them. Our Asian friends are on notice, we true ethno-nationalists, including White Left nationalism, stand apart from the perfidy and the complicitness of the Alt-Right.

QZ, "Trump just gave China what it wanted for its new Silk Road: a credibility boost from the US", 15 May 2017:

China's "new Silk Road" initiative aims to link the economies of Asia, Europe, the Middle East, and Africa—but Beijing would really like the US to get on board.

Also called "One Belt, One Road" (OBOR), the initiative involves expensive infrastructure projects—led by Chinese state-owned companies—in dozens of nations. The US has much to offer, and as part of a trade deal (paywall) with China announced last week, the Trump administration agreed to send one of its top Asia experts, Matthew Pottinger, a National Security Council official, to a two-day OBOR summit just completed in Beijing.

His presence amounted to a nod from the US. Recent pieces in China's state-controlled media hint at why that's so important to Beijing:

"Under the current international framework, the US is leading international organizations like the United Nations, the World Bank, and the International Monetary Fund," read a commentary (link in Chinese) in Xiakedao, a WeChat account run by the People's Daily. "This is like a date, when a girl says yes to dinner and a movie—there will be further development possibilities."

It goes on:

"It's estimated that $1.7 trillion would be required for annual infrastructure investments on nations involved in OBOR, but the three [funding] institutions involved—the Asian Infrastructure Investment Bank, the New Development Bank, and the Silk Road Fund—only have capital totaling $240 billion. The US can help advocate OBOR in key fundraising areas."

The US can also help deal with "security and geopolitical challenges" in the implementation of OBOR, noted a commentary in the Global Times. For instance, India has some issues with the China-Pakistan Economic Corridor, an OBOR land-corridor project (with a $46 billion investment from China) that partially runs through contested territory in Kashmir.

The commentary said:

"Washington's participation in the Belt and Road initiative will have knock-on effects, encouraging its allies to see the initiative from a more rational and objective perspective, and thus help win Beijing and its infrastructure projects more international understanding and influence."

The US economy will also benefit from OBOR, suggested Chinese state media.

The US should be "a stakeholder in the initiative," read a column in the Global Times, as joining it would "deliver benefits to American companies and help increase job opportunities within the country."

America "has a lot to gain by participating in the Belt and Road," said an opinion piece in the People's Daily. It should "embrace China's progress in regional integration and seize the opportunity."

The presence of Pottinger no doubt cheered Beijing, which had difficulty luring top leaders to the summit—of the 64 OBOR nations that could have sent their heads of state, only 20 chose to do so.

Read next: Your guide to understanding OBOR, China's new Silk Road plan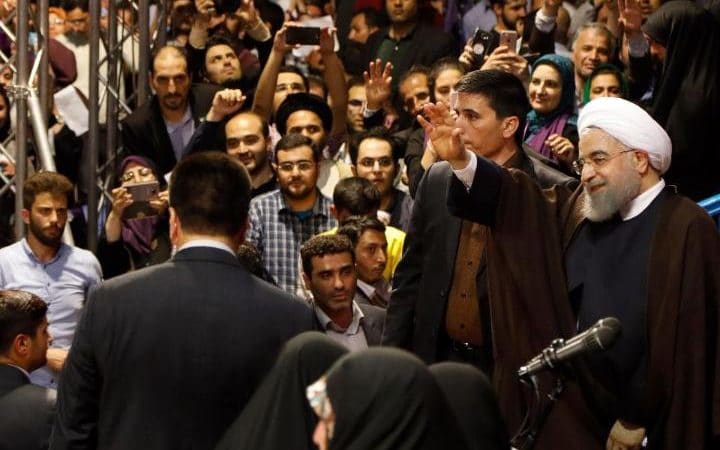 The impending failure of the Iran deal is being disingenuously blamed on the very moderate Iranians that ethno-nationalists would hope to empower in and of the deal - that failure being blamed on them, as opposed to who actually deserves the blame: primarily the Trump administration and its friends.
Daily Telegraph, "Iran presidential candidates lay blame for 'failed' nuclear deal on reformer Rouhani", 13 May 2017:

President Hassan Rouhani faced accusations of a failed nuclear deal which has not benefitted the Iranian people, during the final televised debate with his rivals before the country's presidential election next week.

The vote is being seen as largely a referendum on reformer Mr Rouhani's outreach to the rest of the world following a landmark accord with global powers, which ended sanctions but bitterly divided the country.

The president is believed to be the frontrunner in the May 19 election but the failure of the 2015 accord to bring economic gains for the public has brought an opening that his main competitors, powerful conservative cleric Ebrahim Raisi and hardline Tehran mayor Mohammad Bagher Qalibaf, have sought to exploit.