Majorityrights News > Category: Silk Road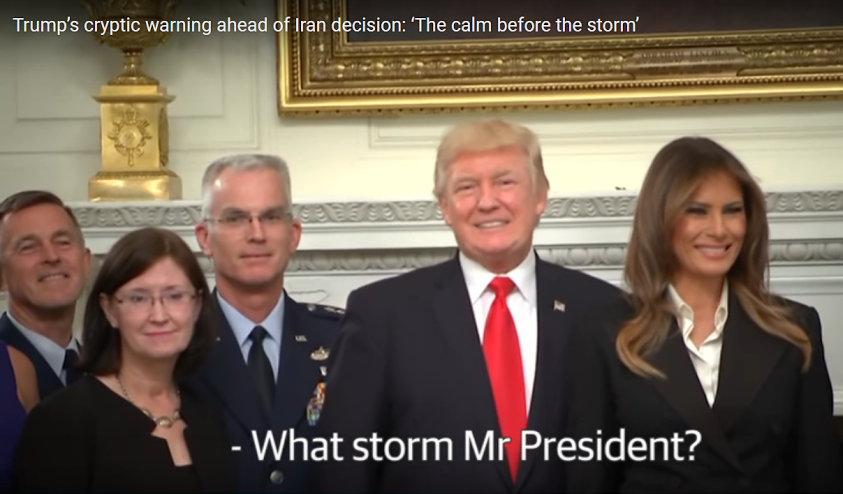 The Hill, "Trump: 'You'll find out' what 'calm before the storm' means", 6 Oct 2017:

President Trump on Friday kept the public wondering about his cryptic warning regarding a "calm before the storm."

"You'll find out," Trump told reporters at the White House when asked what he meant by his comment.

The president left many people scratching their heads after he offered mysterious remarks before a Thursday dinner with military leaders.

"You guys know what this represents?" Trump asked reporters in the room. "Maybe it's the calm before the storm."

Asked what he was referring to — such as possible action against Iran or the Islamic State in Iraq and Syria — Trump responded, "We have the world's greatest military people in the room."

"You'll find out," he said when he was pressed again.

Later Friday, White House press secretary Sarah Huckabee Sanders refused to say whether the president was hinting at a military action.

"We're never going to say in advance what the president is going to do," she said.

Trump's comments came after a meeting with the military brass that touched on Iran and North Korea. Multiple reports indicate the president is prepared to decertify the landmark nuclear pact with Tehran.

White House reporters were called in to cover the photo-op after staff informed them Trump would be making no more public appearances, raising speculation he was prepared to make a major announcement.

But the president has given no indication what he was referring to, an indication he may have been trying to be provocative rather than offering a hint of future action.

Sanders said she believes Trump was making "just a general comment."

"I'm not aware of anything specific that was a reference to," she said.
Middle East Eye, "Turkey threatens further sanctions, as Iraqi Kurds announce November poll", 3 Oct 2017:

Turkish President Recep Tayyip Erdogan said Iraqi Kurds should 'come to their senses' following last week's independence referendum.

Turkey has upped its threats against the Iraqi Kurdistan region as the Kurdistan Regional Government (KRG) announced parliamentary and presidential elections for 1 November.

Turkish President Recep Tayyip Erdogan threatened to impose new sanctions on Iraq's Kurdish regions if they don't "come to their senses" following last Monday's referendum vote to secede from Iraq.

Erdogan threatens

further sanctions against Iraqi Kurds.

"We are managing with some embargoes in northern Iraq for now, but if they don't come to their senses this will continue increasingly," Erdogan said at a parliamentary meeting in Ankara on Tuesday.

"Any incident taking place in Syria and Iraq is not independent from us, they are linked directly to our domestic affairs."

He added that the referendum was "a new attempt to strike the heart of our region with a dagger".

Despite formerly good relations with the KRG, Turkey has been highly critical of the independence referendum over fears it could enflame

Iraqi Kurds gave a resounding 92.7 percent "yes" vote for independence in last Monday's non-binding referendum, which has also sent regional tensions soaring.

KRG President Massoud Barzani originally announced the referendum in June, which provoked repeated calls from the US, EU and others for a cancellation or delay.

On Tuesday it was announced that presidential and parliamentary elections for the Kurdistan region would be held on 1 November.
Clinging to power?

The referendum in Kurdistan was seen by analysts as a means for Barzani to cling on to power by shoring up nationalist sentiment ahead of the elections.

The heir of a dynasty which has led the Kurdish struggle for independence for over a century, Barzani has held the KRG presidency since its establishment in 2005, two years after the US-led invasion that toppled Saddam Hussein.

His tenure was extended beyond his second term in 2013, as fresh turmoil engulfed the region and Islamic State overran about a third of Iraq in 2014, threatening the Kurdish region.

Despite this, it was unclear whether Barzani would or could stand in the November poll as Kurdish law says a president cannot stay in office for more than two terms.

Gorran, the second-largest party in the Kurdish parliament, announced it would be putting forward Mohammad Tofiq Rahim, the party's foreign relations director, as its presidential candidate.

The party has been highly critical of the Kurdish independence referendum, which it denounced as "illegal" in June, and has accused Barzani of seeking to cling on to power and marginalise democratic opposition in the Kurdish region.

Barzani placing his vote in the independence referendum last week (AFP) further sanctions, as Iraqi Kurds announce November poll.

Barzani placing his vote in the independence referendum last week (AFP)

Neither Barzani's Kurdistan Democratic Party (KDP) nor the Patriotic Union of Kurdistan (PUK) had declared candidates by time of publication, despite the declaration period being due to expire on Tuesday.

Although Kurdistan has been largely autonomous since 2005, the prospect of full independence - and, in particular, the disuputed future of areas like Kirkuk and Sinjar - has provoked a fierce backlash in Baghdad.

There was controversy on Tuesday as Kurdish media reported that Kurdish MPs in Baghdad had been prevented from attending parliament.

According to some media reports, Arab MPs had demanded that Kurdish MPs swear an oath to support a unified Iraq in order to attend the parliamentary session, which the mostly independence-supporting Kurds refused.

Iraqi Prime Minister Haider al-Abadi ordered the suspension of international flights to and from Iraqi Kurdistan from Friday in retaliation for the Kurds voting for independence.

The Kurdish push for independence is meant to capitalise on their key contribution to the war on Islamic State after the group overwhelmed Iraqi forces in 2014.

The US administration, which had strengthened its alliance with Iraq's Kurds during the anti-IS campaign, is taking the side of Baghdad in the crisis in refusing to recognise the outcome of the referendum.
Why I Left The Altright, Sept 20, 2017:

viz., regarding AltRight.com Inc.

Jason Reza Jorjani writes:

A recent piece of trash 'journalism' in The New York Times entitled "Undercover With the Alt-Right" features video footage of me that was obtained surreptitiously and under false pretenses. It has been deceptively edited to make it appear as if I am advocating genocidal extreme right-wing policies. The five minute clip has been spliced together from a two hour meeting in a pub. My nightmarish prediction of a future that would follow from Western policymakers' failure to address the Muslim migrant crisis in the present has been taken out of context and made to appear as if it is advocacy for "concentration camps and expulsions and war… at the cost of a few hundred million people." It is one thing for such a deceptive film clip to have been produced by the Antifa organization Help Not Hate, it is another altogether for it to be embedded into a New York Times article. Jesse Singal and the Times are responsible for libel – or worse. I had a long and heated conversation with Mr. Singal in the course of which I clarified the concealed context of my butchered statements, but he did not convey my clarification in a responsible fashion when reproducing Antifa's slanderously spliced misquotes of me.

The article also suggests that the Alt-Right Corporation was created in a context that involved my dialogue with individuals in the Trump Administration, and that our aim was to become their policy advisement group (comparable to the Straussian think tank inside the Bush-Cheney Administration). In this context, the one-sentence parenthetical reference to my August 15th resignation from the Alt-Right Corporation and Arktos Media makes it appear as if I left the corporation only because lines of communication to people who had the ear of President Trump were cut off. It is true that my greater responsibilities to the Iranian opposition were not the sole cause of my departure. The formation of the Iranian United Front during the very same days as the Charlottesville disaster were only an opportunity to leave an organization with which I was already profoundly dissatisfied – an organization that I created. The New York Times hit piece did get one thing right, I was in fact "the architect of the Alt-Right Corporation." I suggested it to Richard Spencer. I'm afraid the time has come to confess why I did that, and to explain what the organization was supposed to be as opposed to what it has become.

Just after a very warmly received speech on "Occult Science and the Organic State" at the Identitarian Ideas conference in Stockholm in October of 2016, Daniel Friberg hired me as the Editor-in-Chief of Arktos Media – the press that had published my first book, Prometheus and Atlas, which went on to win the 2016 Parapsychological Association Book Award (the PA is a serious scientific organization accredited by the AAAS). In November of 2016, on the heels of President Trump's electoral victory, I attended the National Policy Institute conference in Washington DC in my capacity as a book distributor. In addition to being Editor-in-Chief, I was also the Head of Arktos US, so I was there manning the book stand. Richard Spencer and I had barely known each other for 24 hours when he called me up to the stage to present my vision for the future evolution of Arktos under my editorship. But subsequent events would draw us together.

You see, on account of the grossly distorted propaganda perpetrated by mainstream media infiltrators who lingered at our private dinner after the NPI press conference was dismissed, a mere handful of Roman saluting folks out of the more than 300 attendees cheering for Richard's speech were used to tar the entire gathering as some kind of Neo-Nazi rally. Less than a month after #Hailgate, a very prominent academic Philosophy blogger ran a story branding me as a "Neo-Nazi". The Leiter Report on me identified both my doctoral granting institution, the State University of New York at Stony Brook, and my place of work, the New Jersey Institute of Technology. Shortly thereafter, at a SUNY Stony Brook faculty meeting, I was denounced as an "Aryan White Supremacist" and a review of my doctorate was suggested with a view to making a public statement that would, for all intents and purposes, invalidate my degree in the eyes of my present employer and any future employers. The faculty forgot that I was still subscribed to the department listserv, and I was afforded the possibility of preparing a preemptive response that warranted further media coverage within the academic sphere. Leiter, however, dug his heels in.

Even the community of rebel scientists who had embraced me just months earlier, by honoring Prometheus and Atlas with the highest award in their circles, turned on me with a vengeance. Fortunately, thanks to the intervention of two prominent scientists whose names I will not mention, but one of whom is a Nobel Laureate, discussions about expelling me from the Parapsychological Association (PA) and the Society for Scientific Exploration (SSE) ended with a decision to publicly uphold the apolitical character of these organizations. Privately, however, the damage was done. I became a heretic even among heretics.

When the post-Hailgate writing was on the wall for me in academia, Richard Spencer visited New York for a few days. His right hand man, former Radix journal editor 'Hannibal Bateman' (who I really respect), slept over in my apartment and Richard and I got to spend a lot of time together. Between a business lunch at my favorite Persian restaurant on one day, and a long evening that ended with a Dionysian, intoxicated hours-long discussion at my apartment, my idea for a corporatist unification of the major institutions of the Alt-Right movement was seeded in Richard's psyche. But Richard did not know something about this act of inception, which I commemorated by leaving an Easter egg for the future in this picture that I suggested we take in front of Hermes, the Trickster, that evening.

What Richard did not know I disclosed to him about a month later during a late night dinner at the Hamilton restaurant in DC. After publishing Prometheus and Atlas with Arktos Media, I was approached by some people who had already been aware of my (entirely voluntary and unpaid) high-level advisement work with the (501c3 non-profit) Iranian Renaissance organization. These individuals facilitated some initially promising private meetings with incoming Trump Administration policy makers, with the aim of interesting them in our vision for an Iranian cultural revolution. They wanted to help build a new Persian Empire that would offer the West a staunch ally in the war against a nascent Islamic Caliphate. I was told that my book, Prometheus and Atlas, expressed exactly the kind of vision that they had for the future evolution of Man.

Hillary Clinton had given the so-called "Alt-Right" a great deal of unwarranted media attention, to the point where she helped to damn-near mainstream what she herself had described as a "fringe" movement. If the total mess that was then the Alt-Right could be unified, under my intellectual and ideological leadership, then it could be used to forward the aims that these backers claimed to share in common with me. This would have involved a course-correction that extricated the Alt-Right from the ghetto of "White Nationalism" – or as the mainstream media calls it, "White Supremacy" – toward a discourse of Indo-European identity. This inclusion of the Persian, Indian, and Buddhist traditions of the Eastern Aryan world was integral to another key aim: to transform divisive and defensively weak ethno-nationalism into a different vision for a new world order than the deracinating one of soulless globalist financiers. An inclusively identitarian Indo-European Community would be strong enough to take on China and Islam in the battle for planetary hegemony, as humanity faces existential threats from convergent advancements in technology that promise a superhuman future but could also yield a horrifyingly transhuman dystopia. My second book, World State of Emergency, basically lays out what we had in mind.

I corporatized the Alt-Right because a corporate structure allows for both outside investment and hierarchical governance. The key was to have a real brain installed at the pinnacle of the hierarchy. I was supposed to be the conduit for a major investment during the formative phase of the Alt-Right Corporation, and thereby assume its leadership – at least as far as fundamental questions of ideology were concerned. After listening to my explanation of who my potential backers were, and of what capabilities they had (which I urge him, even now, not to disclose for his own sake), Richard agreed that granted such an investment would be forthcoming I would be on point. What was especially compelling to him was the promise of direct engagement, through me, with people inside the White House such as Steve Bannon – something my backers suggested that I could, and should do, but that would not be possible with Richard at the helm. (Bannon, an avid reader of Julius Evola, is consequently familiar with Arktos, one of the only two English language publishers of Evola's writings.) After this meeting with Richard, I went on to discuss this scenario with every single core board member of our company, including Arktos CEO Daniel Friberg. In February of 2017, during another Identitarian Ideas conference in Stockholm, where the lead-in to my speech on "The Failure of Democracy" hinted at my central role in forming the Alt-Right Corporation, Daniel and I even shook on this deal.

That policy speech, in February of 2017, just a few weeks after the formation of the Alt-Right Corporation in late January, was supposed to be a prelude to the investment that I was promised would come later the same month. Well, the investment did not come in February. I was told that the funds would certainly be available by March. Then it was explained to me why there would have to be another delay until May. Meanwhile, Daniel Friberg had moved from a 53% shareholding in Arktos Media to 82%. This was never supposed to happen. I was promised the funds to buy out troublesome shareholders at Arktos and become Daniel's partner, rather than his employee.

I am afraid that I cannot disclose the reason for the repeated delays without also revealing the precise source of the funding and classified information about the particular persons involved in securing it. Suffice it to say, consulting open source material in the mainstream media will inform you that beginning in February of 2016, there was a sustained campaign by Neo-Cons and Neo-Liberals to derail the Trump Train. This began with the dismissal and threatened prosecution of General Michael Flynn, and continued with the sidelining of Steve Bannon. (Eventually this ended with the train-wreck of Bannon being forced out in August, the month I resigned from the Alt-Right.)

In addition to losing my opportunity to acquire a major shareholding in Arktos, Richard and Daniel increased their shares in the Alt-Right Corporation at my expense by making a deal involving what Richard admits was "monopoly money." Richard "sold" his website altright.com to the corporation, while Daniel made his website Metapedia a joint holding as well. At a board meeting on May 9th, Richard and Daniel came up with arbitrary monetary values for their websites, $10K and $15K respectively, and gave themselves 25% and 30% of our corporate shares, reducing my shareholding to 10% in the process. Initially, we had a 'knights of the round table' share structure, with each partner as an equal shareholder, a provisional arrangement arrived at as we awaited the funding that would have established me as the majority shareholder. If I were to apply the same principle that they did with their "monopoly money" deal, the scale of investment that I was supposed to bring in to the Alt-Right Corporation would have left me with something like a 95% shareholding.

Moreover, once the ownership of altright.com was officially handed over to our board, during a board meeting Tor Westman, who I insisted be brought onto the board in the first place (against Richard's objection), suggested that not everyone on the board should have access to the domain account information. Daniel added that not everyone on the Arktos Board had access to the Arktos website domain information (he meant me), and that it should be handled on a "need to know" basis. While this discussion, which took place with me present, was couched in terms of a suspicion of Henrik Palmgren of Red Ice, who was absent, Richard rightly understood Daniel's remarks as aiming to exclude me and agreed by replying, "I don't think Jason would go in and change anything, but…" He didn't need to finish the sentence. He only added that after restricting the access to Richard, Daniel, and Tor, the passwords should be changed.

What is worse is that in the long months of the Spring of 2017, as I waited for funding to materialize, I watched the corporation that was my brainchild turn into a magnet for white trash. Exactly the kind of people who were supposed to be sidelined by my centralization and corporatization of the Alt-Right were cultivated by Richard as the populist base for 'his' movement. I was sorry to see Daniel's Arktos affiliated and European-centered Right On journal, which had been in the business of publishing serious intellectual content when John Morgan was editing it, merged into an altright.com news and 'perspective' platform that has about as much perspective as a tabloid. The comments sections of our website devolved into a cesspool filled by the most despicable pond scum, former 4-chaners who would routinely pile on in trolling attacks against me every time I published something with a bit of intellectual content. "Iranians is brown poo-poo people" kind of sums it up. I decided to stop contributing until the investment came in and I could really clean things up. When Daniel and Richard agreed to lazily use Daniel's "Points of Orientation" from his pamphlet, The Real Right Returns, as the basis for an ideological statement to appear on the website, consulting the serious philosopher on the board to help edit it was only an afterthought to them.

In May, at a meeting in London, I was assured by the investors that the obstacles had at last been cleared and I could expect our collaboration to begin in June. When I reported this to Richard at a New York lunch at the end of the same month, he thoughtlessly and angrily dismissed a plan that the investors had shared with me for creating an economic and security corridor from the Baltic Sea to the Black Sea and across to the Caucasus. This "Neo-Scythian" Ukraine-based approach to the long-term revitalization and liberation of Europe – linked to a future, post-Islamic Greater Iran via the Caucasus – offended the Russophilia that has been fostered by his wife.

So I cannot say I was surprised when the backers ultimately failed to follow through with their long-promised investment. By late June the movement was long past its embryonic stage. A deformed creature, a mindless Frankenstein's monster had already entered the world. Of course this would not have happened if, between February and May, the angel investors had made good on their promises. Even though they are now responsible for my being libeled in the New York Times, potentially at the cost of my career in academia, I will not reveal their identities. It would catalyze a mainstream media scandal that none of us want to see. I am not interested in testifying before Congress, because the truth I would have to tell is stranger than fiction.
"The first time I saw 'It's a Wonderful Life', I had tremendous respect for George Bailey, who was the main character."
New Observer, "Orban: Hungary is a "Refuge for Europeans," and Uses Tax Money to Boost Birthrate", 24 July 2017:

Hungarian Prime Minister Viktor Orbán has announced that his nation will "remain a place where Western European Christians will always be able to find security"—and that his government is using taxes on multinational companies to fund social policies to spur families to have more children.

Speaking at a cultural festival in Baile Tusnad, Romania, Orbán also said that the European Union, together with Open Society founder—and Hungarian Jew—George Soros was seeking a "new, mixed, Muslimized Europe."

He went on to say that Hungary's border fences, supported by other Central European countries, "will block the EU-Soros effort to increase Muslim migration into Europe."

While Hungary opposed taking in migrants "who could change the country's cultural identity," Orban said under his leadership, Hungary would remain a place where "Western European Christians will always be able to find security."

He also said that Hungary's opposition parties were no match for his government, and that he would win the next election in April 2018.

"In the upcoming campaign, first of all we have to confront external powers," Orban said.

"We have to stand our ground against the Soros mafia network and the Brussels bureaucrats. And, during the next nine months, we will have to fight against the media they operate."

Recent legislation in Hungary seeks to close or expel the Budapest-based Central European University, founded by Soros in 1991. There are also new rules about non-governmental organizations funded at least partly from abroad.

Orban reiterated his charge that Soros-funded NGOs want to weaken Hungary's security with their advocacy for asylum-seekers and said Hungary had managed to stop the "migrant invasion" with razor-wire fences on its borders with Serbia and Croatia.

In the speech, broadcast by Hungarian state media, Orban repeated his claim that the EU leadership was encroaching on member states' rights and trying to apply policies, such as increased immigration, which he said were opposed by most Europeans.

Orban said Poland, which is under pressure from the EU because of attempts to put its Supreme Court under political control, had replaced Hungary as the target of the EU's "chief inquisitor," whom he identified as European Commission Vice-President Frans Timmermans.

"The main target of the inquisition, the example of national governance to be weakened, destroyed and broken is Poland," Orban said, vowing to defend the Polish government. "Hungary will use every legal possibility in the European Union to be in solidarity with the Poles."

Finally, Orban said Hungary's low birth rate made the country an "endangered species," and that the government was using taxes on multinational companies to fund social policies that would spur families to have more children.
"Malmström in Tokyo to clinch trade deal in time for G20."

The European Union and Japan said on Tuesday (21 March) they intend to complete talks for a free trade agreement with Japan by the end of the year.

European Commission President Jean-Claude Juncker dispatched the EU's top trade officials to Tokyo Thursday (29 June) for crucial talks to seal a long-awaited deal with Japan.

After four years of talks, the two sides are working toward signing a deal at a G20 meeting in Hamburg next week, but Juncker said further work was needed.

"There are still a few sticking points. I have therefore sent the European agriculture commissioner and the trade commissioner to Japan," Juncker said.

Trade Commissioner Cecilia Malmström and Agriculture Commissioner Phil Hogan will arrive on Friday (30 June) for talks with Japanese Foreign Minister Fumio Kishida.

Clinching a deal would be a victory for free-trade advocates after US President Donald Trump pulled the United States out of the Trans-Pacific Partnership this year, dealing a possibly fatal blow to the mooted 12-nation deal.

Juncker said he wanted the negotiations to be finished before Japanese Prime Minister Shinzo Abe holds talks with Juncker and EU President Donald Tusk in Brussels on July 6.

"The trade agreement with Japan, if it materialises, is important. And I am assuming that it will materialise," Juncker said at a pre-G20 press conference with EU leaders in Berlin.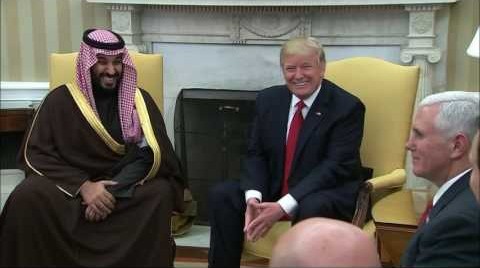 Trump the great deal -maker not.
It means that Trump has helped to make matters much worse by encouraging Saudi Arabia's King Salman to elevate his 31-year-old son Mohammed bin Salman to first in line to the throne - in a "dramatic reordering of the kingdom's line of succession that will have far-reaching consequences for the key US ally and the Middle East as a whole."...
CNN, "What Saudi Arabia's royal reshuffle means for the world", 21 June 2017:

What does it mean for the US?

The key US priorities in the Middle East are stability and predictability, and the appointment of the relatively inexperienced Mohammed bin Salman is undoubtedly a shift away from that.

As defense minister, the prince has taken a hard line with Qatar, Iran and Yemen—and the US should expect to find itself increasingly caught up in the ebb and flow of the region's ever-increasing political tensions.

The current diplomatic crisis between the Saudis and Qatar—Riyadh is trying to isolate Doha over claims that the latter supports terrorism—is a study in diplomatic tightrope-walking for the US.

Washington is publicly backing the Saudis over the spat—which has been led on the Saudi side by the new crown prince—while at the same time maintaining its large military base in Qatar.

Now, with a more gung-ho crown prince set to take charge, it is fair to assume that the Saudis will double down on its hardline positions on Qatar, Iran and the Yemen conflict.

What does it mean for Qatar?

In the short term, it's hard to tell. The message to Qatar is clear: Expect more of the same. Mohammed bin Salman's appointment means that the hard line taken by the Saudis is here to stay—and that no older, wiser voices are going to swoop in and moderate the stance any time soon.

What does it mean for Iran?

The move will further destabilize an already dangerously unstable situation.

Earlier in June, the Iranians pointed the finger at Saudi for a terror attack in their capital, Tehran. They then used this as a reason to fire missiles into Syria—a shot across the proverbial Saudi bow.

Tension between the two has been slowly building recently, and Mohammed bin Salman has taken a hard line against Iran. "We are a primary target for the Iranian regime," he said in one recent interview. "We won't wait for the battle to be in Saudi Arabia. Instead, we'll work so that the battle is for them in Iran."

Again, without more experienced voices around him, the new crown prince will feel emboldened to pursue his vision of a larger Sunni alliance, in which Saudi Arabia is the unchallenged leading power in the Middle East. This could lead to a dangerous miscalculation.

What does it mean for the Yemen conflict?

This is a conflict that Mohammed bin Salman has played a large part in—assisting the Yemeni forces in fighting off Iranian-backed Houthi rebels. In some respects, it is his war and he has to see it through.

But this is more than about saving face; Saudi stability is linked to Yemeni stability and, for that reason, the kingdom needs to continue supporting Yemen.

The brutal reality is that the conflict in Yemen is an Iran-Saudi proxy war, and the new crown prince one of its architects. It is not going to be solved through diplomacy any time soon.

Will the new crown prince loosen up Saudi's conservative culture?

Forget about the monarchy lifting the ban on women driving any time soon. That will happen on the Saudis' time frame—regardless of international pressure to change the law—and whatever they say, it is not a priority. One day it will arrive, but it's not coming fast.
Gateway Pundit, "Czech Republic Joins Poland, Hungary and Slovakia in Refusing EU-Imposed Migrants", 10 June 2017:

The Czech Republic has joined its Central European neighbors in officially announcing a withdrawal from the European Union's 2015 migrant resettlement program.

After much criticism of the scheme, which seeks to resettle an initial 160,000 migrants from Italy and Greece across EU member states, the Czechs have finally withdrawn citing concerns over security and the ''dysfunctionality'' of what has been criticized as a shambolic program.

Prague had accepted only 12 of the 1,600 migrants required by Brussels before leaving the program, which imposes quotas on all 28 member states under threat of sanction.

The resettlement scheme was the EU's initial response to the near Biblical wave of migrants which arrived in autumn 2015 following Angela Merkel's decision to open Germany's borders.

In April, Czech Interior Minister, Milan Chovanec, had stated that his government would have to decide whether resistance to the EU's quotas was worth the massive fines such a refusal would incur. On Monday, Chovanec announced their decision, a definitive withdrawal based on concerns over terrorism and the vetting of migrants, mainly Muslims from the Middle East.

The decision was supported by a majority of parties across the political spectrum, with even left-wing parties, including the Communist Party, welcoming the announcement.