Majorityrights News > Category: Compradors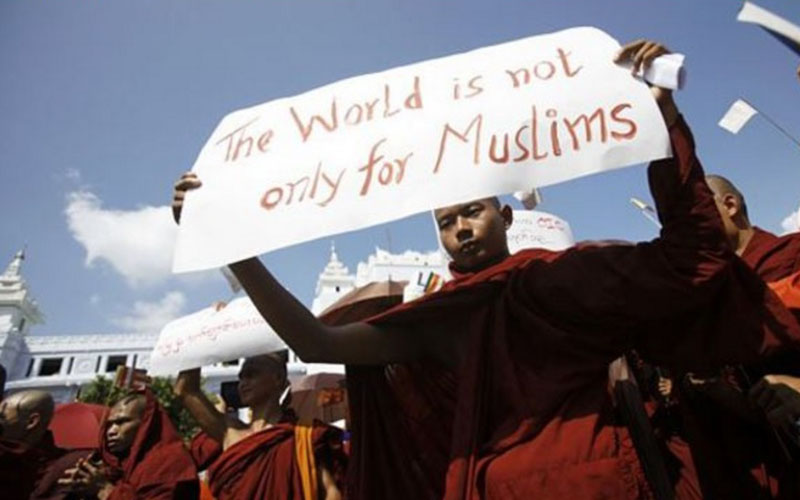 Burma, Malaysia, spat over Islam and migrants

Tensions between Buddhist-dominated Burma and Muslim-dominated Malaysia are rising once again after five Burmese workers were hacked to death with swords by a Malaysian mob in an ongoing dispute over religion and immigration between the two countries.

The government of Burma—properly named Myanmar—announced this week that it had sent out "safety instructions" to its nationals working in Malaysia after the sword attack—one of the latest in many such incidents in which hundreds have been killed.

The Burma government officially banned its nationals from seeking work in Malaysia a few weeks ago, precisely because of security fears following the ongoing clashes.

In the latest incident, four masked men wielding swords attacked Burmese workers after they had left a factory in the Serdang district on the outskirts of the Malaysian capital, Kuala Lumpur. Five were killed and two wounded.

Malaysian police said seven Burmese men had been detained shortly after the attack.

The origin of the violence is the current status of Burma's Rohingya Muslims—a Muslim group some 1.5 million strong. The Rohingyas have been involved in separatist activities—often linked to Islamism—for decades, and violent clashes between Buddhists and Muslims are common in that country.

Burma stopped its workers going to Malaysia in December, after Najib Razak, prime minister of the predominantly Muslim country, described Burma's treatment of the Rohingyas as "genocide" and called for foreign intervention.

There are however, at least 147,000 Burmese workers in Malaysia.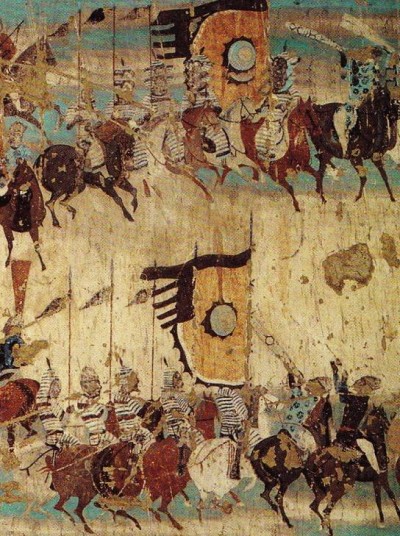 Details of painting of the meeting of Manjusri and Vimalakirti.
Originally Published Dec `2004 by John Jay, who said:
Both India and China are countries that have had the sort of moderate contact with the rest of Eurasia that their position at two extremities of Asia would lead one to expect. Both India and China have had their own sophisticated civilizations for at least two thousand years. The Chinese invented such things as gunpowder and printing. The Indians invented the so-called "Arabic" numerals that we use to this day and one of their religions (Buddhism) has been enormously influential outside their own borders. Both Indians and Chinese do extremely well economically outside their home countries. To me this is a picture of two generally intelligent populations. Yet the average IQ score for the two differs markedly. Chinese score somewhat above the Western norm and Indians score markedly below it. How come?
The comments have not been displaying after number 1000 - Sunny Mittal on Sat, 31 Aug 2013 14:41 | #, 1000 - therefore, I will include below the subsequent comments that were attempted since; and those who wish to comment on this thread may continue to do so here.
anonymous 2014-08-24 11:09 AM said:

You should continue this subject in another page from the 1001st post

Ok, as we said, there were a few dozen comments which didn't register after number 1000. The ones that did not appear span from 31 Aug 2013 to 27 Dec 2016 and are being displayed here, under the fold; the thread is continued anew and comments may resume.
TNO, "Is Trump "Draining the Swamp?", 23 Dec 2016:

At least four senior executives with international bankers Goldman Sachs will get critical posts in the Donald Trump administration—even though he campaigned fiercely against that institution, with his closing campaign ad using an image of that company's CEO Lloyd Blankfein to condemn the "global power structure" for robbing America's working class and enriching the elite.


Trump's closing campaign TV ad which depicted Goldman Sachs CEO Blankfein as part of the globalist enemy.

The Goldman Sachs appointments are not the first indication that Trump has no intention of "draining the swamp" in Washington D.C. either.

Former Goldman Sachs partner Steven Mnuchin served as Trump's national finance chairman and is now Trump's nominee for U.S. Treasury secretary.

Trump has also nominated Goldman Sachs President (and the bank's de facto number two) Gary Cohn as his top economic adviser in the White House.

Other Goldman alums in Trump's inner circle include Anthony Scaramucci, a former Goldman banker and a member of the Trump transition team's executive committee, as well as Steve Bannon, Trump's campaign manager.

Trump's campaign ad described Goldman Sachs as part of "a global power structure that is responsible for the economic decisions that have robbed our working class, stripped our country of its wealth and put that money into the pockets of a handful of large corporations and political entities."

As the Bloomberg news service has pointed out, after "years as the face of Wall Street greed and the target of public scorn, the bankers at Goldman Sachs can be cheerful again.

"Not only has Trump's election stoked hopes for looser regulatory policies that will make it easier for banks to take bigger risks and book fatter profits, but Goldman also appears to have regained its place at the nexus between Wall Street and Washington," Bloomberg wrote.
CBS, "Donald Trump's Cabinet richest in U.S. history, historians say", 20 Dec 2016:

As he traveled the country on his thank you tour, President-elect Donald Trump touted his choices for his Cabinet and inner circle, a group historians say is the richest in U.S. history.

"And one newspaper criticized me, 'Why can't they have people of modest means?'" Trump said at a Des Moines, Iowa rally. "Because I want people that made a fortune. Because now they're negotiating with you, okay?"

Donald Trump's 14 Billlion Dollar Cabinet

How rich? CBS News estimates seven of Trump's picks are worth a combined $11 billion.

"I guess they have a few poor millionaires on it, but mostly it's billionaires," said Sen. Bernie Sanders.

Critics like Sanders say Trump's choices fly in the face of his populist campaign message. "You don't appoint a Cabinet of billionaires to be taking on the establishment," he said on Sunday's "Face The Nation."

Steve Mnuchin, Trump's Treasury pick has been estimated to be worth as much as $655 million. He and commerce secretary nominee Wilbur Ross, worth $2.5 billion, recently said they were attuned to the plight of working Americans.

"It's also not true all jobs are created equal. A guy that used to work in the steel mill, now flipping hamburgers, he knows it's not the same," Ross said in an appearance on CNBC.

Having millionaire and billionaire cabinet secretaries is not unprecedented. They tend to attract slots at Treasury and Commerce. But neither President Obama nor President George W. Bush had a single billionaire in their first Cabinets.
Pardon for quoting Bernie and other brackets but these are merely verifiable facts being cited here.
Quartz, "Trump's 17 cabinet-level picks have more money than a third of American households combined", 15 Dec 2016:

The 17 people who US president-elect Donald Trump has selected for his cabinet or for posts with cabinet rank have well over $9.5 billion in combined wealth, with several positions still unfilled. This collection of wealth is greater than that of the 43 million least wealthy American households combined—over one third of the 126 million households total in the US.

Affluence of this magnitude in a US presidential cabinet is unprecedented.
It is a game that Republicans have been playing for years, a few dog whistles in exchange for implicit White support of deracinating elite White Republicans in tandem with Jewish interests ....what is a bit new is that they are throwing a few milk bones to placate the explicit Whiteness in the Alt-Right so that they can co-opt White identity, not only into the Republican party but into their global geo-political agenda - on the side of fellow bracketed proposition empires, The U.S., Russia and Israel against Asia. This is a backwards and utterly dangerous friend/enemy arrangement and ultimately eschews Whites to a war footing in the interest of Jews against the ethnonationalism of others and ultimately, irrespective of White ethno-nationalism.
Update: New York Times, "Trump Picks Rex Tillerson, Exxon C.E.O., as Secretary of State", 12 Dec 2016:

WASHINGTON — President-elect Donald J. Trump on Monday settled on Rex W. Tillerson, the chief executive of Exxon Mobil, to be his secretary of state, dismissing bipartisan concerns that the globe-trotting leader of the energy giant had forged a too-cozy relationship with Vladimir V. Putin, the president of Russia, transition officials said.

Mr. Trump planned to announce the selection on Tuesday morning, finally bringing to an end his public and chaotic deliberations over choosing the nation's top diplomat — a process that at times veered from rewarding Rudolph W. Giuliani, one of his most loyal supporters, to musing about whether Mitt Romney, one of his most vicious critics, might be forgiven.
Russia's Prime Minister Putin speaks with Tillerson in Sochi in 2011

President-Elect Trump 'will name Exxon CEO with close links to Putin as his secretary of state', snubbing Mitt Romney."

DM, "BREAKING NEWS, 10 Dec 2016:

Trump is expected to name Rex Tillerson as secretary of state.

Exxon Mobil chief emerged on Friday as the leading candidate.

Favored status was revealed as Giuliani withdrew.

U.S. President-elect Donald Trump is expected to name the chief executive of Exxon Mobil as the country's top diplomat, NBC News reported Saturday.

Exxon chief Rex Tillerson emerged on Friday as Trump's leading candidate for U.S. secretary of state and is expected to meet with him later on Saturday, a transition official told Reuters.

NBC News cited two sources close to the transition team in reporting that Tillerson will be named as secretary of state.

The president-elect had interviewed 2012 GOP nominee Mitt Romney twice – taking him to a three-Michelin starred dinner on one of those occasions.

Should Tillerson be nominated, his business ties, too, will come under scrutiny. Exxon Mobil has operations in more than 50 countries and boasts that it explores for oil and natural gas on six continents.

In 2011, Exxon Mobil signed a deal with Rosneft, Russia's largest state-owned oil company, for joint oil exploration and production. Since then, the companies have formed 10 joint ventures for projects in Russia.

In 2013, Russian President Vladimir Putin awarded Tillerson his nation's Order of Friendship.

'He has had more interactive time with Vladimir Putin than probably any other American with the exception of Henry Kissinger,' John Hamre, a deputy defense secretary to Bill Clinton told the Wall Street Journal.

But U.S. sanctions against Russia for its incursion into Crimea cost Exxon Mobil dearly, forcing it to scrap some projects and costing it at least $1 billion in losses. Tillerson has been a vocal critic of the sanctions.

Trump has spoken of wanting warmer relations with Moscow, which has sparked concerns in Congress that he could lift or loosen some of the sanctions on Russia.

Tillerson has been chairman and CEO of Exxon Mobil since 2006. He is expected to retire from the company next year.

Should Tillerson be nominated, climate change could be another divisive issue. The company is under investigation by the New York Attorney General's Office for allegedly misleading investors, regulators and the public on what it knew about global warming.

Trump's campaign was unavailable for comment.
Ivanka's simple presence as part of the entourage of the Trump administration is

helping that brand promote itself

NPR, "Trump's Potential Conflicts Of Interest: 'They're Everywhere":

Donald Trump tweeted that he will be taking himself out of his business operations and will announce the detail his plan on Dec. 15th. But that hasn't eliminated concerns that the trump organization's business interests in the US and in at least twenty countries around the world could lead to conflicts of interest when Trump becomes president.

In response to Trump's tweets yesterday, the office of government ethics tweeted that - as we discussed with your council - divestiture is the way to resolve these conflicts.

As we are about to hear, "divestiture" is different from Trump taking himself out of his business operations.

16 democratic members of the house judiciary requested that the committee hold hearings to discuss conflict of interest provisions that might apply to Trump when he becomes president.

New York Times investigative reporter Eric Lipton tells Fresh Air's Terry Gross that because of a "quirk in the law," American presidents are not mandated to separate themselves from their businesses.

"He could legally continue to operate them and even take actions as president that would benefit those businesses, and it wouldn't be a formal ethics violation," Lipton says.
Trump's business entanglements and the complication of his potential conflicts of interest as president are unprecedented.
It's worth a listen - NPR, 1 Dec 2016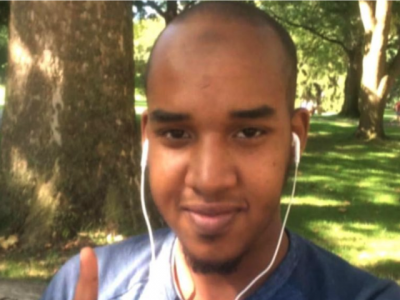 The Somali shooter at Ohio State had apparently been inspired by neo-liberal propaganda presuming that Muslim incursions and compradors which had been promoted and backed in Burma by right-wing Western sources supposedly had some right to remain there.
Washington Post, "I can't take it anymore': Ohio State attacker said abuses of Burma's Muslims led to 'boiling point", 29 Nov 2016:

Participants in a vigil at Jacob's Porch pray after the attack of Ohio State University, who rammed his car into a crowd of pedestrians and attacked them with a butcher knife.

The Ohio State University student who carried out a knife attack on campus Monday wrote in a Facebook post shortly before the rampage that the abuse of a little-known Muslim community in Burma had driven him to the "boiling point," writing, "I can't take it anymore," CNN reported.

"Seeing my fellow Muslims being tortured, raped and killed in Burma has led to a boiling point," Abdul Razak Ali Artan allegedly wrote on his Facebook page shortly before Monday's rampage, where he injured 11 people with a butcher knife before police killed him.

"America! Stop interfering with other countries," he wrote.

Artan's Facebook post throws a little-known and long-persecuted Muslim community in western Burma, also known as Myanmar, into the spotlight.

More than 1 million Rohingya Muslims live in Burma, but they have long been denied citizenship and other basic rights, and many from Burma's Buddhist majority consider them illegal immigrants from Bangladesh. Aung San Suu Kyi — the Nobel laureate leading Burma's new civilian government — has been criticized for refusing to use the term "Rohingya," which she says is inflammatory.

In recent weeks, thousands of Rohingya Muslims have been fleeing into the forests and neighboring Bangladesh on the heels of a brutal military crackdown that followed a terrorist attack on police posts Oct. 9, allegedly carried out by Rohingya militants.

Human Rights Watch has alleged that the military has perpetrated a scorched-earth campaign, providing before-and-after satellite images that showed three villages completely burned. The death toll estimates vary, but several dozen have been killed since October, activists say.

Earlier this week, a U.N. refugee agency official, John McKissick, was in the Bangladesh region of Cox's Bazar — where more than 30,000 people, many of them Rohingya, have fled to — and told the BBC that Burmese troops were "killing men, shooting them, slaughtering children, raping women, burning and looting houses, forcing these people to cross the river" into Bangladesh. He said that the "ultimate goal" of Burma's government is "ethnic cleansing of the Muslim minority."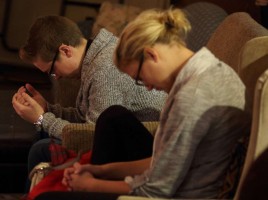 Kosher/ Neo-liberal media jerking the tears and prayers from fellow Abrahamics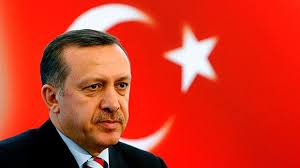 MailOnline, 25 Nov 2016:
Erdogan: "I'll let EVERY migrant into Europe."

The furious Turkish president has vowed to open his country's borders to all migrants in revenge after the European Parliament voted to halt EU membership talks.

Turkey's bid to join the EU now looks doomed after the European Parliament demanded that membership talks with Ankara are frozen.

The demand was made amid growing unease over Turkish President Recep Tayyip Erdogan's 'increasingly authoritarian regime' in the country

The EU struck a deal earlier this year to return migrants to Turkey in return for a package including aid for the refugees and accelerated membership talks.

But now Erdogan has declared that if the freeze continues he will open Turkey's gates for all migrants to flood into Europe.

Speaking at a congress on women's justice in Istanbul, he said: 'If you go any further, these border gates will be opened.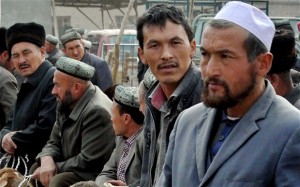 Social rule structures, notably citizenship, are an excellent place to focus when setting-about to re-constitute nationalism.
...simply (in theory, anyway) begin by designation those to be left out, those who should not be a part of your nation; as the Chinese have in the case of Muslims -
FT, "China orders Xinjiang residents to hand in passports", 24 Nov 2016:

Citizens of restive region of 11m Muslim Uighurs must apply to get papers back.

China has ordered all residents in its western frontier region of Xinjiang to hand in their passports, the latest in a series of draconian moves in the restive province home to an 11m Muslim minority.

Citizens of Xinjiang, an oil-rich but ethnically divided region more than six times the size of the UK, must hand their documents to police and apply to get them back if they want to travel, state-controlled newspaper Global Times reported on Thursday. The purpose was to "maintain social order", the paper said.