Majorityrights News > Category: Compradors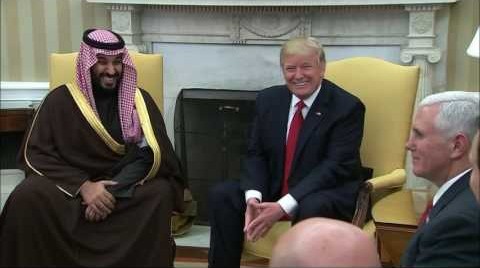 Trump the great deal -maker not.
It means that Trump has helped to make matters much worse by encouraging Saudi Arabia's King Salman to elevate his 31-year-old son Mohammed bin Salman to first in line to the throne - in a "dramatic reordering of the kingdom's line of succession that will have far-reaching consequences for the key US ally and the Middle East as a whole."...
CNN, "What Saudi Arabia's royal reshuffle means for the world", 21 June 2017:

What does it mean for the US?

The key US priorities in the Middle East are stability and predictability, and the appointment of the relatively inexperienced Mohammed bin Salman is undoubtedly a shift away from that.

As defense minister, the prince has taken a hard line with Qatar, Iran and Yemen—and the US should expect to find itself increasingly caught up in the ebb and flow of the region's ever-increasing political tensions.

The current diplomatic crisis between the Saudis and Qatar—Riyadh is trying to isolate Doha over claims that the latter supports terrorism—is a study in diplomatic tightrope-walking for the US.

Washington is publicly backing the Saudis over the spat—which has been led on the Saudi side by the new crown prince—while at the same time maintaining its large military base in Qatar.

Now, with a more gung-ho crown prince set to take charge, it is fair to assume that the Saudis will double down on its hardline positions on Qatar, Iran and the Yemen conflict.

What does it mean for Qatar?

In the short term, it's hard to tell. The message to Qatar is clear: Expect more of the same. Mohammed bin Salman's appointment means that the hard line taken by the Saudis is here to stay—and that no older, wiser voices are going to swoop in and moderate the stance any time soon.

What does it mean for Iran?

The move will further destabilize an already dangerously unstable situation.

Earlier in June, the Iranians pointed the finger at Saudi for a terror attack in their capital, Tehran. They then used this as a reason to fire missiles into Syria—a shot across the proverbial Saudi bow.

Tension between the two has been slowly building recently, and Mohammed bin Salman has taken a hard line against Iran. "We are a primary target for the Iranian regime," he said in one recent interview. "We won't wait for the battle to be in Saudi Arabia. Instead, we'll work so that the battle is for them in Iran."

Again, without more experienced voices around him, the new crown prince will feel emboldened to pursue his vision of a larger Sunni alliance, in which Saudi Arabia is the unchallenged leading power in the Middle East. This could lead to a dangerous miscalculation.

What does it mean for the Yemen conflict?

This is a conflict that Mohammed bin Salman has played a large part in—assisting the Yemeni forces in fighting off Iranian-backed Houthi rebels. In some respects, it is his war and he has to see it through.

But this is more than about saving face; Saudi stability is linked to Yemeni stability and, for that reason, the kingdom needs to continue supporting Yemen.

The brutal reality is that the conflict in Yemen is an Iran-Saudi proxy war, and the new crown prince one of its architects. It is not going to be solved through diplomacy any time soon.

Will the new crown prince loosen up Saudi's conservative culture?

Forget about the monarchy lifting the ban on women driving any time soon. That will happen on the Saudis' time frame—regardless of international pressure to change the law—and whatever they say, it is not a priority. One day it will arrive, but it's not coming fast.

Alt-Right and Zero-Hedge are reporting this evacuation as having been allowed by The US Military. ZOG being what it is, it is not inconceivable that they would allow them to escape and leave them well equipped.
However, given that Alt-Right and Zero-Hedge are effectively organs of Russian Active Measures at this point, neither can we simply take their word for it as if presenting the whole truth and nothing but… as if The Russian Federation's hands are clean in this.
Reports from a year ago highlighted the accusation that Isil was allowed to leave from Mosul unmolested to go to Syria for another stab at another phase of "Clean Break" implementation - against al-Assad in that case.
They cite the "anti-Russian newspaper, The Guardian":
"An anonymous source claiming to a Russian newspaper something as conspiratorial as the U.S. directly aiding ISIS militants may seem a dubious, but since the offensive was launched on Monday of this week, this has been the reality on the ground."

"According to Army Lieutenant General Talib Shaghati, as reported by anti-Russian newspaper, the Guardian, ISIS militants are already fleeing Mosul to Syria. This was further confirmed by the Saudi foreign minister, Adel al-Jubeir, who said that if ISIS were forced out of Mosul, they would likely go on to Syria."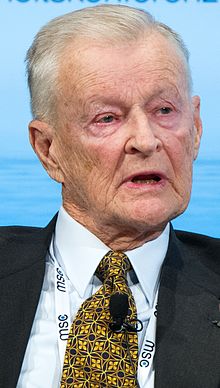 Zbigniew Brzezinski, whose "great chess game" thinking was behind some of the better geo-strategy that Obama and other Presidents are given credit for, has died. Unfortunately, it is a wisdom and judgment not in evidence in Trump - at all - whatever check and balance to Israeli influence that Obama had put in place through Brzezinski's coaching has been purged.
Obama was frequently given credit for resisting Israeli wishes - notably to go against the Iran Deal. But it would have been under the literal advice of Zbigniew Brzezinski to get behind the Iran Deal. The deal was perfect for the power of business interests to exercise its liberalizing effect not only for Iran, but against an eminently dangerous US comlicitness with Israeli-Russian Federation hegemony; along with complicitness to Islamic compradors and abetment of terror.
Say what you want about a cold war mindset, it taught western strategists to look at the Russian Federation and to not be naive about it.
The Russian Federation is not an ethno-state, and like the US, where it is not entirely mixed-up with Jewish interests, it is subject to right wing reactionary and imperialist politics.
The Alt-Right belatedly, grudgingly, acknowledges Jewish power and influence interwoven with not only Trump, but the Kremlin and Putin - it has even been forced to see the quid pro quo that Kumiko diagnosed - "support Israel and your Alt-Right can have backing - its a deal" - however, like David Duke, it will do anything but lay blame on its part for making these deals - what it will not see is the right wing shabbos goyim aspect of right wingers doing what right wingers do - blinding (themselves or others, depending) to their people's broad interests and selling them out for their narrow interests - including selling out in deals with Jews. Clearly the right does not have Israeli interests under control. It does not have and will not allow the concept that would do it. That would mean having to acknowledge what fuck-ups they are, how inane their concept, how typical that they would put Trump in power, blinding to the obvious, deal making, shaking hands with their fellow enemies of ethnonationalism.
They're ok with blaming Jews - and if Kumiko is able to force them to admit to a deal having been offered to them, they might even acknowledge it, almost acknowledge that they took the deal - so long as their masters allow them to lay blame on the "bad" Jews (not the "good ones" du jour); but they will not lay blame on the inherent defect of their right wing platform (heck, their Jewish masters wouldn't allow it), let alone specify the fact that for its inherent instability its adherents are bound to do it again; let alone will they call attention to the fact that they are using and being used for the supremacist, imperialist interests of Israel, its diaspora, its cohorts, the US, the Russian Federation ...add Turkey, Saudi and others to that equation.
If Jews say Asians and Asian ethnonationalism are the enemy, and a Judeo-Christian West is the answer to 'radical' Islam, black and mestizo population imposition, it's a deal for them. Our Asian friends are on notice, we true ethno-nationalists, including White Left nationalism, stand apart from the perfidy and the complicitness of the Alt-Right.
Gary tax Asia to pay for black Welfare Cohn and Steve put the goyim to work Mnuchin

"Trump officials stage full-court press for tax plan"

The Trump administration on Thursday began a full-court press aimed at generating momentum for President Trump's tax reform plan.

(((...)))

The Trump administration also made efforts to rally support from influential conservatives. Mnuchin and White House economic adviser Gary Cohn on Thursday met with groups such as Americans for Prosperity (AFP), a group backed by the Republican mega-donors Charles and David Koch.

(((...)))


The White House's plan came in the form of one-page overview, and set down some significant markers, including lowering the top individual rate from 39.6 percent to 35 percent and the corporate tax rate from 35 percent to 15 percent.

(((...)))

Businesses have been excited about the prospects for tax reform since Trump was elected, and groups overall were pleased to see a plan that proposed lower rates for businesses and a move to a "territorial" system that doesn't tax U.S. companies foreign earnings.
(((...)))
We can be sure these tax proposals are going to run contrary to Jewish interests and their complicit, predatory right wing interests (of course not).
(((...)))
In fact, Gary Cohn's tax program is going to tax Asia in order to pay for American blacks ..and even to pay for all America's SSD and SSI, which America's wealthy should be paying their fair share for (either that, or have Americans come to terms with who they don't want to live with and be bothered by).
Kumiko, "A view of Brexit from Asia: Britain as a Pacific trading power in the 21st century", 6 Mar 2017:

I mean let's be real, the Americans just somehow non-ironically elected a guy who came out with a speech 120 hours ago where he advocated what? This hilarious list:

a. 54 billion more drunkenly spent on defence spending targeted at nothing,
b. 1 trillion more for infrastructure spending for inner city no-go zones which will have pitiable return on investment,
c. More o' dem social programmes for the poor baby Trayvons in Detroit who lost their jobs – despite them never having had a job – to the allegedly 'bad bad' people in Manila or 'bad bad' people in Ho Chi Minh City who are apparently 'ripping' you, because why? Because of course. Apparently according to Hunter Wallace, African-Americans are now more valuable to the Alt-Right than trade with Asian states is, so what the hell.
d. Free cash-money for Israel. Because Trump just loves Israel. Because his family is married into it. All of them will continue to studiously ignore that tendency.

So there I was, watching that mortifying clown-car of super-horrible policies unpacking itself into the international arena and I was asking – while I was drinking white rum directly from the bottle – a single question. Only one question.

"But Bernie—I mean, Trump, how are you planning to actually pay for any of this stuff, fam?"

The answer arrived shortly thereafter! The 'answer' is apparently:

a. Doubling-down on protectionist tariffs and incoherent 'buy American' sloganeering to socially reinforce it, a move which depends on the absurd and not-ever-happening idea that Asian economies will passively allow the United States to subject them to a tariff regime designed by Gary Cohn since certain commodities stocks have spiked up since 09 November 2016, and maybe if the markets reorder themselves around that, those positions can continue to grow. People can make instruments which tap into that expansion, and then people and the state itself can borrow against those instruments using some very fancy mathematical formulas to predict their performance. Detroit and other Rust Belt disaster zones will somehow magically be rebuilt, and the African-Americans will somehow crank out billions of widgets while somehow not being at all socially-dysfunctional, so that all of the big spending will totally somehow pay for itself. The formulas may or may not have documentation associated with them. The formulas may or may not even be based in any kind of rational thought. Your children can then repay the money to Goldman Sachs about 35 years from now. And all of that is to be done so that the allegedly heroic America can finally defeat the allegedly undead East Asia.

Wow, right? Really very much wow. I mean the whole Trump-style plan has literally never failed before except for like every single time ever.

I guess you could say that I disagree with the Israel-backed Trumpist manchild plan, because my geopolitical stances are all anti-Semitic in one way or another. You could say that I disagree with the Israel-backed Trumpist manchild plan because I am of course an Asian woman, which is another factor that makes me very scary and perhaps 'evil'.
Financial Samurai, "Maximum Taxable Income Amount For Social Security (FICA)"

Uncle Sam The Tax ManFICA stands for Federal Insurance Contributions Act and consists of a Social Security tax and a Medicare tax. This tax is very important for everyone to understand because so often we only think about federal tax rates and state income tax rates. The FICA tax is a big percentage of your total tax bill, especially for those making under six figures a year.

When I was making big bucks in finance, the tax bill was equally big bucks. The only saving grace was seeing my after tax paycheck increase after the maximum taxable income threshold for Social Security was breached each year. The tax amounts were jolting based on how inefficient the government was and still is with regards to spending our money.

For 2017, the maximum amount of taxable earnings for Social Security and Medicare is $127,500. In other words, an employee must pay 6.2% of any income up to $127,500 for 2017 = $7,905. But any dollar you make above $127,500 is free of the Social Security tax. Hence, a good goal for everyone is to make as much as they can over $127,500 as possible, right?

Not so fast. Given we have a progressive tax system in America with Alternative Minimum Tax (AMT) and deduction phaseouts, I've calculated that the optimal Adjusted Gross Income is roughly $250,000, +/- $50,000. At $250,000, $131,500 of the earnings is free from the 6.2% Social Security tax. Meanwhile, you still get most of your mortgage interest deduction, and only have to pay a slight amount of AMT, depending on the person. A $250,000 income is also high enough to live relatively comfortably in any part of the world.

Some might argue that the Social Security tax is regressive because it caps out at $127,500 in 2016. Why shouldn't rich people pay more? Here's the thing people might not understand. Social Security benefits cap out based on the maximum amount of Social Security tax contribution as well. It's not like someone who is making $500,000, and not having to pay the 6.2% Social Security tax on $381,500 of his earnings is getting extra benefits based off his $500,000 income. He's just getting the maximum Social Security payout amount when it comes time for him to collect based on the maximum taxable income amount he contributes.

The $500,000 income earner is already paying the highest marginal federal tax rate of 39.6% plus state taxes, if applicable.
...he gets the wrong answer, of course. Garbage in means garbage out:
Emile Bruneau recently invited Muslim students and staff at the University of Pennsylvania to help him figure out one of the most pressing questions of our time: How can we stop despising each other?
Bruneau wanted to know more about what kind of arguments effectively combat common prejudices: that Muslims are terrorists, that they don't want to assimilate, that they are intolerant and hate American freedom. Liberals often believe that Muslim women are oppressed. He enlisted members of the Muslim Students Association to look for videos they thought might prove persuasive. He thought firsthand experience with discrimination might be helpful. (He's also working with former white nationalists.) He was looking, he told them, for "individualized psychological medicine."
What worked best was a "very cerebral" video from Al Jazeera in which a Muslim woman said blaming all Muslims for terrorism was like blaming all Christians for the actions of Westboro Baptist Church or the KKK.
The question to ask is not, "how can we bridge our divides and induce Abrahamic religions and peoples to accept one another?"
It is rather to ask, "how can we disabuse people of Abrahamic religion and its universal imperialism in order to defend ethno-nationalism and human ecology against it; and failing completion of that task, contain its extant effects on people; keep our sane interests from being affected by its intransigent elements and lingering influences?"
Communicology is a fascinating and eminently useful discipline that we will be applying here at MR - correctly, unlike this effort from the Annenberg school. Nevertheless, there are some interesting take-away propositions here - notably, that Americans are low information decision makers, therefore equipping them with particularly helpful analogies for them to rationalize their coming to a position we like for them (in our case, we would want them to come to a natural and healthy ethnonationalist position for them and their people) is liable to work better than emotional appeals, despite a commonly ascribed-to school of thought which holds emotions to be the effective means to that end.
Philly.com, "Penn professor uses science to bridge the political divide", 2 April 2017:


Emile Bruneau studies conflict between groups and how to combat prejudice at the University of Pennsylvania's Annenberg School of Communication.

Emile Bruneau recently invited Muslim students and staff at the University of Pennsylvania to help him figure out one of the most pressing questions of our time: How can we stop despising each other?

Muslims and Christians may have been the groups he had in mind that day, but Bruneau, a child of California hippies who took an unusual route to Penn's Annenberg School for Communication, ultimately has broader goals in mind. What if there is a psychological key that could defuse the animosity between hate-filled groups around the globe? That includes U.S. Republicans and Democrats, who, his research has found, are almost as alienated from one another as Palestinians and Israelis. The only difference, he said, "is that we're not actually killing each other."

Most of us think the antidote to hate and close-mindedness is emotional. But, so far, Bruneau's research shows that the way to the mind is not necessarily through the heart. In fact, he believes, the way to the heart is through the mind.

Bruneau wanted to know more about what kind of arguments effectively combat common prejudices: that Muslims are terrorists, that they don't want to assimilate, that they are intolerant and hate American freedom. Liberals often believe that Muslim women are oppressed. He enlisted members of the Muslim Students Association to look for videos they thought might prove persuasive. He thought firsthand experience with discrimination might be helpful. (He's also working with former white nationalists.) He was looking, he told them, for "individualized psychological medicine."
TomDispatch: "Is President Trump Headed for a War with China?" All Options Are "On The Table" - Rajan Menon, 12 Feb 2017:

Forget those "bad hombres down there" in Mexico that U.S. troops might take out. Ignore the way National Security Adviser Michael Flynn put Iran "on notice" and the new president insisted, that, when it comes to that country, "nothing is off the table." Instead, focus for a moment on something truly scary: the possibility that Donald Trump's Washington might slide into an actual war with the planet's rising superpower, China. No kidding. It could really happen.

Let's start with silver-maned, stately Rex Tillerson, Donald Trump's pick for secretary of state. Who could deny that the former ExxonMobil CEO has a foreign minister's bearing? Trump reportedly chose him over neocon firebrand John Bolton partly for that reason. (Among other things, Bolton was mustachioed, something the new president apparently doesn't care for.) But an august persona can only do so much; it can't offset a lack of professional diplomatic experience.

That became all-too-apparent during Tillerson's January 11th confirmation hearing before the Senate Foreign Relations Committee. He was asked for his view on the military infrastructure China has been creating on various islands in the South China Sea, the ownership of which other Asian countries, including Taiwan, the Philippines, Vietnam, Malaysia, and Brunei claim as well . China's actions, he replied, were "extremely worrisome," likening them to Russia's annexation of Ukraine's Crimean peninsula, an infraction for which Russia was slapped with economic sanctions.

The then-secretary-of-state-designate — he's since been confirmed, despite many negative votes — didn't, however, stop there. Evidently, he wanted to communicate to the Chinese leadership in Beijing that the new administration was already irked beyond measure with them. So he added, "We're going to have to send China's leaders a clear signal: that, first, the island building stops and, second, your access to those islands is not going to be allowed." Functionally, that fell little short of being an announcement of a future act of war, since not allowing "access" to those islands would clearly involve military moves. In what amounted to a there's-a-new-sheriff-in-town warning, he then doubled down yet again, insisting, slightly incoherently (in the tradition of his new boss) that "the failure of a response has allowed them to just keep pushing the envelope on this."

All right, so maybe a novice had a bad day. Maybe the secretary-of-state-to-be simply ad-libbed and misspoke… whatever. If so, you might have expected a later clarification from him or from someone on the Trump national security team anyway.

That didn't happen; instead, that team stuck to its guns. White House Press Secretary Sean Spicer made no effort to add nuance to, let alone walk back, Tillerson's remarks. During his first official press briefing on January 23rd, Spicer declared that the United States "is going to make sure we defend our interests there" — in the South China Sea, that is — and that "if those islands are in fact in international waters and not part of China proper, then yes, we are going to make sure that we defend international territories from being taken over by one country."

And what of Trump's own views on the island controversy? Never one to pass up an opportunity for hyperbole, during the presidential campaign he swore that, on those tiny islands, China was building "a military fortress the likes of which the world has not seen." As it happened, he wasn't speaking about, say, the forces that Hitler massed for the ill-fated Operation Barbarossa, launched in June 1941 with the aim of crushing the Red Army and the Soviet Union, or those deployed for the June 1944 Normandy landing, which sealed Nazi Germany's fate. When applied to what China has been up to in the South China Sea, his statement fell instantly into the not-yet-named category of "alternative facts."

Candidate Trump also let it be known that he wouldn't allow Beijing to get away with such cheekiness on his watch. Why had the Chinese engaged in military construction on the islands? Trump had a simple answer (as he invariably does): China "has no respect for our president and no respect for our country." The implication was evident. Things would be different once he settled into the White House and made America great again. Then — it was easy enough to conclude — China had better watch out.

Standard campaign bombast? Well, Trump hasn't changed his tune a bit since being elected. On December 4th, using (of course!) his Twitter account, he blasted Beijing for having built "a massive military complex in the middle of the South China Sea." And it's safe to assume that he signed off on Spicer's combative comments as well.

In short, his administration has already drawn a red line — but in the way a petulant child might with a crayon. During and after the campaign he made much of his determination to regain the respect he claims the U.S. has lost in the world, notably from adversaries like China. The danger here is that, in dealing with that country, Trump could, as is typical, make it all about himself, all about "winning," one of his most beloved words, and disaster might follow.

Whose Islands?


China claims disputed islands are 'sacred territory'

A military clash between Trump-led America and a China led by President Xi Jinping? Understanding how it might happen requires a brief detour to the place where it's most likely to occur: the South China Sea. Our first task: to understand China's position on that body of water and the islands it contains, as well as the nature of Beijing's military projects there. So brace yourself for some necessary detail.

As Marina Tsirbas, a former diplomat now at the Australian National University's National Security College, explains, Beijing's written and verbal statements on the South China Sea lend themselves to two different interpretations. The Chinese government's position boils down to something like this: "We own everything — the waters, islands and reefs, marine resources, and energy and mineral deposits — within the Nine-Dash Line." That demarcation line, which incidentally has had ten dashes, and sometimes eleven, originally appeared in 1947 maps of the Republic of China, the Nationalist government that would soon flee to the island of Taiwan leaving the Chinese Communists in charge of the mainland. When Mao Ze Dong and his associates established the People's Republic, they retained that Nationalist map and the demarcation line that went with it, which just happened to enclose virtually all of the South China Sea, claiming sovereign rights.

This stance — think of it as Beijing's hard line on the subject — raises instant questions about other countries' navigation and overflight rights through that much-used region. In essence, do they have any and, if so, will Beijing alone be the one to define what those are? And will those definitions start to change as China becomes ever more powerful? These are hardly trivial concerns, given that about $5 trillion worth of goods pass through the South China Sea annually.

Then there's what might be called Beijing's softer line, based on rights accorded by the legal concepts of the territorial sea and the Exclusive Economic Zone (EEZ). Under the U.N. Convention on the Law of the Sea (UNCLOS), which took effect in 1994 and has been signed by 167 states (including China but not the United States), a country has sovereign control within 12 nautical miles of its coast as well as of land formations in that perimeter visible at high tide. But other countries have the right of "innocent passage." The EEZ goes further. It provides a rightful claimant control over access to fishing, as well as seabed and subsoil natural resources , within "an area beyond and adjacent to the territorial sea" extending 200 nautical miles, while ensuring other states' freedom of passage by air and sea. UNCLOS also gives a state with an EEZ control over "the establishment and use of artificial islands, installations, and structures" within that zone — an important provision at our present moment.

What makes all of this so much more complicated is that many of the islands and reefs in the South China Sea that provide the basis for defining China's EEZ are also claimed by other countries under the terms of UNCLOS. That, of course, immediately raises questions about the legality of Beijing's military construction projects in that watery expanse on islands, atolls, and strips of land it's dredging into existence, as well as its claims to seabed energy resources, fishing rights, and land reclamation rights there — to say nothing about its willingness to seize some of them by force, rival claims be damned.


Subi Reef, being built into an artificial island-landing strip in 2015

Moreover, figuring out which of these two positions — hard or soft — China embraces at any moment is tricky indeed. Beijing, for instance, insists that it upholds freedom of navigation and overflight rights in the Sea, but it has also said that these rights don't apply to warships and military aircraft. In recent years its warplanes have intercepted, and at close quarters, American military aircraft flying outside Chinese territorial waters in the same region. Similarly, in 2015, Chinese aircraft and ships followed and issued warnings to an American warship off Subi Reef in the Spratly Islands, which both China and Vietnam claim in their entirety. This past December, its Navy seized, but later returned, an underwater drone the American naval ship Bowditch had been operating near the coast of the Philippines.

There were similar incidents in 2000, 2001, 2002, 2009, 2013, and 2014. In the second of these episodes, a Chinese fighter jet collided with a US Navy EP-3 reconnaissance plane, which had a crew of 24 on board, less than 70 miles off Hainan island, forcing it to make an emergency landing in China and creating a tense standoff between Beijing and Washington. The Chinese detained the crew for 11 days. They disassembled the EP-3, returning it three months later in pieces.

Such muscle flexing in the South China Sea isn't new. China has long been tough on its weaker neighbors in those waters. Back in 1974, for instance, its forces ejected South Vietnamese troops from parts of the Paracel/Xisha islands that Beijing claimed but did not yet control. China has also backed up its claim to the Spratly/Nansha islands (which Taiwan, Vietnam, and other regional countries reject) with air and naval patrols, tough talk, and more. In 1988, it forcibly occupied the Vietnamese-controlled Johnson Reef, securing control over the first of what would eventually become seven possessions in the Spratlys.

Vietnam has not been the only Southeast Asian country to receive such rough treatment. China and the Philippines both claim ownership of Panatag (Scarborough) Shoal/Huangyang Island, located 124 nautical miles off Luzon Island in the Philippines. In 2012, Beijing simply seized it, having already ejected Manila from Panganiban Reef (aka Mischief Reef), about 129 nautical miles from the Philippines' Palawan Island, in 1995. In 2016, when an international arbitration tribunal upheld Manila's position on Mischief Reef and Scarborough Shoal, the Chinese Foreign Ministry sniffed that "the decision is invalid and has no binding force." Chinese president Xi Jinping added for good measure that China's claims to the South China Sea stretched back to "ancient times."

Then there's China's military construction work in the area, which includes the building of full-scale artificial islands, as well as harbors, military airfields, storage facilities, and hangars reinforced to protect military aircraft. In addition, the Chinese have installed radar systems, anti-aircraft missiles, and anti-missile defense systems on some of these islands.

These , then, are the projects that the Trump administration says it will stop. But China's conduct in the South China Sea leaves little doubt about its determination to hold onto what it has and continue its activities. The Chinese leadership has made this clear since Donald Trump's election, and the state-run press has struck a similarly defiant note, drawing crude red lines of its own. For example, the Global Times, a nationalist newspaper, mocked Trump's pretensions and issued a doomsday warning: "The U.S. has no absolute power to dominate the South China Sea. Tillerson had better bone up on nuclear strategies if he wants to force a big nuclear power to withdraw from its own territories."

Were the administration to follow its threatening talk with military action, the Global Times added ominously, "The two sides had better prepare for a military clash." Although the Chinese leadership hasn't been anywhere near as bombastic, top officials have made it clear that they won't yield an inch on the South China Sea, that disputes over territories are matters for China and its neighbors to settle, and that Washington had best butt out.

[...]
​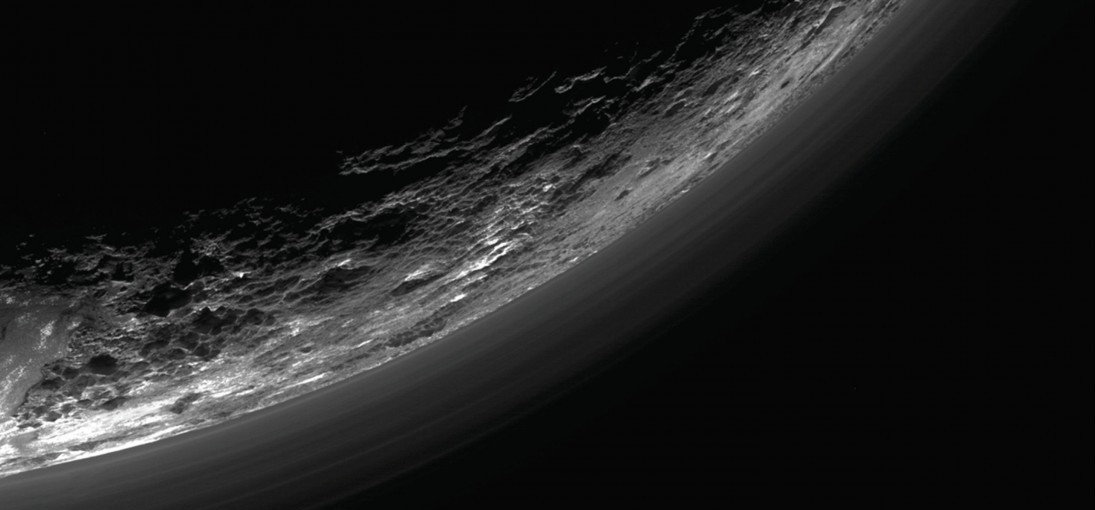 This is the kind of reach a European-Asian Alliance is capable of, even while heavily burdened: imagine what we could accomplish if we were not saddled by the YKW, their Abrahamism (Judaism, Islam and Christianity), complicit right-wing arrogation and liberal irresponsibly - pinning us down with the irresponsible among us, their consequences; as well as in obsequiousness toward, and over-burdened necessity to defend against, African aggression and bio-power, Muslim colonization ("Hijra") and terror.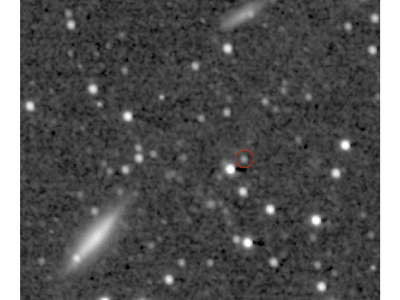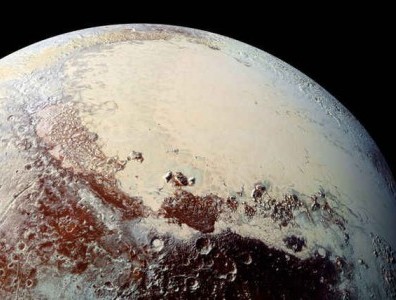 Nasa, New Horizons image gallery.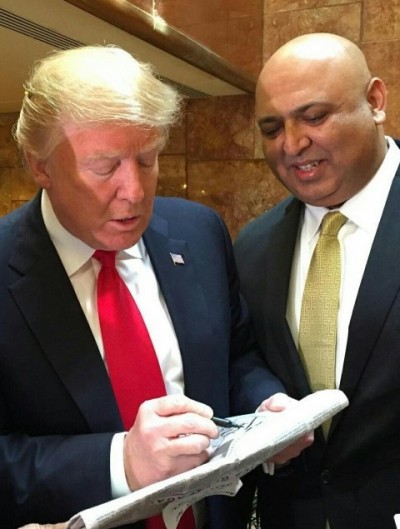 "Don't be surprised if the money he used to buy-up American real estate came from U.S. foreign aid" - TT. Pictured, Trump signalng 181 dimensional chess with Pakistani-American real estate tycoon, Sajid Tarahas, founder of 'Muslims for Trump.'
BBC, "Trump's Hindu, Sikh and Muslim power brokers", 24 Jan 2017:

When Indian-American industrialist Shalabh "Shalli" Kumar donated close to a million dollars to the Trump campaign, many in the community dismissed it as a poor investment.

But today, Mr Kumar is the go-to guy not just for Indian-Americans chasing opportunities in the new administration but apparently for the Indian officials seeking contacts with Trump aides.

A leading Indian TV channel NDTV introduced him as "the man with a direct line to Trump" on their show. Another top-ranking Diaspora website, The American Bazar, has called him "the most influential Indian-American power broker" in DC.

And Kumar isn't complaining about this new celebrity status. "I would like to be the bridge between the two sides," he told the BBC. "I have arranged two big meetings between Indian officials and leading figures in the Trump team."

A majority in the Indian immigrant community have traditionally supported Democrats and Trump's anti-immigrant campaign rhetoric seemed to have further alienated many.

Kumar says he and his Republican Hindu Coalition mobilised Hindu Indian-Americans votes in swing states like Florida.

Their message? Trump was the anti-terrorism candidate, and would help India and US see greater collaboration in defence, energy and manufacturing.


Trump's anti-Muslim rhetoric did appeal to some Hindus, but whether that actually swayed the community at large is unclear.


Kumar is not the only one whose stock has soared with a Trump victory.

Pakistani-American Sajid Tarar, who is a Muslim, and Sikh-American Jesse Singh, sided with Mr Trump at the peak of his anti-Muslim barbs. They were pilloried by their own communities for doing so. One exit poll suggested more than three-quarters of Muslims voted for Clinton.

Mr Tarar's Facebook inbox used to be swamped with negative messages, calling him a "disgrace to Pakistan and Islam".

But on the morning of 9 November, his phone wouldn't stop ringing. Mr Tarar had more than 80 messages congratulating him on Mr Trump's victory and how he had made Pakistan proud.

He says the Pakistan embassy reached out to him to facilitate a call between Pakistani Prime Minister Nawaz Sharif and the President-elect.

"I sent out a few emails and the call happened," says Mr Tarar, a real estate businessman.