Majorityrights News > Category: Compradors
Blacks aren't natural allies of Asians and neither are Jews, with their propensity to impose Abrahamism, its liberalism, Christian submissionaries and Muslim compradors over Asians

Salon, "Donald Trump's Justice Department is fighting affirmative action for hurting white people", 2 August 2017:

Attorney General Sessions is furthering an anti-civil rights agenda by investigating affirmative action.
I'm going to begin with an unusual order in approaching this article and surrounding discussion - viz., I will begin by looking at some comments on the matter because they throw light on how the YKW are misleading and manipulating people with a concept of "the left" - not letting it be properly understood as discriminatory social unionization and coalitions thereof, but rather having it oxymoronically accepted as liberalism for all but those unionizations circumscribed and actively represented inasmuch as it is good for YKW interests - themselves stealthily behind the scenes of the unionizations, markedly of the black interests that they have represented - viz., especially as it serves to rupture the effective patterns of their perceived enemies: would-be unionized White and Asian power.
Until recently, around 2008 with the subprime mortgage crisis; and the re-branding of (((Frank Meyer's paleoconservatism))) as the "Alt-Right", the YKW had not been so ardent nor effective in getting the public to argue that THE Left was the great problem of our times.
But looking at the essence of "the left" as the YKW have permitted it to be spoken of in the public domain, what we've had is Jewish led coalitions, internationally, of Jewish interests and crony capitalist interests; and domestically, in The U.S., primarily Jewish led coalitions of Africans, sundry Mulattoes, where convenient, gays, lesbians and feminists where they might perceive a common axe to grind against White men ...at the same time these Jewish led coalitions have not been organized for sympathy or fairness to Asians interests either.
After this point, 2008, when the YKW and complicit right-wing sell outs had presided over the boom bust cycle to where they stood firmly atop, they no longer had any use for advocating left coalitions of unions against the power - because the YKW had crossed the intersection, they had become the predominant organized power. Suddenly, "the left" became the pervasive enemy. ...and in the background, only one social unionization was tolerated by them - though not called "the left" - it was, of course, the union of Jews; and it became more brazenly right wing and supremacist with regard to other peoples, seeking only to cooperate with their right wing sell outs against those who might collectively organize as leftist coalitions against their elitism, supremacism and imperialism.
Thus, Gavin Chan has been maneuvered by Jewish journalese, a disingenuous framing of discourse, into talking in terms of "THE left" being antagonistic to his interests, without recognizing that this is neither a White Left, nor an Asian Left, but Jewish organized black and other PC left that has been used to attack those who most threaten the YKW - viz. Whites and Asians - as they threaten, especially in coalition, the only social unionization that the YKW want to remain effective - their own.
Gavin Chan · Dallas, Texas
Affirmative action is in fact the biggest middle finger to Asians. But the left leaves this detail out in most affirmative action discussions because Asians don't fit into the leftist racial narrative.

Affirmative action in place to pay historical reparations, sure, but why at the expense of Asians? It's absolute bs.

It's time to end this super racist policy.
Gavin, they've given you the middle finger indeed with unions of blacks et. al, represented against you. But, where Elizabeth says..
Elizabeth Rodriguez · Ledyard, Connecticut
Sorry, but I don't think Trump and Sessions are doing this to fight for Asian rights.
...that is true, they are not. They are doing this as a part of disingenuous quid pro-quo between Jews and complicit White right/alt-right wingers. I.e., they are not doing this for a White Left nor an Asian Left, but for a system controlled by (((the invisible hand))) in cooperation with whomever will take their deals, take their side and share their enemies where they might have the nerve to organize against their supramacism and imperialism.
The proper response is to recognize that a repeal of the Consent Decrees of the 1964 Civil Right Act would help alleviate some of the pressure of active enforcement of reverse discrimination, but it does not go far enough, it is not the White and Asian unionization and necessary coalition thereof - which would constitute, in the case of America, ethno-nationalisms in diaspora.
When you criticize "the racism" of affirmative action you are, in effect, criticizing group genetic unionization, the capacity for accountability thereof and thus to discriminate necessarily in group interests - that is not necessarily the same as being unfair and impervious - and leaves us only the fall-out of a civic nation, its muddles and deleterious demographic mixing - which will be horrifically unjust and destructive to systems- a destruction imposed by cultural Marxism these last 70 years, which operates irrespective of objectivist rules such as civil rights, by whatever stealthy social organization that remains effective behind the scenes, largely YKW.
Let's focus more on the Salon article(s) now:
Some background: The Consent Decrees are effectively a scheme devised for U.S. Courts to stipulate and oversee enforcement of various concrete measures that must be taken over time to implement reverse discrimination, for all practical purposes, against White people (it eventually worked against Asians as well).
At first blush it appears to be simply good that this reverse discrimination of affirmative action might be overturned - and it really is good to an extent: at least it would repeal oversight of strict and punitive enforcement of (((Red Leftism))) and its defacto imposition of Mulatto supremacism over Whites (and Asians, Mestizos and Amerindians). It would curb the imposed liberalization of White (and Asian) boundaries in force since court decisions and consent decrees of the 50's and 60's; and make way for a return to a more generally liberal direction of civil individual rights, on the basis of civic nationalism - that, however, is always disingenuous. Who believes that the system is "objectively" backed?. What is the demographic make-up of this civic nation, where is it headed and which people have the invisible hand that is pulling the socially orchestrating strings that are not acknowledged?
Now that the demographic situation is muddled among the masses and unionized resistance appears near futile as it has been conflated for years with civic liberalism, Jewish interests are entrenched on top with the help of right wing sell outs they've bought off. They are now consistent in opposing "the left" - viz., unionized groups of people which might otherwise hold them to account. What they offer instead is civic nationalism and the mechanism of civil rights with no account to systemic backing other than the invisible hand that they, the YKW, and to some extent complicit right wing sell outs, control.
The initial financial boosters of the Trump administration, the people who made Trump's presidency possible, are Robert Mercer and his daughter Rebekah. They fall into the complicit with Jews category, at best, they work things out with Jews. Witness their having put Judeo-Christian Steve Bannon (who believes "the dark frorces of the far east are the greatest threat to Western civilization) in charge of the Trump campaign as a condition of their backing. Nevertheless, Robert has long been an opponent of the 1964 Civil Rights Act; and Sessions has obviously been tasked to set about deconstructing the 1964 Civil Rights Act; he was installed along with Bannon into the Trump administration apparently in large part with that aim.
Rebekah and her father Robert Mercer

NPR, 22 March 2017: "Jane Mayer - Dark Money: The Hidden History of the Billionaires Behind the Rise of the Radical Right."

Jane Mayer writes in the New Yorker about Robert Mercer and his daughter, Rebekah Mercer, who have poured millions of dollars into Breitbart News, and who pushed to have Bannon run Trump's campaign. Robert and daughter Rebekah's dark money is behind Bannon, Sessions,.. they were behind Flynn as well, would have been for Cruz, Bolton, almost anything but the Clintons.
Robert Mercer's Opinions on 1964 Civil Rights Act:

According to a March 2017 New Yorker article by investigative journalist Jane Mayer, David Magerman, a former Renaissance employee, said that Mercer called the Civil Rights Act of 1964, the landmark federal statute arising from the civil rights movement of the 1960s, a "major mistake." According to Magerman, Mercer said that African Americans were economically better off before the civil rights movement, that white racists no longer existed in the United States and that the only racists remaining were African American. Mercer vigorously denies being a white supremacist.
It remains true that White people, including 'lower class White people" NEVER needed such black unions having their interests imposed upon them, as they were imposed by Jewish legalists, right wing sell outs and liberal stooges.
Thus, a repeal of the Consent Decrees could relieve Whites some - but only after untold damage has already been done to human biological systems and the demographic situation is hideously muddled and swamped - leaving the only one apparent way out in systemic support - through dealing with the YKW: an option that right wing sell outs and the Alternative Right have already exercised.
While they may have some problems with blacks that they may not want to own up to, but would rather look upon as the unfairness of affirmative action according to pure objectivist criteria and civic nationalism, none of these people behind and in the Trump administration have any great affection for Asians either. None of these people are anti-Semitic. The circumstance has all the hallmarks of a continued program of collaboration of elite and Zionist Jewry and right wing sell-out Whites: i.e., now that these folks are on top of the seven power niches, who needs left coalitions, unions of people discriminating in their interests? Especially not against Jewish supremaicism and elitist right wing interests.
The YKW, you see, are the only systemic union allowed in the end, by the cause of Red Leftism. Ever since around 2008 "the left" has been popularized as the great villain by the YKW in power - largely by means of the popularization of the (((paleoconservative underpinned))) Alternative Right.
But, in a word, the liberalism that they offer - even if they would repeal the Consent Decrees (which they will probably not succeed in implementing to any great effect for White interests free of Jewish instigation of pan mixia) - does not go nearly far enough: Systemic White interests need to be unionized such as to afford discriminatory accountability in the interests of our social capital - that is what is called an ethno-nation - and it must exclude the YKW from any pretense that they are White as well. Jews being considered "White" and a part of "Western Civilization" is obviously a key to the Session's deal that they are floating to repeal the Consent Decrees. Jews cannot be trusted as part of our interest group for their manichean cunning and inevitable destruction to our people, any more than blacks can be a part of our people for their genetic distance and inevitably destructive biopower where it is allowed cohabitation and mixing.
The undoing of the Consent Decrees would be the theoretical ending of a Jewish led implementation of imposed black unionization and extortion against us all.
What we mean by unionization here is what we mean by ethno-nation on the broad scale and genetic interest groups on the subsidiary level - in our exclusionary interests.
The problem arises then with he fact that you still have to live in the world with other people as cooperatively as possible. Drawing upon friend enemy distinctions, most sane people would say Jews and blacks should be first to be most perfectly excluded; as people coordinated with at best, but not cooperated with in expectation of reciprocal good will.
Our best hope is in cooperating with coalitions of Asians, Amerindians and Mestizos against blacks and YKW.
Asian - Mestizo - White interaction is nevertheless, problematic and nobody wants to be naive - but if there is some way to coordinate our unions as a coalition against Jewish and other right wing supremaicsm, and Muslims and against black biopower, then we probably have the best possible coalition.
Of course the trick is how to manage these coalitions with Asians, Amerindians and Mestizos, without us getting abused - particularly with the Alt-Right, Right and Jews ostensibly representing us - The Asians, Amerindians and Mestizos might simply react by trying to swamp us in population if we let them, glibly citing historical grievances that we especially would have had nothing to do with, even historically; or they could do worse, taking guerilla tactics against us as if we are immune to cooperation, perhaps sicking https://www.youtube.com/watch?v=0Wvy5jXXg-E tuck ms 13">the likes of MS13 on us if we don't like their taking advantage, etc.
Some people would say that we do not have to coordinate with the better elements of these people; but in a world where we are faced with Jews, Muslims and Africans, and naive and disingenuous Whites, Jewed-out by Christianity, indeed we must try to coordinate with these peoples as left natonalist allies as best we can.
The Salon Article. An ostensible victory to unburden White servitude to blacks, but at what (((price))) and to what real effect, in whose "objective" interests?
Salon, "Donald Trump's Justice Department is fighting affirmative action for hurting white people", 2 August 2017:

Attorney General Jeff Sessions is furthering an anti-civil rights agenda by investigating affirmative action.


The bromance between President Donald Trump and Attorney General Jeff Sessions may have soured, but that doesn't mean the president isn't supporting the most reactionary aspects of Sessions' policies.

The Justice Department's civil rights division is going to have some of its resources allocated toward lawsuits against universities over affirmative action policies perceived as hostile to white people, according to a document reported by The New York Times. The Times also reports that the internal announcement to the civil rights division explicitly asks for lawyers who would be willing to pursue "investigations and possible litigation related to intentional race-based discrimination in college and university admissions."

This policy exists as part of a larger anti-civil rights agenda being pursued by Trump and Sessions. In May, Sessions doubled down on the drug war by instructing prosecutors to "charge and pursue the most serious, readily provable offense." In June, Sessions discontinued the use of consent decrees in civil rights cases, which goes against traditional Justice Department practice as it makes civil rights rulings more difficult to enforce. Last month the Justice Department argued that Title VII protections don't apply to the LGBT community.

Despite these social justice policies, Sessions has mainly been in the news for his deteriorating relationship with Trump. Although the two were reported to be close friends for years, and through the 2016 election, things soured between them when Sessions recused himself from the Russia investigation in March. Trump has blamed Sessions for what he perceives as a showing of weakness and said that he wouldn't have selected Sessions as attorney general if he'd known he would do that.
Salon, "Trump Administration quietly rolls back Civil Rights efforts across federal government", 15 June 2017: Previously unannounced directives will limit the Department of Justice's use of civil rights enforcement tools - Consent Decrees

Topics: Civil Rights, Department of Justice, Jeff Sessions, ProPublica, Trump Administration, Politics News

For decades, the Department of Justice has used court-enforced agreements to protect civil rights, successfully desegregating school systems, reforming police departments, ensuring access for the disabled and defending the religious.

Now, under Attorney General Jeff Sessions, the DOJ appears to be turning away from this storied tool, called consent decrees. Top officials in the DOJ civil rights division have issued verbal instructions through the ranks to seek settlements without consent decrees — which would result in no continuing court oversight.

The move is just one part of a move by the Trump administration to limit federal civil rights enforcement. Other departments have scaled back the power of their internal divisions that monitor such abuses. In a previously unreported development, the Education Department last week reversed an Obama-era reform that broadened the agency's approach to protecting rights of students. The Labor Department and the Environmental Protection Agency have also announced sweeping cuts to their enforcement.

"At best, this administration believes that civil rights enforcement is superfluous and can be easily cut. At worst, it really is part of a systematic agenda to roll back civil rights," said Vanita Gupta, the former acting head of the DOJ's civil rights division under President Barack Obama.

Consent decrees have not been abandoned entirely by the DOJ, a person with knowledge of the instructions said. Instead, there is a presumption against their use — attorneys should default to using settlements without court oversight unless there is an unavoidable reason for a consent decree. The instructions came from the civil rights division's office of acting Assistant Attorney General Tom Wheeler and Deputy Assistant Attorney General John Gore. There is no written policy guidance.

Devin O'Malley, a spokesperson for the DOJ, declined to comment for this story.

Consent decrees can be a powerful tool, and spell out specific steps that must be taken to remedy the harm. These are agreed to by both parties and signed off on by a judge, whom the parties can appear before again if the terms are not being met. Though critics say the DOJ sometimes does not enforce consent decrees well enough, they are more powerful than settlements that aren't overseen by a judge and have no built-in enforcement mechanism.

Such settlements have "far fewer teeth to ensure adequate enforcement," Gupta said.

Consent decrees often require agencies or municipalities to take expensive steps toward reform. Local leaders and agency heads then can point to the binding court authority when requesting budget increases to ensure reforms. Without consent decrees, many localities or government departments would simply never make such comprehensive changes, said William Yeomans, who spent 26 years at the DOJ, mostly in the civil rights division.

"They are key to civil rights enforcement," he said. "That's why Sessions and his ilk don't like them."
....tasked with out-Koshering other goyim alum and to put the hit on them gangster style for being in/convenient goyim to the kosher mob. From our point of view, we can be glad that Bannon's (((Paleocon))) misdirection into his (((Neo-Reaction))) is being throttled by a more distinctly (thereby didactic) Kosher and neo-liberal effort.
Scaramucci blanks like a hootchi.

First, some commentary on the situation by Kumiko:
Death match, Maxine Waters versus Steven Mnuchin.
A number of Cernovich's people are getting subpoena'd now too.
He's on Twitter this morning saying he's worried he'll be next.
All the FVEY accounts are indicating "LOL we're coming for all of you."
The collapse is going to be good fun.
Why would Cernovich be subpoena'd?
Because Putin, quite seriously.
It's encouraging that this has started to bleed into the Alt-Lite.
Since they thought that everyone had forgotten about them.
It forms part of the logic of why we have actively tried to keep our audience from falling into that garbage when it started up.
All of these people will go down with the ship, because that's how it works.
The only way to not get taken down is to just not be there.
"I'm just a blogger, surely I can be a grey vector of Active Measures and be left alone, right?"
Yeah no.
The only they were going to escape would have been if Trump had swiftly crushed the entire US intelligence community within a few months of entering office.
But these fluffy guys didn't think about that, and Trump was incompetent, so now it's all catching up to them.
There's still chances for them to squirm out, if Trump starts a firing spree before Graham's bill passes.
But it's looking like they won't make it.
Trump is behind schedule, since he fired Priebus today, but then he realized that Scaramucci doesn't care about anything and wants to actually fight Bannon.
So they are wasting precious time because Trump didn't realize that Scaramucci only wanted to enter the White House so he could destroy Priebus and Bannon.
....because they screwed him in a business deal back n 2016.
Now he's coming back pure ITALIAN BOSS.
...and now they are all falling over each other to try to 'calm that down'... wasting precious time.
That's why you see Raheem Kassam and Cernovich now trying to rally the base against Scaramucci "or it's all over" according Kassam.
If you want to be rid of Bannon's Neo-Reactionary misdirection into counter-Jihad Paleoconservatism, you have to love the hit Salabucci is putting on him.
Salabucci is just there to kill two guys.
He's just some guy Trump knew from some business thing, who used to also go on Fox News and give financial commentary.
He spent the whole electoral cycle accusing Trump of being a protectionist bastard, until he realized Trump could be induced to make it worth his while; so he quietly went pro-Trump, sold off his business, and then asked to join the Trump admin.
That's when Priebus and Bannon blocked him, saying he was on an agenda, and so it meant Scaramucci had divested himself for no reason. At this stage I assume he decided to go for the revenge plot, and this may be it.
So he becomes a factor in the chaos. ...since Trump is an idiot and brought him in despite the fact that he was a time bomb.
That's why Sean Spicer resigned, since he refused to work under Scaramucci, since he knew Scaramucci is there to wreck things.
Then Scaramucci immediately came in and destroyed Priebus as Spicer likely predicted, lol.
And is now attacking Bannon, claiming that "I'm here to serve America, unlike Bannon who is here to suck his own dick."
Anyway, yeah, this is why day to day politics can be fun.
On the other side, Trump just ruined his senate majority.
In the process of trying to pass the Obamacare repeal, Trump threatened to economically attack Alaska if Murkowski wouldn't vote 'Yes.'
In reaction, Murkowski doubled down on opposing Trump, and voted 'no.'
So Pence entered the chamber again to try to break the tie.
But then Collins and MCCAIN defected too.
....and the whole chamber erupted as McCain tilted his chin up.
...and the whole fucking thing imploded.
So now Trump is in a position where he is just getting nothing done.

That's what Kumiko had to say. Here's what The New Nationalist has to say. They consider themselves "Third Position," which means that they have some things right - like an eye on the J.Q. and some right wing perfidy. However, they remain insufficiently emancipated from the right wing and are unstable as a result, resorting to some wild speculation where socialization would be corrective.
The New Nationalist, "Move Over Trump, There's a New Sheriff in Town: Mad Tony 'The Mooch' Scaramucci", 28 July 2017:

Trumpian apologists are doing cartwheels and backflips trying to explain away the bizarre behavior of the administration's latest "communication director," one Anthony Scaramucci, also known as "The Mooch." Sean Spicer was a piker compared to this character. Predictably, The Mooch, 53, is a Goldman Sachs alum and hedge fund manager who boasts "29 years on Wall Street." He is a member of the nefarious Council on Foreign Relations and, on June 19, became senior VP and chief strategy officer for the U.S. Export-Import Bank.

During his first week on the job as Trump's chief mouthpiece, Scaramucci engaged the president's drama squad in a WWWF-style brahaha, culminating in an interview during which he declared, "I'm not Steve Bannon. I'm not trying to suck my own cock. I'm not trying to build my own brand off the fucking strength of the president. I'm here to serve the country." Classy.

In another rambling interview, The Mooch vowed to hunt down the White House leakers. He suggested that embattled White House Chief of Staff Reince Priebus would be fired if he leaks and said he was incensed that Priebus "cock-blocked" him for six months from getting a position in Trump's administration. He also called Priebus "a fucking paranoid schizophrenic" and seemed to imply that some White House staffers may have committed a felony by leaking sensitive financial information about Scaramucci, even though his financial disclosure form was publicly available. It is also interesting that The Mooch had nothing bad to say about globalists Jared Kushner, Gary Cohn and Dina Powell during his rant.

Sampling of the Mooch's claims:


The 6 most unusual quotes from Anthony Scaramucci's CNN interview

No sensible leader would turn such a man loose. No sensible leader would be undercutting his own attorney general six months into his presidency. His Secretary of State Tillerson is rumored to have had enough. There is every indication that the Trumpian executive branch is ungovernable; and worse, governed by tweet. Just about anybody within the sistema will distance themselves soon enough. Former media supporter Breibart is playing a role by doing exactly that.

It is just a matter of time before steps are taken to remove him. The New Nationalist (TNN) theorizes the trigger will be a market swoon, possibly triggered by a faux pas from "Red Queen" Donald himself. This happens after the cognescenti are convinced the rigged "markets" are bulletproof against Trumpian buffoonery and skullduggery. But alas, that will prove not to be the case.

This further reinforces our post-election theory regarding Trump mafioso and oligarch-like appointments. This is a devious and traitorous Trojan Horse operation designed to deliberately take what's left of the American system down. This is the end game of a multi-generation national demolition project.

Trump's role is as closer of that project. Unfortunately, few understand that, even his among his opponents. In fact, his Democratic opponents like Hillary and Obama are in on it. Readers need to jettison the erroneous Hanlon's Razor, which says, "Never attribute to malice that which is adequately explained by stupidity." There is true evil and malice at loose in the world and they operate at the highest level.

Although at this juncture this feels like watching red paint dry, it's anything but. This crisis phase, when it erupts, should last about six weeks, ending in total breakdown and chaos. The moving parts, such as a summer of urban turmoil (Baltimore and Ferguson multiplied) are in place. The neo-feudal plans of the Crime Syndicate and their international bankster bosses are in place. The police state and Gulag system have been tested and are in place. Human harvesting implementation was test run in Haiti and is in place. Human terrain intelligence for every person in America, if not the world, is in place, locked, loaded.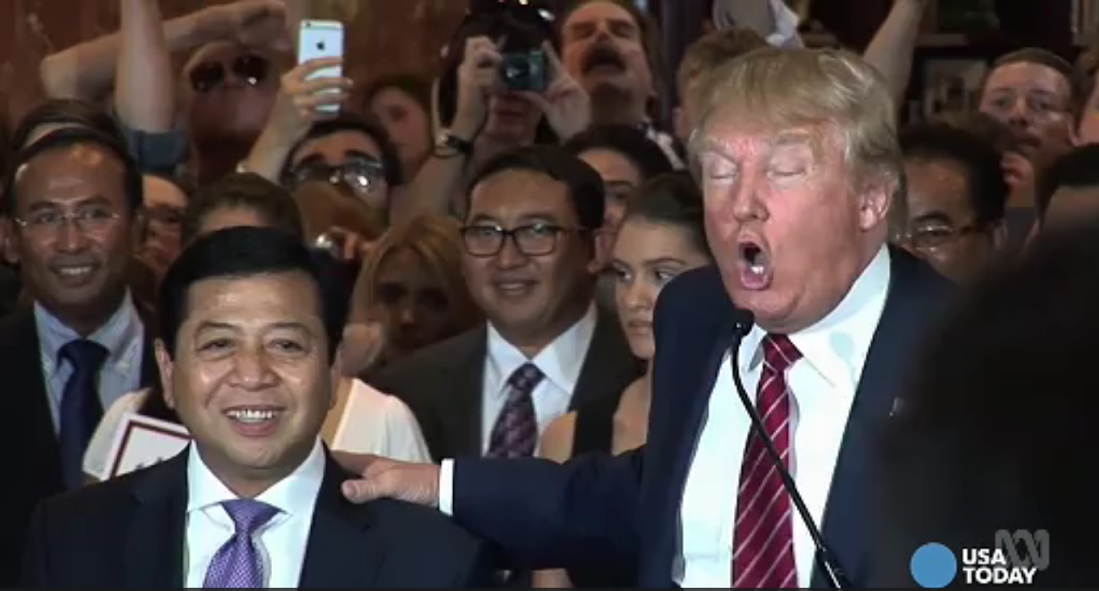 At a press conference at Trump Tower in New York to declare his loyalty to the Republican Party, Donald Trump was flanked by guests from Indonesia, and made a big show of announcing one very special guest, Setya Novanto.
"He wants it big, and overlooking the sacred Tanah-Lot."
Trump deal in Indonesia imposes Islamic compradors over ethno-nationalism and his hotel and business upon what is sacred to Indonesian ethno-nationalists.
While running for President, Trump was courting the Indonesians over lucrative resort deals in Bali and Java; and lobbying Indonesian MP's to expedite a toll road that would benefit his development.

The secretive dealings raise new questions about Trump's corporate interests abroad and about the unholy business and political alliances he's forged.

While at home, Trump rails against Muslim extremists, in the world's largest Muslim country, his allies are cozying-up to Islamists who are posing a direct threat the country's ethno-nationalism.

Donald Trump has entered into two huge deals in Indonesia, and the first of them will land here, on the southern edge of Bali almost on top of one of the Island's most sacred religious sites, Tanah Lot - an hour or two away from the main tourist areas, the Balanese have fought for decades to protect this temple and its surrounds.

"Not much is known of Trump's plans but what is known that he wants it big, the biggest in Bali he says, he wants a tower on an island that bans them, and he wants it over looking the sacred Tahan Lot."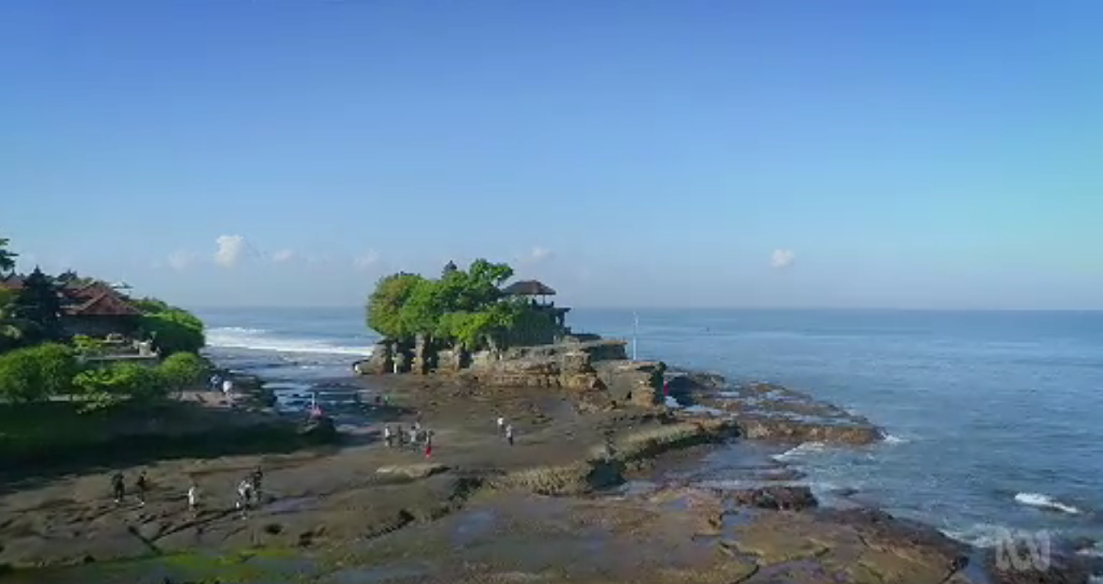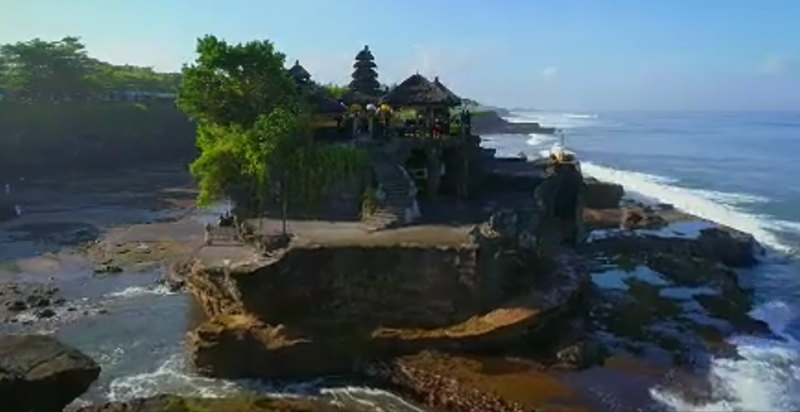 "It's one of the island-wide temples that are sacred to the Balanese, its the land, pana, and lot, which means ocean."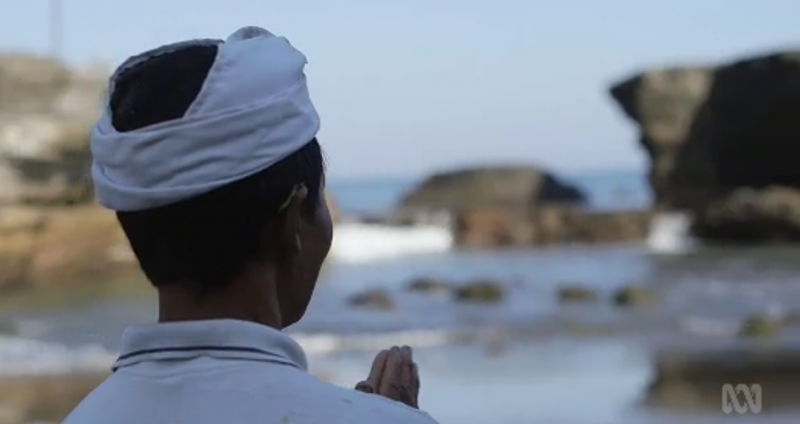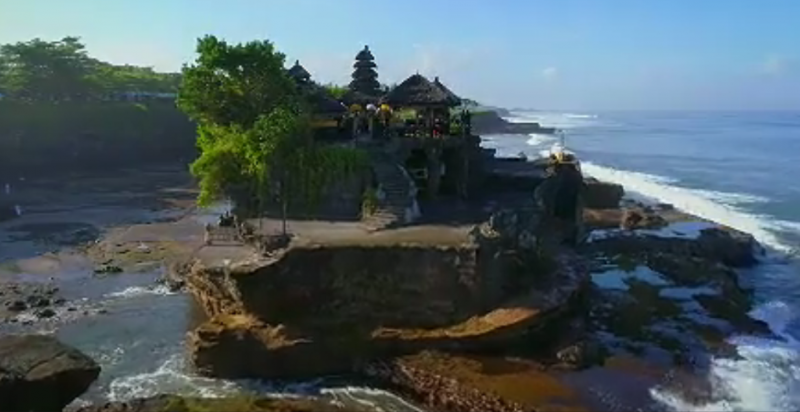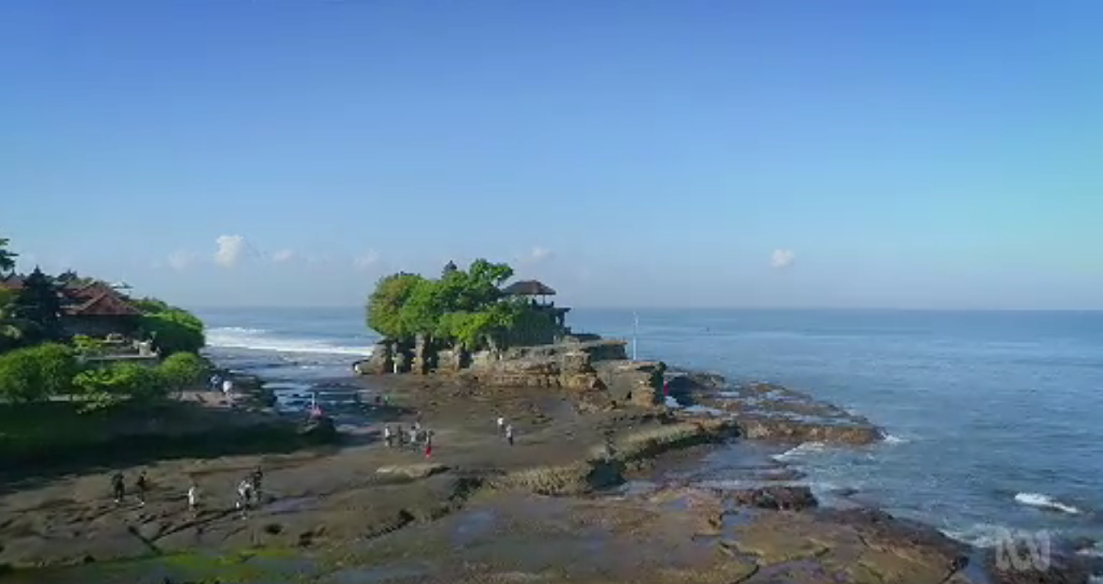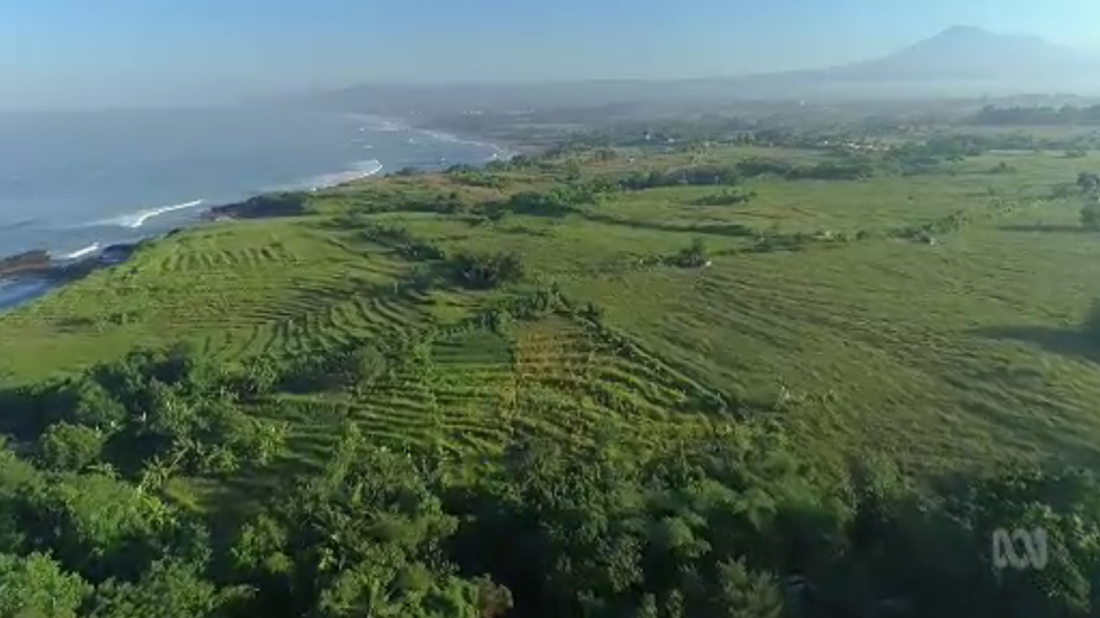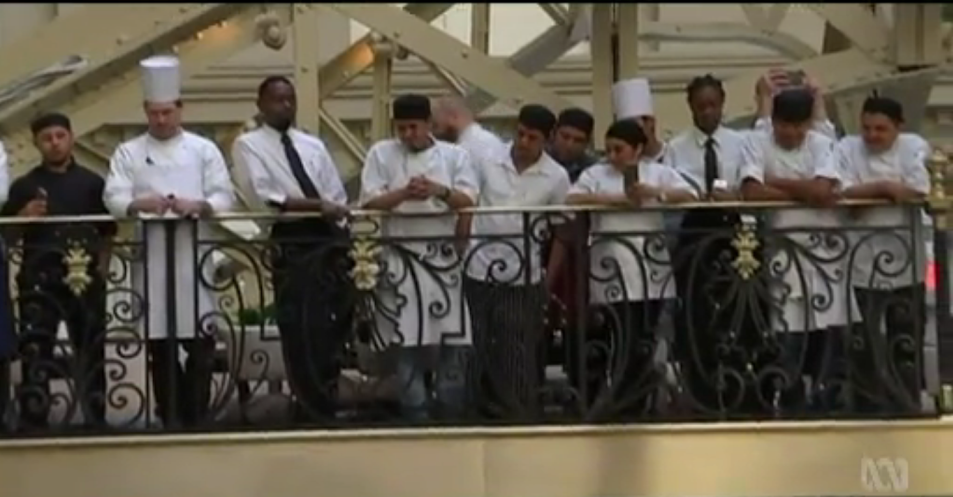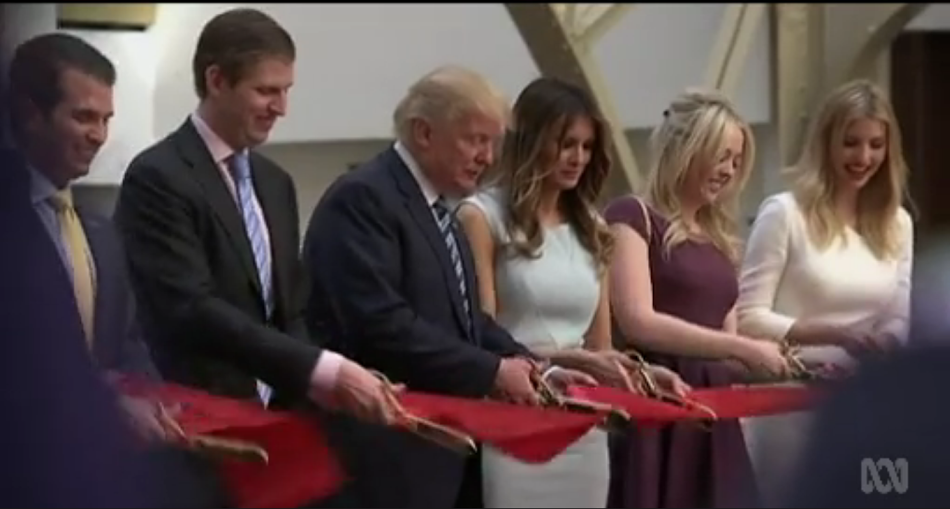 Donald Trump makes deal with Islamic compradors in Indonesia, imposing them against the native stasis of Left ethno-nationalism, and his hotel and business upon what is sacred to native ethno-nationalists.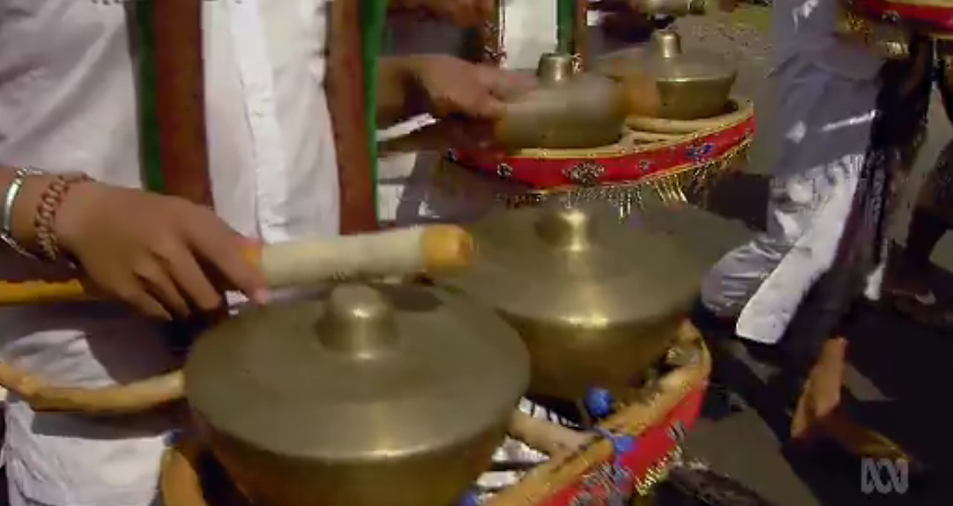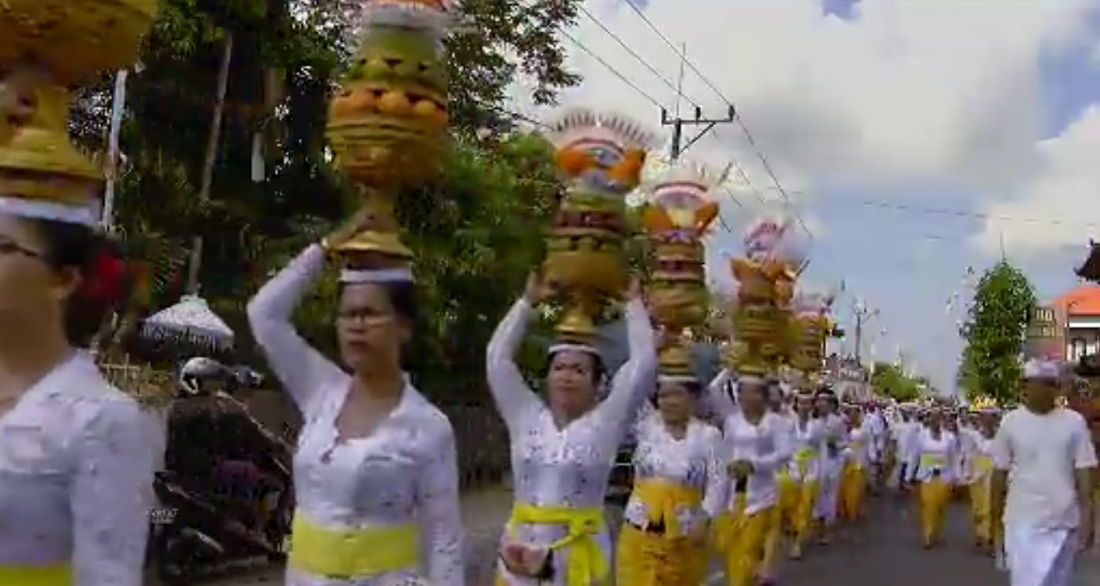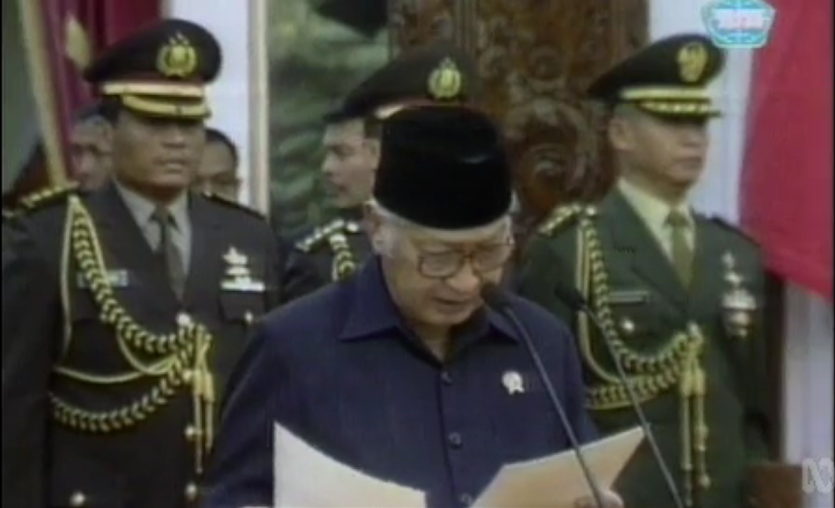 80,000 Indonesians were killed by Suharto on that beach in 1965, the victims were accused of being Leftists….
When President Suharto exited power in 1998, he took three decades of loot with him, estimated at 30 billion dollars.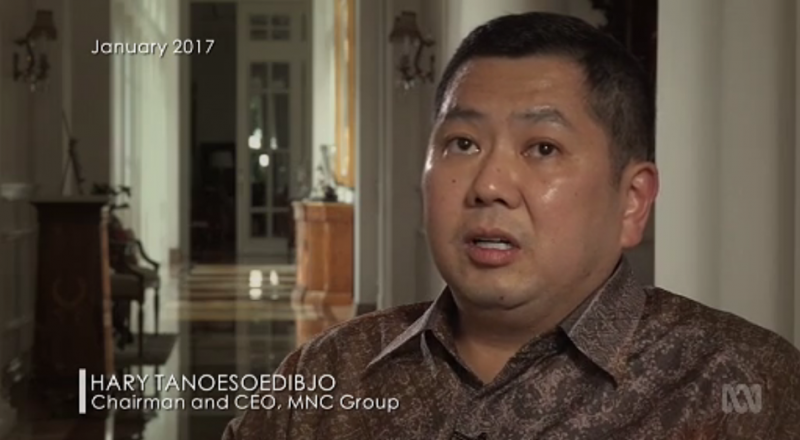 Trump's business partner in the deal, Harry Tanno, was a close friend of Suharto.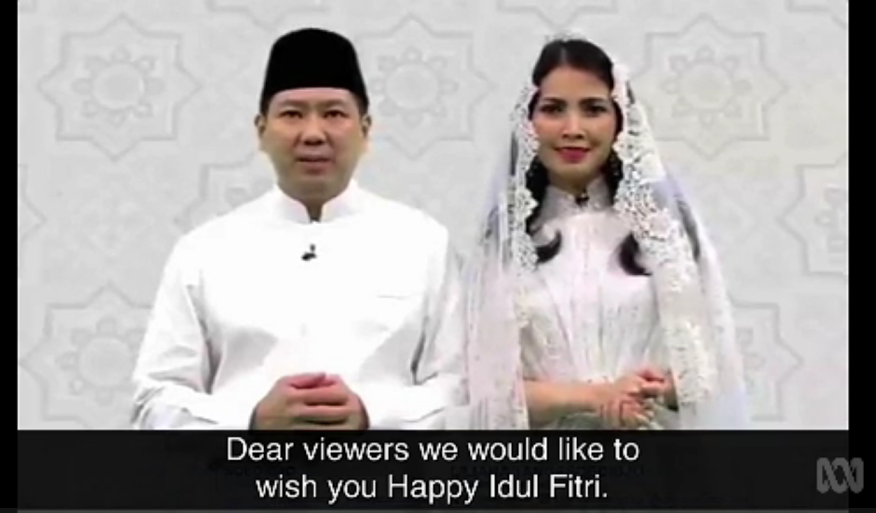 Tanno welcomes Trump and Sharia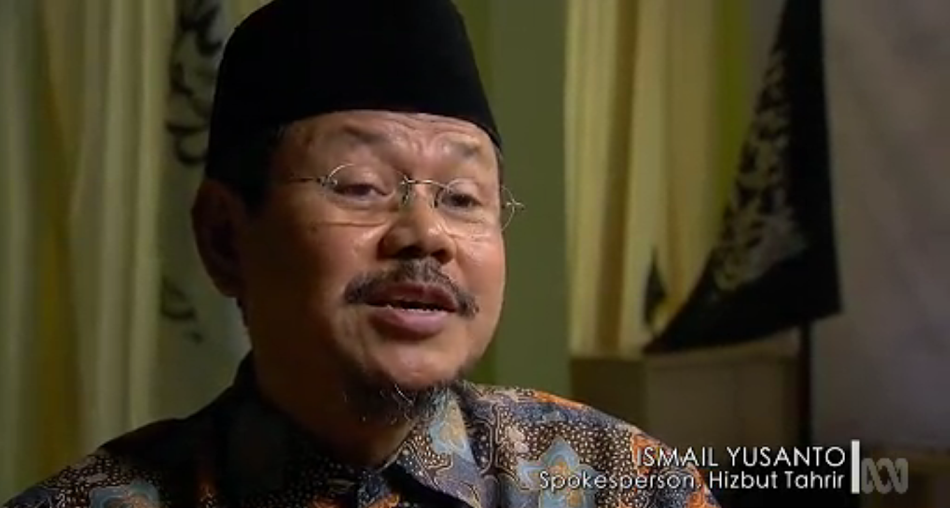 Hizb-ut-Tahrir's man is on screen talking after 37 minute mark - his appearance was the biggest thing in the whole video:
"Is it your ambition to impose Sharia Law in Indonesia?" "It is not our ambition, but our duty."
An abstract kind of wild quid pro quo white America has going on there.
All imagery and story, THE COMPANY HE KEEPS: FOUR CORNERS, 3 July 2017.
Unz Review, 19 June 2017: "Russia and Islam: Connecting the Dots and Discerning the Future."

Russian nationalists (as opposed to Russian patriots) did try their best to infect Russia with her own brand of Islamophobia, but that movement was defeated by an absolutely uncompromising stance by Vladimir Putin himself:

I need to say that, as I have repeated many times before, from its beginning Russia had formed as a multiconfessional and multiethnic state. You are aware that we practice Eastern Christianity called Orthodoxy. And some theorists of religion say that Orthodoxy is in many ways closer to Islam than to Catholicism. I don't want to evaluate how true this statement is, but in general the coexistence of these main religions was carried out in Russia for many centuries. Over the centuries we have developed a specific culture of interaction, that might be somewhat forgotten in the last few decades. We should now recall those our national roots."

Clearly, as long as Putin and those who support him remain in power, Islamophobia will have no future whatsoever in Russia. Russia will have to become the place where the Islamophobic myths will debunked ..
This site, Unz Review, is being treated by the Alt-Right as being in its friendly orbit.
True, the site does provide occasional useful information from which arguments for White interests can be derived, such as the study showing Harvard's massive discriminatory bias against Asians (from which bias against Whites can be inferred also if you recognize and parse out the fact that Jews are not White), or the demographic projections that (((Steve Sailer))) puts up of Africa's horrifying birth trajectory compared to Europeans, but you must look beyond, to the site's chutzpah in projecting influence and goals upon the Alt-Right.
First, the black dress that they lay-out for our funeral:
Unz Review, "Will Sub-Saharan Africa's Population Hit 10 Billion? 15 Billion?", 27 June 2017:

Over at VDARE.com, a demographer points out that all my scary graphs lately have been based on the U.N. Population Division's optimistic-sounding "medium fertility variant" in which total fertility rates magically converge toward 1.85 babies per woman by the end of the century.

But what if Africans just go on doing what comes natural? The correspondent points out that 10 billion is within reach under the assumption of constant fertility and mortality rates. Indeed, the UN offers a "constant fertility" table with, I believe, declining mortality due to technological advances in health care in which Sub-Saharan Africa's population in 2100 is 15,175,708,000.

Fifteen billion Sub-Saharans is really not likely to happen, but my main point is: I'm not making these numbers up. These all come from the United Nations, not me.

Also, the UN offers a super optimistic "instant replacement fertility" table in which the total fertility rate drops to replacement today and remains that for the rest of the century. Due to demographic momentum, the population of sub-Saharan Africa still grows from 969 million in 2015 to 1,237 million* in 2035 to 1,444 million* in 2050 to 1,731 million in 2100.
* He meant to write "billion" (but maybe getting nervous).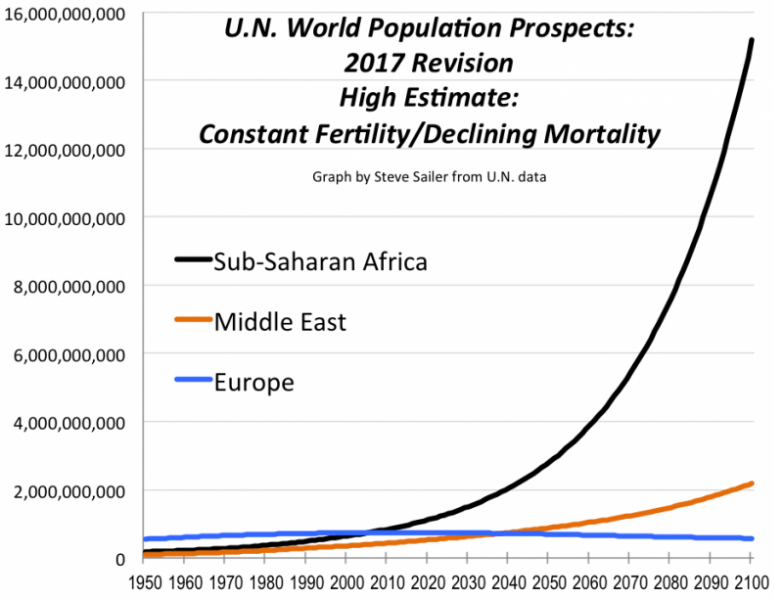 It's easy to get blinded like a deer in the headlights by something like this. Take it to heart as a massive weapon that can be used against us, but don't lose site of who's taking the aim, the array of "equipment" (other people besides blacks) that they deploy and just how mean they are in doing it. Don't be distracted into thinking they are on our side: Look under the dress -
We'll provide this example and then treat this as an ongoing roller, as we say, to monitor just what the Unz Review is up to in its chutzpah. Have a closer look again at this first: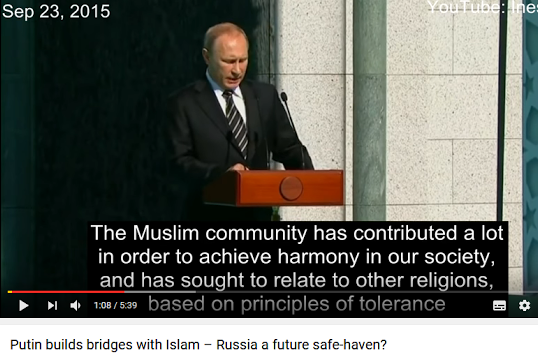 Unz Review, 19 June 2017: "Russia and Islam: Connecting the Dots and Discerning the Future"

Russia only has an observer status in the Organization of Islamic Cooperation (OIC) due to the fact that she is not a majority Muslim country. Russia is also a member of the Shanghai Cooperation Organization (SCO) which brings together China, Kazakhstan , Kyrgyzstan , Russia , Tajikistan , Uzbekistan , India and Pakistan. Let's look at the approximate number of Muslims in the SCO countries: China 40,000,000 , Kazakhstan 9,000,000, Kyrgyzstan 5,000,000, Russia 10,000,000, Tajikistan 6,000,000 , Uzbekistan 26,000,000, India 180,000,000, Pakistan 195,000,000. That's a grand total of 471 million Muslims.



Add to this figure the 75'000'000 Iranians which will join the SCO in the near future (bringing the grand total to 546'000'000) and you will see this stunning contrast: while the West has more or less declared war in 1.8 billion Muslims, Russia has quietly forged an alliance with just over half a billion Muslims!

Russian nationalists (as opposed to Russian patriots) did try their best to infect Russia with her own brand of Islamophobia, but that movement was defeated by an absolutely uncompromising stance by Vladimir Putin himself who went as far as stating that:

I need to say that, as I have repeated many times before, from its beginning Russia had formed as a multiconfessional and multiethnic state. You are aware that we practice Eastern Christianity called Orthodoxy. And some theorists of religion say that Orthodoxy is in many ways closer to Islam than to Catholicism. I don't want to evaluate how true this statement is, but in general the coexistence of these main religions was carried out in Russia for many centuries. Over the centuries we have developed a specific culture of interaction, that might be somewhat forgotten in the last few decades. We should now recall those our national roots."

Clearly, as long as Putin and those who support him remain in power, Islamophobia will have no future whatsoever in Russia. [...] Russia will have to become the place where the Islamophobic myths will debunked and a different, truly multi-cultural, multi-religious and multi-ethnic civilizational model offered as an alternative to the monolithic Hegemony dominating the world today.

Modern secularist ideologies have given mankind nothing except violence, oppression, wars and even genocides. It is high time to kick them into the trash heaps of history were they belong…

Ah yes, "Russia and Islam: Connecting the Dots and Discerning the Future" ... connecting the dots…Islam and Russia, the blood, bread and s/oil resource behind Israel/Judaism, they'll protect us from "Islamophobia" ....they have given us nothing but peace ...and Christianity will keep us real, protect us from violence. ...let us pray together (not think together).
Do you believe this stuff is being circulated flagrantly among the Alternative Right!?!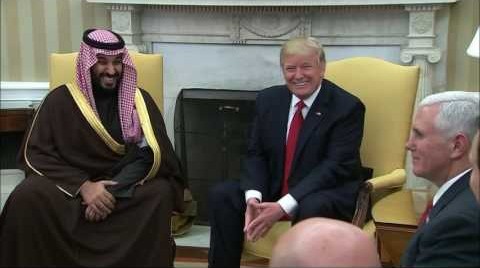 Trump the great deal -maker not.
It means that Trump has helped to make matters much worse by encouraging Saudi Arabia's King Salman to elevate his 31-year-old son Mohammed bin Salman to first in line to the throne - in a "dramatic reordering of the kingdom's line of succession that will have far-reaching consequences for the key US ally and the Middle East as a whole."...
CNN, "What Saudi Arabia's royal reshuffle means for the world", 21 June 2017:

What does it mean for the US?

The key US priorities in the Middle East are stability and predictability, and the appointment of the relatively inexperienced Mohammed bin Salman is undoubtedly a shift away from that.

As defense minister, the prince has taken a hard line with Qatar, Iran and Yemen—and the US should expect to find itself increasingly caught up in the ebb and flow of the region's ever-increasing political tensions.

The current diplomatic crisis between the Saudis and Qatar—Riyadh is trying to isolate Doha over claims that the latter supports terrorism—is a study in diplomatic tightrope-walking for the US.

Washington is publicly backing the Saudis over the spat—which has been led on the Saudi side by the new crown prince—while at the same time maintaining its large military base in Qatar.

Now, with a more gung-ho crown prince set to take charge, it is fair to assume that the Saudis will double down on its hardline positions on Qatar, Iran and the Yemen conflict.

What does it mean for Qatar?

In the short term, it's hard to tell. The message to Qatar is clear: Expect more of the same. Mohammed bin Salman's appointment means that the hard line taken by the Saudis is here to stay—and that no older, wiser voices are going to swoop in and moderate the stance any time soon.

What does it mean for Iran?

The move will further destabilize an already dangerously unstable situation.

Earlier in June, the Iranians pointed the finger at Saudi for a terror attack in their capital, Tehran. They then used this as a reason to fire missiles into Syria—a shot across the proverbial Saudi bow.

Tension between the two has been slowly building recently, and Mohammed bin Salman has taken a hard line against Iran. "We are a primary target for the Iranian regime," he said in one recent interview. "We won't wait for the battle to be in Saudi Arabia. Instead, we'll work so that the battle is for them in Iran."

Again, without more experienced voices around him, the new crown prince will feel emboldened to pursue his vision of a larger Sunni alliance, in which Saudi Arabia is the unchallenged leading power in the Middle East. This could lead to a dangerous miscalculation.

What does it mean for the Yemen conflict?

This is a conflict that Mohammed bin Salman has played a large part in—assisting the Yemeni forces in fighting off Iranian-backed Houthi rebels. In some respects, it is his war and he has to see it through.

But this is more than about saving face; Saudi stability is linked to Yemeni stability and, for that reason, the kingdom needs to continue supporting Yemen.

The brutal reality is that the conflict in Yemen is an Iran-Saudi proxy war, and the new crown prince one of its architects. It is not going to be solved through diplomacy any time soon.

Will the new crown prince loosen up Saudi's conservative culture?

Forget about the monarchy lifting the ban on women driving any time soon. That will happen on the Saudis' time frame—regardless of international pressure to change the law—and whatever they say, it is not a priority. One day it will arrive, but it's not coming fast.

Alt-Right and Zero-Hedge are reporting this evacuation as having been allowed by The US Military. ZOG being what it is, it is not inconceivable that they would allow them to escape and leave them well equipped.
However, given that Alt-Right and Zero-Hedge are effectively organs of Russian Active Measures at this point, neither can we simply take their word for it as if presenting the whole truth and nothing but… as if The Russian Federation's hands are clean in this.
Reports from a year ago highlighted the accusation that Isil was allowed to leave from Mosul unmolested to go to Syria for another stab at another phase of "Clean Break" implementation - against al-Assad in that case.
They cite the "anti-Russian newspaper, The Guardian":
"An anonymous source claiming to a Russian newspaper something as conspiratorial as the U.S. directly aiding ISIS militants may seem a dubious, but since the offensive was launched on Monday of this week, this has been the reality on the ground."

"According to Army Lieutenant General Talib Shaghati, as reported by anti-Russian newspaper, the Guardian, ISIS militants are already fleeing Mosul to Syria. This was further confirmed by the Saudi foreign minister, Adel al-Jubeir, who said that if ISIS were forced out of Mosul, they would likely go on to Syria."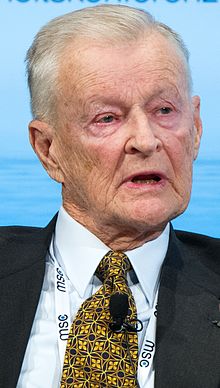 Zbigniew Brzezinski, whose "great chess game" thinking was behind some of the better geo-strategy that Obama and other Presidents are given credit for, has died. Unfortunately, it is a wisdom and judgment not in evidence in Trump - at all - whatever check and balance to Israeli influence that Obama had put in place through Brzezinski's coaching has been purged.
Obama was frequently given credit for resisting Israeli wishes - notably to go against the Iran Deal. But it would have been under the literal advice of Zbigniew Brzezinski to get behind the Iran Deal. The deal was perfect for the power of business interests to exercise its liberalizing effect not only for Iran, but against an eminently dangerous US comlicitness with Israeli-Russian Federation hegemony; along with complicitness to Islamic compradors and abetment of terror.
Say what you want about a cold war mindset, it taught western strategists to look at the Russian Federation and to not be naive about it.
The Russian Federation is not an ethno-state, and like the US, where it is not entirely mixed-up with Jewish interests, it is subject to right wing reactionary and imperialist politics.
The Alt-Right belatedly, grudgingly, acknowledges Jewish power and influence interwoven with not only Trump, but the Kremlin and Putin - it has even been forced to see the quid pro quo that Kumiko diagnosed - "support Israel and your Alt-Right can have backing - its a deal" - however, like David Duke, it will do anything but lay blame on its part for making these deals - what it will not see is the right wing shabbos goyim aspect of right wingers doing what right wingers do - blinding (themselves or others, depending) to their people's broad interests and selling them out for their narrow interests - including selling out in deals with Jews. Clearly the right does not have Israeli interests under control. It does not have and will not allow the concept that would do it. That would mean having to acknowledge what fuck-ups they are, how inane their concept, how typical that they would put Trump in power, blinding to the obvious, deal making, shaking hands with their fellow enemies of ethnonationalism.
They're ok with blaming Jews - and if Kumiko is able to force them to admit to a deal having been offered to them, they might even acknowledge it, almost acknowledge that they took the deal - so long as their masters allow them to lay blame on the "bad" Jews (not the "good ones" du jour); but they will not lay blame on the inherent defect of their right wing platform (heck, their Jewish masters wouldn't allow it), let alone specify the fact that for its inherent instability its adherents are bound to do it again; let alone will they call attention to the fact that they are using and being used for the supremacist, imperialist interests of Israel, its diaspora, its cohorts, the US, the Russian Federation ...add Turkey, Saudi and others to that equation.
If Jews say Asians and Asian ethnonationalism are the enemy, and a Judeo-Christian West is the answer to 'radical' Islam, black and mestizo population imposition, it's a deal for them. Our Asian friends are on notice, we true ethno-nationalists, including White Left nationalism, stand apart from the perfidy and the complicitness of the Alt-Right.
Gary tax Asia to pay for black Welfare Cohn and Steve put the goyim to work Mnuchin

"Trump officials stage full-court press for tax plan"

The Trump administration on Thursday began a full-court press aimed at generating momentum for President Trump's tax reform plan.

(((...)))

The Trump administration also made efforts to rally support from influential conservatives. Mnuchin and White House economic adviser Gary Cohn on Thursday met with groups such as Americans for Prosperity (AFP), a group backed by the Republican mega-donors Charles and David Koch.

(((...)))


The White House's plan came in the form of one-page overview, and set down some significant markers, including lowering the top individual rate from 39.6 percent to 35 percent and the corporate tax rate from 35 percent to 15 percent.

(((...)))

Businesses have been excited about the prospects for tax reform since Trump was elected, and groups overall were pleased to see a plan that proposed lower rates for businesses and a move to a "territorial" system that doesn't tax U.S. companies foreign earnings.
(((...)))
We can be sure these tax proposals are going to run contrary to Jewish interests and their complicit, predatory right wing interests (of course not).
(((...)))
In fact, Gary Cohn's tax program is going to tax Asia in order to pay for American blacks ..and even to pay for all America's SSD and SSI, which America's wealthy should be paying their fair share for (either that, or have Americans come to terms with who they don't want to live with and be bothered by).
Kumiko, "A view of Brexit from Asia: Britain as a Pacific trading power in the 21st century", 6 Mar 2017:

I mean let's be real, the Americans just somehow non-ironically elected a guy who came out with a speech 120 hours ago where he advocated what? This hilarious list:

a. 54 billion more drunkenly spent on defence spending targeted at nothing,
b. 1 trillion more for infrastructure spending for inner city no-go zones which will have pitiable return on investment,
c. More o' dem social programmes for the poor baby Trayvons in Detroit who lost their jobs – despite them never having had a job – to the allegedly 'bad bad' people in Manila or 'bad bad' people in Ho Chi Minh City who are apparently 'ripping' you, because why? Because of course. Apparently according to Hunter Wallace, African-Americans are now more valuable to the Alt-Right than trade with Asian states is, so what the hell.
d. Free cash-money for Israel. Because Trump just loves Israel. Because his family is married into it. All of them will continue to studiously ignore that tendency.

So there I was, watching that mortifying clown-car of super-horrible policies unpacking itself into the international arena and I was asking – while I was drinking white rum directly from the bottle – a single question. Only one question.

"But Bernie—I mean, Trump, how are you planning to actually pay for any of this stuff, fam?"

The answer arrived shortly thereafter! The 'answer' is apparently:

a. Doubling-down on protectionist tariffs and incoherent 'buy American' sloganeering to socially reinforce it, a move which depends on the absurd and not-ever-happening idea that Asian economies will passively allow the United States to subject them to a tariff regime designed by Gary Cohn since certain commodities stocks have spiked up since 09 November 2016, and maybe if the markets reorder themselves around that, those positions can continue to grow. People can make instruments which tap into that expansion, and then people and the state itself can borrow against those instruments using some very fancy mathematical formulas to predict their performance. Detroit and other Rust Belt disaster zones will somehow magically be rebuilt, and the African-Americans will somehow crank out billions of widgets while somehow not being at all socially-dysfunctional, so that all of the big spending will totally somehow pay for itself. The formulas may or may not have documentation associated with them. The formulas may or may not even be based in any kind of rational thought. Your children can then repay the money to Goldman Sachs about 35 years from now. And all of that is to be done so that the allegedly heroic America can finally defeat the allegedly undead East Asia.

Wow, right? Really very much wow. I mean the whole Trump-style plan has literally never failed before except for like every single time ever.

I guess you could say that I disagree with the Israel-backed Trumpist manchild plan, because my geopolitical stances are all anti-Semitic in one way or another. You could say that I disagree with the Israel-backed Trumpist manchild plan because I am of course an Asian woman, which is another factor that makes me very scary and perhaps 'evil'.
Financial Samurai, "Maximum Taxable Income Amount For Social Security (FICA)"

Uncle Sam The Tax ManFICA stands for Federal Insurance Contributions Act and consists of a Social Security tax and a Medicare tax. This tax is very important for everyone to understand because so often we only think about federal tax rates and state income tax rates. The FICA tax is a big percentage of your total tax bill, especially for those making under six figures a year.

When I was making big bucks in finance, the tax bill was equally big bucks. The only saving grace was seeing my after tax paycheck increase after the maximum taxable income threshold for Social Security was breached each year. The tax amounts were jolting based on how inefficient the government was and still is with regards to spending our money.

For 2017, the maximum amount of taxable earnings for Social Security and Medicare is $127,500. In other words, an employee must pay 6.2% of any income up to $127,500 for 2017 = $7,905. But any dollar you make above $127,500 is free of the Social Security tax. Hence, a good goal for everyone is to make as much as they can over $127,500 as possible, right?

Not so fast. Given we have a progressive tax system in America with Alternative Minimum Tax (AMT) and deduction phaseouts, I've calculated that the optimal Adjusted Gross Income is roughly $250,000, +/- $50,000. At $250,000, $131,500 of the earnings is free from the 6.2% Social Security tax. Meanwhile, you still get most of your mortgage interest deduction, and only have to pay a slight amount of AMT, depending on the person. A $250,000 income is also high enough to live relatively comfortably in any part of the world.

Some might argue that the Social Security tax is regressive because it caps out at $127,500 in 2016. Why shouldn't rich people pay more? Here's the thing people might not understand. Social Security benefits cap out based on the maximum amount of Social Security tax contribution as well. It's not like someone who is making $500,000, and not having to pay the 6.2% Social Security tax on $381,500 of his earnings is getting extra benefits based off his $500,000 income. He's just getting the maximum Social Security payout amount when it comes time for him to collect based on the maximum taxable income amount he contributes.

The $500,000 income earner is already paying the highest marginal federal tax rate of 39.6% plus state taxes, if applicable.