Majorityrights News > Category: Compradors
"Miss Grand Myanmar", Shwe Eain Si, has been stripped of her title just days before she was due to compete in a leading international beauty pageant by organizers Miss Grand International. The nineteen year old had released a video statement in which she basically told the truth about the cause of the crisis in Rakhine State - Mancinblack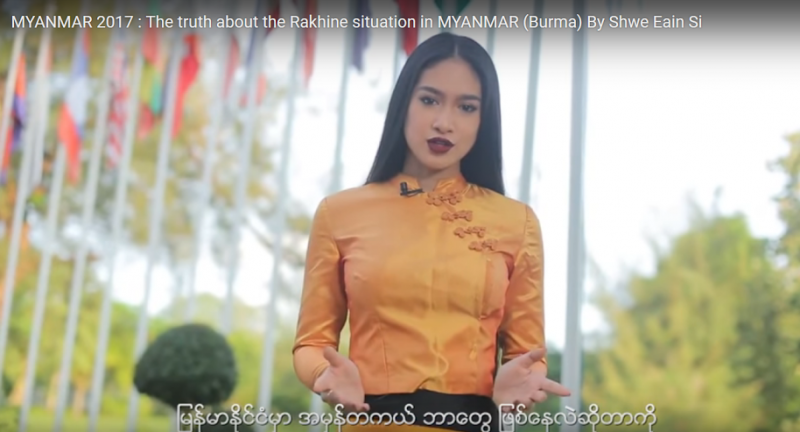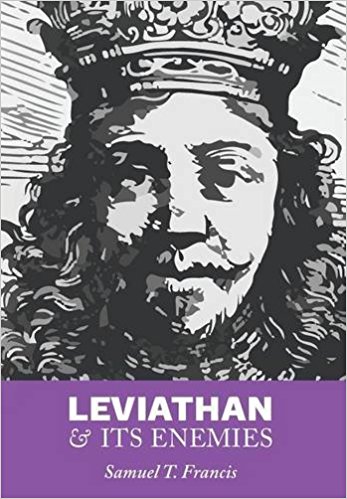 Sam Francis was creating 'young fogies' - Alex Linder.
It's going to require some nuance, but it is important to explain why James Lawrence is a walking piece of dog shit masquerading as a human being, a manifestation shown in his article at (((Alternative Right))):
Alternative Right, "THE COSMOPOLITAN CLASS", 24 Sept 2017.
In brief, James Lawrence has elevated Sam Francis young fogeyism = an aspiration to conceive of oneself as precociously wry in protection of the "traditional" already Jew infested culture against "progressivism." This is anti modernism without being sufficiently post modern (to incorporate the best while leaving behind the worst of both modern and inherited ways), as it stops with a neo-traditionalism, read (((paleoconservatism))).
Now, Francis, and by proxy Lawrence, have some things right.
Namely, that there is a significant portion of influential White people circulating among our elite functions who do not have our ethnonational interests at heart. More, that there is a managerial elite who want to share in this self interested good fortune, who will thus also betray ethno nationals in order to gain favor of this elite, internationalist power.
It is also true that both these kinds of White people can gain international backing by importing foreigners against Whites (or exporting elitist interests, e.g., compradors, against ethnonationals) and they can and do also virtue signal by sacrificing Whites and quelling any backlash against foreign impositions on ethnonationalism.
But I more accurately and descriptively call these people right wingers, and their underpinning objectivism: which is directed by Jewry - hence, Lawrence's commitment to end his article in (((his masters))) bidding by espousing the "true right" on behalf of (((paleoconservatism))) against "the left"..."the Cosmopolitans" and the occasional bad Jew - yes, they have bad ones too, he knows.
Here Lawrence takes a turn into disingenuous speculation, by saying these Whites who betray eithnonationalism are not "traitors" - well, objectivists are not perfectly described as "traitors", true - they are loyal to their own subjective interests through a disingenuous pretense of objectivism or naively subject to the subjective/relative interests of others through the pretense of objectivism.
Although there are distinct patterns of the treacherous Whites among elite positions, there is not necessarily a well organized elite group to which they subscribe as Lawrence would provide for the diversion of conspiracy theorists - it is more facile than that.
Indeed, the only real reason to circumscribe it so perfectly with the designation of a "Cosmopoitain" elite which is strictly loyal to its in group, is to function as a tool for Jews to deflect attention away from what is indeed their more organized half of the elite internationalist equation. So that they can point to their (((paleocons))), who can say, "see? we are the good ones", we have paleocons who are on your side, not like those bad Jews, we're here with you to protect your (((Christian traditions))) against those "Cosmopolitan elites" and the occasional bad Jew, like Soros and neo cons like William Kristol.
That is to say, like the site Alternative Right, James Lawrence is disguising, perhaps even to himself, the fact that he is kissing Jewish ass in order to keep his means to power afloat.
White elites who betray our interests are indeed one giant pole of our problem, but their loyalty functions a bit more arbitrarily on the happenstance of subjective fortune and selling out; along with the mutual admiration and facile croneyism of their "objective" attainment, which is why, in their unaccountabilty, they are so easily bribed and outmaneuvered by the Jewish group, which is organized as a distinct group in its relative interests (is it good for Jews?) and which will send forth posers as representatives of (((paleoconservatism))) against the "Cosmopolitan" elite.
That is to say, objectivism functions in a much more slippery way against ethnonational interests and Jewry knows how to play it - e.g., through reactionary narratives like those of Sam Francis and James Lawrence. It is a nebulous, quasi group created de facto by the ever present temptation of facile betrayal in self interest, and that is why it requires the ever present default vigilance of accountability through left nationalism and its White variant, the White class, White Left nationalism.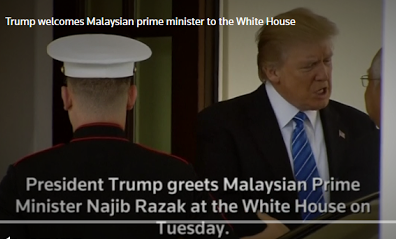 The YKW and right wing collude with Islam.
Malaysian Prime Minister Najib Razak is the comprador of compradors.
In what is going on a decade of the got-up (((paleoconservatism)) of the ((("alt-right"))), one of the key reasons its Jewish conception has fashioned "the left" as the grand-enemy is because left nationalism, its syndicalism, is a grand adversary of Abrahamism - especially the Islamic variant, a universalizing credo which prohibits ethnonational unionizations. Islam, as instituted by comprador imams, functions thereby as feudalist thuggery on behalf of Jewry and complicit right wingers - who make deals with the Islamic comprador (a middleman slave driver/enforcer upon the local population, killing them where they interfere) to exploit the labor and resources of would-be sovereign ethnostates.
Reuters, "Trump, Malaysia's Najib skirt round U.S. probe into 1MDB scandal", 12 Sept 2017:

WASHINGTON (Reuters) - U.S. President Donald Trump welcomed Malaysian Prime Minister Najib Razak to the White House on Tuesday, praising his country for investing in the United States while steering clear of an American investigation into a Malaysian corruption scandal.

The visit is important for Najib, who faces elections next year and wants to signal he is still welcome at the White House despite a criminal probe by the U.S. Justice Department into a state fund called 1Malaysia Development Berhad (1MDB).

Flanked by top advisers in the Cabinet Room, Najib told Trump that Malaysia Airlines would buy 25 Boeing 737 jets and eight 787 Dreamliners, and would probably add another 25 737s in the near future - a deal he said would be worth more than $10 billion within five years.

Najib said Malaysia's Employees Provident Fund, a major pension fund, wanted to spend $3 billion to $4 billion on U.S. infrastructure development.

Najib enjoyed close ties with Trump's predecessor, Barack Obama, playing golf in Hawaii in 2014, but relations cooled over human rights issues as well as the 1MDB scandal.

Najib founded the fund, which is facing money laundering probes in at least six countries including the United States, Switzerland and Singapore. He denies wrongdoing.

The U.S. Justice Department has said more than $4.5 billion was misappropriated from 1MDB by high-level officials of the fund and their associates, according to dozens of civil lawsuits it filed last year.

The Justice Department sued to seize some $1.7 billion in assets it said were bought with misappropriated 1MDB funds, but asked for a stay on its civil lawsuits in August because it was conducting a related criminal probe.

The White House had said it would not comment on the Justice Department investigation but a senior U.S. official acknowledged it was unusual to meet with Najib while 1MDB was under regulatory scrutiny.

"It's a weird situation, no doubt," the official said, explaining that the administration has prioritized developing relations with Southeast Asia to counter "huge gains" China has made in the region.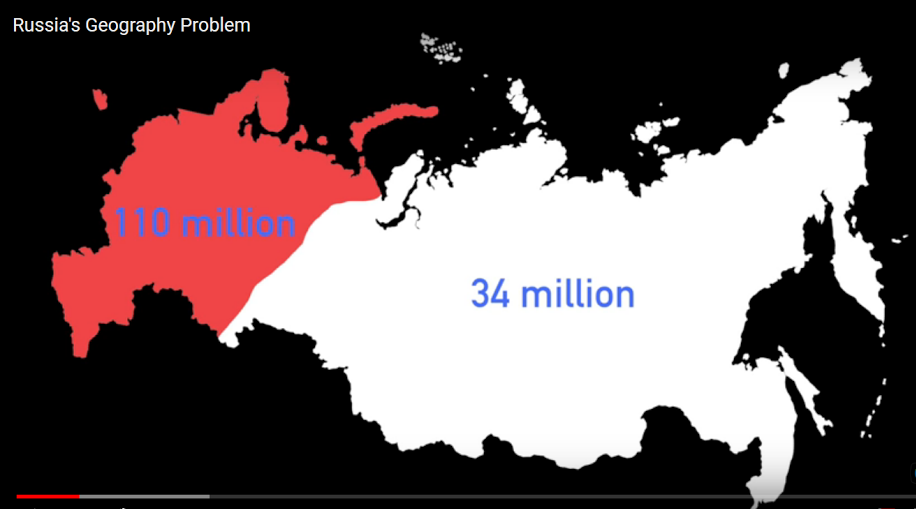 Related Story: European & Asian Regional Alliance
It is a playbook prescribing Islamic conquest that translates directly to that or your rape, brutalization and death. Ultimately it is kill or be killed unless they back-off of their religion for real.
Newscom.au, "Myanmar: Whole villages destroyed as satellite spots devastation from above", 4 Sept 2017

GRAPHIC details are filtering through of violent massacres in towns that have been cut off from the modern day world. WARNING: Graphic.

A SATELLITE map has unearthed the charred remains of entire communities as terrified residents claim they are the targets of a new-world genocide.

"Some people were beheaded, and many were cut. We were in the house hiding when [armed residents from a neighbouring village] were beheading people. When we saw that, we just ran out the back of the house," said Sultan Ahmed, a 27-year-old man from the former Chut Pyin village in Myanmar.

Sultan is among a group of 1.1 million Rohingya Muslims that are often described as "the world's most persecuted minority".

Rohingya people have lived for centuries in the western state of Rakhine, in Myanmar, but for decades have been persecuted by the Myanmar government. They are not considered among the country's 135 official ethnic groups. The country has even denied them citizenship since 1982 and the state is one of the poorest in the country.

On August 27, it is alleged Myanmar state security forces and local armed-residents committed mass killings of Rohingya Muslim men, women and children. The military unleashed what it called "clearance operations". Myanmar's army chief justified the slaughter as "unfinished business".

"We haven't eaten in 4 days," says Rohingya Muslim woman refugee.

"The killing spree lasted for approximately 5 hours - from 2 to 7pm" reported Fortify Rights.

More than 2600 villages were burned down throughout the state. It is becoming one of the "deadliest bouts of violence involving the Muslim minority in decades", according to Reuters.

The violence — and ensuing exodus — saw survivors bringing with them harrowing tales of rape and murder at the hands of the military and Buddhist mobs.

"Some are gaunt and spent, already starving and carrying listless and dehydrated babies, with many miles to go," read the New York Times on the new crisis facing the modern world.

It's a result not helped by the silence of Nobel Peace Prize laureate Aung San Suu Kyi, accused by Western critics of failing to support the Muslim minority that has long complained of persecution.

"The military came with 200 people to the village and started fires ... All the houses in my village are already destroyed. If we go back there and the army sees us, they will shoot," Jalal Ahmed, 60, who arrived in Bangladesh last week with a group of about 3,000 after walking for almost a week, told Reuters.

Liberty GB applies some sensible advice on the matter of compassion and moderate Islam:
LibertyGB, "Tooth-to-Tail Ratio, or the Illusion of the Moderate Muslim Majority", by Frank Phillips, 9 Sep 2017:

I would like to add my thoughts on the "majority of Muslims are peaceful" claim, and explain why it is pure fantasy.

1. TINY TEAM WINS, LARGE CROWD LOSES

All of us have heard, although in a different context, that it is not size that matters, but technique. Snicker as much as you like, but that is actually true. A lioness cannot match a buffalo in one-on-one combat, and a pride of lionesses is certainly outnumbered and 'outhorned' (outgunned) by a herd of buffalos. So how can they win despite these odds; how can 5-6 lionesses disrupt 50-60 buffalos to hunt down the one buffalo they want to seize?

Because the buffalos are just a crowd, but the lionesses are a team. Victory is achieved not by a large but otherwise loitering and incoherent crowd, but by a core-sized, action-oriented and coherent team.

2. THE TOOTH-TO-TAIL RATIO

This expression refers to the number of warriors who do the fighting, and the number of caretakers who sustain warriors so they can do the fighting. Hence, they are called combat troops and combat service support troops, respectively.

If you have no military experience, don't panic, just pay attention!

A warrior needs ammunition, water, food, clothing, shelter and medicine. Fail to provide him the aforementioned items, and he will stand there empty-handed, dehydrated, hungry, shivering, exposed and sick, and ultimately he will die or surrender. Succeed in providing him these items, and he will sustain his function: fighting.

Or think of a football player. While it is true that the player does the 'fighting', he is supported by doctors, nutrition experts, fitness trainers, contract lawyers, financial advisors etc. to ensure his top-notch performance.

Or think of a novelist. While he does the 'fighting' for sure, there are typists, editors, travel agents, accountants etc. who keep him on the roll.

The football player and novelist are combat troops: the tooth. The others are the combat service support troops: the tail.

As you can see, the tooth is always significantly smaller than the tail. And while it is the tooth that bites into you, his bite would not be a reality without the tail sustaining the sharp and pointy status of the tooth.

3. WARRIORS IN THE COMMUNITY, OR THE INSURMOUNTABLE 15%

The tooth-to-tail ratio is understood not just within the armed forces, but also in any human community, let it be a village, a region or a country.

By 1944, German forces had been pushed back to their country, and the Allies on the Western Front and the Soviets on the Eastern Front were on the verge to enter Germany. It was essential for the Third Empire to mobilize as many able-bodied men as they could to fight for survival.

At that time, Germany had about 70 million residents, and the German forces had about 10 million men in arms. That is about 14% of the population, so a minority compared to the rest 86%. Why did they not set up an army of 20 or 30 million, considering the huge manpower of the Allies and the Soviet Union? 20 or 30 million are more likely to repel an invasion than 10 million. The answer is easy – they simply could not afford it.

Or think of North Korea. This country has the highest number of soldiers per capita, meaning 24 million residents and 1.2 million servicemen. That is just a 5% minority, compared to the remaining 95% of the population. Even in this case, the country is staggering on the verge of economic collapse, is kept alive only by Chinese investments, and was plagued by famine in the 1990s having caused death-by-starvation to about 2 million people.

Or think of the United States of America. This country has about 318 million residents and armed forces of about 1.3 million servicemen, thus the latter forms only about 0.4% of the population. With its involvement in as many as 160 countries (there are 200 countries on Earth), the upkeep of this tiny 0.4%, compared to the 99.6% of the population, has pushed the U.S. into sky-high debt.

This is what everybody has to understand: you can mobilize all the men you want, but who will provide weapons and food and fuel and medicine for those men if there are no workers and farmers and engineers and doctors? Nobody. Thus, your gigantic army soon will start to crumble and fall apart.

Military history and experience indicate that at any given time, a community can field and maintain no more than 10-15% of the population – they are the 'extremists' who do the fighting. Thus, you will always have at least 85% of 'moderates', i.e. average people who do not engage in extreme activities like fighting, but who, in reality, are likely to work hard to maintain the fighting capability of the 5-10-15%.

This is the reason you will never see the majority of Muslims becoming extremists and fighting the infidel – it is a physical impossibility. However, this truth also warns us that the so-called 'moderate' Muslims are not necessarily moderate because they have chosen that lifestyle, but because they cannot surmount the barrier forced upon them by mathematics and logistics (war material supply).

This was repeated by Muslim scholar Abul Ala Maududi who explained that jihad was not only combat for Allah but all efforts that helped those waging combat (qitaal):

"In the jihad in the way of Allah, active combat is not always the role on the battlefield, nor can everyone fight in the front line. Just for one single battle preparations have often to be made for decades on end and the plans deeply laid, and while only some thousands fight in the front line there are behind them millions engaged in various tasks which, though small themselves, contribute directly to the supreme effort."

4. POSITION IN POWER REVEALS YOUR TRUE FACE

"A man's character is most evident by how he treats those not in a position either to retaliate or reciprocate." Paul Eldridge.

It is easy to claim to be a moderate when you have no chance to win an open-out conflict. However, we must take a look at dozens of countries where Muslims have supreme power: there are 57 Muslim states, plus many city districts in Europe, America and Australia where they form the majority, or where they are numerous. What do we see in those places: the fair treatment of people of different religions, of the fairer sex, of dissenting opinion, or a ruthless knockdown on them?

Exactly – it is the latter attitude that prevails, without any exception. Where are those so-called moderates calling for the abolishment of Sharia (the law of Islam)? Nowhere.

This must be no surprise as survey after survey indicates that both Muslims in Muslim countries and Muslims in the West favour, either as a majority opinion or in significant numbers, the execution of apostates, honour murders, the corporal punishment of women, and other rules set by Sharia.

5. A MUSLIM LIKES THE QURAN AND THE PROPHET MOHAMMED. DUH!

"Show me the man you honour, and I will know what kind of a man you are. It shows me what your ideal of manhood is, and what kind of a man you long to be." – Thomas Carlyle

The so-called 'moderate' Muslim is still a Muslim – he believes what the Quran teaches and takes the Prophet Mohammed as his role model. He would not be a Muslim if he did not believe in those things. Duh!

Therefore, the so-called 'moderate' Muslim is not a peaceful person – if he were peaceful, he would contradict the teachings of the Quran and the actions of the Prophet Mohammed, which would be blasphemy.

So just because he does not wave a sword, roar "Allahu Akbar!" and demand the jizya, it does not mean that he is peaceful – maybe he prefers that his comrades do the dirty work for him and for the cause of Islam.

6. WE MUST WIN THE HEARTS AND MINDS OF MODERATE MUSLIMS TO BEAT RADICAL ISLAMISTS. *FACEPALM*

Did we win the hearts and minds of moderate Nazis to beat radical Nazis? Did we win the hearts and minds of moderate Communists to beat radical Communismists?

Instead of creating and using non-existing words to pussyfoot around the problem, let's face reality: A Nazi is a Nazi. Period. A Commie is a Commie. Period. A Muzzie is a Muzzie. Period.

If you lie down with dogs, you will get up with fleas. Anything else is just lazy excuse.

Taqqiyah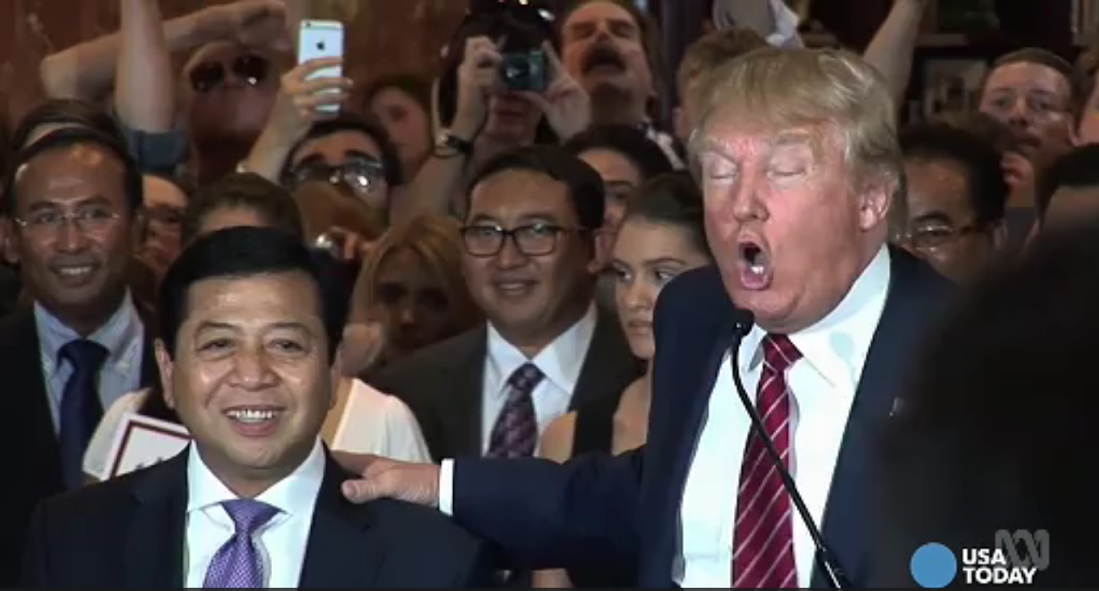 At a press conference at Trump Tower in New York to declare his loyalty to the Republican Party, Donald Trump was flanked by guests from Indonesia, and made a big show of announcing one very special guest, Setya Novanto.
"He wants it big, and overlooking the sacred Tanah-Lot."
Trump deal in Indonesia imposes Islamic compradors over ethno-nationalism and his hotel and business upon what is sacred to Indonesian ethno-nationalists.
While running for President, Trump was courting the Indonesians over lucrative resort deals in Bali and Java; and lobbying Indonesian MP's to expedite a toll road that would benefit his development.

The secretive dealings raise new questions about Trump's corporate interests abroad and about the unholy business and political alliances he's forged.

While at home, Trump rails against Muslim extremists, in the world's largest Muslim country, his allies are cozying-up to Islamists who are posing a direct threat the country's ethno-nationalism.

Donald Trump has entered into two huge deals in Indonesia, and the first of them will land here, on the southern edge of Bali almost on top of one of the Island's most sacred religious sites, Tanah Lot - an hour or two away from the main tourist areas, the Balanese have fought for decades to protect this temple and its surrounds.

"Not much is known of Trump's plans but what is known that he wants it big, the biggest in Bali he says, he wants a tower on an island that bans them, and he wants it over looking the sacred Tahan Lot."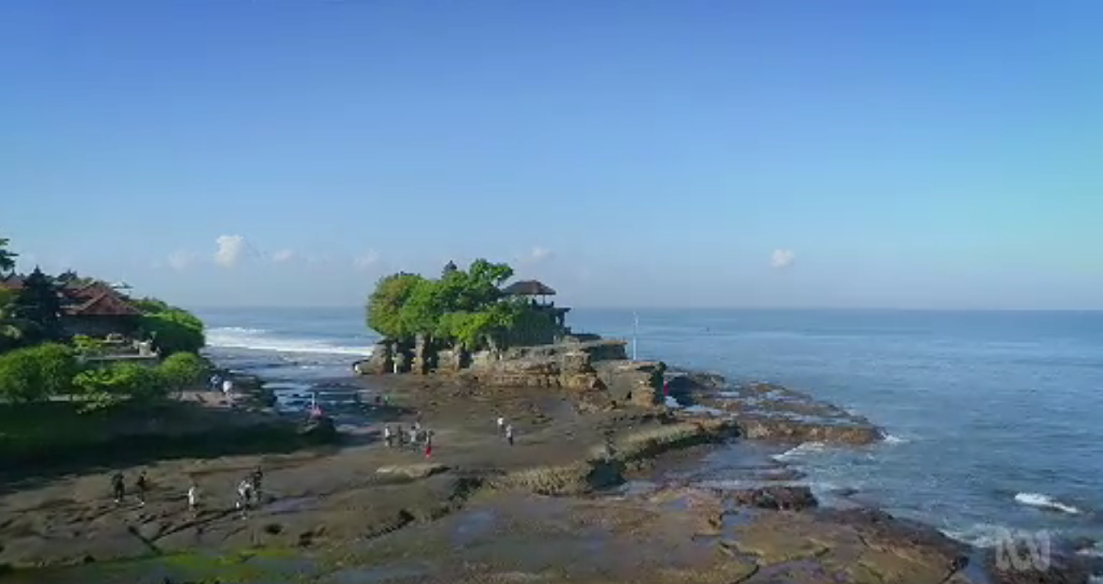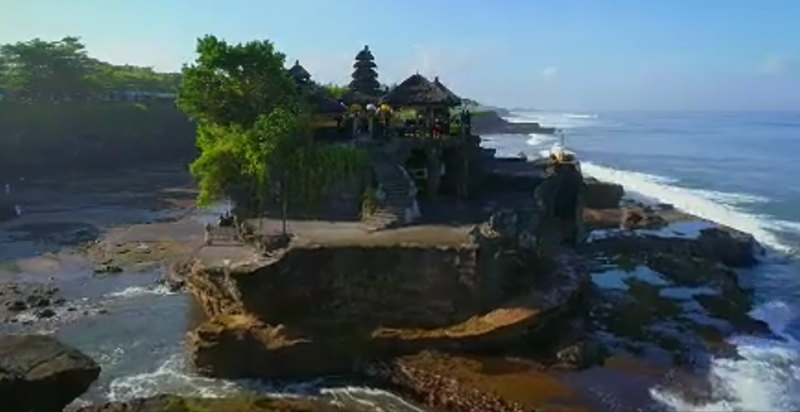 "It's one of the island-wide temples that are sacred to the Balanese, its the land, pana, and lot, which means ocean."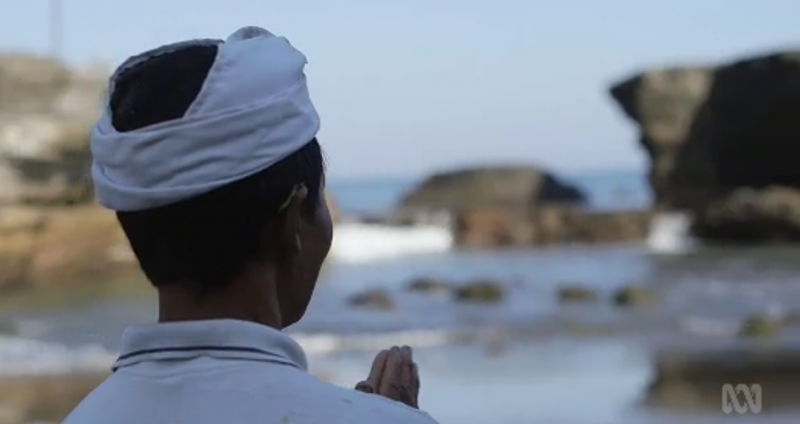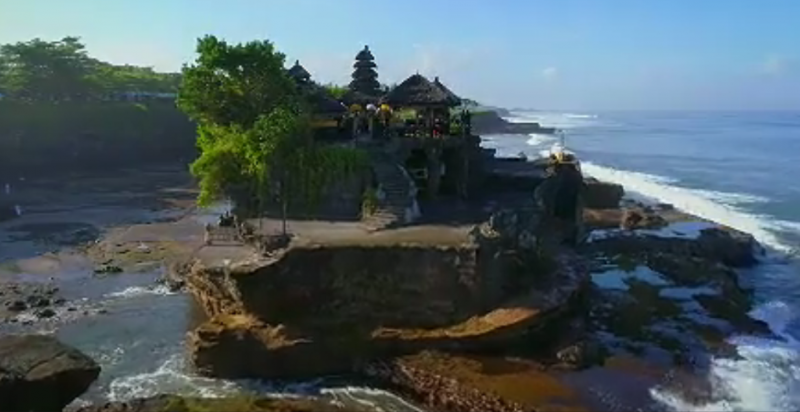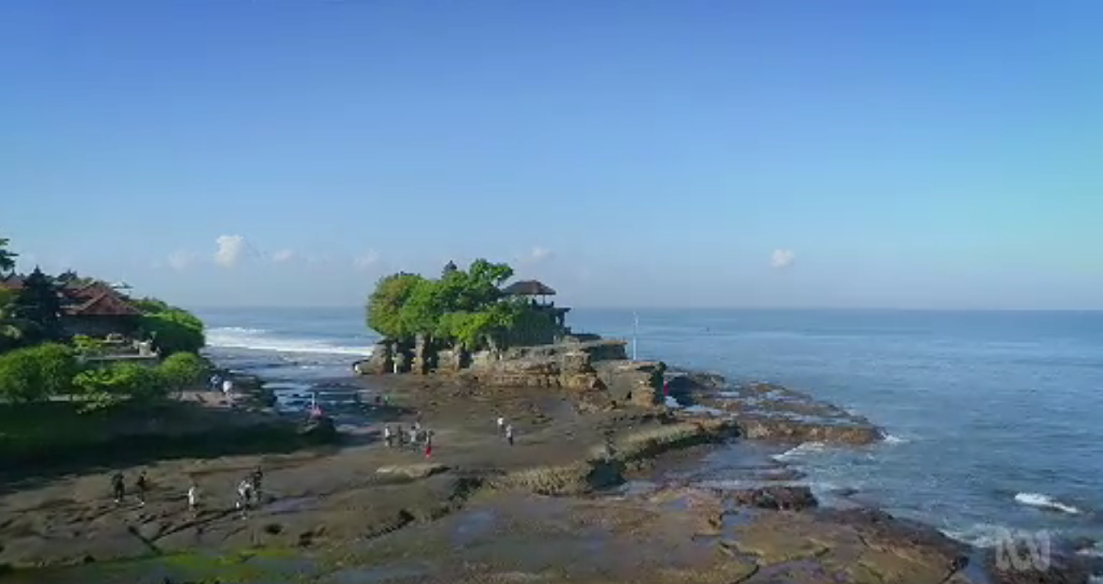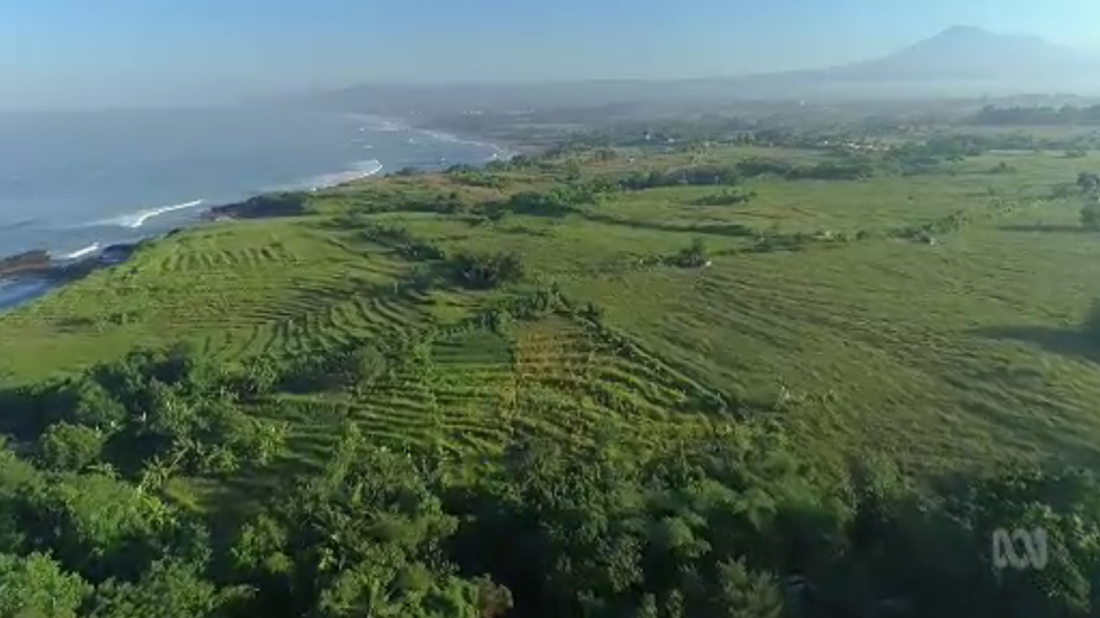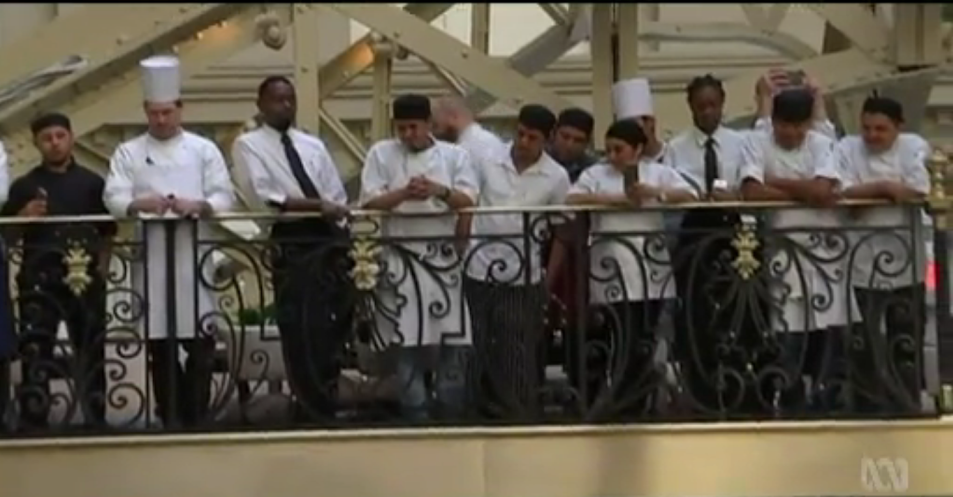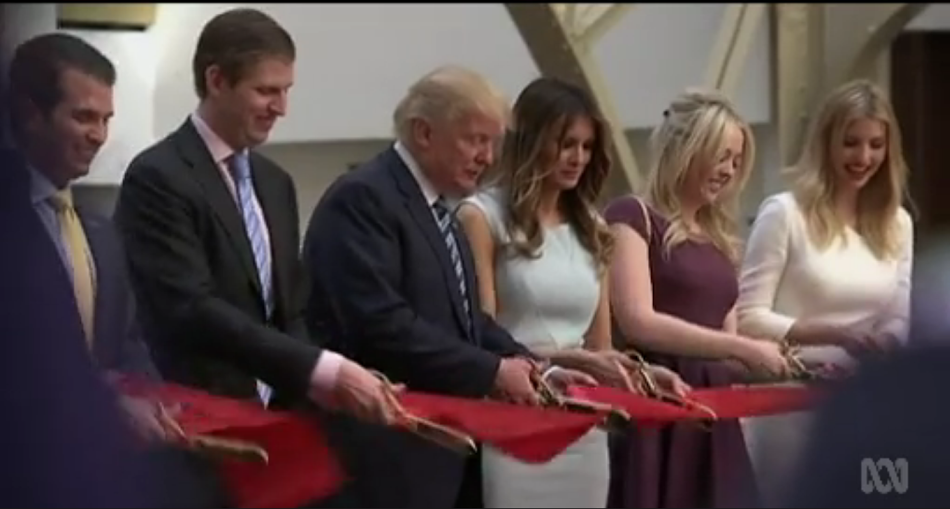 Donald Trump makes deal with Islamic compradors in Indonesia, imposing them against the native stasis of Left ethno-nationalism, and his hotel and business upon what is sacred to native ethno-nationalists.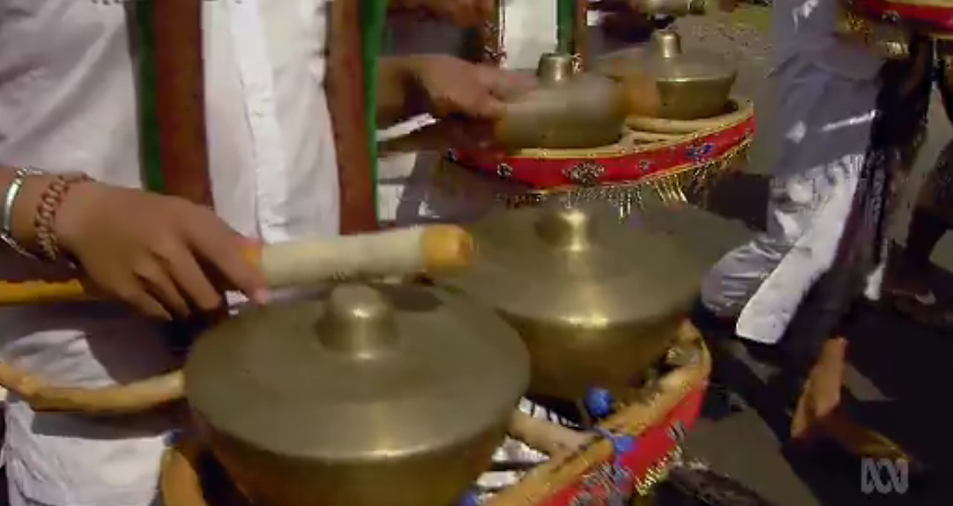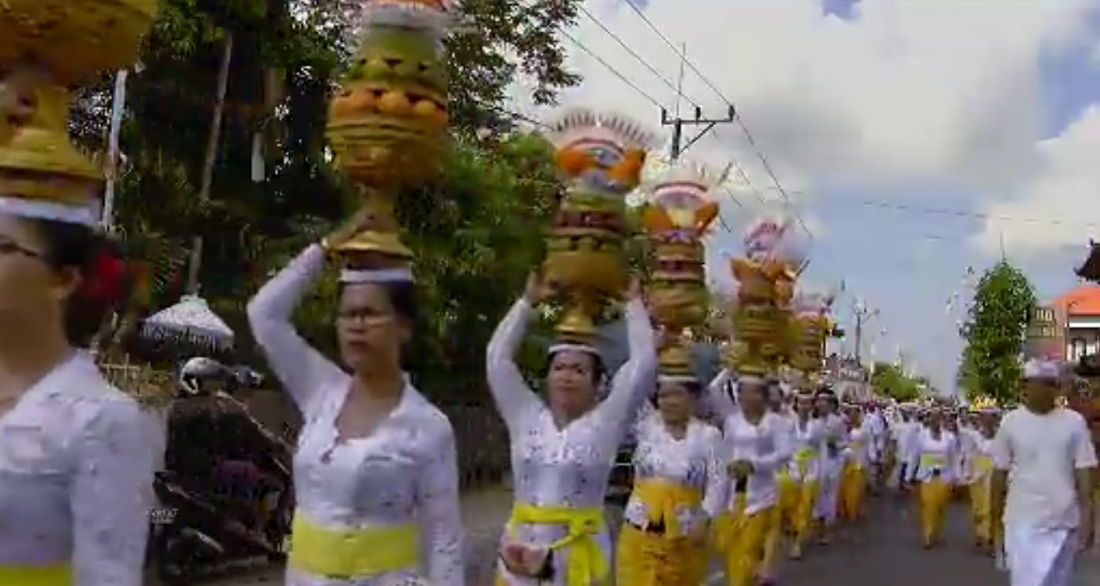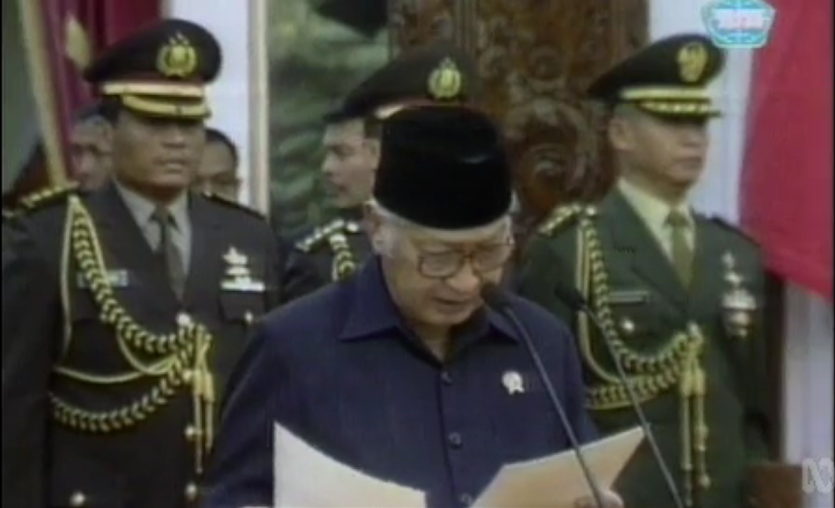 80,000 Indonesians were killed by Suharto on that beach in 1965, the victims were accused of being Leftists….
When President Suharto exited power in 1998, he took three decades of loot with him, estimated at 30 billion dollars.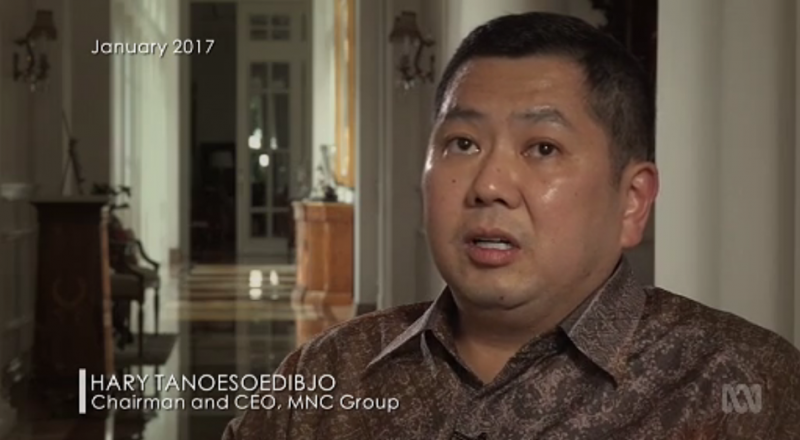 Trump's business partner in the deal, Harry Tanno, was a close friend of Suharto.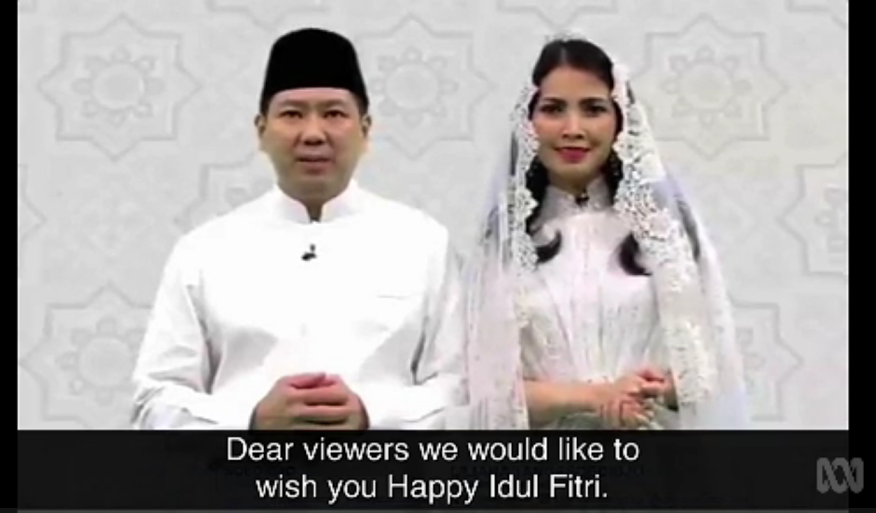 Tanno welcomes Trump and Sharia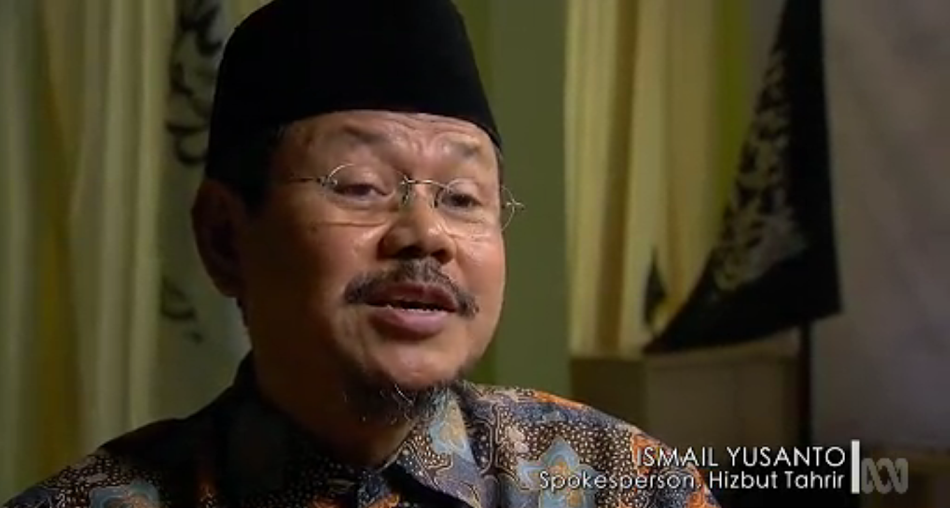 Hizb-ut-Tahrir's man is on screen talking after 37 minute mark - his appearance was the biggest thing in the whole video:
"Is it your ambition to impose Sharia Law in Indonesia?" "It is not our ambition, but our duty."
An abstract kind of wild quid pro quo white America has going on there.
All imagery and story, THE COMPANY HE KEEPS: FOUR CORNERS, 3 July 2017.
Blacks aren't natural allies of Asians and neither are Jews, with their propensity to impose Abrahamism, its liberalism, Christian submissionaries and Muslim compradors over Asians

Salon, "Donald Trump's Justice Department is fighting affirmative action for hurting white people", 2 August 2017:

Attorney General Sessions is furthering an anti-civil rights agenda by investigating affirmative action.
I'm going to begin with an unusual order in approaching this article and surrounding discussion - viz., I will begin by looking at some comments on the matter because they throw light on how the YKW are misleading and manipulating people with a concept of "the left" - not letting it be properly understood as discriminatory social unionization and coalitions thereof, but rather having it oxymoronically accepted as liberalism for all but those unionizations circumscribed and actively represented inasmuch as it is good for YKW interests - themselves stealthily behind the scenes of the unionizations, markedly of the black interests that they have represented - viz., especially as it serves to rupture the effective patterns of their perceived enemies: would-be unionized White and Asian power.
Until recently, around 2008 with the subprime mortgage crisis; and the re-branding of (((Frank Meyer's paleoconservatism))) as the "Alt-Right", the YKW had not been so ardent nor effective in getting the public to argue that THE Left was the great problem of our times.
But looking at the essence of "the left" as the YKW have permitted it to be spoken of in the public domain, what we've had is Jewish led coalitions, internationally, of Jewish interests and crony capitalist interests; and domestically, in The U.S., primarily Jewish led coalitions of Africans, sundry Mulattoes, where convenient, gays, lesbians and feminists where they might perceive a common axe to grind against White men ...at the same time these Jewish led coalitions have not been organized for sympathy or fairness to Asians interests either.
After this point, 2008, when the YKW and complicit right-wing sell outs had presided over the boom bust cycle to where they stood firmly atop, they no longer had any use for advocating left coalitions of unions against the power - because the YKW had crossed the intersection, they had become the predominant organized power. Suddenly, "the left" became the pervasive enemy. ...and in the background, only one social unionization was tolerated by them - though not called "the left" - it was, of course, the union of Jews; and it became more brazenly right wing and supremacist with regard to other peoples, seeking only to cooperate with their right wing sell outs against those who might collectively organize as leftist coalitions against their elitism, supremacism and imperialism.
Thus, Gavin Chan has been maneuvered by Jewish journalese, a disingenuous framing of discourse, into talking in terms of "THE left" being antagonistic to his interests, without recognizing that this is neither a White Left, nor an Asian Left, but Jewish organized black and other PC left that has been used to attack those who most threaten the YKW - viz. Whites and Asians - as they threaten, especially in coalition, the only social unionization that the YKW want to remain effective - their own.
Gavin Chan · Dallas, Texas
Affirmative action is in fact the biggest middle finger to Asians. But the left leaves this detail out in most affirmative action discussions because Asians don't fit into the leftist racial narrative.

Affirmative action in place to pay historical reparations, sure, but why at the expense of Asians? It's absolute bs.

It's time to end this super racist policy.
Gavin, they've given you the middle finger indeed with unions of blacks et. al, represented against you. But, where Elizabeth says..
Elizabeth Rodriguez · Ledyard, Connecticut
Sorry, but I don't think Trump and Sessions are doing this to fight for Asian rights.
...that is true, they are not. They are doing this as a part of disingenuous quid pro-quo between Jews and complicit White right/alt-right wingers. I.e., they are not doing this for a White Left nor an Asian Left, but for a system controlled by (((the invisible hand))) in cooperation with whomever will take their deals, take their side and share their enemies where they might have the nerve to organize against their supramacism and imperialism.
The proper response is to recognize that a repeal of the Consent Decrees of the 1964 Civil Right Act would help alleviate some of the pressure of active enforcement of reverse discrimination, but it does not go far enough, it is not the White and Asian unionization and necessary coalition thereof - which would constitute, in the case of America, ethno-nationalisms in diaspora.
When you criticize "the racism" of affirmative action you are, in effect, criticizing group genetic unionization, the capacity for accountability thereof and thus to discriminate necessarily in group interests - that is not necessarily the same as being unfair and impervious - and leaves us only the fall-out of a civic nation, its muddles and deleterious demographic mixing - which will be horrifically unjust and destructive to systems- a destruction imposed by cultural Marxism these last 70 years, which operates irrespective of objectivist rules such as civil rights, by whatever stealthy social organization that remains effective behind the scenes, largely YKW.
Let's focus more on the Salon article(s) now:
Some background: The Consent Decrees are effectively a scheme devised for U.S. Courts to stipulate and oversee enforcement of various concrete measures that must be taken over time to implement reverse discrimination, for all practical purposes, against White people (it eventually worked against Asians as well).
At first blush it appears to be simply good that this reverse discrimination of affirmative action might be overturned - and it really is good to an extent: at least it would repeal oversight of strict and punitive enforcement of (((Red Leftism))) and its defacto imposition of Mulatto supremacism over Whites (and Asians, Mestizos and Amerindians). It would curb the imposed liberalization of White (and Asian) boundaries in force since court decisions and consent decrees of the 50's and 60's; and make way for a return to a more generally liberal direction of civil individual rights, on the basis of civic nationalism - that, however, is always disingenuous. Who believes that the system is "objectively" backed?. What is the demographic make-up of this civic nation, where is it headed and which people have the invisible hand that is pulling the socially orchestrating strings that are not acknowledged?
Now that the demographic situation is muddled among the masses and unionized resistance appears near futile as it has been conflated for years with civic liberalism, Jewish interests are entrenched on top with the help of right wing sell outs they've bought off. They are now consistent in opposing "the left" - viz., unionized groups of people which might otherwise hold them to account. What they offer instead is civic nationalism and the mechanism of civil rights with no account to systemic backing other than the invisible hand that they, the YKW, and to some extent complicit right wing sell outs, control.
The initial financial boosters of the Trump administration, the people who made Trump's presidency possible, are Robert Mercer and his daughter Rebekah. They fall into the complicit with Jews category, at best, they work things out with Jews. Witness their having put Judeo-Christian Steve Bannon (who believes "the dark frorces of the far east are the greatest threat to Western civilization) in charge of the Trump campaign as a condition of their backing. Nevertheless, Robert has long been an opponent of the 1964 Civil Rights Act; and Sessions has obviously been tasked to set about deconstructing the 1964 Civil Rights Act; he was installed along with Bannon into the Trump administration apparently in large part with that aim.
Rebekah and her father Robert Mercer

NPR, 22 March 2017: "Jane Mayer - Dark Money: The Hidden History of the Billionaires Behind the Rise of the Radical Right."

Jane Mayer writes in the New Yorker about Robert Mercer and his daughter, Rebekah Mercer, who have poured millions of dollars into Breitbart News, and who pushed to have Bannon run Trump's campaign. Robert and daughter Rebekah's dark money is behind Bannon, Sessions,.. they were behind Flynn as well, would have been for Cruz, Bolton, almost anything but the Clintons.
Robert Mercer's Opinions on 1964 Civil Rights Act:

According to a March 2017 New Yorker article by investigative journalist Jane Mayer, David Magerman, a former Renaissance employee, said that Mercer called the Civil Rights Act of 1964, the landmark federal statute arising from the civil rights movement of the 1960s, a "major mistake." According to Magerman, Mercer said that African Americans were economically better off before the civil rights movement, that white racists no longer existed in the United States and that the only racists remaining were African American. Mercer vigorously denies being a white supremacist.
It remains true that White people, including 'lower class White people" NEVER needed such black unions having their interests imposed upon them, as they were imposed by Jewish legalists, right wing sell outs and liberal stooges.
Thus, a repeal of the Consent Decrees could relieve Whites some - but only after untold damage has already been done to human biological systems and the demographic situation is hideously muddled and swamped - leaving the only one apparent way out in systemic support - through dealing with the YKW: an option that right wing sell outs and the Alternative Right have already exercised.
While they may have some problems with blacks that they may not want to own up to, but would rather look upon as the unfairness of affirmative action according to pure objectivist criteria and civic nationalism, none of these people behind and in the Trump administration have any great affection for Asians either. None of these people are anti-Semitic. The circumstance has all the hallmarks of a continued program of collaboration of elite and Zionist Jewry and right wing sell-out Whites: i.e., now that these folks are on top of the seven power niches, who needs left coalitions, unions of people discriminating in their interests? Especially not against Jewish supremaicism and elitist right wing interests.
The YKW, you see, are the only systemic union allowed in the end, by the cause of Red Leftism. Ever since around 2008 "the left" has been popularized as the great villain by the YKW in power - largely by means of the popularization of the (((paleoconservative underpinned))) Alternative Right.
But, in a word, the liberalism that they offer - even if they would repeal the Consent Decrees (which they will probably not succeed in implementing to any great effect for White interests free of Jewish instigation of pan mixia) - does not go nearly far enough: Systemic White interests need to be unionized such as to afford discriminatory accountability in the interests of our social capital - that is what is called an ethno-nation - and it must exclude the YKW from any pretense that they are White as well. Jews being considered "White" and a part of "Western Civilization" is obviously a key to the Session's deal that they are floating to repeal the Consent Decrees. Jews cannot be trusted as part of our interest group for their manichean cunning and inevitable destruction to our people, any more than blacks can be a part of our people for their genetic distance and inevitably destructive biopower where it is allowed cohabitation and mixing.
The undoing of the Consent Decrees would be the theoretical ending of a Jewish led implementation of imposed black unionization and extortion against us all.
What we mean by unionization here is what we mean by ethno-nation on the broad scale and genetic interest groups on the subsidiary level - in our exclusionary interests.
The problem arises then with he fact that you still have to live in the world with other people as cooperatively as possible. Drawing upon friend enemy distinctions, most sane people would say Jews and blacks should be first to be most perfectly excluded; as people coordinated with at best, but not cooperated with in expectation of reciprocal good will.
Our best hope is in cooperating with coalitions of Asians, Amerindians and Mestizos against blacks and YKW.
Asian - Mestizo - White interaction is nevertheless, problematic and nobody wants to be naive - but if there is some way to coordinate our unions as a coalition against Jewish and other right wing supremaicsm, and Muslims and against black biopower, then we probably have the best possible coalition.
Of course the trick is how to manage these coalitions with Asians, Amerindians and Mestizos, without us getting abused - particularly with the Alt-Right, Right and Jews ostensibly representing us - The Asians, Amerindians and Mestizos might simply react by trying to swamp us in population if we let them, glibly citing historical grievances that we especially would have had nothing to do with, even historically; or they could do worse, taking guerilla tactics against us as if we are immune to cooperation, perhaps sicking https://www.youtube.com/watch?v=0Wvy5jXXg-E tuck ms 13">the likes of MS13 on us if we don't like their taking advantage, etc.
Some people would say that we do not have to coordinate with the better elements of these people; but in a world where we are faced with Jews, Muslims and Africans, and naive and disingenuous Whites, Jewed-out by Christianity, indeed we must try to coordinate with these peoples as left natonalist allies as best we can.
The Salon Article. An ostensible victory to unburden White servitude to blacks, but at what (((price))) and to what real effect, in whose "objective" interests?
Salon, "Donald Trump's Justice Department is fighting affirmative action for hurting white people", 2 August 2017:

Attorney General Jeff Sessions is furthering an anti-civil rights agenda by investigating affirmative action.


The bromance between President Donald Trump and Attorney General Jeff Sessions may have soured, but that doesn't mean the president isn't supporting the most reactionary aspects of Sessions' policies.

The Justice Department's civil rights division is going to have some of its resources allocated toward lawsuits against universities over affirmative action policies perceived as hostile to white people, according to a document reported by The New York Times. The Times also reports that the internal announcement to the civil rights division explicitly asks for lawyers who would be willing to pursue "investigations and possible litigation related to intentional race-based discrimination in college and university admissions."

This policy exists as part of a larger anti-civil rights agenda being pursued by Trump and Sessions. In May, Sessions doubled down on the drug war by instructing prosecutors to "charge and pursue the most serious, readily provable offense." In June, Sessions discontinued the use of consent decrees in civil rights cases, which goes against traditional Justice Department practice as it makes civil rights rulings more difficult to enforce. Last month the Justice Department argued that Title VII protections don't apply to the LGBT community.

Despite these social justice policies, Sessions has mainly been in the news for his deteriorating relationship with Trump. Although the two were reported to be close friends for years, and through the 2016 election, things soured between them when Sessions recused himself from the Russia investigation in March. Trump has blamed Sessions for what he perceives as a showing of weakness and said that he wouldn't have selected Sessions as attorney general if he'd known he would do that.
Salon, "Trump Administration quietly rolls back Civil Rights efforts across federal government", 15 June 2017: Previously unannounced directives will limit the Department of Justice's use of civil rights enforcement tools - Consent Decrees

Topics: Civil Rights, Department of Justice, Jeff Sessions, ProPublica, Trump Administration, Politics News

For decades, the Department of Justice has used court-enforced agreements to protect civil rights, successfully desegregating school systems, reforming police departments, ensuring access for the disabled and defending the religious.

Now, under Attorney General Jeff Sessions, the DOJ appears to be turning away from this storied tool, called consent decrees. Top officials in the DOJ civil rights division have issued verbal instructions through the ranks to seek settlements without consent decrees — which would result in no continuing court oversight.

The move is just one part of a move by the Trump administration to limit federal civil rights enforcement. Other departments have scaled back the power of their internal divisions that monitor such abuses. In a previously unreported development, the Education Department last week reversed an Obama-era reform that broadened the agency's approach to protecting rights of students. The Labor Department and the Environmental Protection Agency have also announced sweeping cuts to their enforcement.

"At best, this administration believes that civil rights enforcement is superfluous and can be easily cut. At worst, it really is part of a systematic agenda to roll back civil rights," said Vanita Gupta, the former acting head of the DOJ's civil rights division under President Barack Obama.

Consent decrees have not been abandoned entirely by the DOJ, a person with knowledge of the instructions said. Instead, there is a presumption against their use — attorneys should default to using settlements without court oversight unless there is an unavoidable reason for a consent decree. The instructions came from the civil rights division's office of acting Assistant Attorney General Tom Wheeler and Deputy Assistant Attorney General John Gore. There is no written policy guidance.

Devin O'Malley, a spokesperson for the DOJ, declined to comment for this story.

Consent decrees can be a powerful tool, and spell out specific steps that must be taken to remedy the harm. These are agreed to by both parties and signed off on by a judge, whom the parties can appear before again if the terms are not being met. Though critics say the DOJ sometimes does not enforce consent decrees well enough, they are more powerful than settlements that aren't overseen by a judge and have no built-in enforcement mechanism.

Such settlements have "far fewer teeth to ensure adequate enforcement," Gupta said.

Consent decrees often require agencies or municipalities to take expensive steps toward reform. Local leaders and agency heads then can point to the binding court authority when requesting budget increases to ensure reforms. Without consent decrees, many localities or government departments would simply never make such comprehensive changes, said William Yeomans, who spent 26 years at the DOJ, mostly in the civil rights division.

"They are key to civil rights enforcement," he said. "That's why Sessions and his ilk don't like them."
....tasked with out-Koshering other goyim alum and to put the hit on them gangster style for being in/convenient goyim to the kosher mob. From our point of view, we can be glad that Bannon's (((Paleocon))) misdirection into his (((Neo-Reaction))) is being throttled by a more distinctly (thereby didactic) Kosher and neo-liberal effort.
Scaramucci blanks like a hootchi.

First, some commentary on the situation by Kumiko:
Death match, Maxine Waters versus Steven Mnuchin.
A number of Cernovich's people are getting subpoena'd now too.
He's on Twitter this morning saying he's worried he'll be next.
All the FVEY accounts are indicating "LOL we're coming for all of you."
The collapse is going to be good fun.
Why would Cernovich be subpoena'd?
Because Putin, quite seriously.
It's encouraging that this has started to bleed into the Alt-Lite.
Since they thought that everyone had forgotten about them.
It forms part of the logic of why we have actively tried to keep our audience from falling into that garbage when it started up.
All of these people will go down with the ship, because that's how it works.
The only way to not get taken down is to just not be there.
"I'm just a blogger, surely I can be a grey vector of Active Measures and be left alone, right?"
Yeah no.
The only they were going to escape would have been if Trump had swiftly crushed the entire US intelligence community within a few months of entering office.
But these fluffy guys didn't think about that, and Trump was incompetent, so now it's all catching up to them.
There's still chances for them to squirm out, if Trump starts a firing spree before Graham's bill passes.
But it's looking like they won't make it.
Trump is behind schedule, since he fired Priebus today, but then he realized that Scaramucci doesn't care about anything and wants to actually fight Bannon.
So they are wasting precious time because Trump didn't realize that Scaramucci only wanted to enter the White House so he could destroy Priebus and Bannon.
....because they screwed him in a business deal back n 2016.
Now he's coming back pure ITALIAN BOSS.
...and now they are all falling over each other to try to 'calm that down'... wasting precious time.
That's why you see Raheem Kassam and Cernovich now trying to rally the base against Scaramucci "or it's all over" according Kassam.
If you want to be rid of Bannon's Neo-Reactionary misdirection into counter-Jihad Paleoconservatism, you have to love the hit Salabucci is putting on him.
Salabucci is just there to kill two guys.
He's just some guy Trump knew from some business thing, who used to also go on Fox News and give financial commentary.
He spent the whole electoral cycle accusing Trump of being a protectionist bastard, until he realized Trump could be induced to make it worth his while; so he quietly went pro-Trump, sold off his business, and then asked to join the Trump admin.
That's when Priebus and Bannon blocked him, saying he was on an agenda, and so it meant Scaramucci had divested himself for no reason. At this stage I assume he decided to go for the revenge plot, and this may be it.
So he becomes a factor in the chaos. ...since Trump is an idiot and brought him in despite the fact that he was a time bomb.
That's why Sean Spicer resigned, since he refused to work under Scaramucci, since he knew Scaramucci is there to wreck things.
Then Scaramucci immediately came in and destroyed Priebus as Spicer likely predicted, lol.
And is now attacking Bannon, claiming that "I'm here to serve America, unlike Bannon who is here to suck his own dick."
Anyway, yeah, this is why day to day politics can be fun.
On the other side, Trump just ruined his senate majority.
In the process of trying to pass the Obamacare repeal, Trump threatened to economically attack Alaska if Murkowski wouldn't vote 'Yes.'
In reaction, Murkowski doubled down on opposing Trump, and voted 'no.'
So Pence entered the chamber again to try to break the tie.
But then Collins and MCCAIN defected too.
....and the whole chamber erupted as McCain tilted his chin up.
...and the whole fucking thing imploded.
So now Trump is in a position where he is just getting nothing done.

That's what Kumiko had to say. Here's what The New Nationalist has to say. They consider themselves "Third Position," which means that they have some things right - like an eye on the J.Q. and some right wing perfidy. However, they remain insufficiently emancipated from the right wing and are unstable as a result, resorting to some wild speculation where socialization would be corrective.
The New Nationalist, "Move Over Trump, There's a New Sheriff in Town: Mad Tony 'The Mooch' Scaramucci", 28 July 2017:

Trumpian apologists are doing cartwheels and backflips trying to explain away the bizarre behavior of the administration's latest "communication director," one Anthony Scaramucci, also known as "The Mooch." Sean Spicer was a piker compared to this character. Predictably, The Mooch, 53, is a Goldman Sachs alum and hedge fund manager who boasts "29 years on Wall Street." He is a member of the nefarious Council on Foreign Relations and, on June 19, became senior VP and chief strategy officer for the U.S. Export-Import Bank.

During his first week on the job as Trump's chief mouthpiece, Scaramucci engaged the president's drama squad in a WWWF-style brahaha, culminating in an interview during which he declared, "I'm not Steve Bannon. I'm not trying to suck my own cock. I'm not trying to build my own brand off the fucking strength of the president. I'm here to serve the country." Classy.

In another rambling interview, The Mooch vowed to hunt down the White House leakers. He suggested that embattled White House Chief of Staff Reince Priebus would be fired if he leaks and said he was incensed that Priebus "cock-blocked" him for six months from getting a position in Trump's administration. He also called Priebus "a fucking paranoid schizophrenic" and seemed to imply that some White House staffers may have committed a felony by leaking sensitive financial information about Scaramucci, even though his financial disclosure form was publicly available. It is also interesting that The Mooch had nothing bad to say about globalists Jared Kushner, Gary Cohn and Dina Powell during his rant.

Sampling of the Mooch's claims:


The 6 most unusual quotes from Anthony Scaramucci's CNN interview

No sensible leader would turn such a man loose. No sensible leader would be undercutting his own attorney general six months into his presidency. His Secretary of State Tillerson is rumored to have had enough. There is every indication that the Trumpian executive branch is ungovernable; and worse, governed by tweet. Just about anybody within the sistema will distance themselves soon enough. Former media supporter Breibart is playing a role by doing exactly that.

It is just a matter of time before steps are taken to remove him. The New Nationalist (TNN) theorizes the trigger will be a market swoon, possibly triggered by a faux pas from "Red Queen" Donald himself. This happens after the cognescenti are convinced the rigged "markets" are bulletproof against Trumpian buffoonery and skullduggery. But alas, that will prove not to be the case.

This further reinforces our post-election theory regarding Trump mafioso and oligarch-like appointments. This is a devious and traitorous Trojan Horse operation designed to deliberately take what's left of the American system down. This is the end game of a multi-generation national demolition project.

Trump's role is as closer of that project. Unfortunately, few understand that, even his among his opponents. In fact, his Democratic opponents like Hillary and Obama are in on it. Readers need to jettison the erroneous Hanlon's Razor, which says, "Never attribute to malice that which is adequately explained by stupidity." There is true evil and malice at loose in the world and they operate at the highest level.

Although at this juncture this feels like watching red paint dry, it's anything but. This crisis phase, when it erupts, should last about six weeks, ending in total breakdown and chaos. The moving parts, such as a summer of urban turmoil (Baltimore and Ferguson multiplied) are in place. The neo-feudal plans of the Crime Syndicate and their international bankster bosses are in place. The police state and Gulag system have been tested and are in place. Human harvesting implementation was test run in Haiti and is in place. Human terrain intelligence for every person in America, if not the world, is in place, locked, loaded.