Majorityrights News > Category: (((Neo-Cons))) vs. necessary geo-strategy
The New Observer, "White Race Doesn't Exist" says Rome's top bracket", 16 Jan 2018:

The White race does not exist, and to say it does is "ignorant," the President of the Jewish Community of Rome, Ruth Dureghello has announced on Twitter.

"It's inconceivable that in 2018 one must repeat to ignorant ones that there doesn't exist a white race to defend, 80 years after the promulgation of the racial laws," Dureghello wrote in Italian on her twitter feed.

She was reacting to a remark made by Attilio Fontana, a candidate of the Northern League party for the governorship of the province of Lombardy, earlier this week when he said that the Third World invasion of Europe was going to lead to the extermination of the white race.

Fontana, who is running with support from a center-right alliance, whose backers include former Premier Silvio Berlusconi, made the comments on Sunday on Radio Padania, which is run by the Northern League.

The controlled media in Italy was in uproar over his comment.

He said that being unwilling to "accept all" immigrants "isn't a question of being xenophobic or racist, but a question of being logical or rational.

""We can't [accept them all] because they don't all fit; we must make choices," Fontana said. "We must decide if our ethnicity, if our White race, if our society must continue to exist or if it must be cancelled out, because there are many more of them than us and they are much more determined to occupy this land than we are."

Though Fontana's remarks are completely accurate— given current nonwhite invasion levels and the staggering reproduction rates of nonwhites already present in western Europe, that part of the continent is due to be majority nonwhite by 2040 or 2050 - the controlled media in Italy went into "uproar" over the comment.

Not even Fontana's backtracking satisfied the hysteria. He later claimed it was "a lapse, an error in expression. I meant to say we must all re-organize a different kind of welcome, respecting our history, our society."

Meanwhile, the Northern League's charismatic leader, Matteo Salvini, refused to back down and said that Fontana had rightly raised a worry about an "invasion" by Muslims.

Salvini defended Fontana and said his party in government will "regulate every Islamic presence in the country." "Our culture, society, traditions, way of live are at risk," he said. "An invasion is underway."

The vote for governor is being held on March 4.

* Dureghello's reference to the "80 years after the promulgation of the racial laws" in her tweet is in relation to the racial laws promulgated by the Mussolini in 1938 which sought to keep Italy European, and which excluded Jews from holding position of public office, political parties, trade unions, banks, insurance companies, higher education, and all media in Italy.
'Refugees' by way of Israel with money enough from there for a one way ticket to Europe.

New Observer, "Africans Deported from Israel "Appear" in Rome", 9 Jan 2018:

African invaders who were earlier "voluntarily deported" from Israel to Rwanda with a $3,500 payment each have been found and interviewed in Rome, according to the United Nations High Commission on Refugees.

According to a statement issued by UNHCR spokesperson William Spindler at a press conference today at the Palais des Nations in Geneva, at least 80 of the Africans deported from Israel were interviewed by UN representatives "between November 2015 and December 2017 in reception centres and informal settlements in the Rome area."

The UNHCR statement called on the Jewish ethnostate not to proceed with its plans to deport nearly 40,000 Africans, as announced in November last year.

The UNHCR said that it was making the appeal to Israel after "some 80 cases were identified in which people relocated by Israel" had taken "onward journeys to Europe via Libya."

"All 80 cases involved Eritrean refugees or asylum seekers who were "interviewed by UNHCR staff in Rome," the statement said, adding that the Africans then travelled "hundreds of kilometers" through South Sudan, Sudan and Libya "after being relocated by Israel."

From Libya, they had crossed the Mediterranean to invade Europe,

"The interviews–all with adult males, some with family members still in Israel–took place between November 2015 and December 2017 in reception centers and informal settlements in the Rome area. All had entered Israel via the Sinai," the UNHCR statement continued, peppering each sentence with patently bogus claims that the invaders have been "tortured and mistreated" at every step—a standard tactic by those seeking to justify the Third World invasion of Europe.

"Most said they had been transferred from Israel to a country in Africa and provided with a lump sum of US$3,500 dollars. However, the situation on arrival was different to what most had expected and with little further support provided beyond accommodation on the first night," the UNHCR statement continued, providing some insight into how the Jewish state is getting rid of its African spongers.

"In light of this, UNHCR is seriously concerned over Israel's plans announced on January 1st to forcibly relocate Eritreans and Sudanese to countries in Africa or have them face indefinite detention," UNHCR statement said.

"Official statements that the plans may eventually target families and those with pending asylum claims, or that asylum seekers might be taken to the airport in handcuffs, are particularly alarming.

"At a time when UNHCR and partners in the international community are engaged in emergency evacuations from Libya, forced relocation to countries that do not offer effective protection and the onward movement of these people to Libya and Europe is particularly worrisome.

"There are some 27,000 Eritreans and 7,700 Sudanese in Israel. Since Israel took over refugee status determination from UNHCR in 2009, only ten Eritreans and one Sudanese have been recognized as refugees.

"Another 200 Sudanese, all from Darfur, were granted humanitarian status in Israel and there was an announcement that another 300 will follow. Israel has not received any Eritreans or Sudanese since May 2016."

Remarkably, the UNHCR said that it was prepared nonetheless to help the Jewish state get rid of its Africans:

"UNHCR stands ready to work with Israel to find alternative solutions for the protection needs of asylum seekers, in line with international standards. This includes resettlement out of Israel, as has happened previously", the statement ended.
The Heartfelt Hypocrisy Of The American Conscience

by William Hanna

Note the war drums

in the video

While many of us may applaud the commendable outpouring of American public outage over President Trump's supremacist "shithole" comment, we should not forget that those same Americans have maintained almost seven decades of unconscionable silence over far worse supramacist comments by Israeli leaders who take pride in statements that characterise and dehumanise Palestinians as never having existed; as having to be killed unless they were resigned to live as slaves; as being beasts walking on two legs; as being like crocodiles who when given more meat, wanted even more; as a people whose physical homes should be obliterated to prevent more snakes being raised in them; and as deserving to be bombed back to the Middle ages.

Furthermore, those currently outraged Americans have not only remained silent over rampant supramacism in Apartheid Israel but they have gone a stage further by wholeheartedly supporting and financing Israel's ethnic cleansing of the Palestinian people: and they have done all this despite the U.S. Department of State's alleged respect for democracy and human rights.

"Democracy and respect for human rights have long been central components of U.S. foreign policy. Supporting democracy not only promotes such fundamental American values as religious freedom and worker rights, but also helps create a more secure, stable, and prosperous global arena in which the United States can advance its national interests. In addition, democracy is the one national interest that helps to secure all the others. Democratically governed nations are more likely to secure the peace, deter aggression, expand open markets, promote economic development, protect American citizens, combat international terrorism and crime, uphold human and worker rights, avoid humanitarian crises and refugee flows, improve the global environment, and protect human health."

"The protection of fundamental human rights was a foundation stone in the establishment of the United States over 200 years ago. Since then, a central goal of U.S. foreign policy has been the promotion of respect for human rights, as embodied in the Universal Declaration of Human Rights. The United States understands that the existence of human rights helps secure the peace, deter aggression, promote the rule of law, combat crime and corruption, strengthen democracies, and prevent humanitarian crises."

Ultimately, irrespective of how many American lawmakers, TV anchors, and pundits condemn the supremacist comments of their incumbent and ignorant President, the inescapable fact remains that not only did 62,980,160 Americans vote for him, but also the reality that most Americans are nothing but lamentable cowards and hypocrites when it comes to criticising Israel's blatant and barbaric disregard for the human rights of the indigenous Palestinians. Thanks to their unconditional support for Israel, the American people have lost their moral compass, abandoned the true principles of democracy, and shattered the American Dream.

William Hanna is a freelance writer - details at: http://www.hiramicbrotherhood.com
There are couple of important matters to note in regard to this article. One being that "rights" should not only regard individuals as being in need of protection; but also group rights as the designation of species potentially under threat as a pattern from patterns of aggressors; or even inadvertent destruction from other groups and individuals.
With regard to Trump's "shit hole country" remarks, it is interesting to note in the context of this article that El Salvador, one of the countries that he referred to as a shit-hole, has apparently taken a large number of Palestinian refugees - there are approximately 100,000 Salvadorans with Palestinian ancestry; and with that, it is a country more wise than many to the hypocrisy of Israel. This may in part explain why it is not highly regarded by Trump and his ZOG. Why, in fact, in terms of deportation schedule, it is ranked even less urgent a matter than Haiti - the Haitians of which slaughtered entire French peoples, men, women and children the moment they disembarked from ship upon arrival in Haiti; despite their having come there upon fervent assurances that there would be no violence against them and pleas for help to rebuild the country after the Mulatto supremacist revolution had already slaughtered the prior French colonists and troops; and where after the Mulatto supremacists were, in turn, slaughtered by the blacks proper. These blacks are forbears of present day Haiti. Some of us wouldn't mind having, and could have done a great deal better with, the kind of aid money that has been sunk into that s*** hole.
Defend Europa, "More Than A Thousand Illegal Immigrants Reach Europe In First Week Of 2018", 9 Jan 2018:

According to statistics published by the United Nations' International Organisation for Migration, over a thousand illegal immigrants breached Europe's porous borders in the first week of 2018.

1,072 illegals arrived via land and sea from 1st-8th January of this year, whilst a further 81 perished en route.

It is a clear sign that the allure of Europe shows no sign of abating for those of the Third World, as the present level of illegal immigrants flowing into the continent is only negligibly lower than for the same period in 2017.

Of the early 2018 arrivals, 453 arrived through Italy, 449 through Greece and 170 through Spain.

It's becoming common knowledge these days that those who "arrive through Italy and Greece" are, in reality, simply ferried to these countries from the North African coast. Indeed, as we have reported on numerous occasions, NGO vessels are operating a ferry service for migrants whose useless attempts at a dinghy sink a few nautical miles off the Libyan coast.

And these latest figures ominously exclude those who arrive via land, through the Spanish border with Morocco for instance, which has been known to be stormed by up to 50 Africans per day. Needless to say, the Spanish authorities do little to prevent such illegalities.

The migrant industry shows no sign of even slowing as we enter another new year, and that is despite clear messages emanating from the electorates of many a European nation that they do not want anymore illegal immigrants.

Governments in Hungary, Poland, Czech Republic, Denmark, Norway, and now Austria and even Great Britain, have signalled their unwillingness to accept any more Muslim immigrants from the Third World.

Yet still, this farcical merry-go-round continues, with NGOs and EU-sanctioned "search and rescue" vessels (where search and rescue means ferry service) persisting in their concerted attempts to import the Third World to Europe, often against the law or against direct decrees from their governing states.

Story by William, a writer based in England, Great Britain.

Israel is facing a possible international criminal court war-crimes probe over its 2014 assault on Gaza, which killed more than 2,100 Palestinians, including over 500 children.
According to Wolff book: Trump was shocked by presidential victory. He had run with anticipation of a loss to Hillary based on her "fake" media support which he could parlay into a "real" media empire by contrast; Bannon warned presidential victory would spotlight Trump's Russian money laundering; Melania cried in stress over "botched plan gone right" which actually landed the presidency for Donald.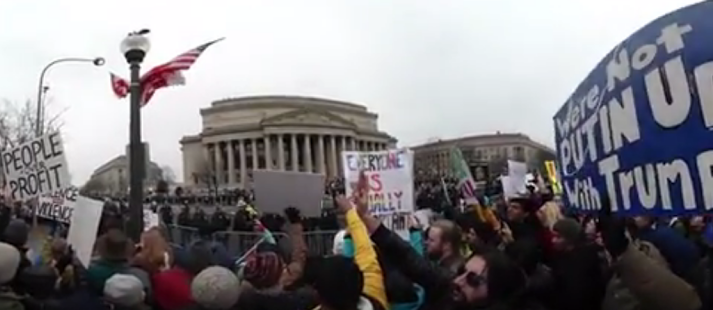 NewsWeek, "Trump Was Horrified When He Won the White House and Melania Cried, Book Claims", 3 Jan 2018:

No one on Donald Trump's presidential campaign team thought Trump would actually become president—and they didn't really want him to either, according to excerpts from Michael Wolff's book published Wednesday in New York magazine.

Now-President Trump, Vice President Mike Pence, Donald Trump Jr., campaign manager Kellyanne Conway and first lady Melania Trump were all reportedly left dumbfounded and afraid on the night of the election in 2016, the book claims. Shortly after 8 on election night, it became clear that Trump had a real shot of becoming president. Wolff wrote that Don Jr. said his father "looked as if he had seen a ghost. Melania was in tears—and not of joy." Steve Bannon, who helped run the Trump campaign and helped Trump's team through the transition, said he saw Trump morph from "a disbelieving Trump and then into a horrified Trump."

A week before the election, Trump was sure he would lose the presidency. But still, according to Wolff's book, he told Ailes that it was "bigger than I ever dreamed of. I don't think about losing, because it isn't losing. We've totally won."

Then he actually won.

Wolff's claims match various reporting on Trump's election: He certainly wanted the fame that goes along with running a successful campaign, but critics theorized that he wasn't quite as happy claiming the job of president. In February, The New York Times reported that Trump misses his access to "fans and supporters — an important source of feedback and validation." The Associated Press wrote that Trump didn't even want to live in the White House.

But Wolff's new book claims Trump and his campaign never planned to win and never wanted to accept the job that comes along with a victory. So once he did take office, the West Wing was in disarray, with Bannon, Ivanka Trump and Jared Kushner all operating in a free-form environment. Bannon, especially, saw his role as creating the "soul" of the White House, according to Wolff. And Trump's own behavior was credited as not befitting the White House.

"Nothing contributed to the chaos and dysfunction of the White House as much as Trump's own behavior," Wolff wrote. "The big deal of being president was just not apparent to him. Most victorious candidates, arriving in the White House from ordinary political life, could not help but be reminded of their transformed circumstances by their sudden elevation to a mansion with palacelike servants and security, a plane at constant readiness, and downstairs a retinue of courtiers and advisers. But this wasn't that different from Trump's former life in Trump Tower, which was actually more commodious and to his taste than the White House."

Wolff's book Fire and Fury: Inside the Trump White House is to be published by Henry Holt & Co. on January 9.
The Hill, "Bannon warned Russia probe would focus on money laundering: report", 3 January 2018:

Former White House chief strategist Stephen Bannon warned that the special counsel investigation into whether the Trump campaign colluded with Russia would focus on money laundering, according to a book to be published next week.

The revelation is included in "Fire and Fury: Inside the Trump White House," a new book by Michael Wolff. The Guardian, which has viewed a copy, published several stories on Wednesday about the book, which includes interviews with Bannon and President Trump.

Trump's former campaign chairman Paul Manafort was charged with money laundering in an October indictment brought by special counsel Robert Mueller, as was his associate Richard Gates.

In Wolff's book, Bannon identifies Weissmann, an attorney on Mueller's team, as a "money-laundering guy."

"You realize where this is going," Bannon said in the book. "This is all about money laundering. Mueller chose Weissmann first and he is a money-laundering guy. Their path to fucking Trump goes right through Paul Manafort, Don Jr and Jared Kushner. … It's as plain as a hair on your face."

"They're going to crack Don Junior like an egg on national TV," Bannon said, referring to the president's eldest son, Donald Trump Jr.

The former White House chief strategist also spoke about the 2016 meeting between Trump Jr. and a group of Russians, describing it as "treasonous."

And Bannon in "Fire and Fury" mentioned connections between Trump's son-in-law, Jared Kushner, and loans taken out from the German Deutsche Bank that have come under scrutiny in relation to the investigation.

In December, federal prosecutors subpoenaed Deutsche Bank for records tied to Kushner's family's real estate business, Kushner Companies.

"It goes through Deutsche Bank and all the Kushner shit," Bannon said of the probe. "The Kushner shit is greasy. They're going to go right through that. They're going to roll those two guys up and say play me or trade me."

Business Insider, "I know why Steve Bannon let Michael Wolff into the White House", 4 Jan 2018:

- Michael Wolff's new book, "The Fire and the Fury," is rocking the Trump White House, and it hasn't even been released yet.

- It has the president turning on former adviser Steve Bannon. This is in part because Bannon helped Wolff gain incredible access to the White House.

- Why? Add this to the long list of ego-driven media mistakes made by the administration - a costly one at that.

- What Bannon didn't count on was that Wolff isn't a soldier in his army.

I feel like I write this all the time, but the White House is in chaos.

The Trump administration is being thrown by the forthcoming publication of Michael Wolff's book "The Fire and The Fury: Inside the Trump White House."

The excerpts, until now jealously guarded at select media outlets like New York Magazine and NBC for weeks, tell of a shockingly incompetent president and the in-over-their-heads aides who openly disrespect him. It is chaos, and someone let Wolff take a front seat and watch it all.

That person, by all accounts, was former White House adviser Stever Bannon. While Trump may have known that the biographer of his idol, Rupert Murdoch, was on site, it was Bannon who ensured Wolff had access.

Why? Consider it one part self-aggrandizement, another part a desire for acceptance, and wholly and completely a continuation of Bannon's desperate search for ideological allies.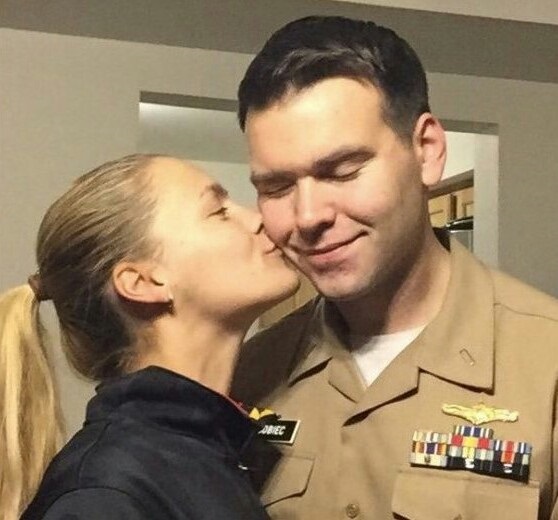 A kiss and a medal for Jack Posobiec
Mission

Per JP 1-02, Information Operations is "the integrated employment, during military operations, of information-related capabilities in concert with other lines of operation to influence, disrupt, corrupt, or usurp the decision making of adversaries and potential adversaries while protecting our own."
The question is: Is their mission virtually one and the same as Israel's at this point? .... The crew of the USS Liberty might have hoped not.
Center for International Maritime Security, Current Operations, Cyber War

CIMSEC, "Navy Information Warfare — What is it?", 13 Sept 2016:

By Richard Mosier

U.S. Navy Information Dominance Warfare Officer Breast Insignia

United States Navy Information Dominance Warfare Officer warfare pin breast insignia is two-and-three-quarter inches by one-and-one-eighth inches, gold matte metal pin showing a background of ocean waves, a crossed Naval officer's sword and lightning bolt, a fouled anchor, and a globe.

Defining a warfare area's mission and function is the foundation for all activities required to conduct mission area analysis to determine requirements, develop doctrine and tactics, and structure, train, and equip the fleet to accomplish the mission.

Within the U.S. Navy, the terms Information Warfare (IW), Information Operations (IO), and Information Operations Warfare are widely used but not well defined. Nor are they linked to provide coherent definitions from joint and service perspectives that are essential to successful communication regarding IW's relationship to other warfare areas and supporting activities. The result is confusion, a lack of progress in structuring, training, and equipping the U.S. Navy to perform this emerging predominant warfare area

The following are examples of how these terms mean different things to different groups:

Reference: Station Hypo, 14 Jul 16, "CWOBC, a Community's Course": "The Cryptologic Warfare Officer Basic Course (CWOBC) formerly known as the Information Warfare Basic Course (IWBC) is an entry level course for all officers, regardless of commission source, who are coming into the Cryptologic Warfare Officer (CWO) community. Six weeks in length with an average annual throughput of 154, the course focuses on Signal Intelligence (SIGINT), Electronic Warfare (EW), Cyber Operations, as well as security fundamentals and community history." Inasmuch as the content of the basic course remained the same, the terms "Information Warfare" and "Cryptologic Warfare" appear to mean the same thing for this group.

50828-N-PU674-005 PENSACOLA, Fla. (Aug. 28, 2015) Officers attending the Information Professional Basic Course at Center for Information Dominance Unit Corry Station listen to Rear Adm. Daniel J. MacDonnell, commander of Information Dominance Corps Reserve Command (IDCRC) and Reserve deputy commander of Navy Information Dominance Forces (NAVIDFOR). Macdonnell spoke with them about career opportunities in the Information Dominance Corps and active and reserve integration.

PENSACOLA, Fla. (Aug. 28, 2015) Officers attending the Information Professional Basic Course at Center for Information Dominance Unit Corry Station listen to Rear Adm. Daniel J. MacDonnell, commander of Information Dominance Corps Reserve Command (IDCRC) and Reserve deputy commander of Navy Information Dominance Forces (NAVIDFOR). Macdonnell spoke with them about career opportunities in the Information Dominance Corps and active and reserve integration.

Reference the BUPERS Information Warfare Community Management web page. It only addresses Information Professionals (1820), Cryptologic Warfare Specialists (1810), Cyber Warfare Engineers (1840), Intelligence Officers (1830), and Oceanography Specialists (1800), implying that together this aggregation of legacy support specialties constitutes Information Warfare. All of these are restricted line designators that by definition exercise command only over organizations that perform these specialties. There are no unrestricted line designators for specializing in and exercising Information Operations Warfare Commander (IWC) functions described in Naval Warfare Publication NWP 3-56 below.

Reference: NAVADMIN 023/16, DTG 021815 Feb 16, Subject: Information Dominance Corps Re-designated Information Warfare Community. The message states Information Warfare's mission is: "providing sufficient overmatch in command and control, understanding the battlespace and adversaries, and projecting power through and across all domains." This description of the Information Warfare mission is substantially different from the definition of Information Operations defined by Secretary of Defense, adopted by the JCS, and reflected in Naval Warfare Publications.

The Secretary of Defense defines Information Operations in DOD Directive 3600.1, dated May 2, 2013, as: "The integrated employment, during military operations, of information-related capabilities in concert with other lines of operation to influence, disrupt, corrupt, or usurp the decision making of adversaries and potential adversaries while protecting our own." This definition was incorporated in Joint Pub 1-02 and Naval Warfare Publications.

Naval Warfare Publication (NWP) 3-13 Information Operations, Feb 2014, defines Information Operations as: "the integrated employment, during military operations, of information-related capabilities in concert with other lines of operation to influence, disrupt, corrupt, or usurp the decision making of adversaries and potential adversaries while protecting our own." Paragraph 1-3 states: "Evolving joint and Navy doctrine has refined IO as a discrete warfare area, not just a supporting function or enabling capability, and the IE [information environment] as a valuable and contested part of the battlespace."

160123-N-PU674-018 PENSACOLA, Fla. (Jan. 23, 2016) Information warfare Sailors from the Center for Information Dominance Unit Corry Station mentor high school students during CyberThon, an event designed to develop the future cybersecurity workforce. Hosted by the Blue Angels Chapter of the Armed Forces Communications and Electronics Association, CyberThon challenged the students to play the role of newly hired information technology professionals tasked with defending their company's network.

PENSACOLA, Fla. (Jan. 23, 2016) Information warfare Sailors from the Center for Information Dominance Unit Corry Station mentor high school students during CyberThon, an event designed to develop the future cybersecurity workforce. Hosted by the Blue Angels Chapter of the Armed Forces Communications and Electronics Association, CyberThon challenged the students to play the role of newly hired information technology professionals tasked with defending their company's network.

Naval Warfare Publication (NWP) 3-56, subject: Composite Warfare Commander, Feb 2010, Paragraph 3.7 identifies twenty-three typical functions assigned to the "Information Operations Warfare Commander (IWC)" that are summarized below:

Planning IO, EW, Military Deception, Operations Security, PSYOP, and Spectrum Usage.

Developing, coordinating, and practicing preplanned responses for counter-surveillance, counter-influence, and counter-targeting in response to changes in the tactical situation.

Recommending the EMCON profile and coordinating with ASWC to manage acoustic emissions in response to changes in the tactical situation.

Controlling ES and EA assets, and coordinating employment of ES and cryptologic sensors.

Conducting computer Network Defense (CND) and COMSEC monitoring.
Middle East Monitor, "Palestinians discuss development of gas field with Shell"

In February of 2017, The Palestinian Investment Fund (PIF) announced that it has been discussing the development of Gaza Marine Gas Field with Shell, Anadolu has reported.

Gaza Marine is about 30km off the coast of the Gaza Strip in the eastern Mediterranean; it is estimated to contain about 28 million cubic metres of gas.

British Gas bought the concession from the Palestinian Authority in 1999 but the development of the project has been on hold due to Israeli obstacles. Preventing the development of the project is part of the internationally-backed Israeli siege of the Gaza Strip. Shell bought the British Gas stake in Gaza Marine recently, and it is now the main developer of the field.

The Director of the PIF, Mohamed Mustafa, told Anadolu that the current discussions with Shell concentrate on accelerating the development of the project. He noted that there had been a study to connect a pipeline from the field to the sole electricity plant in Gaza. "The most important thing, though, is that we get Israel's permission for this pipeline because it crosses its land," he explained.

According to Offshore-technology.com, Shell holds a 90 per cent interest in the field. The stake will reduce to 60 per cent if the PIF and Consolidated Contractors Company (CCC) decide to exercise their options. PIF and CCC would subsequently hold 30 per cent and 10 per cent interests respectively.

The PIF is a sovereign Palestinian fund with capital of $800 million.

Natural gas in the Gaza Strip, From Wikipedia:

Significant reserves of natural gas were found offshore from the Gaza Strip. As of early 2015, Gaza's natural gas was still underwater and the same for almost all of the Levantine gas.[1]

History

The Palestinians signed a memorandum of intent on November 8, 1999 with British Gas and a company linked to the Palestinian Authority, the Consolidated Contractors Company, giving them rights to explore the area.[2][3] The discovered natural gas reserve was calculated to have 35 BCM, larger than Israel's Yam Tethys maritime gas field.[3] It was found in two small gas fields dubbed Gaza Marine 1 and Gaza Marine 2.

In 1999, Israeli Prime Minister Ehud Barak set aside exploration of Gaza's offshore resources for a future Palestinian state, with no prior consultation with Israel stipulated.[2] According to Michael Schwartz, Barak deployed the Israeli navy in Gaza's coastal waters to impede the implementation of the terms of the modest contract between the Palestinian Authority and British Gas (BG) to develop Gaza's Mediterranean gas resources.[1] Israel demanded that the Gaza gas be piped to facilities on its territory, and at a price below the prevailing market level[4] and that Israel also control all the (relatively modest) revenues destined for the Palestinians — to prevent the money from being used to "fund terror." In Schwartz's view, with this Israeli action the Oslo Accords were officially doomed, because by declaring Palestinian control over gas revenues unacceptable, the Israeli government committed itself to not accepting even the most limited kind of Palestinian budgetary autonomy, let alone full sovereignty. In Schwartz's view, since no Palestinian government or organization would agree to this, a future filled with armed conflict was assured.[1]