Majorityrights News > Category: (((Alt-Left)))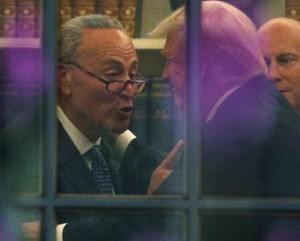 What did you really expect from Trumpstein?
My personal position with regard to so-called "Hispanics" is that we should first of all differentiate among them. "Hispanic" is an egregious term, auguring to do the very worst thing which we seek to stave-off, i.e., to blend away racial distinctions, as the term covers and then tends to politically coerce the blending of Amerindians, Whites, Jews and blacks.
We need to distinguish them hence. We need to distinguish Marrano "huWhites". We need to distinguish those who are black and have anything beyond a small amount of black - they should be looked upon as an out group - not our friends: e.g., Puerto Ricans typically have a significant amount of sub-Saharan African, 25%. Whereas Mexicans on average have only small amount, 4% as evaluated by National Geographic Human Genome Project, Gen 2.0. These kinds, Amerindians and Indios (mixed Indian and White) should be looked upon as people to cultivate as allies.
Certain Caribbean mixes should be shown some compassion in an effort to reconstruct as much as possible the now non-existent pure Indian strains which were forcibly bred-away with African slaves by Spanish conquistadors. Similarly, Indos should be allowed protection from furthering of the mongrelization that was visited upon them by the Spanish conquests.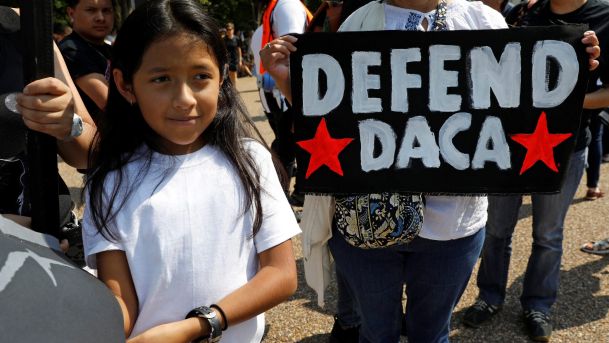 As these historical errors are corrected, "a new dream" act should be enunciated in which the riches and opportunities of the Americas are shared between Whites, Asians and Amerindios in exchange for friendly terms and alliance with Whites against black, Jewish and Muslim imposition.
This must be arranged in accordance with human ecological and resource management - especially population carrying capacity: which tends to be the elephant in the room that liberals overlook in their anti-racist fervor. Make the said kinds friends and hold them accountable to our alliance in pervasive ecology and human ecology of our distinct kinds. We do this deliberately, or we are without a vast alliance, in fact it is arrayed against us as distinct peoples (nationals) and our habitats all…

Opinion // Save DACA: We U.S. Jews Won't Let Trump End the American Dream

On DACA, the president appears unmoved by arguments of compassion, humanity, national interest or common sense. Now is the time to take a stand and take action.

"Dreamers" originally from Ecuador watch Attorney General Jeff Sessions' remarks on ending the DACA program on a smartphone in Manhattan, September 5, 2017. Credit: Drew Angerer/AFP

●DACA 'is being rescinded,' Sessions announces after Trump moves to kill 'Dreamers' program

●U.S. Jewish groups blast Trump's decision to scrap 'Dreamers' program as 'cruel, unnecessary'

●WATCH // Donald Trump vehemently defended 'Dreamers' on Fox News in 2011

The Trump administration moved on Tuesday to terminate the legal status of 800,000 immigrant children and young adults. These young people are currently protected by Deferred Action for Childhood Arrivals. DACA is only available to people who have been in the United States continuously since June 2007, so this decision will exclusively impact kids and young adults who have been in the country for at least 10 years and have impeccably clean records. About three quarters of the so-called "dreamers" have U.S. citizen family members, and one quarter have U.S. citizen children.

DACA is an executive action taken by President Barack Obama in 2012 after decades of failure in Congress to enact any kind of immigration reform. There is broad agreement across party lines that people who were brought to the United States as children by their parents did not make a choice to come here, and therefore should be allowed to stay in the country that they call home. Leaders of both parties, as well as business leaders, faith leaders, and the majority of Americans polled about it, support DACA and have urged President Donald Trump to keep it in place.

>> U.S. Jewish groups blast Trump's decision to scrap 'Dreamers' program as 'cruel, unnecessary'

■ Analysis: Trump's Cruel and Unusual Punishment of Unsullied Dreamers

Like generations of immigrants before, including millions of Jewish parents and grandparents, the parents of these kids have made enormous sacrifices, not for themselves, but in the hope that their children would have a chance at a real future.

These kids are American in all but paperwork, and they are now living in fear. In just a few months, they may not be able to legally work, and will face arrest, jail and deportation. These are kids who have gone to school, made friends, joined teams, grew up, enlisted in the military, went to college, went to work, volunteered and lived normal, American lives. This moment should feel scary, disturbing and eerily familiar to all Jewish Americans.

Ending DACA serves no legitimate policy purpose and in fact, will hurt the U.S. economy. Particularly as we work to recover from Hurricane Harvey, where many DACA recipients are actively taking part in rescue and rebuilding efforts, the cruelty of this decision is in plain view.

Ending DACA will also make us less safe. As losing legal status causes people to recede into the shadows, they will be afraid to call and cooperate with the police. More parents will be afraid to take their kids to school and to church, to the park and to the doctor. More kids will live in fear of the knock on the door that will take their parents away.

HIAS is the global Jewish organization that protects refugees. We stand for a world in which refugees find welcome, safety and freedom. Guided by our Jewish values and history, we bring more than 135 years of expertise to our work with refugees. But our work is just one piece of the larger culture of equality and welcome we strive to create together with our supporters in the American Jewish community. Threats to the DACA program are not only threats to immigrants, but to justice, fairness and the longstanding values of our country.

This country's history of accepting refugees and immigrants has offered generations of Jewish Americans the opportunity to recognize our full human potential and become part of the fabric of America. While there are disturbing elements that would deny this, and their voices are louder now, it is still true. It would be a stunning reversal and betrayal of our history to deny this opportunity to others who have already contributed so much.

The president appears unmoved by arguments of compassion, humanity, national interest or common sense. Now is the time for American Jews to take a stand and take action through elected officials in Congress. We can call Congress and insist that our representatives immediately pass a law that will allow these kids and young adults to stay here legally and permanently. This law must include no conditions or trade-offs, or in any way punish other immigrants.

We must restore basic fairness and morality to the way we treat immigrants in this country, and there is no better place to start than with these young Americans.

Melanie Nezer, Haaretz Contributor, is senior vice president of public affairs for HIAS, the global Jewish nonprofit that protects refugees
Newsweek, "Charlottesville's Alt-right Leaders Have a Passion for Vladimir Putin", 16 Aug 2017:

The alleged ties between the administration of President Donald Trump and Russia are currently the subject of intensive media scrutiny. But perhaps less well known are the connections between a Kremlin ideologue described as "Putin's brain" and key members of the U.S. alt-right and white supremacist movement, including those behind the Charlottesville protest.

Alexander Dugin is a Russian ultranationalist and former adviser to Sergei Naryshkin, a key member of Vladimir Putin's United Russia party who was appointed Russian foreign intelligence chief in 2016. Dugin supports Orthodox Russia's role as a bulwark against what he has portrayed as the decadent forces of the liberal West.

Amongst Saturday's headline speakers was Richard Spencer, who claims to have invented the term "alt-right," and has disseminated its white nationalist ideology via his National Policy Institute think-tank, as well as a network of websites and publishing ventures.

Spencer has not disguised his fondness for Vladimir Putin's Russia, describing the country as the "sole white power in the world." In May, he led a smaller protest in Charlottesville, in which torch wielding white nationalists chanted "Russia is our friend."


Neo-Eurasianist ideologue Alexander Dugin sits in his TV studio in central Moscow on August 11, 2016. Francesca Ebel/AP

In 2014, Spencer invited Dugin to an international far-right conference he planned to hold in Hungary, however international sanctions prevented Dugin attending and Hungarian police raided the meeting. Dugin has since become a frequent contributor to Spencer's AltRight.com website, and has also contributed to his online journal Radix. Spencer has returned the favor, penning an article for Dugin's Katehon website.

Spencer's ex-wife is Nina Kouprianova, a tireless promoter of Russian nationalism and self-described "Kremlin troll leaders" who writes under the penname Nina Byzantina. She is also Dugin's English translator.

Matthew Heimbach, co-founder of the white supremacist Traditional Workers Party, also attended Saturday's rally and is a big fan of Putin.

"I really believe that Russia is the leader of the free world right now," he recently told Business Insider. "Putin is supporting nationalists around the world and building an anti-globalist alliance, while promoting traditional values and self-determination."


In 2015, he led a rally at which Russian and Confederate flags were flown alongside each other.

Casey Michel@cjcmichel
Replying to @cjcmichel

Heimbach: "Russia is the leader of the free world right now." http://www.businessinsider.com/russia-connections-to-the-alt-right-2016-11 …

Follow
Casey Michel@cjcmichel

And, for good measure, here's Heimbach with the Novorossiya flag, and leading a rally with both Confederate and Russian imperial flags: pic.twitter.com/5mHjHisfr7
12:26 AM - Jan 5, 2017


Heimbach, described by the Southern Poverty Law Center as the "face of a new generation of white nationalists", has made several trips to Europe to meet the leaders of far-right parties, and at the official launch of the Traditional Workers Party in 2015 Heimbach hosted a Skyped-in congratulatory speech from Dugin.


Casey Michel@cjcmichel
Replying to @cjcmichel

One additional note: Heimbach specifically cited the USSR's dissolution as his vision for the US. http://www.nbcwashington.com/news/local/In-Age-of-Trump-Profile-of-Maryland-White-Nationalist-Grows-397694981.html … pic.twitter.com/BcJacTMPxP

Follow
Casey Michel@cjcmichel

And one more shot: Heimbach holding both a Dugin book and a neo-Confederate "League of the South" flag. ht @JvanDijkS pic.twitter.com/aY0KfVEhyS
6:41 PM - Jan 5, 2017

The following year he planned his first trip to Russia for the far-right World National Conservative Movement conference, which was ultimately postponed.

Infamous former KKK leader David Duke also made an appearance at the rally, which he called a "turning point" and pledged that white nationalists would "fulfill the promises of Donald Trump."

Like his allies Spencer and Heimbach, Duke has made no secret of his admiration for Russia, describing the country as the "key to white survival," and has been pictured alongside Dugin.

Just Rich @JustMeRich
Replying to @splcenter

Trump is in the side of David Duke and the Klan. Further speculation isn't needed.

Follow
Trevor Smith @MrTSmith81

And david Duke and the klan are on the side of Russia, where's that list of people trump won't attack again? White supremacists and putin.. pic.twitter.com/4Nricps1N7
11:16 PM - Aug 15, 2017

Duke once lived in Moscow and owns an apartment in the Russian capital, which he reportedly sub-let to U.S. Neo-Nazi Preston Wigginton, who has in turn hosted web chats by Dugin at the University of Texas A&M college.

On Monday, the college announced it was cancelling a planned white nationalist rally on its campus to be led by Spencer.

Russian state media has also given a platform to Spencer and Duke, where their extremist beliefs were not flagged, and they expounded their racist views unchallenged. Spencer has frequently commented on the Syrian civil war on RT, where he has expressed support for Russian ally and alt-right icon President Bashar al-Assad.

Dugin himself has frequently appeared on Infowars, Alex Jones' pro-Trump conspiracy theory site.

Anton Shekhovtsov, author of Russia and the Western Far Right: Tango Noir, tells Newsweek that ties between U.S. and Russian fascists were longstanding.

"There is no evidence that the Kremlin - as an official body - has ever tried to build ties with the US neo-Nazis such as Spencer or Duke. However, both have long-standing relations with their Russian fascist counterparts," he says in an email.

In Europe, the story is different, with Neo-Nazis in Germany reportedly recruited by Russian intelligence via martial arts clubs, and Hungarian neo-Nazi István Győrkös, who shot dead a police officer last October, running paramilitary training camps for right-wing extremists alongside Kremlin officials.

In a blog posting Tuesday, former NSA analyst John Schindler explained the appeal of Russia to the U.S. far-right.

"Although our country has always had white supremacists, Russia has given them renewed focus and energy, as well as a ready-made worldview. This take on the world includes overt white nationalism which despises the United States as a decadent and multiracial society," he wrote.
In Tel Aviv with supporters where he announced that the Africans would be expelled.

New Observer, "Netanyahu Vows to Expel Africans from Tel Aviv: "We Will Return it to the Israelis", 1 Sept 2017:

Israeli Prime Minister Benjamin Netanyahu on Thursday visited a rundown Tel Aviv neighbourhood with a large African population and pledged to rid it of illegal "infiltrators" and return control of the suburb to Jews after the non-Jews were expelled.

According to a report in the Israeli Haaretz newspaper, Netanyahu announced that "We will return south Tel Aviv to the citizens of Israel."

"We are dealing with illegal infiltrators, not with refugees, but illegal infiltrators. And Israel's right is to safeguard its borders and to keep away illegal infiltrators," he said.

"If needed, we will legislate an amendment to the law or change the agreements with the African countries, or both."

Speaking with residents, the Netanyahu also promised that the government would step up enforcement against asylum seekers 'in the face of those who employ them, in the face of the lawless infiltrators."

Netanyahu made reference to the border fence on Israel's frontier with Egypt, built to halt the influx of African invaders, saying that if it had not been built, there would be a million Africans in Israel.

The prime minister said he intends to convene a ministerial committee that would meet on a monthly basis with Israeli citizens and officials to deal with the issue. He was accompanied during his visit by Public Security Minister Gilad Erdan and Culture and Sports Minister Miri Regev.

The Prime Minister's Office said the purpose of the visit was to "identify with the residents and hear about their distress against the backdrop of the high court decision." Netanyahu's bureau said he intends to push for legislation "that will provide a response to deal with the distress from labor migrants following the criticism expressed by the Supreme Court."

According to data from the Interior Ministry's Population and Immigration Authority, there are about 38,000 Africans in Israel including about 27,500 from Eritrea, 7,900 from Sudan and 2,600 from other African countries.

The flow of Africans into Israel has been halted entirely, with only one getting caught attempting to cross the Israel-Egypt border this year. In addition, in the first six months of 2017, about 2,100 Africans have left Israel after being detained in the desert concentration camp of Holot.

Streets around the central bus station, including almost all of Levinsky Park, were closed off for the Prime Minister's visit, as he met with local residents.

Culture and Sports minister Miri Regev, who once infamously referred to the migrants as a "cancer" said while accompanying Netanyahu that "the residents of south Tel Aviv are the ones who became refugees in their own country."

"We need [criminal] enforcement against the employers who pay the salaries of the infiltrators they employ," she added, referring to those that do not have work permits.
Related Story:

New Observer, "Israel Will Forcibly Deport all Non-Jewish Illegal Aliens after Court Ruling, Government Says", 31 Aug 2017:

The Israeli Justice Minister has announced that Israel will shortly be introducing a law which will forcibly deport all non-Jewish illegal aliens—including all "asylum seekers"—from the Jews-only ethnostate following a High Court ruling in that country which approved Israel's current deportation program, but limited it to those "volunteering" to leave.

According to a report in the Jerusalem-based Times of Israel, the High Court of Justice on Monday allowed the Jewish ethnostate's government to continue with its policy of deporting all illegal invaders from Africa back to Rwanda or Uganda—irrespective of their original country of origin—but said the state cannot jail those who refuse to go for more than 60 days.

The Jewish judges unanimously rejected a petition by human rights groups against the deportation practice, but said that the "deportations could only to be carried out with the agreement of the illegal aliens.

Previously Israel had detained "refugees" in an open prison in the middle of the desert for up to 12 months, imposing such harsh restrictions upon them that many chose to be "voluntarily deported" just to get out the Jewish state.

The Times of Israel further reported that following the new court ruling, Israeli officials said they would amend the law so that the invaders could be deported without their consent.

"The High Court removed from the state the ability to pressure the illegal infiltrators," Justice Minister Ayelet Shaked was quoted as saying. "It turned the [migrant's] lack of cooperation into a reward. We will fight this until we achieve the necessary results."

Prime Minister Benjamin Netanyahu backed his justice minister up, saying that "We will need to pass a new law that will permit us to enforce these agreements," adding that this was one of a three-pronged policy against the nonwhite invaders.

The other two include the fence built between Israel and the Sinai to "prevent infiltrators" and the agreement that Netanyahu worked out with Rwanda to facilitate the deportations.

The Israeli policies are in contradiction to the "open borders" policies endorsed and propagated by all Jewish organizations, synagogues and religious bodies in non-Jewish countries in Europe, America, Canada, Australia and New Zealand.

At the same time, all of these Jewish bodies support Israel. The hypocrisy is too blatant to be coincidental, and must be deliberate: Jews support "open borders" for non-Jewish countries, but "closed borders" for their own country.
Benjamin Netanyahu's son, Yair. (AFP)

Times of Israel, "Yair Netanyahu says leftists more dangerous than neo-Nazis", 16 Aug 2017:

Echoing Trump, PM's son claims 'thugs of Antifa and Black Lives Matter are getting stronger' while Nazis are a thing of the past.

The son of Prime Minister Benjamin Netanyahu on Wednesday said American left-wing groups are more dangerous than neo-Nazis.

Weighing in on the weekend's violence in Charlottesville, Virginia, during a far-right march, and US President Donald Trump's controversial statements that "both sides were to blame" for the deadly incident, Yair Netanyahu said he was far more concerned by leftist organizations that have recently come into public focus.

"To put things in perspective," Netanyahu wrote on Facebook, "I'm a Jew, I'm an Israeli, the neo nazis scums [sic] in Virginia hate me and my country. But they belong to the past. Their breed is dying out.

"However the thugs of Antifa and [Black Lives Matter] who hate my country (and America too in my view) just as much are getting stronger and stronger and becoming super dominant in American universities and public life."

The Israeli premier himself tweeted Tuesday that he was "outraged by expressions of anti-Semitism, neo-Nazism and racism. Everyone should oppose this hatred," after he was criticized for staying silent on Charlottesville.

In a response Wednesday afternoon to Yair Netanyahu's comments, sources close to the prime minister said, "Yair is an adult and his views are his alone"

Trump's stance was also supported by Likud MK Oren Hazan, who said Tuesday that the president "is right. Violence and extremism on any side is forbidden and demands condemnation. That doesn't matter to the bleeding hearts on the left and in the media. After all, they believe that only the right is extremist and violent."

Other Israeli politicians - from left and right - have been far more critical of Trump's position, some more directly than others.

Education Minister Naftali Bennett has called on US leaders to denounce the rally's "displays of anti-Semitism." Justice Minister Ayelet Shaked of Bennett's Jewish Home party has urged prosecution of neo-Nazi activists.

Yesh Atid chair MK Yair Lapid and Zionist Union number two MK Tzipi Livni explicitly criticized Trump's equivalence.

"There aren't two sides," Lapid said in a Wednesday statement. "When Neo-Nazis march in Charlottesville and scream slogans against Jews and in support of white supremacy, the condemnation has to be unambiguous. They represent hate and evil. Anyone who believes in the human spirit must stand against them without fear."

Livni said "When it comes to racism, anti-Semitism and Nazism, there are never two equal sides. There's good and there's evil. Period."

Trump sparked a political firestorm Tuesday when he doubled down on his initial response to the violent white supremacist rally in Charlottesville that ended in bloodshed, saying there was "blame on both sides."

The Republican president — who the previous day solemnly denounced racism and singled out the Ku Klux Klan and neo-Nazis as "criminals and thugs" — also hit out at what he called the "alt-left" over the weekend melee.

Trump has faced days of criticism from across the political spectrum over his reaction to Saturday's unrest in the Virginia college town, where a rally by neo-Nazis and white supremacists over the removal of a Confederate statue erupted in clashes with counter-demonstrators.

The violent fracas ended in bloodshed when a 20-year-old suspected Nazi sympathizer, James Fields, plowed his car into a crowd of anti-racism protesters, leaving one woman dead and 19 people injured.

In a rowdy exchange with journalists at Trump Tower in New York, Trump made clear on Tuesday that he was fed up with continued questioning about the issue.

"I think there is blame on both sides," Trump said.

As he spoke, his new White House Chief of Staff John Kelly, a former Marine general, appeared displeased during the president's long tirade, standing rigidly.

"You had a group on one side that was bad, and you had a group on the other side that was also very violent. And nobody wants to say that, but I'll say it right now," Trump continued. "What about the alt-left that came charging… at the, as you say, the alt-right? Do they have any semblance of guilt?… There are two sides to a story."

"What about the fact they came charging with clubs in their hands, swinging clubs? Do they have any problem? I think they do. As far as I am concerned, that was a horrible, horrible day," Trump said.

Trump's comments were immediately welcomed by David Duke, a former "grand wizard" of the Ku Klux Klan and a key figure at Saturday's rally.

"Thank you President Trump for your honesty & courage to tell the truth about #Charlottesville & condemn the leftist terrorists," Duke tweeted.


Torch-wielding white supremacists march at the University of Virginia on August 11, 2017 (Screen Capture/ YouTube)

But on the political left, the president's words were met with indignation.

"Charlottesville violence was fueled by one side: white supremacists spreading racism, intolerance & intimidation. Those are the facts," said Tim Kaine, a former Democratic vice presidential candidate and senator from Virginia.

The state's other Democratic senator, Mark Warner, tweeted: "No words."

Trump's fellow Republicans also didn't mince words.

"We must be clear. White supremacy is repulsive," Republican House Speaker Paul Ryan wrote on Twitter.

"This bigotry is counter to all this country stands for. There can be no moral ambiguity."

When asked why he waited until Monday to explicitly condemn hate groups present in Charlottesville, Trump said he wanted to be careful not to make a "quick statement" on Saturday without all the facts.

"I wanted to make sure, unlike most politicians, that what I said was correct," Trump insisted.

Trump called Fields, who has been charged with second-degree murder, a "disgrace to himself, his family and this country."

But he also said that while there were troublemakers at the rally, there were also many people there "to innocently protest and very legally protest" the removal of a "very important statue" of Confederate general Robert E Lee.

"I wonder, is it George Washington next week? And is it Thomas Jefferson the week after?" he said angrily, referring to the fact they owned slaves.

"Are we going to take down statues to George Washington? How about Thomas Jefferson? … You're changing history. You're changing culture."
Blacks aren't natural allies of Asians and neither are Jews, with their propensity to impose Abrahamism, its liberalism, Christian submissionaries and Muslim compradors over Asians

Salon, "Donald Trump's Justice Department is fighting affirmative action for hurting white people", 2 August 2017:

Attorney General Sessions is furthering an anti-civil rights agenda by investigating affirmative action.
I'm going to begin with an unusual order in approaching this article and surrounding discussion - viz., I will begin by looking at some comments on the matter because they throw light on how the YKW are misleading and manipulating people with a concept of "the left" - not letting it be properly understood as discriminatory social unionization and coalitions thereof, but rather having it oxymoronically accepted as liberalism for all but those unionizations circumscribed and actively represented inasmuch as they are good for YKW interests - themselves stealthily behind the scenes of the unionizations, markedly of the black interests that they have represented - viz., especially as it serves to rupture the effective patterns of their perceived enemies: would-be unionized White and Asian power.
Until recently, around 2008 with the subprime mortgage crisis; and the re-branding of (((Frank Meyer's paleoconservatism))) as the "Alt-Right", the YKW had not been so ardent nor effective in getting the public to argue that THE Left was the great problem of our times.
But looking at the essence of "the left" as the YKW have permitted it to be spoken of in the public domain, what we've had is Jewish led coalitions, internationally, of Jewish interests and crony capitalist interests; and domestically, in The U.S., primarily Jewish led coalitions of Africans, sundry Mulattoes, where convenient, gays, lesbians and feminists where they might perceive a common axe to grind against White men ...at the same time these Jewish led coalitions have not been organized for sympathy or fairness to Asians interests either.
After this point, 2008, when the YKW and complicit right-wing sell outs had presided over the boom bust cycle to where they stood firmly atop, they no longer had any use for advocating left coalitions of unions against the power - because the YKW had crossed the intersection, they had become the predominant organized power. Suddenly, "the left" became the pervasive enemy. ...and in the background, only one social unionization was tolerated by them - though not called "the left" - it was, of course, the union of Jews; and it became more brazenly right wing and supremacist with regard to other peoples, seeking only to cooperate with their right wing sell outs against those who might collectively organize as leftist coalitions against their elitism, supremacism and imperialism.
Thus, Gavin Chan has been maneuvered by Jewish journalese, a disingenuous framing of discourse, into talking in terms of "THE left" being antagonistic to his interests, without recognizing that this is neither a White Left, nor an Asian Left, but Jewish organized black and other PC left that has been used to attack those who most threaten the YKW - viz. Whites and Asians - as they threaten, especially in coalition, the only social unionization that the YKW want to remain effective - their own.
Gavin Chan · Dallas, Texas
Affirmative action is in fact the biggest middle finger to Asians. But the left leaves this detail out in most affirmative action discussions because Asians don't fit into the leftist racial narrative.

Affirmative action in place to pay historical reparations, sure, but why at the expense of Asians? It's absolute bs.

It's time to end this super racist policy.
Gavin, they've given you the middle finger indeed with unions of blacks et. al, represented against you. But, where Elizabeth says..
Elizabeth Rodriguez · Ledyard, Connecticut
Sorry, but I don't think Trump and Sessions are doing this to fight for Asian rights.
...that is true, they are not. They are doing this as a part of disingenuous quid pro-quo between Jews and complicit White right/alt-right wingers. I.e., they are not doing this for a White Left nor an Asian Left, but for a system controlled by (((the invisible hand))) in cooperation with whomever will take their deals, take their side and share their enemies where they might have the nerve to organize against their supramacism and imperialism.
The proper response is to recognize that a repeal of the Consent Decrees of the 1964 Civil Right Act would help alleviate some of the pressure of active enforcement of reverse discrimination, but it does not go far enough, it is not the White and Asian unionization and necessary coalition thereof - which would constitute, in the case of America, ethno-nationalisms in diaspora.
When you criticize "the racism" of affirmative action you are, in effect, criticizing group genetic unionization, the capacity for accountability thereof and thus to discriminate necessarily in group interests - that is not necessarily the same as being unfair and impervious - and leaves us only the fall-out of a civic nation, its muddles and deleterious demographic mixing - which will be horrifically unjust and destructive to systems- a destruction imposed by cultural Marxism these last 70 years, which operates irrespective of objectivist rules such as civil rights, by whatever stealthy social organization that remains effective behind the scenes, largely YKW.
Let's focus more on the Salon article(s) now:
Some background: The Consent Decrees are effectively a scheme devised for U.S. Courts to stipulate and oversee enforcement of various concrete measures that must be taken over time to implement reverse discrimination, for all practical purposes, against White people (it eventually worked against Asians as well).
At first blush it appears to be simply good that this reverse discrimination of affirmative action might be overturned - and it really is good to an extent: at least it would repeal oversight of strict and punitive enforcement of (((Red Leftism))) and its defacto imposition of Mulatto supremacism over Whites (and Asians, Mestizos and Amerindians). It would curb the imposed liberalization of White (and Asian) boundaries in force since court decisions and consent decrees of the 50's and 60's; and make way for a return to a more generally liberal direction of civil individual rights, on the basis of civic nationalism - that, however, is always disingenuous. Who believes that the system is "objectively" backed?. What is the demographic make-up of this civic nation, where is it headed and which people have the invisible hand that is pulling the socially orchestrating strings that are not acknowledged?
Now that the demographic situation is muddled among the masses and unionized resistance appears near futile as it has been conflated for years with civic liberalism, Jewish interests are entrenched on top with the help of right wing sell outs they've bought off. They are now consistent in opposing "the left" - viz., unionized groups of people which might otherwise hold them to account. What they offer instead is civic nationalism and the mechanism of civil rights with no account to systemic backing other than the invisible hand that they, the YKW, and to some extent complicit right wing sell outs, control.
The initial financial boosters of the Trump administration, the people who made Trump's presidency possible, are Robert Mercer and his daughter Rebekah. They fall into the complicit with Jews category, at best, they work things out with Jews. Witness their having put Judeo-Christian Steve Bannon (who believes "the dark frorces of the far east are the greatest threat to Western civilization) in charge of the Trump campaign as a condition of their backing. Nevertheless, Robert has long been an opponent of the 1964 Civil Rights Act; and Sessions has obviously been tasked to set about deconstructing the 1964 Civil Rights Act; he was installed along with Bannon into the Trump administration apparently in large part with that aim.
Rebekah and her father Robert Mercer

NPR, 22 March 2017: "Jane Mayer - Dark Money: The Hidden History of the Billionaires Behind the Rise of the Radical Right."

Jane Mayer writes in the New Yorker about Robert Mercer and his daughter, Rebekah Mercer, who have poured millions of dollars into Breitbart News, and who pushed to have Bannon run Trump's campaign. Robert and daughter Rebekah's dark money is behind Bannon, Sessions,.. they were behind Flynn as well, would have been for Cruz, Bolton, almost anything but the Clintons.
Robert Mercer's Opinions on 1964 Civil Rights Act:

According to a March 2017 New Yorker article by investigative journalist Jane Mayer, David Magerman, a former Renaissance employee, said that Mercer called the Civil Rights Act of 1964, the landmark federal statute arising from the civil rights movement of the 1960s, a "major mistake." According to Magerman, Mercer said that African Americans were economically better off before the civil rights movement, that white racists no longer existed in the United States and that the only racists remaining were African American. Mercer vigorously denies being a white supremacist.
It remains true that White people, including 'lower class White people" NEVER needed such black unions having their interests imposed upon them, as they were imposed by Jewish legalists, right wing sell outs and liberal stooges.
Thus, a repeal of the Consent Decrees could relieve Whites some - but only after untold damage has already been done to human biological systems and the demographic situation is hideously muddled and swamped - leaving the only one apparent way out in systemic support - through dealing with the YKW: an option that right wing sell outs and the Alternative Right have already exercised.
While they may have some problems with blacks that they may not want to own up to, but would rather look upon as the unfairness of affirmative action according to pure objectivist criteria and civic nationalism, none of these people behind and in the Trump administration have any great affection for Asians either. None of these people are anti-Semitic. The circumstance has all the hallmarks of a continued program of collaboration of elite and Zionist Jewry and right wing sell-out Whites: i.e., now that these folks are on top of the seven power niches, who needs left coalitions, unions of people discriminating in their interests? Especially not against Jewish supremaicism and elitist right wing interests.
The YKW, you see, are the only systemic union allowed in the end, by the cause of Red Leftism. Ever since around 2008 "the left" has been popularized as the great villain by the YKW in power - largely by means of the popularization of the (((paleoconservative underpinned))) Alternative Right.
But, in a word, the liberalism that they offer - even if they would repeal the Consent Decrees (which they will probably not succeed in implementing to any great effect for White interests free of Jewish instigation of pan mixia) - does not go nearly far enough: Systemic White interests need to be unionized such as to afford discriminatory accountability in the interests of our social capital - that is what is called an ethno-nation - and it must exclude the YKW from any pretense that they are White as well. Jews being considered "White" and a part of "Western Civilization" is obviously a key to the Session's deal that they are floating to repeal the Consent Decrees. Jews cannot be trusted as part of our interest group for their manichean cunning and inevitable destruction to our people, any more than blacks can be a part of our people for their genetic distance and inevitably destructive biopower where it is allowed cohabitation and mixing.
The undoing of the Consent Decrees would be the theoretical ending of a Jewish led implementation of imposed black unionization and extortion against us all.
What we mean by unionization here is what we mean by ethno-nation on the broad scale and genetic interest groups on the subsidiary level - in our exclusionary interests.
The problem arises then with he fact that you still have to live in the world with other people as cooperatively as possible. Drawing upon friend enemy distinctions, most sane people would say Jews and blacks should be first to be most perfectly excluded; as people coordinated with at best, but not cooperated with in expectation of reciprocal good will.
Our best hope is in cooperating with coalitions of Asians, Amerindians and Mestizos against blacks and YKW.
Asian - Mestizo - White interaction is nevertheless, problematic and nobody wants to be naive - but if there is some way to coordinate our unions as a coalition against Jewish and other right wing supremaicsm, and Muslims and against black biopower, then we probably have the best possible coalition.
Of course the trick is how to manage these coalitions with Asians, Amerindians and Mestizos, without us getting abused - particularly with the Alt-Right, Right and Jews ostensibly representing us - The Asians, Amerindians and Mestizos might simply react by trying to swamp us in population if we let them, glibly citing historical grievances that we especially would have had nothing to do with, even historically; or they could do worse, taking guerilla tactics against us as if we are immune to cooperation, perhaps sicking https://www.youtube.com/watch?v=0Wvy5jXXg-E tuck ms 13">the likes of MS13 on us if we don't like their taking advantage, etc.
Some people would say that we do not have to coordinate with the better elements of these people; but in a world where we are faced with Jews, Muslims and Africans, and naive and disingenuous Whites, Jewed-out by Christianity, indeed we must try to coordinate with these peoples as left natonalist allies as best we can.
The Salon Article. An ostensible victory to unburden White servitude to blacks, but at what (((price))) and to what real effect, in whose "objective" interests?
Salon, "Donald Trump's Justice Department is fighting affirmative action for hurting white people", 2 August 2017:

Attorney General Jeff Sessions is furthering an anti-civil rights agenda by investigating affirmative action.


The bromance between President Donald Trump and Attorney General Jeff Sessions may have soured, but that doesn't mean the president isn't supporting the most reactionary aspects of Sessions' policies.

The Justice Department's civil rights division is going to have some of its resources allocated toward lawsuits against universities over affirmative action policies perceived as hostile to white people, according to a document reported by The New York Times. The Times also reports that the internal announcement to the civil rights division explicitly asks for lawyers who would be willing to pursue "investigations and possible litigation related to intentional race-based discrimination in college and university admissions."

This policy exists as part of a larger anti-civil rights agenda being pursued by Trump and Sessions. In May, Sessions doubled down on the drug war by instructing prosecutors to "charge and pursue the most serious, readily provable offense." In June, Sessions discontinued the use of consent decrees in civil rights cases, which goes against traditional Justice Department practice as it makes civil rights rulings more difficult to enforce. Last month the Justice Department argued that Title VII protections don't apply to the LGBT community.

Despite these social justice policies, Sessions has mainly been in the news for his deteriorating relationship with Trump. Although the two were reported to be close friends for years, and through the 2016 election, things soured between them when Sessions recused himself from the Russia investigation in March. Trump has blamed Sessions for what he perceives as a showing of weakness and said that he wouldn't have selected Sessions as attorney general if he'd known he would do that.
Salon, "Trump Administration quietly rolls back Civil Rights efforts across federal government", 15 June 2017: Previously unannounced directives will limit the Department of Justice's use of civil rights enforcement tools - Consent Decrees

Topics: Civil Rights, Department of Justice, Jeff Sessions, ProPublica, Trump Administration, Politics News

For decades, the Department of Justice has used court-enforced agreements to protect civil rights, successfully desegregating school systems, reforming police departments, ensuring access for the disabled and defending the religious.

Now, under Attorney General Jeff Sessions, the DOJ appears to be turning away from this storied tool, called consent decrees. Top officials in the DOJ civil rights division have issued verbal instructions through the ranks to seek settlements without consent decrees — which would result in no continuing court oversight.

The move is just one part of a move by the Trump administration to limit federal civil rights enforcement. Other departments have scaled back the power of their internal divisions that monitor such abuses. In a previously unreported development, the Education Department last week reversed an Obama-era reform that broadened the agency's approach to protecting rights of students. The Labor Department and the Environmental Protection Agency have also announced sweeping cuts to their enforcement.

"At best, this administration believes that civil rights enforcement is superfluous and can be easily cut. At worst, it really is part of a systematic agenda to roll back civil rights," said Vanita Gupta, the former acting head of the DOJ's civil rights division under President Barack Obama.

Consent decrees have not been abandoned entirely by the DOJ, a person with knowledge of the instructions said. Instead, there is a presumption against their use — attorneys should default to using settlements without court oversight unless there is an unavoidable reason for a consent decree. The instructions came from the civil rights division's office of acting Assistant Attorney General Tom Wheeler and Deputy Assistant Attorney General John Gore. There is no written policy guidance.

Devin O'Malley, a spokesperson for the DOJ, declined to comment for this story.

Consent decrees can be a powerful tool, and spell out specific steps that must be taken to remedy the harm. These are agreed to by both parties and signed off on by a judge, whom the parties can appear before again if the terms are not being met. Though critics say the DOJ sometimes does not enforce consent decrees well enough, they are more powerful than settlements that aren't overseen by a judge and have no built-in enforcement mechanism.

Such settlements have "far fewer teeth to ensure adequate enforcement," Gupta said.

Consent decrees often require agencies or municipalities to take expensive steps toward reform. Local leaders and agency heads then can point to the binding court authority when requesting budget increases to ensure reforms. Without consent decrees, many localities or government departments would simply never make such comprehensive changes, said William Yeomans, who spent 26 years at the DOJ, mostly in the civil rights division.

"They are key to civil rights enforcement," he said. "That's why Sessions and his ilk don't like them."
Bernie-spastic,

James Hodgkinson

, off the mark.

He had an automatic weapon, highest ranking Republicans outside of the White house rounded up, sitting ducks on a baseball diamond. Fired fifty rounds and didn't kill anybody.

New York Magazine, "Gunman Targets Congressional Baseball Practice, Shoots GOP Whip", 14 June 2017:

A gunman opened fire on a field in Alexandria, Virginia, where Republican members of Congress and staffers were practicing for their annual baseball game Wednesday morning. House GOP Whip Steve Scalise was shot, and one of a total of five people taken to the hospital after the shooting, Alexandria police confirmed. The lone gunman was reportedly shot by police, and died in custody from his injuries, President Trump said during a Wednesday-morning statement.

One current Hill staffer, a lobbyist, and two Capitol police officers were among the others injured. Earlier reports that suggested Texas representative Roger Williams had been shot were false, though his office confirmed that one of his staffers, Zach Barth, was among the injured. Barth later posted, via friends on Facebook, that he was okay. Another victim, Matt Mika, a former Hill staffer and now director of government relations for Tyson Foods, reportedly suffered multiple gunshot wounds. The injured Capitol police officers were named by Speaker of the House Paul Ryan as Special Agent David Bailey and Special Agent Crystal Greiner. Both were wounded in a firefight with the suspect. Scalise, the only congressperson injured of the nearly two dozen on the field, is in serious but stable condition. He underwent surgery Wednesday morning.

Law enforcement officials have now identified the gunman as 66-year-old James T. Hodgkinson of Belleville, Illinois. Witnesses described him as a middle-aged white man; he was armed with a pistol and an M4 automatic weapon.

Initial reports indicate that Hodgkinson, who owned a home-inspection business, was an outspoken Bernie Sanders supporter. The Washington Post spoke to an acquaintance who met Hodgkinson on the campaign trail. "You've got to be kidding me," Charles Orear told the Post. "I met him on the Bernie trail in Iowa, worked with him in the Quad Cities area." Hodgkinson also reportedly posted anti-Trump sentiments on his Facebook page. (For more on the shooter, read Daily Intelligencer's explainer here.) Senator Bernie Sanders condemned the shooting in a statement, which he read on the Senate floor.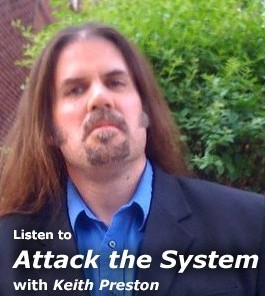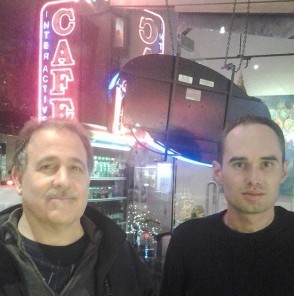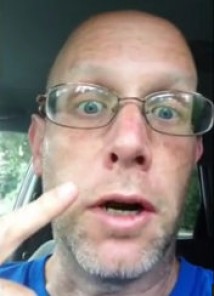 Keith Preston (((John K. Press)))) and Robert Stark Andy Nowicki
We've had a couple of talks with Pilleater recently, talks which have stalled for the time being. Pilleater is starting a podcast/platform called Radio Asian-Aryan - Be warned that he is mixing with a highly dubious crowd and point of view.
I would like to warn our audience against the Regnery circus game that the Stark tent presides over - a tent where Pilleater gained entry into the "alt-right" - an integral part of their game is: Anything to bury MR's platform of the White Left / Left Nationalism.
To date, the go-to guys for The Regnery Circus in that burying effort have been Keith Preston and Andy Nowicki, and that remains the case as evidenced by this first episode of Pilleater's "Asian Aryanism" - Andy Nowicki is the first guest (coincidence?). Andy is a natural "Alt Liter" (Jew friendly paleoconservative, promoting a Judeo-Christian order on the order of (((John K. Press's))) prescription). Andy is basically in the mold of so many struggling writers turned Alt-liter as it provides a niche for one who is willing to suck Jewish cock in order to keep a career afloat (He tells himself he is being well balanced).
Keith Preston (who doesn't speak here, but posts the audio and supports the project of subverting the White Left/Left Nationalism) is a reactionary of a different kind - against his right wing upbringing and into anarcho-liberalism to sustain his career (read, need to be Jew-friendly) - as such, his position is also convenient for the Regnery circus as a go-to-guy to subvert MR's White-Left / Left Nationalist platform (he constantly does this - it is his angle).
Stark, always Jewish friendly, has provided the basic forum of an entryist tent of Jews into the Alt-Right, while depicting "The Left" as the enemy or the "Right/Left" dichotomy as phony or non existent; and The White Left as non-existent..
They've been trying to bury the White Left with "Alt-left" - i.e., with a more liberal, Jew friendly, Jewish participatory kind of alt-right.
They are also trying to subvert Left Nationalist alliance between Whites and Asians by grooming Pilleater's "Asian Aryanism" - a more liberal, slightly more friendly-to-Asians and friendly-to-mixing platform than the alt-right.

The Alt-Left is Poison
...Pilleater adds "Adventure-kid" (a black) to his co-host entourage…
Radio Asian-Aryan Episode 1: Andy Nowicki
by Keith Preston • Left and Right

Radio Asian-Aryan.

Presented by pilleater.

Episode 1.

Andy Nowicki talks about his new book, Meta-#Pizzagate: On the "Unspeakable Rites" of Those Who Rule Our Demon-ocracy.

With Robert Stark and The Adventure Kid.

Also:
-Twin Peaks
-Alt-Left
-Yuko Mishima
-Asian-Aryanism
-and a whole lot of bantz