Majorityrights News > Category: Liberalism & the Red Left

Evening Standard, "Hundreds of protesters clash with police as riots spread into Paris", 15 Jan 2017:

Hundreds of protesters clashed with police as riots spread into Paris on Wednesday night.

Tear-gas was used by police as rioting that originated in the suburbs spilled into the French capital around the Barbes Metro station, close to Gare du Nord.

It follows the alleged rape of a young black man, named only as Theo, by French police.

Protesters started fires and smashed windows, while there were reports of riot police being attacked and shops looted.


The riots have been triggered by the alleged rape of a young black man by police (EPA)

Fire crews raced to the scene to extinguish the blazes as police desperately tried to disperse the crowds.

There has been heightened tension in council estates in Paris since February 2 when a 22-year-old youth worker named Theo was allegedly beaten up, raped and racially abused by police.


Rioting that originated in the suburbs have spread into the French capital (REUTERS)

...and you get typical black behavioral pattern response: hyper-assertiveness.
Ibid: One unidentified officer has been charged with rape, and three more with assault since Theo was sent to hospital where he underwent emergency surgery.

Since the alleged attack there have been reports of police stations and squad cars being targeted, as well as patrols operating around France.


There has been heightened tension in Paris since February 2 (EPA)

President Francois Hollande, who has visited Theo, has appealed for calm.

Wednesday night's protest at Barbes was illegal as police refused to give permission for it.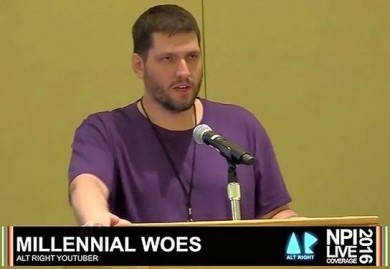 Mirror, 9 Jan 2017: "Racist vlogger who became global YouTube sensation unmasked"
...etc., so the headline and the hit piece reads.
On 5 June '15, Millennial Woes came to Majority Rights and left a comment * insisting that his link be removed from this site because I, DanielS, would not accept his friend, The Truth Will Live, a.k.a. (((Ruth))), as a part of our struggle, let alone as having a place to define our terms. I consider his position in her regard to have been naive at best, but probably more like an unsavory deal with the tentosphere. I really don't approve of this defense of the Jewish tent of the tentosphere. In addition, his going along with the Alt-Right's attribution of "THE Left" as the enemy is unacceptable; finally, he is annoying in coupling this attempt to join the Alt-Right in muting our platform, while perhaps garnering some of our ideas and auguring to misdirect them.
Even so, the doxing and smearing of him by a purportedly objective news source, The Mirror, is way out of line. Even I don't think he is remotely that bad or that he deserves that. But then again, beware the right, Alt-Right too - it's an unstable arrangement - the right has come back to bite countless adherents and those with misfortune to find themselves on the other side of their reactions over the years.
* The Millennial Woes comment that I am referring-to comes as the second in a series of three comments dated 3 - 5 June 2015, viz., #6, #14 and #17 and occurs within the post called "The Lies Will Try To Live But They're Not White, They're Jewish."
Posted by Millennial Woes on Wed, 03 Jun 2015 12:27 | #6

Ruth, who has the channel "The Truth Will Live", is a close friend of mine. She and I speak regularly about the key issues of the alt-right, including the JQ, and she is on-board with all of it. In particular, residing in a Somali-heavy area of the US, she has to deal with their shit just like the rest of us do, and she hates it and opposes immigration from the Third World as wholeheartedly as any of us do.

To repeat, she is a close friend of mine and I know that she is a good, kind, decent person. I think it is wrong of you to besmirch her unless you have some evidence that she is a fake.

PS. And no, she didn't ask me to write this post! AFAIK she doesn't even know about this article.

Posted by Millennial Woes on Fri, 05 Jun 2015 11:41 | # 14

DanielS,

I understand your position, and I do understand the danger. However, I cannot stand by as my close friends are bad-mouthed when they have done nothing wrong whatsoever. (Note that you conflate Ruth's statements with Rachel Haywire's, when they are two very different people.)

Though I am grateful to your site for linking to my channel this last year or so, I ask you to remove that hyperlink now. I do not want to be associated with a site, however worthy it might be, that insults and dismisses my own friends.

Thank you, MW.

Posted by Millennial Woes on Fri, 05 Jun 2015 20:26 | # 17

DanielS "One extreme is to do the Christian services bit, helping Africans to no end. The other is to not care." She says it is wrong and extreme because they cannot take care of themselves well enough and it is the White man's burden to help them.

This golden rule is one of the most Jewy things imposed on Whites from the Bible.

MW: That's very strange, because it was I, a non-Jewish, non-religious, British-native white guy, who introduced Ruth to the idea that the White Man's Burden is a real thing - having arrived at this belief myself without any help, Jewish or otherwise. I came up with it, of my own volition, based on my own observations of my (white, non-Jewish, non-religious) people.

DanielS If you are that defensive of these women then we would view your link as a bum steer anyway.

MW: I don't even know what that phrase means. All I'm asking for is decency. Without a shred of evidence, you are ascribing a calculating, deceitful nature to a woman who simply doesn't have such a nature. If defending her makes me "defensive," so be it.
Millennial Woes argues that I conflate Ruth and Rachel Haywire, but I do not. In fact, my position with regard to Ruth was developed with interviews of her separately. Nor was I picking on her without evidence or for trivial reasons - it is most important to separate White advocacy from her sort of influence. For the record, I did not conflate Ruth's position with Rachel's: Ruth wanted to define the left for us, to encourage Abrahamism, she said that she believes in "the White man's burden" (that we owe help to Africans); and in the end she would pursue an agenda to have us treat Jews as a part of our cause, having kindred issues and concern for Western culture. But for a myriad of reasons, it is critical that there be White advocacy platforms free of Jewish influence (active influence, in particular), however benign it may appear (and the reason to discriminate against this one (((Ruth's positions))) wasn't really particularly hard to discern).
Heidegger midtdasein

LARB, "Heidegger and Anti-Semitism Yet Again: The Correspondence Between the Philosopher and His Brother Fritz Heidegger Exposed", 25 Dec 2016:

FOR QUITE SOME TIME, there has been a fair bit of murmuring and speculation surrounding the letters exchanged between the philosopher Martin Heidegger and his brother Fritz. Those who had seen the more than 500 pieces of correspondence, which have been stored at the German Literature Archive in Marburg since 2014, knew how explosive they would be. But in accordance with the wishes of Heidegger's family, they were not allowed to quote from them. But now — apparently in response to the intense international debate surrounding Heidegger's anti-Semitism triggered by the publication of the Black Notebooks three years ago — the family has agreed to release an abridged version of the letters, written between 1930 and 1946, in a newly published volume called Heidegger und der Antisemitismus ("Heidegger and Anti-Semitism") (Verlag Herder, Freiburg 2016). Inside these pages one finds an unvarnished picture of the philosopher's political disposition. In the Black Notebooks, a kind of diary of thoughts, Heidegger approached anti-Semitism from a philosophical remove, but these personal letters published expose him as a bona fide, unrepentant anti-Semite. They also show that — in contrast to prevailing beliefs — the Freiburg professor was politically well informed, and was an early and passionate supporter of National Socialism.

As early as the tail end of 1931, the 43-year-old Heidegger sent his brother a copy of Adolf Hitler's Mein Kampf for Christmas, praising the future dictator's "extraordinary and unwavering political instincts." Heidegger interprets the right-wing conservative minority cabinet under Reich Chancellor Franz von Papen — which governed with the help of President Hindenburg between June and December 1932 — as a Jewish conspiracy. And he complains that the Jews are:

gradually extricating themselves from the mood of panic into which they had fallen. That the Jews were able to pull off such a maneuver as the Papen episode just shows how difficult it will be to push back against everything represented by Big Capital (Großkapital) and the like.
TNO, "French Mayor on Trial for Truth", 24 Dec 2016:

The French mayor of the town of Béziers has been charged with "hate crimes" after saying that it was a "problem" that a class in a local school was 91 percent Muslim.

The charges were brought by the Jewish "International League against Racism and Anti-Semitism" (Ligue Internationale Contre le Racisme et l'Antisémitisme, LICRA).

Mayor Robert Menard denied his comments were discriminatory, saying he had "just described the situation in my town."


"The most striking proof of the great Replacement in progress. Just look at old class photos." - Mayor Robert Menard.

The comments were made back in September 2016, when Menard told French news channel LCI that "In a class in the city Center in my town, 91 percent of the children are Muslims. Obviously, this is a problem. There are limits to tolerance."

At the same time, Menard tweeted his regret at witnessing "the great replacement" of France's white population by Third World invaders.

According to French media, his comments were "seized upon" by LICRA, and the Jewish group immediately pressed charges for "hate" and "incitement."

After months of deliberation, Menard's trial date has now been set for March 8, LICRA announced on their Twitter feed.

After months of deliberation, Menard's trial date has now been set for March 8, LICRA announced on their Twitter feed.
... as Recorded by Refugee Resettlement Watch


20 Dec 2016: Terror around the world in the past few days…no thanks to these three 'leaders.'

Pictures speak a thousand words….

How many of you remember that when Obama took office, Turkish President Erdogan was supposed to be his best (only!) friend among world leaders? Later, after she opened the gates to migrant Muslim invaders, Erdogan and Merkel became pals.

21 Dec:

Austin, TX mayor works with White House to welcome Syrians against official state position.
22 Dec:
Obama State Department approves 100 Syrian Muslims for West Virginia state capitol

Where were you WV Republican Senator Shelley Moore Capito and Republican Rep. Alex Mooney? Only two choices!—either asleep-at-the-switch or in support of this move by a local 'interfaith' group to be named a federal subcontracting agency for the purpose of beginning a new refugee resettlement site in the state. (Charleston previously received a few refugees through Catholic Charities, but no where near this scale).


Did Mooney tell this nice lady that he is supporting Syrian Muslim resettlement in the state capitol? Charleston is in Mooney's district. Photo: https://www.nationaljournal.com/s/57741

If Capito and Mooney had put up significant opposition, we would have heard about it and this decision might have turned out differently.

So why go ahead with this new site at the West Virginia state capitol?

For new readers we have followed the growing controversy in Charleston extensively for months, see here.
West Virginia is one of the Whitest (and poorest) states in The United States. It is also one of the most beautiful, at least where Massey Corporation has not strip-mined its mountain tops (and poisoned drinking water and given cancer to locals with that same operation).
21 Dec: 23 years after Black Hawk Down we admit Somali 'refugees' to US at highest rates ever

Here is the map of where they went (again these are the numbers for October 1, 2016 to December 10, 2016). This is the number for resettled refugees only:
Tanya Gersh has called upon Sherry Spencer to sell her Whitefish, Montana building.
Richard Spencer's mother, Sherry Spencer, had no intention of selling her Whitefish, Montana building until she received terrible threats, the threats she said came from Tanya Gersh, a local realtor with links to so-called "human rights" organizations.
According to Sherry Spencer, on November 22nd, Tanya Gersh spoke with her on the phone and she relayed that if Sherry Spencer did not sell her building that 200 protestors and the national media would show up outside - which would drive down the property value - until she complied. Gersh's other conditions included that Mrs. Spencer should publicly denounce her son in a statement written by the Montana Human Rights Network and that she make a donation to this organization from the sale of the property. As Gersh announced on Facebook, she was "spear heading" the campaign.
Gersh followed up on her conditions in a number of emails, which have been made public. She even shamelessly suggested that she act as Sherry's realtor! In other words, she and the local "human rights" organizations appeared to seek financial benefit from threats of protests and reputation damage. They also threatened tenants currently leasing space from Spencer's mom.
Sherry had no intention of selling her property in Whitefish until being harassed and receiving this pressure from Tanya Gersh, as leveraged by threats of protest from the anti-racist protest organizations - Love Lives Here and Montana Human Rights Network - apparently at her behest to serve three functions:
1) To punish her son for promoting White Nationalist sovereignty.
2) To profit her local real estate business by instigating Sherry to a fire sale of her property.
3) To profit liberal groups such as "Love Lives Here" through donation of sale proceeds to them or similar anti-racist organizations: which generally oppose the necessary practice of social classification and discrimination on the basis of those social classifications (a least as Whites may render them - as such, they call it "racism"); despite the fact that capacity for social classification and discrimination is humanly impossible to avoid and absolutely necessary for survival of and against certain human species; as well as a generally necessary practice in defense against predation in order to facilitate human and pervasive ecology.
The mother of white supremacist Richard Spencer claims she is suffering financially due to the backlash against her son's controversial views.

Sherry Spencer, who lives in Whitefish, Montana, said she is being forced to sell a building she owns in the small town because residents are rebelling against her son.


Sherry Spencer says she is being forced to considering selling the building she owns at 22 Lupfer Avenue (pictured), because of backlash against her son.

Richard Spencer shot to prominence last month when footage emerged of him delivering a 'hateful speech' at a white nationalist meeting held to celebrate Donald Trump's election win.

A video by The Atlantic taken inside the Ronald Reagan building showed Spencer, leader of the National Policy Institute, shouting, 'Hail Trump, hail our people, hail victory!' as some of the people in attendance lifted their hands in a Nazi salute.

He also claimed America belongs to white people, who he suggested are faced with the decision to either 'conquer or die'.

The speech drew intense criticism from the US Holocaust Memorial Museum, which said in a statement Spencer made: 'several direct and indirect references to Jews and other minorities, often alluding to Nazism.'

'He spoke in German to quote Nazi propaganda and refer to the mainstream media. He implied that the media was protecting Jewish interests and said, "One wonders if these people are people at all?"'

And according to Sherry Spencer, the criticism has been echoed by people in her hometown - where he son also has a business registered and visits regularly.

Sherry Spencer told KTMF she is selling a building she owns at 22 Lupfer Avenue, which she currently sublets. It houses a beauty salon and vacation rentals. She also runs a real estate business from the building.

'As painful as this is, I am exploring a potential sale of the building,' she said.

She also took aim at a local human rights group, Love Lives Here, and accused it of damaging her family.

'We are stunned by the actions of Love Lives Here, an organization claiming to advocate tolerance and equal treatment of all citizens, yet coursing financial harm to many innocent parties,' she said.

One of the strongest opponents to Sherry is local real estate agent Tanya Gersh, who said Spencer has backed her son and allowed him to spread his views.

'She is profiting off of the people of the local community, all the while having facilitated Richard's work spreading hate by letting him live and use her home address for his organization,' Gersh told the network.

Love Lives Here also responded to Sherry's remarks, saying it 'did not know what she (was) talking about'.

'We don't cause financial harm to anybody,' co-founder Ina Albert said, before going on to say the group does not have a specific problem with the Spencers.

'I don't know what (Richard) does when he comes here. But that is not our problem with Richard Spencer.

'It is the National Policy Institute and what that stands for and our town being smeared by his philosophy.'

The National Policy Institute was established in 2005 by Spencer, and it is described by the Southern Poverty Law Center as 'hate group'.

Gersh went on to call for Sherry to sell the building immediately, and then use the money to help human rights causes.

'(She) Could address this by selling the building, making a donation to human rights efforts, and making a statement in opposition to white supremacist ideas spread by Richard,' Gersh said.

Sherry Spencer also told the network she loves her son, but does not agree with his 'extreme positions'.


Sherry Spencer is pictured with her husband Dr. Rand Spencer at a benefit in April 2016
As Sherry Spencer writes:

These threats came from Tanya Gersh, a local realtor with links to "human rights" organizations Love Lives Here [Phone: 406-309-5678] and the Montana Human Rights Network [Phone:406-442-5506].

On November 22, Gersh and I spoke on the phone. She relayed to me that if I did not sell my building, 200 protesters and national media would show up outside — which would drive down the property value — until I complied. Gersh's other conditions included that I make a public denunciation of my son in a statement written by the Montana Human Rights Network and that I make a donation to this organization from the sale of the property. As Gersh announced on Facebook, she was "spear heading" the campaign.

Gersh followed up on her conditions in a number of emails, which I've just made public. She even shamelessly suggested that she act as my realtor! In other words, she and the local "human rights" organizations appeared to seek financial benefit from threats of protests and reputation damage.
Mark Collett:

Nationalism should never be about being edgy and scaring people. We aren't some 1% motorcycle club, with the motto, 'no one likes us and we don't care.' ..we aren't trying to scare people or offend them. In fact, we are trying to offer scared people hope…and our people have plenty to fear.
Theresa May will chair a meeting to discuss the issue.

"CYBER-WARFARE: Putin launches 'propaganda campaign' against Britain, officials claim."

RUSSIA is engaged in a "campaign" of propaganda and cyber-warfare against Britain, Government officials have acknowledged for the first time. British officials are concerned about growing Russian influence on UK institutions. Theresa May will chair a National Security Council session within weeks to discuss the issue after senior Whitehall figures claimed the Kremlin is responsible for a plot to sabotage the UK with espionage and misinformation.

This comes after Barack Obama directly challenged Russia in an astonishing response to reports by US intelligence services claiming November's general election was hacked under Vladimir Putin's watch..

The outgoing President vowed the US would retaliate to the suspected espionage, and said the country would take action "at a time and place of our own choosing".

He added: "Don't do this stuff to us, because we can do this to you."

US officials have expressed near-certainty Putin supervised the data breaches which brought Hillary Clinton's presidential campaign to ruin.

One official said: "If anything, given his background as a KGB officer, Putin has a much tighter grip on all Russian surveillance operations, civilian and military, foreign and domestic, than any democratic leader does."

And in a cabinet meeting two months ago, top intelligence officers and civil servant voiced worries the same scale of threat from Moscow could extend to Britain.

A source told the Times: "There was an agreement on the need to do more across Whitehall to understand and assess and formulate options on how to reposed to Russian activities."

Security services fear British institutions and companies have been infiltrated by Russian agents – some of whom could even be UK citizens.

And last night it was revealed several leading academics at Cambridge University left an intelligence forum following concerns over Russian interference.

The head of the armed forces earlier this week urged for counterintelligence efforts to be ramped up in an attempt to catch Russian cells.

Air Chief Marshal Sir Stuart Peach said: "We need to pay more attention to counterespionage and counterintelligence to protect our hard-won research, protect our industry and protect our competitive advantage."

The extent of Russian infiltration in Britain is believed to be more severe than during the Cold War.