Majorityrights News > Category: Liberalism & the Red Left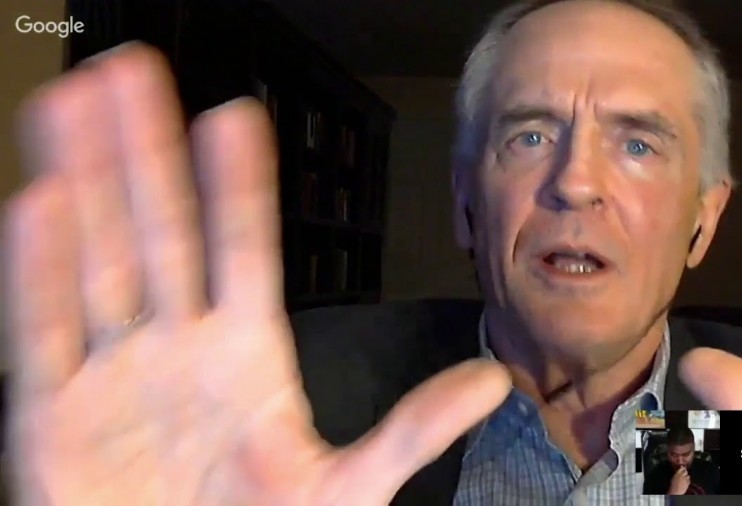 Taylor does some good work - bringing this lawsuit against Twitter is commendable - Twitter's prohibition of free speech is a travesty given that it is functioning as a public utility; its having gotten its corporate start with US government help; its remaining dependent upon the US Government created and sponsored internet network; and public telecommunications lines. Taylor also handles with aplomb stigmatic issues of blacks and their hyper-assertive biopower, as he did in
his debate with black nationalist Tariq Nasheed.
Nevertheless, he yields to Jewish crypsis, infamously having said, "
they look huWhite to me
" ...and now that Jewish interests seek fusion with the White right, their media refers to Taylor as a "White Nationalist."
BBC, "White nationalist Jared Taylor sues Twitter over ban", 22 Feb 2018:

White nationalist Jared Taylor is suing Twitter after the social network banned his account as part of a crackdown on abusive content.

Mr Taylor's lawyer says the suspension of his account is a form of censorship, accusing Twitter of discrimination.

Twitter declined to comment on the case but has previously said that its tools are "apolitical."

Mr Taylor is head of American Renaissance, a website that champions "racial difference".

He had his account suspended in December, with Twitter explaining that it prohibited accounts affiliated with the promotion of violence, something Mr Taylor denies applied to him.

Mr Taylor has filed his case in California, in the state Superior Court in San Francisco. He argued that Twitter violated Californian law protecting free speech in public spaces - a law that has not previously been applied to the internet.

His lawyer Noah Peters wrote online that everyone should be "terrified" about what he called Twitter censorship. "Our lawsuit is not about whether Taylor is right or wrong. It's about whether Twitter and other technology companies have the right to ban individuals from using their services based on their perceived viewpoints and affiliations.

"Allowing Twitter to censor content is extremely troublesome given Twitter's self-proclaimed mission to 'give everyone the power to create and share ideas instantly, without barriers'."
Nick Fuentes vs. RC Maxwell | Civic Nationalism Debate.
Fuentes stakes-out some classic arguments against civic nationalism and specifically in this case, against those arguments for inclusion of blacks within the nation. While a full endorsement is not implied, he establishes a plateau from which to elaborate, differ and/or transform.
ContraPoints has done his/her homework as well, also enough to stake out a polemic - by contrast to Fuentes, ContraPoints argues in defense of blacks - giving explanations/excuses for what are taken by who dislike them to be typical black behavior (bad) - again, providing a position for difference, elaboration and/or transformation.
This new PhD (below), "Mexie" the Vegan and anti-capitalist activist, considers that to be her favorite Contrapoints video, one that all "racists" (and anti-racists) should see.
Going Vegan: A Discussion with Mexie | ContraPointsLive
This Vox article concludes:
What we don't know

The shooter's motive
A safe bet is that the shooter's motive was rather an incoherent motive of broad revenge against societal incoherence and therefore lack of accountability, agency and warrant that socially delimited human ecologies would otherwise afford.
VOX, Marjory Stoneman Douglas High School shooting in Florida: what we know:

At least 17 people are dead. The 19-year-old suspect is in custody.


Parents wait for news after a shooting at Marjory Stoneman Douglas High School in Parkland, Florida. Joel Auerbach

A shooting at Marjory Stoneman Douglas High School in Parkland, Florida, has left at least 17 people dead. Students and adults are among the victims.

A 19-year-old male suspect, Nikolas Cruz, has been charged with 17 counts of premeditated murder. Cruz, a former student at Stoneman Douglas, took an Uber to the school Wednesday afternoon. He was armed with an AR-15 rifle, law enforcement officials said, which he used to carry out his rampage. He fled the scene on foot, blending in with the rush of students pouring from the building. The massacre unfolded in less than 10 minutes, according to the timeline released by the Broward County Sheriff's office.

"That should not happen in Parkland. It should not happen anywhere in this country," Broward County Public Schools superintendent Robert Runcie said on Wednesday night. "We have got to find a way for this to stop."

The investigation is still in its early stages. Details could change with more information. Here's what we know — and don't.

What we know

- Around 2:30 pm on Wednesday, just before class dismissal, the fire alarm went off, and shooting began. A law enforcement official told told CBS News it was believed the suspect pulled the fire alarm before the shooting rampage.

- At least 17 people were killed in the school shooting. At least 14 others were wounded, with five individuals sustaining life-threatening injuries. Teenagers and adults are among the victims, according to the Broward County Sheriff's Office.

- The victims we know of so far: Jaime Guttenberg, Martin Duque, Alyssa Alhadeff, Aaron Feis, Gina Montalto, Nicholas Dworet, Luke Hoyer, Carmen Schentrup, Meadow Pollack, Joaquin Oliver, Alaina Petty, Cara Loughran, Helena Ramsey, Alex Schachter, Chris Hixon, Scott Beigel, and Peter Wang. The Miami Herald has the full list with photos and more information.

- The lone suspect is 19-year-old Nikolas Cruz, according to the Broward County Sheriff's Office. He was taken into custody off school property about an hour after the shooting, the sheriff said.

- Cruz confessed to the shooting, according to a sheriff's report. He's been charged with 17 counts of premeditated murder.
New Observer, "8,606 Fake Refugees Invade Europe in first 37 Days of 2018", 11 Feb 2018:

At least 8,606 nonwhites pretending to be "refugees" invaded Europe in the first 37 days of 2018, meaning that 232 invaders landed every day, according to new figures released by the United Nations' International Organization of Migration (IOM).

The IOM figures show that 7,795 of the nonwhites invaded Europe by sea, and 811 by land as of 7 Feb 2018.

At least 186,768 nonwhites invaded Europe this way in 2017, and 392,879 in 2016, the IOM added.

The main nationalities of the invaders are, in descendant order, as follows:

To Italy: Nigeria, Guinea, Cote d'Ivoire, Bangladesh, Mali, and Eritrea;

To Greece: Syria, Iraq, Afghanistan, Democratic Republic of the Congo, Pakistan, and Algeria;

To Spain: Morocco, Algeria, Guinea, Cote d'Ivoire, Gambia, and Syria;

To Bulgaria: Syria, Iraq, Afghanistan, Turkey, and Pakistan.

In the period from 1 February 1 to 7, 11 nonwhites invaders landed in Cyprus, and in the same period, 10 nonwhites demanded "refuge" in Hungary.

At the same time, 29 nonwhites demanded "refuge" in the former Yugoslav Republic of Macedonia.

In 2017, at least 92 percent of the invaders landed by sea (172,362) to Italy, Greece, Spain and Cyprus. The remaining 14,406 invaded Europe by using land routes to the Spanish enclaves Ceuta and Melilla in North Africa (6,293) and from Turkey to Greece (5,551) and Bulgaria (2,562).

The IOM also revealed in its "Flows Compilation Report" for Decemebr 2017 that under the "EU Relocation Scheme"—through which that organization moves nonwhites from the countries of landing to other EU nations, another 106,000 nonwhites were moved from their landing points in Greece and Italy to elsewhere in Europe.

To date, 25 countries have committed to make places available under the scheme, namely Austria (50) Belgium (1,530), Bulgaria (1,070), Croatia (316), Cyprus (205), Czech Republic (50), Estonia (396), Finland (2,128), France (6,940), Germany (13,250), Ireland (1,152), Latvia (627), Liechtenstein (10), Lithuania (1,160), Luxembourg (545), Malta (205), the Netherlands (2,825), Norway (1,500), Poland (100), Portugal (3,218), Romania (2,182), Slovakia (60), Slovenia (579), Spain (2,500), Sweden (3,777) and Switzerland (1,530) with an overall number of 47,905 places.

An additional 54,000 nonwhites claiming to be Syrians were flown out of Turkey for "resettlement" in Europe.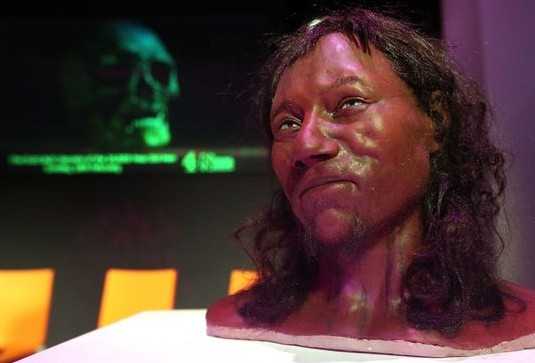 Scientists have produced a full facial reconstruction of the Cheddar Man; the researchers say that the young man would have had dark complexion along with blue eyes and dark, curly hair (Image: PA)
The recent scientific declaration of the Cheddar Man's dark skin provides an example of how mere facticity can be misleading, or used to mislead - in this case, taking the contingent particularity of the Cheddar man's dark skin to distract from the aggregate difference that makes a difference in the broader pattern comprising mutation distinguishing native British.
Mirror, "Face of 'The First Brit' known as the Cheddar Man revealed – and he had dark skin

A groundbreaking study reveals the remains found a century ago in Gough's Cave in Somerset did not belong to a pale-skinned person, as previously thought", 7 Feb 2018:

This is the face of one of modern Britain's earliest men – and he had dark skin.

Britain's oldest complete skeleton, known as Cheddar Man, was unearthed more than a century ago in Gough's Cave in Somerset.

But an unprecedented examination of his DNA, along with a facial reconstruction of the fossil, shows he would have had a darker complexion than previously thought, along with blue eyes and dark, curly hair.

Previous reconstructions of Cheddar Man, which were not based on DNA data, depicted him with a lighter skin tone. But research by evolution and DNA specialists at the Natural History Museum and University College London suggests the skin colour associated with northern European ancestry is a more recent development.

The research and remodelling process was documented for Channel 4 show The First Brit: Secrets of the 10,000 Year Old Man.

Professor Ian Barnes, research leader at the Natural History Museum, said: "For me, it's not just the skin colour that's interesting, it's that combination of features that make him look not like anyone that you'd see today.

"Not just dark skin and blue eyes, because you can get that combination, but also the face shape.

"So all of this combines together and makes him just not the same as people you see around today."

Researchers Professor Barnes and Dr Selina Brace extracted DNA data from bone powder by drilling a 2mm hole through the skull's inner ear bone.

They scanned the skull and a 3D model was produced by "paleo artists" Alfons and Adrie Kennis, who make life-like reconstructions of extinct mammals and early humans.

The twins, who have created reconstructions for museums around the world and usually create models of Neanderthals, spent three months creating Cheddar Man.

"It's really nice to make a more graceful man, not a heavy-browed Neanderthal. So we were very excited that it was a guy from after the Ice Age. We were very interested in what kind of human he was," said Alfons.

"With the new DNA information it was really revolutionary. And it allowed us to look more at race, this revealed stuff that we'd never had known before."

Cheddar Man, thought to have died in his twenties and to have had a relatively good diet, lived in Britain when it was almost completely empty.

Although previous populations had settled in Britain long before his arrival, they were wiped out before him and he marked the start of continuous habitation on the island.

Genetically, he belonged to a group of people known as the "Western Hunter-Gatherers" - Mesolithic-era individuals from Spain, Hungary and Luxembourg.

His ancestors migrated to Europe from the Middle East after the Ice Age and today, 10% of White British people are descended from the group.

Alfons said: "People define themselves by which country they're from, and they assume their ancestors were just like them. "And then suddenly new research shows that we used to be a totally different people with a different genetic makeup.

"People will be surprised, and maybe it will make immigrants feel a bit more involved in the story. And maybe it gets rid of the idea that you have to look a certain way to be from somewhere. We are all immigrants."

The First Brit: Secrets of the 10,000 Year Old Man airs on Channel 4 on Sunday February 18.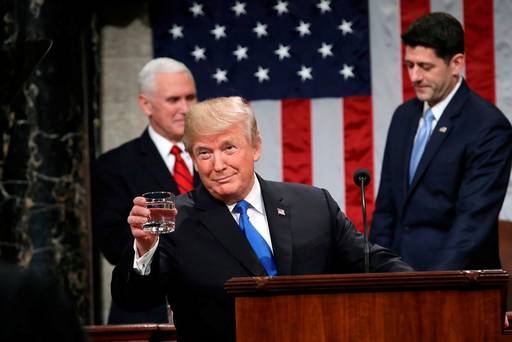 Trump strikes familiar Alt-Right pose: "Hail himself, Hail Israel, Hail our black feudalistic-henchmen enforcers."
Typical Right/Alt-Right:
A distinguishing characteristic of the Alt-Right, which betrays its right-wing stiltedness, its inorganicism, its artifice as pseudo-representation of White interests, is that it will align vigorously with Trump, turn its back on his complete merging with Jewish interests; with that, side with and pander to blacks, their feudalistic henchmen enforcers against White - Asian left nationalist coalition (here looking upon Amerindios as "Asian").
Whether it is the disingenuous fat kosher fuck, Mike Enoch, his Alt-Right and the TRS crew, with their deep kosher resource supplying them with foils and marketing memes, there's but one stipulation - that they endlessly back the Zionist Trump and phrase their argumentation as being against "the left."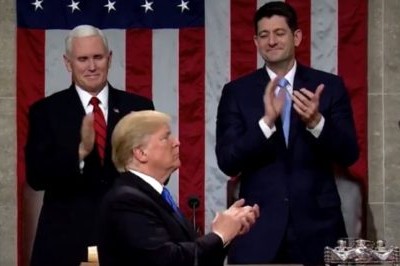 Trump tries to encourage blacks to applaud him for altercast role in the Judeo-Alt-Right coalition.
....or the unbearable 'logic' of "Father Francis" going on and on sweetly about his black friend, "Brother Carl," to show how objective and non-racist he is, how thoughtful he his is about the impact of Mexicans on American blacks (like a person normally and organically motivated by White interests would care about that).
We are highly cognizant of the critical issue of population control and carrying capacity, but with that do not look upon the YKW and blacks as our allies in those ethnonationalist concerns, as the Right/Alt-Right would pretend, or intimate that they are, in their phony campaign against the left natonalism, i.e., that which structures carrying capacity and population control against imperialist Abrahamic "coalition building," deal making/bribing with blacks and the Right/Alt-Right.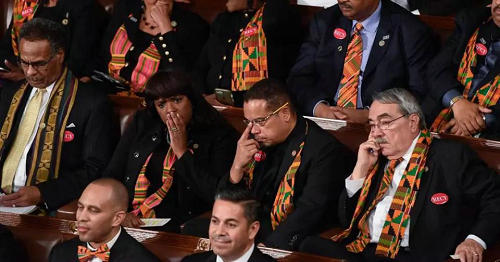 Members of Congressional Black Caucus offer no reaction as Pres. Trump says "African-American unemployment stands at the lowest rate ever recorded"
Like Trump's deal-making with the YKW, a quid pro quo with African Americans will be found to not reciprocate White interests very well. And while they can assist if the goal is to tear things down, nor will African Americas be much positive good for Asians and Amerindios if they know what's good for their long term interests.
President Donald J. Trump's State of the Union Address

Remarks as prepared for delivery

TO THE CONGRESS OF THE UNITED STATES:

Mr. Speaker, Mr. Vice President, Members of Congress, the First Lady of the United States, and my fellow Americans:

Less than 1 year has passed since I first stood at this podium, in this majestic chamber, to speak on behalf of the American People — and to address their concerns, their hopes, and their dreams. That night, our new Administration had already taken swift action. A new tide of optimism was already sweeping across our land.

Each day since, we have gone forward with a clear vision and a righteous mission — to make America great again for all Americans.

Over the last year, we have made incredible progress and achieved extraordinary success. We have faced challenges we expected, and others we could never have imagined. We have shared in the heights of victory and the pains of hardship. We endured floods and fires and storms. But through it all, we have seen the beauty of America's soul, and the steel in America's spine.

Each test has forged new American heroes to remind us who we are, and show us what we can be.

We saw the volunteers of the "Cajun Navy," racing to the rescue with their fishing boats to save people in the aftermath of a devastating hurricane.

We saw strangers shielding strangers from a hail of gunfire on the Las Vegas strip.

We heard tales of Americans like Coast Guard Petty Officer Ashlee Leppert, who is here tonight in the gallery with Melania. Ashlee was aboard one of the first helicopters on the scene in Houston during Hurricane Harvey. Through 18 hours of wind and rain, Ashlee braved live power lines and deep water, to help save more than 40 lives. Thank you, Ashlee.

We heard about Americans like firefighter David Dahlberg. He is here with us too. David faced down walls of flame to rescue almost 60 children trapped at a California summer camp threatened by wildfires.

To everyone still recovering in Texas, Florida, Louisiana, Puerto Rico, the Virgin Islands, California, and everywhere else — we are with you, we love you, and we will pull through together.

Some trials over the past year touched this chamber very personally. With us tonight is one of the toughest people ever to serve in this House — a guy who took a bullet, almost died, and was back to work three and a half months later: the legend from Louisiana, Congressman Steve Scalise.

We are incredibly grateful for the heroic efforts of the Capitol Police Officers, the Alexandria Police, and the doctors, nurses, and paramedics who saved his life, and the lives of many others in this room.

In the aftermath of that terrible shooting, we came together, not as Republicans or Democrats, but as representatives of the people. But it is not enough to come together only in times of tragedy. Tonight, I call upon all of us to set aside our differences, to seek out common ground, and to summon the unity we need to deliver for the people we were elected to serve.

Over the last year, the world has seen what we always knew: that no people on Earth are so fearless, or daring, or determined as Americans. If there is a mountain, we climb it. If there is a frontier, we cross it. If there is a challenge, we tame it. If there is an opportunity, we seize it.

So let us begin tonight by recognizing that the state of our Union is strong because our people are strong.

And together, we are building a safe, strong, and proud America.

Since the election, we have created 2.4 million new jobs, including 200,000 new jobs in manufacturing alone. After years of wage stagnation, we are finally seeing rising wages.

Unemployment claims have hit a 45-year low. African-American unemployment stands at the lowest rate ever recorded, and Hispanic American unemployment has also reached the lowest levels in history.

Small business confidence is at an all-time high. The stock market has smashed one record after another, gaining $8 trillion in value. That is great news for Americans' 401k, retirement, pension, and college savings accounts.

And just as I promised the American people from this podium 11 months ago, we enacted the biggest tax cuts and reforms in American history.

Our massive tax cuts provide tremendous relief for the middle class and small businesses.

To lower tax rates for hardworking Americans, we nearly doubled the standard deduction for everyone. Now, the first $24,000 earned by a married couple is completely tax-free. We also doubled the child tax credit.

A typical family of four making $75,000 will see their tax bill reduced by $2,000 — slashing their tax bill in half.

This April will be the last time you ever file under the old broken system — and millions of Americans will have more take-home pay starting next month.

We eliminated an especially cruel tax that fell mostly on Americans making less than $50,000 a year — forcing them to pay tremendous penalties simply because they could not afford government-ordered health plans. We repealed the core of disastrous Obamacare — the individual mandate is now gone.

We slashed the business tax rate from 35 percent all the way down to 21 percent, so American companies can compete and win against anyone in the world. These changes alone are estimated to increase average family income by more than $4,000.

Small businesses have also received a massive tax cut, and can now deduct 20 percent of their business income.

Here tonight are Steve Staub and Sandy Keplinger of Staub Manufacturing — a small business in Ohio. They have just finished the best year in their 20-year history. Because of tax reform, they are handing out raises, hiring an additional 14 people, and expanding into the building next door.

Welding together the Mulatto supremacist coalition.

One of Staub's employees, Corey Adams, is also with us tonight. Corey is an all-American worker. He supported himself through high school, lost his job during the 2008 recession, and was later hired by Staub, where he trained to become a welder. Like many hardworking Americans, Corey plans to invest his tax‑cut raise into his new home and his two daughters' education. Please join me in congratulating Corey.

Since we passed tax cuts, roughly 3 million workers have already gotten tax cut bonuses — many of them thousands of dollars per worker. Apple has just announced it plans to invest a total of $350 billion in America, and hire another 20,000 workers.

This is our new American moment. There has never been a better time to start living the American Dream.

So to every citizen watching at home tonight — no matter where you have been, or where you come from, this is your time. If you work hard, if you believe in yourself, if you believe in America, then you can dream anything, you can be anything, and together, we can achieve anything.

Condescending applause for Mulatto supremacists who help weld together the kosher - right wing - liberal - civic - alliance under imperial Abrahamism.

Tonight, I want to talk about what kind of future we are going to have, and what kind of Nation we are going to be. All of us, together, as one team, one people, and one American family.

We all share the same home, the same heart, the same destiny, and the same great American flag.

Together, we are rediscovering the American way.

In America, we know that faith and family, not government and bureaucracy, are the center of the American life. Our motto is "in God we trust."
Sick of living in fear, destruction and betrayal of her German nation's people, German woman calls for others to join her in Bottrop, Germany protest.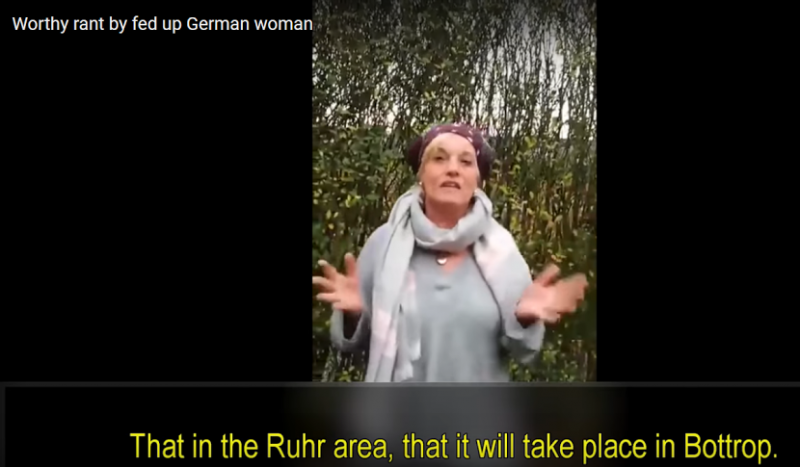 Now, one should beware that this opposition is at least somewhat controlled - note the Gates of Vienna and Rebel Media, etc. sponsorship at the end of the video; but it probably still provides a way to voice some aspects and semblance of ethnonational sanity, as this woman does.
Two sites that deal with these issues as they combine, the largest elephant in the room of liberal and neoliberal hypocrisy: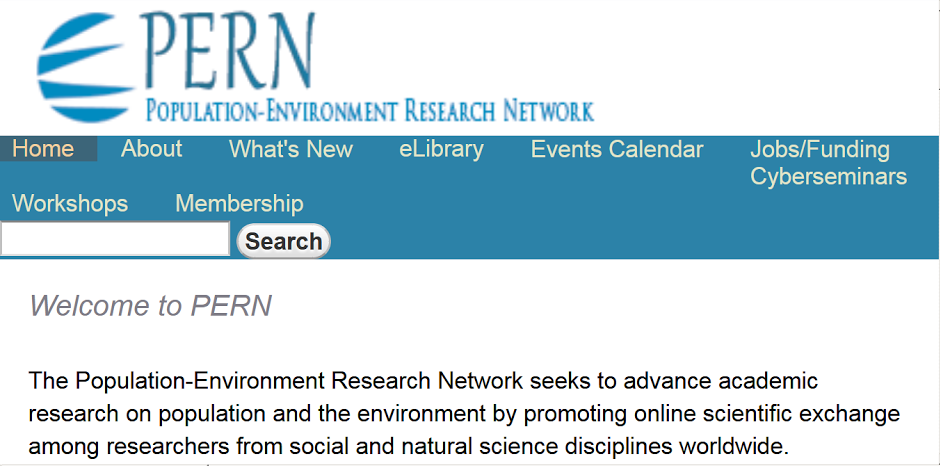 Dear Congressperson,

How would you like to tell your constituents that there was an extra $758,000,000 each year to spend in their district? How could you help direct the spending of $758,000,000 ($758 MILLION!) in your district each year?

According to a study by noted Economist, John Williams, which can be viewed at Carrying Capacity Network [1] which sponsored the Study, U.S. Taxpayers pay out a NET $330 BILLION ANNUALLY (believe it or not) on LEGAL Immigration. That is, LEGAL Immigration costs U.S. tax-payers $330 BILLION AFTER SUBTRACTING ALL TAXES IMMIGRANTS PAY. [And this $330 Billion does NOT include the additional NET amount of Taxes State and Local Taxpayers pay to finance this LEGAL Immigration.]