Majorityrights News > Category: Liberalism & the Red Left
Breitbart, "EU Says They Can Force All Members, Including Poland, to Take Migrants", 21 March 2017:

WARSAW, Poland (AP) — The European Union's commissioner for migration says there are ways to make all EU members states comply with the program of relocation of migrants among them.

Dimitris Avramopoulos made the statement Tuesday in Warsaw, where he is visiting the growing European border guard agency, Frontex.

Poland is refusing to accept migrants, arguing they are chiefly economic migrants, not war refugees, and may potentially pose a threat.

The relocation plan is intended to ease the pressure on countries that have taken the brunt of the migrant wave: Italy and Greece.

Without naming Poland, Avramopoulos said the EU has the "tools, the means and the power" to convince all members to comply and will make an assessment of response by the end of September. He mentioned no sanctions.
Avramopoulos

Since 1 November 2014 he is serving as EU Commissioner for Migration, Home Affairs and Citizenship in the Juncker Commission.

Avramopoulos has a friendly relation with the Turkish President Recep Tayyip Erdoğan since they were Mayors of Athens and Istanbul respectively. He is deemed one of the main proponents of Greek-Turkish rapprochement.
Visigrad Post, "V. Orbán: "Hungary is in a State of Siege", March 2017:

Hungary – Migrants are detained, police and army reinforced, and a second fence set up at the border. There is less talk of migrants arriving through the Balkans, yet Hungary is getting ready for a new wave. For Prime Minister Viktor Orbán, Hungary is in a state of siege.

Hungary "shouldn't risk changing the basic ethnic character of the country," he recently reaffirmed during an intervention at the Hungarian Chamber of Commerce and Industry, convinced that this would lead to a " depreciation of its value "and to "chaos ".

"How to do this?" he asked. "First, by preserving ethnic homogeneity. One can say such things now, which you would have been executed for during the past few years, as life has proven that too much mixing causes trouble," he said.

However, the Hungarian Prime Minister is not opposed to immigration, despite everything. And he is even more in favor of immigration — if it comes from Europe. Whether it is Ukrainian from the Eastern part of the country, or Westerners in Budapest. His recent remarks inviting with a note of sarcasm the Western refugees in Hungary did not pass unnoticed.

On the other hand, Viktor Orbán is firmer than ever on non-European immigration, and in particular illegal immigration.

Hungary in a state of siege

The border barrier, erected during the summer of 2015, is being reinforced by a second fence. Equipped with various electronic devices to improve the surveillance and reactivity of the territorial protection forces, this second barrier should make the border impermeable. This is at least what the Hungarian government hopes, fearing a new wave of migrants.

"We can not take it easy, now we are also in a state of siege, and even if the migratory wave has diminished, it has not stopped," said Prime Minister Orbán in front of new police recruits who took the oath to defend Hungary at the risk of their lives, if necessary.

For the strong man of Budapest, security is the precondition for Hungary and Europe to have a bright future. Security, and the rule of law.

"Laws must apply equally for everyone, also for those migrants who come here, and no kind of foolish human rights mumbo jumbo can overwrite this."

"Immigration is the Trojan horse of terrorism," recalled Mr Orbán. "We can not count on Brussels and on the European Union. They only make the task harder for us. We can only rely on ourselves," he said in front of the young recruits of the border hunters.

New treatments of migrants

Hungary has also taken it upon herself to openly contravene certain international conventions, as evidenced by criticism from the EU and the UN. But this is fully assumed.

Henceforth, Hungary systematically expells any clandestine intercepted on her soil. Their return to Serbia is automatic. Asylum seekers are now detained in closed centers, where they are housed in containers, in order to prevent fraudsters from using this procedure only to enter the EU and then to continue their illegal journey, as did almost unanimously the "asylum seekers".

Meanwhile, the globalist press is trying to pass off the Hungarian guards as sadistic and malicious torturers, using "proof" like photos and testimonies of migrants in Serbia. But this new, unfounded and disproportionate attack will not affect the government, strongly supported by the Hungarian population on the issue of migration.

According to Viktor Orbán, Hungary is today one of the safest countries in Europe. And he intends to preserve this asset in order to lead the country towards the economic revolution he intends to undertake.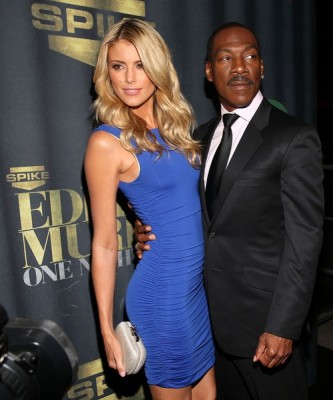 Maybe she should be "sifted-out", or maybe the naturalistic fallacy is cuck narrative itself.
- that nature can and OUGHT to take care of these matters unmediated by cultural (social rules) intervention.
Thank you for your understanding and support, acru ballist. I realize that unfortunately a huge percentage of Whites are used to this Jewish viral symbiosis - it seems at this point as if it is almost written into the genetic code of a huge percentage, now expressed as the Trump voter and Alternative Right - wherein Whites become more and more assimilated to Jews themselves - inasmuch as they remain HuWhite, compliantly accepting their role of being cows to breed stock that blacks and Jews can, in turn, breed with at their discretion.
But I think that this argument veers in the direction of passive naturalistic fallacy:
acru ballist: Maybe, this is evolution of the White People. A sifting out of the weak-minded, the 'mud-sharks', the gullible, the order-takers. Is the parasite controlling this process? It definitely does not need the strong, healthy and rebellious.
A naturalistic fallacy that Jews and Jew advocates like Brett Stevens would want us to accept as prescription - good right wing dolts, "nature" decides what is exactly good and true for us, unmediated by human, cultural intervention. At one time, when mudharkery was a rarity, I might have been more susceptible to arguments that it was me who isn't being naturally tough enough, but then, as it became commonplace and you began to see women who could not be considered merely something for the scrap-heep, the idea of merely letting "nature" weed out those without loyalty, judgement, intelligence, whatever it is that they are supposed to lack became more obviously an insufficient position to take.
...
Continuing with my response to Stevens article, next he goes on to say:
Brett Stevens: Whether or not Jews are a symptom of this problem, they are not its source.
DanielS: One can and should say that they are not the only source, but one should also add that they are a predominant source of our problems who should clearly be looked upon as another people and NOT among our "friends", to say the least.
Brett Stevens: Even more, whipping people up in a fury against them fails because it both distracts us from the actual cause, and inspires people to do ignoble things like genocide. We do not need to kill those who might appear to be our enemies; we need to fix ourselves, which includes excluding everyone else.
DanielS: I never said that it was our objective to genocide Jews or anyone else. Our objective is separatism from them and other non-European peoples, and sovereignty. That implies fixing our own problems for ourselves, thank you very much. We just need the Jews to butt-out.
Brett Stevens: It is the same way with the African-Americans. Some wish to blame them, but the actual cause is diversity, which in fact gets more deadly if it involves "nice" groups because then your people hybridize with them, erasing the original population. This type of soft genocide leaves behind a civilization capable of none of the great acts of the old.
DanielS: As I have said in many places, "Diversity" has been a Jewish red cape: because in a straight forward sense it would mean that different people co-exist in respect of each other maintaining their differences. However, in light of the Jewish marketing campaign of "Diversity" and the reaction to the reality of it in Jewish practice - which means imposition of alien integration against those goyim looking to maintain their difference - Jewish media disingenuously altercasts rights of display to suckers like Pat Buchanan who would argue against "Diversity" and, in effect, for integration (as opposed to "the sewer of multiculturalism and diversity" we should all speak English, be Christians, etc). Integration used to be the straight forward Jewish agenda back in the 60's and 70's but now they hide that agenda behind "diversity" and get Whites to react against diversity and into integration.
As far as the "nice" blacks go, I have long argued that the Uncle Tom and the Oreo are more dangerous than the ghetto thug in the long run because the thug is didactic whereas the Oreo and Uncle Tom, in "being so nice", open the gates for the pattern, which is more the thug and destructive to Whites. As far as this leaving behind a less capable populace, well, your Jewish friends would know, that's why they have imposed "diversity" and integration on our patterns while prohibiting it in Israel and among their more orthodox diaspora.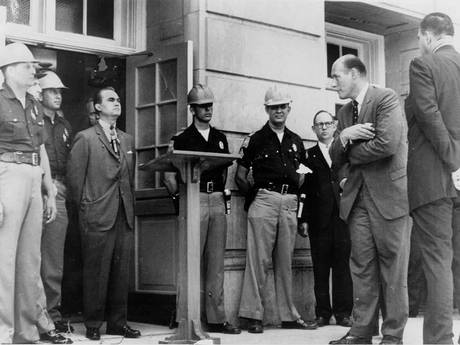 Katzenbach imposing integration upon Whites, in the days before that agenda was hidden behind the Jewish red cape of "diversity."
...and yes, just as we can "blame" (i.e., recognize) in Jews their inborn biological behaviors, uncaring and exploitative of our people to an extreme, and thus see the need to discriminate against them and separate from them, so too can we "blame" (i.e., recognize) in blacks an inborn lack of impulse control, along with an inborn tendency to aggression and hyper-assertiveness - translating to group predatory behavior as expressed typically in this episode in South Africa; and hence the need for "artificial selection", i.e., cultural rules of discriminatory separatism.
If you notice, at the beginning of this clip, the woman and her son were completely relaxed, had inculcated and cultivated no instinctual rules in vigilance for the inborn pattern of predation that would manifest in that moment: the anti-apartheid conditioning had worked that far to their detriment.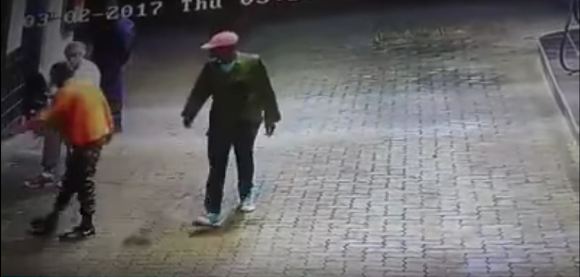 Predators sensing prey.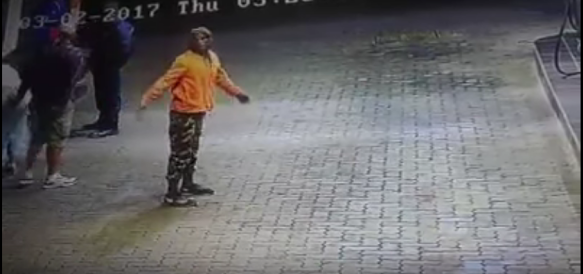 Predator signaling to pack that the coast is clear for the attack. White woman's son can now be seen in left of screen.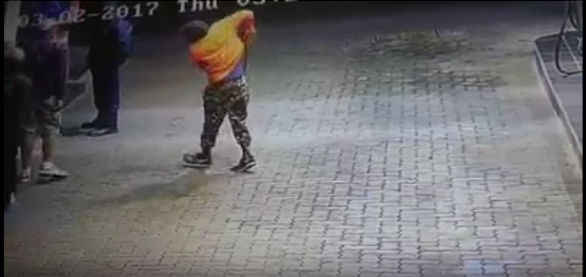 Predator pulls-out his weapon.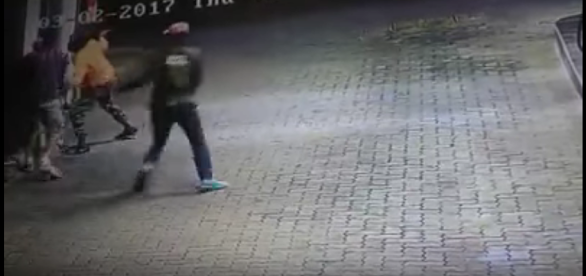 They start to attack the mother.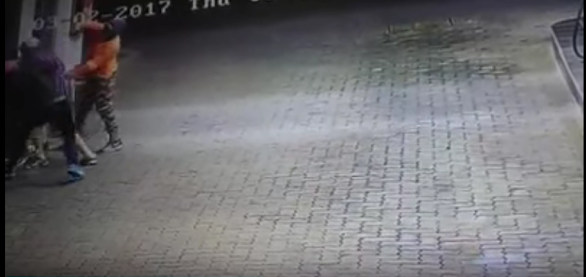 When the son tries to protect her, they try to hold him and aim for the back of his neck.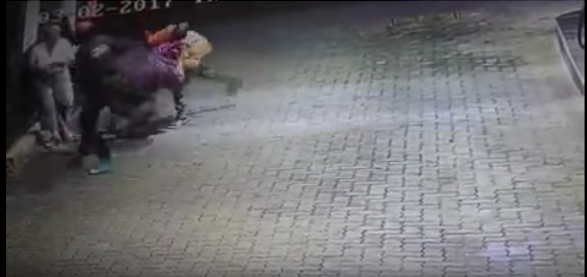 While they hold the mother, the son begins to put up a valiant fight.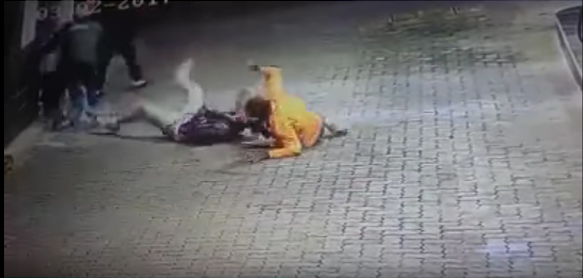 Outnumbered, they are subject to more beating before escaping (this time).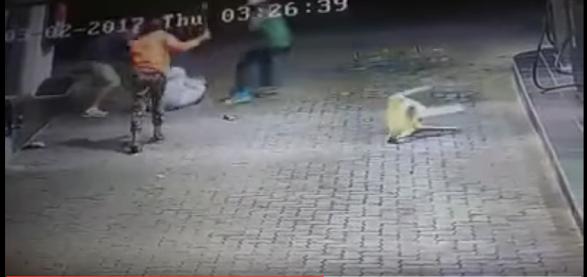 White man and his mother subject to the natural state of black predation.
RT, a propaganda organ of "Active Measures," is pressuring a private London club to have open doors liberalism. Cirque le Soir nightclub in Soho has a policy standard for private clubs, of not allowing-in groups of unaccompanied males. When confronted with a group of black male athletes, a bouncer for the club apparently observed their demeanor and added what was perhaps a code-reason for discrimination - "too urban." RT jumped all over that for being racial profiling, racial stereotyping and therefore "racist".
Nevertheless, if "too urban" was indeed a code word for a black group with a dangerous profile, it would merely be a practical observation and precaution to take to discriminate against them. Young black males, especially in groups (including wealthy professional athletes) are statistically far more violent; and the club was exercising what should be its right as a free and private club to deny servitude, to protect its interests and protect is clients.
The freedom of London clubs to defend not only their businesses, but their patrons against profiles known to be violent and otherwise destructive is apparently of no concern to RT and Active Measures. This is a swift route to the destruction of our native European EGI and the naive among us who lack meaningful experience of blacks in numbers.
The kind of liberal "anti-racist" propaganda that RT is engaging-in goes back to the days of The Soviet Union - it put such pressure on The US to atone for its history of slavery that it empowered liberals to destroy untold numbers of innocent Whites, attempting by their sanctioned means (The Constitution and The Golden Rule), compelled by their politicians and (((those coercing))) their politicians to force them to try to live the impossible - "Thou Shalt Not Discriminate", "Thou Shalt Not have senses and defend yourself", "Thou Shalt Enter into involuntary contract" - "thou" must live pure in pure servitude, fresh White prey: un-hypocritical, ideologically living-up to the pure banner of "freedom and liberty for all" - non-discrimination: this has led basically to the destruction of America - America did not win the cold war. When you cannot discriminate against blacks, you are not free and you have big problems.
"Deep ecologists" may argue that blacks are returning American cities like Baltimore, Detroit and New Orleans—the city these athletes are nominally playing for—that they are returning these cities harrowed by blacks to a "state of nature." It is a feral state indeed: let those who advocate non-discrimination against them go and live with them.
RT's charges of "racism", compelling Whites and White institutions to leave themselves vulnerable to black aggression - a phenomenon that any fool would instinctively know to be on guard and discriminate against - is unconscionable.
The Alt Right is incredibly naive as it continues to treat The Russian Federation as being in perfect alignment with White Nationalism - its great White hope even: what they are actually doing is serving as free propaganda for a very cynical Kremlin.
RT, "NFL players turned away from London nightclub for being 'too urban", 1 March 2017:

A popular London nightclub which allegedly barred a group of American football NFL stars for being "too urban" is being accused of racial profiling.

The New Orleans Saints team members had booked a table at Cirque le Soir nightclub in Soho, but said on arrival the bouncer turned them away for being "six big guys" and "too urban" – a phrase often used as a euphemism for black.

The nightclub has since denied it would turn anyone away based on ethnicity, but has a policy of not admitting all-male groups.

Mark Ingram Jr, 27, a running back, was with Sterling Moore, 27, BW Webb, 26, Vonn Bell, 22, all defensive players, and two friends when they tried to get into the club on Monday.

The players were visiting London in preparation for their game at Wembley in October against the Miami Dolphins as part of the NFL's international series.

Mark Ingram II
✔
@MarkIngram22

Is this what 6 big "too urban" guys look like?! @CirqueLeSoir @TheVonnBell7 @SterlingMoore @OhGi_3Dawg3 @burtleyc @Flintsbadguy #AllSmiles
2:10 AM - 28 Feb 2017

Ingram tweeted: "We pull up to Cirque le Soir where we have reservations and this is what they tell us. They told us we were 'six big guys' that are too 'urban' but nobody taller than 5'11!"

Following the tweet, the hashtag #TooUrban began trending on Twitter. Many have accused the club of racial profiling.

Suzanne @girls_with_guts

@MarkIngram22 one of the #toourban "big guys" next to my 5'7" daughter…ooooh he's so scary. @CirqueLeSoir your moms didn't

D @barker1980

I'm confused. This is the same place that called @MarkIngram22 #TooUrban ? https://twitter.com/cirquelesoir/status/827565983720230912 …
3:54 AM - 28 Feb 2017

84 84 Retweets
116

Chris @burtleyc

Thanks to everyone for support! Historical socioeconomic and racial prejudices still impact society. I'm from Flint, proud to be #TooUrban
10:47 PM - 28 Feb 2017

Sly Gemstone @SlyGems

Thanks to everyone who has reached out to us! Stereotyping and discrimination are real in our world. Never let anyone define you! #TooUrban
7:23 AM - 1 Mar 2017

Gillian 'Slick' E. @SlickEToffee

#TooUrban So are white British celebs gonna boycott @CirqueLeSoir or do they only stand up against American racism?
12:46 PM - 1 Mar 2017

The club is a favorite with US music stars including Rihanna, Lady Gaga and Kanye West, and actor Leonardo DiCaprio.

In response to criticism, a nightclub spokesperson said: "All of the team at Cirque le Soir are really upset by the suggestion that there was anything malicious in our turning away of Mark Ingram and his friends. We proudly celebrate diversity, not only as part of our shows, but as part of who we are.

"We would not dismiss anyone as 'too urban' and we would not turn anyone away on the basis of their ethnicity, sexuality or any other characteristic, other than those expressed in our door policy.

"Admitting an all-male group goes against our policy and is clearly stated on Facebook and all reservation confirmation emails."
At "Killer Culture" Peter Quiggins (Tierney) has put together this very caring and painstaking compilation of native Britons killed by migrant peoples, murders which have not received a fraction of the attention that the rare instance of a murder of a black, Steve Lawrence, by native Britons, has received. It is a quibble compared to this travesty that Quiggins addresses, but something to note nevertheless, that entitling the piece "Diversity Kills!" is a bit of mistake. Just like arguing "against equality" is bad tact, arguing against "diversity" is a trick that the YKW have set up deliberately because by default, under the powers that be, you are arguing for integration - the last thing that we'd want. Diversity should not be argued against at this point, the circumstances being what they are, with massive immigrant populations among, or in close proximity to ours not going away any time soon; in some cases, never - and all the more reason to take the cause of diversity for ourselves. However, his subtitle is quite fine stand alone: Britons murdered in Britain since the death of Stephen Lawrence: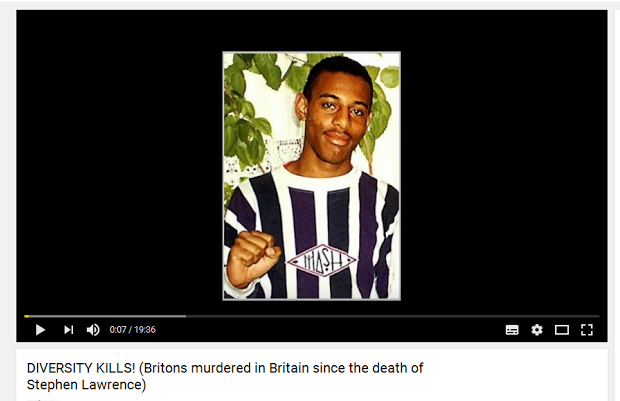 Stephen Lawrence has been mentioned over 2,000 times in Parliament.
MR carries great articles regarding the Stephen Lawrence case: A Nation Rejoices at last! - by Dan Dare; More Saint Stephenism on the way - by Guessedworker; The Crusade Against Discrimination in Britain - by Guessedworker; No Native Voices - by Guessedworker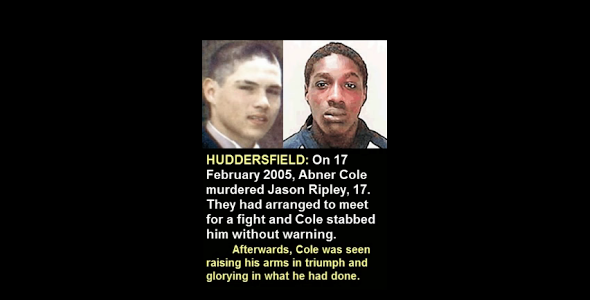 (Britons murdered in Britain since the death of Stephen Lawrence)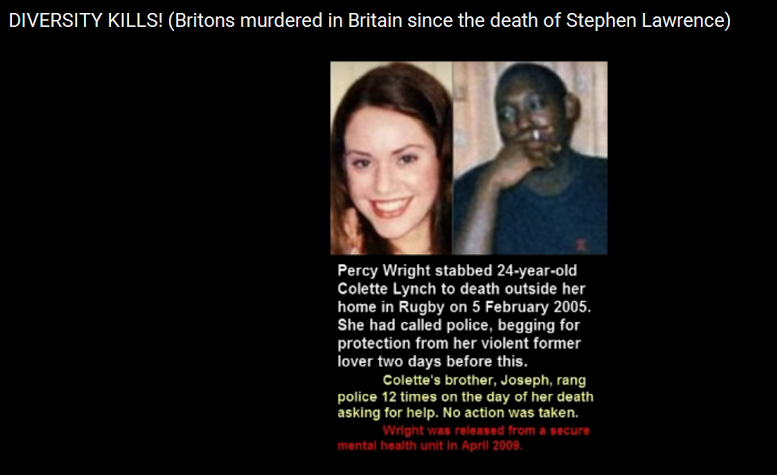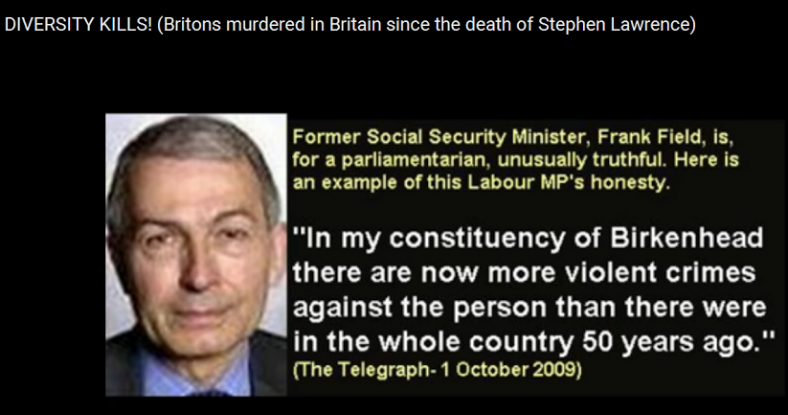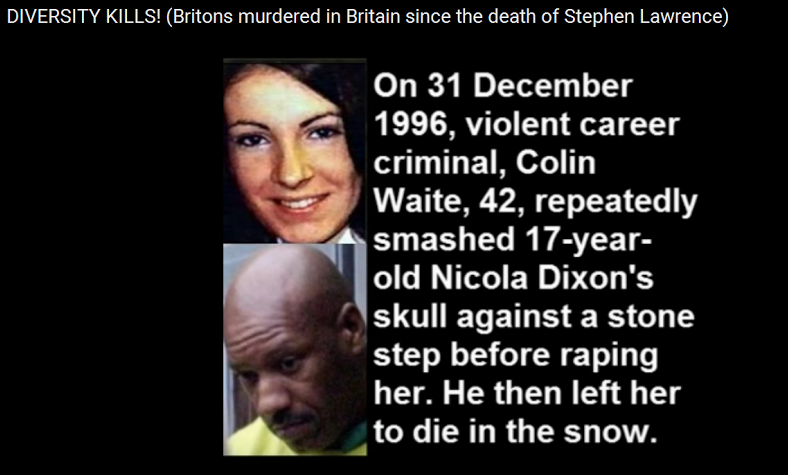 TNO, "Mass Rapes: Islamic Weapon of Conquest and Domination", 18 Feb 2017:

By Yolanda Couceiro Morín. Since the sordid episode of the massive New Year's Eve rape of 2015 in Cologne and other German cities (more than a thousand complaints), cases of sexual assaults against European women by immigrants and "refugees", overwhelmingly Muslim, have multiplied throughout Europe, especially in Germany and the Nordic countries.

Seeing what happened at the last end of the year celebrations, rapes are becoming part of the European folklore of these dates: together with the nativity scenes, the Christmas markets and the Three Kings' cavalcades, we will now have Massive Rapes New Year´s Eve.

Traditions change from the usual gift of red underwear to the latest chastity belts. This is the march towards the progress of our battered Europe.

We witness a retreat from civilization, the decline of an entire society, a rupture of the anthropological foundations of our societies. Es el regreso a la caverna. It is the return to the cave.

This social collapse, this degradation of coexistence norms, is not only a change of culture, but the implantation of a savagery that we could call prehistoric.

We all have in mind the classic caricature of the relations between the sexes of those antediluvian times in the scene of a troglodyte, with a club on the shoulder, dragging by the hair to its pair.

This typical image of cartoons represents in a comic sense the terrible situation to which we are forced to march, with the importation of populations manifestly unfit for modern and civilized society.

From the peaks of the highest and most refined civilization that the Earth has carried on its surface, we have fallen into a state of semi-fearlessness.

We must be clear that these are not simple criminal acts, however reprehensible they may be.

Among the European population, of race and native culture, this type of aggression also occurs, although in quantitative terms much lower than this wave of savagery that has invaded us.

But it is the qualitative nature of these violations that should be the object of special attention.

In these cases we are not in front of habitual criminal acts, but in front of cultural facts.

Among us, abuses and sexual assaults against women are considered a social scourge, a highly reprehensible behavior, an improper indignity of decent people, an extreme violation of people´s freedom and dignity.

In the Islamic world, where women are considered inferior to men, abusive treatment and aggression of all kinds against women do not deserve the same reprobation and condemnation as among European, Christian and modern civilized nations: are accepted and justified facts. Therein lies the difference.

[...]

The scarce intellect of these individuals who, in fact, believe that we are all "human beings", and that culture is something that is put on and removed, as if it were a dress or shoes, is enough to justify these events as something inherent to the human race.

[...]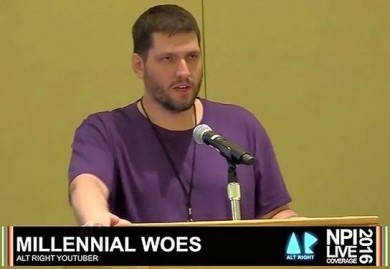 Mirror, 9 Jan 2017: "Racist vlogger who became global YouTube sensation unmasked"
...etc., so the headline and the hit piece reads.
On 5 June '15, Millennial Woes came to Majority Rights and left a comment * insisting that his link be removed from this site because I, DanielS, would not accept his friend, The Truth Will Live, a.k.a. (((Ruth))), as a part of our struggle, let alone as having a place to define our terms. I consider his position in her regard to have been naive at best, but probably more like an unsavory deal with the tentosphere. I really don't approve of this defense of the Jewish tent of the tentosphere. In addition, his going along with the Alt-Right's attribution of "THE Left" as the enemy is unacceptable; finally, he is annoying in coupling this attempt to join the Alt-Right in muting our platform, while perhaps garnering some of our ideas and auguring to misdirect them.
Even so, the doxing and smearing of him by a purportedly objective news source, The Mirror, is way out of line. Even I don't think he is remotely that bad or that he deserves that. But then again, beware the right, Alt-Right too - it's an unstable arrangement - the right has come back to bite countless adherents and those with misfortune to find themselves on the other side of their reactions over the years.
* The Millennial Woes comment that I am referring-to comes as the second in a series of three comments dated 3 - 5 June 2015, viz., #6, #14 and #17 and occurs within the post called "The Lies Will Try To Live But They're Not White, They're Jewish."
Posted by Millennial Woes on Wed, 03 Jun 2015 12:27 | #6

Ruth, who has the channel "The Truth Will Live", is a close friend of mine. She and I speak regularly about the key issues of the alt-right, including the JQ, and she is on-board with all of it. In particular, residing in a Somali-heavy area of the US, she has to deal with their shit just like the rest of us do, and she hates it and opposes immigration from the Third World as wholeheartedly as any of us do.

To repeat, she is a close friend of mine and I know that she is a good, kind, decent person. I think it is wrong of you to besmirch her unless you have some evidence that she is a fake.

PS. And no, she didn't ask me to write this post! AFAIK she doesn't even know about this article.

Posted by Millennial Woes on Fri, 05 Jun 2015 11:41 | # 14

DanielS,

I understand your position, and I do understand the danger. However, I cannot stand by as my close friends are bad-mouthed when they have done nothing wrong whatsoever. (Note that you conflate Ruth's statements with Rachel Haywire's, when they are two very different people.)

Though I am grateful to your site for linking to my channel this last year or so, I ask you to remove that hyperlink now. I do not want to be associated with a site, however worthy it might be, that insults and dismisses my own friends.

Thank you, MW.

Posted by Millennial Woes on Fri, 05 Jun 2015 20:26 | # 17

DanielS "One extreme is to do the Christian services bit, helping Africans to no end. The other is to not care." She says it is wrong and extreme because they cannot take care of themselves well enough and it is the White man's burden to help them.

This golden rule is one of the most Jewy things imposed on Whites from the Bible.

MW: That's very strange, because it was I, a non-Jewish, non-religious, British-native white guy, who introduced Ruth to the idea that the White Man's Burden is a real thing - having arrived at this belief myself without any help, Jewish or otherwise. I came up with it, of my own volition, based on my own observations of my (white, non-Jewish, non-religious) people.

DanielS If you are that defensive of these women then we would view your link as a bum steer anyway.

MW: I don't even know what that phrase means. All I'm asking for is decency. Without a shred of evidence, you are ascribing a calculating, deceitful nature to a woman who simply doesn't have such a nature. If defending her makes me "defensive," so be it.
Millennial Woes argues that I conflate Ruth and Rachel Haywire, but I do not. In fact, my position with regard to Ruth was developed with interviews of her separately. Nor was I picking on her without evidence or for trivial reasons - it is most important to separate White advocacy from her sort of influence. For the record, I did not conflate Ruth's position with Rachel's: Ruth wanted to define the left for us, to encourage Abrahamism, she said that she believes in "the White man's burden" (that we owe help to Africans); and in the end she would pursue an agenda to have us treat Jews as a part of our cause, having kindred issues and concern for Western culture. But for a myriad of reasons, it is critical that there be White advocacy platforms free of Jewish influence (active influence, in particular), however benign it may appear (and the reason to discriminate against this one (((Ruth's positions))) wasn't really particularly hard to discern).
Heidegger midtdasein

LARB, "Heidegger and Anti-Semitism Yet Again: The Correspondence Between the Philosopher and His Brother Fritz Heidegger Exposed", 25 Dec 2016:

FOR QUITE SOME TIME, there has been a fair bit of murmuring and speculation surrounding the letters exchanged between the philosopher Martin Heidegger and his brother Fritz. Those who had seen the more than 500 pieces of correspondence, which have been stored at the German Literature Archive in Marburg since 2014, knew how explosive they would be. But in accordance with the wishes of Heidegger's family, they were not allowed to quote from them. But now — apparently in response to the intense international debate surrounding Heidegger's anti-Semitism triggered by the publication of the Black Notebooks three years ago — the family has agreed to release an abridged version of the letters, written between 1930 and 1946, in a newly published volume called Heidegger und der Antisemitismus ("Heidegger and Anti-Semitism") (Verlag Herder, Freiburg 2016). Inside these pages one finds an unvarnished picture of the philosopher's political disposition. In the Black Notebooks, a kind of diary of thoughts, Heidegger approached anti-Semitism from a philosophical remove, but these personal letters published expose him as a bona fide, unrepentant anti-Semite. They also show that — in contrast to prevailing beliefs — the Freiburg professor was politically well informed, and was an early and passionate supporter of National Socialism.

As early as the tail end of 1931, the 43-year-old Heidegger sent his brother a copy of Adolf Hitler's Mein Kampf for Christmas, praising the future dictator's "extraordinary and unwavering political instincts." Heidegger interprets the right-wing conservative minority cabinet under Reich Chancellor Franz von Papen — which governed with the help of President Hindenburg between June and December 1932 — as a Jewish conspiracy. And he complains that the Jews are:

gradually extricating themselves from the mood of panic into which they had fallen. That the Jews were able to pull off such a maneuver as the Papen episode just shows how difficult it will be to push back against everything represented by Big Capital (Großkapital) and the like.