Majorityrights News > Category: Myth & Modernity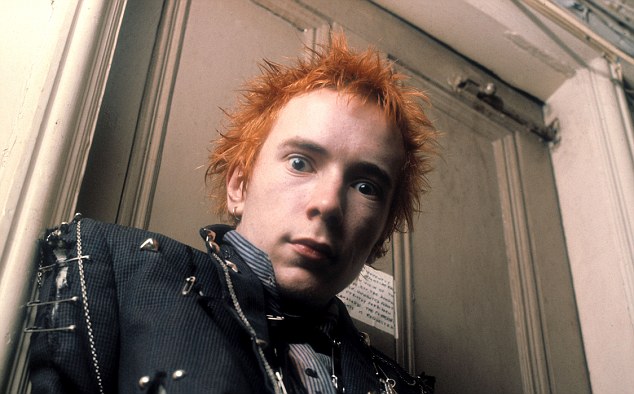 A liberal, not a leftist
MjolnrMagazine, "WHY JOHNNY ROTTEN CAN GO F*** HIMSELF", 13 April 2017:

Never mind the bollocks, although it's very difficult where John Lydon is concerned. John Lydon, once styled Johnny Rotten, suddenly jumped onto the Brexit and Trump bandwagons and into the headlines a couple of weeks back, which caused a bit of a stir among the chatterers of society. Over the past forty years, Lydon has been groomed as a cultural ambassador by those in power, while playing the old game that he is somehow an anti-establishment rebel. The unfortunate thing is that many on the Alt Right - rather like what happened with Donald Trump - seem to have been taken in by him, so let us take a look at this new 'hero' and the cultural movement known as punk at large, which John Lydon as Johnny Rotten represented.
This could be a good article if corrected for the Jewish red cape and its misdirection into rightism or the "no left (social unionization) or right" reaction by contrast. I will add some annotation that would have helped a better telling of the story.
Let us begin with Lydon's origins and rise, for these are intertwined with the punk phenomenon at large. Lydon's immediate heritage is Irish, hence the title of his autobiography: Rotten: No Irish, No Blacks, No Dogs - the title being based on a typical sign on properties to let in the 1950s. The 'No Irish' part, which may look strange to us today, can be explained by the IRA terrorism of the time and also by the behaviour of Irish gypsies, otherwise known as Travellers. I remember in the good old days before political correctness, many public houses and inns would have signs on the entrance saying 'No Travellers'.

It is clear, then, from the book's title that he identifies his own purported second-class citizen status with that of the Negro, who, at the time of Lydon's birth, had only been in the country in any meaningful sense for barely a decade. This has extended to raising his elderly wife's half-caste grandchildren like a good little cuck. He has always identified himself with the Other and has an Irish rather than British passport to foreground his at least civic otherness. He therefore also identifies himself as working class in a Marxian sense, his idea of working class as being antagonistic to traditional British and even European norms. He talks about being purportedy working class at every given opportunity.


(((McLaren))), the YKW behind punk and its "ideology"

Certainly, his parents were working class, but is Lydon? There are two ironies here: the first is that he has married Nora Forster, a German publishing heiress fourteen years his senior; the second is that he has never done a working-class job in his life, manager Malcolm McLaren having turned him into a pop singer at the age of eighteen. Lydon is as bourgeois as they come. Indeed, it is telling that the venue for the very first Sex Pistols concert was St Martin's Art College, about as middle-class as one can get. I must point out that I have nothing against anyone who is born into one class or another, but John Lydon has spent his entire life sneering at the middle classes despite his own bourgeois existence.

As regards that sneer - and the sneer worn by punks in general - one must look at the chief architect of punk rock itself, Malcolm McLaren. Born into a family of Jewish diamond merchants on his mother's side and raised by his Jewish grandmother, McLaren was heavily influenced at art college by the Situationist avant-garde movement, led by French Communist Guy Debord and his Jewess wife Michèle Bernstein. On the artistic level, Situationism was a Leftist attack on the arts through absurdist or provocative happenings that deconstructed traditional norms and underpinned the May 1968 cultural revolution in France and Germany. The ultimate goal was to normalise the idea of a dictatorship of the proletariat.
We need to pause in the article here. Whenever you see a situation where Jews, Whether Marx, The Frankfurt School or McLaren, are defining a movement, its terms and their deployment, that should send up immediate red flags that the protection and interests of the native European nationalist union is not at heart - on the contrary, coalitions and anarchist forces are being drummed-up to attack these interests, terms are being reversed from their normalizing semantic content in order to confuse - the leftist unionization for fair treatment of workers; to protect them against scab labor (including migrants), to allow them to function unexploited alongside other vital functions/roles of society, is absurdly confounded with liberalism - with scabbing, dissolution of accountability, degeneracy of vital functions - not all of which can be captured by a "dictatorship of the proletariat" - a non genetic, economic group by Jewish design; and in opposition to the genetic union of the nation by contrast. That said, lets continue to look at the Jewish boondoggle against native nationalism that was Punk…
McLaren's store

Starting with the shop that became SEX, a fetishwear retailer co-managed with fashion designer Vivienne Westwood, McLaren applied this ideology firstly to clothing and then to music. Clothing included t-shirts with two homosexual cowboys naked from the waist down and red leather fetishwear emblazoned with the hammer and sickle for the New York Dolls. John Lydon, a young nihilistic eighteen-year-old without any discernable talent but self-defined by what he hated, fit the bill perfectly for McLaren's new musical project. Lydon could not sing a note in tune, but this was a plus point, as was his green hair, overall ugliness and 'I hate Pink Floyd' t-shirt.

The story of Glen Matlock within the band is interesting. The only member who could actually play to a good level, he was ousted when McLaren caused friction between Matlock and Rotten. This made way for the talentless drug addict known as Sid Vicious. Matlock co-wrote all but a handful of the band's songs and was just too good for a band with the intention of marketing crap to the masses. McLaren also set up post-punk band Bow Wow Wow, with its thirteen-year-old half-caste lead singer, Annabella Lwin, born Myant Myant Aye to a Burmese father and English mother. Lwin appeared naked on Bow Wow Wow's debut album as McLaren assaulted traditional norms with miscegenation and child pornography. You will never watch the video to McLaren's single 'Double Dutch' in the same way again.

Lydon is very fond of telling how he exposed Jimmy Savile as a paedophile. It is interesting though that he has tried to ban the recording of his comments back in 1978 from public usage in order to sell them as part of his latest album. Ever the altruist. He has also always been suspiciously quiet about his own ex-manager McLaren's involvement in the world of paedophilia. Financed by both the BBC, under the auspices of (((Alan Yentob))), and EMI, in 1980 McLaren began creating an ostensibly music-related magazine that would be a more risqué version of Smash Hits, which had just been launched two years previously. In reality, the publication, originally titled Playkids, but then changed to Chicken, would serve to get child pornography into the mainstream. McLaren attempted to get the aforementioned Annabella Lwin to do a full-frontal nude shoot, but after she became distressed and tearful, brought in a replacement thirteen-year-old girl. Fortunately, enough concerns about the magazine ensured its shelving.

Punk rock was essentially a perversion of pub rock for middle-class Leftists.
Correction: Punk rock was perversion of pub rock as a vehicle to enlist naive/disingenuous middle-class liberals into rebellion against native nationalism.
For all the talk of it being a roots, working-class movement that 'just sprang up', it was in reality orchestrated by middle-class communists, who used a (sometimes miscegenated) underclass rabble as a musical battering ram against traditional norms. Pub rock, with bands like early Slade, Captain Beefheart, The Who and The Sensational Alex Harvey Band, was what punk rock purported to be.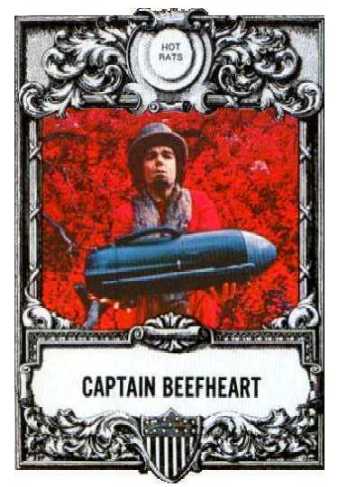 I've seen both the Who and Captain Beefheart, have enjoyed them both - particularly Captain Beefheart on album - but they shouldn't be accorded undue philosophical significance and authenticity (as they tend to be accorded).
Incidentally, my father rated the latter as the best live band he had ever seen. Bands like the Sex Pistols were fawned over by the Leftist media
Fawned over by the Jewish and (what is for us) liberal media.
and catapulted into the mainstream, while Beefheart and Harvey remained genuinely underground.
Beefheart's producers tried very hard to make him a commercial success; it wasn't in his nature to be commercial - it was just the opposite.
And therefore I say to Johnny Rotten in a style he might appreciate: Go fuck yourself, you fake posturing establishment shill.
That I can agree with. Good ending to the story.
Euractiv, "Green NGOs blame Monsanto for 'buying science' to save glyphosate", 24 March 2017: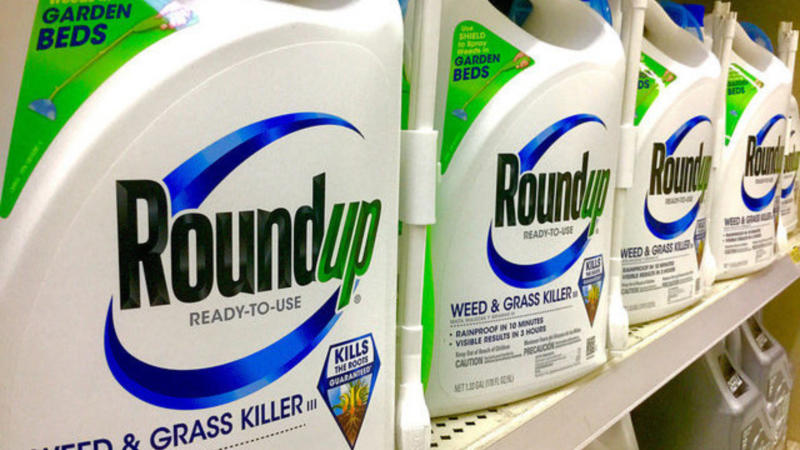 The authors of the report claim that between 2012 and 2016, the companies sponsored a series of review articles published in scientific journals, all of which conclude that glyphosate and its commercial formulations are not carcinogenic. [Mike Mozart/Flickr]
A new report accuses glyphosate producers of "buying science" in order to secure the substance's position in the EU market.
According to the Buying Science report published by GLOBAL 2000 (Friends of the Earth Austria member of Pesticide Action Network-PAN) with the support of Avaaz, BUND, Campact, CEO, GMWatch, (PAN) Europe, PAN Germany, and Umweltinstitut München, Monsanto and other glyphosate manufacturers allegedly "distorted scientific evidence" on the public health impacts of the pesticide.
The authors of the report claim that, between 2012 and 2016, the companies sponsored a series of review articles published in scientific journals, all of which conclude that glyphosate and its commercial formulations are not carcinogenic.
Scandalous
"Glyphosate producers have used every trick in the book to enable regulatory authorities around the world to play down the alarming health effects of glyphosate. The fact that the agencies accepted their 'assistance' is nothing less than scandalous," insisted Helmut Burtscher, one of the study's authors.
Earlier this month (15 March), the European Chemicals Agency (ECHA) concluded that glyphosate weedkiller should not be classified as a carcinogen.
Environmentalist NGOs reacted strongly, with Greenpeace saying that the ECHA "sweeps glyphosate cancer evidence under the carpet".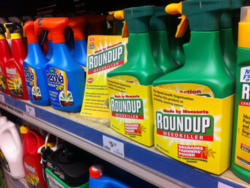 Glyphosate is not carcinogenic, EU agency says.
The European Chemicals Agency (ECHA) said today (15 March) that much-discussed glyphosate weedkiller should not be classified as a carcinogen, triggering a strong response from environmentalist NGOs.
The Health and Environment Alliance (HEAL) went further, claiming that the decision contradicted the world's most authoritative cancer research agency, the World Health Organisation's International Agency for Research on Cancer (IARC), which classified glyphosate as a "probable carcinogen" in 2015.
Scientific flaws
The NGOs claim that these reviews proving glyphosate is safe contain "fundamental scientific flaws spanning from apparently calculated omissions and the introduction of irrelevant data to the violation of OECD guidance for the evaluation of rodent cancer studies".
"The reviews also consistently assign greater weight to unpublished industry studies than to studies that were peer-reviewed and published in scientific journals," the report noted.
The report stressed that regulatory authorities like Germany's Federal Institute for Risk Assessment (BfR), the European Food Safety Authority (EFSA) and the US Environmental Protection Agency (EPA) have all drawn on such review articles, which have concluded that glyphosate was not carcinogenic, have actually referred to these industry-sponsored review articles.
"In contrast, IARC refused to consider the unpublished industry studies summarised in industry-sponsored reviews in its assessment of glyphosate, stating that the data presented therein were insufficient and important details were lacking […] IARC generally does not accept unpublished scientific evidence," the authors of the report concluded.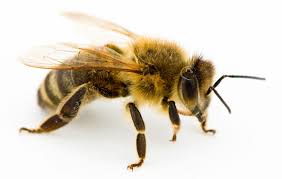 Europe poised for total ban on bee-harming pesticides.
The world's most widely used insecticides would be banned from all fields across Europe under draft regulations from the European Commission, seen by EURACTIV's partner The Guardian.
Positions
European Commission Spokesperson Enrico Brivio recently told EURACTIV that the EU executive "took notice" of ECHA's opinion, which was "based on scientific evidence".
"The submission of the final opinion to the Commission is expected before the summer break […] After submission of the final opinion, the Commission Services will re-start their discussions with the member states as regards the approval of glyphosate as an active substance in Plant Protection Products (PPPs)."
"A decision has to be taken within 6 months of receipt of the RAC Opinion from ECHA, or by the end of 2017 – at the latest," he added.
An EFSA spokesperson said, after this article was published, that "EFSA is the first to defend the importance of reliable science as it forms the basis of all our risk assessments", adding "from an initial glance at the "Purchased Science" report, it is clear that the majority of mentioned studies were published after EFSA had completed its assessment of glyphosate. In other words, they did not play any role in the EFSA assessment of glyphosate".
"There are two scientific reviews mentioned in the report (Williams et al 2000, Kier and Kirkland 2013) that were among the 700 references considered in the EU assessment for glyphosate. EFSA and EU member states rely primarily on the original studies and the underlying raw data which they check themselves. The weight given to reviews of scientific studies (like the ones mentioned in the report) is limited," they added.
"There are no grounds to suggest that reviews of scientific studies, sponsored directly or indirectly by industry, improperly influenced the EU risk assessment for glyphosate," the spokesperson concluded.
Background
The European Food Safety Authority (EFSA) said in November 2015 that glyphosate was unlikely to cause cancer in humans and proposed higher limits on the amount of residue of the weedkiller deemed safe for humans to consume.
The EFSA advises EU policymakers and its conclusion were expected to pave the way for the 28-member European Union to renew approval for glyphosate, which was brought into use by Monsanto in the 1970s and is used in its top selling product Roundup as well as in many other herbicides around the world.
Environmental groups have been calling for a ban after the International Agency for Research on Cancer (IARC), part of the World Health Organisation, said in March 2015 that glyphosate was "probably carcinogenic to humans".
A campaign group said that 1.4 million people had signed a petition calling on the European Union to suspend glyphosate approval pending further assessment.
The EFSA said it had carried out a thorough analysis and taken account of the IARC's findings. Greenpeace, for its part, called the EFSA's report "a whitewash".
Visigrad Post, "Orbán: Brussels Must be Halted, and Hungary Must Stand Up Against International Capital", 24 March 2017:
Hungary – Prime Minister Viktor Orbán called March 15 an "indisputable proof" of the Hungarian nation's past, present and future, at a commemoration of the 1848-49 revolution and freedom fight on Wednesday, March 15.

Speaking in front of the National Museum, the prime minister said that European nations are in a "state of revolt", with the "winds of 48 blowing again on the continent". Over the past years European nations once again revolted against "the hypocritical alliance of the Brussels bureaucrats, the liberal international media and the insatiable global capital," Orbán said.

First the British, then the Americans rebelled, to be followed by others this year, he added. Orbán stressed the need for Brussels to take off the "masks of hypocrisy", and opt for straight speech and an open discussion of the future.

Orbán emphasised that the resettlement of illegal migrants must be prevented, the network financed from foreign funds made transparent, and the right to regulate taxes, wages and utility prices kept in national competence.

Orbán called March 15 an "indisputable proof" of the Hungarian nation's past, present and future. "We, living in the Carpathian Basin, at the buffer zone of cultures, empires and civilisations, can be proud of the greatest triumph of all, winning all wars for the survival of our homeland, our nation," he said.

He said 1848 had become a "moral compass" for the nation, one that shows who is "loyal, patriotic, dedicated and brave" on the one hand, and exposes "pettiness, perfidy and efforts to kill dreams and destroy the nation" on the other. The prime minister insisted that national unity should be retained and cemented day by day.

"But what should we do with those who want unrest and division rather than peace and unity . whose only pleasure lies in spoiling the holiday of others," he asked, referring to a group whistling during his speech. "It would be easy to mock them but we should not do that," he said adding that Hungarians should "stand their ground on the horizon of building the nation rather than in the skirmishes of petty parties."

"From the horizon of the Hungarian nation, one can choose the road that leads us to the wide gate of greatness or the one that leads to the swamp of hatred," he said.

Article originally published at Daily News Hungary.
A Jewish man based in Israel has been arrested in connection with the "spate of anti-Jewish hate crimes" consisting of telephone and bomb threats against Jewish community centers across the U.S.—incidents which were used by Jewish organizations to claim an "increase in anti-Semitism" of late.
New York Times, "Jewish Center Bomb Threat Suspect Is Arrested in Israel", 23 Mar 2017:


The teenager accused of making bomb threats against Jewish community centers hid his face before the start of a court hearing in Israel. His name has not been released. Credit Baz Ratner/Reuters

JERUSALEM — A monthslong wave of bomb threats against Jewish institutions in the United States that prompted evacuations, heightened security and fears of rising anti-Semitism gave way to an unexpected twist on Thursday. The person responsible for many of the threats, law enforcement officials said, was half a world away, in Israel, a Jewish teenager.

An intensive investigation spanning multiple countries culminated on Thursday in the arrest of the 18-year-old suspect, who holds dual Israeli and American citizenship, and his father. The teenager's lawyer said he had a brain tumor that could affect his behavior.

The surge in threats over the past few months — well over 100 sent to Jewish community centers, schools and museums since the start of the year — coincided with an increase in hate crimes against a number of groups, from scrawled swastikas to homicides, feeding worries about a new era of bigotry. American and Israeli officials refused to say how many of those threats the suspect was accused of making. And some recent anti-Semitic acts were apparently committed by others, like threats against Jewish centers for which a Missouri man was charged, and the vandalizing of Jewish cemeteries.

But officials made it clear that they considered the teenager, who lived in the Ashkelon area of southern Israel, to be the primary source of the threats, though they did not offer a motive. "This is the guy we are talking about," an Israeli police spokesman, Micky Rosenfeld, said.

The suspect made threats to sites in Australia and New Zealand, as well as in the United States, and to at least one commercial airline flight, prompting an emergency landing, Mr. Rosenfeld said.

A judge ordered the suspect, who has not been charged, held until at least March 30 and ordered a medical examination. His father was ordered held for eight days, on suspicion that he might have been aware of the threats, or even been involved.
Haaretz, "Israeli Cybercrime Police Arrest Israeli-American Teen for 'Hundreds' of Bomb Threats Against Jewish Centers Worldwide ", 23 Mar 2017:

Arrest of Jewish teen partly based on FBI information ■ Bitcoin account discovered on computer, leading to suspicions payment involved in some calls ■ Defense attorney: Medical condition may have affected teen's cognitive functioning.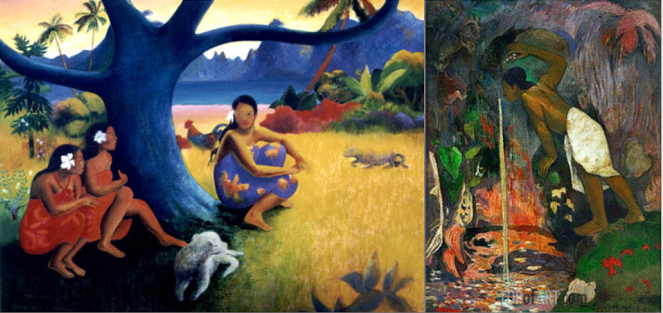 I may have sold Gauguin short in terms of his ethnographic conscientiousness. I'd been citing him as an example of the "artistic genius" who wasn't worth it for his moral failing. There is still a good measure of truth to that, but he may not have been quite as heinous and without effort to be considerate as I had thought in terms of concern for what is important to other people - at least those of Tahiti and their culture. My line had been that as an artist he is as satisfying as any to me, nevertheless as a man who infected who knows how many native girls with syphilis, he was a killer. His art, no matter how good, not worth that behavior.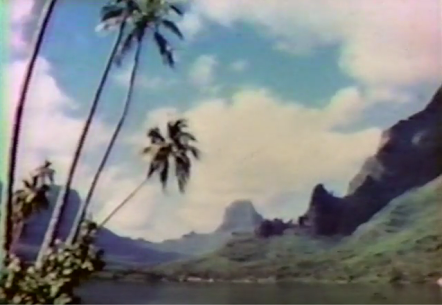 Gauguin in Tahiti: Search for Paradise (1967)
Even so, as I watch this biography, a couple of mitigating facts are revealed. True, he still would have infected at least one native girl with syphilis. However, he married her and apparently did not know that he had the disease when he infected her. Still bad, of course, as there was no effective treatment for the disease even with French civilization settled there. Add to that his knowledge of the risks of his own promiscuity beforehand along with his ultimate abandonment of his wife and kids back in France.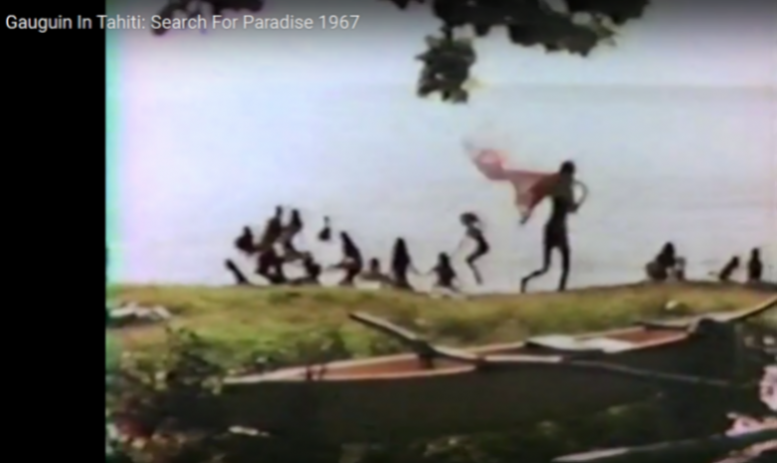 However, the biography reveals that before he fell ill, he was really concerned to find and help preserve the authentic Tahitian people and culture. With that, he was dismayed by the impact of French civilization and missionaries, how they'd already by his time begun to destroy the native culture. He was particularly bothered by the imposition of Christian schooling upon the native children that had by then caused them to lose their native religion. He would actually go to the children and their parents with a French law book - reading them their rights so that they would know that they did not have to go to the missionary school. Finally, he went so far as to try to recreate their native religious stories in writing and in his paintings…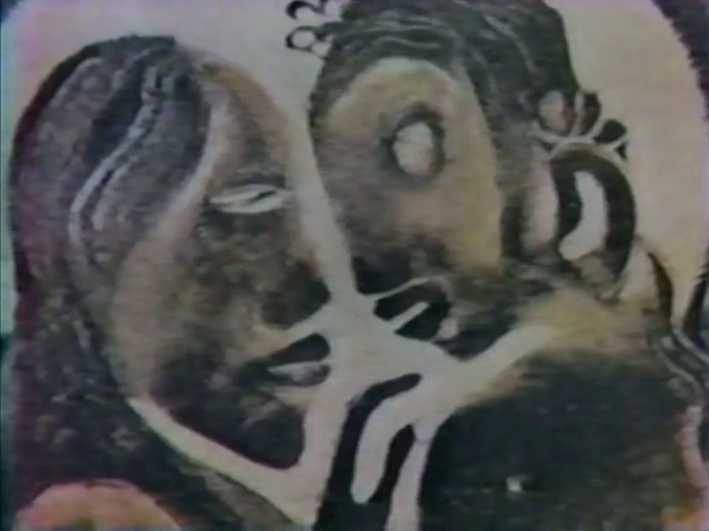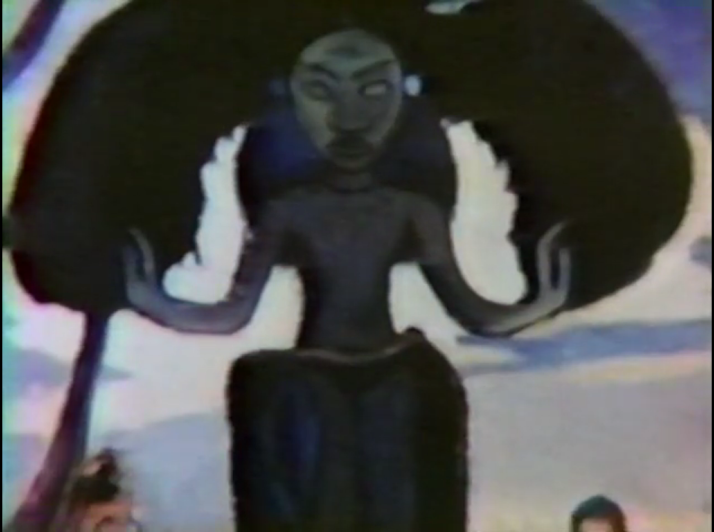 At "Killer Culture" Peter Quiggins (Tierney) has put together this very caring and painstaking compilation of native Britons killed by migrant peoples, murders which have not received a fraction of the attention that the rare instance of a murder of a black, Steve Lawrence, by native Britons, has received. It is a quibble compared to this travesty that Quiggins addresses, but something to note nevertheless, that entitling the piece "Diversity Kills!" is a bit of mistake. Just like arguing "against equality" is bad tact, arguing against "diversity" is a trick that the YKW have set up deliberately because by default, under the powers that be, you are arguing for integration - the last thing that we'd want. Diversity should not be argued against at this point, the circumstances being what they are, with massive immigrant populations among, or in close proximity to ours not going away any time soon; in some cases, never - and all the more reason to take the cause of diversity for ourselves. However, his subtitle is quite fine stand alone: Britons murdered in Britain since the death of Stephen Lawrence: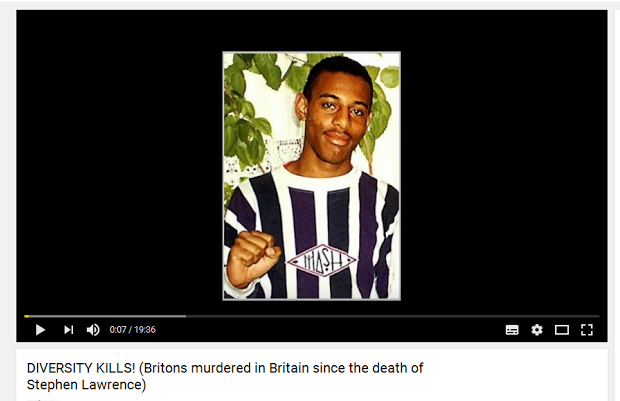 Stephen Lawrence has been mentioned over 2,000 times in Parliament.
MR carries great articles regarding the Stephen Lawrence case: A Nation Rejoices at last! - by Dan Dare; More Saint Stephenism on the way - by Guessedworker; The Crusade Against Discrimination in Britain - by Guessedworker; No Native Voices - by Guessedworker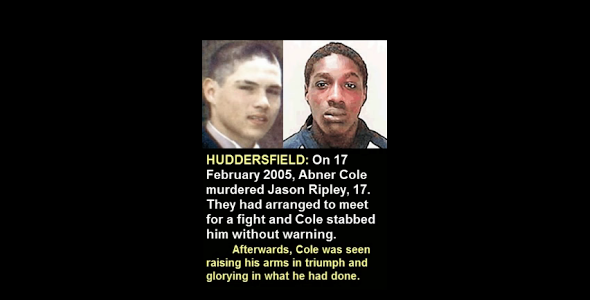 (Britons murdered in Britain since the death of Stephen Lawrence)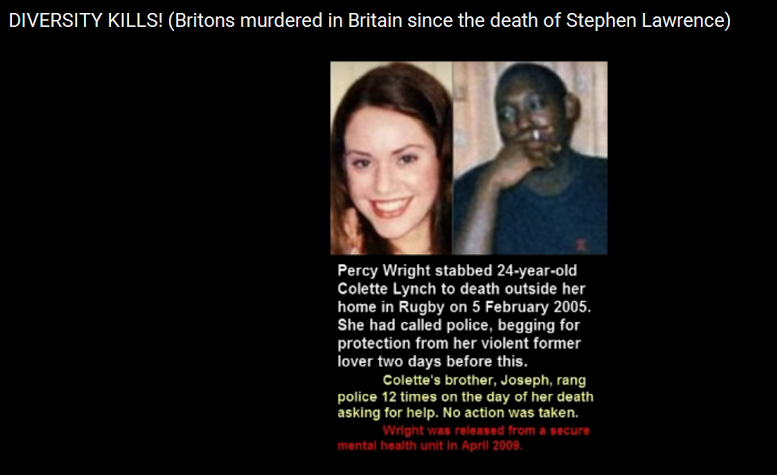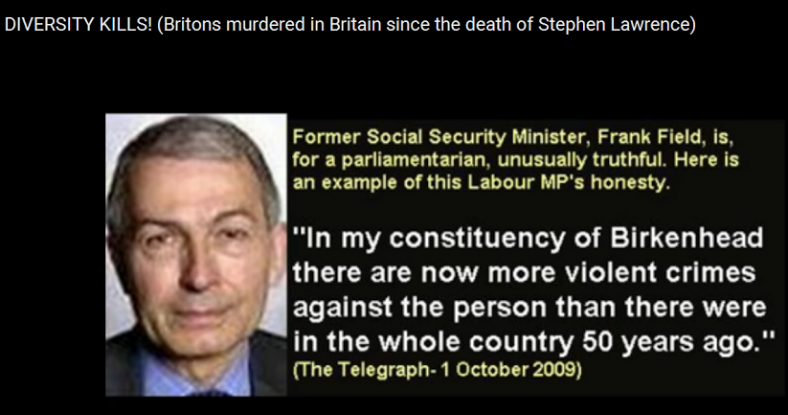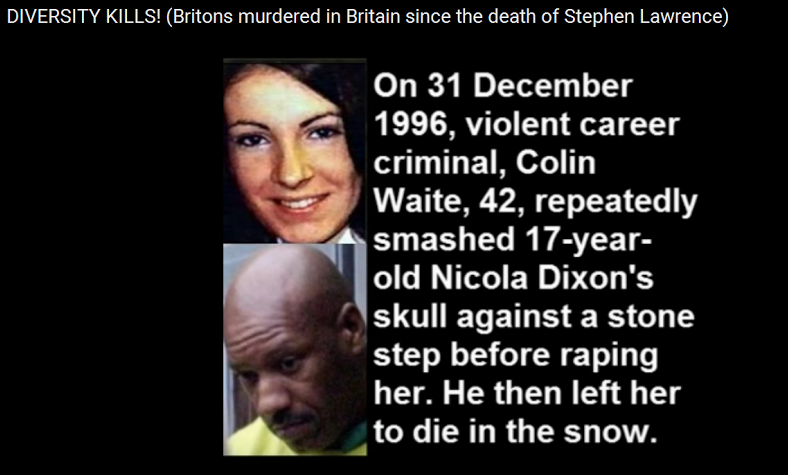 Backgrounding & Taken For Granted - Resistance is Futile. Add from Det Nya Landet - translation "Big Mulatto Brother"?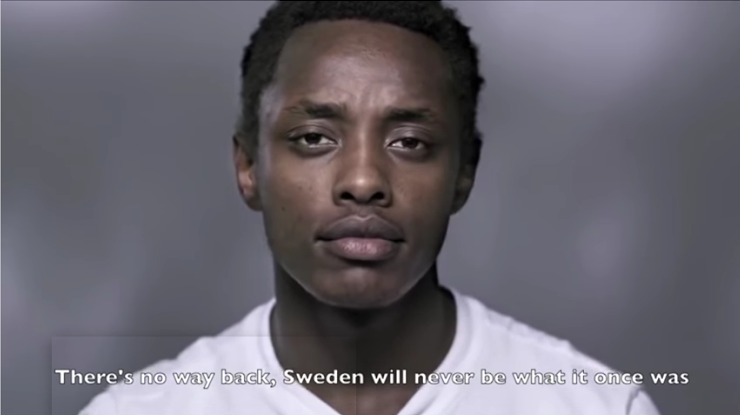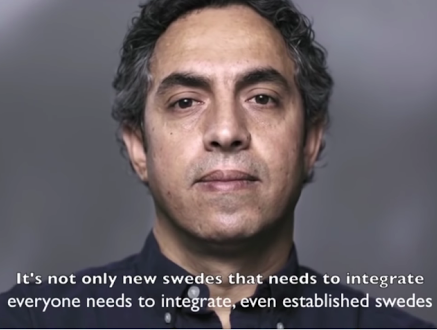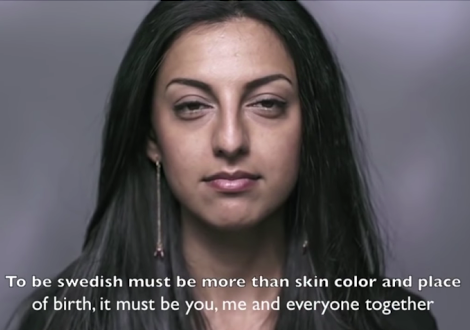 Below is another marketing campaign advert suggesting that "resistance is futile" - this one coming from the EU is a bit more subtle: It is an EU add run in Poland, and it is as if to suggest that blacks are to be taken for granted as a significant component of European history. However, in this instance, the "resistance is futile" message is not spoken, it is in the background - two blacks comfortably sit in the background of the same restaurant scene and a mulatto girl is fore-fronted; thus, backgrounding and taking for granted the interracial relationship of her parents.
The EU is backgrounding the racial integration of blacks, presenting to naive audiences (naive as to the bio-power of an invasive species) or audiences perhaps aware, but not in a position to voice objections (literally the case when these images are whisked-by semi-subliminally), that the place of blacks among them is something to be taken for granted. Resistance is futile, nobody will agree with your objection, it is taken for granted already.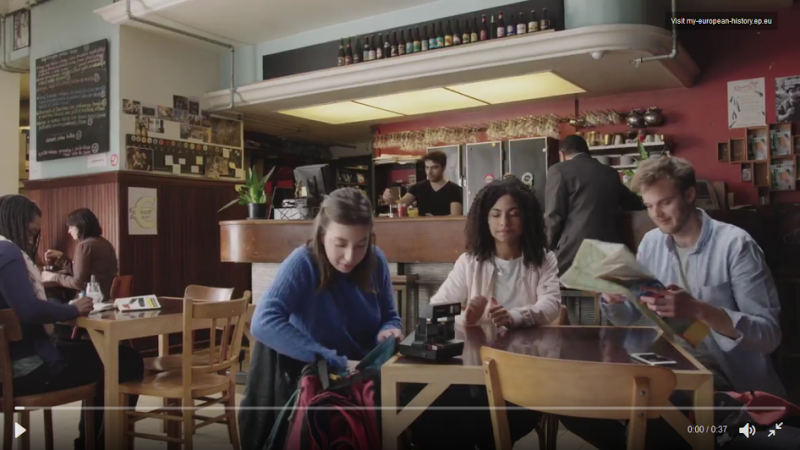 This is a screen shot from a quick add distributed by The European Union and shown in Poland to promote The EU's "My European History" program. Of seven people in the add, 3 are black. Of the blacks, a mulatto girl is centrally featured in the add, while the other two blacks are placed in the background, taking for granted their place in Europe and its history. The girl's mulattoness is also a form of backgrounding and taking for granted.
The add came by way of Twitter:
Parlament EuropejskiVerified account @Europarl_PL

My House of European History to kolekcja opowieści o Europie. Zgłoś swoją → https://my-european-history.ep.eu/?locale=pl ! RT i udostępnij!

#StoriesofEurope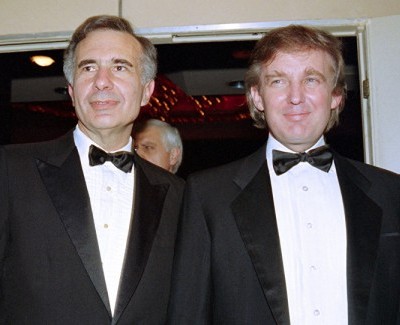 Together back in the 80s, when Carl Icahn was showing Donald Trump the ropes of "corporate-take-over", such as his plunder of TWA.
The Carl Icahn episode that pilfered the corporate culture of the once bustling American town—Lancaster, Ohio—is highly instructive of itself. It provides a lesson in its farther implications, however, as it set in motion transformations of that corporate culture which effected a perverse irony of its residents becoming Trump voters, seeking a return to their corporate culture as it had been - implicitly White - oblivious to the fact that they are hoping to do this through Trump, whose appointed gate-keeper is Carl Icahn - the very man who plundered Lancaster's corporate culture and set in motion its transformative demise, with devastating impact upon the now rust-belt town and its people (nearly all White).

(((NPR))) doesn't provide a transcript of portions which refer to Carl Icahn, e.g.
NPR, Glass House' Chronicles The Sharp Decline Of An All-American Factory Town, 6 Feb 2017:

13:10: Dave Davies: "When did outside financial interests first pose a challenge to the management of Anchor Hocking, this giant of a company?

Brian Alexander: The first time was Carl Icahn.
It is meaningful that the relatively brief episode of Carl Icahn's corporate raid on Anchor-Hocking did not merely lead to a limited financial downturn following the large (what amounts to) bribe that he levied against the company in order to get rid of him, but it had implicative force which transformed even the subsequent non-Jewish corporate culture, creating a new corporate culture - a new context, if you will. That is the kind of thing that the serious ethno-nationalist will want to examine further.
Brian Alexander: It's the 1980's, Carl Icahn has just begun his career of what became known at the time as "green mailing."

Dave Davies: "Corporate raiding", "corporate take-overs."

Alexander: "Corporate raiding", saying now I've just bought 5% of your stock. I want a seat on the board. You're running your company in a lousy way; and so I'm going to come and make all sorts of trouble for you, but you know, if you want to buy me out, at a profit, at a premium, well maybe I'll go away; and so that's exactly what happened with Carl Icahn.

Carl Icahn bought over 5% of the stock of Anchor Hocking, agitated the board, saying you need to make some different decisions, you could be returning more share-holder value and was eventually bought off at what I calculate to be about a three million dollar profit to Carl Icahn.

That episode did not last long, but I argue that it changed Anchor Hocking forever, from then on.

Dave Davies: In what way?

Brian Alexander: It scared people…
........................................................................

NPR, Glass House' Chronicles The Sharp Decline Of An All-American Factory Town, 6 Feb 2017:

NPR host Dave Davies: We heard a lot in the presidential campaign about anger and frustration among working class voters in America's heartland. Today we're going to focus on one factory town in central Ohio that was once a bustling center of industry and employment, but is now beset by low wages, unemployment and social decay.

Lancaster, Ohio isn't just a research subject for our guest Brian Alexander, it's his hometown.

His new book tells the story of the company that was once Lancaster's largest employer - Anchor-Hocking Glass Company was a Fortune 500 company with its headquarters in the town. The company provided jobs, civic leadership and community pride. It's decline Alexander argues isn't just a product of increased competition and changing markets, he says the firm was undone by Wall Street investors who had little knowledge of the company and little interest in anything besides short-term profit.