After the Referendum it's the Brexit General Election, or perhaps not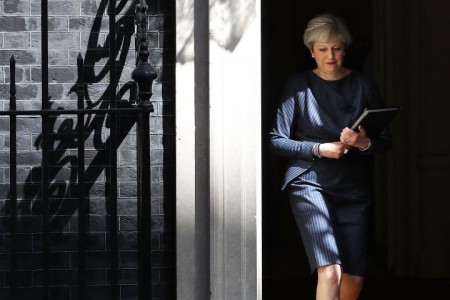 So this morning Theresa May has called a snap General Election for June 8th. The immediate question is why. The answers, we must believe, are somewhere here, in her brief statement to the waiting press:
"I have just chaired a meeting of the Cabinet, where we agreed that the Government should call a general election, to be held on June 8.

"I want to explain the reasons for that decision, what will happen next and the choice facing the British people when you come to vote in this election.

"Last summer, after the country voted to leave the European Union, Britain needed certainty, stability and strong leadership, and since I became Prime Minister the Government has delivered precisely that.

"Despite predictions of immediate financial and economic danger, since the referendum we have seen consumer confidence remain high, record numbers of jobs, and economic growth that has exceeded all expectations.

"We have also delivered on the mandate that we were handed by the referendum result."
Well, she has a majority of a dozen in the Commons, and, in winning at Copeland in February she broke a 35-year run of failures by the governing party to win an opposition seat at a by-election. She has defeated the Remain opposition in the Commons and the Lords. She sits opposite the most ineffective leader of the opposition ever, and certainly the leader she wants to see across the Dispatch Box. In fact, Tom Watson aside, there is no competent politician on the Labour benches, and an awful lot of highly incompetent ones. The Party is at war with itself. Momentum, which campaigns within the party to make it safe for the hard left, is intent on killing off Blairism (and good luck to it). In short, there is nothing to indicate that allowing this parliament to run its full course until May 2020 would produce anything other than a Tory landslide at that time. So why has she done it now? Is the temptation to grab an easy 100 seat majority just too great? A case of pleasure now or pleasure deferred, and the thought of pleasure now is just too pleasurable? Difficult to believe of a dour vicar's daughter.
The only two near-plausible answers are:
1. She knows full well that Remain is dead, and wants to enter the council chambers of Europe over the next two years of Brexit negotiations with a thumping parliamentary majority and the support of the country at her back. Electoral popularity didn't help Tsipras in facing down the Troika, but it would probably work out differently for May.
2. This is less about Brexit than about her own vision for the future, which is not that of David Cameron, as it was set out in the 2015 Manifesto. May herself is notoriously difficult to read even by her cabinet colleagues. She will be conscious that the public at large do not truly know who she is and what she believes, and have not expressly supported her post-EU political vision of a Britain managing its own destiny for the first time in four long decades. The opportunity to do so has now been provided.
There might be a third political consideration for her, which is that UKIP is also much weaker now than it was in 2015; and may not make much of a fist of standing nationally at all. As far as I am aware, it lacks the financial support to do so.
Anyway, there will now be weeks of speculation about all this, since the usual reportage of who will win the election is perfectly pointless.