Majorityrights Central > Category: Media
Alex Linder interviewed (try not to let the Australian accent of his interviewer bother you).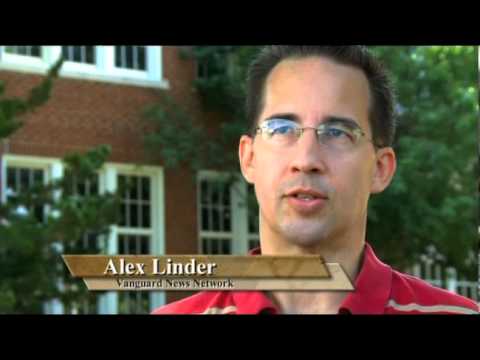 There is or can be a misunderstanding.
- that I simply want to refrain from going ahead and killing Jews et al. on principle, naivete or for petty moral reasons.
- that I and we could not be content nor ever recognize that we'd be better off if they were gone.
But that is not the case.
It is the case rather that it is generally not a good idea to announce that you want to get them all whether you think it is necessary or not.
It would be hard to implement and worse, might work to our detriment if not conceived and promoted properly.
It is not only a strategic matter but a theoretical matter: for what we want ultimately is separatism (killing is a species thereof).

Separatism can be argued not only by broader and more practical metrics, but if it is achieved, it is more feasible for the purpose of killing - as opposed to taking the stance that even while they remain tangled up in our hair, we might succeed in the complex affair of teaching people to know, psychologically, what to do because Alex says so (bold and intelligent though most of his arguments are)...
As opposed to Alex saying so, if they are to be killed it would be for the broadly intelligible, broadly acceptable (therefore possible to facilitate) and operationally verifiable reason that they will not leave us alone when given the option, but insist on their imposition to our exploitation and long term extinction - a verifiable consequence and reason for their imposition - to eliminate us as a people, therefore a highly assertable warrant to preempt it.
This could be demonstrable even in their refusal to allow our benign and fair act of separating and expelling them from our people.
Given these considerations hence, my motto: separatism is the first step, separatism is the ultimate aim, separatism is always possible.

In an atmosphere where the ability of ethno-nationalists to talk among themselves is being curtailed across social media and with forums at other ethno-nationalist sites being insecure or even being shut down, a need has appeared for a forum that overcomes the limitations of other people's past attempts.
This was an option that we had kept in reserve because it wasn't deemed to be high priority to date, but it has now been completed and brought forward because it is clearly necessary.
I'll present my explanation of the merits of the Majorityrights.com Forum in a slightly humorous Q&A format, based on questions I've actually been asked.

Q: What do you mean by 'secure'?
A: By 'secure' I mean that we don't do things which are stupid. The guiding principle behind everything we do is basically "don't do stupid things".
For example, we don't have users transmitting their login credentials in plain text over the internet, because that would be stupid. Instead, everything between the client and the server is encrypted just like the rest of the site.
We don't have profile fields that ask users to enter information into their profiles like 'date of birth' or 'location' on registration forms, because that would be stupid. The safest way to ensure that no one will say that we encouraged them to compromise themselves by entering that information, is by not asking them to submit such information in the first place.
There is also the view that we cannot misplace information that was never given to us, and that's a view that I've always held.

Q: Do you share user statistics and information with third party advertising CDNs?
A: No, not now, and not ever.
One of the most absurd things that I've seen on ethno-nationalist websites is the propensity that many have to complain about how companies like Amazon, Google, Quantcast, and others, are 'controlled by liberals, Jews and SJWs', and yet they still choose to integrate those very same advertising and user tracking scripts into their forums.
We have no such scripts, and never will.

Q: Is it possible for your routine backups to fall into the wrong hands?
A: No. Backups of everything are made at certain intervals, and are stored on encrypted volumes in a hidden and entirely separate physical location. The backup regime is such that no single administrator at Majorityrights can decrypt the contents without at least one other person assenting to it. The motto for handling backups is "trust no one, not even yourself".

Q: Why isn't the whole place decked out with giant statues of eagles, and muscle-bound Vikings, with black, red, and white as the colour scheme?
A: Because this is not web design by Albert Speer, nor should it be.

Q: Why does the forum software demand that all passwords must contain letters, numbers, and capital letters, and be no less than 12 characters long?
A: Because that makes it much less likely that any hacker dweebs will be able to break into people's accounts using dictionary attacks and rainbow tables. I just don't ever want the drama of dealing with people whining about how their accounts got hijacked because they chose a weak password, so the software will force you to at least make a minimal effort to choose a strong password.
Take note though, if you forget your password, the 'I forgot my password' feature sends an email to you with a new randomly generated password in it, so you should make sure that your email account is secured with a strong password too, obviously.

Q: Is it possible for anyone to discover what email address I used to register with, without me divulging it?
A: No.

Q: Do you apply patches in a timely fashion?
A: Patches are applied as soon as they are available. Since any patch day is followed by exploit day, we make sure to patch immediately.

Q: Will there be meme magic?
A: Yes.

Q: Will there be doxxing and raids?
A: No.
The Right Stuff forum was just recently taken down because some people decided to foolishly use it as a staging ground for a doxxing campaign against some American liberal soccer mom who then turned around and complained to their hosting provider about it, and it resulted in all sorts of terms of service problems. No doxxing of anyone will be allowed at Majorityrights, because it's petty, accomplishes nothing, and does more harm than good to everyone.

Q: Do you anticipate that you will have a large volume of people registering?
A: Maybe. One of the greatest advantages that Majorityrights has is that on a large number of divisive issues, Majorityrights has not been known to drive a wedge, and as such does not come with that baggage. For example, there is no European North-South divide, and no legacy of a fractious Male-Female divide here, so almost anyone ought to feel comfortable with joining.

Q: Will there be freedom of speech?
A: Pretty much, yes. Just like always.

In a story that shows that Jewish-American lobbyists and journalists have very little self-awareness, Adam Entous and Danny Yadron thought that it would be a good idea to publish a story in which they made it appear that the US Government was violating some kind of agreement to not spy on 'allies', when the NSA monitored Netanyahu's activities during the P5+1 negotiations with Iran.
The monitoring activities were carried out with the intention of discovering what Netanyahu's views on the proposed deal were, and what his response to it going forward might be. This monitoring would have been approved by senior figures in the Obama administration, as well as the House and Senate Intelligence Committees.
Wall Street Journal, 'U.S. Spy Net on Israel Snares Congress', Adam Entous and Danny Yadron, 29 Dec 2015:

President Barack Obama announced two years ago he would curtail eavesdropping on friendly heads of state after the world learned the reach of long-secret U.S. surveillance programs.

But behind the scenes, the White House decided to keep certain allies under close watch, current and former US officials said.

[...]

The National Security Agency's targeting of Israeli leaders and officials also swept up the contents of some of their private conversations with U.S. lawmakers and American-Jewish groups. That raised fears [...] that the executive branch would be accused of spying on Congress.

[...]
Of course, what neither of these persons mention in their article is that monitoring Netanyahu's communications was both legal and necessary.
Monitoring what other world leaders are doing so that the United States can have good information from which to make policy decisions is literally the mission statement of the NSA. Furthermore, Israel has chosen to prefer a policy on Iran that is directly at odds with that of the United States, and at odds with that of NATO more broadly. The North Atlantic desired to cultivate Iran as a swing-power which could be peeled away from Russia and utilised for offsetting Russian preponderance over natural gas supplies to Europe, and which would perhaps someday be able to frustrate Russian attempts to consolidate its influence over CIS states that have cultural or historical ties to Iran. Israel has different ideas, because Israel has a different set of priorities.
So what are they complaining about? It's a nonsensical complaint. The Israelis should have expected that they'd be monitored. This of course did not prevent Israel's most ardent defenders from writing absolutely ridiculous stories for weeks on end about it.
But there was an element of this story that was not touched on and which was almost conspicuously not touched on. The fact that spying on Netanyahu would become the same thing as 'spying on the US Congress' was what really ought to have been the story. If spying on Netanyahu is almost the same thing as spying on the US Congress, then that is an indicator of there being a serious problem in the political system itself.
That problem looks like this:
Wall Street Journal, 'U.S. Spy Net on Israel Snares Congress', Adam Entous and Danny Yadron, 29 Dec 2015:

How Mr. Netanyahu and his advisers had leaked details of the U.S.-Iran negotiations—learned through Israeli spying operations—to undermine the talks; coordinated talking points with Jewish-American groups against the deal; and asked undecided lawmakers what it would take to win their votes, according to current and former officials familiar with the intercepts.
And also ambassadors getting themselves involved:
Wall Street Journal, 'U.S. Spy Net on Israel Snares Congress', Adam Entous and Danny Yadron, 29 Dec 2015:

Mr. Dermer was described as coaching unnamed U.S. organizations—which officials could tell from the context were Jewish-American groups—on lines of argument to use with lawmakers, and Israeli officials were reported pressing lawmakers to oppose the deal. [...]

Israel's pitch to undecided lawmakers often included such questions as: "How can we get your vote? What's it going to take?"
But you see, according to present and former US lawmakers who have enormous mouths and are suddenly very concerned about the somewhat nebulous concept of 'civil liberties', discovering when someone is trying to plunge a knife into your back is just the gravest violation of the privacy of those who are trying to do the plunging.
For example, Representative Ted Lieu, (D-California) who "has consistently voted to curb powers of the NSA", asserted on twitter that:
That's the part he objects to.
And there was also none other than Pete Hoekstra (formerly R-Michigan), the former congressman who chaired the House Intelligence Committee from 2004—2007, took to twitter to complain, saying:
Perhaps Hoekstra is really upset because he shares something common with former representative Jane Harman (D-California), who in 2006 was being lined up to seamlessly replace him, and whose Israeli tricks were foiled by the NSA at that time too:
Wall Street Journal, 'Lawmaker Is Said to Have Agreed to Aid Lobbyists', Neil A. Lewis and Mark Mazzetti, 20 Apr 2009:

[...] Ms. Harman was inadvertently swept up by N.S.A. eavesdroppers who were listening in on conversations during an investigation, three current or former senior officials said. It is not clear exactly when the wiretaps occurred; they were first reported by Congressional Quarterly on its Web site.

The official with access to the transcripts said someone seeking help for the employees of the American Israel Public Affairs Committee, a prominent pro-Israel lobbying group, was recorded asking Ms. Harman, a longtime supporter of its efforts, to intervene with the Justice Department. She responded, the official recounted, by saying she would have more influence with a White House official she did not identify.

In return, the caller promised her that a wealthy California donor—the media mogul Haim Saban—would threaten to withhold campaign contributions to Representative Nancy Pelosi, the California Democrat who was expected to become House speaker after the 2006 election, if she did not select Ms. Harman for the intelligence post.

[...]
Much like Hoekstra, Harman also had something to say about supposed 'abuses of power' at that time:
Think Progress, 'Harman: 'I'm Just Very Disappointed'', Ali Frick, 21 Apr 2009:

I'm just very disappointed that my country — I'm an American citizen just like you are — could have permitted what I think is a gross abuse of power in recent years.
She's one of the people who approved the budget and the legal framework that would supply the NSA and others with equipment and a mandate to watch PCS networks and collect the data under ONEROOF, but then she thought that the NSA and FBI were going to magically avoid collecting signals from her because she's special?
Whenever Jews or their associates find themselves being treated just like everyone else, they suddenly get very tearful and start talking about how they are so, so, so oppressed. A sad tune needs to be played for them, perhaps, on the tinyest of tiny violins.
The Turkish airforce shot down a Russian Su-24M last week, and since that time, critical examination of Turkey has brought a number of issues that people had been warned about before to light in the media, which until now had been mostly ignored.
I had intended to write an article at Majorityrights about this, but then I realised that the Independent was actually saying everything that I was going to write, so in the interest of saving time, I will just quote them verbatim:
The Independent, 'War with Isis: Obama demands Turkey closes stretch of border with Syria', 01 Dec 2015 (emphasis added):

The US is demanding that Turkey close a 60-mile stretch of its border with Syria which is the sole remaining crossing point for Isis militants, including some of those involved in the massacre in Paris and other terrorist plots.

The complete closure of the 550-mile-long border would be a serious blow to Isis, which has brought tens of thousands of Islamist volunteers across the frontier over the past three years.

In the wake of the Isis attacks in Paris, Washington is making clear to Ankara that it will no longer accept Turkish claims that it is unable to cordon off the remaining short section of the border still used by Isis. "The game has changed. Enough is enough. The border needs to be sealed," a senior official in President Barack Obama's administration told The Wall Street Journal, describing the tough message that Washington has sent to the Turkish government. "This is an international threat, and it's coming out of Syria and it's coming through Turkish territory."

The US estimates some 30,000 Turkish troops would be needed to close the border between Jarabulus on the Euphrates and the town of Kilis, further west in Turkey, according to the paper. US intelligence agencies say that the stretch of frontier most commonly used by Isis is between Jarabulus, where the official border crossing has been closed, and the town of Cobanbey.

It has become of crucial importance ever since the Syrian Kurdish forces known as the People's Protection Units (YPG) captured the border crossing at Tal Abyad, 60 miles north of Isis's capital of Raqqa in June. Turkey had kept that border crossing open while Isis was in control on the southern side, but immediately closed it when the YPG seized the crossing point. The Turkish authorities are refusing to allow even the bodies of YPG fighters, who are Turkish citizens and were killed fighting Isis, to be taken back across the border into Turkey.

The US move follows increasing international criticism of Turkey for what is seen as its long-term tolerance of, and possible complicity with, Isis and other extreme jihadi groups such as al-Qaeda's branch in Syria, Jabhat al-Nusra Front, and Ahrar al-Sham. Not only have thousands of foreign fighters passed through Turkey on their way to join Isis, but crude oil from oilfields seized by Isis in north-east Syria has been transported to Turkey for sale, providing much of revenue of the self-declared Islamic State.

Last week a Turkish court jailed two prominent journalists for publishing pictures of a Turkish truck delivering ammunition to opposition fighters in Syria. President Recep Tayyip Erdogan claimed that the weapons were destined for Turkmen paramilitaries allied to Turkey fighting in Syria, but this was denied by Turkish political leaders close to the Turkmen.

Turkey is now under heavy pressure from the US and Russia, with President Vladimir Putin directly accusing Ankara of aiding Isis and al-Qaeda. In the wake of the shooting down of a Russian aircraft by a Turkish jet, Russia is launching heavy air strikes in support of the Syrian army's advance to control the western end of the Syrian Turkish border. The pro-opposition Syrian Observatory for Human Rights said a Russian air strike on the town of Ariha yesterday killed 18 people and wounded dozens more. Meanwhile Turkey said it had now received the body of the pilot killed when the plane was shot down and would repatriate it to Moscow.

The US demand that Turkey finally close the border west of Jarabulus could, if Turkey complies, prove more damaging to Isis than increased air strikes by the US, France and, possibly Britain. The YPG has closed half the Syrian frontier over the last year and defeated an Isis assault aimed at taking another border crossing at Kobani. Syrian Kurdish leaders say they want to advance further west from their front line on the Euphrates and link up with a Kurdish enclave at Afrin. But Turkey insists that it will resist a further YPG advance with military force. Instead, it had proposed a protected zone on the southern side of the border from which Isis would be driven by moderate Syrian opposition fighters.

The US has opposed this proposal, suspecting that the Turkish definition of moderates includes those the US is targeting as terrorists. It also appears to be a ploy to stop the YPG, heavily supported by US air power, expanding its de facto state along Turkey's southern flank. US officials are quoted as saying that there could be "significant blowback" against Turkey by European states if it allows Isis militants to cross from Syria into Turkey and then carry out terrorist outrages in Europe.

Meanwhile in Iraq, officials said three more mass graves had been found in the northern town of Sinjar, which Kurdish forces backed by US-led air strikes recaptured from Isis earlier this month.
This is relevant to two flashbacks from last year, to stories that were made available in Al-Monitor via Taraf:
Al-Monitor / Taraf, 'Opposition MP says ISIS is selling oil in Turkey', 13 Jun 2014:

A man works at a makeshift oil refinery site in Raqqa's countryside, May 5, 2013. (photo by REUTERS/Hamid Khatib)

The Islamic State of Iraq and al-Sham (ISIS) has been selling smuggled Syrian oil in Turkey worth $800 million, according to Ali Ediboglu, a lawmaker for the border province of Hatay from the main opposition Republican People's Party (CHP).

Speaking to Taraf, Ediboglu recounted the findings of his research on ISIS activities.

"ISIS is a terrorist organization that poses a global threat, a group that kills recklessly and believes that killing people is a ticket to heaven," Ediboglu said. "One would expect such a group to engage in certain attacks in Turkey any time. Turkey's cooperation with thousands of men of such a mentality is extremely dangerous. You can never know what demands they could make to Turkey, a country whose regime they consider to be un-Islamic. No one can guarantee they will not repeat the massacres they commit in Iraq today or carry out similar attacks in Turkey tomorrow."

Oil revenues

Ediboglu said: "$800 million worth of oil that ISIS obtained from regions it occupied this year [the Rumeilan oil fields in northern Syria — and most recently Mosul] is being sold in Turkey. They have laid pipes from villages near the Turkish border at Hatay. Similar pipes exist also at [the Turkish border regions of] Kilis, Urfa and Gaziantep. They transfer the oil to Turkey and parlay it into cash. They take the oil from the refineries at zero cost. Using primitive means, they refine the oil in areas close to the Turkish border and then sell it via Turkey. This is worth $800 million."

Is Turkish intelligence helping fighters?

Ediboglu further stated: "Fighters from Europe, Russia, Asian countries and Chechnya are going in large numbers both to Syria and Iraq, crossing from Turkish territory. There is information that at least 1,000 Turkish nationals are helping those foreign fighters sneak into Syria and Iraq to join ISIS. The National Intelligence Organization (MIT) is allegedly involved. None of this can be happening without MIT's knowledge."

Taraf's earlier report on diesel smuggling

Last Aug. 20, Taraf carried a report headlined "Smugglers riding on a billion dollars." It reported that Turkish soldiers clashed with and repelled hundreds of horse riders and thousands of foot smugglers at the Syrian border on a daily basis. It pointed out that the biggest fight between the [Syrian Kurdish] People's Protection Units (YPG) and the al-Qaeda-linked Jabhat al-Nusra in Rojava [northern Syria] was over the revenues from the sale of the region's petroleum products to Turkey.

The report noted that some 2,000 oil wells exist in the Rumeilan region, which lies on the other side of the border stretching between [Turkey's] districts of Cizre in Sirnak province and Nusaybin in Mardin province. "The region's oil is being smuggled to Turkey. The daily amount of smuggled diesel fuel has reached 1,500 tons, which corresponds to 3.5% of Turkey's consumption," it added.
And:
Al-Monitor / Taraf, 'Al-Qaeda Militants Travel To Syria Via Turkey', 28 Jul 2014:

A vehicle carrying supplies stands at a checkpoint of the Islamist rebel group Jabhat al-Nusra in Syria's Deir al-Zour countryside, July 27, 2013. (photo by REUTERS/Karam Jamal)

During the 2½ years of clashes in Syria, there has been constant debate about how Turkey's borders were crossed. There were reports that Islamic groups going to fight regime of President Bashar al-Assad — first and foremost al-Qaeda, which has supporters in Turkey — were crossing over the Turkish border.

Interesting claims

To find out more, we met with people close to al-Qaeda in Istanbul. These people are shopkeepers who live in the Fatih district of Istanbul, but who won't give their names. They have interesting things to say about the Syrian war. These sources told us that following the eruption of war in Syria, al-Qaeda elements from Europe, the Caucasus, Afghanistan and North Africa began crossing into Syria via Turkey. These sources also had interesting things to say about the clashes with the Kurdish PYD and how the border is crossed.

Met by intelligence officials

O.E., one of our sources, said he crossed the border and went to Syria before the Jabhat al-Nusra-PYD clashes. He crossed from an unsupervised area on the Turkish side to the Syrian side controlled by the PYD. O.E. said, "We told the PYD we were there for Jabhat al-Nusra and they let us pass." O.E. said many people cross the same way: "Fighters coming via Chechnya and Afghanistan are met at the Syrian border. There are intelligence officials there. Those crossing the border inform the intelligence people of their affiliation and under whose command they will be. Then, they cross the border and report to their units."

Treated in Turkey

O.E. said those heavily wounded in clashes are brought to Turkish hospitals. He added, "Some return to their countries by the same route. There are al-Qaeda mujahedeen from Afghanistan and the Caucasus fronts who come with their families. Most of them settle in Syria. There are hundreds of militants who come the same way from Northern Africa, the Caucasus, Europe and Afghanistan. They simply cross the Turkish border and join the fight."

1,000 Chechens to Syria

O.E. said Chechens are now one of the strongest groups in Syria. "Under their commander Abu Omar, about 1,000 Chechens came to Syria. First they were with Jabhat al-Nusra, but now they have moved over to the Islamic State of Iraq and Syria (ISIS)," he said.

There are also Turks

O.E. said many Turks had gone to Syria to fight. "Some were martyred. Some stayed for a while and returned. Some couldn't resist going back to Syria. A retired policeman who is a friend of mine went to Syria to fight. He trained fighters in weapons. Several of us went to Syria before the fighting between the PYD and Jabhat al-Nusra broke out. Without being asked anything on the Turkish side, we just crossed to an area of Syria controlled by the PYD. We told them we came to [fight with] Jabhat al-Nusra and they let us enter," O.E. said.

The ISIS fans the clashes

O.E. claimed that it was the ISIS that was flaming the clashes with the PYD. "The ISIS declared that Jabhat al-Nusra was its subordinate organization. Jabhat al-Nusra commanders refused this claim and said they were under al-Qaeda leader Ayman al-Zawahri. These claims caused disputes within the organization. Chechen groups under Abu Omar in Syria split from Jabhat al-Nusra and joined the ranks of the ISIS. It was the ISIS fighters who provoked the recent clashes with the PYD. Reports said the ISIS entered and opened fire in PYD-controlled villages to disrupt the non-hostility agreement between the PYD and Jabhat al-Nusra," he concluded.
And more recently:
Todays Zaman, 'Erdogan tacitly acknowledges claim MIT transported arms to Syria', 25 Nov 2015:

Syria-bound trucks operated by MIT were searched in January 2014 after prosecutors received tip-offs that they were illegally carrying arms to Syria. (Photo: DHA)

President Recep Tayyip Erdogan on Tuesday seemingly validated claims previously made by critics who alleged that the Turkish government was sending weapon-filled trucks to radical groups in Syria by sarcastically asking, "So what if the MIT [National Intelligence Organization] trucks were filled with weapons?"

Pro-government figures had previously claimed that trucks belonging to MIT that were intercepted en-route to Syria contained "humanitarian aid" for the Bayir-Bucak Turkmens who live just over the border from Turkey's southern Hatay province. Many claims were made by the opposition and Turkish media that the trucks were, in fact, transporting weapons to radical factions in Syria.

Early in 2014, an anonymous tip led to the interception of a number of trucks on the suspicion of weapons smuggling. The first operation took place in Hatay on Jan. 1, 2014. Another anonymous tip led to three more trucks being stopped and searched in Turkey's southern Adana province on Jan. 19, 2014.

Speaking to a room full of teachers on Tuesday gathered for Teachers' Day, Erdogan said, "You know of the treason regarding the MIT trucks, don't you? So what if there were weapons in them? I believe that our people will not forgive those who sabotaged this support."

Erdogan was speaking just hours after Turkey shot down a Russian Su-24 aircraft near the Syrian border on Tuesday morning after, Ankara has said, it violated Turkish airspace despite repeated warnings.

Erdogan accused the prosecutors investigating the MIT trucks of denying Turkmens the power to defend themselves. "Those [MIT] trucks were taking aid to the Bayir-Bucak Turkmens. Some were saying, 'Prime Minister Erdogan said, there were no weapons inside those trucks;' So what if there were?"

Justice and Development Party (AK Party) officials called the 2014 investigation of the MIT trucks "treason and espionage" on the part of the prosecutors because the trucks were claimed to be transporting humanitarian aid to the Bayir-Bucak Turkmens.

Erdogan, who was prime minister at the time, said during a television program immediately after the interception of the trucks became public knowledge that the trucks were carrying aid supplies to Turkmens in Syria.

Many high-level Turkish officials, including then-President Abdullah Gül, said the trucks' cargo was a "state secret," which led some to speculate that the trucks were carrying arms.

However, Syrian-Turkmen Assembly Vice Chairman Hussein al-Abdullah said in January 2014 that no trucks carrying aid had arrived from Turkey.

The recent military operation of the Syrian government, backed by Russian air strikes, in the rural area of Latakia, inhabited by Bayir-Bucak Turkmens has caused thousands of Turkmens to flee to the Turkish border. A Turkmen brigade commander called for Turkey's assistance and expressed his frustration that Turkey's helping hand had not been extended far enough.

Turkmen Commander Ömer Abdullah of the Sultan Abdülhamit Brigade, who is fighting against the forces of Syrian President Bashar al- Assad, recently called on Turkey to help the Turkmens being pounded with cluster bombs by the Syrian regime and Russian forces.

"We are trying to survive under unbearable brutality and we need Turkey's help," said Abdullah. Expressing criticism of the AK Party, Abdullah said: "Every day our Turkmen brothers are dying. We expect the government to support us. Why have they abandoned us? Our martyrs fall every day. Why are we being left alone? I don't understand."

Abdullah's claim pokes an important hole in the AK Party's claims, while also posing the question of to whom the MIT trucks, now widely accepted as transporting weapons, were sent.

CHP leader says they told AK Party not to send weapons to Syria

Main opposition Republican People's Party (CHP) leader Kemal Kiliçdaroglu said on Wednesday that Turkey had become a country importing terrorism from Syria.

"We told them [the AK Party] not to. They said they were sending humanitarian aid. Later the documents were revealed [refuting these claims]."

Kiliçdaroglu was referring to the Cumhuriyet daily's headline story in May which discredited AK Party and Erdogan's earlier claims that the trucks were carrying humanitarian aid to Turkmens. The article showed photos from the search of the MIT trucks which were revealed to be carrying heavy munitions. Kiliçdaroglu consequently asked to whom the trucks were going, if not to Turkmens.

After the publication of the stills as well as video, Erdogan lashed out at Cumhuriyet and its editor-in-chief, Can Dündar, for publishing the evidence, publicly vowing that Dündar would "pay a heavy price" for his report.

According to the report, there were six steel containers in the trucks which contained a total of 1,000 artillery shells, 50,000 machine gun rounds, 30,000 heavy machine gun rounds and 1,000 mortar shells. All of this is registered in the prosecutor's file on the MIT truck case, the report said.

Erdogan personally sued Dündar and is requesting that he be given a life sentence, an aggravated life sentence and an additional 42-year term of imprisonment on charges related to a variety of crimes, ranging from espionage to attempting to topple the government and exposing secret information.

Following the Cumhuriyet report, Prime Minister Ahmet Davutoglu said that it is "none of anybody's business" what the trucks contained. Speaking in a live broadcast on the Habertürk news station, in May, Davutoglu said, "This is a blatant act of espionage."

Tugrul Türkes, who made it into the AK Party cabinet on Tuesday after switching from the Nationalist Movement Party (MHP) in September, said in June that the trucks were not destined for Syrian Turkmens. Speaking on CNN Türk in June, Türkes said: "I swear that those weapons were not sent to Turkmens as they [Erdogan and other government officials] claim. We [the MHP] have connections with Turkmens [in Syria]."

Prosecutor admits 2,000 truckloads sent to Syria

A pro-government prosecutor who was appointed to the MIT trucks case inadvertently admitted in May that weapon-laden trucks made 2,000 trips to Syria, according to the lawyer of one of the defendants in the case.

Hasan Tok, the lawyer for former Adana Provincial Gendarmerie Regiment Commander Col. Özkan Çokay, who was involved in the search of MIT trucks in January 2014, said that he learned that there had been at least 2,000 trips made by MIT trucks to Syria from the prosecutor, Ali Dogan.

Dogan, known as a government loyalist, filed for a verdict of non-prosecution regarding the investigation after he was appointed to the position of Adana chief public prosecutor. According to Tok, Dogan had asked the defendants in a previous hearing, "2,000 trucks have passed [into Syria], why was this one specially chosen?"

"We didn't know 2,000 trucks had passed into Syria; may god bless Ali Dogan," said Tok.
Of course, the weapons did not go to the Turkmens. The weapons on those trucks actually went to groups like the FSA 10th Coastal Brigade which has conducted operations in line with Jahbat Al-Nusra and Ahrar Al-Sham. It's also reasonable to speculate that significant amounts of those supplies also found their way into the hands of ISIL.
Turkey's intense protectiveness about Russian interactions with their border, may have been due to the fact that they didn't want the Russians to be able to do air interdiction against what was an ongoing logistics operation taking place across that border.
It's a depressingly ridiculous sequence of events which gives Russia the ability to create a media narrative about how 'only Russia' is 'fighting the terrorists' with real determination, because Turkey is a part of NATO and is basically embarrassing NATO with its duplicitous behaviour.
There is a silver lining to these dark clouds, though. Up until just recently, Russia had been seeking to work with Turkey on the provision of oil and gas pipeline projects into Europe, which would have increased European dependence on Russian energy companies. Thanks to this sequence of events, Russia and Turkey are now at odds with each other, and Russia is seeking to suspend those projects and to place sanctions on Turkey.
All of this has not worked out too badly. Not only has Turkey's duplicity finally come to light in a way that makes it impossible for anyone in western governments to avoid dealing with it, but additionally the Russian government is now politically incapable of partnering with Turkey against the European Union's geostrategic interests with regards to energy concerns, at least in the near term, as negotiations on the Turkish Stream pipeline project are suspended.
This gives more time for the effects of the Iran deal to come into play, since Iran was able to enlist Russian assistance in the P5 negotiations to make the case for sanctions being removed, while at the same time positioning itself against Russia as an alternative energy supplier for Europe, which would be able to substitute its natural gas in place of Russia's and increase the diversification of supply. This would in turn lessen Russia's political influence in Europe.
Iran's infrastructure would not be ready to supply Europe in the near term, and so the near term quarrel between Russia and Turkey, gives the European Union more time to coordinate that infrastructure development with Iran, and potentially tilts the tables by making Russia appear less reliable as a supplier.
From that perspective, all of this is a win for the North Atlantic.
Kumiko Oumae works in the defence and security sector in the UK. Her opinions here are entirely her own.
What happens when WNs accept Russian news reports uncritically? They get misled, that's what happens. Lasha Darkmoon has an article titled "America furious at Russia's stunning successes in Syria". It's based on an article which she took from Fort Russ, which was titled "Russian operation in Syria revealed the real sponsors of terrorism to the world".
Let's examine the core claims of Darkmoon's Russian-derived article.
Russian claim #1:
Darkmoon, 'America furious at Russia's stunning successes in Syria', 10 Oct 2015:

As soon as the Russian air force began to inflict serious blows, the Americans threw a tantrum fit. This is because ISIL militants had appealed to them for help.
Actual Reality: The Americans 'threw a tantrum' because the Russians were bombing everything without any concern for the balance of powers in the areas that they were hitting. This led to ISIL in fact gaining ground in some places such as Aleppo, and even involved instances where ISIL was able to induce the Russians to hit ISIL's inter-sectarian opponents.
See here:
Guardian, 'Isis seizes ground from Aleppo rebels under cover of Russian airstrikes', 10 Oct 2015:

Islamic State militants have scored their most significant advances in the province of Aleppo, the closest they have come to Syria's former commercial capital in two years, as it becomes increasingly clear that they are taking advantage of Russian airstrikes against the rest of the opposition to march into new territory.

As Russian planes continued to pound rebel forces in western Aleppo and other frontlines in the country, many of the opposition fighters who ousted Isis from the province at great cost last year found themselves pinned down and unable to halt the terror group's largely unopposed advance towards the city at the end of last week.

"Russian planes are striking the Free Syrian Army and laying the groundwork for Daesh [Isis] control of strategic areas in Aleppo," said a source from Tajammu al-Izzah, a moderate opposition group backed by western and Gulf states which has been hit by Russian airstrikes. "The truth is that Russia is backing Isis."

[...]

On Friday, taking advantage of the Russian bombing of western Aleppo that has forced the rebels to reinforce their defensive lines there, Isis pivoted towards the south and within hours had taken control of a series of towns and villages to the north of the city of Aleppo, the closest it has come since it was defeated by the opposition.

"Russia entered with the excuse of fighting Daesh and has barely bombed them," said a religious official serving with Jaysh al-Fateh, a coalition of rebels fighting the Assad government and whose fighters have been targeted by the Russian airstrikes.

"Russia did not come to fight Daesh. Why didn't they and the American coalition prevent them from advancing in northern Aleppo when they send armoured vehicles through the open desert before everyone's eyes?

"It is clear that both Russia and the regime are laying the groundwork for Daesh," he added. "We have a joke here that they all have one operations room."

[...]
The war is more complicated than Russians believe it is. Sometimes, what happens is that one Islamist group is incited to fight against another Islamist group because of competing territorial claims, or doctrinal disagreements, or because they are a front for a state-backed militia group which is using theological justifications for creating infighting within a particular sect. Because of this, radical Sunni Muslims can sometimes be fighting other radical Sunni Muslims.
If Russia simply gallivants into the middle of that situation and indiscriminately bombs everything that looks like an Islamist, they might in fact be upsetting the balance of terrorism—for lack of a better way of putting it—in a way that could unintentionally lead to ISIL gains.
Which appears to be precisely what the Russians have caused with their ham-fisted approach.


Russian claim #2:
Darkmoon, 'America furious at Russia's stunning successes in Syria', 10 Oct 2015:

More than 50 aircraft were transported to Syria. More than 2000 people were transported in transport aircraft to Syria. And not one of the vaunted NATO radars in Turkey, Bulgaria or the other countries in the region were efficient enough to record all this activity!
Actual Reality: Even civilian observers were able to see the movement of Russian aircraft.
Here's an example:
The Aviationist, 'Latest imagery shows 28 Russian aircraft (12 Su-24s, 12 Su-25s and 4 Su-30s) on the ground at airbase in Syria', 22 Sep 2015:


A satellite image has finally unveiled the whole Russian Air Force contingent made of 28 combat planes deployed to Syria: taken on Sept. 21, the photograph shows 4 Su-30SMs, 12 Su-25SMs and 12 Su-24s lined up, in the open air, along runway 17L at al-Assad International Airport, near Latakia, in western Syria.

[...]
And another example:
The Aviationist, 'Six Russian Su-34 Fullback bomber have just arrived in Syria. And this is the route they have likely flown to get there.', 29 Sep 2015:

Six Sukhoi Su-34 aircraft have eventually arrived at Latakia to join the Russian contingent already there.

Images allegedly shot around the al-Assad International Airport clearly show one Russian Fullback about to land at the airbase in western Syria where 28 Russian aircraft have arrived last week.

@ain92ru @pfc_joker @oryxspioenkop They arrived! pic.twitter.com/JCi4bIT4F5

— LuftwaffeAS (@LuftwaffeAS) 28 Settembre 2015

One of the photos taken from the ground shows the six aircraft trailing what seems to be an airliner over Idlib: the larger plane is probably a Russian Air Force Tu-154.

Said to be an airliner/transporter accompanied with 6 fighters crossing over Hama country side pic.twitter.com/cPbjVZssyi

— LuftwaffeAS (@LuftwaffeAS) 28 Settembre 2015

Interestingly, a Russian Air Force Tu-154 using callsign RFF7085 could be tracked online on Flightradar24 during its flight to Latakia on Sept. 28, likely exposing the route followed by the six Su-34s trailing their accompanying Tu-154.

As the below image shows, the aircraft flew in international airspace over the Caspian Sea, to Iran and entered Syrian airspace after flying over northern Iraq: did the Su-34s have all the required diplomatic clearances to fly north of Baghdad or did they simply "sneak" into Syria by hiding under the cover of the transport plane?

Hard to say.

Last week, US officials said that the first 28 Russian combat planes hid under the radar signature on the larger transport aircraft, in an attempt to avoid detection but there are chances that the flights had all the required clearances from the Iraqi Air Traffic Control agencies and were conducted as a standard long-range ferry flight: one tanker/airlifter, using radio and transponder, supporting multiple fast jets.

H/T to @LuftwaffeAS and @obretix. Image credit: Flightradar24.com.
If even random civilians on the internet can see it, that's probably a sign that their operations are not invisible, and are in fact being meticulously recorded—by civilians. At that point, whether NATO is or is not watching, becomes frankly irrelevant.


Russian claim #3:
Darkmoon, 'America furious at Russia's stunning successes in Syria', 10 Oct 2015:

US and ISIL (or ISIS) have close ties [...]
This statement seems to be based on a photograph that purports to show Abu Bakr Al-Baghdadi with John McCain.
Actual Reality: The man sitting with John McCain is not Abu Bakr Al-Baghdadi.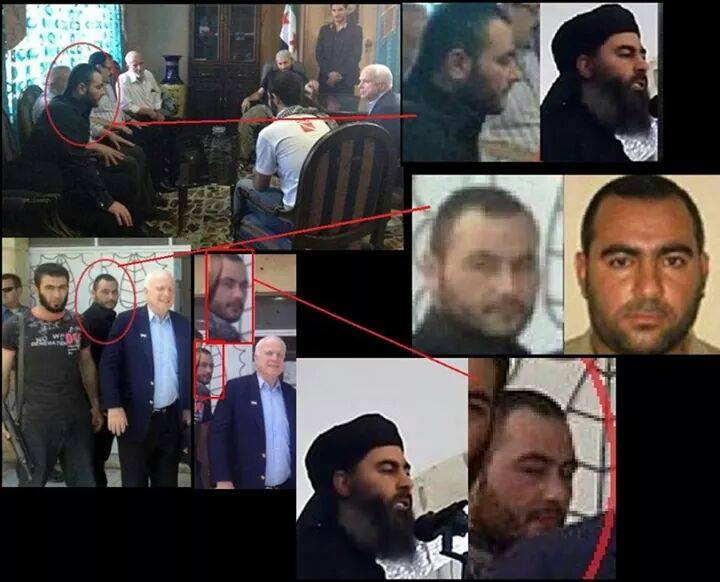 I'm sure you can all agree that the Russians were not even trying with that one. I'll be charitable and assume that's their idea of a joke. The man with John McCain obviously looks nothing like Al-Baghdadi. He is a member of the Northern Storm Brigade, a group which is fighting against ISIL.


Russian claim #4:
Darkmoon, 'America furious at Russia's stunning successes in Syria', 10 Oct 2015:

There is no perfidy here. We alerted everyone in advance what we were about to do. This included Netanyahu.
Actual Reality: That is true, the Russians did inform Israel in advance. They decided to be courteous to Israel. It's a really stupid thing to do, given that Netanyahu has no particular reason to keep any of the information secret from ISIL, as it is in Israel's geostrategic interest to let ISIL carry on wreaking havoc on Syria.
Recall this fact:
The Algemeiner, 'Israeli Officials: We'd Prefer Al-Qaeda-Run Syria to an Assad Victory', 04 Jun 2013:

[...]

According to Israel Hayom, senior Israeli officials were quoted as saying that "al-Qaeda control over Syria would be preferable to a victory by Assad over the rebels."

Officials believe that an Assad victory would strengthen Iran, as a weakened Syrian regime would become more reliant on the Islamic Republic. The Iran-Hezbollah-Syria axis would thus become an even greater threat to Israel, the officials said.

"Assad is now Iran," the officials said, according to Israel Hayom. "Any of these groups would be less problematic for Israel than an Assad regime that is a puppet of Iran," the officials were quoted as saying.
It's anyone's guess as to whether Israel's calculus on that issue has changed since 2013. By "any of these groups", that can mean Al-Qaeda which they mentioned, but it could also mean they'd be okay with letting ISIL run around doing things too, because "any" means "any", right? Who can know for sure?
Yet Russia does this, regardless:
Jewish Telegraphic Agency, 'Russia informed Israel ahead of airstrikes in Syria on ISIS', 30 Sep 2015:

[...]

Russian officials reportedly contacted their Israeli defense establishment counterparts about an hour before the attack, Israel's Channel 2 reported. Russian government officials also contacted Yossi Cohen, the national security adviser in the Prime Minister's Office, Haaretz reported, citing unnamed senior Israeli officials.

Last week, Israeli Prime Minister Benjamin Netanyahu met with Putin in Moscow to discuss the security threats to Israel from Syria. During the meeting, the two leaders agreed to coordinate between the Israeli and Russian militaries in order to avoid conflicts over Syria. Putin also told Netanyahu that Syria is not in a position to open a second front against Israel.

[...]
So in summary, the only one of those Russian claims which is true, happens to be the most disastrously idiotic one in practice. Apparently the Russians have never heard the phrase 'loose lips sink ships', since the loud-mouthed Russians seem to have been perfectly happy to give Israel a whole 60 minutes of warning ahead of each stage of their activities so far.
NATO on the other hand does not make a habit of giving Israel that kind of information, due to various reasons related to Israel's bad behaviour in the past, which I'm sure that all Majorityrights readers are aware of.
Kumiko Oumae works in the defence and security sector in the UK. Her opinions here are entirely her own.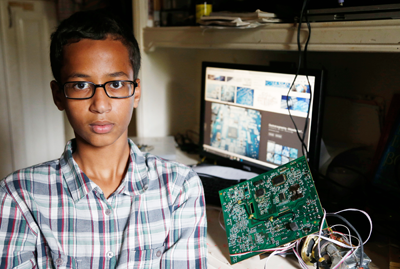 Ahmed Mohamed: Clock Boy.
In the United States, a 14-year old student at Irving MacArthur High School named Ahmed Mohamed brought a device to his school that somehow caused school administrators to call the police, and the police then arrested him.
This is because all of them at least momentarily seemed to have believed that the device he had brought to school was 'a hoax bomb'. It became immediately apparent that it was not a hoax bomb, and was in fact a clock inside of a pencil case.
Subsequently, a media frenzy developed around Ahmed Mohamed, which has led to an outpouring of sympathy directed toward him from various segments of American society.
The incident went viral on social media and the hashtag "#IStandWithAhmed" was the top non-promoted United States trend on Twitter early on Wednesday morning. Some people alleged that Mohamed was arrested only because of his Muslim name, or because of the way he looked. Many liberals and Muslims claimed the situation was a case of 'Islamophobia'.
Many others would be inclined to gloss over this story, filing it away as just being an example of Americans being 'too paranoid about terrorism', embarrassing themselves, and then reversing course.
However, there are actually more interesting patterns at work here.
This is being re-posted for a few reasons.
In the years since it was first posted there has yet to be any argument to refute its value to organizing the perspective of interests in whole and fundamental parts for those who care about European peoples. Though its further detail and application would provide benefit, it has not yet gained the currency it should have among WN, who mostly continue to argue that they are "of the right wing", against "The Left" or "neither left nor right", thereby foregoing organization in their power, and reacting as our enemies would have it.
The White left thesis may not have gained currency for another reason - it had a very short time (about 4 hours) as a leading article when first republished at Majority Rights before J. Richards posted a sensationalistict, highly conspiratorial and tabloidesque story, with ridiculous imagery leaping forth (the photoshopped arms on this man seem to parody the image just below on the White Left article) - distracting from the careful discussion that the White Left thesis deserves.
Next, for this essay to be understood properly, it needs the context of being published alongside the Kant essay (his moral system as coherence, accountability, agency and warrant). In fact, for the purpose of the Kant essay to be understood, it also needs this juxtaposition; but while important, it is a primary step at this point to the highly relevant arguments which the White Left essay makes. So as not to not distract from these more relevant concerns thus, I place the Kant essay secondly and under the fold, only advising that philosophically, theoretically, it is antecedent for a proper understanding of the history of European philosophical requirements. Finally, republication will provide occasion to shore-up minor errors that should not be passed-on as these essays are a worthwhile resource.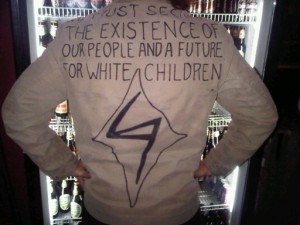 Leftism as a Code Word (Part 1):
When our advocates call our enemies The Left, they are making a crucial mistake: obfuscating our two greatest problems and the means of solution at the same time.
In an interview with Dr. Sunic, Professor MacDonald says, "these neocons, their only interest is Israel. [Otherwise] they tend to be on the Left [?]. They still are on the Left [?] when it comes to immigration. All these things are just really leftist." [?]
Dr. Norman Lowell says that "the Left" [?] has shipped industry and with it, jobs, to China.
In his article Women on the Left, Alex Kurtagic discusses some of the same subject matter that I had dealt with in a previous article, and to which I have given some consideration over the years – among that, sorting out different kinds of feminists in relation to White interests. In concluding that these "leftists" [?] have nothing to offer women, he places feminists in the same category: de Beauvoir, who did indeed fashion herself a leftist of sorts (taking women as her advocacy group, and Marxism as her guide), but was not Jewish; and Friedan, who was Jewish, but more liberal in what she promoted than leftist.
In an interview for Alternative Right, Kurtagic goes on attacking "the leeeft, the leeeft, the leeeeft," and I cringe, not for the reasons that he may think; i.e, he may think that I am lamenting an attack on a centralized economy, or open borders multiculturalism, PC "enrichment". Maybe he would think that I am waxing nostalgic for the Soviet Union where he and Sunic had the misfortune to grow up, or that I want to take away private property? Maybe he thinks I am cringing because I want to jealously limit his horizons, tell him what kind of art and architecture that he can have? Maybe he thinks I want everybody to be equal or treated equally? No, I am cringing because another perfect Jewish trick is being promoted to the detriment of White people.
These counterproductive ambiguities are circulating among our best advocates – hence the need of clarification and definition emerges salient. It is not about competing with them and showing them up; it is about getting the framework of our advocacy correct.
Naming the Jew can be risky business indeed and that assuredly accounts for why White advocates have used code words: e.g., liberals, non-Christians, leftists, etc. I submit that if one is in a situation where it is too dangerous to name the Jew, then liberal – at least in terms of its fundamental meaning, viz., openness to other groups of people – is the better code word as it also encompasses those problems of ours that are truly not of Jewish making but of our own. And that the Left is the worst code word. That is the subject of this thesis, for reasons that I will elaborate shortly. Agreed, the charge of liberalism is problematic, with a decided image problem, it has one appearing stodgy and logically entailing ground yielding conservatism in response; thus, another term should be supplied – but not the Left.
When one does have to confront the Jewish question more directly, but is in danger, not free to speak in just any way, one of the best strategies for defending against charges of anti-semitism should be to distinguish between "virulent" and "relatively benign" Jews in accordance with Faussette and Bowery's theory regarding the cycle of Jewish virulence. Jews, long a people without a nation (beginning with Babylonian captivity and for nearly 2,000 years after that), developed an uncaring, parasitic relation to their host nations, particularly among the elites of their vested interest. After a period of consolidating the wealth of a nation to themselves, the most 'virulent' ones escape over the border for a new host country to exploit, while the relatively 'benign', situated and accountable ones are subject to the wrath of the host nation's people who realize belatedly, "'the Jews' did this to us!" This perpetuates the cycle as the virulent elite bribe their way into a new country, gain farther sympathy, critical absolution and pseudo-justification for their exploits as they point to what 'they do to us': the Holocaust, the Inquisition, the pogroms, the Roman occupation.
With this distinction however, we should be able to mitigate the charge of anti-semitism, noting that our large grievance is with the virulent elite (as well as with White traitors, especially those in influential positions) not with those Jews normal, situated and accountable to a local culture. Nevertheless, as anybody who has experience will tell you, the pattern of antagonism and indifference to European interests exists not only among Jewish elitists, but in them as a whole. Thus, we need to discriminate against them and separate from them as an entire group, even if some are worse than others and should be looked upon as more criminally liable.
. . .
As with most normal White people, liking my people and myself, I spent most of my life saying that I was neither Left nor Right, if those terms emerged as an issue.
For good reason: as with all normal White people, I'd been repulsed, had a very strong aversion to identifying as leftist. I saw rabid Jewish advocates of non-Whites along with anti-White Whites and heard them called "THE Left" all my life. Yet, I looked at what was being called "the Right", and I could not quite do that either – it meant that one would be an ignorant hole by definition. I use this vulgarism deliberately to demonstrate that you can indeed, define a term through the pattern of its use in common parlance. Note that a person will be called a hole when they harm others when they do not have to; or, when they let people harm them when they do not have to. That's characteristic of the Right for a reason – they're not accountable; they wish to believe in their sheer, objective innocence and not accountable to an encompassing, but delimited "we", as such.
However, with our struggle's growing recognition of the disregard of our people in more difficult circumstances, middle, working class and more, their increasing awareness having shown in the Wall Street protests; moving to understanding of the consequences of corporate plutocracy's quest for cheap labor; its transgression of borders; its relation to the military industrial complex - growing recognition that this is not in our interest as Whites – our need to not identify as rightists becomes acute.
At the same time, with the population explosion threatening to overwhelm our demographic and our environment, it is also of acute importance to not identify with the phony "Left" either, which is really just more catastrophic liberalism, if you look at it. That understood, I have come to the realization that saying one is neither Left nor Right is an inarticulate halfway point to extricating oneself from promulgated Jewish definition of the terms. That once one sorts out Jewish perversion and corruption of the terms, that the Left is the best way for us to identify as White advocates.
When our advocates call our enemies "the Left" they are making a crucial mistake: obfuscating our two greatest problems and the means of solution at the same time.
Our advocates are obfuscating the agency of Jewish machinations hiding behind a twisted definition of "the Left." The Left has the moral high ground and the label, Left, has the appearance of that moral high ground because it is supposed to be socially accountable, even if it is a misnomer: which it is, in Jewish application of the term – leftist classification indeed, for Jews, non-Whites, and anti-White Whites, but prescribing obsequious, cataclysmic liberalism for Whites. With that, they are obfuscating the motive of Jews to define us as Rightists and their motivation to drive us there when we react to this misnamed liberal prescription.
At the same time, our advocates are obfuscating our other large problem – our wish for the "innocence" of objectivism or the appearance thereof, the pretense of such objectivism in order to avoid accountability – that is Rightism.
While Jews will use this argument too, that they are simply better, meritorious, when it serves their interests, Jewish political planners and academics generally want to maneuver us into a rightist position because it leaves us naive, organizationally weak, amoral, and unaccountable to our own as a relational class of people. White traitors also want us to be rightists so that they can avoid accountability.
Finally, in calling "the Left" our enemy, our advocates obfuscate the means of solution by creating an aversion to what we need – a social classification of ourselves as a people, a full class of people. The Left is always about social classification if you sort out abuse of the term.
Understood how the term is deployed when clear, "The Left" is a function of systemic classification, designating a group of people the interests of whom are to be looked after as a class – protecting against outsiders, e.g. "scab" union busters and plutocratic exploitation of labor. We classify ourselves as Whites for highly analogous reasons: to protect ourselves from opportunistic outsiders and from elitist exploitation and indifference.
If our philosophy is correct, as White advocates, we are leftists - that is because we are advocating a people, not objective facts. We are not simply describing facts, independent of interactive involvement and consequences. We are, if we are good White advocates, saying, "if a tree falls in the woods and there are no White people left to hear it, to talk about it, at least, it may make a noise, but may as well not for all it matters." We are taking a people-centric perspective and a White-people-centric position, specifically. We are acknowledging that nothing exists outside of interaction and how facts count must be negotiated between people. As mammals, caring about closer personal relationships, as we do, we most crucially care about White people.
In fact, the moment we refer to ourselves as Whites, or indigenous Europeans – when we refer to ourselves as a people - we are classifying, we are parceling a relative classification of ourselves socially and that is the reality. Whereas the Right, inasmuch as it pursues objectivism independent of interaction, social interaction, and a negotiation of how things count, is always something of an illusion.
If Kevin MacDonald looks at two DNA strands and says, this one is Jewish and this one is White, he must address at least one colleague with this information, in seeking agreement. In some cases, data will be agreed upon by nearly 100% of people and that will generally be called, "objective." A few may disagree, but they will be considered crazy. Nevertheless, the data, the observation and how it counts, occurs in social interaction (or it may as well not occur at all).
Moreover, to identify who we are as a full social class would give us the moral high ground and powerful organizational function at once. Whereas, when we are made averse to the term Leftism, we are obstructed from accountability to the relative classification of ourselves and others as a people – a classification that takes into account processes, all stages of development (within the lifetime) and evolution (beyond the lifetime); a classification that makes an important difference as it takes into account and respects our paradigmatic differences, differences that make a difference from other groups; our qualitative form and function, systemic pattern, its ecological disbursement, niche differences, logics of meaning and action understood as vastly different from non-Whites; that can make us more cooperative among ourselves and less conflicting with non-Whites when practicality is the better part of valor.
The White Class: viz., persons of native European descent, with interests relative to its class as such, would entail two-way accountability straight away, from those on top and from those in developmental, marginalized stages; i.e., to our relative, relational interests, irrespective of whether White traitors and non-Whites, those outside the White Class, are more or less "objectively" capable. Non-Whites might be allies, but they are not in the class. White traitors are traitors, their abilities only making them more offensive. The White Class, The Indigenous European Class (with its subcategories, yes), would define who we are and to whom we are largely accountable
Coming back to our first big problem in calling "them" the "Left." ...
When our advocates attribute Leftism to our enemies, they are not addressing the agentive Jewish machinations against our people, but rather attributing the problem to an ideology or less, a devil word, the "Left." This obfuscates the fact that Jews are classifying themselves and looking after their own interests, hiding their own agency in promoting hyperbolic liberal ideas and antagonism to Whites – promoting those outside or antagonistic to the White Class as "marginals" come to "enrich" us. Jewish agency is hidden behind the attribution of "the Left" – whether the agency behind economic Marxism or the cultural Marxism of PC.
Our second big problem obfuscated by calling our enemies, 'the Left.' Our wish for the "innocence" of objectivism or the appearance thereof, the pretense of such objectivism in order to avoid accountability.
Whether of religious speculation which seeks to establish its pure innocence, a clique of scientistic elitists who seek to establish the pure objective warrant of their discoveries, or the pure might-makes-right of the quasi-individual and the corporate "individual" of U.S. law, the Right is characterizable as a quest for objectivism which would make quick work of accountability – through a naïve wish to be innocent through objectivism or worse, through a cynical wish to avoid accountability through a pretense of objectivism.
The White Leftist perspective would not begrudge persons who do some things better their due, their difference, so long as they are accountable to the relative interests of the class; however, people tend to want to believe their success is more a result of their sheer independence than it actually is – the Right is pseudo objectivist, faithfully, slavishly leaving nature to its own devices – "we are caused", pseudo detached from the social, anti-social, therefore unaccountable and inhumane as such – "that's just the way it is", according to nature. Failing that, the Right can and will often seek to evade account in the elusive and insensible speculation of religion.