Majorityrights Central > Category: Anti-racism and white genocide
For his insolent defiance of Roger Waters plea that he not play Israel, he might have been singing "We don't need no education" right along with Pink Floyd .....but actually, maybe Jesse Hughes, his friends and fans could use a little. Try a caveat on Abrahamic fellowship.
Jesse Hughes, commencing an Eagles of Death Metal concert, Tel Aviv, 12 July 2015:

Now I'm also going to tell you another true story before I bring the rest of the boys up here. We decided to end the tour in this fuckin' city because we knew we couldn't top it once we got here. That is 87 percent the absolute truth. But then we got this letter from this cocksucker named Roger Waters (jeers from crowd). Do you want to know what I wrote that cocksucker back? Two words: Fuck You!...Fuck You! Ain't nobody goin' to keep me from my people here in Tel Aviv! Ain't Nobody!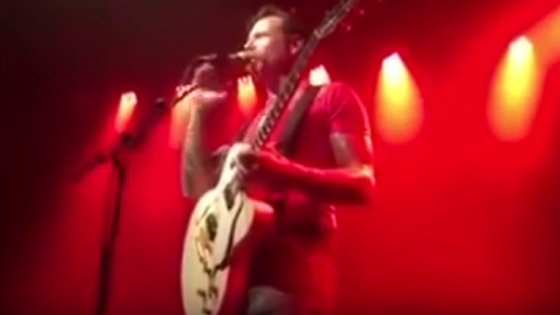 Among other blundering statements, Hughes referred to Israelis as 'his people.' Unless there is something that we don't know about him, they are not his people. The crowd at Bataclan, who should be referred to as "his people", apparently did not know either that Israelis are not their people, or perhaps did not think attending a concert of someone who said that should, would, cost them their lives.
International Business Times, 'Paris attacks: Eagles of Death Metal defied pro-Palestine boycott movement and Roger Waters to play Israel', Nov 20, 2015:

A video has emerged of Eagles of Death Metal berating Pink Floyd founder and anti-Israel campaigner Roger Waters at a gig in Tel Aviv months before the Paris shooting at the Bataclan theatre.

The clip, from the band's Tel Aviv concert in July, shows lead singer Jesse Hughes offering an expletive-laden riposte to a letter sent to the band by Waters urging them to shun Israel. It has been circulated in the wake of atrocities that claimed the lives of 132 people on 13 November.

In it Hughes tells the Tel Aviv crowd the band decided to end their tour in the city because they "could not top it". The audience then boos mention of the Waters letter before Hughes shouts: "You want to know what I wrote that c********r back? Two words: f**k you!"

Waters, who has been accused of anti-Semitism, joined the Boycott, Divestment and Sanctions (BDS) Movement - an anti-Israel pressure group - in 2012. Upon joining he called out to other musicians in an article he wrote for the Guardian: "[This is] a plea to my colleagues in the music industry, and also to artists in other disciplines, to join this cultural boycott."

Roger Waters wrote to Eagles of Death Metal to urge them to boycott Israel.

The Paris attacks brought the video of Eagles of Death Metal back into focus because the formerly Jewish-owned Bataclan theatre which in the past has hosted pro-Israel Army events, and where the band were performing the night 89 people were killed, had supposedly been harassed by pro-Palestinian supporters in 2008.
Jesse Hughes is a "devout Christian." That explains his confusion over who "his people are."
He was interviewed before the Tel Aviv concert by "Consequence of Sound"..
CoS, 'Fly Like an Eagle of Death Metal: An Interview with Jesse Hughes', 1 Oct 2015:

At 43, Jesse Hughes hasn't become an old man just yet. With the energy of a 16-year-old, he makes the most eccentric man in the world sound like a boozy liar.

The Eagles of Death Metal frontman has an opinion — often obscenity-filled — about everything. "But I'm not a bag of wind!" he insists. Around 30 minutes after our prearranged meeting time, before Eagles of Death Metal's show in July, Hughes appears at his trendy hotel in the heart of Tel Aviv with two Israeli locals he just met at the falafel stand down the road. He's dressed in typical Hughes attire: black-and-white-striped t-shirt with the sleeves cut off, suspenders, light jeans, and a neon green trucker cap with "Eagles of Death Metal" printed in Hebrew lettering.

A second after we meet, he's chatting away on a tangent. Hughes is rarely off one. He sounds bluesy, even lusty when he talks, and when he gets especially riled up on a topic, he'll bow his head, slap his knee, and speak like a southern debutant, referring to his fans as "the kids." Hughes is as verbose as your archetypal reverend, hardly getting through his thoughts without breaching into song and then dissolving into giggles. Present him with a handshake or a voice recorder, and the truth serum starts to work.

Yeah, I've been shot before. Look. [shows scar on armpit] It made a canal through one of my muscles. I'll tell you how it went down: I was going through a really ugly divorce, and I'm a devout Christian, so divorce isn't a concept to me. I went through a very typical, clichéd "I served you my whole life, and this is what I get" anger. I weighed about 250 pounds, I was a big ol' redneck boy. I was managing this privately owned chain of video stores and part-time freelancing for the Republican Party and speech writing and shit like that. The most awful thing I could think of immediately was to start taking speed. I lost 80 pounds, got really depressed. My mother called Joshua [Homme] because she felt he was one of the only dudes I listened to.

He dishes it out today. During our conversation, he gets into the full specifics of being saved from addiction by bandmate Joshua Homme, how he's already written half of EODM's next album, and how he's struggling to convince everyone he's a devout Christian who gets high and uses the phrase "titty-wobbling." He talks about his face being a nipple on his album cover as seriously as his faith. "I know what you're thinking — my life's a contradiction," he admits.

It's dark stuff, but Jesse "The Devil" Hughes has a wicked sense of humor — crushing, hypnotic, and frequently laugh-out-loud ridiculous. "My way of thinking is," he shrugs, "it's gonna be harder in hell for me than for y'all. I'm just not going to be the fool that doesn't know why he's there."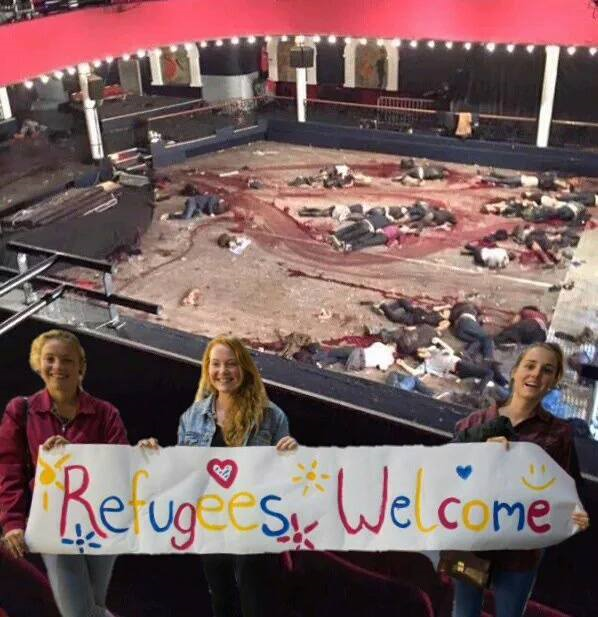 Christianity and its Enlightened step-child play a strong part in the confused identity and allegiance of welcomers as well.. ...and the upshot of that confusion…
________________________________________________________________________
Addendum:
Note that troll JamesUK likes to associate us with the right-wing circus and any sort of unflattering speculation that he possibly can; but I will leave that aside, at least for now in order to address this:
"Didn't you say in a previous posting that Eagles of Death Metal represented white culture?"
I said that the Eagles of Death Metal fans represent implicitly White culture. Evidently their fans are predominantly White genetically; but the fact that the band leader, and likely a significant percentage of their fans, have a confused identity (case in point, thinking that Jews can be a part of their kin) as a result of Christianity and other Jewish crypsis, provides an excellent occasion to address those implicitly White demographics who suffer this confused identity as a result of Christianity.
I was not wrong to treat them as an implicitly White demographic, that remains true.
The band and audience alike reinforce this assumption by appearance, by the likelihood that they are predominantly, genetically White (European).
However, the band's confused identity is misleading from the start, with their name: one associates death metal with paganism, a Nordic paganism defiant of Christianity in particular - and therefore assumes that the band and audience would have little to do with identifying as Israelis, with Judaism, or even its offspring, Christianity - let alone Hughes vehement "devotion."
Hughes' devout Christianity compounds the confused identity by taking his erstwhile White identity and enmeshing it with the Jewish narrative and identity, albeit as servile gentile other in relation to Israel, Jews and other non-Whites - the "undifferentiated gentile others", as GW says.
As Hughes also made clear (unclear rather), in the CoS interview, he is quite contradicted and does not even expect to be recognized by the Abrahamic god.
His fans at the Bataclan also reflect and express this ambiguous identity, but with good natured participation in a bit of carousing, defiant music, irreverent language, devil sign, etc. I say "good natured" because they were apparently healthy, functioning people who had bearings outside of sex-drugs-rockn'roll.
Nevertheless, they lightheartedly though naively frolic with the Jewish god, tweak its nose and defy its rules for some practical latitude despite the unfortunate necessity of trafficking in its terms to some extent for the historical fact of their moral order having been entangled with it for two centuries. They are fooled by it on a profound level, however, as their seriousness, their devout service is reserved for the "other" - not for themselves - as they identify as the other.
That is in contrast the Muslims, who have their own form of puritanical servility to the Abrahamic god, submission to the Jewish god.
By further contrast to the Muslims, a certain amount of ambiguity, variety of sacrament and celebration is good and necessary in the social world of praxis - acceptance of that adds to the claim that the Bataclan audience have an aspect of good naturedness - i.e., an aspect that is not puritanical or fanatical in a way that does not allow their people to be human, social creatures and to be themselves in their particular, idiosyncratic White ways.
A homogeneous looking band and audience that accepts the misnomer of "death metal" provided the first clue that they have a good natured acceptance of some ambiguity, non-purity, i.e., an acceptance even of some relation to aspects of their natural White identity, even if only implicitly.
However, the extent of their connection to the Abrahamic religion contradicts that and brought them into the fold of its absolutizing fight, which will accept no other identity - will not accept White identity as the separate social entity that it is. Some of them came into ultimate confrontation of inhumanity to their humanity in social difference as a people separate from the Jewish god of Muslims.
The confused identity of our people at Bataclan became a confused message that the Israelis accepted disingenuously, that ISIL accepted on face value, that the band, audience, and I, allowed for in good faith - a confusion nevertheless inadvertently passed-on in the news of their death, presenting a perfect reason and occasion to sort-it-out here.
"Hostages killed 'one-by-one' at Bataclan theatre."
...some reflections on the events. It is salient that these killings were more personal and more directed at European peoples. That makes this, in an important sense, even worse, even more of an affront than 9-11. In 9-11, they went after symbols of Capitalism [World Trade Center] and the Military Industrial Complex [Pentagon] behind Liberal Democracy [Capitol building (i.e., tried to hit it, but failed, with the jet going down in Pennsylvania)]. Civilian casualties, though far more numerous, were incidental and not personally targeted.
In the case of the French attacks, however, not only did they choose to target the implicitly White culture of The Eagles of Death Metal fans [at Bataclan theatre], the implicitly White culture of football [Germany-France match], attended by the President of France, along with football's not so implicit, but semi-explicit White culture [of football hooligans (as Jimmy Marr noted, hooligans tend to be nationalistic)]. They also went after the implicitly White cultural area of Paris in their targeting [the haute-bourgeoisie section (as noted by Kumiko)]. But not only did they contrast from 9-11 to narrow their target to these people demographically [implicitly White], in the case of the Bataclan theatre, they focused their attack still more, targeting them, [a death metal audience (or what they may as well have thought was one)] as personally as they could [holding them hostage] and shooting them [one by one].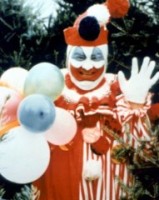 Dangerous clowns inside the alternative-right big tent
Are they ok with Jews, are they not ok with Jews? the alternative right reveals through glaring contradictions - saliently now between Colin Liddell and Greg Johnson - that their big tent cannot be entrusted as the platform to uphold the interests of European peoples.
Its big tent includes people who are enemies of each other already and people who are, and will remain, our enemies ultimately.
The inadequacy of the alternative right big tent came into high relief in arguments on recent threads at the site directly named Alternative Right, specifically under articles by Colin Liddell in which he not only argues against The Daily Stormer platform and approach (well and good to argue against that), but also in favor of including Jews in White advocacy.
That is nothing new generally speaking, coming from "Alternative Right", and that is why they are placed in MR's controlled opposition section. What is different is the explicitness and vehemence with which Liddell has argued for the inclusion of Jews. But still more revealing of the folly of trying to play along and keep the alternative right's big tent together, was Greg Johnson coming across to lend support to Colin Liddell, whose argument to include Jews was virtually synonymous with the commentator Uh, who was banned from commenting at Counter-Currents by Greg Johnson for that reason.
That is, Johnson takes a categorical position that Jews and those who would argue for their inclusion in our nations and in entrusted positions with our advocacy are not to be accepted (Majorityrights agrees with that completely). However, in an apparent move to maintain participation with the alternative right big tent, Johnson has turned around to support Liddell despite Liddell's argument to include Jews in our advocacy.
From TradYouth to Daily Stormer (anti-Jewish Christian sites who are tight with one another) to TradYouth who work with Alt Right (while Alt Right hates Daily Stormer), connecting with Alt Right's Christian element in Andy Nowicki, who, along with Colin Liddell, is inclusive of Jews and relatively ok with "manosphere" types such as Forney and the White people be damned, lets mix and rape them away Muslim Roosh, who are welcome in the Regnery-Gottfried Circus with Radix-NPI (which Alt Right supports as upstanding) - which banned TradYouth from its recent conference for the sake of good appearances - though both TradYouth and Richard Spencer traffic in 'radical traditionalism'; they had been standing with Greg Johnson until he defected upon the failed conference with anti-racist, "Eurasianist", Dugin. While again, Johnson has done an about face on his categorical position against Uh (though the occasion of Uh's being banned provided very eloquent commentary and conclusive arguments for his exclusion), and against others who would argue for the inclusion of Jews in White advocacy - all waffled, apparently to maintain the big tent of the right, despite its inherent instability. If you think that is confusing, the list of the alternative right's contradictions to coherent White interests can go on…
Despite its many glaring contradictions to the interests of European peoples, they try to maintain their right wing big tent and they try to bury and make redundant our White Left Nationalism.
The reason for that attempted obfuscation by the alternative right big tent is likely to be that most of its members feel (with good reason) that their positions cannot survive without the camouflage and facile coalitions of their big, incoherent tent.
By contrast to the alternative right's overly inclusive big tent, Majorityrights shows itself and will continue to show itself the solid platform for the advocacy of European peoples, our ethno-national discretion and regional cooperation.
1. It does not include Jews - on the contrary, it recognizes their pattern and their seven niche control points as arrayed against European interests in particular and ethnonationalism generally.
2. It neither views Hitler as perfect nor a figure to be redeemed and upheld for WN.
3. It is not a Christian site; it is working within and developing a better moral order.
4. It has post modern bearings, which allow for the management of social groups both through necessarily reconstructing forms/traditions and necessary modernizations; it is not scientistic or right-wing - with all the attendant instability that you are witnessing in the alternative right. Rather it can and does take the social group, its well being and defense, as its unit of analysis, maintaining accountability of its rank and file and elite positions.
These are the first reasons why MR has the sound platform - because we are solid in our theoretical platform we are able to be clear, consistent and explicit - ultimately able then, to bring our resource to our people to help them transform this hyperbolic liberal milieu into our ethnonationalist and regional alliance.
For any weary reader who needs a little cheer in these dark times here is a video of a speech by Zsolt Bayer, the Hungarian journalist, publicist, author, co-founder of the ruling party Fidesz, and friend of Prime Minister Viktor Orbán. It was given in September to a meeting of patriots protesting the front cover of a Soros-funded magazine Magyar Narancs which pictured Orbán adorned with a Hitler moustache shaped in barbed wire.
The speech itself is perhaps three-quarters honest, which is a definite step up from Orbán's widely publicised and ritually deplored calls for the preservation of Christian culture and European "patterns of living". Among other things it reveals that influential figures in Hungary, including Orbán himself I understand, are Tolkien fans!
My thanks to Breitbart commenter Melissa Mészáros for the link. I might just add that Bayer's stirring rhetoric encouraged someone named David Peppiatt to seek out a Hungarian-American blog which specialises in being nasty about Orbán. The usual one-sided war on liberal nonsense ensued.
Not a matter of guilt, not even a matter of Christianity, Islam or capitalism, but rather the usual suspects making their agenda clear. This expression shows that something different: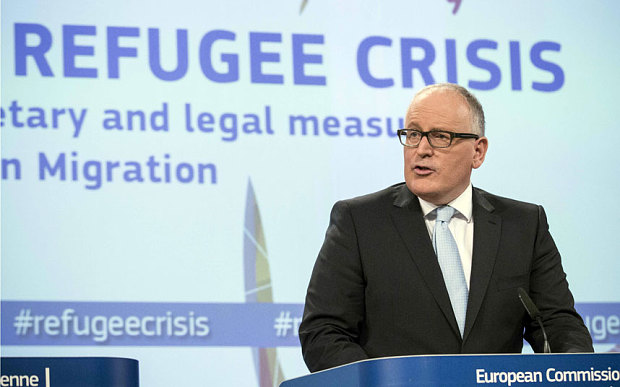 Frans Timmermans, the Dutch vice-president of the European Commission, said that "diversity was the future of the world," and that Eastern European nations would just have to "get used to that."
It is an unusually brazen assertion of "programmatic coercion" - G.W.
It is a significant statement of the motives of the powers-that-be to impose their programmatic intent to destroy the European genome.
Dresden, Germany protests migrant invasion. In the meantime, Gregor Gysi has promoted death to Germans.
Former apparatchik of the communist East German GDR government and ever the Jewish henchman, Gregor Gysi has been calling normal Germans "Nazis" for resisting their death through assimilation in waves of imposed immigration, calls for their elimination (death) as such - to him, "a very fortunate" prognosis.
Ladies and gentlemen, I hereby prompt you to participate at the protest,"Live better without Nazis - diversity is our future", on the 6th of June at 10a.m. in Neurupinn. We have to take a stand against the Nazis. Because of our history between 1933 - 1945 we are obliged to treat refugees properly. We also have to save their lives in the Mediterranean. There has to be a legal [unbureaucratic] way to get asylum in Europe. Countries like Poland - very Catholic by the way - have to be willing to accept [more] refugees. Oh, and by the way: Every year more native Germans die than there are born. That is very fortunate. It's because the Nazis are not very good at having offspring. This decline [of Germans] is why we are so dependent on immigration from foreign countries. - See you at the protest. Goodbye! Gregor Gysi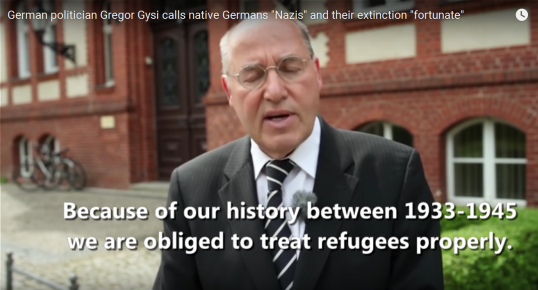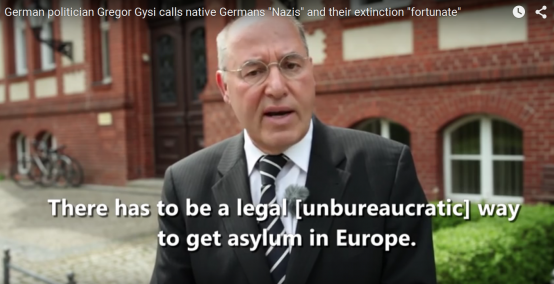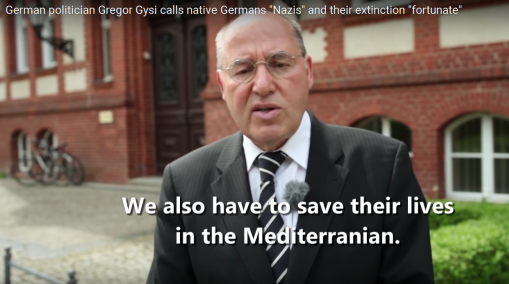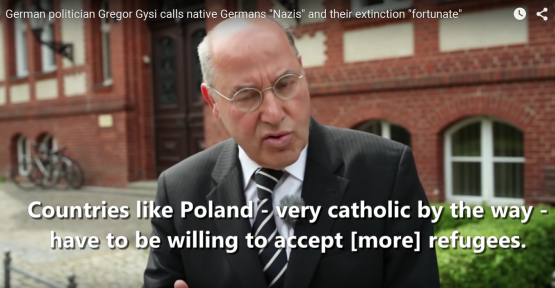 Oh, and by the way: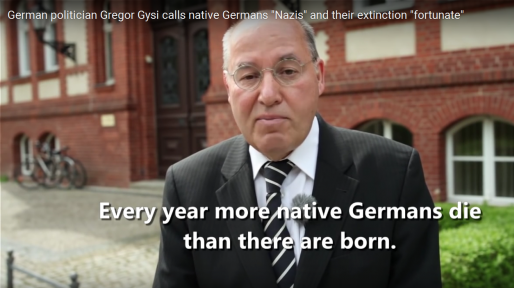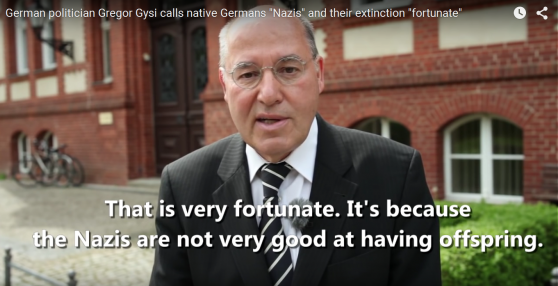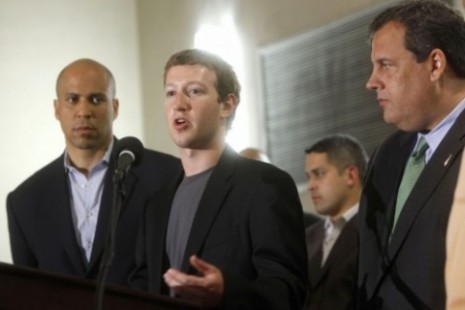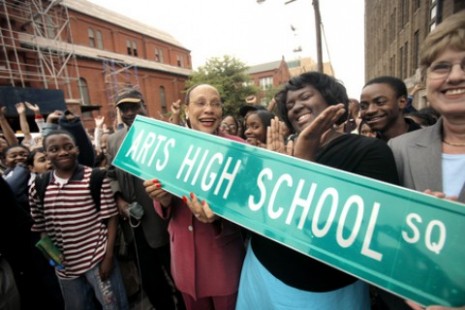 Facebook file photo release: Mulatto, Zuckerberg and Gov. Christie (Mulattoes not to be confused with Anglin. Resemblance coincidental)

Of and for those with a hyper-assertive and wholly undeserving sense of entitlement - e.g., blacks and mudsharks - to those who get what they want, when they want:
Zuckerberg misdirects 100 million dollars and educational resources - wasted on Newark, New Jersey public schools and its overwhelming black student bodies. Of course the talk now is: what happened to the money? Why didn't 100 million dollars help?
Can you imagine?
The centuries of sacrifice that Europeans made to contribute to the scholarly corpus, the days and years that scholars like Gregor Mendel went without female touch and appreciation (while Negroes were accommodating harems).
The lonely suffering that many an intellectual quest entailed to yield knowledge ...
To endure the hatred of liberals, pointedly, often White females whom he lives to love - miseducated to base instinct and anti-White interests, so typically making "anti-racism" a litmus test of initial interaction episodes with White males, whom she typically dismisses on slightest indication of circumspection as "wimpishness" or "nerdishness", and after he "fails" the incitement of her litmus test of "alpha males"- viz. a liberal who shrugs-off all comers, from everywhere - as simply her prerogative, these females for whom he is starved for even talk of concern about heritage, now give their ultimate treasures to blacks, and empower those who take not only the economic capital of centuries, but even his last recourse, his intellectual quest, and force him to teach and educate those, such as blacks, who would torture and destroy him, turn his world into a science fiction nightmare, who take his ultimate treasure, his co-evoutionary women, for apes who have NOTHING to compensate him with, nevertheless proceeding as if they are entitled… still, the powers-that-be and their gate-keepers would even take what remaining consolation, of monetary and intellectual compensation, means by which he may perhaps have found redemption in an exceptional wife, of merit for her commitment to a sovereign life in respect of our peoples.
Liberals try to dismiss his concerns with conciliatory advice: "she's stupid."
Hmm. "She's stupid"...and "she's stupid and she's stupid and she's stupid".. before long "she" has become an uncountable noun….
Uncountable though the noun is, they are "all his fault, because he doesn't man-up."
Not only does she need education ..to become still more liberal, to become still more Judaized and negretized..
He must educate the throngs of Negroes, and Muslims, etc., to make them more capable of his dispossession, of taking his co-evolutionary treasure. It's "civil rights": The involuntary, forced servitude to non-Whites and mudsharks. Everything that he sublimated and sacrificed-for, endured hell and torture for, must go to them. Including a trend of those White women of qualitative difference, who may not have appreciated finer intellectual quest, but may have been sufficient compatriots in a White Class. They'd take not only those of modest intellectual endowment, they would not only embezzle economic means, not only White women and public money to blacks, they would force him into directing his intellectual quest in their service. They would take the means by which he might even find and be found by the exceptions, and rather further equip those who would betray him and those, e.g. blacks and Muslims, who would enslave him and torture him to death, a techno-slave or a nerd slave of some sort wallowing in masochism of cuckold porn.
September 8, 2015

"Covering Innovation & Inequality in Education"

What happened with the $100 million that Newark schools got from Facebook's Mark Zuckerberg? Not much:

A new book delves into how the project went wrong


Dale Russakoff spent four and a half years reporting about Mark Zuckerberg's $100 million gift to Newark public schools for her new book "The Prize: Who's In Charge of America's Schools?"



"The goal of improving education in Newark is not a hopeless one"- Dale Russakoff


Yes, it is hopeless - and worse: it is to rob and rape Europeans not only of their birthright, but of their intellectual history and posterity..
Yes, The Prize… Who's In Charge of America's Schools?... as it was with Brown vs. Board of Education - school desegregation and "civil rights", the prize continues to be wrested from Whites by means of cultural-Marxist coalitions, its most recent permutation with CAIR and its discriminated-against Muslim school boy..
Tom Sunic
Below is my response to "A New Chapter in the Fascist Internationale" by Alexander Reid Ross, in Counterpunch, September 16, 2015.

Mr. Alexander Reid Ross, Counterpunch
Dear Mr. Ross:
I read with great interest your article, "A New Chapter in the Fascist Internationale," published in Counterpunch and must commend you on your polished syntax and a good, albeit somewhat hasty summary of what is awkwardly termed the "World National-Conservative Movement." As a long time reader and admirer of some Counterpunch authors who dispel the myth of progress and who tackle the liberal mystique of permanent economic growth, it is quite possible that we have more in common than what may appear in my critical remarks. Having ties with many so-called "White nationalists" in all parts of the world, and being also a Director of the American Freedom Party, let me try to put things into a short conceptual and linguistic perspective first.
The words 'Fascism' and 'Nazism' are constantly used as weapons to vilify people who identify as White and have a sense of White interests, to the point that these words have now become meaningless. Both have been so much subject to semantic distortions over the last 70 years, to the point that there is no longer any meaningful relationship between current movements labeled with those terms and the cultural-political movements in the Europe of the early twentieth century. (I am sure Noam Chomsky would partly agree with that). Instead, the term 'Fascism' is tossed around today as a generic locution in order to criminalize and pathologize any non-conformist White person or any group of White people by implying that they are nothing more than xenophobic haters.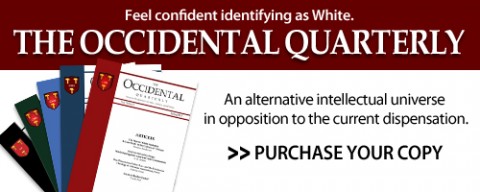 Hence, if we look at Fascism or National Socialism through such demonological glasses, we run the risk of landing in the realms of the ancient Greek underworld, more worthy of the Hesiod's and Homer's prose and certainly not into a dispassionate Elysian field of objective historical narrative. I am probably acutely (and sadly) aware of the "antifascist meta-language," having grown up in what was known as communist Yugoslavia. Back then "Fascist beasts," "Croat Fascist monsters," "Nazi terrorists," were a central part of the Communist Party vernacular, and any non-conformist thinker was routinely and permanently consigned to this home-grown bestiary. Alas, what I am witnessing now in the USA and EU media, as well as in higher education, is a recapitulation of these paleo-communist memes, albeit dressed up in more attractive attire and blessed with the legitimacy that only the elite media can confer.
I hope you have read some of the authors mentioned in your article. Otherwise, again, one runs the risk of entangling oneself in the dialogue of the deaf. Apart from books by "mainstream" scholars such as Zeev Sternhell and Ernst Nolte, it is very difficult to find any other contemporary authors who more or less objectively document the intellectual origins of Fascism or Nationalism Socialism. Rather than describing the very real problems confronting these societies or attempting an honest appraisal of the popular appeal and economic achievements of these cultures, we see little more than gratuitous moralizing while at the same time the monstrous police states and mass murder perpetrated by the Left* during the same period are ignored. Without wishing to sound pretentious with my own intellectual baggage, there is no way one can fully grasp the birth of the "conservative revolution," or Fascism, or National Socialism without being fully proficient in the German and the French languages and knowing very well the cultural heritage of Europe prior to 1922 and 1933.
The fears and concerns motivating the current increase in what you would call fascist parties stem from the tidal waves of non-European immigration that are affecting almost all European countries. These fears and concerns are quite different than those that gave rise to fascism in the 1920s and 1930s, and they are quite legitimate. The attitude of the left* is that people are essentially interchangeable, so that it makes no difference who immigrates to the US or Europe, and the native Whites of those areas have no legitimate interests in preserving their political, demographic and cultural dominance. This is simply not the case.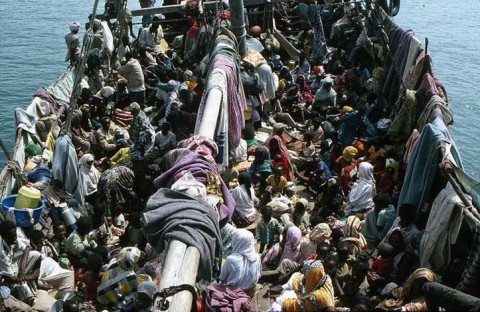 The immigration issue is critical. The US is projected to be majority non-White in just a few years, and even European countries like the UK that have had relatively homogeneous populations deriving from what is a relatively homogeneous European gene pool for thousands of years are projected to be majority non-White within the century. The ongoing crisis centered most glaringly in Germany promises to speed the day when native Germans, whose ancestors have dominated Central Europe for well over 1000 years will become a minority.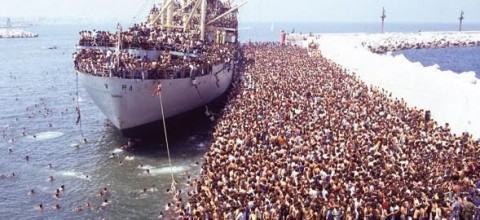 The view that immigrants are interchangeable ignores the costs of multiculturalism in terms of increased conflict, lack of willingness to contribute to public goods like health care, and social cohesion. Thus it's one thing for the US to have immigrants from various parts of Europe; they have assimilated very well. It's quite another thing to have immigrants from the Middle East and Africa with very different cultures and very different psychological traits (including IQ levels), and strong tendencies not to assimilate.

This view also ignores the long history of ethnic conflict in multi-ethnic, multicultural societies. The idea that societies where Whites become a minority will live in peace and harmony is Utopian to say the least, especially given the fact that Whites are now being blamed for all the problems of non-White groups, including the educational failures of Blacks and other immigrant groups (an argument that ignores the success of East Asians in Western societies). The hostility toward Whites with their history of colonialism and expansion will not end when Whites become a minority. It is a very real fear among a great many Whites that these changes are absolutely not in their long-term interests. It is quite reasonable and makes the appeal of populist politicians like Donald Trump in the US understandable.
On the personal level, yes, I must admit, I feel more at ease talking to working class Americans when visiting a village in the Ozarks, or being a guest of honor at a simple farmer's house in the German Harz. One finds that the common sense and political judgment of these people often surpass those of many modern scholars focused solely on demonizing movements they do not understand and promoting utopian projects that ignore human nature in favor of creating multicultural societies that are not only prone to ethnic conflict, but violate the legitimate interests of Whites who have dominated these areas for hundreds or, in the case Europe, thousands of years.
Regardless of our possible disagreements and despite the fact that you will likely dismiss me by simply classifying me as a "White supremacist" or "White nationalist" or whatever, I must point out the following: The ongoing balkanization of the USA (where voting patterns increasingly reflect racial divides) bears remarkable similarity to what occurred in the former Yugoslavia shortly before it broke down in 1991. The current EU and the floods of non-European immigrants in Europe — and yes, at this very moment there is a quasi-state of emergency resulting from the migrants/invaders swamping my native Croatia — do not bode well for a starry-eyed project of multiracial and ecumenical conviviality. When the proverbial push comes to shove, one no longer needs to study diverse Levantine or African haplotypes or immerse oneself in the books of cultural pessimists. One must then be ready to weather the storm either by voting for Donald Trump or the American Freedom Party's Bob Whitaker, or whoever is willing to salvage one's heritage. I am sure that in a case of emergency you will also figure out which side of the fence it is better to sit on.
Best wishes,
Tom Sunic, PhD
www.tomsunic.com
http://american3rdposition.com/

* Editor's note: Sunic is talking about the Red Left here, and its liberal prescriptions for Whites. He is Not talking about the White Left
.......................................................
Tramp steamers leaving for Italy from Libya. Photos courtesy Louis Beam