Majorityrights Central > Category: Free Speech
For his insolent defiance of Roger Waters plea that he not play Israel, he might have been singing "We don't need no education" right along with Pink Floyd .....but actually, maybe Jesse Hughes, his friends and fans could use a little. Try a caveat on Abrahamic fellowship.
Jesse Hughes, commencing an Eagles of Death Metal concert, Tel Aviv, 12 July 2015:

Now I'm also going to tell you another true story before I bring the rest of the boys up here. We decided to end the tour in this fuckin' city because we knew we couldn't top it once we got here. That is 87 percent the absolute truth. But then we got this letter from this cocksucker named Roger Waters (jeers from crowd). Do you want to know what I wrote that cocksucker back? Two words: Fuck You!...Fuck You! Ain't nobody goin' to keep me from my people here in Tel Aviv! Ain't Nobody!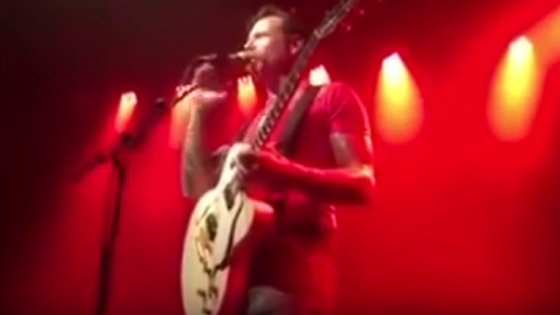 Among other blundering statements, Hughes referred to Israelis as 'his people.' Unless there is something that we don't know about him, they are not his people. The crowd at Bataclan, who should be referred to as "his people", apparently did not know either that Israelis are not their people, or perhaps did not think attending a concert of someone who said that should, would, cost them their lives.
International Business Times, 'Paris attacks: Eagles of Death Metal defied pro-Palestine boycott movement and Roger Waters to play Israel', Nov 20, 2015:

A video has emerged of Eagles of Death Metal berating Pink Floyd founder and anti-Israel campaigner Roger Waters at a gig in Tel Aviv months before the Paris shooting at the Bataclan theatre.

The clip, from the band's Tel Aviv concert in July, shows lead singer Jesse Hughes offering an expletive-laden riposte to a letter sent to the band by Waters urging them to shun Israel. It has been circulated in the wake of atrocities that claimed the lives of 132 people on 13 November.

In it Hughes tells the Tel Aviv crowd the band decided to end their tour in the city because they "could not top it". The audience then boos mention of the Waters letter before Hughes shouts: "You want to know what I wrote that c********r back? Two words: f**k you!"

Waters, who has been accused of anti-Semitism, joined the Boycott, Divestment and Sanctions (BDS) Movement - an anti-Israel pressure group - in 2012. Upon joining he called out to other musicians in an article he wrote for the Guardian: "[This is] a plea to my colleagues in the music industry, and also to artists in other disciplines, to join this cultural boycott."

Roger Waters wrote to Eagles of Death Metal to urge them to boycott Israel.

The Paris attacks brought the video of Eagles of Death Metal back into focus because the formerly Jewish-owned Bataclan theatre which in the past has hosted pro-Israel Army events, and where the band were performing the night 89 people were killed, had supposedly been harassed by pro-Palestinian supporters in 2008.
Jesse Hughes is a "devout Christian." That explains his confusion over who "his people are."
He was interviewed before the Tel Aviv concert by "Consequence of Sound"..
CoS, 'Fly Like an Eagle of Death Metal: An Interview with Jesse Hughes', 1 Oct 2015:

At 43, Jesse Hughes hasn't become an old man just yet. With the energy of a 16-year-old, he makes the most eccentric man in the world sound like a boozy liar.

The Eagles of Death Metal frontman has an opinion — often obscenity-filled — about everything. "But I'm not a bag of wind!" he insists. Around 30 minutes after our prearranged meeting time, before Eagles of Death Metal's show in July, Hughes appears at his trendy hotel in the heart of Tel Aviv with two Israeli locals he just met at the falafel stand down the road. He's dressed in typical Hughes attire: black-and-white-striped t-shirt with the sleeves cut off, suspenders, light jeans, and a neon green trucker cap with "Eagles of Death Metal" printed in Hebrew lettering.

A second after we meet, he's chatting away on a tangent. Hughes is rarely off one. He sounds bluesy, even lusty when he talks, and when he gets especially riled up on a topic, he'll bow his head, slap his knee, and speak like a southern debutant, referring to his fans as "the kids." Hughes is as verbose as your archetypal reverend, hardly getting through his thoughts without breaching into song and then dissolving into giggles. Present him with a handshake or a voice recorder, and the truth serum starts to work.

Yeah, I've been shot before. Look. [shows scar on armpit] It made a canal through one of my muscles. I'll tell you how it went down: I was going through a really ugly divorce, and I'm a devout Christian, so divorce isn't a concept to me. I went through a very typical, clichéd "I served you my whole life, and this is what I get" anger. I weighed about 250 pounds, I was a big ol' redneck boy. I was managing this privately owned chain of video stores and part-time freelancing for the Republican Party and speech writing and shit like that. The most awful thing I could think of immediately was to start taking speed. I lost 80 pounds, got really depressed. My mother called Joshua [Homme] because she felt he was one of the only dudes I listened to.

He dishes it out today. During our conversation, he gets into the full specifics of being saved from addiction by bandmate Joshua Homme, how he's already written half of EODM's next album, and how he's struggling to convince everyone he's a devout Christian who gets high and uses the phrase "titty-wobbling." He talks about his face being a nipple on his album cover as seriously as his faith. "I know what you're thinking — my life's a contradiction," he admits.

It's dark stuff, but Jesse "The Devil" Hughes has a wicked sense of humor — crushing, hypnotic, and frequently laugh-out-loud ridiculous. "My way of thinking is," he shrugs, "it's gonna be harder in hell for me than for y'all. I'm just not going to be the fool that doesn't know why he's there."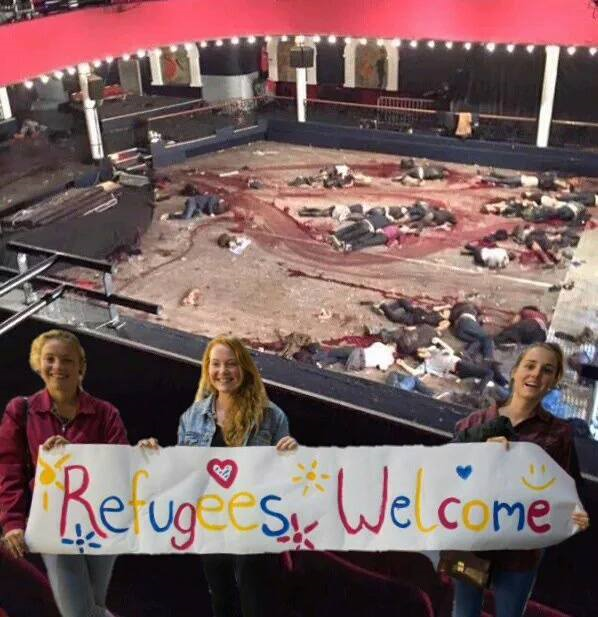 Christianity and its Enlightened step-child play a strong part in the confused identity and allegiance of welcomers as well.. ...and the upshot of that confusion…
________________________________________________________________________
Addendum:
Note that troll JamesUK likes to associate us with the right-wing circus and any sort of unflattering speculation that he possibly can; but I will leave that aside, at least for now in order to address this:
"Didn't you say in a previous posting that Eagles of Death Metal represented white culture?"
I said that the Eagles of Death Metal fans represent implicitly White culture. Evidently their fans are predominantly White genetically; but the fact that the band leader, and likely a significant percentage of their fans, have a confused identity (case in point, thinking that Jews can be a part of their kin) as a result of Christianity and other Jewish crypsis, provides an excellent occasion to address those implicitly White demographics who suffer this confused identity as a result of Christianity.
I was not wrong to treat them as an implicitly White demographic, that remains true.
The band and audience alike reinforce this assumption by appearance, by the likelihood that they are predominantly, genetically White (European).
However, the band's confused identity is misleading from the start, with their name: one associates death metal with paganism, a Nordic paganism defiant of Christianity in particular - and therefore assumes that the band and audience would have little to do with identifying as Israelis, with Judaism, or even its offspring, Christianity - let alone Hughes vehement "devotion."
Hughes' devout Christianity compounds the confused identity by taking his erstwhile White identity and enmeshing it with the Jewish narrative and identity, albeit as servile gentile other in relation to Israel, Jews and other non-Whites - the "undifferentiated gentile others", as GW says.
As Hughes also made clear (unclear rather), in the CoS interview, he is quite contradicted and does not even expect to be recognized by the Abrahamic god.
His fans at the Bataclan also reflect and express this ambiguous identity, but with good natured participation in a bit of carousing, defiant music, irreverent language, devil sign, etc. I say "good natured" because they were apparently healthy, functioning people who had bearings outside of sex-drugs-rockn'roll.
Nevertheless, they lightheartedly though naively frolic with the Jewish god, tweak its nose and defy its rules for some practical latitude despite the unfortunate necessity of trafficking in its terms to some extent for the historical fact of their moral order having been entangled with it for two centuries. They are fooled by it on a profound level, however, as their seriousness, their devout service is reserved for the "other" - not for themselves - as they identify as the other.
That is in contrast the Muslims, who have their own form of puritanical servility to the Abrahamic god, submission to the Jewish god.
By further contrast to the Muslims, a certain amount of ambiguity, variety of sacrament and celebration is good and necessary in the social world of praxis - acceptance of that adds to the claim that the Bataclan audience have an aspect of good naturedness - i.e., an aspect that is not puritanical or fanatical in a way that does not allow their people to be human, social creatures and to be themselves in their particular, idiosyncratic White ways.
A homogeneous looking band and audience that accepts the misnomer of "death metal" provided the first clue that they have a good natured acceptance of some ambiguity, non-purity, i.e., an acceptance even of some relation to aspects of their natural White identity, even if only implicitly.
However, the extent of their connection to the Abrahamic religion contradicts that and brought them into the fold of its absolutizing fight, which will accept no other identity - will not accept White identity as the separate social entity that it is. Some of them came into ultimate confrontation of inhumanity to their humanity in social difference as a people separate from the Jewish god of Muslims.
The confused identity of our people at Bataclan became a confused message that the Israelis accepted disingenuously, that ISIL accepted on face value, that the band, audience, and I, allowed for in good faith - a confusion nevertheless inadvertently passed-on in the news of their death, presenting a perfect reason and occasion to sort-it-out here.
For any weary reader who needs a little cheer in these dark times here is a video of a speech by Zsolt Bayer, the Hungarian journalist, publicist, author, co-founder of the ruling party Fidesz, and friend of Prime Minister Viktor Orbán. It was given in September to a meeting of patriots protesting the front cover of a Soros-funded magazine Magyar Narancs which pictured Orbán adorned with a Hitler moustache shaped in barbed wire.
The speech itself is perhaps three-quarters honest, which is a definite step up from Orbán's widely publicised and ritually deplored calls for the preservation of Christian culture and European "patterns of living". Among other things it reveals that influential figures in Hungary, including Orbán himself I understand, are Tolkien fans!
My thanks to Breitbart commenter Melissa Mészáros for the link. I might just add that Bayer's stirring rhetoric encouraged someone named David Peppiatt to seek out a Hungarian-American blog which specialises in being nasty about Orbán. The usual one-sided war on liberal nonsense ensued.
Dresden, Germany protests migrant invasion. In the meantime, Gregor Gysi has promoted death to Germans.
Former apparatchik of the communist East German GDR government and ever the Jewish henchman, Gregor Gysi has been calling normal Germans "Nazis" for resisting their death through assimilation in waves of imposed immigration, calls for their elimination (death) as such - to him, "a very fortunate" prognosis.
Ladies and gentlemen, I hereby prompt you to participate at the protest,"Live better without Nazis - diversity is our future", on the 6th of June at 10a.m. in Neurupinn. We have to take a stand against the Nazis. Because of our history between 1933 - 1945 we are obliged to treat refugees properly. We also have to save their lives in the Mediterranean. There has to be a legal [unbureaucratic] way to get asylum in Europe. Countries like Poland - very Catholic by the way - have to be willing to accept [more] refugees. Oh, and by the way: Every year more native Germans die than there are born. That is very fortunate. It's because the Nazis are not very good at having offspring. This decline [of Germans] is why we are so dependent on immigration from foreign countries. - See you at the protest. Goodbye! Gregor Gysi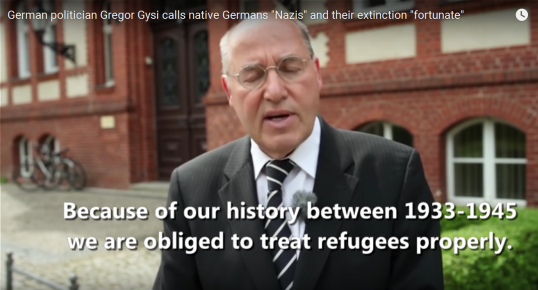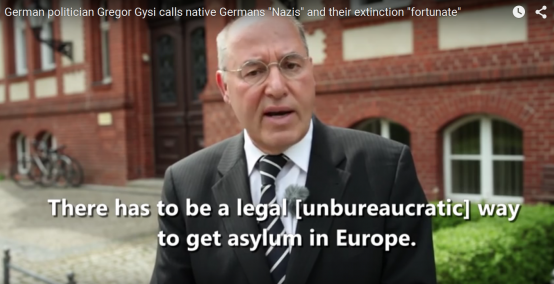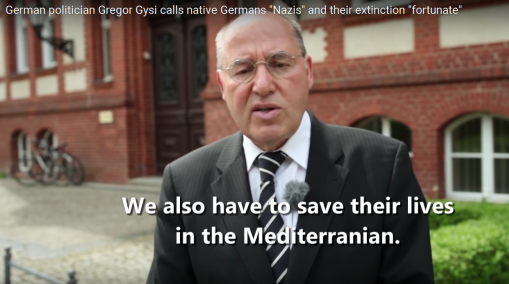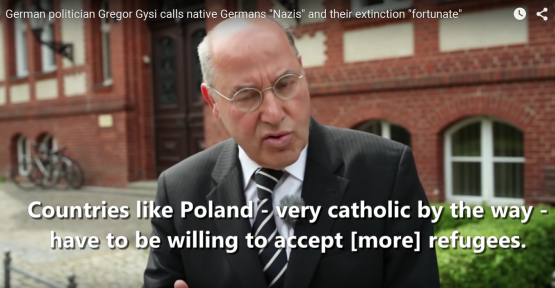 Oh, and by the way: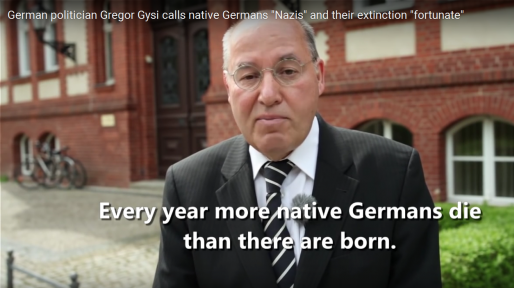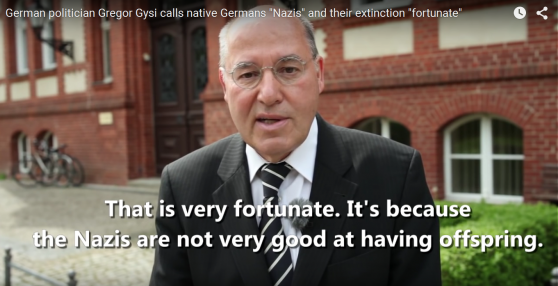 Tom Sunic
Below is my response to "A New Chapter in the Fascist Internationale" by Alexander Reid Ross, in Counterpunch, September 16, 2015.

Mr. Alexander Reid Ross, Counterpunch
Dear Mr. Ross:
I read with great interest your article, "A New Chapter in the Fascist Internationale," published in Counterpunch and must commend you on your polished syntax and a good, albeit somewhat hasty summary of what is awkwardly termed the "World National-Conservative Movement." As a long time reader and admirer of some Counterpunch authors who dispel the myth of progress and who tackle the liberal mystique of permanent economic growth, it is quite possible that we have more in common than what may appear in my critical remarks. Having ties with many so-called "White nationalists" in all parts of the world, and being also a Director of the American Freedom Party, let me try to put things into a short conceptual and linguistic perspective first.
The words 'Fascism' and 'Nazism' are constantly used as weapons to vilify people who identify as White and have a sense of White interests, to the point that these words have now become meaningless. Both have been so much subject to semantic distortions over the last 70 years, to the point that there is no longer any meaningful relationship between current movements labeled with those terms and the cultural-political movements in the Europe of the early twentieth century. (I am sure Noam Chomsky would partly agree with that). Instead, the term 'Fascism' is tossed around today as a generic locution in order to criminalize and pathologize any non-conformist White person or any group of White people by implying that they are nothing more than xenophobic haters.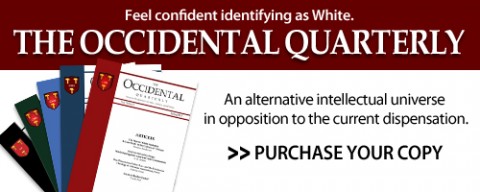 Hence, if we look at Fascism or National Socialism through such demonological glasses, we run the risk of landing in the realms of the ancient Greek underworld, more worthy of the Hesiod's and Homer's prose and certainly not into a dispassionate Elysian field of objective historical narrative. I am probably acutely (and sadly) aware of the "antifascist meta-language," having grown up in what was known as communist Yugoslavia. Back then "Fascist beasts," "Croat Fascist monsters," "Nazi terrorists," were a central part of the Communist Party vernacular, and any non-conformist thinker was routinely and permanently consigned to this home-grown bestiary. Alas, what I am witnessing now in the USA and EU media, as well as in higher education, is a recapitulation of these paleo-communist memes, albeit dressed up in more attractive attire and blessed with the legitimacy that only the elite media can confer.
I hope you have read some of the authors mentioned in your article. Otherwise, again, one runs the risk of entangling oneself in the dialogue of the deaf. Apart from books by "mainstream" scholars such as Zeev Sternhell and Ernst Nolte, it is very difficult to find any other contemporary authors who more or less objectively document the intellectual origins of Fascism or Nationalism Socialism. Rather than describing the very real problems confronting these societies or attempting an honest appraisal of the popular appeal and economic achievements of these cultures, we see little more than gratuitous moralizing while at the same time the monstrous police states and mass murder perpetrated by the Left* during the same period are ignored. Without wishing to sound pretentious with my own intellectual baggage, there is no way one can fully grasp the birth of the "conservative revolution," or Fascism, or National Socialism without being fully proficient in the German and the French languages and knowing very well the cultural heritage of Europe prior to 1922 and 1933.
The fears and concerns motivating the current increase in what you would call fascist parties stem from the tidal waves of non-European immigration that are affecting almost all European countries. These fears and concerns are quite different than those that gave rise to fascism in the 1920s and 1930s, and they are quite legitimate. The attitude of the left* is that people are essentially interchangeable, so that it makes no difference who immigrates to the US or Europe, and the native Whites of those areas have no legitimate interests in preserving their political, demographic and cultural dominance. This is simply not the case.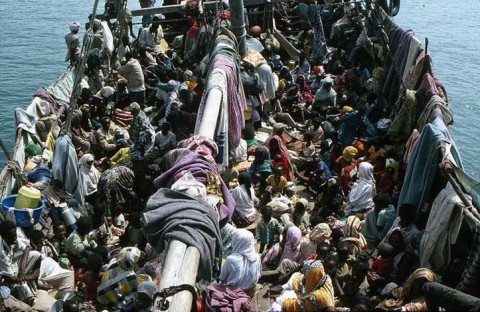 The immigration issue is critical. The US is projected to be majority non-White in just a few years, and even European countries like the UK that have had relatively homogeneous populations deriving from what is a relatively homogeneous European gene pool for thousands of years are projected to be majority non-White within the century. The ongoing crisis centered most glaringly in Germany promises to speed the day when native Germans, whose ancestors have dominated Central Europe for well over 1000 years will become a minority.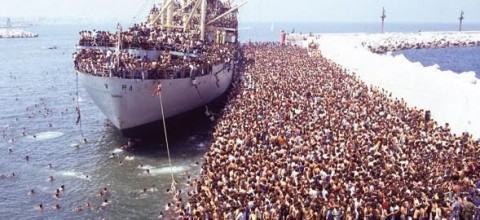 The view that immigrants are interchangeable ignores the costs of multiculturalism in terms of increased conflict, lack of willingness to contribute to public goods like health care, and social cohesion. Thus it's one thing for the US to have immigrants from various parts of Europe; they have assimilated very well. It's quite another thing to have immigrants from the Middle East and Africa with very different cultures and very different psychological traits (including IQ levels), and strong tendencies not to assimilate.

This view also ignores the long history of ethnic conflict in multi-ethnic, multicultural societies. The idea that societies where Whites become a minority will live in peace and harmony is Utopian to say the least, especially given the fact that Whites are now being blamed for all the problems of non-White groups, including the educational failures of Blacks and other immigrant groups (an argument that ignores the success of East Asians in Western societies). The hostility toward Whites with their history of colonialism and expansion will not end when Whites become a minority. It is a very real fear among a great many Whites that these changes are absolutely not in their long-term interests. It is quite reasonable and makes the appeal of populist politicians like Donald Trump in the US understandable.
On the personal level, yes, I must admit, I feel more at ease talking to working class Americans when visiting a village in the Ozarks, or being a guest of honor at a simple farmer's house in the German Harz. One finds that the common sense and political judgment of these people often surpass those of many modern scholars focused solely on demonizing movements they do not understand and promoting utopian projects that ignore human nature in favor of creating multicultural societies that are not only prone to ethnic conflict, but violate the legitimate interests of Whites who have dominated these areas for hundreds or, in the case Europe, thousands of years.
Regardless of our possible disagreements and despite the fact that you will likely dismiss me by simply classifying me as a "White supremacist" or "White nationalist" or whatever, I must point out the following: The ongoing balkanization of the USA (where voting patterns increasingly reflect racial divides) bears remarkable similarity to what occurred in the former Yugoslavia shortly before it broke down in 1991. The current EU and the floods of non-European immigrants in Europe — and yes, at this very moment there is a quasi-state of emergency resulting from the migrants/invaders swamping my native Croatia — do not bode well for a starry-eyed project of multiracial and ecumenical conviviality. When the proverbial push comes to shove, one no longer needs to study diverse Levantine or African haplotypes or immerse oneself in the books of cultural pessimists. One must then be ready to weather the storm either by voting for Donald Trump or the American Freedom Party's Bob Whitaker, or whoever is willing to salvage one's heritage. I am sure that in a case of emergency you will also figure out which side of the fence it is better to sit on.
Best wishes,
Tom Sunic, PhD
www.tomsunic.com
http://american3rdposition.com/

* Editor's note: Sunic is talking about the Red Left here, and its liberal prescriptions for Whites. He is Not talking about the White Left
.......................................................
Tramp steamers leaving for Italy from Libya. Photos courtesy Louis Beam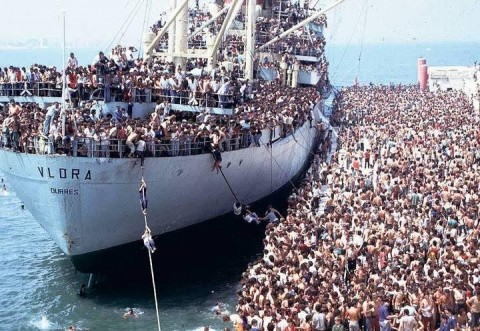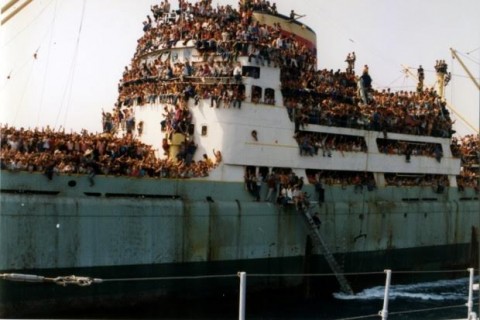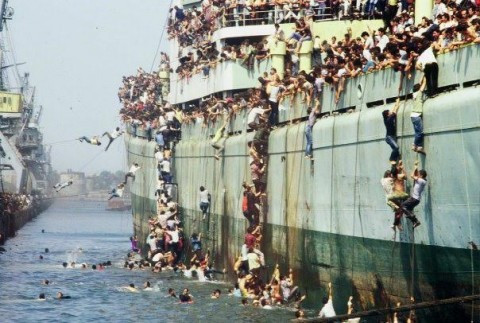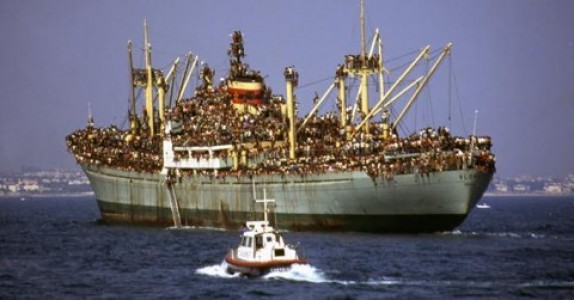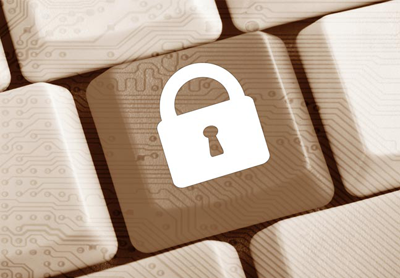 Stop giving up your personal information to these people.
Angela Merkel and her government full of rabid liberals, have decided that they'd like to raise the pitch and tempo of their agenda of increasing mass migration, to the next level. Now they want to actively data-mine Facebook so that they can track you down if you disagree with the mass migration plan.
Germany is probably one of the worst places in Europe to live, if you care about ethnic genetic interests in any sense of the term.
Merkel has found a perfect partner in crime in Zuckerberg, since Zuckerberg's politics are almost exactly identical to Merkel's.
Quite seriously. And it shouldn't be surprising.
There is an amicable relationship between Facebook and German liberalism.
See here:
City AM - Business with Personality, 'EU refugee crisis: Facebook to cooperate with Germany to clamp down on racist and anti-refugee hate speech', 15 Sep 2015:

Facebook has promised to help the German government tackle a wave of online hate speech in the wake of the ongoing refugee crisis, responding to criticism that it's failed to do its part.

The social network has come under fire for being too slow in removing xenophobic content from its platform, even when reported, as German justice minister Heiko Maas wrote in a letter to the company:

"Facebook users are, in particular, complaining increasingly that your company is not effectively stopping racist 'posts' and comments despite their pointing out concrete examples."

The company now promises to do better. To that end, it'll be working together with Germany's ministry of defence and internet service providers in the country to create a new hate speech task force, according to reports in the Wall Street Journal.

There won't be any changes in policy on what types of content are forbidden, rather, Facebook simply promises to become better at dealing with illegal content more efficiently, as Heiko Maas said to the newspaper:

"The idea is to better identify content that is against the law and remove it faster from the web."

Germany expects to see some 800,000 refugees apply for asylum this year, as the country's asylum system outstrips all other European countries by far. But alongside solidarity movements like #refugeeswelcome, this has also brought on a backlash of xenophobia.
This is not unprecedented, given that Facebook has always had a very disdainful view of its users.
Recall from back in 2010:
Business Insider, 'Well, These New Zuckerberg IMs Won't Help Facebook's Privacy Problems', 14 May 2010:

Facebook CEO Mark Zuckerberg and his company are suddenly facing a big new round of scrutiny and criticism about their cavalier attitude toward user privacy. An early instant messenger exchange Mark had with a college friend won't help put these concerns to rest.

According to SAI sources, the following exchange is between a 19-year-old Mark Zuckerberg and a friend shortly after Mark launched The Facebook in his dorm room:

Zuck: Yeah so if you ever need info about anyone at Harvard

Zuck: Just ask.

Zuck: I have over 4,000 emails, pictures, addresses, SNS

[Redacted Friend's Name]: What? How'd you manage that one?

Zuck: People just submitted it.

Zuck: I don't know why.

Zuck: They "trust me"

Zuck: Dumb fucks.

Brutal.

[...]
I don't know how many times I've had to tell people this, but if you give your personal information to Facebook, you are basically out of your mind. If you give your personal information to Facebook while making posts on Facebook that German liberals do not like, then you are even more out of your mind.
People need to stop giving personally indentifiable information to Facebook. Just stop giving it to them.
I present this article for the purpose of driving that point home to anyone who is still having doubts about this. Just stop giving it to them.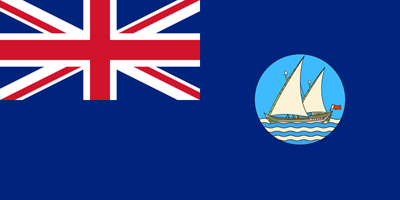 There was a trading
dhow
on this flag for a good reason.
Summary
Christians and liberals neither understand the threat environment nor do they have the inner motive energies that can be harnessed for the war against Islamism. A new type of European consciousness that completely rejects and opposes the semitic god, will have to manifest if Europeans are going to be able to continue to contribute meaningfully to the defence of global trade routes on which they and their partners depend in order that their societies can flourish, and for the defence of the European peoples in their homelands. Wealth is not an end in itself, wealth is a means to an end, in the same sense that a person driving a car needs to fill up at the service station before attempting their journey.
"Pure philanthropy is very well in its way, but philanthropy plus five percent is a good deal better."
— Cecil John Rhodes.
That sounds about right to me.
Once upon a Time in Eurasia
It is said among traders and among contractors that we won't laugh unless we're profiting, and that we won't cry until we're completely bankrupt. It's a good saying. Of course, this is only a rationalisation of a feeling that is completely natural in every way, one which in earlier times in human history would not have needed to be enunciated by anyone. These kinds of sentiments are taking people back to the past, even though they are very modern-sounding expressions. If you think about it you'll realise that this is a motivational logic that applies in almost every honest expression of the relations of production.
There are some modern phrases that lack the appropriate level of nuance, though. For example, when speaking of time scales growing longer or shorter, people will say that time is money. Money of course being an indication of a promise to do productive work.
In agrarian times long past, the phrase 'time is money', would have had a slightly different meaning. Rather than speaking of how fast a task is completed, it instead would have been a reference to the appropriateness of the timing of the actions. It wasn't about 'punctuality'. It was about instinctively knowing when to act, being able to skip some of the rationalisation process through an intuition that is hardwired into one's alleles. The people sensed when it would be most appropriate to take an action, and they did it. If it required leadership, then the leader sensed when to harness the motive energies of the people and then did so. The sense of 'time' was entirely different from the sense of 'time' that presently exists. Time was seen as a cycle that spiralled upwards on each of its turns. When a person would participate in seasonal festivals, re-enacting the same stages over and over as the wheel of the seasons turned, re-enacting the deeds of the past, that person would no longer be in 'profane time', but would instead be immediately and—literally—magically taken back to the 'sacred time', the foundational and primordial story around which that society ontologically is founded.
And then came the Abrahamic monotheists to disrupt everything. They set human beings against their own senses and against their own intuition by emphasising a false distinction between mind and body. They created a separation between the people and the land that they evolved on. They were not the only ones to attempt this, but particularly in Europe and the Near East, it is impossible to talk about this issue without actually pointing out that Abrahamic religion is a central factor to the process of the alienation of people from themselves and their dispossession from their own land.
The Christian church twisted the minds of the European peoples, turning the mechanisms of their own survival instincts against themselves. Islam also did the same from without, it attacked people for the sake of accomplishing the same purposes, and these are essentially the same phenomenon, all branching from Judaism. All the expressions of Middle Eastern monotheism spring up in the physical world from the after-effects of a desertification event that occurred in the Middle East and North Africa about 4000 years ago, an event which a priestly class seized upon so as to cement their control. Those population groups then tried by every means possible, to impose their warped social institutions and practices onto the neighbouring populations.
Europeans struggled, for centuries, to succeed at living fulfilling lives not because of Christianity, but rather, despite Christianity. But at long last, the European continent has begun to shed the vestiges of Christianity. Since about the early 1970s, Christianity has been on a steady decline in Europe, less and less people are finding it to be convincing than ever. And for a moment, perhaps it appeared that this would be the end of the story. But it is not the end. It could not be allowed to end so easily, it seems. Instead, what has happened is that Islam has inflicted itself onto the continent as yet another wave of semitic religious assault. It is as though there is a malicious force out there which does not want you to be free, it's as if there is something out there which wants to enslave you all.
That is only intended to be a very loose description of what has been happening, consider it like a loose narrative which will be expanded on at a different time. It should however be enough—for now—to give a general idea of what viewpoint I'm taking here.
Shaking the Kaleidoscope
Being able to conceive of this as a fight that has been going on for thousands of years is something that is crucial to being able to understand the most recent assault wave that is taking place.
The European Union is presently in a situation where the breakdown of law and order in Libya and the failure to re-establish the rule of law in that territory has led to a 70% increase in the number of Islamic fundamentalist groups operating in that area. Furthermore, the inability of the European Union to impose border controls from the Libyan side of the border, and the complete disintegration of the system of border controls that Libya used to use to stem the flow of migrants from East and Central Africa across trafficking routes into Southern Europe, has led to a massive increase in migration heading toward the European Union. At the same time, various governments have enacted laws that act as financial incentives for economic migrants to try to risk their lives to enter the European Union illegally, and has in turn facilitated the expansion of already-existing trafficking networks who are able to make exorbitant profits from the trade in human beings. This has in turn enabled the traffickers to expand their operations and become more sophisticated.
Migrants are also flowing from Syria and Iraq, along multiple routes that lead into Europe. Some of those people are fleeing persecution at the hands of ISIL because the leaders of the North Atlantic have not yet shown the political courage to commit themselves to ground war in Mesopotamia to undo the damage that has been done by the rise of ISIL.
At the centre of all of this, is now ISIL, which intends to graduate into being able to carry out strikes inside Europe by sending its operatives to form terrorist cells, which would be included among the economic migrants and asylum seekers, and who would be able to acquire their weapons through weapons smuggling networks which have existed in Central Asia and the Balkans since at least the late 1980s and are still intact.
As is clearly obvious, the threat involved for Europe is extremely severe. This is warfare against a foreign enemy that fights in new and inventive ways to harm the interests of peoples of around the world by attacking targets both foreign and domestic. As the line between foreign and domestic targets is blurred—after all, what is the functional difference between a trading house being attacked domestically, and a shipping port or an oil services office being attacked overseas—so too the line between foreign policy and domestic policy is blurred as a result of this, and as a consequence the line between policing and warfare becomes very thin. And furthermore, in a highly integrated set of national economies, intelligence collected by one country might be more useful to a partner country than it is to the country that actually collected it, meaning that policing and intelligence have increasingly become just as supranational as warfare has become under the NATO framework.
Unfortunately, the domestic appearance of the conflict has led to many misunderstandings about what the fundamental nature of this conflict really is. Many people who are skeptical of the severity of the threat, like to argue that terrorism is 'a tactic and not an enemy', and that somehow this means that all of these could be handled as a police matter within individual member states of the European Union. They do this because they took the term 'War on Terror' literally, rather than as a piece of political rhetoric, and didn't remember that what it actually is called is 'Overseas Contingency Operations'. We are not actually 'fighting terror' in the sense that it is commonly understood. We're protecting lines of supply and hard assets from interference by hostile Islamic state or Islamic non-state actors which happen to frequently employ terrorism as a tactic. The 'War on Terror' is an umbrella, it's a toolbox which is tailored for dealing with the challenges of the post-Cold War environment and for tying off loose ends that were left untied. It's a toolbox full of tools that can be used to manage disorder and keep it at bay.
We are not at war with every single group in the world that happens to use terrorism as a tactic. We're at war with those which threaten the interests of the North Atlantic and those of its global defence and trade partners.
There are three things that make the war against Al-Qaeda and Al-Qaeda-inspired groups, as well as ISIL in particular, different from criminal investigations into organised crime or measures taken by police to tackle domestic social problems. Firstly, the Islamists are not seeking purely to accrue gains for a syndicate. They have explicitly geopolitical objectives, namely, that they would like the states of the North Atlantic and their partners to abandon all of their enterprises in the Middle East. Their purpose is not solely to make money for a narrow clique of individuals, but rather, to in fact stymie the development of productive forces by accruing the power to deny us access to natural resources or to otherwise interfere with shipping. Secondly, these people have shown that they are willing and able to create events that are both violent and spectacular, and cause massive property damage to hard assets to such an extent that it cannot be categorised as crime but in fact is plainly visible to all as an act of war. This is something that they themselves are willing to acknowledge and even boast of. Thirdly, the Islamists are a completely foreign ideology which finds its safe havens outside the North Atlantic, and is a culturally foreign threat in the sense that Islam is not European, and Islamists consider themselves to be at war against European society on the most fundamental level.
Still others have made criticisms talking about how it is 'un-European' to detain people for effectively indefinite periods in clandestine detention facilities, and even that having intelligence services being patched into the processing of asylum seekers, is 'un-European'. We've also seen recently that many politicians seem happy to hang up signs marked "All Refugees Welcome", as though anyone seeking to cross borders in the middle of a 14-year long war is supposed to be regarded as completely non-suspicious.
What is the usual rationale that is taken toward detention of wartime combatants? The obvious purpose of wartime detention, has historically been to prevent the detained individual from returning to the battlefield to take up arms against us again. Normally, detainees are released after the formal cessation of hostilities. Therefore, given that this is a war, those who were detained at some point over the past 14 years, should be able to be detained for the entire duration of the 'War on Terror', which is to say, so long as Overseas Contingency Operations are being carried out against Islamic groups. Since it is difficult to determine when that time might actually come, it makes sense to me that an enemy combatant picked up on the battlefield in the 'War on Terror' can indeed rationally be held for what is effectively 'indefinitely', but that would only be because the enemy refuses to surrender, not because anyone in the North Atlantic necessarily has any explicit desire to detain someone without trial 'forever'. The so-called 'indefinite detention' was just inherent to the logic of events which unfolded.
One of the most unfortunate things is how people have not processed or understood the idea that making all of these things illegal would also reduce flexibility and make the North Atlantic entirely too predictable in its behaviour. Having some ambiguity can actually be a good thing sometimes.
Failure to Understand the Threat Environment
Now we see liberals doing this:
Financial Times, 'Germany braced to receive 800,000 asylum seekers', 19 Aug 2015:
Berlin has said it expects to receive a record 800,000 asylum seekers this year, more than the entire EU combined in 2014, laying bare the scale of the biggest refugee crisis to face the continent since the second world war.

If the latest official projection released on Wednesday is borne out, it would be nearly twice as high as Germany's previous record for asylum claims, set during the collapse of Yugoslavia in 1992.

Interior minister Thomas de Maizière warned that the Schengen zone, which allows passport-free travel across much of mainland Europe, could not be maintained unless EU states agreed to share asylum seekers.

The 800,000 figure — which represents about 1 per cent of Germany's population and is a sharp increase on an earlier estimate of 450,000 — is one of the starkest signs yet of the extent of the migrant crisis facing Europe, as thousands of refugees fleeing war in Syria, Iraq and Afghanistan and poverty in Africa stream into the continent.

[...]
And:
SKY News, 'Germany: 'No Limit' To Refugees We'll Take In', 05 Sep 2015:
Chancellor Angela Merkel has said there is no legal limit to the number of asylum seekers Germany will take in, with at least 800,000 expected this year alone.

Mrs Merkel was speaking as thousands of exhausted refugees were bussed from Hungary into Austria, with most thought to be en route to Germany.

German police said at least 2,000 people had arrived at Munich railway station so far, with up to 7,000 expected by nightfall.

The German Chancellor told the Funke consortium of newspapers: "The right to political asylum has no limits on the number of asylum seekers."

[...]

Many are attracted by its economic prosperity, comparatively liberal asylum laws and generous benefits system.

Mrs Merkel has insisted Berlin can cope with the record-breaking influx without raising taxes, or risking its goal of a balanced budget.

She said Germany's strong economic position meant it was able to cope with such "unexpected tasks" as presented by Europe's worst migration crisis since the Second World War.

Nevertheless, a number of German cities have been struggling to process newly arrived asylum seekers and to meet the demand for additional housing.

Mrs Merkel's governing coalition is due to meet on Sunday to agree a series of measures to ease the crisis, including cutting red tape to allow the construction of new asylum shelters, speeding up asylum procedures and increasing funds for federal states and towns.

[...]
It's clear that liberals are not capable of selecting policy preferences that are suitable to the threat environment that Europe faces, nor are they able to understand that this is fourth generation warfare and that security needs to be everywhere because the fighting is asymmetrical and the force composition of the enemy includes 'civilians'. The enemy organises in Mesopotamia and seeks to control cells within Europe's borders, and they also seek to radicalise 2nd and 3rd generation Muslim immigrants inside Europe through the internet. In the present social media environment, it is extremely difficult to monitor, much less control, the sheer volume of material that is out there for them to interact with or consume.
There are three emergent phenomena among young jihadists in Europe that are becoming more prevalent since the start of the so-called 'Arab Spring'.
The first phenomenon is that there is an increase in training and sophistication. Jihadists have been able to organise explosives training for European Muslims, they've been able to gain combat experience in the wars in Syria and Libya and Iraq, and have absorbed some of the best practices for urban combat as a result of having operated in that kind of environment. Many of them would by now have more hours of experience fighting gun battles than the police in many states in the North Atlantic tend to have.
The second phenomenon is that there is shift to recruitment from the deprived areas of Europe which would usually be characterised by ghettoes and inner city gangs. For many of the recruits, their movement into the ranks of ISIL is just like graduating from one form of 'gang activity' to another, but of course only in the limited sense that they are already used to breaking the law and already have a disrespect for the societies that they are living in, and so can be quite amenable to carrying out violent acts toward police officers and civilians in European countries. The pre-Arab Spring pattern was one characterised by Islamists who had become radicalised. This recent phenomenon now adds to that criminals who have become Islamised and graduate into becoming enemy combatants. Their initial revolt against society would have been characterised as anti-social behaviour, but they have now become Islamised and seek to direct that behaviour toward a 'larger purpose'.
The third phenomenon is the broadening of prison gang recruitment outreach by Islamist groups. Given that many of the demographics that are emblematic of Islamic migration into Europe have a higher rate of criminal offending than the native population, it is only natural that prisons would become jihadist recruitment grounds. The narrative that they are being given is a combination of a guilt narrative and a victim narrative paired together. The recruiters would sympathise with the plight of the prisoner by telling them that they are members of a downtrodden group and that in order to survive they had been 'forced' to the margins of society to become criminals. At the same time, the recruiters would also impress on the prisoner that being a criminal is still 'a sin' because the Qu'ran and the Hadiths admonish Muslims to obey the law of the land that they are living in unless they happen to be engaged in jihad against that land. They are then offered 'redemption' on the condition that they would leverage the skillsets and contacts that they made in the criminal world to serve the 'larger purpose' of waging jihad.
With all of those things in mind, the fact that someone would want to massively increase migration into Europe from the very same zones in the south where all of this is based, is truly breathtaking to consider. Angela Merkel and the rest of the liberal political class in continental Europe seem to have no problems whatsoever with taking over 800,000 new people all at once over an extremely short period of time, and they probably don't intend to stop there.
See for example:
Spiegel Online, 'Top German Immigration Official on Influx of Syrian Refugees', 31 Aug 2015:
Around 800,000 refugees are expected to arrive in Germany this year, with the number of Syrians growing rapidly. Manfred Schmidt, Germany's top migration official, discusses how the country is coping with the massive influx.

[...]

SPIEGEL ONLINE: There are currently around 250,000 asylum applications that have not yet been processed in Germany—and hundreds of thousands more will soon be added to the stack. How do you intend to process them all?

Schmidt: New decision-making centers will be created in several cities and thousands of new employees will be hired this year. And in 2016, we will hire up to 1,000 more. The effect has already become noticeable. By July, we had processed more applications than during all of 2014. We assume that we will be able to make up to 200,000 more decisions during the next six months.

SPIEGEL ONLINE: How many refugees can Germany still take in?

Schmidt: When it comes to the absorption of people who are fleeing persecution and require protection, there can be no upper ceiling.
And:
Daily Mail, 'Pope calls on every European parish to host one migrant family each', 06 Sep 2015:
Pope Francis called on Sunday on every European parish and religious community to take in one migrant family each in a gesture of solidarity he said would start in the tiny Vatican state where he lives.

"I appeal to the parishes, the religious communities, the monasteries and sanctuaries of all Europe to ... take in one family of refugees," he said after his customary Sunday address in the Vatican.

[...]
Counter-terrorism is a very tricky thing. It's not really possible to always be able to find and break up terrorist cells just because you know that they are out there. Even being able to watch all of the signals all of the time, does not mean that the state can address all possible threats simultaneously. Being able to keep track of the relationships between people, and to decide who should be placed under total surveillance and when, is partly based on patterns, partly based on the experience of the case officers, partly based on luck, and the rest is fate. Think of this: To place someone under a wiretap requires a court order and that takes time to get. If you know who the attackers might be, you then have to prioritise who you'd want to place under 24/7 surveillance. Just to watch about five suspects, would require assigning several officers in several cars to that job. To make sure that everyone is properly alert and lively, a person might run these in four shifts over a 24 hour period. And then for all of those people, they would need support back in the operations centre to coordinate their actions, review intelligence and manage the wiretaps. And so you realise that you've actually got about a hundred people tasked to five suspects who you think might be planning an imminent attack.
Money is going out the door to finance that effort. And you've chosen to watch those particular people rather than dedicating those resources to any other cluster of people who might be the cell that you are looking for. Or perhaps even the cell you didn't know you were looking for until something began to look suspicious. Other intelligence collection requests are being postponed or missed while that is occurring. Now imagine how much more difficult that becomes in a scenario with mass migration from a place where ISIL is operating. The threat would be extremely severe, more severe than it ever has been. Yet liberal politicians are making this scenario play out before everyone's eyes.
Putting the Car into Gear
Europe is—whether it likes it or not—in the midst of military operations against an enemy that is determined to strike anywhere and at any time. Conduct of military operations must be guided by a set of established guidelines, referred to as doctrine. Often, doctrine is shaped significantly by factors other than the lessons learned during operations because the doctrine is also partly shaped by the political environment in which it manifested. Doctrine has increasingly been more a reflection of the influence of individuals with ideological biases and guilt complexes, budget constraints, and flagrant electioneering, rather than critical analysis, exercises, training, study or experience in the application of force.
I would say that at least four things need to be established and/or strengthened in order to begin addressing the problem:
An independent operations centre for counter-terrorism police and immigration officials, which should conduct operations outside of the constraints of the political class. This would dampen the impact of any further liberal-minded populist meddling.


Centralised control of the counter-terrorism police and immigration officials, along with the airforce and military ground forces. Immigration officials should be right inside the joint command structure. Not just in word, but in action.


A commitment to review the demands that are placed on European militaries and intelligence services, and ensure that the funding meets their needs. Now is not the time to be cutting defence spending.


'Letters of Marque' need to be given to PMCs, so that they can legally leverage the power of the private sector toward fighting against Islamists directly. This time around, PMCs should also be patched right into the decision-making processes so that everyone is reading from the same script. This probably should be numbered among one of the lessons that was learned seven years ago in Afghanistan and Iraq.
Regarding the refugees that are fleeing from Iraq and Syria in the face of ISIL aggression, it is obvious that having the whole of Mesopotamia fleeing into Europe to get away from ISIL is simply an international absurdity. If ISIL were to be defeated in Iraq and Syria within a reasonable time frame, that would do a lot to stem the flow of migrants into Europe, because that would be effectively tackling it from the demand side. There would be less of a demand for entry into Europe, if stable governance were restored in Mesopotamia.
Strategic bombing against ISIL, while useful, does not actually restore stable governance and thus does not give people the confidence to remain in their homes and stop migrating out. Also, the compromise measure of embedding special forces into Iraq is not sufficient either, because you cannot just throw special forces into a country without any of the support and services that usually would accompany doing such a thing. And if someone is going to do that, then they might as well just resign themselves to the fact that they will end up with combat brigades in there eventually. So why not just plan for putting combat brigades back into Iraq from the start?
The purpose in such a case, should not be to try to 'put Iraq back together again' in the way that it was arranged before ISIL arose. Iraq will never be the same again, but re-establishing some new kind of borders would probably help to stabilise the situation. Continuing to support the existence of Iraqi Kurdistan would also be helpful. Also meriting attention would be people like the Assyrians who would like to have their own homeland be recognised in the Nineveh plains. There are also energy interests involved, as Exxon-Mobil has been in negotiations with individuals in the area. Furthermore, should these groups be given faithful support by NATO countries, they would be very grateful. Additionally, the governments of those hypothetically independent states or autonomous provinces might be able to act as satraps that are far more reliable and amenable to European interests than the consistently duplicitous satrap called Israel ever will be.
There are a lot of interests and angles of approach that can be summed together for a support of more North Atlantic involvement in ground combat against ISIL, and it would be nice if European people could impress upon the politicians that it is okay for them to show some political courage and support such measures. And that if they do not support such measures, they should be questioned as to why they refuse to support tough action against ISIL.
There has also been a dearth of enthusiasm for intervention among European ethno-nationalists, when in fact intervention is quite clearly something that European ethno-nationalists ought to be championing. It's not enough to just be against mass migration, to be completely parsimonious and coherent, you have to support the measures necessary to disintegrate and destroy the problem at its source.
Motive Energy
All of what I've said above would be completely useless if a person doesn't have the historical understanding and most importantly the motive energy to carry through the war to its objective. After all, it's one thing to show a person their material interests, and to exhort them to support war, but it's another thing entirely to have a person who has that will to fight and act on those interests. After all, a person could always say "I'll accept a loss here and withdraw, it's not worth it to me".
Christians lack the motive energy for this war, and these examples are typical of that lack of motive energy:
Reuters, 'Pope criticizes nations that close doors to migrants', 17 Jun 2015:
Pope Francis on Wednesday called for respect for migrants and suggested that "people and institutions" who close doors to them should seek forgiveness from God.

The pope's appeal, made at the end of his weekly general audience, came amid growing debate in Europe on how to deal with an immigrant crisis that has included clashes at the French-Italian borer between police and migrants.

"I invite you all to ask forgiveness for the persons and the institutions who close the door to these people who are seeking a family, who are seeking to be protected," he said in unscripted remarks delivered in a somber voice.

France and Austria have stepped up border controls on migrants coming from Italy, turning back hundreds and leaving growing numbers camped out in train stations in Rome and Milan.

[...]
And:
Reuters, 'Pope says weapons manufacturers can't call themselves Christian', 21 Jun 2015:
[...]

Francis issued his toughest condemnation to date of the weapons industry at a rally of thousands of young people at the end of the first day of his trip to the Italian city of Turin.

"If you trust only men you have lost," he told the young people in a long, rambling talk about war, trust and politics after putting aside his prepared address.

"It makes me think of ... people, managers, businessmen who call themselves Christian and they manufacture weapons. That leads to a bit of distrust, doesn't it?" he said to applause.

He also criticized those who invest in weapons industries, saying "duplicity is the currency of today ... they say one thing and do another."

Francis also built on comments he has made in the past about events during the first and second world wars.

He spoke of the "tragedy of the Shoah," using the Hebrew term for the Holocaust.

[...]
That weak and pathetic behaviour from Christians should not be surprising. Christianity is less motivated to fight, because for them, the disagreement with Islam is not fundamental. They don't fundamentally disagree with the premise of Islam because for them it merely is an argument about the specifics of the tyrannical Abrahamic god's requirements. Christians are never going to have any lasting and enduring will to fight against Islam, because they are actually servants of the same god in the first place.
They complain of how 'destructive' the war is and how they 'distrust' people who sell weapons, but the whole world is constantly changing. Creation and destruction are both forms of change. Destruction is behind us and in front of us, so why shouldn't we welcome death in the same way that we welcome life? The war against Islamism is not just killing without a goal, it is killing that has a goal of preserving those lives that we value.
The development of productive forces—which requires that energy supplies be maintained and goods to flow unimpeded by adversaries—leads to societies in which more people are able to ascend Maslow's hierarchy. When people move up the hierarchy they have more time and inclination to examine the life that they are living critically, to plan for the future, and to engage in more in-depth personal development. We're in a pivotal era in human history right now, where, since 2001, the forces of retrogression have found themselves locked in combat against the forces of progress, and it is a fight that will have lasting global implications for human evolution.
If some Arabs want to be regressive and stand in the way of human development, and if some Arabs want to act as a spearhead to break down ethnic genetic communities so that these blocks of political experience—political experience of the ages being one of the great intellectual treasures of nation-states—are eroded and destroyed, then it is absolutely right that people should kill any Arabs who behave in that way. Any group that feels that its destiny is to stand with ISIL, should be targeted, hunted down, and killed in the spacial battlefield. That would be progress.
Fundamentally, one of the most important things that people must be encouraged to do is reject the god of the monotheists. Its fraudulent claims that it 'created everything', must be rejected. The opinion that it is 'a belief worthy of respect and toleration' also must be rejected. Once you can make those in Europe who are trapped in delusion aware that the god of the monotheists is a liar and a fraud, and that nature is not something that could have been consciously made by anyone, then you will be laying the groundwork through which people can support war coherently.
Why is that so important? The reason is this: If people can be brought to understand the war in the realm of ideas, to understand that we are actually fighting against the power of the monotheistic god, to understand that this should be done deliberately and consciously, it has a real effect. It can cause transformations in people's thinking that would lead to the complete inversion and thus destruction of Judeo-Christian society and morals, a destruction which needs to happen, along with the destruction of Islamic society and its prestige at the same time.
Those who were 'losers' in the past 2000 years will be 'winners' in the new and inverted world that is to come. Human beings will cast off the chains that are interwoven with dead flowers so that they can seek the true flower, because they'd be casting off the conditions and the ideas which had made the monotheistic lying possible in the first place, through participating in actions—as a society—that are understood to be antagonistic against the semitic god.
People should also be encouraged to show the viability and vitality of a new Europe, through their support for parallel civic organisations that strengthen national bonds of blood and proximity. These social organisations would be like a great constellation of stars shining like a thousand points of light over the continent, engaged in world service. By doing so, it would show that it is possible to run Europe without Christianity, without Islam, and without Judaism.
Through that kind of approach, we would be fighting the war domestically, fighting the war overseas, and also fighting the war in the world we cannot see. If we are successful at creating that environment—and we will be—I think there will be a definite chance for a new Europe to emerge.
Kumiko Oumae works in the defence and security sector in the UK. Her opinions here are entirely her own.
Within the disorder of modernity, where puerile females are so one-up and so pandered-to, where their base proclivity to incite genetic competitition is in runaway, uncorrected by the homeostatic control of social group boundaries, it is more than dubious to add another exponent to their poison cynicism.
Andy well articulates a view on the cuckold meme in line with my view thus.
That is, I am not going to jump on that bandwagon. It sucks. It is a meme not without some merit, but largely for a-holes by a-holes too cowardly and self centered to see the radical point. The best angle is not for a-hole males, the kind that screw others, including their own people, when they do not have to, to incite other a-hole males, the ones who let others screw their people all too easily, when they do not have to.
Both of these types represent something outside of authentic European masculinity, its optimal level of sublimation and qualtative expression.
Because it is didcactic incitement, it is prone to play into the hands of our enemies as another way to merely blame White men, to perpetuate and take the heat off of our adversaries - our adversaries who know that these marginal men are interfaced with boundary maintenance and are, therefore, to be disempowered, humiliated, their conservative instinct to be disrupted, to remove their correcive function and doubly punish them despite the fact that they are most likely to be victims rather than responsible party victimizers; but who cares? The true culprits have diverted attention from themselves and will be immune to this additional poisoning of our boundry demarcating marginal peoples - with the more forethinking men incited into oblivion, and the narrow alpha male a-holes left standing, this will play into the hands of those who would Africanize our population, have us more stupid, kindred to blacks and mulattoes, more easily controlled.
No, the far more advisable, more valid critique, one which would in fact entail easier and more reasonable compliance ought to be criticism directed at peurile femalenss, a puerile femaleness that is all too used to being panderd to. They ought to be incited to be more decent, cooperative and fair - in a word, to be worthy of being defended as our co-evolutionary women, mature women, if not ladies.
Until such time, these puerile bitches deserve incitement - Mulatto supremacist BJ machines - whatever you might like to call them, let those who do not deserve that label object and let the ones who do deserve that label try to defend themselves.
It is a puerile femalness that is mean beyond belief in its self righteousness; indeed, in its privilege it is getting away with murder, torture, the destruction of the profoundest evolution for the most idiotic reasons, out of ignorant spite, a puerile femalenss whose acts, while on par with rape, are normalized and institutionalized by the right-wing in foolhearty, naive or disingenuous complicty with Jews, as "natural" acts, or even heroic defiance of the "backward" - which, in incitement, we are supposed to adjust to, as the way it is in "universal maturity."
We all know that puerile females can never do anything wrong.
Scientists and Jews say so.
It is for White men to adust to their infinite wisdom.
If men drag their feet, are unwilling to participate in the paradigm that Jews have outlined, then they are "cuckservatives."
It is another Jewish meme to blame White men, if there ever was one.
Sure, we should adjust to the predilections of puerile females, as pandered to by Jews, Muslims et al, in the cataclysmic destruction of European peoples and our co-evolution.
We should act into the loop, a Jewish loop, engage in such didactic incitement. Rather obviously, we should not. It is far better that the puerile females of Western nations be subject to incitement, to become mature, decent, responsible women. For those who know American females, as they are, and as it stands, know that typically they are egomaniacs.
Worse, they're typically the vilest tyrants - manifest through ceaseless pandering of Jews to their one-up position in partner selection. This has put an exponent by their worst inclinations - incitement to genetic competition and appeal of the brute, episodic view of masculinity, a hyper-assertive, unsublimated masculinity more characterisic of blacks and mulattoes.
And we all know what a wonderful way of life that they create. So wonderful, that we should emultate them on penalty of being called a "cuckservative."
Nice try Mr. Jew.
You won't find me buying into this Jewish meme of "cuckservative."
You might, however, hear me chiding these puerile female tyrants that you've had integral part in creating as "mulatto supremacist B - J machines." (I would like to use the full-out word, but I guess you get the drift).
Incitement of White males at this point is more characterisitc of right wing pefidy. To think, they accuse the left of being against nature. But what do they know about White nature? They're so objective, displaying transcendent, univesal masculine strength - they don't even need anybody else, just their own individual Herculean strength. What it really is, of course, is their own gang of Jewish marshalled punks, piling-on anyone unfortunate enough to be in a vulnerable position, to need their people, their race, to show off in contrast to them for unworthy females and "the objective measurer."
But I do get it when it comes to conservatives and the need to drive a wedge against their Jewish designated "conservatism", which is not conservatism at all, but the propensity to conserve liberalism, to conserve the destruction of Whites. That wedge criticism IS central to our program here at MR.
I just don't trust the cuckservative meme. It's based in a universalist liberal perspecive. It's an incitement generally biased in the wrong direction, piling on White men who've been incited ad infinitum; and as a meme, being slowly nudged beyond reach of normal men; into toxicity for those who would otherwise be best positioned to see the sense of our cause, to swell and empower our ranks. It's playing into Jewish, liberal and puerile hands, deflecting from their responsibility.

A further note on these lines of right wing perfidy…
I recently heard that Angelo John Ganucci had been banned from the campus of Boston University.
Well, that's nothing.
I was banned form campus of The University of Massachusetts at Amerhest no less than four times. I must admit that I got a certain satisfaction in manifesting activism from the other side.
I would walk around campus with a shirt that read:
"Big Mulatto Bro is watching, foil HER Mulatto supremacist dream!"
And sometimes with a shirt which read:
"We have a consensus, black women are ugly!"
That came in handy when encountering interracial couples - because the female was ALWAYS the White one.
I could simply walk in front of them. This was extremely awkward for them and extremely hard for them to respond to.
The black woman, who was being insulted, was not there, the black male was being called-out on the fact that he viewed his own co-evolutionary females as inferior, and the White female, who pretends to be the sensitive social justice warrior, is shown to be the thoughtless pig that she is, e.g., having little or no concern for black women, whose men she is taking away.
Because walking in front of them so that they could read the shirt didn't involve aggressive and loud verbal confrontation, this did not arouse enough attention from third parties to provide one of the occasions that got me thrown off campus. But it did get a potent message across. It was one of the better strategies that I experimented with.
As I have said in other places, "mulatto supremacism" is a confusing, difficult and all too accurate charge for our enemies to handle; that is why I was prevented from posting an article about it on Wikipedia.
It is difficult for them because it does not confronts Jews, blacks, or miscegenators directly, while it calls dramatic, critical attention to the egregious upshot of PC politics.
...Are Nothing New - Alain DeBenoist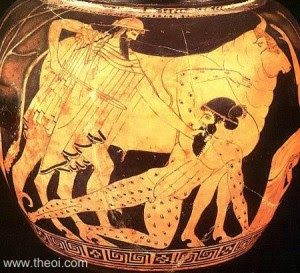 The God Hermes slaying the hundred-eyed monster Argus (figure on vase, c. 5th B.C.)
Translated from the French by Tom Sunic

Q: Radar on the roads, security cameras at every street corner. One gets a big impression of being constantly under surveillance. With the recently adopted law on intelligence gathering, how far can these freedom curbing measures still go?
A: The new law allows the installation of "black boxes" on internet networks and servers which operate with the technologies of "deep packet inspection" and which enable the monitoring of private conversations on the internet, as well as the interception and scanning of all communications the goal of which is to detect, by means of secretly kept algorithms, all "suspicious" words and every "unusual" behavior. This law also allows, without any need to seek court approval, the wiring up of homes, computer hacking in order to siphon off their contents, the use of portable "IMSI-catchers" (false antenna relays intercepting telephone calls in a specific perimeter), the "key loggers" (software for reading in real time what a person types on his keyboard), vehicle tagging, geolocation of people and objects, etc.
The "black boxes" also allow the analyses of all the "metadata ", that is to say, to keep track of all traces left behind by a person using the phone or the internet. Any data value, being proportional to the square of the data number to which it is connected, the growing collection of the "metadata" thus enables not only how to predict the behavior of a group of individuals with their specific characteristics, but also to prod into every aspect of citizens' lives: their relationship, their mail, their social networking habits, their banking transactions, their travels, purchases, subscriptions, lifestyle, age, political views, etc.
Hence, this is no longer a matter of targeting someone; rather, it means crisscrossing the entire landscape. Despite the soothing assurances by the authorities, what we are witnessing is a massive surveillance of citizens, even though, the vast majority of them cannot be suspected of being linked with any offense. The emergency rule becomes the rule. Private life no longer exist and civil liberties are under threat of the law which set itself the objective to find out whether each of us knows people who know some people, who know some other people who are not "clean ." As the "republican" tradition demands we are now back at the Law of Suspects of 1793. With good reason citizens keep complaining about not being heard. Well, short of not being heard, they are now being listened to.
Q: We've known for a long time that citizens are always ready to give up freedom in exchange for a semblance of security. Hence the birth of the US Patriot Act. French Prime Minister Manuel Valls, in fact, uses the same argument: "it is the fight against terrorism." Last year, Benoît Hamon, added to it: "if you have nothing to hide there is no problem with being listened to."
A: A historical reminder. On December 8, 1893, in order to avenge Ravachol [a "bomb-throwing anarchist"], who had been guillotined the previous year, the anarchist Auguste Vaillant detonated a bomb in the Chamber of Deputies, causing no casualties. A few days later, the deputies passed the anti-terrorism laws, soon to be known as the "villainous laws" ("lois scélérates") "stipulating the suppression of the freedom of the press and prohibiting any anarchist gathering, even if held at a private place. The banker and the future French President Casimir Perier stated on that occasion that "freedom of speech does not apply to the enemies of civilization." Sounds familiar? "Terrorism," "civilization", restriction of freedom, all of this can be found there. The "fight against terrorism" is only a pretext — albeit a very old one). None of the measures that were taken pursuant to these new laws would have prevented the attacks from occurring over the recent months. By the way, one does not need to set out a trawl to catch a handful of sardines.
As to those who say it does not bother them because "they have nothing to hide", they certainly deserve the "GPNC" (the Grand Prize of Citizens Naivety). These are the same idiots who watch televised games or who purchase lottery scratch cards at the tobacco store hoping to strike it rich. When uttering these words they give up, of their own volition, their freedom, without realizing that the reasons stipulated by this law (from "collective violence prevention" to that of "the reconstruction or maintenance of banned groups") are extremely vague. Hence, under given circumstances these legal provisions can enable to place under police surveillance any joint action aimed at changing political, social and economic structure of the country, every social protest movement, all those having dissenting views, or those who took the liberty of challenging, one way or another, the established order, be they the Sivensdemonstrators, or the Notre-Dame-des-Landes protesters, or those taking part in the "Demonstration for All" ("Manif pour tous ").
Q: Our rulers are eager to listen to everyone; yet it is themselves who are also being listened to, particularly by the Americans. How should have the Presidential palace reacted to the recent revelations made by Julian Assange about it?
A: President François Hollande could have demanded that Washington immediately recall Jane D. Hartley, the US Ambassador to France. He could have granted asylum to Julian Assange and even to Edward Snowden. He could have announced that France would withdraw from all talks on the Transatlantic Trade and Investment Partnership (TTIP). He did nothing. He is the vassal of the USA on which he depends now in order to conduct operations in which the French Armed Forces are engaged. Ever since it joined NATO again, having lost all of it independence, France stripped itself of any autonomous decision-making.
Alain de Benoist is a journalist and writer who, in 1968 founded the Groupement de recherche et d'études pour la civilisation européenne, an ethnonationalist think-tank.