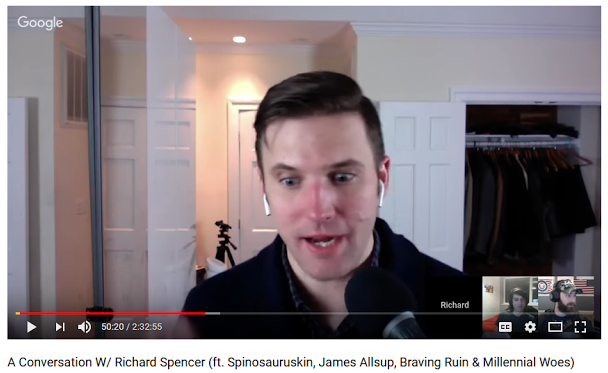 My conception of the ethnostate is imperialist - true ethno nationalism is a zero sum game.
"My conception of the ethnostate is imperialist actually." "True ethno nationalism is a zero sum game." - Richard Spencer
Fortunately, Britain seems to be joining the revised TPP11; and the Visigrad Groups are holding their own as a geopolitical connection on the upper Silk Road, to provide an ethnonational bulwark against any Spencer/Duginesque imperial blob larp that would sprawl oblivious to profound heritage, Lisbon to Vladivastok, Vladivastok to Nova Scotia.
Richard Spencer: I'd agree that my conception of the ethnostate, writ large conception, is imperialist actually, in the sense that it is a larger bloc, it is a geopolitical bloc.

50:00 I don't think ethnicity itself should be a dividing line. An intense ethno nationalism like 'Finland for the Fins and the Czech republic for the Czechs, or whatever that is', I don't think that's actually the way forward.

52:00: In terms of White I don't think this is at all controversial - you know one once you see one.

55:20 The whole idea of the ethnostate is about avoiding conflict. It's about creating - this is where my concept of the ethnostate might be slightly different than others. Some others might consider, say, Poland is an ethnostate. It's a linguistic- religious ethnic community (only difference?) - my concept of the ethno state is a concept of the ethnostate writ large; it is a geopolitical bloc for the White race. The whole point of this is that there would be a continental wide safe space, for White people, and there's not going to be conflict, there's not going to be racial conflict or racial suspicion.

Israel is in a very tricky situation, due to its creation, due to its foreign policy, due to its mentality, but…

His colleague, Evan McClaren, "Executive Director of NPI," puts forth a similar straw man, saying that "the Polish and Hungarian cavalry will not come to the rescue of White people." This is an insulting reference to WWII era Nazi propaganda footage that fictitiously staged Polish cavalry going up against Nazi Panzer tanks; and again, nobody is saying that Poland and Hungary, let alone their "cavalry", is going to come to the rescue alone. This is another straw man to disparage ethnonational sovereignty against Spencer's misguided delusion of Russo/German imperialism.

The fact is that global conflict is never going to go away ...that's one aspect of the ethno state, it must have nuclear weapons, it must have an army, it must be able to confront whether it be China, whether it be the Middle East, etc. ...it can confront other blocs around the world, so that we aren't going to be over-run by Chinese, we're not going to be over-run by an Islamic invasion and so on…
And YKW Richard? They've already invaded and infiltrated, so have the blacks and Muslims.
Perhaps the fact that Britain seems to be joining the revised TPP11 and the Visigrad Groups are holding their own as a geopolitical connection on the upper Silk Road can provide an ethnonational bulwark against the Spencer/Dugin imperialist blob that would sprawl oblivious to profound heritage, Lisbon to Vladivastok, Vladivastok to Nova Scotia.
Zero sum game is a straw man…
Spencer says Poland can't do it alone - a straw man because nobody is saying that (or should be saying that they can).

Trump's Globalist Nationalism:
Spencer calls ethno nationalism a zero sum game -
People who like ethno nationalism probably wouldn't dwell on that aspect but that is merely happy talk. That really is an expression of ethno nationalism, particularly with regard to neighboring countries - it is about competition, it is certainly not about civilizational nationalism or racial nationalism.

(Spencer tips is Molotov-Ribbentrop hand at this point)

One can see this in the ethnonationalism of western Ukrainians who seem to hate everyone and think everyone's out to get them.

....to me, the Poles, the Germans, the Russians, everyone…but the fact is, and I think this is very good when we looked at globalism vs nationalism and we all felt like we are in the same boat and there wasn't this zero sum competition where I, "as an American, want France to do poorly, I want Britain to do poorly" - it wasn't like that at all, and it should make us rethink that nationalist globalist divide….the fact is that Donald Trump, wearing a Trump hat or a Trump T-shirt became a meme across Europe for a nationalist expression… on the other hand you have the plucky nationalists, those people who are trying to reassert the sovereignty of the nation state itself and also to reassert their identities and cultures ...true ethno nationalims is, as we've seen in the 19th century, a zero sum game - if you are a French nationalist then your doing well is effectively bad for Germany and vice versa; German's rise is effectively bad for you - it is a zero sum game - we win you lose, you win we lose ...people who like ethno nationalism probably wouldn't dwell on that aspect, but that's merely happy talk, particularly with regard to neighboring countries; it really is about competition.
A zero sum game is an imperialist /supremacist model (what I call right wing) - that's a straw man of ethno nationalism and its true motive. Ethno-nationalism defined properly would provide for accountably delimited, manageable but sufficiently powerful units - manageable units which can then facilitate coordination of the whole regional powers, e.g. the region of Europe or Asia, etc.; which can then, in turn, coordinate between those regional interests.
Spencer is trying camouflage the quid pro quo; but tips his hand with condescending dismissal of Polish and European ethnonationalism, the anti western Ukraine bit - clues to his pro Russian Fed sentiment and neo-Molotov-Ribbentrop larp.
It is imperialism (e.g., Nazi imperialism), not nationalism, or even ethnonationalism, that caused the great wars.
8:03 Trump seems to be searching out a new foreign policy course. ... he seems to have a new rhetoric.

10:00 "The rocket man" (don't disturb Russian puppet N Korea)

12:55 Spencer defends Venezuela ..we leave them alone (for Putin to look after).

He does criticize Saudi and defend Iran….

17:13: In sum, new realism, new nationalism is window dressing. Ethno nationalists can't get their head around the fact that Estonia and Poland live within the shadow of America."
Sure, it's really hard to understand that we need alliances, powerful alliances, Richard.
...............................................
1:20 a pansy attempt at a cult of Richard Spencer personality..

2:30 so, I'm gonna just throw out a big question, what is the state of the altright?

Spencer answers:

We're in a difficult position.. derives from hostility and open suppression, private entities, silicon valley… deplatforming from funding services web services…

....push back for being recognized - catching flack for flying over the target…but what doesn't kill you (makes you stronger - Nietzsche)...

5:55 on the other hand we are experiencing a difficult time for internecine, intramural fights going on…

This needs to be talked about…

We need to give some people some tough love…some times the truth hurts.

8:00 Resistance in Poland..

11:05 I'm a public intellectual…we should not take sides in the second world war. (Really?)

13:20 I was disappointed with the foreign minister, who used this silly, baby boomer liberal language..this kind of stuff is stupid, 'you're becoming Americanist in the worst possible way.'

14:38 Within the right you are criticized more often for not embracing this petty nationalist mindset..whereas in mainstream outlets you are criticized as being a Nazi.

15:45 Poland cannot survive on its own (what country would or does?). It was recreated in 1919.

(It was re-established in 1919, upon Pilsudski's audacious taking-back of the ancient Polish city of Poznan in culmination of 123 years struggle to take back its nationhood from imperialist Austria, Russia and Prussia.)

16:20 it exists now as a Nato state…

(There are some problems with petty nationalism, but thanks for your concern Richard. We'll be ok without Russia's help.)

17:58 ..in desperate need of a racial, Pan European consciousness.

18:37 The last thing I would support is some sort of German supremacy (that's not exactly the problem - the problem is a combined German Russian imperialism.)

21:40 Spencer denounces cold war nostalgia and goes into the Duginesque critique of America - a "far far far greater threat than Russian nationalism… which seems extremely modest and reasonable in comparison to America." These former Eastern bloc countries don't get it (maybe you don't get it, Richard, and that's why you misconstrue ethnonationalism with imperialism). America is not going to be the savior of Poland; countries in the American sphere are subject to the worst aspects of America - immigration, homosexuality, feminism.

35:00 I will back down this time….(he had planned a visit to Poland but there were hints from high places that he was not welcome in Poland). I was visiting Europe, visiting Russia at least once a year and I will be back…

39:00 The opposition is scared, but that means we are culturally relevant when they are shutting us down.

42:00 Alt Right and optics ...

45:32 This moral signaling by denouncing people ....it is worth talking about the Swastika flag and Roman salute - its a double standard and bullshit compared to Marxist symbolism…

(Spencer and the Alt Right have this incessant bullshit line that the issues with Nazi Germany are surface matters of "optics" and conditioning, not that Nazi Germany was in large epistemological blunder).

Why can't you admit that you got suckered by your friend,

Mike Enoch

, who started the Nazi salute thing too?

48:11 Look at how I dress ... I don't need to engage in denunciations ...I don't think we can get away from the optics debate..

52:00 We should be bad asses ...people can go too far on both sides, problem of over reacting.

53:00 Everybody was wrong

54:00 We need to step back… our movement needs to be a little shocking…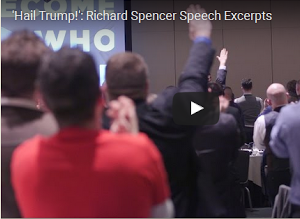 Nice try Richard, "hail Trump!"
.....hangout with Baked Alaska concludes:
2:17:16 Richard Spencer: It's all well and good to talk about we just want our little countries, we just want our little Poland, that's not going to cut it.
Get over it man. This straw-man. Who is saying that we just want our little Poland?