Majorityrights Central > Category: Islam & Islamification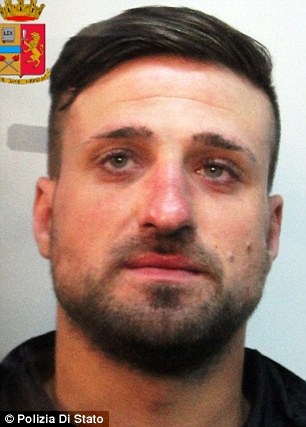 There is an absurd and detrimental habit of thought among WN who would draw the line of race too narrowly, snobbishly, and among those who would find weakening our defense convenient, that Sicilians are not White or are heavily
mixed with blacks
I have long advised against romanticized images of the Italian Mafia as portrayed in the legacy media. These are not organizations based on honor and family, as that media depicts, but rather criminal organizations based on money facilitated through treachery - these have not been organizations for our racial defense as we White Nationalists might hope.
In an irony, however, now that the immigration invasion has brought with it waves of African organized crime as well, suddenly the Cosa Nostra is forced to act in defense of its turf in racial terms - and just as suddenly, the legacy media condemns it, the Italian Mafia, as the problem in that interface - not the immigration invasion, not the organized crime that it brings. Needless to say, the legacy media does not express hope that Mafia will be of some good to the defense of our blood and soil.
In truth, Italian Mafia hasn't been especially good to Italian and European blood and soil. We can hope that the immigration invasion will force them to change that but to date there has been little to show in the way of honor from Italian Mafia: The Mafia of Campania, known as the Camorra, is hardly an organization which has prioritized Italian let alone other European blood and soil. They have been cooperating with Nigerian organized crime to spread Nigerian prostitutes all over Italy - an ugly blight that can be seen on the side of Italy's highways. They have gone against tradition, trafficking in heroine and other narcotics. They have taken hostage of Italian businesses to wreak havoc with the economy and possibilities of free enterprise. In one hideous example, having taken over the waste disposal business, they've merely dumped toxic waste on the Italian habitat - once productive local farms have been destroyed; a fact that can be proved by science; but these wastelands are readily perceived by the senses, the sight and smell of vast areas strewn with and beset with mounds of unnatural garbage and stench.
An unnatural stench emanates in Sicily as well, one of sulfur, around the garbage strewn and oil refinery lined parameters of Archimedes ancient home of Siracusa - where the Cosa Nostra has control in the oil refining industry.
However, with the aura of Mafia, inter-Italian rivalry, murder and background terror, there has been an apparent consolation - perhaps with the help of that background of corruption and terror, foreign incursions were held somewhat at bay - there is only so much use that foreigners can be put to and only so many of them that are needed to do it. After a certain amount they become a threat to anybody, including Sicilian mafia interests. That limiting condition would act to protect the genotype of Sicilians from overwhelming infiltration. In the foreground of terror, despite all urban legends of Sicilians being "part black", with inborn, ineducable aggression, they are vindicated of these ignorant attributions by anybody who takes time to observe them - a knowledgeable, considerate, European, White people.
Sicily, like the rest of Southern Italy, has that reputation of background terror which serves to instill a sense that you should be on best behavior with regard to traditions, the local people and potential transgression. In the year total that I spent in Italy and Sicily between 1996 and 1998, I observed in Italians a model European treatment of the Africans who were there. Africans were not walking around in three piece suits with attache cases as you'd see in Paris. Rather, they were allowed to vend an approved array of trinkets and accessories on the streets, with no sign that they could be mistaken for people integrated with Italians - the idea of mistaking them with Sicilians is laughable. If they remained on the street after 10:00p.m. they would be rounded up by baton wielding police, put into paddy wagons and taken away. If Europeans had to host Africans whatsoever, Italians provided a model of how it might be done to keep them in their place.
That protected the EGI from interracial imposition to a large extent. That protection was buttressed also by the reality of a deserved reputation that Italian men have of being very jealous of their women.
Nevertheless, so long as blacks are in your country at all they are a threat; with the aid and force of PC being what it is, they will make their way through cracks in a racial defense system. While Italian mafia and other men were perhaps busy fighting each other or trying to make money, I would always see two or three interracial couples (pretty Italian woman, Negro male) in just about all sizeable cities that I made my way through in Sicily and Campania - even some not so sizeable ones: a few came into my father's family village during a feast.
Most disturbing to me was the fact that despite the Italian reputation, with few exceptions, I was the only one doing the Italian thing of expressing my indignation and trying to say or do anything about these pairings - and I was the only one who was likely to have any trouble for it. Thus, to get away from the provocation and agitation - with it the rage of mine difficult to control on the front line of racial defense - was a large reason why I opted to live in Poland instead, comfortably ensconced as White and removed from looming threat.
However, I did not leave Sicily before speaking to Cosa Nostra. I told them, urgently, in trance, to stop fighting, destroying and killing each other Italians. I pleaded with them to defend themselves as Italians and Europe; I tugged at the rib of the Godmother; I believe that she heard il Padrino speak through me. Let us hope so, if not pray for that.
The roots of the word and in fact the original purpose of Mafia was in "a wall" to surround and protect the Italian family - at the onset of its organization the threat was from Spanish invasions. However, Sicilians have a deep history of defending against all manner of invasion - including of course from Islam. While the pervasive sounds of church bells rang through the noontime air of Agrigento in a way that might have intimidated Islam at one time, the locals there were the ones who told me that the most critical facilitator in the immigration problem (yes, it was already bad enough in 1998) now is this religion itself - Christianity.
I found that the Sicilians are deep - much deeper than Christianity.
By contrast to the wishes of legacy media, the DM, the cuck mayor of Palermo that the DM presents as an exemplary anti-racist White man, let us hope indeed that they heard il Padrino; that the Mafia will be of some good, and express its true honor, to be that wall, and to help protect the EGI of Italy and the rest of Europe - by means of terror if need be.

Business Insider writer, Ruchika Agarwal, claims that racial discrimination has no scientific basis and yet everybody perceives racial categories. [?]
The particular evidence that she cites being studies that show that people are less empathetic to other races.
She suggest that while it is hard to control unconscious responses, conscious efforts to combat bias and increased interaction with other "races" could help our brains see that our brains are "99.99% the same."
These conclusions by this recent economics and telecommunications graduate from The University of Florida reveal her institutional conditioning.
Despite the fact that everybody perceives racial categories, even on levels of pre-conscious brain function, these categories "don't exist!"
Here are the scientific premises she takes:
1) Race as a category is perceived in neurological responses of the older parts of the brain but 2) can be rejected as categorizations on a conscious level through neural re-routing in newer parts of the brain.
These are the same premises that Dr. MacDonald takes in his classic article, "White Ethnocentrism - Can Americans Really Be Brainwashed?"
However, MacDonald renders diametrically opposite inferences and prescription.
- that racial categories are perceived pre-consciously in older parts of the brain and therefore do exist.
- that racial categories can be consciously denied through conditioning of the newer parts of the brain and therefore that is cause for concern (because it means that Whites can be brainwashed).
- hope of defending against brainwashing through conditioning of newer parts of the brain might be found in the process of making conscious assertion of identification with heretofore implicit White groups - as Scott Roberts is doing by making explicit pro White statements before groups of Trump supporters, who are an implicit White identity.
This kind of thing should be done to counteract the reverse position, the kind of brainwashing that this being promulgated through the University of Florida:
- racial categories are perceived by everyone, even on an unconscious level - therefore do not exist?
- racial categories can be denied by the newer parts of the brain, therefore that is cause for encouragement - [!??] that we might throw-off accountability to the wisdom of our human ecology and systemic history?
- racial categorization might be overcome ultimately through increased mixing with other " " races" " as it will compel people to overcome their implicit identities - [!??] i.e., their precious, ancient evolution survived through a myriad of struggles and adaptations?
Business Insider, "There is no scientific validity to this dangerous and pervasive notion — yet all of us are probably guilty of it"

In their 2009 paper in The Journal of Neuroscience, researchers at Peking University did an experiment in which they showed white and Chinese students clips of white and Chinese faces both in pain and not in pain while they measured their brain activity using functional magnetic resonance imaging (fMRI). The researchers were paying particular attention to brain activity in an area of the brain called the anterior cingulate cortex (ACC), which scientists think plays a key role in registering our own pain and empathy for another person's pain.

For all of the participants, ACC activity was significantly higher while they were viewing painful expressions on the face of someone of their own race, and lower when they viewed pain on the face of another race. The results were in accordance with the hypothesis the researchers started with — that social relationships between individuals influence empathic responses, where an individual experiences higher empathic responses for those in the same perceived social category.

[...]

No one wants to believe that he or she is racist. However, there is enough conclusive evidence to suggest that the vast majority of us are either consciously or sub-consciously less empathetic toward people of other races. While it is hard to control subliminal responses, a conscious effort to act without bias could be a way to combat the surreptitious racism. Or maybe increased interactions with different 'races' could help our brains see that we are 99.9% the same.
Merkel: intent on revenge and genocide of Germans

TNO, "Germany Introduces Forced Integration" 16 April 2016:

The German government is to give nonwhite invaders preference in the job market and will legally force residential mixing in terms of a new "integration law."

The law will artificially create 100,000 jobs which will exclusively be allocated to "refugees"—even though there are currently 1.81 million Germans who are unemployed.

To enable this preferential treatment, a currently-existing law which requires employers to give preference to German job applicants will be suspended for three years—in other words, unemployed Germans will be pushed to the back of the seeking-work queue in favor of the nonwhite invaders.

The seasonally adjusted harmonized jobless rate in Germany was, according to Trading Economics, recorded at 4.3 percent in February of 2016, unchanged from the January rate. This means that 1.81 million Germans are out of work.

The proposed law, announced this week by the Angela Merkel government, is being packaged as a measure designed to make "refugees integrate into society in return for being allowed to live and work in the country."

Under the conservative-socialist coalition government's measures, the "asylum seekers" will face cuts to their welfare payments if they refuse to attend language classes or "lessons in German laws or cultural basics."

It has not been said what these "cultural basics" will entail, but, given their behavior in Germany up to this time, they will probably include exhortations not to rape, rob, commit crime, how to use toilets, etc.

The new law will also "punish" the nonwhites if they move away from the white German towns where they have been placed—because the law says the forming of "ghettos" must be prevented.
At the same time, Israel practices racial separatism, seeing no reason to take-on immigrants, let alone assimilate them with integration. On the contrary, the Jews protect their E.G.I. as sacrosanct while compelling others to blend-away theirs with each other.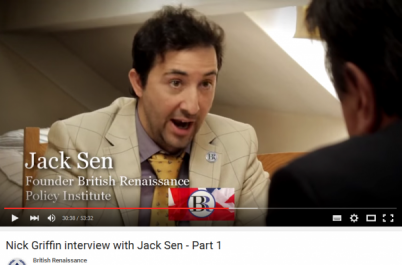 Senscreen
: "What are your thoughts regarding nationalists today [...] groups like National Action, even London Forum's Jez Turner? They seem quite fixated on the Jews to an extent that, it seems to be harming our efforts, I think." Nick Griffin: "Yes, I think it does."
Particularly as I was the instigator of the original phase of skepticism with regard to "Giacomo Vallone", with critical remarks in regard to the positions he espoused in an interview with "Dana Antiochus" at Renegade Broadcasting, it is relevant to weigh-in on this matter. While that exchange quickly exposed him in a lowly and amateurish sock-puppetting effort at dividing Europeans against each other, the combination of that amateurishness and the obvious anti-racial nature of his position caused me to not take him, or his associated "European Knights Project", too seriously. Still, his motives were of the worst kind. It has more serious implications as that project has germinated into controversial engagement with prominent ranks of White advocacy.
Is he the same person as Jack Sen? Well, both Sen and Vallone are associated with the European Knights Project. That's enough for me to dismiss them both. That is why I will only belatedly confirm together with you as to whether or not it is indeed the case that they are one and the same; though a cursory comparison of Sen and Vallone discussions seem to indicate one identity, we know enough about both of them already to dismiss them.
My run-in with Giacomo Vallone wasn't the first time that I had to take serious issue with a guest at another network - I took issue with Mark Dyal at Counter-Currents, and I still believe that I was right to do that as well: The thanks I got for that was being banned from Counter-Currents (oh well). Mark Dyal showed up as a guest of Dana Antiochus with the same kind of bullshit and I had another run-in with him there: Renegade should have appreciated that bit of critique also. However, I've also had reservations about Dana Antiochus - though I might be unfair to him. While I tried to be friends with Renegade, as you'll see, they turned out to be too right-wing in the end.
I tell you this - that Metzger is right about right-wingers.
They are disingenuous and/or naive and their tentosphere is always ripe for infiltration.
Anyway, the scandal in the tentosphere now is not only to see Giacomo Vallone as a fraud who has made his way into conversation with White Nationalism, but that he's actually the same person as Jack Sen - also having made his way into conversation with WN.
I was repulsed by Giacomo Vallone for a number of reasons from the onset, but he and his "European Knights Project" not only managed to get interviews with Renegade et al., but notably with Professor MacDonald. MacDonald is a bit too open to those with advanced academic pedigrees (Vallone claims to have graduated Princeton) and demeanor and a bit too closed to those without that. But that's another matter and not a major point here; MacDonald is a wonderful scholar despite sometimes not being the best judge of character.
In general, it is right-wingishness and desperation for social prosthesis to compensate for their anti-social positions that creates this vulnerability; a tentosphere trap that Jews maintain - a key objective being to keep us as right-wingers and "THE Left" as the enemy.
Now then, I was a bit skeptical (and couldn't be bothered since he is out of the ballpark) about the possibility that Vallone was the same person as Sen. Nevertheless, I already had sufficient evidence that Vallone and The European Knights Project are bad news: promoting civic nationalism, promoting black and mixed race people (e.g., "part black people are OK") and for some reason, inciting strident hatred between Germans and Poles; and apparently anybody and Poles; not only that, but using sock-puppets to instigate that divisiveness.
There was no reason to doubt that his dealings with White Nationalism were disingenuous and it was disappointing that MacDonald, et al., would entertain him. Mike Delaney also spoke with Vallone not long ago - an interview posted by Anglin - but these latter two are middle brow right-wingers, so their rubbing elbows with Vallone did not pique my attention in the sense that one of "ours" was being infiltrated. I would be quite happy for the Daily Stormer to crash and burn. It deserves to.
Then Jack Sen came onto the radar screen of WN, appearing at Jez Turner's London Forum and on Kevin MacDonald's site. These are people that I like, even if their right-wingishness causes them problems. I even posted the talk Sen gave to London Forum here at Majorityrights - it was about UKIP being controlled opposition, infiltrated by Jewish interests and so on. That didn't raise red flags for me - if he, KM and Jez suddenly liked each other, it seemed that he might indeed be a guy coming to his senses. What was curious, however, was his association with The European Knights Project, and Vallone, as I already knew that they were colossal bullshit.
Still, I'm not regularly following the goings-on of every right-winger as I already have their perfidy conceptually circumscribed. I might look at what they are up to, as they are engaged on the same turf, consider what is useful and reject what is not; but I'm not letting them dictate my terms, any more than I'd let Jews do it. So, if they want to rub elbows with Giacomo Vallone and the European Knights Project, it's their ship that's going down. I advise White advocates not to be right-wingers, but that's all I can do. KM, Greg Johnson and the rest of those among what I've taken to calling the tentosphere have tended to double-down in their position that "The Left" is the enemy.
Matt Heimbach is also cooperating with Sen and The European Knights Project - it seems as if there might be a corollary there, probably unbeknownst to Heimbach, to his being banned from The U.K. Sen was so disappointed about the ban?
Coming back to the show that has taken center ring for now, it is clear that "Giacomo Vallone" is bad news, but is he also the same person as Jack Sen? That really would be something as we will see in a moment by some of the implications.
But even if they are not the same person, the very fact that Sen would be associated with Vallone and the The European Knights Project is damning enough.
Lets set out the thread beneath the 2013 interview of Giacomo Vallone by Dana Antiochus at Renegade.
If it's Jack Sen doing this sock puppetry then that really would be something. We'll come to what Jack Sen might be up to after I set out this thread where I started the fight which initiated the awareness that Giacomo Vallone might be something more negative than just an ignorant newby. I begin with the first comment and before long, you'll see what will be shown to be Vallone using sock puppets to instigate German-Polish animus.
Renegade, Dana Antiochus interviews Giacomo Vallone, 14 Oct 2013

Comments

DanielS
2 years 5 months ago

Giacomo Vallone's remarks are not only tactless to the cause of mutual cooperation of European nationalism, but wrong..
We have a great deal of respect for the work of Professor Kevin MacDonald and Dr. Tomislav Sunic here at Majorityrights.
However, the historical analyses and social criticisms of capable academics do not necessarily extend to sober prescriptions with regard to political requirements at hand and that is a fact unfortunately in evidence by their AFP's proposed Cabinet for a Trump Presidency.
While most people recognize that a White Nationalist political party putting-forth a platform and candidates is not likely to have a great deal of success at this point in history, what can be expected is that they use the platform to get an articulate message out, one that well represents European/White peoples. However, with the Cabinet that The American Freedom Party proposes for a Trump Presidency, they undermine not only that nominal value of running for mainstream political office, but the very credibility that they could have lent as exponents of White interests.
Nevertheless, the substantive issues to be dealt with are too important and therefore I want to avoid alienating people who should be on our side by proceeding to simply flout the ill-conceived offerings of some of White Nationalism's leading proponents; I will therefore spread blame around since its blunder is in truth most likely to be a joint effort.
Instead of focusing on any individual with their pants down, I want to look at a situation where the distortions of momentary euphoria and surprising cooperation have fueled the nostalgia and desperate larping of old timers, who should know better than to allow the insufficiently experienced to cast a net on their behalf all too wide in search of popularity - a big, big tent approach, or a tentsophere all too grand, for a more apt metaphor. I will venture this hypothesis as to the psychology behind this offering, more specifically, the apparent psychology of the positions of those who appear to be behind it. My guess (hypothesis) is as follows:
With the euphoria of the realization that their Internet radio programs are gaining wide audience and the fact that they were able to come together and to some extent combine their disparate audiences for a radio show at each other's networks (here and here), James Edwards and Lana Lokteff were able to influence a desperate lot of right-wing WN with the idea that they've got White representation figured-out and that they can bridge the differences between various right-wing positions in negotiation of the tentosphere.
What Lana and James do not understand is that they are afforded the opportunity by our enemies to do their thing for significant negative reasons - they are right-wingers who the Jews and liberals can count on to take people into easily controlled positions where not into positions so stigmatic and idiotic as to turn-off intelligent and capable people who might otherwise join our side.
Along with their effusive self congratulations, James Edwards and the Political Cesspool do a great job of repelling and/or stigmatizing WN from their first and foremost position as Jesus freaks. Despite that significant drawback, Keith Alexander is an intelligent man and is the brains behind the outfit. James is ordinary at best. However, he's gotten so caught-up in the enthusiasm of his show's WN popularity and the fact that despite being a Jesus freak, he has been able to combine efforts with another show taking-off in WN popularity - Red Ice - despite its espoused paganism and its position that Christianity is destructive to European interests. They are both intoxicated by the possibility of pooling their audiences and James even goes so far as to refer to the anti-Christian, Lana, as "a great mind."
In addition to larpish paganism, Lana, Red Ice, Radio 3-14, etc, traffics in idiotic conspiracy theories and Hitler/Reich resurrection - Red Ice will not for long suffer anybody who denounces Nazi Germany, doesn't think their objectives were perfectly conceived and entirely legitimate, who thinks Operation Reinhardt was a fact, etc. Where pandering to Reich nostalgia does not gain audience, they are all too happy to gain audience through a litany of conspiracy theorists too boring, too tediously absurd and too many to enumerate.
Enter the right-wing old timers and academics who are getting desperate - so desperate that when they see the kind of broad audience that these right-wing kids on the block are having, they want to believe it represents rigorous truth - after all, they are objectivists, they have the numbers, therefore what they are saying and doing must be good and true.
What then would James Edwards say? He's having success. He's a board member of The American Freedom Party. He has the approval of that Yankee PrOfessor MacDonald. He can represent wholesome 1950's Christian America. He thinks Pat Buchanan is fine and good .."unnecessary wars", the "revisionists" have it figured-out and all that bit.
James is getting real politically sophisticated too now. A regular pragmatist. He is even willing to reach-out into the big tentosphere and pool his efforts with the pagan/Hitler network, Red Ice.
Lets get swept-up with his enthusiasm and even larp a cabinet for President Trump. Oh, my, the right-wing: alt-right and tentosphere.
With the enthusiasm of this discovered magnanimity, he might try out his candidacy for "Press Secretary" of President Trump's Cabinet.
But even so, being the humble guy that he is, he will ask the counsel of his wise elders.
The counsel has a key new member - his imagination. And a central orientation to this new imagination is to project what he figures would please Lana Laktoff's audience to round-out the tentosphere's base - to make-up a cabinet that Donald Trump couldn't possibly lose with.
He's not fooling around here and as sure as "there is not a wasted word in the bible" and the ways of its elders hold the truth, he would never be so foolish as to place all hope in Lana's non-Christian audience. He'll also take into advice, real or imagined, those he and his close cohorts have more common rapport with:
James and Lana have inspired the counsel of Daniel Johnson, Keith Alexander, MacDonald, Sunic, Jared Taylor, Paul Gottfried…and ?
The result is this American Freedom Party "proposal of a Cabinet for Donald Trump."
I want to be kind. It does not make me happy to be critical or to cause humiliation, if it does. However, one of the crucial services that MR ventures to perform is to look after the correct theoretical - translate metapolitical - underpinnings of European representation.
Therefore, we will not treat this as it might seem at first blush - like a prank by our enemies - and will instead examine this list presented by American Freedom Party members. It is apparent that older members of pre-Internet, ivory tower insulated or business compromised positions have gotten swept-up in the enthusiasm of the Political Cesspool's and Red Ice's popularity, dubious though it, and the judgment behind it, may be. We will look at how the people in these proposed Cabinet positions would not well represent White/European peoples.
The bizarre eclecticism of this proposed Cabinet is an expression of - "tentosphere" prosthesis - its social organizational ineptitude:
American Freedom Party
2753 Broadway, Suite 245
New York, NY 10025
www.theamericanfreedomparty.us

FOR IMMEDIATE RELEASE

March 28, 2016

Re: The Board of Directors of the AFP Offer a Proposed Trump Cabinet

The current policies of the federal government have resulted in considerable dispossession of America's founding stock. Indeed, its awkwardly promoted policies of "diversity" are in reality tantamount to the physical removal of Americans of European extraction. At long last, we have in the candidacy of Donald Trump a possible bulkhead against the forces that are destroying the peoples of European extraction worldwide. We believe, therefore, that it is necessary for Donald Trump to choose his "Ambassadors, Public Ministers and Councils" with great deliberation while keeping in mind that, as president, he represents all U.S. citizens, including large segments of dispossessed white Americans. The present proposal is only a suggestion and an opinion of ours, which in no way implies that we are requesting Donald Trump's agreement or endorsement of the American Freedom Party. We would like to point out, however, that a significant number of American citizens of European extraction, often summarily labeled in the media as "White nationalists," are firm Donald Trump's supporters.

In this wise, the American Freedom Party proposed to Donald Trump and the American people the following persons for his Administration's key posts:

Vice President: Gov. Chris Christie. Governor Christie possesses the experience and temperament to balance a Trump Ticket.

Secretary of State: Sen. Jeff Sessions. Secretary of State is such an important position in a Trump administration that President Trump should pick someone whom he can rely on totally. This person is Senator Sessions.

Secretary of Treasury: Sen. Rand Paul. Senator Paul's father, Rep. Ron Paul, would be a better choice for this position, but due to the senior Paul's age, we feel that Senator Paul would handle this difficult assignment admirably—primarily because of father's teachings and influence.

Attorney General: Congressman Trey Gowdy. Congressman Gowdy has been a U.S. prosecutor and is a Tea Party member. He would be a good, solid choice for Attorney General.

Secretary of Defense: Newt Gingrich. Mr. Gingrich informally advised Defense Secretary Donald Rumsfeld and hopefully has learned that foreign entanglements are bad for America.

Secretary of Homeland Security: Ann Coulter. Ms. Coulter will do what needs doing and she will give proper direction and coordination with the Secretary of Agriculture to achieve administration goals.

Secretary of Labor: Oregon Governor Kate Brown. In keeping with Donald Trump's populist underpinnings, Oregon Governor Kate Brown would be a good choice. She is a proven champion of a living wage.

Secretary of Health and Human Services: Prof. Kevin B. MacDonald. Professor MacDonald is renowned worldwide as professor of Psychology at California State University, Long Beach (emeritus). He has written numerous scholarly works and is the leading White advocate and scholar.

Secretary of Transportation: Elon Musk. Mr. Musk is such a leading figure in industry, engineering and transportation (both on earth and in space) that every president should seek his advice and service.

Secretary of Energy: Senator John Thune. Senator Thune is a great choice for Energy Tsar because of his leading role in the senate in formulating energy policy. Also, because of his polished demeanor, his very presence commands respect.

FBI Director: Former Congressman Virgil Goode. Virgil Goode is an excellent choice for FBI director because he was a member of the Liberty Caucus, a libertarian-leaning congressional group and while he has strong, white-nationalist leanings, he will protect the individual liberties of all Americans—something that has been missing in past FBI directors.

Secretary of Veterans Affairs: General Jack Keane. General Keane is a four-star general and recipient of the Legion of Merit.

Secretary of Agriculture: William Daniel Johnson. Mr. Johnson is Chairman of the American Freedom Party. He is a farmer and a white nationalist. This cabinet post is extremely important because it handles food stamps and WIC (women, infant and children) food subsidies. These programs will be powerful tools to achieve repatriation of 30+ million illegal aliens in America.

United States Trade Representative: Senator Bernie Sanders. Senator Sanders is for protective tariffs. He would be a good choice to move America away from the job-killing trade approach of the last thirty years.

United Nations Ambassador: Jared Taylor. A clear choice for UN Ambassador is the urbane and intellectual Jared Taylor, founder of American Renaissance, the leading white advocate educational organization.

EPA Director: Jill Stein. Jill Stein is (and has been) the Green Party's presidential candidate. She would do an admirable job in protecting our environment for generations to come.

OMB Director: Former Governor Gary Johnson. Libertarian presidential candidate and former governor of New Mexico, Gov. Johnson has an outstanding record of spending reduction against a spendthrift state government. As Director of the Office of Management and Budget, he will keep executive spending in check.

Surgeon General: Dr. Ben Carson. Dr. Carson endorsed Donald Trump early on. This position would be good for both Dr. Carson and the nation.

Press Secretary: James Edwards. James Edwards is the host of "the Political Cesspool" radio show, a pro-white radio show. He has been a leading figure in the media fight to stop the genocide of the white race. President Trump could do no better than James Edwards in this position.

Poet Laurate: Michael Derrick Hudson. Not only is Mr. Hudson an accomplished poet, he courageously exposed the anti-white bias in today's poetry publishing world.

Chief of Staff: Former Governor Sarah Palin. (Last listed, but first in importance.) Gov. Palin's most demanding task will be in the dismantling of the below agencies.

Cabinet positions and Agencies to be Eliminated: We propose that the Trump Administration eliminate the following Agencies and their cabinet posts.
Secretary of Interior
Secretary of Commerce
Secretary of Housing and Urban Development
Secretary of Education

Very truly yours,
Tom Sunic, Ph.D
AFP Director in Charge

Contact: Tom Sunic, Ph.D, Director
Cellular 00385 91 1722 783 (Zagreb, Croatia)
or (213) 621-3000
Fax: (213) 621-2900
Email: .(JavaScript must be enabled to view this email address)
Sometimes I notice stories that are so awful that I almost think it's some kind of joke, before I realise that it's actually serious.
Here's one such example of this:
Daily Mail, 'Militant teachers demand schools stop promoting 'British values' as it makes children from other cultures feel inferior', 28 Mar 2016:

That moment when memes meet reality.

Guidelines want to encourage children to appreciate British values
But teachers reject the move, which they say is linked to colonialism
Critics have accused teaching unions of waging 'ideological war'

Teachers are demanding that schools stop promoting 'fundamental British values' over claims it could make children think other cultures are inferior.

The National Union of Teachers said telling children about the country's democracy, law and traditions could encourage 'cultural supremacy' and urged a new focus on 'international human rights' instead.

Under government guidelines, which are aimed at tackling extremism in the wake of the Trojan Horse scandal, children must be taught about being a British citizen as well as tolerance other faiths and lifestyles.

However, union leaders said the term was demeaning to other cultures 'particularly in the context of multicultural schools and the wider picture of migration'.

Delegates passed a motion in favour of campaigning to scrap it during the NUT annual conference in Brighton today.

Christopher Denson, an NUT representative from Coventry, said: 'We need to fight to reject this notion of British values, to fight for notions of human values and human rights.

'We have to stand together across communities to bring down barriers, bring down borders, to say no to Islamophobia, no to anti-Semitism, no to fascism and any form of racism.'

The motion said that migrants make a 'huge economic, political and social contribution' to the country and that public services and businesses would 'face severe difficulties' without them.

It criticised the government for only taking in a 'minute fraction' of refugees and vowed to campaign for 'policies that welcome' them to the country.

The union agreed to 'gather and collate' teaching materials on migrants and refugees for members to use in classrooms from now on.

Mr Denson said he disliked using the term 'fundamental British values' in his classroom when many of his pupils had ancestry in countries which had encountered British colonialism.

He said: 'The inherent cultural supremacism in that term is both unnecessary and unacceptable.

'And seen with the Prevent agenda, it belies the most thinly veiled racism and a conscious effort to divide communities.'

He added: 'It's our duty to push real anti-racist work in all schools. And that doesn't mean talk of tolerating other's views, but genuine, inclusive anti-racist work.'

He said he had requested a week of themed assemblies every year in his school, with topics including apartheid and the rise of Islamophobia 'in the context of anti-Semitism in the 1930s'.

'This year we focussed on the migrant crisis in Calais, the Mediterranean and beyond,' he added.

'We organised a politics day for Year 8s [aged 12 to 13] in the week before Easter.

'They had a day to form a political party in their tutor groups to come up with a manifesto, film a broadcast, and make banners and take part in a debate.

'Apart from the quality of the work, the other thing that really made my proud was that every single tutor group had as a policy, 'refugees welcome, open the borders'.

'We need to be pushing at every level for anti-racism to be in the core curriculum for every child.'

Many of the activists at the conference said they had been to migrant camps over the channel to take food and provisions.

Christine Blower, general secretary of the NUT said: 'Schools and teachers play a key role in welcoming migrant and refugee children and young people to this country, and supporting their progress within schools.

'The NUT condemns the Government's inadequate response to the current migrant situation, which has exacerbated the suffering for so many, including school-age children and young people.

'The NUT has produced a guide to Welcoming Refugee Children to your School and has a dedicated section on its website for teaching resources which have been provided by teachers for teachers, on the issue.

'The NUT will continue to work with Show Racism the Red Card, Hope Not Hate and others, to campaign for Government policies that welcome migrants and refugees to this country. The NUT will also continue to press for anti-racism work to be enshrined within the curriculum of all schools.'

The requirement on schools to teach fundamental British values was introduced in 2014 in a bid to crack down on extremism in schools.

It followed the Trojan Horse scandal, in which state schools in Birmingham were infiltrated by hardliners who tried to impose an Islamic agenda.

Ofsted, the schools regulator, has been penalising schools which do not sufficiently show that they are promoting British values.

Chris McGovern, of the Campaign for Real Education, said: 'Teachers should not be playing the role of fifth columnists in the ideological war currently being fought over our national identity and our national sovereignty.

'Teaching children that British values are part of "cultural supremacism" will, at best, make them feel guilty about being British and, at worst, radicalise them in order to 'make up' for the sins of their fathers.

'If one wishes to destroy a nation and build a "brave new world" you begin by indoctrinating and brainwashing the children.

'This process of 're-education' has started some years ago in our schools and we are, now, seeing its consequences in the suppression of free speech on our university campuses.

'The notion of 'value relativism' - that all views are equally valid - has reached saturation point in our schools.

'In many classrooms this has led to the views of terrorists being given equal weigh to those of the victim of terrorism. Against this background the latest motions from the NUT come as no surprise, at all.'

The Department for Education has been contacted for comment.
I'm sure that the Department for Education will be just as speechless as I am right now.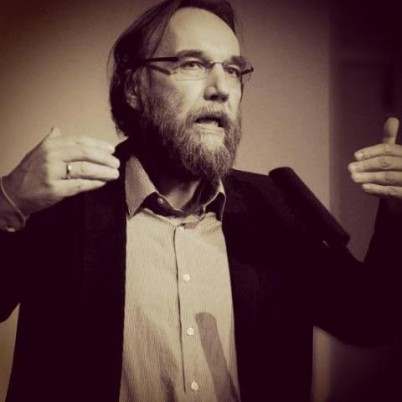 Dugin/Stark interview
: Beginning concession to White Post Modernity
Whereas he used to have a completely botched notion of post modernity - mixing-up what should be the antidote to modernity and liberalism with liberalism itself - it now appears that we are improving Dugin's understanding - viz., that modernity is the problem and the essence of liberalism.
His ideas in this talk are largely amenable and well considered.
His proposition that the state is a bit too much of an artifice to suffice by itself and that there needs to be a hypothesized realm, as we would say, beyond the physically verified moment, which girds and orients a people, is also well considered.

However, now that we are getting him to a better understanding of "post moderntiy", viz. White post modernity, we need to get him to a better understanding of biological reality and "racism."
Anti-racism is the quintessential modernist liberal notion; it is a Cartesian farce: It has been proposed as innocent but it is not -
Anti-racism is prejudiced, it is not innocent, it is hurting and it is killing people.

For "racism" is a necessary concept in a benign form, which is not supremacism nor a singular conclusion to aggrandizement and annihilation of an opposing people (as YKW propose and liberals might accept as a definition). It is in fact, a practical concept that is practiced by ordinary people everyday of necessity, as a non-Cartesian requirement of the human condition, of being in the world - one must discriminate in human-sized categories, including social classification - of one's own people and of other peoples - to form a coherent basis of ones own and to form a basis of human ecologies for our systemic coherence, social accountability, warrant and agency.
These classifications are "hermeneutic", that is to say that they are not absolutely empirically based in every moment, as the taken-for-granted and the state of partial knowledge - faith, if you will - must subsist behind the working hypothesis.
Call it a working hypothesis, call it faith, call it rules, call it narrative, call it taken for granted, call it the partly unknown, call it a mystery, a quest, an adventure, some of that as you must, some of it you might, as it has practical function to ensconce the under-determining facts of the empirical; but I have believed and continue to believe that a sacred overlay, in orientation and guidance of a people is a good idea.
I believe that it is a hermeneutic notion nevertheless, which is itself accountable to deal concretely with biology, sex and genetics, mediating toward fairness and justice in regards to this social capital - otherwise, without this empirical accountability, this "spiritual" realm will be the realm of evil charlatans.