Majorityrights Central > Category: Global Elitism
Alex Linder interviewed (try not to let the Australian accent of his interviewer bother you).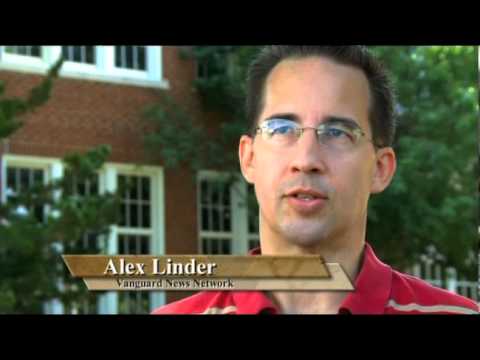 There is or can be a misunderstanding.
- that I simply want to refrain from going ahead and killing Jews et al. on principle, naivete or for petty moral reasons.
- that I and we could not be content nor ever recognize that we'd be better off if they were gone.
But that is not the case.
It is the case rather that it is generally not a good idea to announce that you want to get them all whether you think it is necessary or not.
It would be hard to realize but worse, might work to our detriment if not conceived and promoted properly.
It is not only a strategic matter but a theoretical matter: for what we want ultimately is separatism (killing is a species thereof).

Separatism can be argued not only by broader and more practical metrics, but if it is achieved, it is more feasible for the purpose of killing - as opposed to taking the stance that even while they remain tangled up in our hair, we might succeed in the complex affair of teaching people to know, psychologically, what to do because Alex says so (bold and intelligent though most of his arguments are)...
As opposed to Alex saying so, if they are to be killed it would be for the broadly intelligible, broadly acceptable (therefore possible to facilitate) and operationally verifiable reason that they will not leave us alone when given the option, but insist on their imposition to our exploitation and long term extinction - a verifiable consequence and reason for their imposition - to eliminate us as a people, therefore a highly assertable warrant to preempt it.
This could be demonstrable even in their refusal to allow our benign and fair act of separating and expelling them from our people.
Given these considerations hence, my motto: separatism is the first step, separatism is the ultimate aim, separatism is always possible.
I love pointing-out to people, right-wingers, who want to blame youth culture of the 60s as the onset and crux of our demise (not you, GW), that Jewish power and influence combined with Modernist naivete were the forces that were the major culprits - and that they were well in force already in the 50s and early 60s, well before kids grew their hair long, listened to rock n' roll and resisted the Vietnam draft.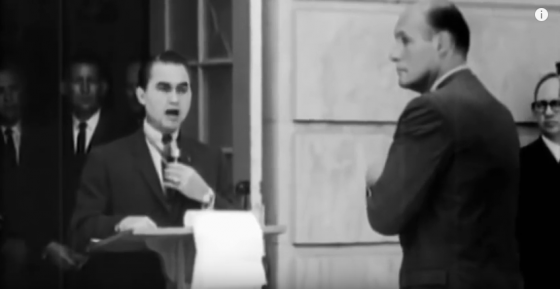 Take note of Michael O'Meara's discussion of how The Soviets and other Marxists/communists used black "civil rights" as a weapon against America; also note my reinforcement that Jewish interests, via Katzenbach, prominently, were only too happy to facilitate what was then more straightforwardly referred-to as "integration."
Kennedy had been ignoring Vice President Lyndon B. Johnson's advice, to "look Southerners in the eye and tell them that integration was a moral and Christian issue."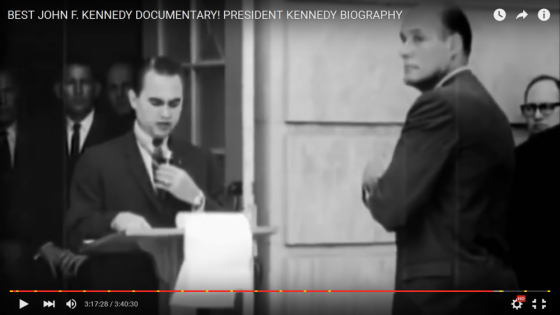 Governor Wallace, posturing as if to stand in the way of integration, is confronted by Katzenbach
Watching Wallace's posturing, President Kennedy decided for the first time in his career to risk his political standing in the South by taking the side of integration. President Kennedy decides to go on national television that night and give a speech calling for a civil rights act to end discrimination in the South.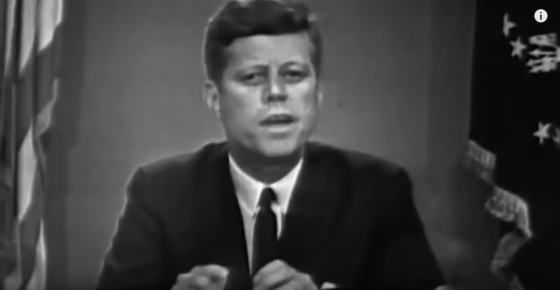 "We are confronted primarily with a moral issue. It is as old as the scriptures and as clear as The American Constitution. The heart of the question is, whether all Americans are to be afforded equal rights and equal opportunities (He 'finally' calls for Federal law ending segregation). Next week I shall ask the Congress of The United States to act, to make a commitment that has not been fully made in this century to the proposition that race has no place in American life or law."
This, GW, is why not only the Arahamic universalism of The Right, but its wedding to Enlightenment style objectivism (and universalism) must be overcome as well - and it is the post modern project, proper, which has undertaken to do that.
Kennedy is also the one who got us into the Vietnam debacle with a strategy of showing strength against communism with "small wars."
The documentary concludes..
'Kennedy set so much in motion in such a short period of time"...
Perhaps the most reliably good outcome of Kennedy biographies are the endings.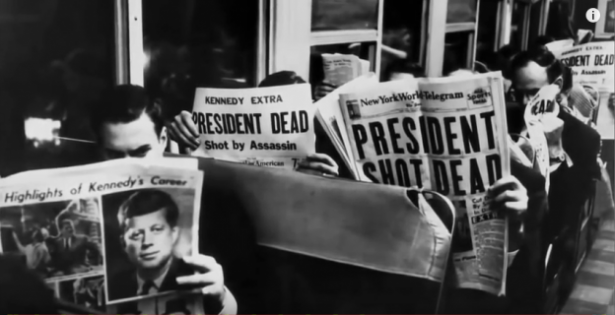 While I am adamant about the right and oughtness of fighting when one's own borders and EGI are being infringed upon, I am not a hawk. Geopolitical warfare has never been something that appealed to me, let alone with any sort of passion.
I'm very averse to the idea of going beyond my national boundaries to fight, particularly when my own nation is totally screwed-up, needs tending and where innovative thinking might solve problems as opposed to trying to solve them by resorting to warring abroad.
The problem is that there are valid arguments that there are vital requirements along the Silk Road, in the Middle East and in Africa - resource and population management that is indispensably necessary even to the most innovative and independent peoples. In these concerns, I'm going to invite the reader to consider with me the possibility of re-drawing ethno-nationalist and regional lines on this map.

As you can guess, conversations with Kumiko have got me taking these matters under consideration, and I hope that she will soon put up an article discussing issues that the neo-cons have failed to make in clear and persuasive terms.
Tangential to neo-con issues is an interesting philosophical question for another day: how, in detailed form, to set up a rule structure which will sort out and punish the genetic legacy of criminals; and facilitate the rebirth of those genetic components that have suffered unjustly at the hands of criminals in previous generations. In this case, I am thinking more in terms of those who have historical grievances with Russians - while it is true that I don't feel this grievance as do some others that I've known, it is nevertheless only practical to set the question aside for the time being - though it is a question that can apply to any people who have benefited or suffered from historical atrocities.
Europeans, now, are asked even more fundamental questions than relative guilt and merit, but are asked to address the matter of our identity, period - that we are a people (different from Jews and others), to establish who we are, what the nature of our common moral order is, to understand that the obfuscation of that would-be peoplehood is a part of a war against us - and that there is, indeed, a war against us; finally, we are asked what is the nature of that war and what it consists over?
When considering these matters from a White Nationalist perspective, Russian people are not conceived as inherent enemies, nor, even, is the humongous expanse of their nation high on the list, if on the list at all, of things intolerable to allow to remain. I can imagine living with it - it's always been that way in my lifetime; its reach contracted after the fall of The U.S.S.R., but still remains bigger than Pluto.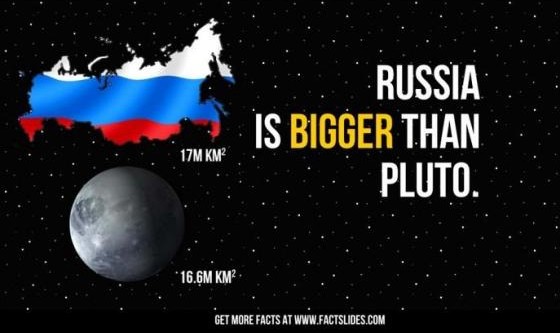 Nevertheless, we ought to reconsider this from an Asian perspective, and from a perspective of acute European interests.
I didn't expect to have occasion at this point to consider aloud the possibility of attempting to align formal industrial military objectives with ours as White Nationalists. Oil, resources, even absurd and brutal regimes in the Middle East and Africa inflicting harm upon their own do not stir any passion in me to fight. The function of Asian countries and Western countries do, however, have requirements and rationale to get these nations under compliance. And in hopes of facilitating the human resource of Kumiko's military perspective, I am going to imagine empathic military geo-political objectives, so that we might envisage a grand chess board result in our victory.
From that standpoint I attend to the fact that as nationalists and as White people in particular, fighting for the survival and sovereignty of our nations, that militarization and the geopolitics of resource and population management will ultimately be necessary.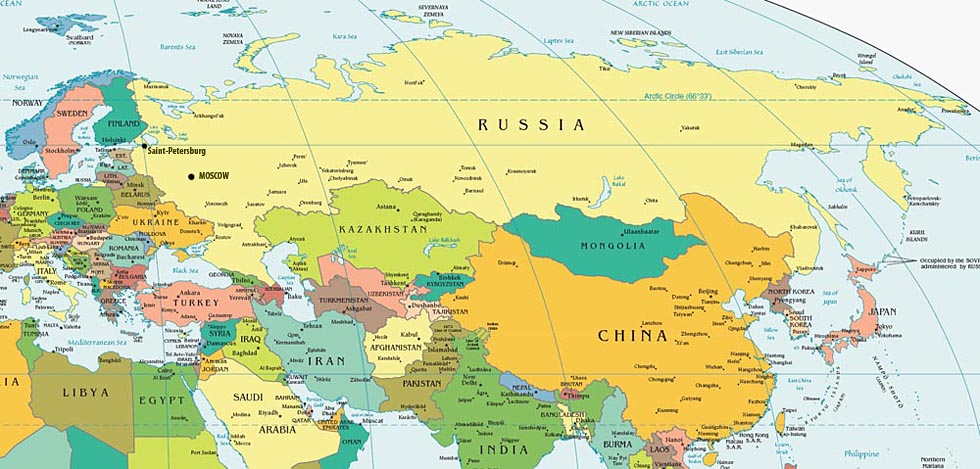 Asia and the West have things that we need from one another, including cooperation against antagonisms from the Middle East and Africa.
Not only do we need resources from these places but we need mutual help in border control and repatriation projects.
What about Russia? It is so big. Why not just work with them and allow its vast space to become a place for White people to grow into?
While it is true that another traditional passion for some war mongers is hating Russians and maybe I should hate them, I don't hate them. Nor do I care if people want to move there; furthermore, I completely understand not wanting to fight them. I don't want to fight Russians; the war in Ukraine has been instigated by Judaized and neo-liberal means and motives and it disgusts me.
Even so, WN tendencies to look upon Russia as the great White hope ignore the propositional, neo-liberal, mercantile and Judaized aspects of Russia - as if its political class has no corruptions analogous to The US that will wreak havoc with such projects to connect with Russia as a partner in White Nationalism.
On the other hand, while I favor Ukrainian and Belarusian sovereignty, as I favor all ethnonational sovereignty, I am opposed to a hot war approach with Russia to increase their sovereignty.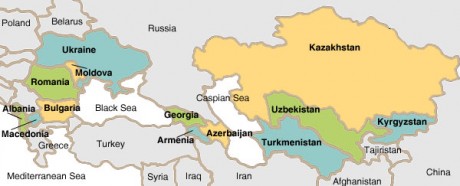 But neither am I in favor of a hot war approach to defending Russia's humongous eastern stretch and southern conflicts.
Rather than abandon to foreign invaders the natural ethnonationalist homelands of our European evolution and engage in White flight to move into lands that apparently represent imperialist aggrandizement - beyond ethnonational mandate - on the part of Russia, to reiterate, neither am I particularly interested in fighting to protect Russia's imperial overreach.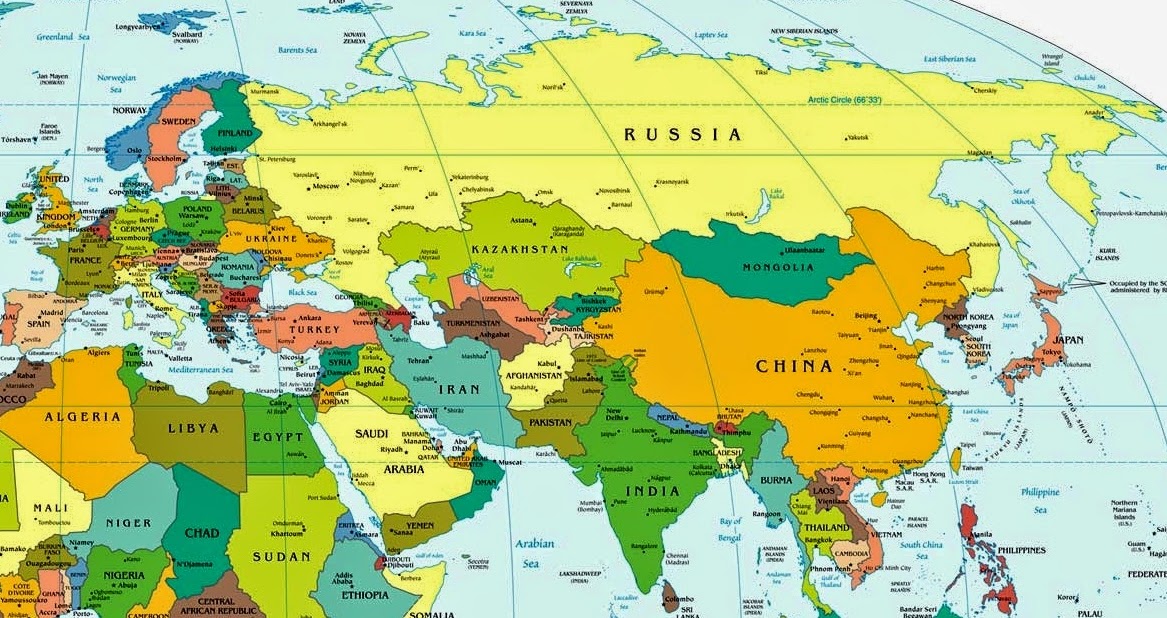 In a word, defending what is apparently an imperial over-reach is Russia's problem and an issue that can be turned to our advantage as Europeans in order to gain cooperation with our EGI, its borders and vital resources.
We need Chinese, Japanese and other Asian cooperation more than we need Russia's imperialist headaches; and China and Japan are not about to start loving Russia more than their own interests which are impacted by Russia's Eastern and Southern interference.
We need cooperation with Asia to compel compliance with regard to resource, EGI and border management. And we might compel Russia's compliance as well with those needs by means of the West's regional alliance with Asia.
Thus, while we might not engage a war of maneuver in either Russia's west nor east, we might well consider lending approval to Asian positioning in Russia's east and south.
That is, allowing the "stick" (as opposed to "carrot") of some of these lands as potentially sovereign Asian places: with enclaves Russian and enclaves Asian, the farther east you go, the more the general area would be Asian with fewer Russian enclaves and vis a versa - the farther West, the fewer Asian enclaves until you reach a point where it would be a Russian only ethnostate. And the carrot to Russia would be less contentious relations with its neighbors and more secure borders itself as it cooperates. That is not necessarily a bad deal.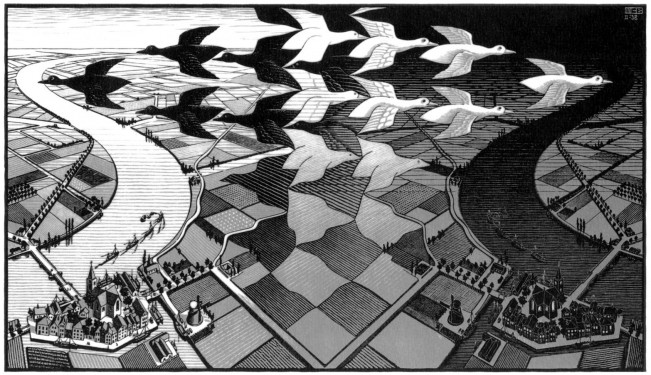 Toward an Asian-Atlantic regional cooperation.
1. The genetic-make-up and territorial boundaries of the European ethno-states shall be restored, maintained and protected.
2. To achieve this end we propose alignment with the Asian ethno-states and region.
3. Something like the E.U. and North Atlantic would be necessary to achieve that alliance and its success.
However, it will also involve some quid pro quo.
4. First, we see it as being in both of our interests to secure our peoples against impositions of Middle-Eastern and African populations; against imposition of the Abrahamic religions; and against interference of these peoples and religions in our vital resources.
5. Toward that end, it is in the interest of both Asians and Europeans to remove these populations to the greatest extent possible from our geo-political territories; and, again, to remove significant imposition/interference upon our mutual vital resource interests.
6. Sacrosanct European territories in the Americas, Australia and New Zealand will likely need to become smaller at any rate in order to be maintained and defended. But with the increased manageability of defense will come an opportunity to offer cooperation to Asians to have some sacrosanct territories of their own in these places. We will respect and cooperate with one another toward the defense of our territories in diaspora, seeing African and Middle-Eastern (saliently Jewish and Muslim) populations as those who must be guarded against and compelled to as great a distance from our people as possible, removed from civic nationalization and its proximity.
7. Russia/ns will be seen as having an analogous situation to White Americans. In order to have a safer, more manageable ethno-state and something to offer in exchange with the Euro-Asian regional alliance, they will be required to contract in size considerably, particularly from its expanse eastward into Asia and its geo-political interference there and to its south, unilaterally along the Silk Road. Russia's ethno-state will be more secure as it will be forced into a more cooperative and less antagonistic relation with the rest of the geo-polity.
The key deal is this: we will compel Russia to relinquish parts of its territory (leaving it no good choice but to comply). In exchange we will require Asian assistance in cleansing and defending our territories from imposition by non-natives - particularly Africans, Middle Easterners, Muslims and Jews. And we will require compliance in securing our vital resources and transportation routes.
The advantages to European peoples and Asians in this alliance is clear.
But what regional and national lines might you imagine and what advantages to Russia and others do you see for compliance? Discuss.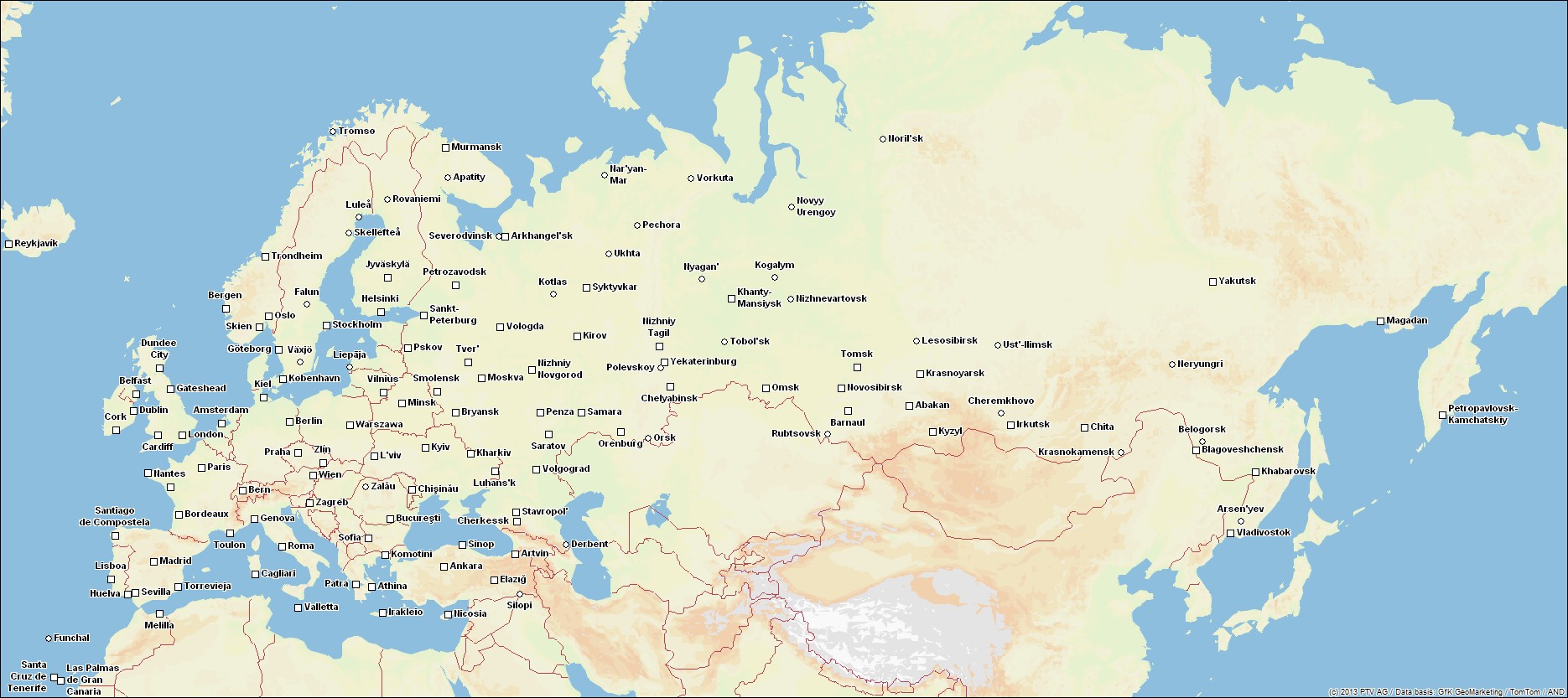 As there are no Russian cities larger than 600,000 east of lake Baikal (near the city of Irkutsk, centrally to the north of Mongolia), and only four larger than 300,000, one way of arranging the pockets, enclaves, ethno-state outposts as it were, would be to have a symmetrical "M.C. Escher-like" arrangement (as in the image called "Day and Night" above), i.e., an entering of these enclaves into the others general regional sphere - enclaves which would, nevertheless, represent sovereign states.
Note: I can see how this could create incentive for Eastern European nations to cooperate - from a position of strength and in cooperation with White diaspora (note the interview of Tomasz Szczepański under the fold).
The plan would emphasize deportation and re-doing citizenship in favor of native lines, viz., on the basis of ethnostates. That is unlike the Moscow - Berlin - Paris axis, which apparently seeks to reconstruct the same old right-wing, propositional/objectivist oil interests.
The Eastern European nations may agree to cooperation despite history of disputes (sometimes serious), and facilitate this ethno-nationalist and regional cooperation if their borders and native populations are guaranteed. If they are a part of a plan that guarantees that and necessary resources from the Silk Road - accomplished by increased cooperation with Asia and a Russia dealing from a cooperative position; then perhaps ethnonational and regional alliance with Asia can work. I.e, Russia has to offer more than trade in natural resources garnered through its vast expanse and fist waving at anybody who doesn't see their interests being secured inasmuch.
The area that is to be reserved as sacrosanct to the Russian ethnostate would be contracted from imperial dimensions and more in line with ethno-national proportions.
It is a contraction in concession to cooperation with other ethno-European nations that WN America will likely need to undergo as well.
This will make Russia more defensible and more worth cooperating with for the rest of Europe and Asia - as they will be required to join this Euro-Asian regional cooperation against middle eastern interference - whether Arab, Islamic or Jewish, they will be beholden to our terms and we will have the necessary resources of the Silk Road.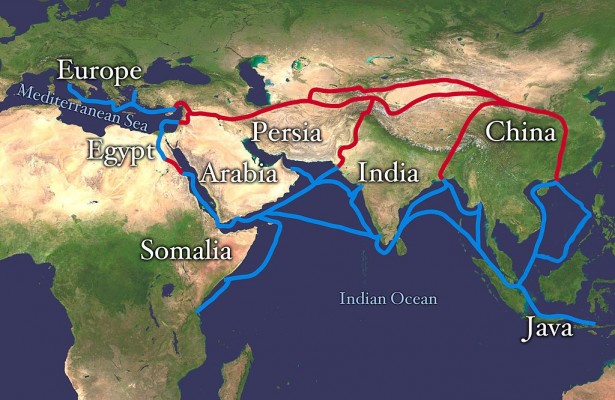 The other side of the deal for compliance and cooperation to garner vital resources, is that our vital EGI will be cooperated with in protection as well - including not only in border defense, repatriation and de-nationalization of the majority of non-natives from European and Asian countries, but most strictly the border defense, de-nationalization and removal of non-natives from European nations; while allowing for some accountable quota of Asians and Europeans in one another's nations and regions.

Refugee Resettlement Watch's 10 Reasons For Moratorium. Appeal To Rep. Goode & Doing good for Doing good - The Golden Rule.
I add "the golden rule" to the title sarcastically - not only to chide those lining their pockets in the name of Christian altruism. This rule that has been passed onto European moral orders altogether disingenuously, from Judaic prescription to Gentiles (Jews do NOT abide by the golden rule), has been as catastrophic as any imbibed of Jewish chimera. This edict from "the sermon on the mount" is completely illogical and self destructive. There is a key distinction that needs to drawn by contrast, which is logical - morally and otherwise: the silver rule.
Note: these articles are being re-posted from the MR News section (5 Dec. 2015) as they bear more attention. Now that Ann Corcoron is taking a break from the excellent work that she's been putting out, it's time for MR to pick up some of the slack and forefront her efforts. MR has an added benefit (from our POV) of being able to expound from a distinctly pro-White/Native European, secular perspective.

Noticing the style of the "moratorium" logo and its coincidence with an appeal to Virgil Goode, I couldn't help but find it reminiscent of Dietrich's VoR design..

...and also that Virgil Goode represented a unique experience for me, to actually be talking with a Congressman as I produced the Stark interview with him. Congressman Goode stayed available on my Google chat and otherwise in communique with me for several months afterwards. That was funny for me, in a good way. Though it should be normal, how many Congressmen speak openly with our kind? It speaks well of him. Ann Corcoran has placed her appeal in the right direction.
Here is the post of the Stark Interview -
VoR, The Stark Truth: Interview with Virgil Goode, 25 April 2012:


Rep. Virgil Goode

Robert interviews Virgil Goode. Topics include:

The Constitution Party;
The need for reduction in immigration both legal and illegal;
National sovereignty, NAFTA, and the North American Union;
Foreign policy and the Iraq war;
Energy independence.

Virgil Goode is the presidential nominee for the Constitution Party. He represented Virginia's 5th Congressional District as a Republic from 1997-2009. He previously served in the Virginia State Senate as a Democrat.
Refugee Resettlement Watch, 'Re-post: Ten reasons there should be a moratorium on refugee resettlement', 5 December 2015:

Posted by Ann Corcoran

Now that the mainstream media and the public are waking up to the UN/US State Department Refugee Admissions Program and how it has been operating for the last 35 years, I thought it would be a good idea to re-post this testimony I gave to the US State Department (first in 2012 at its annual scoping meeting and repeated in 2013 and 2014).

Anne Richard is the Asst. Secretary of State for Population Refugees and Migration. Here she testified last month at a House Judiciary Committee hearing on Syrian refugees. She needs to produce the hearing record for the 2015 'scoping meeting' which we believe was held in secrecy. Photo and story about Judiciary hearing: http://www.breitbart.com/big-government/2015/11/19/state-dept-official-syrian-refugees-less-threat-stops-tracking-3-months/

I just mentioned it in my previous post on annual reports.

As far as we can tell, the US State Department did not hold a public scoping hearing in 2015 (for FY2016) because we never saw a notice for it this year. In these 'scoping meetings/hearings' they ostensibly seek public input on the size of the program for the upcoming year and they want to know what countries should be the focus of protection.

The 'scoping' meeting (like a hearing) was usually held in late spring/early summer of the preceding year. Prior to our attendance in 2012, these meetings/hearings were dominated by the resettlement contractors and their groupies.

One more thing, the State Department does not keep and publish a hearing record for this meeting. The only way we could ever learn what others were saying is to obtain the hard copy testimony by attending in person! There ought to be a law!

Here is my testimony in 2012 (repeated in 2013 and 2014):

Ten Reasons there should be no refugees resettled in the US in FY2013—instead a moratorium should be put in place until the program is reformed and the economy completely recovers.

1) There are no jobs. The program was never meant to be simply a way to import impoverished people to the US and place them on an already overtaxed welfare system.

2) The program has become a cash cow for various "religious" organizations and other contractors who very often appear to care more about the next group of refugees coming in (and the cash that comes with each one) than the group they resettled only a few months earlier. Stories of refugees suffering throughout the US are rampant.

3) Terrorist organizations (mostly Islamic) are using the program that still clearly has many failings in the security screening system. Indeed consideration should be given to halting the resettlement of Muslims altogether. Also, the UN should have no role in choosing refugees for the US.

4) The public is not confident that screenings for potential terrorists (#3) or the incidences of other types of fraudulent entry are being properly and thoroughly investigated and stopped. When fraud is uncovered—either fraud to enter the country or illegal activity once the refugee has been resettled—punishment should be immediate deportation.

5) The agencies, specifically the Office of Refugee Resettlement (ORR), is in complete disarray as regards its legally mandated requirement to report to Congress every year on how refugees are doing and where the millions of tax dollars are going that run the program. The last (and most recent) annual report to be sent to Congress is the 2008 report—so they are out of compliance for fiscal years 2009, 2010 and 2011. A moratorium is necessary in order for the ORR to bring its records entirely up-to-date. Additionally, there needs to be an adequate tracking system designed to gather required data—frankly some of the numbers reported for such measures of dependence on welfare as food stamp usage, cash assistance and employment status are nothing more than guesses. (The lack of reports for recent years signals either bureaucratic incompetence and disregard for the law, or, causes one to wonder if there is something ORR is hiding.)

6) The State Department and the ORR have so far failed to adequately determine and report (and track once the refugee has been admitted) the myriad communicable and costly-to-treat diseases entering the country with the refugee population.

7) Congress needs to specifically disallow the use of the refugee program for other purposes of the US Government,especially using certain refugee populations to address unrelated foreign policy objectives—Uzbeks, Kosovars, Meshketians and Bhutanese (Nepalese) people come to mind.

8) Congress needs to investigate and specifically disallow any connection between this program and big businesseslooking for cheap and captive labor. The federal government should not be acting as head-hunter for corporations.

9) The Volag system should be completely abolished and the program should be run by state agencies with accountability to the public through their state legislatures. The system as presently constituted is surely unconstitutional. (One of many benefits of turning the program over to a state agency is to break up the government/contractor revolving door that is being demonstrated now at both the State Department and ORR.) The participating state agency's job would be to find groups, churches, or individuals who would sponsor a refugee family completely for at least a year and monitor those sponsors. Their job would include making sure refugees are assimilating. A mechanism should be established that would allow a refugee to go home if he or she is unhappy or simply can't make it in America. Short of a complete halt to resettlement-by-contractor, taxpayers should be protected by legally requiring financial audits of contractors and subcontractors on an annual basis.

10) As part of #9, there needs to be established a process for alerting communities to the impending arrival of refugees that includes reports from the federal government (with local input) about the social and economic impact a certain new group of refugees will have on a city or town. This report would be presented to the public through public hearings and the local government would have an opportunity to say 'no.'

For these reasons and more, the Refugee admissions program should be placed on hold and a serious effort made by Congress to either scrap the whole thing or reform it during the moratorium. My recommendation for 2013 is to stop the program now. The Office of the President could indeed ask for hearings to review the Refugee Resettlement Act of 1980-–three decades is time enough to see its failings and determine if reauthorization is feasible or whether a whole new law needs to be written.

Information on the three hearings we wrote about and attended are archived here, here and here. (Those files include posts in which we referenced the hearings/meetings as well.)

By the way, Richard revolved into the State Department from her contractor job at the International Rescue Committee. She had a previous stint at the State Dept. The revolving door is alive and well between contractor and federal agency involving refugee resettlement.

Come on, you can do it! Say "MORATORIUM", 5 Dec 2015:

Posted by Ann Corcoran


She could not be "vetted."

Where are you Virgil Goode?

Did you see that even the NY Times wrote about the female Islamic terrorist, how there was no way to "vet" her or to "screen" her as she came to live among us. Any logical person can see that. There was no d*** data, no biographic or biometric information to tap! And, if asked about any terror connections in personal interviews she certainly didn't tell the truth.

So, don't you wonder why only TEN US Senators can see that and that 89 others are so willfully blind. See our post on Senator Paul's failed attempt at a moratorium on issuing visas to those coming from jihad-producing countries.

And, here see Daniel Greenfield on the killers yesterday. If you read nothing else from Greenfield's post, this is the line every one must grasp:

It's a matter of simple math that as the population most likely to commit terrorist acts increases, so do the acts themselves.

I went back to our archives to see when I first heard anyone suggest a MORATORIUM on Muslim immigration and want to give a shout-out to former Virginia Congressman Virgil Goode who saw the San Bernardino slaughter coming 9 years ago! Learn about how the politically correct harpies at the Washington Post treated him then. His position, in support of a moratorium on legal (Muslim) immigration to America cost him his seat. We told you more about him here in 2010.

Political correctness is dead! Everyone of you must start saying the 'M' word! MORATORIUM! Moratorium on Muslim migration to America, NOW!

Thank you Mr. Goode! Goode is a Trump supporter in Virginia today!


Rep. Virgil Goode


See more to the story below..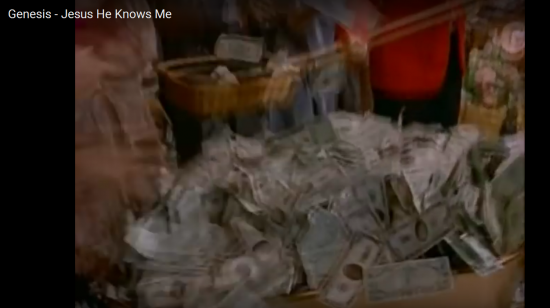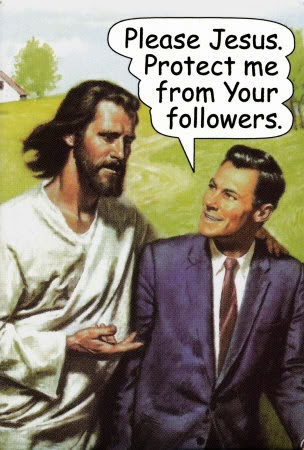 ...and…
Refugee Resettlement Watch, 'Lutheran Social Service of Minnesota is responsible for the Somali chaos in St. Cloud', Posted by Ann Corcoran on March 26, 2015:

If you are angry (about the tension in St. Cloud) and want one entity to blame, it is Lutheran Social Service of Minnesota, the primary federal refugee resettlement agency working in St. Cloud!

That supposedly 'Christian' charitable organization is directly responsible for the high Somali numbers in St. Cloud, and they are jointly responsible for bringing over ten thousand Somalis from around the world to colonize Minnesota towns in the last ten years alone—Catholic Charities and World Relief MN (now Arrive Ministries)*** helped also. Of course they have brought many more than 10,000 in over two decades and not just Somali Muslims!

Rumor has it that 1,500 new Somalis are going to be resettled by the Lutherans in St. Cloud this year. (This is part of former Rep. Michele Bachmann's district!)


Doing well by doing good? Jodi Harpstead is making over $300,000 a year to seed St. Cloud and other Minnesota towns with Somali Muslims.

These three 'Christian' phony non-profits (phony Christians!) could stop the US State Department's further seeding of the state if they just said NO! We won't resettle any more Muslim 'refugees.' But they don't! Why?

Why? Because it is big business (as we learned from Lutherans in New England)! They dare not challenge their sugar daddy—the federal government! And, they must be afraid of the growing power of the Islamists and the Islamist front group—Council on American Islamic Relations (CAIR)—which they are responsible for unleashing on the city of St. Cloud.
So how much money does it take to buy the Lutherans?

Back in 2013 we told you that then Minnesota Lutheran CEO, Mark Peterson, was pulling down a salary of $441,767.

We went to a recent audit linked on their website and here are some numbers we found (audit ending September 30, 2014):

They had total revenue of $103,135,439 and received $91,887,312 from GOVERNMENT FEES AND GRANTS. (Go here and click on 'financials' to see for yourself).
That makes them 89% government funded! That is a government agency not a charity, and surely not a 'Christian' charity!

The progressive 'religious Left' is living off of the US taxpayer!

Doing well by doing good?

Salaries and payroll accounted for $57,929,172 of your money—your tax dollars for that one year!

Jodi doesn't pull down a salary as high as Peterson (LOL! War on women?) her predecessor did, but it is fairly substantial none-the-less as we learned from a recent Form 990. She was compensated with $280,812 and an additional $42,495 came from related organizations (whatever that is!).

Her second in command, Kenneth Borle, made $202,087 and $33,192 (from related organizations).

They have 8 other employees making over six-figure salaries!

Go here for the others in leadership at Lutheran Social Service of Minnesota responsible for building the aggressive and demanding Muslim population of the state.
And if you are looking for more people to blame for what is happening to Minnesota, here is the Board of Directors (do you know any of them?):
Board of Directors

Greg Vandal, Chair
Nancy Rystrom, Vice Chair
Cathy Norelius, Secretary
Sue Haffield, Treasurer *
Bishop Thomas Aitken
Dan Anderson
Mike Anderson
Rev. Dr. Eric Barreto
Ann Beatty
Dr. Paul Dovre
Jon Evert
Nicole Griensewic Mickelson
Rev. John Hogenson
Rev. Dr. Rolf Jacobson
Jen Julsrud
John Mattes
Artie Miller
Joanne Negstad
Joan Wandke Nelson
Rev. Mark Skinner
Bishop Ann Svennungsen
Rev. Mari Thorkelson
Lori Wall

The main office of Lutheran Social Service of Minnesota is here (below). It is time to let them know how you feel, to put the pressure on the organization directly responsible for disrupting St. Cloud.
Good Lutherans especially need to speak up!

Lutheran Social Service of Minnesota
2485 Como Avenue
St. Paul, MN 55108
651.642.5990
800.582.5260

And, according to the US State Department's handy list of contractors the St. Cloud Lutheran resettlement agency office is here:

LIRS
MN-LIRS-08: Lutheran Social Services Of Minnesota
Address:
22 Wilson Avenue Suite 110
St. Cloud, MN 56302
Phone:
320-251-7700
One more thing! Tell Rep. Trey Gowdy what he has in store for his community if a refugee resettlement site is established in Spartanburg, SC.

See our complete archive on St. Cloud here. And, click here, for an enormous archive on Minnesota. See especially our earliest post (2011), and one of our top posts of all time, when we first learned of the three 'Christian' groups swamping Minnesota with Somalis at the behest of the US State Department.

*** An indicator that the heat is on some of these phony Christian organizations is that they are changing their names. Note that World Relief Minnesota is now Arrive Ministries and Lutheran Social Services of New England is now Ascentria Care Alliance.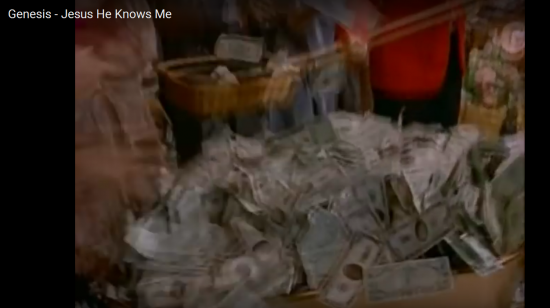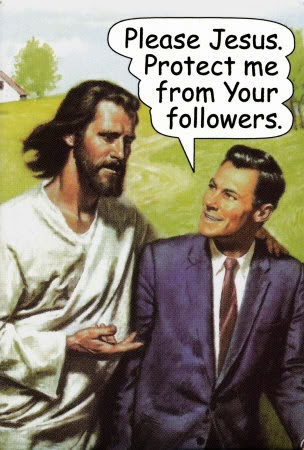 Issues of Christianity aside..
Here is Ann Corcoron's excellent outline of her inquiry into the governmental processes involved.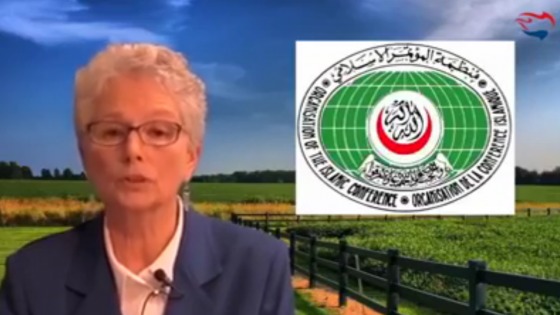 Ann Corcoran
I wanted to know what was the governmental process that allowed the resettlement of refugees?
Who gave permission?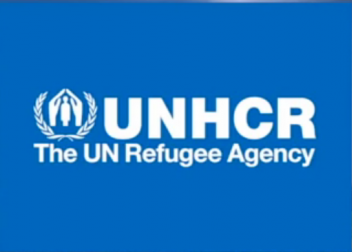 I have learned about a Federal program that is 35 years old this year - The United Nations High Commissioner For Refugees
has been choosing most of our refugees.
It is under the influence of a powerful Muslim supremacist group called "The Organization of Islamic Cooperation."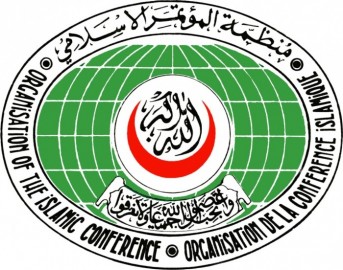 Not surprisingly, a large number of U.S. bound refugees are coming from countries with large numbers of people who hate us: including Somalia, Afghanistan, Iraq and soon from Syria, just to name a few.
The U.S. State Department then distributes the refugees to 9 major Federal contractors - six of which are so-called religious charities, but - all are largely funded from The U.S. Treasury:
Church World Services (CWS)
Ethiopian Community Development Council
Episcopal Migration Ministries (EMM)
Hebrew Immigration Aid Society (HIAS)
International Rescue Committee (IRC)
US Committee for Refugees & Immigrants (USCRI)
Lutheran Immigration & Refugee Services (LIRS)
United States Conference of Catholic Bishops (USCCB)
World Relief Corporation (WR)
They are not passing the plate on Sundays for the one billion dollar price tag for the resettlement. And that figure does not include the extensive welfare benefits that refugees receive.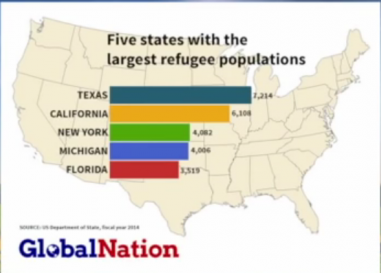 The refugees are then sent to over 190 cities and towns in the US where the 9 major contractors support 350 subcontractors.
The refugees receive help from the subcontractors for up to six months; and the subcontractor then submits paper-work to admit the relatives of the first group.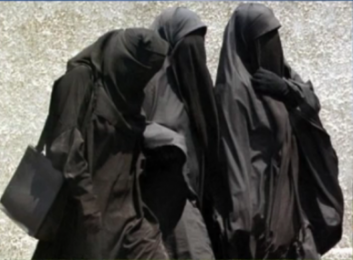 Many [Muslims] are forming cities within cities, where mosques are being built to consolidate, train and promote the Islamic supremacist doctrine called "Sharia."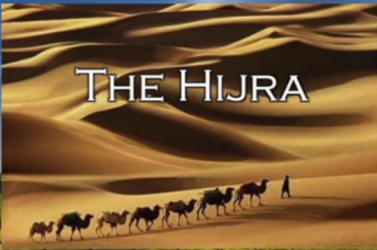 This process of Muslim colonization is called "The Hijra."
Muhammad told his followers to migrate and spread Islam in order to dominate all the lands of the world.
He said that they were obliged to do so.
And that is exactly what they are doing now with the help and support of
The UN, The US State Department and the Christian and Jewish groups assigned to seed them throughout the country.

Your tax dollars pay for it all.
We only need to look to a troubled Europe to see the path ahead for America if we can't stop this migration and stop it soon.
There is no reason on earth that we should have brought over 100,000 Somalis, and another 100,000 Iraqi Muslims to America…
Soon we will be resettling Syrian Muslims in large numbers..
The FBI told Congress recently that they cannot be properly screened.
If you don't help counter the Hijra, we are, in my opinion, doomed.
Over time this migration will be more devastating to your children and grandchildren and to our country than..
More devastating than any terrorist attack could ever be.
..give 'who' hell? For Jewish academics to play both sides of "PC" is nothing new. While the re-normalization and motion to institutionalize social classification is a positive development - via 'give-em-hell Trump' in his campaign talk - the most important issue in the end, is not just normalization, but where the lines of institutionalized discrimination are to be drawn.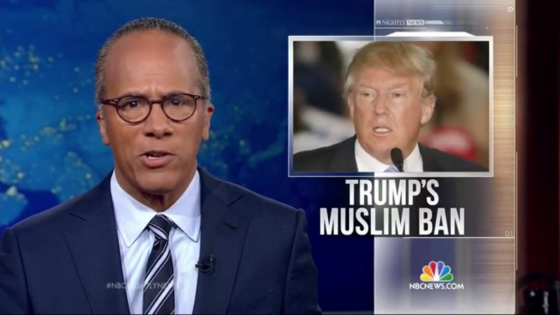 Trump is saying some things that we might like to hear, with a candor that purports contempt for "political correctness", a candor that has not been heard from the last 11 Presidents at least, spanning more than 60 years.
With that, he flouts the avoidance of "racial profiling" for having allowed the San Bernadino attack. It is indeed a positive development to assert the validity of "race" as a criteria.
"There were people who knew bad things were going on [with the family], and they didn't report it because of racial profiling."
Moreover, he takes the validity of "profiling", i.e., classifying people, a bit further to say that there should be a "total and complete shutdown of Muslims entering the United States."
NBC, 'Trump Calls for 'Complete Shutdown' of Muslims Entering the U.S.', 7 Dec 2015:

Republican presidential frontrunner Donald Trump on Monday called for a "total and complete shutdown of Muslims entering the United States," the most dramatic response yet to the string of terrorist attacks that have Americans increasingly on edge.

Trump released a statement citing polling data he says shows "there is great hatred towards Americans by large segments of the Muslim population."

Trump Calls for 'Complete Shutdown' of All Muslims Entering U.S.

"Until we are able to determine and understand this problem and the dangerous threat it poses, our country cannot be the victims of horrendous attacks by people that believe only in Jihad, and have no sense of reason or respect for human life," Trump said.
Yes, it is a candor and a disdain for pseudo-intellectual and polite appearance that we have not heard from a President since "give-em-hell Harry Truman."
Excellent though it is that race and other social classifications, and borders, are being re-invoked by "give-em-hell Trump" and that he is taking steps to re-normalize and re-institutionalize these criteria as a legitimate basis for discrimination…
one might wonder what, say, Japanese, et al., might think about who-for and how the "no-nonsense" lines are being drawn.
Playing "for/against PC" is nothing new for Jewish academia; i.e., one side playing "vanguard" while the other is "hand of restraint."

Playing "for and against PC" is nothing new for Jewish academia: In this 1990 essay for the New York Times, Richard J. Bernstein is playing the role of "restraint" -

New York Times, 'IDEAS & TRENDS; The Rising Hegemony of the Politically Correct", 28 Oct, 1990:

Central to p.c.-ness, which has roots in 1960's radicalism, is the view that Western society has for centuries been dominated by what is often called "the white male power structure" or "patriarchal hegemony." A related belief is that everybody but white heterosexual males has suffered some form of repression and been denied a cultural voice or been prevented from celebrating what is commonly called "otherness."

But more than an earnest expression of belief, "politically correct" has become a sarcastic jibe used by those, conservatives and classical liberals alike, to describe what they see as a growing intolerance, a closing of debate, a pressure to conform to a radical program or risk being accused of a commonly reiterated trio of thought crimes: sexism, racism and homophobia.

"It's a manifestation of what some are calling liberal fascism," said Roger Kimball, the author of "Tenured Radicals," a critique of what he calls the politicization of the humanities. "Under the name of pluralism and freedom of speech, it is an attempt to enforce a narrow and ideologically motivated view of both the curriculum and what it means to be an educated person, a responsible citizen."
The restrained activist vs the activist vanguardist
In a generation before, Supreme Court Justice Felix Frankfurter* played the role of "restraint," viz., the role of "activist restraint" opposed to "activist vanguard" - a role that shabbos goy Earl Warren was duped to take the lead in, as Chief Justice of an "activist Court."
We should be on the watch as well, then, for the shabbos goy being fore-fronted as the "vanguard activist", as:
Earl Warren was for the 1954 de-segregation (integration) decision and 1964 "civil rights" legislation..
Teddy Kennedy was for the 1965 Immigration & Naturalization Act,
Either Trump or Hillary Clinton can be used for - what? - we might not know exactly what for sure yet, other than that it would be another travesty. Hillary Clinton may well fit the role of shabbos goy "vanguardist" for their next demonstration of "chutzpah."

* Frankfurter, a Jew, presiding as Chief Justice in the Supreme Court prior, fancied his "a restrained activist Court" - and referred to his successor, Earl Warren, as "the dumb Swede" - worried that he would take the bait in such a headlong way of "activist vanguardism" that he would create an overly strong reaction.
Note: As it bears more attention, this article is duplicated from the MR News section, where it was originally published, 8 December 2015.
European Indigenous Ethno-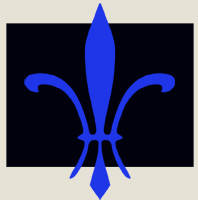 National & Regional Alliance

Hitler as Caesar: Historical lessons to be learned and new friend/enemy lines to be drawn.
Morgoth:

German National Socialism is the foundation of today's Anti White morality, so even if we granted this Pole everything, every atrocity, every murder and every slur, you can even say the Nationalism Socialism was a flawed ethos because it was merely a reflection of Zionism, which they do at Majority Rights, but that still leaves us in the situation of having to deal with the use of National Socialism to mentally cripple our people, and that would even include Poles and Ukrainians today, who would also be called ''Nazis'' for wanting to preserve their identity.

I simply cannot see a way around it or under it or over it, we must go straight through it and Poles etc are just going to have to deal with it, because if we fall so do they.
Unfortunate though I believe his hypothesis is, Morgoth has his hypothesis there.
By contrast and to repeat, this Italian/Polish American doesn't require ethno-nationalists to grant any guilt trips about Nazi Germany (whatever in particular he supposes that "I require to be granted", I don't know), but I do require fellow ethno-nationalists to be halfway intelligent and honest in drawing battle lines fit to the requirements of today and what we know now.
Morgoth's former picture of the week which, according to him, I wasn't supposed to look at critically: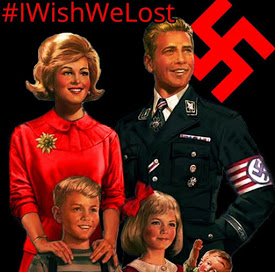 MR has another hypothesis here.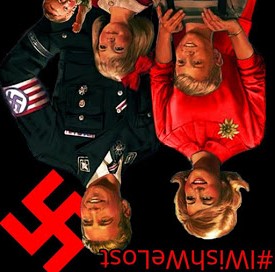 You did lose, and so did all Europeans because proper friend / enemy distinctions were not drawn.
I, we, are fighting with all we can to defend all native nationalists of all of Europe - western Europe absolutely as well. In fact, they are much better off without the justifiably negative stigma and inter-European strife that came along with that regime and its imagery; on the contrary, they can signal their clear cooperation on European ethno-nationalists grounds much better without it.
That's the working hypothesis here.
Poland has a unique situation to argue in nationalist terms. Having been subject to both Soviet and Nazi invasions, it is difficult for our enemies - by that, I mean the enemies of we ethnonationalists - to accuse us, by means of them, of being communists or Nazis - the usual bogey men raised to denounce nationalists. They will try to call all ethno-nationalists "Nazis", you say? Yes, they will try, but anyone who knows the lay of the land (say, in Poland and among Poles), knows that is ridiculous (and no, the next picture of the week that Morgoth put up, of a few bald Poles making Roman salutes behind a "blood and honor" flag is not a representative pattern).
With Poland having suffered among the most of those subject to Nazi invasion, nobody is going to call a true Pole "a Nazi" and have it stick in a credible way.
That typical argument among White Nationalists - "they are going to call you a Nazi anyway, therefore, may as well identify as one" - doesn't hold up.
The accusation remains a problem for many, however, particularly for those of German and German American extraction. As I have said before, the guilt trip is right on top of them - and it is difficult to have perspective - one is either completely at the opposite extreme, such as Frau Merkel, or, as some tactlessly claim, one must "go directly through it" and cop to the identity completely and unabashedly.
It isn't true: but for the guilt trips and the overwhelming abuse of liberalism, one may not have perspective to see any other options.
Whether for lack of perspective for overwhelming guilt trips looming upon them more directly as Germans or German Americans; or resulting from the position of those, such as Italians or Italian Americans, whose more marginal position is susceptible to disingenuous negative classification; or for a lack of empathic perspective for their ethnicity, such as the Irish, not having been particularly in the path of Nazi wrath; the overwhelming frustration pervasive liberalism's destruction has visited upon them tends to manifest two logical fallacies:
1. Overstated premise: Hitler and Nazism necessarily represented "White people" (which, of course, they did not, but only in part).
2. False either/or: It is either Hitler and Nazism or Jewish, neo-liberal rule and its runaway.
Of course cooperative ethno-nationalism is the alternative and proper way out of these illusory paradoxes.
As stated above, Poles, e.g., are in a unique situation to share the relative "innocence" of their nationalist perspective with other nations and unburden them of the guilt trips laid upon them - a service in unburdening ethnonationalist Germany, in particular, of guilt trips.
World War II is history and there is no sense in laying guilt trips upon subsequent generations of Germans and penalizing them.
While the same would apply to virtually all nationals willing to coordinate in ethno-nationalist terms, of course, German nationalism's recent history has been "mythologized" to the point where it is looked upon as pure evil, having had no rational reasons for its actions, operating ex-nihilo of sufficient cause - forcing would-be nationalists to lie prostrate before Jewish and liberal charges of "Nazism."
It was not ex nihilo evil; but neither does defense of Nazi Germany hold up to ethno-nationalist criteria.
So, how do ethnonationalists go about correcting the hubris of liberalism which has run rough-shod over the systemic bounds that ethno-nationalism would otherwise provide for our human ecologies?
And how do we look upon Nazism's imperialist over-correction, an exponential over-reach instigated by Jewish power and influence, neo-liberal powers and some overcompensations from its war-weary neighbors? We look upon it as a history that we can all understand by analogy to many examples in our own lives when we have over-reacted to provocation - now, at our best, we look upon it as history, to learn from. And when we see that our enraged response was directed in the wrong places or without correct measure, we try to do things differently the next time similar provocations arise.
Toward that measure of putting things in perspective and "demythologizing" Hitler, as it were, he is well likened to a Caesar type figure: in regard to whom people now should neither be guilty nor overwhelmingly proud. He did some things well, ok, that we can learn from, but particularly for his intra-European conflict, we should not extol him as a model: Caesar routed the Gauls - oh, good! (not). It would be ridiculous for me to expect people to shrug-that-off as a necessary cost; to say the Gauls "should just get-over it"; to say that all Europeans should affably resonate with and under Caesar's image; and that the Germans of the Teutoburg Forest must get with the program or "just deal with" the fact that we do not have sense enough to draw new lines, with new signifiers and worldview indications, making it clear that we are European allies now..
NPR/ Mary Beard, 'From Gladiator Duels To Caesar's Last Words: The Myths Of Ancient Rome,' 1 December 2015:

Julius Caesar, perhaps the most famous Roman of them all, had just conquered the Gauls in an absolutely brutal series of campaigns that even some Romans likened to genocide ...soon after establishes himself as dictator ...there is a sense that liberty is being removed by an autocratic leader and a group of what were actually his friends, stabbed him in the Senate.
Of course you aren't going to make normal people and people who want to fight on proper lines, entirely copacetic with Hitler and Nazi Germany. But you don't need to; in fact, it's a great disservice to western nations' ethno-nationalism, its share in the perspective on their innocence and trust thereof, a burdensome hindrance to participation in their eminent warrant of defense on ethno-nationalist grounds: because Nazism was not ethno-nationalism, not even national socialist, but imperialism in the end; and it certainly did not represent all White people and their nations.
Of course we must not fall into the trap of intra-European fighting again. But that is not enough - as we all know, we must regain our martial spirit and marshal it in the correct manner. Admire and learn from aspects of war and martial prowess of the past, yes, but the most crucial lesson to be learned, and the point, is to draw correct friend / enemy lines this time; to become ethno-nationalists in cooperation and/or coordination - not to become pacificists.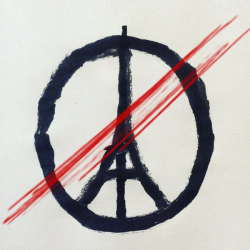 We must regain the will and warrant to kill those who would kill us, you say? Indeed, that is true. But it is a martial spirit that falls in line with ethno-nationalism and regional cooperation as well. Following a line that Bowery articulated: If people will not allow for our human ecology's discretion to exclude them, then they are abrogating freedom from (and of) association and our freedom of voluntary contract; i.e., they are treating us tantamount to slaves and we might even kill them in self defense if they will not cease and desist from that imposition - this will apply even to those who will refuse our orders of deportation and our assessment that they are to lose citizenship and/or right to abode in our ethnonations.

We must secure the existence of our people and a future for White children
Posted by Guessedworker on Mon, 21 Apr 2014 16:59 | #

So, let's look at the key elements of National Socialism - those which are not purely economic, at least - and determine what role, if any, they could have today.

Ayran supremacism (die Herrenrasse)

Today we are seeking to represent our people's natural right to life and land. Supremacism is completely off-target.

Slave-labour

Ditto.

Lebensraum

Ditto.

The cult of the Führer

The English, Scots, and Welsh, anyway, are simply too worldly and cynical to love up the leader to the required volume. Sorry. Can't be done.

The total state

Well, in significant respects the version of democracy we have now is not too far from totalitarianism. But I think the voting public might be quite interested in more democracy rather than less, or in genuine democracy rather than an abuse of it.

State terrorism

Who in their right mind ...

Eugenics, racial hygiene

All we really need is some awareness of self ... some honesty ... and the important aspects of racial life will take care of themselves. Won't they?

The militarisation of society

And so we arrive at the chief attraction, indeed, the only real attraction for many. The Schutzstaffel elite ... the Hitlerjugend ... a prescribed set of actions and horizons for the lost souls of urban Postmodernia. But is there any evidence from WW2, say, that this is the only foundation on which peoples can be called to their own defence? Really?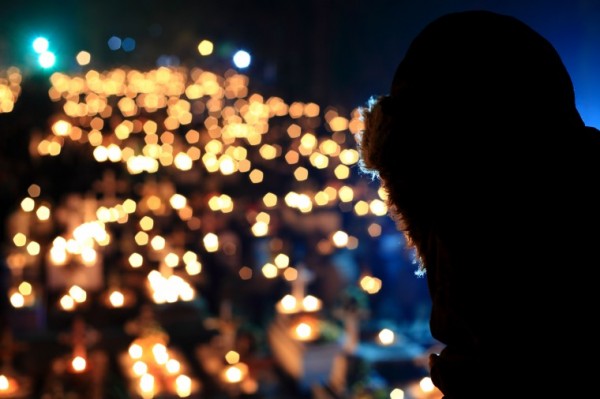 DanielS, in comment 147409 on Wed, 28 Oct 2015 wrote:

Jimmy, while defending the enjoyable pagan sourced holiday of Halloween against the Orthodox Church, we might also take occasion to note that the Christian Church has arrogated what is the most sacred holiday to our ethnic genetic interests, which is the day following - November 1rst - in Eastern Europe it is still a day when European folks commemorate their forebears, visiting the cemetery to pay special respects. It is practiced there in cloaked manner. But reverent respect that should be directed toward our ancestors has been largely diverted by the Church and back into its Judeo-religion; worse still in the west, where the "All Saints Day" (Nov. 1) diversion has been taken so far that our ancestor reverence is but the vaguest remnant, a phantom holiday, somehow indicated on some calendars, but not observed - merely alluded-to very indirectly for those who care to look behind the etymology of the name, "Halloween", and into its true history.
Upon reviewing the matter of Halloween, I see that I was so focused on the importance of the European day of our ancestor veneration - or what should be the point of celebration on November 1 - commemoration of our forebears (typically including a family visit to their graveside), that I lost sight of the fact that the Church was not only distracting from the true significance of the November 1 celebration for us; but also that Halloween itself was not a part of the mere diversion and distraction from the holiday. While many in East Europe see November 1 as an important holiday, Halloween still tends to be perceived by them through the churchly lens as a recent and corrupt affectation imposed from the commercial West, rather than an integral part of the holiday.
My response to Jimmy was correct in the general idea - of the Church burying our most sacred holiday - viz., in reverence of our ancestors - but I had neglected his point in fact of Halloween itself being an integral part of the holiday, not a fluffed-up and commercialized imposition to distract from the real thing: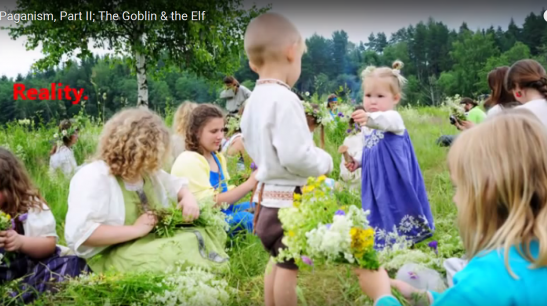 Initiating the children into becoming one with their forebears.
As the most important, sacred, commemorative holiday practice in reconstruction of our EGI through the initiation of our true Traditional Youth is under assault by The Orthodox Church (in this case), it becomes particularly relevant to highlight against the false Traditional Youth and their Orthodox Christian religion of our debates.
Apologies to Jimmy for the initial misapprehension of his post and his purpose:
Jimmy Marr in comment 147408 on Wed, 28 Oct 2015 16:08 wrote (emphasis added):

In evidence by the October 24th, 2015 edition of The Moscow Times, Christ-insanity is continuing to wage its age-old war against [the true] Traditional Youth.

The Education Ministry of northwestern Russia's Arkhangelsk region has banned Halloween celebrations at local schools, citing the holiday's harmful effect on children, the FlashNord news agency reported Monday.

The ministry's statement said that Halloween is "incoherent to basic traditional values and causes a negative influence on fragile minds."

The ban was instituted a week after the Russian Orthodox Church in Siberia's Krasnoyarsk region called on local authorities to ban Halloween on a similar basis, the Komsomolskaya Pravda newspaper reported. Priest Maxim Zolotukhin told local STS-Prima television station that children may get depressed after Halloween because they do not understand the difference between make-believe and reality, and so evil will enter their souls.

Russia's regional authorities have displayed hostility toward Halloween many times over the years.

In February this year, a school director in Siberia's Khanty-Mansiisk autonomous district was fired for organizing a Halloween party at his school last year, the Snob magazine reported at the time.

And in 2013, the Omsk regional Education Minister Sergei Alexeyev issued a letter against Halloween celebrations in schools. He explained that Halloween includes "death cult propaganda" that can damage student's psychiatric and "spiritual-ethical health," local news website NGS Omsk reported.

In 2014, Public Chamber member Georgy Fyodorov wrote a letter to Russia's Culture Minister Vladimir Medinsky asking him to officially ban Halloween. Fyodorov saw the celebration as an "ideological security threat" to Russia and proposed the promotion of traditional Russian festivals instead, the Izvestia newspaper reported.

Inasmuch as the war against Halloween is a proxy war waged by christians against [the real] Traditional Youth, it is little wonder that metaphysical mercenaries would attempt to distort the meaning of that name and use it as spiritual camouflage. Their masters have taught them well.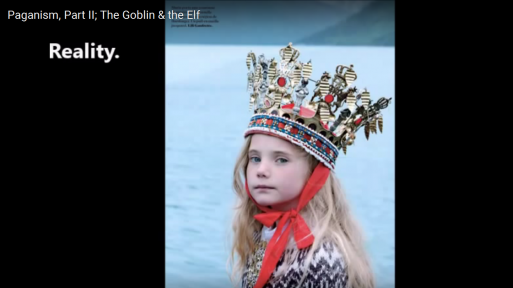 Halloween Ritual for the True Traditional Youth of Europe.
ThuleanPerspective /Youtube Transcript, 'Paganism, Part II; The Goblin & The Elf, 04 Dec 2014:

The children are not [considered] real people yet, not until they go through this initiation rite on Halloween…when they enter the realm of death, dressing up as the dead, taking on the identity of a dead person.. in a sense they become this person.. they have the same name, the same honor and the same death as the person they chose to become in this initiation ritual. The dead person, of course, is one of the dead forbears.

You can say that they believed in reincarnation.
Let us note also the ethnic genetic reincarnation.
Ibid:

So, they are returning to the Yule Tide and they are returning in the night. They are lead by the Sorcerer and the deity from farm to farm with these children to bring them back home… the families wished them welcome with some food on the table… to enable them to eat and feel welcome when they come back home.

During the Christian era, those in Church power wanted to destroy this tradition, they wanted to destroy European culture. So they demonized these children and turned them into grotesque creatures, mocking them for their "superstitious belief in goblins" and so-forth when in reality they didn't believe in any such things.

But the farmers could no longer put the food on a table inside the home for the children because church authorities might find out; so they had to put it into the barn.

These were not evil spirits, they were merely children returning for their initiation ritual [into the legacy of their forebears].

[Even so] the children were perceived by church people as becoming as twisted goblins [misunderstanding their transit with the dead where they were communing with elves, which were the spirit of the dead].

The children are the reborn dead relatives.

The elves were known to always sing, dance and read poetry because they are trying to preserve their memory..

This illustrates what the Christians have done to our culture. They have taken a beautiful, European, pagan religion, tradition, pagan culture, and twisted it…

..turned it into some grotesque mockery of what it really was.

The grotesque, twisted image of our religion was made by the Christians in an attempt to destroy, to weed-out our roots, to cut our roots so that our culture, our peoples would fall.

What the church could not burn they twisted.

But the European culture was beautiful, rich, advanced and most importantly, it was ours.
An argument by Mick Lately:
Mick Lately in comment 147410 on Wed, 28 Oct 2015 18:01 wrote:

I think Halloween is being turned into perverted paganism and that it is part of the whole "weaponized anthropology" campaign. Not to mention that it's "cultural appropriation" for non-whites to celebrate Halloween.

I would support the official ban of Halloween as a temporary wartime measure and allow it and Christianity back when the Jews and non-whites have been defeated.
A significant rebuttal to Mick Lately by Kumiko Oumae:
Kumiko Oumae in comment 147414 on Thu, 29 Oct 2015 02:37 wrote:

Weaponised against who, though? The 'weaponisation' of anthropology is when research of the culture and history of an ethnic group is used by belligerent groups to facilitate their mission objectives. However, our mission objective as ethno-nationalists and ethno-regionalists is to:

1. Defeat those who try promote mass mestizaje;
2. Promote viewpoints which would enhance people's willingness to reinforce national and regional borders;
3. Promote regional integration and common security perimeters on the basis of shared ethnic and cultural heritage, as well as shared economic interests.

In order to prevent our enemies from occupying positions of cultural power, it's necessary to get everyone to quit looking to churches for guidance, because the churches are opposed to everything that we stand for.

There is probably nothing more that the churches would love to do in their own form of 'weaponised anthropology', than to re-colonise the minds of the people through some form of renewed culture war, and thus disarm them mentally before anything even gets off the ground.

You can't just place a temporary ban on culture because [you imagine that] it's 'inconvenient' for you to have to fight on that level. The enemies are not going to suspend their own culture war against you to be 'fair' to you in the meantime.

Jews, Christians, Muslims, and the whole liberal media combine that is arrayed against you, are not going to call truce on you if you promise them that you'll stop celebrating Halloween. They'd just have liberals and Jews hollow it out into a purely commercialised holiday with no content at all, and Christians and Muslims would then bash it and present themselves as a false opposition to such 'commercialism' as part of their own recruiting drives.

Retreating from the sociocultural domain has never produced good results, not ever. In the conflict that is going to come later, these kinds of arguments that are occurring in the sociocultural domain are going to form part of the crucial groundwork that will determine the way that conflict will manifest, how it will be fought, and what the outcome of that conflict will be. Dealing with laying that groundwork can't be put off until later. The content of the conflict and the ideas around which that conflict is fought, determine the nature of the outcome of that conflict in the event of victory.

That is part of why I am never interested in advocating collaboration with Christianity in the pre-conflict environment, not even as a cynical play. That is a losing game, because firstly, Christianity cannot be trusted to maintain a martial posture or to adhere to the ethno-nationalist or ethno-regionalist principles. In the aftermath, if collaboration with Christianity resulted in a Christian-dominated outcome, then it would mean that everything was done for nothing.

The religion issue is not a side-issue, it's not a mere 'question' that is asked and answered in a little policy book somewhere. It's a core part of the problem in the North Atlantic. Getting rid of Christianity is a necessary pre-condition to the survival of the peoples of the North Atlantic.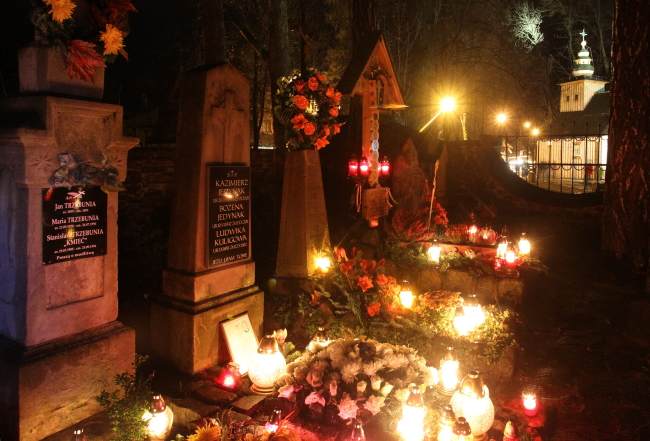 It is appropriate that her name is Morano...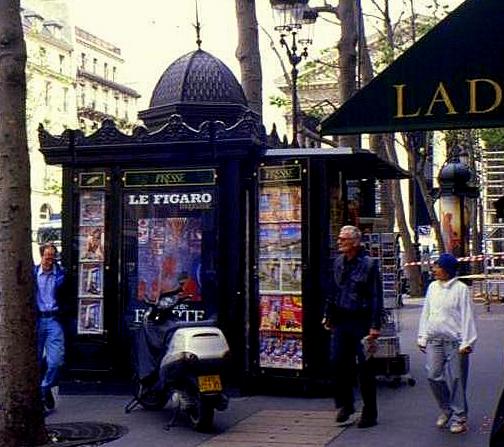 PARIS — Nicolas Sarkozy is threatening to strike a member of his center-right Les Républicains from the party's ticket for the French regional elections in December ...after MEP [Nadine] Morano said Saturday [September 26th] that France was a "Judeo-Christian country … a white race that welcomes strangers."
What is apparently happening here is that Nadine Morano, true to her name, is attempting to use Jewish crypsis to include Jews as "part of the 'White' race"... and that is probably why she has been able to get away with putting the two terms - White and race - together at all in a political context. Otherwise, her "controversial statement" in "defense of Judeo-Christianity" wouldn't be worth a second thought.
What merits re-attention to Morano is this, however. It seems that indeed the masters of discourse are trying to create a false solution to a false polemic and some right wingers are taking the bait: French "intellectuals" (read, "Jews") are trying to frame a discourse where some "Leftist" academics are going "rogue" and becoming "rightists."
Of course there is no mention of the Jew in this "new academic amalgam of left and right" but rather an attempt to create an "intellectual framework" to ruse a coalition against Marine Le Pen for the extent that she represents true ethno-nationalism, i.e., as a representative of the native French - which her father knows very well does not include Jews as "White" nor "Judeo-Christianity" as their rallying cry.
So, lets look at what is behind her, starting with the latest bullshit artist who would try to dupe native Europeans into thinking that he is on their side. His name is Michel Onfray and the Jewish media is trying to create a sensation about how this "former leftist" is now incorporating "the right."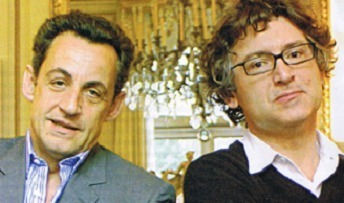 Right-winger Sarkozy has new company from "former leftist intellectual" Michel Onfray
As one reads through the media gibberish, however, it is apparent that Jewish academia is encouraging him to "turn rightward" in order to enable Jews to assimilate Whites, White interests, turn them away from authentic ethno-nationalism and toward a myopic focus against Islam on behalf of "we, the multi-cultural and pluralistic Europe."
J'accuse: Leftist intellectuals turn right

Politico, "Unusual ideological bedfellows in France are uniting against globalization and the euro", Oct. 19, 2015:

PARIS — When the newspaper Libération last month accused self-professed "left of the left" philosopher and best-selling author Michel Onfray of "doing the [far-right party] Front National's bidding," French intellectuals circled the wagons.
Their definitions of left and right, not mine.
..to the rescue from left and right to defend Onfray, they did what intellectuals do in these cases: organize a public debate.
Intellectuals?
The headline of the event, to be hosted at the Maison de la Mutualité on October 20 by political weekly magazine Marianne..
Marianne magazine, created by Axel Kahn, the son of a Jewish father, Catholic mother…the magazine is now owned by Robert Assaraf, a Moroccan Jew ...the magazine calls Nicolas Sarkozy "a right wing candidate."
In support of its sometime contributor Onfray, sets a new standard for navel-gazing: "Can we still debate in France?"

Spoiler alert: The fury stirred up by the controversy offers a good clue to the answer.

Onfray is only the latest French thinker whom government-friendly media and Socialist party officials accuse of pushing ideas similar to the far-right - on immigration, the role of Islam in society and the need to restore France's battered sense of self.
Ah yes, now that Islam is becoming a bit much, enough of Sarkozy's right-wingishness, some are even assimilating the "far-right" to take an audacious stance against… immigration!
They include the moralist philosopher Alain Finkielkraut .."a former left-wing radical and now member of the French Academy who has written several books on the waning of France's traditional republican culture and the country's "unhappy identity" (the title of one of his books);
"Alain Finkielkraut (born 30 June 1949) is a French essayist and public intellectual. He has written books and essays on a wide range of topics, many on the ideas of tradition and identitary violence, including Jewish identity and antisemitism, French colonialism, the mission of the French education system in immigrant assimilation, and the Yugoslav Wars."
Régis Debray, a 1960s companion of Che Guevara who later became an adviser to former Socialist president Mitterrand;
...known for his theory of mediology — a critical theory of the long-term transmission of cultural meaning in human society — and for fighting with Marxist revolutionary Che Guevara (in Bolivia in 1967) and advancing Salvador Allende's "Marxist" régime (Chile, early 1970s)
Eric Zemmour, a far-right journalist and TV debater whose book "Le suicide français" ('The French suicide') on "the 40 years that destroyed France" became an unlikely best-seller last year;
Éric Zemmour was born in Montreuil (today in Seine-Saint-Denis) on August 31, 1958, to an Algerian family that came to Metropolitan France during the Algerian War. He identifies as a Jew of Berber origin, and above all as a French Jew.
..even Michel Houellebecq, recluse novelist whose book, "Submission," describes a future France as an Islamic theocracy.
Besides Jews in support, Onfray has a Marxist revolutionary and a gentile who is willing to go to jail in order to fight Islam (with Jewish blessing). These are supposed to be our friends. They were "the left" and now they are "the right", or leaning "right"...
What they don't know is that we are The White Left and we don't buy their shit for a moment.
Let's carry on then…
The new 'new reactionaries'

The 'controversy' has simmered for a long time. In 2002 the 'left-leaning' magazine Nouvel Observateur was already putting Finkielkraut on its cover to wonder whether he was part of the "new reactionaries."
Not even a good bluff at false opposition.
It is now pervasive and part of the permanent French debate. It hasn't been restricted to the realm of high-brow discourse.
Of course not, the Jewish media would try to promote its controlled opposition as much as possible.
After French Prime Minister Manuel recently criticized Onfray for one of his tirades, he was called "a moron" in return by the philosopher. And earlier this year, Valls was deemed "a bore" by Houellebecq after venturing that he didn't agree with the writer's somber vision.
Gee, these "intellectuals" are daring.
Libération's outburst was prompted by the latest in a long string of provocative statements Onfray has made in recent months, attacking the Socialist government's policies and principles.

In an interview with Le Figaro,
Le Figaro is owned and controlled by Serge Dassault, born Serge Bloch, both his parents are of Jewish heritage.
..on September 8, the writer criticized what he called "the emotional response" to the picture of a dead refugee child that made headlines around the world and prompted French President François Hollande to soften on the issue of quotas for accepting asylum-seeker quotas.
Yes, sure, "the intellectuals" are coming to our European defense on the matter of immigration.
Onfray, who declined a request for comment for this article, went on to accuse France's successive governments of "being contemptuous of the people" — what he calls, using the English term, "the 'old school' people": French blue-collar workers, the unemployed, the poor, the pensioners. As for National Front leader Marine Le Pen, he said: "I don't resent her as much as I resent those who made her possible."
Onfray resents the possibility of European ethno-nationalism emerging.
Sacrebleu!
The dispute comes a few weeks after Jacques Sapir, an economist from the far left who has long campaigned against the euro, suggested the creation of an "anti-euro national liberation front" that might extend up to and including Le Pen's party.
Sapir is a "far left" economist, son of psychoanalyst, Michel Sapir (Sapir = Jewish), he teaches in Russia and is perhaps a part of negotiating a quid pro quo between Russia and Le Pen = continue to ease-up on the Jews and Russia will give you more support.
Sapir added, in a Libération interview, that it was undeniable that the far-right National Front had "changed in the last years." He is also one of France's staunchest defenders of Vladimir Putin's policies, and the author of a blog hailing what he sees as the Russian president's many "successes" both economically and on the international stage.
Like I said.
Trojan horse of globalization

Onfray has called Sapir's idea of an anti-euro alliance "interesting." Some of the philosopher's critics see a bitter irony in the fact that in 2002, he created a "People's University" in Normandy, where he resides, to counter the rising influence of the National Front's ideas. That's the year when the party's founder Jean-Marie Le Pen, father of current leader Marine, made it to the second round of the French presidential election against then-president Jacques Chirac after having defeated Socialist candidate Lionel Jospin.
I.e., Onfray is a useful tool for Jews…
The real split in French politics, as Onfray now sees it, is between the ruling, pro-European elites of both the conservative and socialist parties and the French people, who, he often says, have been betrayed "since 1983" — when then-president Mitterrand, a Socialist, converted to pro-market policies.
Oh yes, the problem is those damn socialists (don't want to take away anything from plutocrats, especially not Jewish ones).
Ideological overlap between the National Front and France's far left is not entirely new. The nationalist party has long sought and received support from French workers disillusioned by the mainstream left parties. Some former communist strongholds are now areas where the FN gets its largest support.
What a surprise! White Leftism works ..all of the people cannot be fooled all of the time.
'This government from the left can't seem to find an intellectual on its side.'
Jews like to use "intellectual" as a code word for their own rhetorical bullshit artists, who will now try to disassociate themselves from the liberalism that their people and flunkies created, that they are here and now calling "the government of the left".
But most truthfully and most crucially, neither will The White Left find a Jew on its side.
Marine Le Pen herself stands a serious chance of winning the Nord-Pas de Calais district in the upcoming regional elections in December. The industry-dominated area was long ruled by the socialist or communist left. The anti-capitalist, anti-U.S. and populist platform of the National Front strikes a chord with voters who resent the changes brought by globalization.
...by Jewish and objectivist sellout globalization.
"Europe is seen by those intellectuals as just a Trojan horse of globalization," said Laurent Joffrin, the editor of Libération who led the anti-Onfray charge. "What unites those intellectuals is opposition in general to modern times - to the governing left, to market-friendly Europe, to immigrants seen as armies of Islam. They never venture to tell us what should be done."
...they found a useful idiot, an objectivist goy liberal to be a convenient foil for their false dichotomy.
Now the greater "intellectuals" are going to rescue us from this fool-hearty liberal.
'The people vs. the euro'

Leftists like Onfray now find themselves agreeing with the other end of the political spectrum on a couple of key themes.

The first is the fate of France's poor and working class – the "proletariat" Onfray says has been abandoned by the right and the left alike. In that vision, the governing left's policies favor the globalized elite and the well-to-do, while catering to the needs of minorities ("the margins," says Onfray) — such as immigrants, homosexuals and women.
...and women? French women are "minorities" that the "intellectuals" are going to defend against on behalf of who? ..and against who? ... seems both Jews and White objectivist sell-outs would like to blame the other.
The second theme is the visceral hostility towards Europe and the euro, seen as constraining economic and social policy and a fatal blow to the infamous "exception française," a large and costly welfare state that's supposed to shield the French from the turmoils of the global economy.

The drama is being played daily in the court of public opinion. Think of it as "the people vs. the euro."
Is that how we should think about it?
"The latest eruption doesn't come in a vacuum," said Pascal Bruckner, an essayist and fiction writer, and one of the few French intellectuals who still presents himself as "pro-Europe, and rather Atlanticist."

"There has long been a tradition of intellectuals defining themselves against the government, and if Valls thinks he can be a book critic, then the reaction is understandable," Bruckner said. "What's striking today is that it looks like this government from the left can't seem to find an intellectual on its side"
Bruckner is another convenient objectivist, a proponent for returning to the enlightenment; with that, Jews can set-him-up as a foil.
Meanwhile, France continues to struggle with the economic crisis. Even as unemployment in the eurozone as a whole has declined steadily since early 2013, it keeps rising in France and may soon go above the monetary union's average.

France's intellectuals grapple with globalization, as does the rest of the society.
They again quote Joffrin, the other objectivist foil:
"This increases the disillusion of traditional left voters," said Joffrin, "because the government so far can't show results for its pro-euro, fiscally strict policies."

The zeitgeist is summed up by the term "sinistrose," the deep-rooted pessimism that has long passed as a trait of the French psyche but is taking a turn for the worse in times of economic and political uncertainty.
The new solution to the enlightenment's radical skepticism, the Jews will tell us how to integrate "right and left" ... waiting ...here comes..
The anti-European feeling even permeates the governing left. When Marine Le Pen last week addressed Hollande in the European Parliament by calling him [Merkel's] "vice-chancellor for the France region," she was only slightly more aggressive than Hollande's former economy minister, Arnaud Montebourg, who was fired from the government last year after saying that France's austerity policies were "dictated by Germany's right."

"Europe here serves as proxy for globalization," said a government adviser, who didn't want to be identified for fear of "adding fuel to the fire." "I call it the defeatist wing of French intellectual life: There's no chance we'll be able to make it, so let's retract and retreat."
No, no, the Jews and their shabbos goy are here to save us from our skepticism…and put our long held prejudices into debate..
And, yes, debate.

The new talk-show culture
The "Saving Philosopher Onfray" operation has no shortage of theatricality. It involves best-selling authors, whose pictures more often than not grace the covers of glossy news magazines, complaining about a "media conspiracy" to silence them.

Onfray's best-selling books provide frequent cover stories for the news weeklies, and Finkielkraut seems like he has a permanent seat on French TV talk shows. Even government-supportive media, such as Libération or L'Obs, are eager takers for interviews with the supposedly silenced reactionaries.
Come the "neutral media" to apply the hand of restraint to these "rogue reactionaries"
Authors with more established "intellectual" credentials, such as Finkielkraut, are pushing back against what they consider an anti-racist or "anti-fascist" thought police. The philosopher recently defended the right of Nadine Morano, a French MP from Nicolas Sarkozy's party Les Républicains, to say France was a "white race" country.
There is the payoff: all this build-up to allow Morano, and her Morano crypsis, to pawn-off Jews as White and manipulate White treatment of out-groups: "France is a Judeo-Christian country … a white race that welcomes strangers."
And the Crescendo of the pilpul - playing the goyem off of one another:
Le Pen's party, he writes in his most recent book, "La Seule Exactitude," must be criticized for itself — because it is a "party of demagogues, ignoring both the complexity of political action and economic laws, promoting the cult of the strong man to the point of making Vladimir Putin not only an ally but a role model."
Marine, your Russian Jewish alliance won't spare you for being a shabbos goy - another one, Onfray, on behalf of French Jews, seeks to assimilate your position and use that against you.
Back to the other useful foil…
Bruckner said it remains to be seen whether the controversy will be "just a prairie fire, chased next week by another piece of news" or a sign that "the divorce will become permanent between the ruling left and the intellectuals."
Yes, sure, we want those "intellectual" Jews to swing rightward ... right where we are not.
In the meantime there is whispering that the big Mutualité meeting might be canceled after all — especially since neither Onfray nor Finkielkraut has agreed to appear as a witness for his own defense.
Didn't you say that what "intellectuals" did best was organize debates?
Take heart, Onfray and friends, Islam didn't come to debate either.
You might take the debate to the Middle-East, take Nadine Morano…she can defend her concept of Judeo-Christian Whiteness ...there.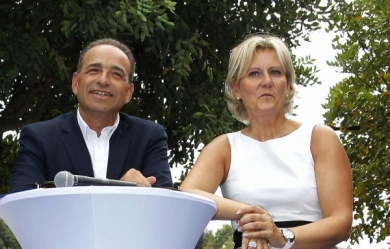 Jean-François Copé (Romanian Jewish father, Algerian Jewish mother) and Morano
Morano has felt that "we need a tonic, and UMP Jean-Francois Copé best placed to embody the word, with strength and ability to address the issues without taboos" ...a representation of the "uninhibited right."