New Observer, "Israel Moves to Tighten its Racial Purity Laws" 23 June 2017:

Israel has moved to tighten its racial purity laws with the main Rabbinical authority in charge of training rabbis upholding its ban on performing marriage ceremonies between Jews and Goyim—while at the same time, the Israeli government has announced a new law which will squash all legal challenges to its biologically-based Jews-only racial immigration requirements.

The Jewish Telegraphic Agency has reported that the Jewish Theological Seminary (JTS), which trains rabbis for the Conservative movement, said it is committed to keeping its ban on clergy from performing "interfaith" wedding ceremonies.

The JTS said that a marriage in Israel "is not only a celebration of a couple, but a commitment to the Jewish covenant" and that therefore marriages between Jews and non-Jews would remain illegal.

Currently, it is illegal under Jewish law for Jews to marry non-Jews in Israel, but recently some liberal Jews have tried to get this changed.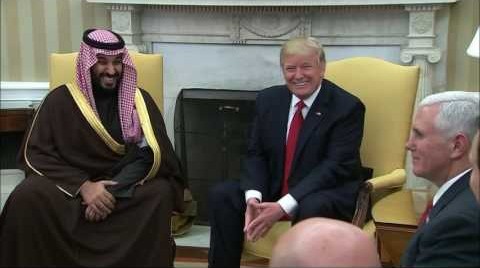 Trump the great deal -maker not.
It means that Trump has helped to make matters much worse by encouraging Saudi Arabia's King Salman to elevate his 31-year-old son Mohammed bin Salman to first in line to the throne - in a "dramatic reordering of the kingdom's line of succession that will have far-reaching consequences for the key US ally and the Middle East as a whole."...
CNN, "What Saudi Arabia's royal reshuffle means for the world", 21 June 2017:

What does it mean for the US?

The key US priorities in the Middle East are stability and predictability, and the appointment of the relatively inexperienced Mohammed bin Salman is undoubtedly a shift away from that.

As defense minister, the prince has taken a hard line with Qatar, Iran and Yemen—and the US should expect to find itself increasingly caught up in the ebb and flow of the region's ever-increasing political tensions.

The current diplomatic crisis between the Saudis and Qatar—Riyadh is trying to isolate Doha over claims that the latter supports terrorism—is a study in diplomatic tightrope-walking for the US.

Washington is publicly backing the Saudis over the spat—which has been led on the Saudi side by the new crown prince—while at the same time maintaining its large military base in Qatar.

Now, with a more gung-ho crown prince set to take charge, it is fair to assume that the Saudis will double down on its hardline positions on Qatar, Iran and the Yemen conflict.

What does it mean for Qatar?

In the short term, it's hard to tell. The message to Qatar is clear: Expect more of the same. Mohammed bin Salman's appointment means that the hard line taken by the Saudis is here to stay—and that no older, wiser voices are going to swoop in and moderate the stance any time soon.

What does it mean for Iran?

The move will further destabilize an already dangerously unstable situation.

Earlier in June, the Iranians pointed the finger at Saudi for a terror attack in their capital, Tehran. They then used this as a reason to fire missiles into Syria—a shot across the proverbial Saudi bow.

Tension between the two has been slowly building recently, and Mohammed bin Salman has taken a hard line against Iran. "We are a primary target for the Iranian regime," he said in one recent interview. "We won't wait for the battle to be in Saudi Arabia. Instead, we'll work so that the battle is for them in Iran."

Again, without more experienced voices around him, the new crown prince will feel emboldened to pursue his vision of a larger Sunni alliance, in which Saudi Arabia is the unchallenged leading power in the Middle East. This could lead to a dangerous miscalculation.

What does it mean for the Yemen conflict?

This is a conflict that Mohammed bin Salman has played a large part in—assisting the Yemeni forces in fighting off Iranian-backed Houthi rebels. In some respects, it is his war and he has to see it through.

But this is more than about saving face; Saudi stability is linked to Yemeni stability and, for that reason, the kingdom needs to continue supporting Yemen.

The brutal reality is that the conflict in Yemen is an Iran-Saudi proxy war, and the new crown prince one of its architects. It is not going to be solved through diplomacy any time soon.

Will the new crown prince loosen up Saudi's conservative culture?

Forget about the monarchy lifting the ban on women driving any time soon. That will happen on the Saudis' time frame—regardless of international pressure to change the law—and whatever they say, it is not a priority. One day it will arrive, but it's not coming fast.
Kera and her daughter (who is still alive)...

SBDL, "A Black Gang Responsible for the Death of Pregnant White Mother Kera Teel"...

Previously on SBPDL: Her Name is Kera [and Kyndal] Teel: Pregnant White Woman Gunned Down by Three Black Males, Daughter Passes Away After Being Born

A pregnant white mother, returning home from a visit to the doctor to see the progress and health of the daughter she carried.

Her mother was accompanying her on this trip.

Her child, Kera Teel, already had one young white daughter at home. This grandchild and daughter was excited to soon become an older sister.

But a member of a black gang ended Teel's and the daughter she carried lives. It should be noted friends of this black gang member claim he "is innocent" because he has four children… [Who is the gang connected to Beaumont murder of mother, newborn?, 12NewsNow.com, June 16, 2017]:

Jared Bias (AKA BullDawg), member of Y.O.G. gang, is the suspect behind the murder of Kera Teel and the daughter she was carrying.

Capital murder suspect for the Kera Teel case is identified as Jared Bias (AKA BullDawg), apparent member of the "Y.O.G." gang, short for "Young Original Gorillas".

Just less than a mile away from Clark Elementary school, you'll find graffiti on the wall that says "YOG" and "RIP BIG MARV," off of Magnolia Ave. Investigators say this group has roots here in North Beaumont, especially in local high schools.

"No use for gangs," says Jason

Banks, who has been living in Beaumont's North end for over 10 years.

"We're all trying to make it in this world, there is no use for violence or anything," He says. For Banks, It's a reminder of friendships to avoid. "I just stay to myself and pray up," Bank says. "I don't involve myself around certain people," he says. Police say, Jared Bias, who was recently arrested for the capital murder of 19-year-old Kera Teel and her newborn daughter, is a member of the YOG gang.

"She was so young and pregnant, it makes me really bad," Banks says. "It's not safe to go out our own house," he says.

"Keep out of trouble or it'll get you hurt or in jail," Banks says. The gangs' activity plays a prominent role on the local rap scene. It's affiliations and marks, representing various local music groups on YouTube. Some refer to the gang as a family, but are now leaving behind footprints of criminal activity. "That's not right, stay in school, go to church or something," says Banks. "Gangs are not the answer," he explains. 12News reached out to several members of the organization who tell us they do not have an interest in speaking.

What is there left to say about this story and the actors involved in Kera's (and the daughter she carried) murder?

Just terrifying there's virtually no coverage of this story outside of Beaumont, Texas…

We're being exterminated.
12 News Now, "Second suspect in capital murder of Beaumont mother, newborn baby turns self in at jail" 15 June 2017:

BEAUMONT - A Beaumont man has been served with a capital murder warrant in the death of a Beaumont mother and her newborn baby girl.

Jared Javon Bias, 22, of Beaumont, was served with the warrant Wednesday night at the Jefferson County Correctional Center not long after he turned himself in on a previous charge of "hindering apprehension" according to a release from the Beaumont Police Department.

Bias' bond on the hindering apprehension charge is set at $1 million.

Bias is the second suspect in custody related to the murder of Kera Teel, 19, of Beaumont, and her newborn daughter Kyndal.

Detectives have not yet spoken to Bias who turned himself in at the jail Wednesday night according to the release.


Atayanna Asia Nicole Douglas,17 (right), of Beaumont, was arrested on Tuesday and is being held on a $1.5 million bond for three aggravated robberies which police say are related to the Teel murder case.

Police expect more arrests as they continue to investigate the case.
Theresa May confirms white man attacked Muslims leaving mosque after Ramadan prayers

Security at mosques across the UK will be reviewed in the wake of the Finsbury Park terror attack, the Prime Minister has said. More follows…

Independent, 19 June, 2017 - Here is Theresa May's statement in full:

"This morning, our country woke to news of another terrorist attack on the streets of our capital city: the second this month and every bit as sickening as those which have come before.

"It was an attack that once again targeted the ordinary and the innocent going about their daily lives – this time British Muslims as they left a Mosque having broken their fast and prayed together at this sacred time of year.

"Today we come together - as we have done before – to condemn this act and to state once again that hatred and evil of this kind will never succeed.

"The Government's Emergency Committee, COBRA, has just met and I can set out what we know about what happened, and the steps that we are taking to respond.

"Just after twenty-past midnight, the Metropolitan Police received reports that a van had been driven into a crowd of people on Seven Sisters Road in Finsbury Park.

"Officers were in the immediate vicinity as the attack unfolded and responded within one minute.

"Police declared it a terrorist incident within eight minutes.

"One man was pronounced dead at the scene; eight injured were taken to three separate hospitals; while two were treated at the scene for more minor injuries.

"The driver of the van - a white man aged 48 - was bravely detained by members of the public at the scene and then arrested by police.

"The early assessment by the police is that the attacker acted alone.

"Our thoughts and prayers this morning are with the family and friends of the man who died and those who were injured.

"On behalf of the people of London – and the whole country – I want to thank the police and the emergency services once again for responding as they always do with great professionalism and courage.

"Extra police resources have already been deployed to reassure communities, and the police will continue to assess the security needs of Mosques and provide any additional resources needed, especially during this final week before Eid Al-Fitr, a particularly important time for the whole Muslim community.

"This was an attack on Muslims near their place of worship. And like all terrorism, in whatever form, it shares the same fundamental goal.

"It seeks to drive us apart; and to break the precious bonds of solidarity and citizenship that we share in this country.

"We will not let this happen.

"When I stood here for the first time as Prime Minister last Summer I spoke about our precious belief in the Union – not just the bond between the four nations of the United Kingdom – but the bond between all our citizens, every one of us, whoever we are and wherever we are from.

"At the heart of that bond is a belief in the fundamental freedoms and liberties that we all cherish; the freedom of speech; the freedom to live how we choose and yes, the freedom to practice religion in peace.

"This morning we have seen a sickening attempt to destroy those freedoms; and to break those bonds of citizenship that define our United Kingdom.

"It is a reminder that terrorism, extremism and hatred take many forms; and our determination to tackle them must be the same whoever is responsible.

"As I said here two weeks ago, there has been far too much tolerance of extremism in our country over many years – and that means extremism of any kind, including Islamophobia.

"That is why this Government will act to stamp out extremist and hateful ideology – both across society and on the internet, so it is denied a safe space to grow.

"It is why we will be reviewing our Counter-Terrorism strategy and ensuring that police and security services have the powers they need.

"And it is why we will establish a new Commission for Countering Extremism as a statutory body to help fight hatred and extremism in the same way as we have fought racism – because this extremism is every bit as insidious and destructive to our values and our way of life and we will stop at nothing to defeat it.

"Today's attack falls at a difficult time in the life of this city, following on from the attack on London Bridge two weeks ago – and of course the unimaginable tragedy of Grenfell Tower last week, on which I will chair another meeting of Ministers and officials later today.

"But what we have seen throughout – whether in the heroism of the ordinary citizens who fought off the attackers at London Bridge; the unbreakable resolve of the residents in Kensington; or this morning the spirit of the community that apprehended this attacker – is that this is an extraordinary city of extraordinary people.

"It is home to a multitude of communities that together make London one of the greatest cities on earth.

"Diverse, welcoming, vibrant, compassionate, confident and determined never to give in to hate.

"These are the values that define this city.

"These are the values that define this country.

"These are the values that this government will uphold.

"These are the values that will prevail."
"The 600 million crowns earmarked for the resettlement could have been used for many better purposes." - Milos Zeman

New Observer, "Czech President, 'Refugee Quotas' a 'Violation of National Sovereignty', 18 June 2017:

The refugee quotas are a violation of the sovereignty of European Union member countries as each country should decide on its own whom to accept, Czech President Milos Zeman has announced.

Zeman said he is not going to yield to the pressure that the EU exerted. "We must beware of this, all disasters begin in an inconspicuous way. Once you bow your heads, you will start bowing to them again and again," he said.

The EC has opened legal cases against the Czech Republic, Hungary and Poland for refusing to take in invaders pretending to be asylum seekers from Italy and Greece within the quota plan.

Zeman said migrants are not interested in staying in the Czech Republic and they are heading for Germany and other West European countries because they can get higher welfare benefits there.

Zeman said 600 million crowns were earmarked for the resettlement. "This money could have been used for many better purposes," he said.

The Czech Republic pledged to accept 2,600 refugees from the Middle East, but it has resettled only 12 so far.

If the country opened to a higher number of migrants, millions from Africa would start streaming to it.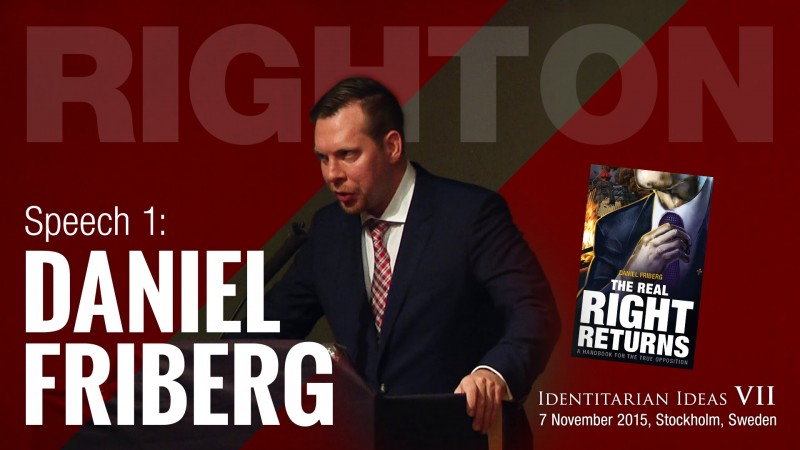 Alt-Right publisher Daniel Friberg from a promotional speech for right-wing 2015
Acrimony on the Alt-Right/New Right, etc. Right: predictably, the inherent instability of The Right emerges. For those who like soap operas, the right is perhaps good for that. But their instability rather highlights the preferability of our platform for organizing nationalists in two way accountability to our interests (to us and from us); against foreign antagonists, whether elite or rank and file; and against traitors among our own, whether elite, or rank and file.
There isn't a lot of consensus among the right - their primary orientation, against "The Left" and "equality", was given to them by brackets (viz. Gottfried 2008), adopted then and only became the "common sense enemy" by consensus since the YKW allowed them to do that. Brackets, those in service of brackets, and those willing to sell our people-out for personal gain or sheer ideology are rife in all camps of the right.
Alt-Right, 16 June 2017:

"GREG JOHNSON TURNS DOWN DANIEL FRIBERG'S CORDIAL OFFER TO HAVE A COFFEE AT STARBUCKS"

In the latest bit of juicy infighting here in the Alt-Right, Daniel Friberg, the head honcho of intellectual (but fashy) book publisher Arktos has been defriended on Facebook by Greg Johnson, the mysterious "voice without a face" who runs the fashy (but intellectual) Counter-Currents webzine and book publisher.

The defriending follows weeks of behind-the-scenes bickering and accusations that Johnson had been bad-mouthing Friberg behind his back.

In an attempt to clear the air, Friberg who lives in Budapest, Hungary, heard that Johnson was in town on a low-profile speaking tour, and cordially invited him to have a face-to-face meeting, posting the following message on Facebook:

Hey Greg Johnson, you have been attacking my character publicly and behind my back for close to a year now. Considering we're neighbors here in Budapest, how about I buy you a latte at Starbucks; you can say all these things to my face. What do you think?" - Daniel Friberg
Alt-Right: "The Attacks on Arktos," 17 June, 2017:

Alt-Right and Zero-Hedge are reporting this evacuation as having been allowed by The US Military. ZOG being what it is, it is not inconceivable that they would allow them to escape and leave them well equipped.
However, given that Alt-Right and Zero-Hedge are effectively organs of Russian Active Measures at this point, neither can we simply take their word for it as if presenting the whole truth and nothing but… as if The Russian Federation's hands are clean in this.
Reports from a year ago highlighted the accusation that Isil was allowed to leave from Mosul unmolested to go to Syria for another stab at another phase of "Clean Break" implementation - against al-Assad in that case.
They cite the "anti-Russian newspaper, The Guardian":
"An anonymous source claiming to a Russian newspaper something as conspiratorial as the U.S. directly aiding ISIS militants may seem a dubious, but since the offensive was launched on Monday of this week, this has been the reality on the ground."

"According to Army Lieutenant General Talib Shaghati, as reported by anti-Russian newspaper, the Guardian, ISIS militants are already fleeing Mosul to Syria. This was further confirmed by the Saudi foreign minister, Adel al-Jubeir, who said that if ISIS were forced out of Mosul, they would likely go on to Syria."