Majorityrights News > Category: Law & Order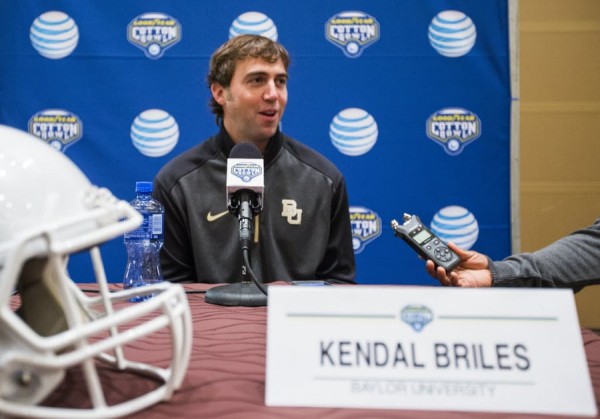 "Do you like white women? Because have a lot of them at Baylor, and they love football players." - Kendell Briles, Baylor College football recruiter, addressing black football prospects.
Washington Post, "Baylor moves to dismiss lawsuit alleging 52 rapes by 31 football players", 29 March 2017:

Baylor moved Tuesday to dismiss a federal lawsuit filed in January filed by a former student who claimed to have been gang-raped by a pair of football players in 2013. In addition, her complaint alleged 52 "acts of rape" committed by the school's football players between 2011 and 2014.

Those numbers were far higher than the eye-opening figures cited by school regents from the report of an outside law firm, which found that 17 women had reported 19 incidents of sexual or domestic assault by Baylor football players since 2011. However, in its court filing Tuesday, Baylor said it "does not agree with or concede the accuracy of Plaintiff's 146-paragraph complaint and its immaterial and inflammatory assertions."

"Baylor moves to dismiss Plaintiff's assault, failure to investigate, and negligence claims because they are barred by the two-year statute of limitations," stated the document, filed with a U.S. District Court that includes Baylor's home of Waco, Tex., in its jurisdiction. The move to dismiss also claimed that the allegations of the woman, referred to as Elizabeth Doe, "do not rise to the level of 'deliberate indifference.' "

Doe alleged in her complaint that on April 18, 2013 — an annual date known as "Diadeloso" ("Day of the Bear") at Baylor and marked by a lack of classes and an encouragement of social interaction — she was raped by two freshman football players, Tre'Von Armstead and Shamycheal Chatman, and that Baylor ignored the situation. She also claimed that her position as a member of the school's female recruiting team, called the Baylor Bruins, contributed to the incident.

"Baylor's recruiting policies and practices, along with the Baylor Bruin football hostess program, directly contributed to the creation of a culture of sexual violence that permeated Baylor and from which Ms. Doe would soon suffer," the lawsuit stated.

The lawsuit also contended that Kendal Briles, a former assistant football coach and son of former head coach Art Briles, told a recruit, "Do you like white women? Because we have a lot of them at Baylor, and they love football players."

[Art Briles says he 'did not cover up any sexual violence' at Baylor]

"While broadly and needlessly impugning the integrity of the many female students who honorably participated in the Bruins organization, Plaintiff does not allege that she herself was ever asked by any Baylor official, directly or indirectly, to participate in the 'good time' recruiting policy that she claims to have existed," Baylor said Tuesday, "nor does she claim that her alleged assault occurred in conjunction with any recruiting activity."

More broadly, the lawsuit claimed that "Baylor football players were responsible for … the most widespread culture of sexual violence and abuse of women ever reported in a collegiate athletic program," adding, "Baylor football under Briles had run wild, in more ways than one, and Baylor was doing nothing to stop it."

"Although Baylor appreciates the sensitivity and seriousness of the issue of sexual assault — a fact demonstrated by its voluntary release of the Pepper Hamilton investigation findings in May 2016 — Plaintiff's inflammatory and immaterial allegations must be disregarded when evaluating whether Plaintiff has stated a claim," the university said in Tuesday's filing.

Former Baylor football player Tre'Von Armstead arrested on sexual assault charges.

Armstead and Chatman were arrested last week and indicted in connection with the 2013 incident. Another former Baylor football player, Sam Ukwuachu, had a sexual-assault conviction overturned last week by a Texas appeals court, with the case remanded for retrial. Two other ex-Bears, Tevin Elliott and Shawn Oakman, have been convicted of and indicted on rape charges, respectively, in an ongoing scandal that has cost the jobs of Briles and other senior Baylor officials and spawned numerous lawsuits.

On Friday, lawyers for 10 women (in addition to Doe) who are suing Baylor for its alleged indifference to their rapes by football players filed notice to subpoena materials from Pepper Hamilton's investigation into the school. "It's long past time for the truth of how senior administrators discouraged and retaliated against the young women for reporting sexual assault," Jim Dunnam, one of the lawyers, said Monday (via the Waco Tribune-Herald).

"We'll never have transparency until they stop saying this was just a football problem," he added. "Every time they say it is just a football problem is further victimization of the over 100 young women who were wronged that had nothing to do with football."
Baylor's Kim Mulkey: "Knock Parents Concerned About Sexual Assault Scandal 'Right In The Face."

DeadSpin, "Baylor's Kim Mulkey: Knock Parents Concerned About Sexual Assault Scandal 'Right In The Face", 25 Feb 2017:

Today was senior day for the Baylor women's basketball team, and rather than spending her time at the mic focused solely on her soon-departing players, head coach Kim Mulkey took a different route.

The storied coach decided to share a few choice words for parents voicing concern over sending their daughters to a place currently being sued for allowing and enabling football players to commit an alleged 52 sexual assaults in four years. Or rather, she shared some instructions for the fans—who cheered her both during and after her speech—telling them that if a parent tells them they won't let their daughter attend Baylor, they should "knock them right in the face."
Related Story at MR: Miscegenating female college students.
Robert Mueller's investigation into the Trump campaign's possible collusion with Russia took a surprising turn on Friday — to Israel. However, this process began with claims of collusion between Russia and the Trump campaign to win the last US presidential elections. Now the discussion has shifted to potential deal-making – or even diplomacy – of an incoming administration seeking to avoid a virtually irrevocable policy mistake that would harm a close ally while undermining the goals of several previous administrations to secure peace between Israel and the Palestinians. Is this what should bring Kushner down? No. Absolutely not.


Anonymous White House sources claimed that Jared Kushner was the unnamed Trump transition member who sent the former national security adviser Michael Flynn to talk to the Russian ambassador and other foreign diplomats about a controversial United Nations resolution that would have certainly harmed Israel.

The Forward, "Jared Kushner was right to 'collude' with Russia because he did it for Israel", 3 Dec 2017:

Robert Mueller's investigation into the Trump campaign's possible collusion with Russia took a surprising turn on Friday — to Israel. Anonymous White House sources claimed that Jared Kushner was the unnamed Trump transition member who sent the former national security adviser Michael Flynn to talk to the Russian ambassador and other foreign diplomats about a controversial United Nations resolution that would have certainly harmed Israel.

Jared Kushner Was Wrong To Undermine America — Even To Help Israel
Jane EisnerDecember 4, 2017

That resolution was Resolution 2334, which effectively declared any Israeli neighborhoods beyond the 1949 Armistice lines (the Green Line) to be illegal under international law. It also demanded that Israel "cease" all settlement activity, and it declared all the land beyond the 1967 lines to be Palestinian.

In the waning days of his presidency, Barack Obama chose not to use the critical U.S. veto on the Security Council to stop the Resolution from being passed, and Flynn's mission, allegedly put to him by Kushner, was to influence the Russians and other governments on the council to delay or defeat it.

The legality or illegality of Kushner's alleged actions notwithstanding, it will be both ironic and unfair if battling 2334 brings down Kushner.

For starters, past presidents have also communicated with foreign governments during their transitional periods, sometimes in circumstances that challenged their predecessors' foreign policy. Eisenhower's transitional administration secretly organized a visit to Korea. Likewise, Henry Kissinger made a secret trip to North Vietnam during Nixon's transition.
President Donald Trump sits alongside Secretary of State Rex Tillerson and senior adviser Jared Kushner during a meeting at the White House in Washington on Sept. 26, 2017.

AP Photo, Evan Vucci

Bloomberg, "Kushner Is Leaving Tillerson in the Dark on Middle East Talks, Sources Say", 2 Dec 2017:

- Rex Tillerson worries secret plan could plunge region into chaos.

-White House rejects accusation State Department isn't informed.

Secretary of State Rex Tillerson is increasingly alarmed by what he sees as secret talks between Jared Kushner, President Donald Trump's son-in-law and senior adviser, and Saudi Arabian Crown Prince Mohammed bin Salman—fearful that the discussions could backfire and tip the region into chaos, according to three people familiar with Tillerson's concerns.

The central goal of the Kushner-Prince Mohammed negotiations, as described by two people with knowledge of the talks, is for an historic agreement featuring the creation of a Palestinian state or territory backed financially by a number of countries including Saudi Arabia, which could put tens of billions of dollars toward the effort.

A lasting Middle East peace treaty has been a U.S. goal for decades, and at the start of his administration Trump assigned the 36-year-old Kushner to head up the effort to make it happen.

Tillerson believes Kushner hasn't done enough to share details of the talks with the State Department, according to the people, leaving senior U.S. diplomats in the dark on the full extent of the highly sensitive negotiations.

"The problem is, the senior presidential adviser does not consult with the State Department—and it's unclear the level of consultation that goes on with the NSC," one of the people familiar with Tillerson's concerns said, referring to the National Security Council. "And that's a problem for both the NSC and the State Department and it's not something we can easily solve."

The concerns predate reports this week that Trump may move to oust Tillerson by the end of the year—reports the president rejected but which Tillerson's team believes are being stoked by Kushner allies, one person said. An administration official said Kushner had nothing to do with those reports.

[...]

It isn't clear how far along the discussions are between Kushner and Prince Mohammed, three people said. And some in the U.S. government are skeptical the effort will succeed, in part because of the historic intractability of Israelis and Palestinians and because any peace deal would ultimately require the support of many competing leaders in the region.

The State Department officials' skepticism about the Middle East discussions also reveals ongoing frustration at the president's decision to go around them and the U.S. diplomatic corps he frequently disparages. Instead, Trump placed delicate peace negotiations in the hands of Kushner, who has no experience in diplomacy and little background in the complexities of one of the world's most volatile regions.

Yet Trump, who has long spoken of Mideast peace as the ultimate trophy for a career dealmaker, has shown unwavering faith in his son-in-law's ability to deliver."If you can't produce peace in the Middle East, nobody can," the president told Kushner onstage at a black-tie event celebrating his inauguration in January. "All my life I've been hearing that's the toughest deal to make, but I have a feeling Jared is going to do a great job."

"The greatest dangers in the Middle East today are Jared Kushner and Mohamed bin Salman"

Independent, 17 Nov 2017:

The sort of Neo-con and right-wing think tankers, who in 2003 were saying that a war with Iraq would be a doddle, are back in business in Washington, pushing for war with Iran – and are stronger than ever.

Shortly before the earthquake in Baghdad, I was making the above point about Iraq stabilising to a European diplomat. He said this might be true, but that real danger to peace "comes from a combination of three people: Saudi Crown Prince Mohammed bin Salman, Trump's son-in-law and Middle East envoy Jared Kushner, and Bibi Netanyahu in Israel."

Probably, the Saudis and the Americans exaggerate the willingness of Netanyahu and Israel to go to war. Netanyahu has always been strong on bellicose rhetoric, but cautious about real military conflict (except in Gaza, which was more massacre than war).

Israel's military strength tends to be exaggerated and its army has not won a war outright since 1973. Previous engagements with Hezbollah have gone badly. Israeli generals know that the threat of military action can be more effective than its use in maximising Israeli political influence, but that actually going to war means losing control of the situation. They will know the saying of the 19th century German chief of staff, Helmuth Von Moltke, that "no plan survives contact with the enemy".

But even if the Israelis do not intend to fight Hezbollah or Iran, this does not mean that they would not like somebody else to do so for them. Iraqi Prime Minister Haider al-Abadi told me in an interview earlier this month that his greatest fear was a US-Iranian confrontation fought out in Iraq. This could happen directly or through proxies, but in either case would end the present fragile peace.

On the optimistic side, US policy in Iraq and Syria is largely run by the Pentagon and not the White House, and has not changed much since President Obama's days. It has been successful in its aim of destroying Isis and the self-declared caliphate.

The wars in Iraq and Syria already have their winners and losers: President Bashar al-Assad stays in power in Damascus, as does a Shia-dominated government in Baghdad. An Iranian-backed substantially Shia axis in four countries – Iran, Iraq, Syria and Lebanon – stretches from the Afghan border to the Mediterranean. This is the outcome of the wars since 2011, which is not going to be reversed except by a US land invasion – as happened in Iraq in 2003.

The great danger in the Middle East today is that Crown Prince Mohamed bin Salman and Jared Kushner appear to have a skewed and unrealistic understanding of the world around them. Inspector Clouseau seems to have a greater influence on Saudi policy than Machiavelli, going by the antics surrounding the forced resignation of Saad Hariri as Prime Minister of Lebanon. This sort of thing is not going to frighten the Iranians or Hezbollah.

The signs are that Iran has decided to go a long way to avoid confrontation with the US. In Iraq, it is reported that it will support the re-election of Abadi as prime minister which is also what the US wants. Iran knows that it has come out on the winning side in Iraq and Syria and does not need to flaunt its success. It may also believe that the Crown Prince is using anti-Iranian nationalist rhetoric to secure his own power and does not intend to do much about it.

Nobody has much to gain from another war in the Middle East, but wars are usually started by those who miscalculate their own strengths and interests. Both the US and Saudi Arabia have become "wild cards" in the regional pack. The sort of Neo-con and right-wing think tankers, who in 2003 were saying that a war with Iraq would be a doddle, are back in business in Washington, pushing for war with Iran – and are stronger than ever.

The wars in the Middle East should be ending, but they could just be entering a new phase. Leaders in the US and Saudi Arabia may not want a new war, but they might just blunder into one.
Politico, "Kushner took unannounced trip to Saudi Arabia", 29 Oct 2017:

President Donald Trump's son-in-law and senior adviser Jared Kushner returned home Saturday from an unannounced visit to Saudi Arabia — his third trip to the country this year.

Kushner left Washington, D.C., via commercial airline on Wednesday for the trip, which was not announced to the public, a White House official told POLITICO. He traveled separately from Treasury Secretary Steven Mnuchin, who led a delegation to Riyadh last week to focus on combating terrorist financing.

Kushner was accompanied in the region by deputy national security adviser Dina Powell and Middle East envoy Jason Greenblatt. Greenblatt continued from Saudi Arabia to Amman, Jordan; Cairo; the West Bank city of Ramallah; and Jerusalem, where he was on Sunday.
Haaretz, "Israel, Egypt Pushed U.S. to Bomb Iran Before Nuclear Deal, John Kerry Says", 29 Nov 2017:

Speaking at a Washington forum, the former secretary of state said that Prime Minister Netanyahu was 'genuinely agitating toward action' against Iran.

Former Secretary of State John Kerry said both Israel and Egypt pushed the United States to "bomb Iran" before the 2015 nuclear deal was struck.

Kerry defended the deal during a forum in Washington, where he said that a number of kings and foreign presidents told the U.S. that bombing was the only language Iran would understand.

Kerry said that in his opinion it was "a trap" because the same countries would have publicly criticized the U.S. if it did carry out a bombing of Iran as they were secretly supporting.

Kerry said that Israeli Prime Minister Benjamin Netanyahu was "genuinely agitating toward action."

Kerry said he didn't know whether Iran would resume pursuing a nuclear weapon in 10 to 15 years after restrictions in the deal sunset, but he said it was the best deal the U.S. could get.

In October, lawmakers in the United States approved four different pieces of legislation targeting Iran and its proxy terror group in Lebanon, Hezbollah, after U.S. President Donald Trump refused to re-certify the nuclear deal, leaving its fate to Congress.

At the time, Netanyahu congratulated Trump for what he called his "courageous decision" not to recertify the nuclear deal with Iran.

"He boldly confronted Iran's terrorist regime," Netanyahu said. "If the Iran deal is left unchanged, one thing is absolutely certain. In a few years' time, the world's foremost terrorist regime will have an arsenal of nuclear weapons. And that's a tremendous danger for our collective future."

Netanyahu said Trump has created an "opportunity to fix this bad deal, to roll back Iran's aggression and to confront its criminal support of terrorism."

"That's why Israel embraces this opportunity," Netanyahu said.

Earlier this month, the United Nations agency monitoring Iran's compliance with a landmark nuclear treaty issued a report Monday stating that the country is keeping its end of the deal that U.S. President Donald Trump claims Tehran has violated repeatedly.

The International Atomic Energy Agency report stopped short of declaring outright that Iran is honoring its obligations, in keeping with its official role as an impartial monitor of the restrictions the treaty placed on Tehran's nuclear programs.

But in reporting no violations, the quarterly review's takeaway was that Iran was honoring its commitments to crimp uranium enrichment and other activities that can serve both civilian and military nuclear programs.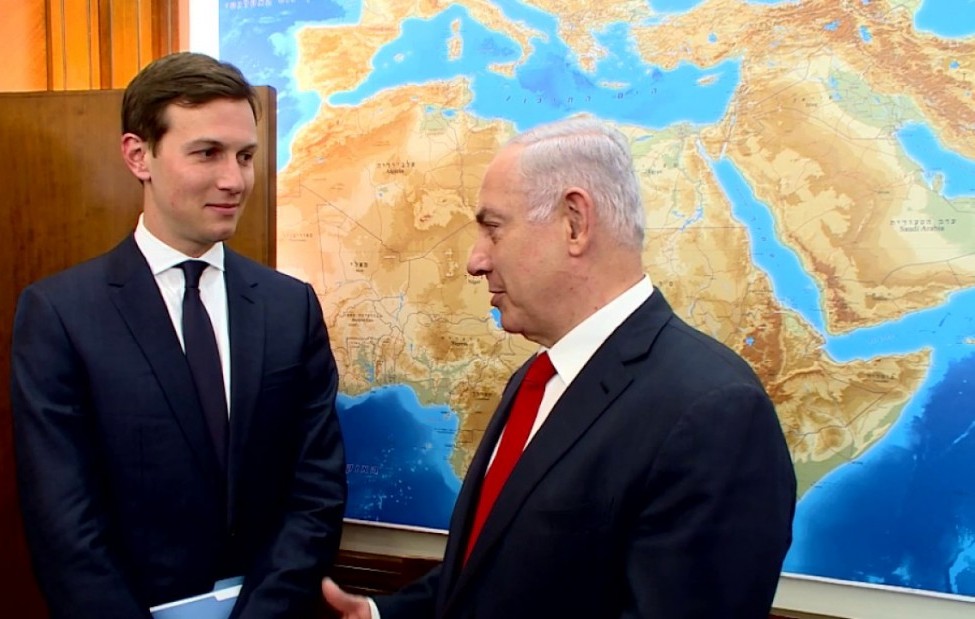 Foreign Policy, "Kushner, Mohammed bin Salman, and Benjamin Netanyahu Are Up to Something", 7 Nov 2017:

It looks a lot like a plan to squeeze Iran.

There seems to be a general consensus in Washington that Saudi Crown Prince Mohammed bin Salman's ongoing purge of princes and businessmen — including the wealthiest of them all, the business mogul and Prince Al-Waleed bin Talal — is motivated by his determination to consolidate his power, well before his father, King Salman, passes from the scene. He is in this regard a latter-day Adonijah, who had himself crowned king while his father King David was alive. And, like Adonijah, Mohammed bin Salman has made some very powerful enemies in the process. Unlike that Biblical figure, however, he has his father's support and has taken care to arrest anyone who might threaten his drive to preeminence.

Jared Kushner, U.S. President Donald Trump's son-in-law and senior advisor, was in Riyadh again only recently. It was his third trip to Saudi Arabia since Trump took office. He again met with Crown Prince Mohammed bin Salman, with whom he appears to have established a close personal relationship. It should therefore come as no surprise that Trump, who shares the young crown prince's antipathy toward Iran, has commented favorably on the recent developments in Riyadh.
How it feels to me is that the walls are closing-in, and the walls are closing-in more every day. You see it all the time: There was a girl, a woman in Sweden, recently, and she was raped by Syrian migrants in her own flat. Now, the evidence was all there, her body was black and blue, there was DNA, there was semen, there was all the rest of it. And the prosecution, the police told her that there wasn't enough evidence for a prosecution, and she killed herself.

Now, we have seen this happen up in Sunderland, with Justice for Chelsea, again, a massive load of evidence, but no prosecutions brought. So, they are closing in, they are closing-in and we are being told that black is white. We have all this evidence and we're being told there's no evidence. We have all these migrant rapes and we're being told there's no migrant rapes. We have what happened in Cologne; and the next day we were told that it has nothing to do with migrants, even though migrants had committed it.

We are essentially living in Orwell's 1984, where we are seeing something with our own eyes and we're told it's not happening. And if we identify it and we dare to speak it, then we are shunned. We have people who are threatened with loss of their livelihood. A friend of mine, Annie the Greek, who some of you who follow me on Twitter might know, has lost her job. She lost her job in the NHS because she refused to apologize for her political opinion.

Now we're in a situation, now take this in, take this in. In the last… I remember twenty years ago, it wasn't like this, it wasn't like this; ten years ago, it wasn't like this; but take it in - we are now at risk of losing our jobs if we say the wrong thing. We are at risk of having our venues closed if we say the wrong thing. We are at risk of going to prison, quite frankly, if we say the wrong thing. That's the situation we're in. It is deathly serious. it really is. And no amount of calling me a far-right fascist is going to change the reality.

- Anne Marie Waters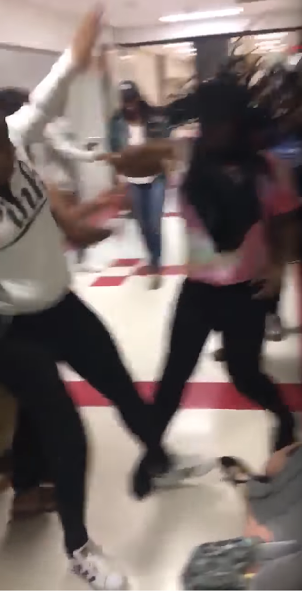 People from outside the United States frequently take a cavalier attitude toward the problem of blacks being imposed upon Whites (and others). They are not able to appreciate that even where you are able to escape temporarily in physical terms, you are still subject to the same rule structures. They are not able to appreciate its one-way reverse discrimination on behalf of a people who you should be able to discriminate against (blacks) for your safety and well being. They get caught up in (((media portrayals))) of your supposed responsibility to compensate for historical discrimination. They tend to add, "well, if you don't like blacks, you can just move to another place in The US." They are ignoring the fact discrimination, freedom of association and movement works one way - on behalf of blacks: absent the capacity to discriminate, i.e. with the anti-freedom from association rule structures of "The Civil Rights Act", its reverse discriminatory provisions of The Consent Decrees and Fair Housing Act will combine with the base bio-power of blacks, their hyper-assertiveness and prolific birthrates to put them everywhere - there is no sufficient White flight. And even where one can physically escape to some White enclave for a while, these right wing and YKW rule-structures and the (((media))) remain looming to leave you no recourse and no peace, ultimately, from the imposition of blacks.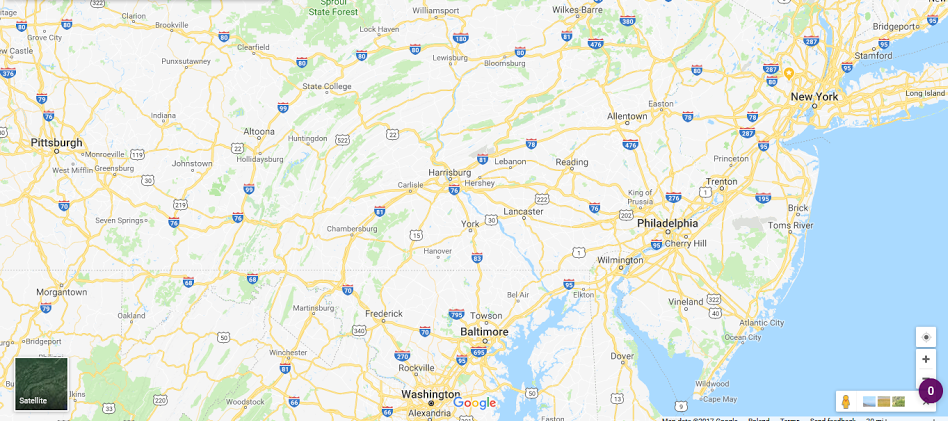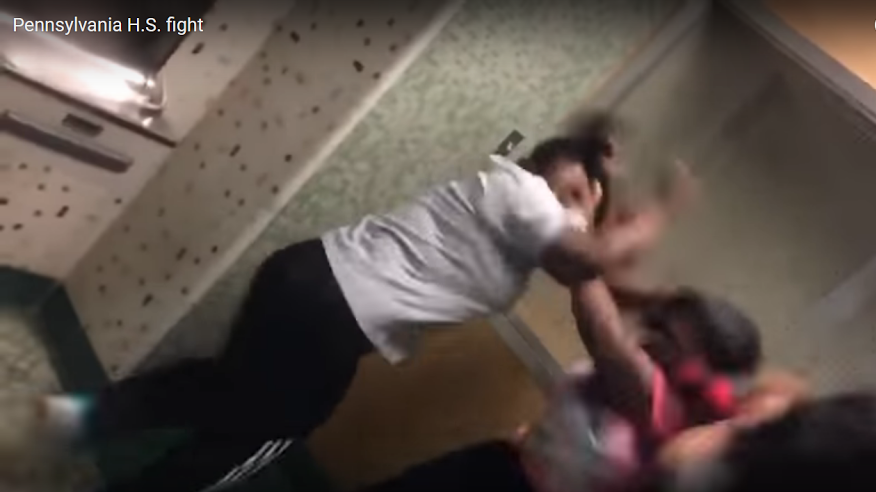 New Observer, "Teachers Flee PA's Nonwhite Schools", 21 Nov 2017:

Around 50 teachers have resigned in the last three months from schools in the Harrisburg, PA, school district, after being forced to flee massed group violence from "students" in the 97 percent nonwhite schools—a portend of what will happen as whites are ethnically cleansed from towns and cities across the country.

According to a report in the Philadelphia CBS Local—which of course ignores the school district's racial make-up—the "teachers in Pennsylvania's capital city are asking for support after a series of violent altercations with students has led to multiple resignations."

Quoting the Harrisburg Education Association President Jody Barksdale, the report says that at least 45 teachers have resigned since July and October, and "more have resigned since then."

Speaking at a school board meeting on Monday evening this week, first-grade teacher Amanda Sheaffer said she "had been hit and kicked by her students."

According to the 2010 Census—which is already nearly seven years old—Harrisburg's white population had dwindled to 30.65 percent, with blacks making up 52.4 percent, Hispanics 18 percent, and others the rest.

However, the school demographic is far more revealing about the ethnic cleansing taking place in that state's capital.

According to the official "Harrisburg School District, 2012 – 2013 District Profile" (which is also four years old), there are a total of 6,311 students at Elementary, Secondary, and High School level in that district.

The breakdown by "Race/Ethnicity," the statistics continue, are as follows:

"African American 64.09%

"Hispanic 26.27%

"Caucasian 3.45%

"Asian 5.36%

"Multi-Racial/Other 0.78%

"American Indian 0.05%"

Even given that "Caucasian" could mean (such as North African, or Arab—or white), it is thus fair to assume that the actual white element of the school population is around three percent.

The official statistics reveal further that there are students from 23 countries enrolled in the district's schools, and that they speak "over 18" languages.

Significantly, the official statistics reveal that the "Adequate Yearly Progress" (AYP—a measurement defined by the United States federal No Child Left Behind Act that allows the U.S. Department of Education to determine how every public school and school district in the country is performing academically) of the Harrisburg school district is sub-standard.

According to the official "Assessment Data: District 2011-12 AYP Status," report, overall the Harrisburg School district has an AYP status of 35 percent in mathematics, 34 percent in reading, 23 percent in science, and 41 percent in writing.

Finally, the official statistics reveal that 57 percent of all the employees in the Harrisburg School District are "Caucasian," 36 percent are "African American," 5 percent are Hispanic, and one percent are Asian and "Multiracial/Other."

The collapse of Harrisburg School District—a decline mirrored in other cities across America after whites had been ethnically cleansed out of those regions—is the latest clear indication of what will happen unless the displacement of white people is not only halted, but reversed.
Expendable money: Dmitry Rybolovlev, bought and sold Da Vinci for record price. Bought Florida mansion from Trump for $95 million only to tear it down after seeing it for the first time because it was moldy.

NPR, "Journalist Investigating Trump And Russia Says 'Full Picture Is One Of Collusion", 21 Nov 2017:

"The constellation of Russian connections circling around Planet Trump is quite extraordinary," says Guardian reporter Luke Harding. His new book is Collusion.

TERRY GROSS, HOST:

This is FRESH AIR. I'm Terry Gross. The new book "Collusion" is about what the author, my guest Luke Harding, says appears to be an emerging pattern of collusion between Russia, Trump and his campaign. Harding also writes about how Russia appears to have started cultivating Trump back in 1987. The book is based on original reporting as well as on the Trump-Russia dossier compiled by former British intelligence agent Christopher Steele. Harding met with Steele twice, once before and once after the dossier became public. Harding had a lot of good contacts to draw on for this book because he spent four years as Moscow bureau chief for the The Guardian. During that time, the Kremlin didn't like some of the stories Harding was investigating, and in 2011, he was expelled. In Moscow, he learned a lot about Russian espionage partly through his own experience of being spied on and harassed.

Harding is now a foreign correspondent for The Guardian. He's also the author of books about WikiLeaks, Edward Snowden and Alexander Litvinenko, the former Russian spy who fled to England, passed information to British intelligence about links between the Kremlin and the Russian mafia and then was assassinated with polonium-spiked tea.

Luke Harding, welcome back to FRESH AIR. So the dossier said that the Russian regime had been cultivating, supporting and assisting Donald Trump for at least five years with the goal of encouraging splits and divisions in the Western alliance. You write that the Russians had their eyes on Donald Trump as early as the 1970s when he married Ivana Trump, who is from Czechoslovakia. Why were they keeping an eye on him in the '70s? What were they looking for?

LUKE HARDING: Well, the KGB really forever has been interested in cultivating people, actually, who might be useful contacts for them, identifying targets for possible recruitments possibly to be agents. That's not saying that Donald Trump is an agent, but the point is that he would have been on their radar certainly by 1977 when he married Ivana, who came from Czechoslovakia, a kind of communist Eastern bloc country. And we know from Czechoslovak spy records de-classified last year that the spy agencies were in contact with Ivana's father, that they kept an eye on the Trumps in Manhattan throughout the 1980s. And we also know, from defectors and other sources, that whatever Prague learned, communist Prague, would have been funneled to the big guys in Moscow, to the KGB. So there would have been a file on Donald Trump.

But I think what's kind of interesting about this story, if you understand the kind of Russian espionage background, is Trump's first visit to Soviet Moscow in 1987. He went with Ivana. He writes about it in "The Art Of The Deal," his best-selling memoir. He talks about getting an invitation from the Soviet government to go over there. And he makes it seem kind of rather casual. But what I discovered from my research is that there was actually a concerted effort by the Soviet government via the ambassador at the time, who was newly arrived, a guy called Yuri Dubinin, to kind of charm Trump, to flatter him, to woo him almost. And Dubinin's daughter, sort of who was part of this process, said that the ambassador rushed up to the top of Trump Tower, basically kind of breezed into Trump's office and he melted. That's the verb she used. He melted.

GROSS: That Trump melted when he was flattered.

HARDING: Yeah. That Trump melted with this kind of flattery. And several months later, he gets an invitation to go on an all-expenses-paid trip behind the Iron Curtain to Soviet Moscow. Now, a couple of things which were important here. One of them is that his trip was arranged by Intourist, which is the Soviet travel agency. Now, I've talked to defectors and others who say - this is actually fairly well-known - that Intourist is basically the KGB. It was the organization which monitored foreigners going into the Soviet Union and kept an eye on them when they were there. So kind of he went with KGB travel. Now, according to "The Art Of The Deal," he met various Soviet officials there. Who they were, we don't know. But what we can say with certainty is that his hotel, just off Red Square, the National Hotel, would have been bugged, that there was already a kind of dossier on Trump. And this would have been supplemented with whatever was picked up from encounters with him, from intercept, from his hotel room.

You know, we can't say that Trump was recruited in 1987. But what we can say with absolute certainty is there was a very determined effort by the Soviets to bring him over, and that moreover, his personality was the kind of thing they were looking for. They were looking for narcissists. They were looking for people who were kind of - dare I say it - corruptible, interested in money, people who were not necessarily faithful in their marriages and also sort of opportunists who were not very strong analysts or principle people. And if you work your way down the list through these sort of - the KGB's personality questionnaire, Donald Trump ticks every single box.

If that's not collusion, what is collusion?

GROSS: So during this period when Trump is talking with Dubinin, the Soviet ambassador to the U.S., Dubinin suggested joint venture to do a Trump Hotel in Moscow. So that hotel never happens, but why of all the developers in the U.S. would they ask Trump?

HARDING: There was no randomness about this. I mean, we know from Dubinin's daughters that they picked on Trump. And there's a kind of curious coda to this, which is, two months after his trip - actually, less than two months, he comes back from Moscow and, having previously shown very little interest in foreign policy, he takes out these full-page advertisements in The Washington Post and a couple of other U.S. newspapers basically criticizing Ronald Reagan and criticizing Reagan's foreign policy. Now, Trump is many things, but he is not an expert on international affairs, and this is curious. I mean, it may not be conspiratorial, but nonetheless there he is criticizing Reagan, who was very much an enemy of the Soviet Union. They regarded him as a hawk and a hardliner and a bitter adversary. And guess what? He also says that he's thinking about politics, not as a senator or as a mayor, but he actually goes to New Hampshire and he actively floats the idea of running for president. It doesn't happen then. But it's in his head. This is a strategic thought he has after his Moscow trip.

GROSS: So the Russian cultivation of Donald Trump, you say, resumes in 2008 when Trump is a birther. What is this resumption of cultivation? What did that look like?

HARDING: If you believe the dossier by Christopher Steele, the former British intelligence officer, which I do broadly with some caveats, then at this point someone inside the Kremlin decided that Trump could be of use. And what began was a sort of transactional relationship where Trump was feeding to Moscow, according to Steele, details of Russian oligarchs living in the U.S. who have property or assets or business ventures in the United States, and in return he was getting kind of politically useful stuff. Now, just to explain, the thing is about Putin is that he is deeply paranoid. He's conspiratorial. He doesn't really trust anybody - maybe his family, his dog, a few people. But basically he's intensely suspicious. And so any Russian who travels regularly to the United States or builds property there or invests in Silicon Valley, he wants to know what's going on and so do his spy services. So this, at least according to Steele, is what Trump's people may have been supplying.

Now, of course they deny all this, but it's interesting when sort of Donald Trump says, when he tweeted out famously, I've got no loans with Russia, no deals, nothing. Well, that's kind of formally true. Actually, Trump's multiple attempts to do business in Russia failed. I mean, they kind of blew away with the wind. But what one can say with certainty is that over a long period of time, there's been plenty of Russian money going from Moscow into Trump properties, some of them in Trump Tower. There were Mafia guys staying there in the 1980s, for example, who were subsequently convicted and went to federal jail. And also into sort of Trump-branded resorts later on in Florida and elsewhere. And there's a pattern.

GROSS: In 2013, Trump holds the Miss Universe pageant in Moscow, where it's sponsored by the oligarch Agalarov. By this time you say the Kremlin was actively cultivating Trump. Is the Miss Universe pageant being held in Moscow part of the cultivation, do you think?

HARDING: That's a really interesting question. As always in Russia, quite often it's about politics and it's about money. And the money is often even more important than the politics. But clearly Aras Agalarov was keen to promote himself. But I've met him. He's rather a charming guy. I interviewed him. But also he has a sort of pop star son called Emin. And by bringing the Miss Universe contest to Moscow, several happy things happened. First of all, Trump came over, which I think, if you believe the Christopher Steele dossier, which I broadly do, was good for the Kremlin that there was Trump in Moscow, plenty of opportunities to interact with him. Also good for Emin's pop career because he was singing before a global audience. He's a nice guy, but, I think, a somewhat kind of mediocre singer, but there was massive TV exposure. And most of all, of course, this trip was of interest to the FSB, the Russian spy agency.

Now, the dossier says that Trump was recorded in the suite at the Ritz-Carlton hotel, a suite that Obama had stayed in and he watched this kind of famous, exotic show, if you can quote it like that. Now, I don't know if that's correct. Trump denies it. But what I can say with absolute certainty is that the Trump suite would have been bugged. It wouldn't have been bugged for everybody, but obviously they were interested in him, and there will be a tape. It may just show Trump going to bed early reading a novel. I don't know. Or it may show something else. But that there will have been technical surveillance of Trump is absolutely guaranteed.

I mean, the other interesting thing is that Aras Agalarov, who hosted him, is - he's the sort of perfect companion. He's smart, he speaks English brilliantly, he's quite charming. He drove me around, one day, this estate that he built on the outskirts of Moscow for the super rich where houses cost $25 million. And we were trundling along in his kind of blue, English Jeep with the bodyguards respectfully rolling behind us in a Mercedes about 200 meters away. And he sort of told me his vision. He told me that he was inspired by America, by some of the developments he's seen there, but that ultimately he was a Russian patriot and he couldn't live in America even though his daughter was there studying and his wife was there quite a lot. He felt his home was in Russia. And I think that's all kind of quite revealing. So he has all these billions. He's a developer like Trump, but he also knows, as an oligarch, that if the state calls on him to do something then he has to do it, and he has to do it well.

Rob Goldstone

GROSS: Well, there's people connected to Agalarov who figure into the campaign story, and here's an example. Agalarov's publicist, Rob Goldstone, who's British, enters into a key part of the campaign story involving the Trump campaign links to Russia. He sends a now-famous email to Don Junior explaining that there's an offer to provide the Trump campaign with some official documents and information that would incriminate Hillary, and Don Junior responds that he's on the road, he can't meet right away but, quote, "if what you say is true, I love it. Could we do a call first thing next week?" So connect the dots for us between Goldstone being Agalarov's publicist and Goldstone being the person who conveys this information about Russia having incriminating information about Hillary.

Rob Goldstone relaxing, chatting with Trump

HARDING: Yeah. I mean, I think the whole Goldstone story is fascinating. It's also faintly embarrassing. Now, I speak as a sort of fellow Brit (laughter). This kind of joking British press, and he clowns around all the time, seems to be in the middle of this story. But what you have to understand, again, is that Putin is not going to do things in a kind of linear way. There are going to be kind of intermediaries, and Goldstone's the perfect intermediary. He and Emin know Trump. They've been to Trump Tower. There are lots of Instagram photos of them all together having dinner, relaxed, chatting and so on. And at some point, he gets a message from the Agalarovs that the prosecutor general of Russia - and this is how the email goes - has got some incriminating material on the Hillary which they would like to share as part of the Russian government's support for Donald Trump and his campaign. It's absolutely explicit.

And so Goldstone gets in touch with Trump Junior, sends these emails which we've now seen, and the meeting happens. Now, the fact is that actually, the lawyer who flies from Moscow to Trump Tower in the summer of 2016, now-famous Natalia Veselnitskaya, she doesn't bring the emails that perhaps the Trump campaign might have hoped for. She brings something else. But nonetheless, this is a story about intent. Trump Junior took the meeting. He could have rung the FBI and said, look, I'm being approached by these kind of dodgy Russians. What do you advise? But he took the meeting, and then he concealed it afterwards for almost a year. If that's not collusion, what is collusion?

The UN General Assembly hall (illustrative). Photo: UN.

JNS.org – "In an unprecedented move, Israel on Tuesday co-sponsored a draft resolution against Syria that was submitted by Saudi Arabia at the United Nations Human Rights Council", 15 Nov 2017:

The resolution, which was also backed by the US, France and Germany, passed with an overwhelming majority of 108 countries voting in favor, 17 voting against and 58 abstaining.

17 Nov 2017: Saudi FM, "Hezbollah Is a 'First-Class Terrorist Organization." Saudi Foreign Minister Adel al-Jubeir described Hezbollah on Thursday as a "first-class terrorist organization" that should lay down its arms…

Although Israel has previously supported resolutions submitted by Saudi Arabia at the UN, it has never signed on as a co-sponsor.

In a statement delivered prior to the vote, Saudi Arabian Ambassador to the UN Abdallah Al-Mouallimi slammed the "the grave deterioration in the state of human rights in Syria."

When the list of the resolution's co-sponsors was read aloud, Syria's UN envoy, Bashar al-Jaafari, mockingly congratulated Riyadh for Israel's direct involvement, stating that it served as evidence of a secret Israeli-Saudi alliance. The Syrian ambassador also accused all of the resolution's co-sponsors of supporting terrorism.

"The Assad regime, with full support from Iran, has been slaughtering its people mercilessly and with incomprehensible cruelty for years," Israeli Ambassador to the UN Danny Danon responded. "Israel, which for years has been providing humanitarian aid to Syrian civilians hurt by these atrocities, stands together with the international community against this murderous regime."

Israel's co-sponsoring of the Saudi resolution came a week after the Israeli Foreign Ministry reportedly instructed its envoys to launch a global diplomatic campaign against Iran and the Lebanese terror group Hezbollah, and in support of Saudi Arabia and its allies.
The resolution would overturn United Nations Security Council Resolution 1559, guarantor of Lebanon's sovereignty.
Related: Bashar Al-Assad, a proper Left Nationalist, a socially conscientious man.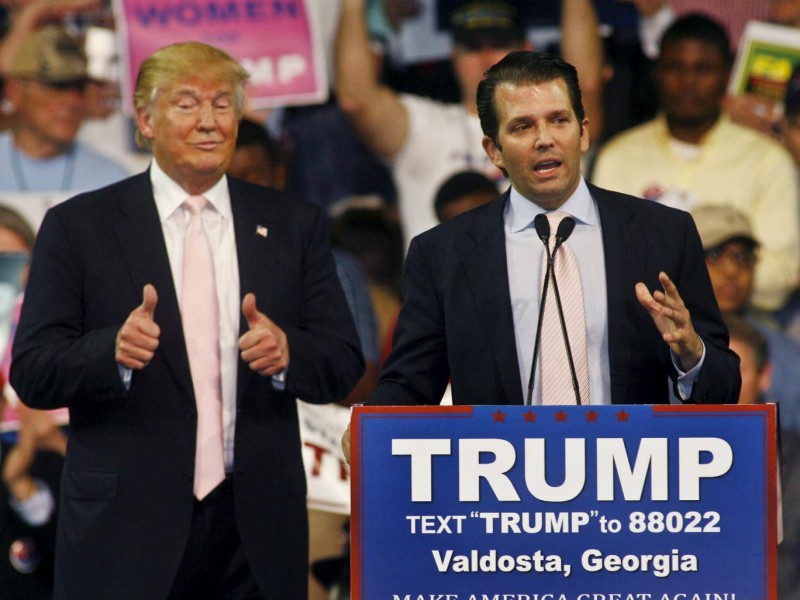 Donald Trump gives a thumbs up as his son Donald Trump, Jr. speaks at a campaign rally at Valdosta State University in Valdosta, Georgia February 29, 2016 Reuters.
NPR, "Donald Trump Jr. Had Direct Contact With WikiLeaks During Campaign", 14 Nov 2017:

During the 2016 presidential campaign, Donald Trump Jr. was in direct contact with WikiLeaks at the same time the muckraking website was publishing hacked emails from Democratic officials that proved damaging to the Clinton campaign, according to several major publications.

Following the reports, Trump Jr. acknowledged the contact in a tweet detailing one exchange with the radical transparency organization.

The Atlantic, The Wall Street Journal and The Washington Post, in articles published late Monday, said that then-candidate Donald Trump's eldest son used the messaging feature on Twitter to communicate with WikiLeaks, which in turn alerted the campaign to the impending release of the hacked emails.

The publications report that the messages between Trump Jr. and WikiLeaks were among thousands of documents turned over to Congress as part of its ongoing investigation into claims that Russia interfered in the November election — a finding backed unanimously by U.S. intelligence agencies, which have said that the Kremlin aimed to aid Donald Trump's campaign.