Majorityrights News > Category: Law & Order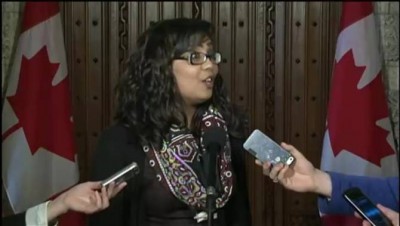 Ms. Iqra Khalid, a Muslim, pushes through anti-Islamophobia motion.
Breitbart, "Canadian Parliament Passes Controversial Islamophobia Motion", 24 March 2017:

The Canadian House of Commons has passed motion M103 which singles out the criticism of Islam as a form of "Islamophobia". Critics condemn it as an attack on free speech.

Motion M103 was tabled by Iqra Khalid, a Muslim member of Prime Minister Justin Trudeau's Liberal Party. It states the government must "condemn Islamophobia and all forms of systemic racism and religious discrimination", was taken to vote on Thursday evening where a total of 201 MPs voted for it and only 91 voted against, Canadian broadcaster Global News reports.

The text of the motion does not clarify what constitutes "Islamophobia" and has led many to speculate what that may mean in the future, with some critics fearing it could lead to Shariah law courts. This concern has led to the circulation of an anti-Shariah petition on the Parliament of Canada website, which has so far been signed by over 24,000 people.

Ms. Khalid, who was born in Pakistan and moved to the UK and then to Canada, said the definition of Islamophobia was: "The irrational hate of Muslims that leads to discrimination."

When Conservatives asked her to remove Islamophobia from the motion, she said: "I will not do so, any more than I would speak to the Holocaust and not mention that the overwhelming majority of victims were six million followers of the Jewish faith and that anti-Semitism was the root cause of the Holocaust."

Another part of the bill that has stirred controversy is the passage that asks the government to "recognise the need to quell the increasing public climate of hate and fear". It is currently unknown what measures the government will take to "quell" "hate and fear" as the motion is not classified as a law and has no effect on current criminal law.

The Conservative Party of Canada are currently holding leadership elections and many of the candidates have come out against M103 including one of the frontrunners, Quebecer Maxime Bernier. Mr. Bernier, a conservative with libertarian free market leanings, said he voted against the bill tweeting: "Free speech is the most fundamental right we have. I am opposed to #m103. Canadians should be treated equally regardless of religion."
Reuters, "Polish PM draws link between London attack and EU migrant policy", 23 Mar 2017:

Poland's prime minister drew a link on Thursday between an attack in London targeting the British parliament and the European Union's migrant policy, saying the assault vindicated Warsaw's refusal to take in refugees.


Poland's Prime Minister Beata Szydlo holds a news conference at the end of a European Union leaders summit in Brussels, Belgium, March 10, 2017. REUTERS/Yves Herman

Five people, including the attacker, were killed and about 40 injured on Wednesday after a car ploughed into pedestrians near the British parliament. Police believe the attack was "Islamist-related", but have given no details about the attacker, who they say was acting alone.

Poland's right-wing, eurosceptic government has refused to accept any of the 6,200 migrants allocated to it under the European Union's quota scheme that is designed to share the burden of taking in the large numbers of migrants and refugees who have come to Europe over the past two years.

"I hear in Europe very often: do not connect the migration policy with terrorism, but it is impossible not to connect them," Polish Prime Minister Beata Szydlo told private broadcaster TVN24.

Earlier this week the EU's migration commissioner, Dimitris Avramopoulos, on a visit to Warsaw, warned member states against failing to host refugees to help alleviate pressure on frontline states bearing the brunt of arrivals across the Mediterranean.

"The commissioner should concentrate on what to do to avoid such acts as yesterday in London ... Poland will not succumb to blackmail such as that expressed by the commissioner," Szydlo said.

"The commissioner is coming to Warsaw and trying to tell us: you have to do what the EU decided, you have to take these migrants .... Two days later another terrorist attack in London occurs," she said.

The leader of Szydlo's ruling Law and Justice party (PiS), Jaroslaw Kaczynski, said back in 2015 that refugees could bring diseases and parasites to Poland, which is staunchly Roman Catholic and has very few Muslim immigrants.

The migrant issue is just one of several over which Poland is at odds with the EU.

Also on Thursday Szydlo said Poland might not accept a declaration EU leaders are due to endorse in Rome this month that will chart the bloc's course after Britain leaves unless it addresses issues Warsaw considers crucial.
Visigrad Post, "V. Orbán: "Hungary is in a State of Siege", March 2017:

Hungary – Migrants are detained, police and army reinforced, and a second fence set up at the border. There is less talk of migrants arriving through the Balkans, yet Hungary is getting ready for a new wave. For Prime Minister Viktor Orbán, Hungary is in a state of siege.

Hungary "shouldn't risk changing the basic ethnic character of the country," he recently reaffirmed during an intervention at the Hungarian Chamber of Commerce and Industry, convinced that this would lead to a " depreciation of its value "and to "chaos ".

"How to do this?" he asked. "First, by preserving ethnic homogeneity. One can say such things now, which you would have been executed for during the past few years, as life has proven that too much mixing causes trouble," he said.

However, the Hungarian Prime Minister is not opposed to immigration, despite everything. And he is even more in favor of immigration — if it comes from Europe. Whether it is Ukrainian from the Eastern part of the country, or Westerners in Budapest. His recent remarks inviting with a note of sarcasm the Western refugees in Hungary did not pass unnoticed.

On the other hand, Viktor Orbán is firmer than ever on non-European immigration, and in particular illegal immigration.

Hungary in a state of siege

The border barrier, erected during the summer of 2015, is being reinforced by a second fence. Equipped with various electronic devices to improve the surveillance and reactivity of the territorial protection forces, this second barrier should make the border impermeable. This is at least what the Hungarian government hopes, fearing a new wave of migrants.

"We can not take it easy, now we are also in a state of siege, and even if the migratory wave has diminished, it has not stopped," said Prime Minister Orbán in front of new police recruits who took the oath to defend Hungary at the risk of their lives, if necessary.

For the strong man of Budapest, security is the precondition for Hungary and Europe to have a bright future. Security, and the rule of law.

"Laws must apply equally for everyone, also for those migrants who come here, and no kind of foolish human rights mumbo jumbo can overwrite this."

"Immigration is the Trojan horse of terrorism," recalled Mr Orbán. "We can not count on Brussels and on the European Union. They only make the task harder for us. We can only rely on ourselves," he said in front of the young recruits of the border hunters.

New treatments of migrants

Hungary has also taken it upon herself to openly contravene certain international conventions, as evidenced by criticism from the EU and the UN. But this is fully assumed.

Henceforth, Hungary systematically expells any clandestine intercepted on her soil. Their return to Serbia is automatic. Asylum seekers are now detained in closed centers, where they are housed in containers, in order to prevent fraudsters from using this procedure only to enter the EU and then to continue their illegal journey, as did almost unanimously the "asylum seekers".

Meanwhile, the globalist press is trying to pass off the Hungarian guards as sadistic and malicious torturers, using "proof" like photos and testimonies of migrants in Serbia. But this new, unfounded and disproportionate attack will not affect the government, strongly supported by the Hungarian population on the issue of migration.

According to Viktor Orbán, Hungary is today one of the safest countries in Europe. And he intends to preserve this asset in order to lead the country towards the economic revolution he intends to undertake.
Update on this article 18 March 2017, 14:10 UTC: Evidently I stand corrected—what appeared to me as Jewishness in Mr. Roche is apparently just expression of his Christian background. And while that does comport a certain amount of Jewish thinking in and of itself, he is apparently not Jewish and his organization checks-out as legitimate.
That's one of the key functions of the comments section, to correct errors in a post; the increased capacity for interactive, joint construction of knowledge is a great advantage that we have over prior generations who were far more beholden as a passive audience to media.
Though well-meaning and meant to advise caution, I'll leave my original remarks as they were below, with the provisio that my "hypotheses" about Mr. Roche perhaps being Jewish and his organization being dubious, were in fact mistaken.


---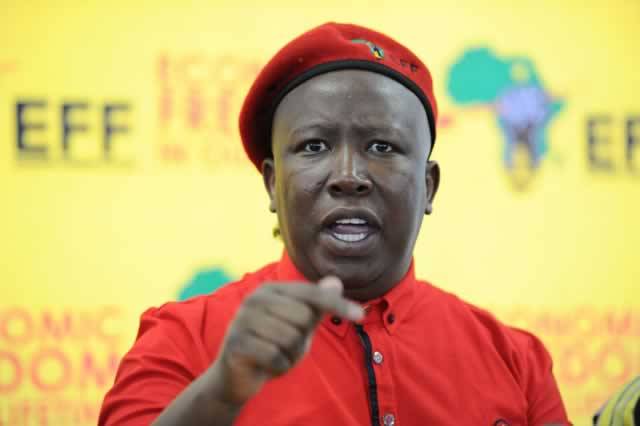 Julius Malema
Readers should take this urgent notice with a caveat given the source - the philo-Semitic Jared Taylor is relaying this information through a man named Simon Roche - a bracketed sounding name - who seeks money for his organization, though he admits to having been a liberal who worked for the ANC, the ending of Apartheid, dis-empowering The Afrikaner National Party and its "racist" policies.*
That is, consider the urgent message but also consider means to help other than through Mr. Roche and his organization. If Jewish organizations want to be charitable they have enough money to do so - and well should of their own accord make up for what terror and violence that was unleashed upon White South Afrikaners as a result of their political efforts.
Here Roche is discussing the history of South Africa and in minute 13:08 declares "a wicked man of history, a truly wicked man - Cecil John Rhodes" - Is that so Mr. Roche?
URGENT: Suidlanders Reach out to Americans to Stop South African White Genocide

Source: occidentaldissent.com, Mar 16, 2017

For a few days now, I had been getting calls from an unfamiliar number. I assumed it was just a solicitor trying to sell me something. After what seemed like the second or third time I have been called from this unknown number, I answered the phone this morning.

It turns out that I was being contacted by a South African group called the Suidlanders. A trusted comrade in the movement had given them my number. They are in the United States on a speaking tour to raise awareness about the rapidly worsening situation for Whites in South Africa. The Suidlanders are essentially the South African equivalent of our doomsday preppers except that they are prepping for the very real possibility of a Zimbabwe-style White Genocide.

None of what I was told by the Suidlanders this morning came as a surprise. I've been blogging about South Africa for years now. In recent months, I have written about the White ghettos, the black-on-white crime, particularly the horrific murders, and the news that President Jacob Zuma had thrown in his lot with Julius Malema and was calling for a united black front to dispossess White landowners. I've already written about it twice on my own initiative urging President Trump to intervene in South Africa and Congress to impose economic sanctions on South Africa.

So anyway, I was told the situation in South Africa is even worse than I thought. The ANC is losing power in South Africa after a 23 year reign. They are responding by scapegoating the White community for South Africa's problems. A civil war is a real possibility. The Suidlanders believe that a full blown crisis could be upon the White community within a month or two. They are over here to raise money in the event that they have to implement their Emergency Plan.

Here are some things you can do to help:

1.) Contact your representatives in Congress and urge them to impose economic sanctions on SA. I've already done so.

2.) Publicize this story on social media. Let's get the word out on Facebook, Twitter, YouTube. If you have a platform or radio show, contact the Suidlanders at .(JavaScript must be enabled to view this email address) to arrange an interview to discuss the situation in South Africa.

3.) If you support the South African cause, consider donating to the Suidlanders through their website.

4.) Pressure the Trump administration to intervene in South Africa. We made refugee crime in Sweden a big story. The South Africans are in much greater need of our help.

5.) Create buzz about this issue so it will enter the news cycle. Talk to your friends about it.

Note: Check out the podcast the Suidlanders did with Jared Taylor. If you are pressed for time, skip ahead to the 29:00 minute mark to get to the gist of the situation.
* Apartheid did apparently leave Asians to fend for themselves against Black Africans - and is the reason many fled to The UK.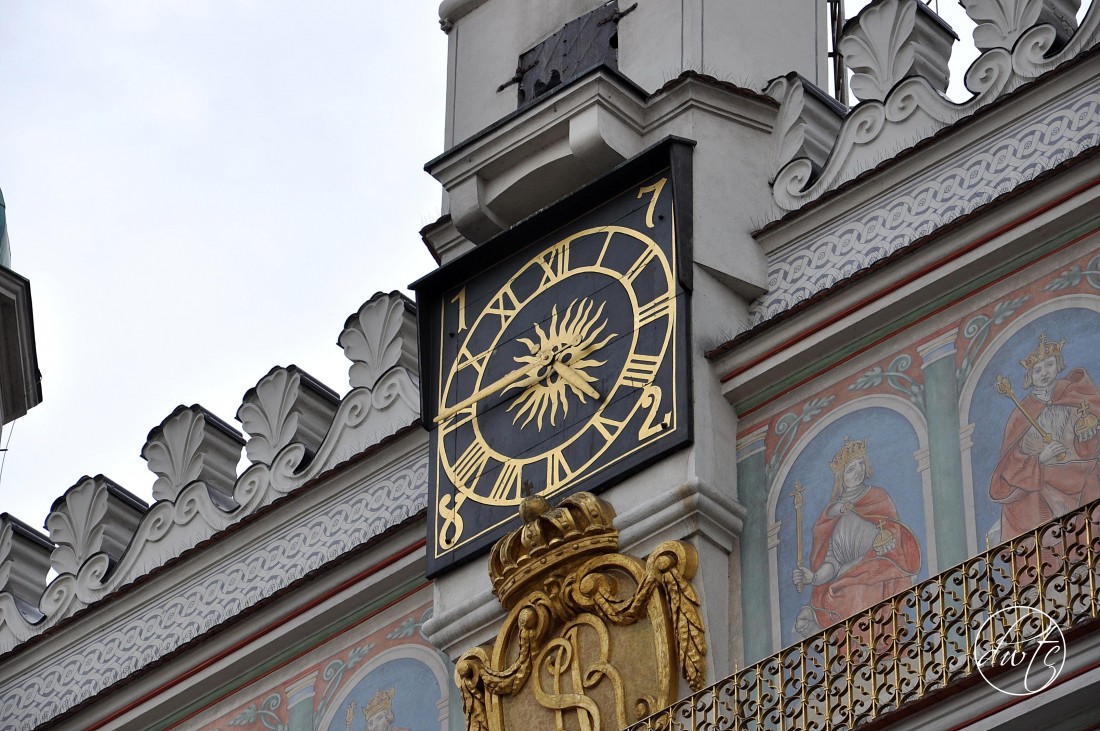 Western Voices World News, "Poland: Europe's Vanguard Nation," 1 March 2017"

In spite of its own internal issues, like every other European nation has, Poland refuses to take a single refugee because of 'security' fears. Poland has accepted less asylum-seekers per capita than almost any other European nation.

Poland will not be accepting a single refugee "because there is no mechanism that would ensure safety", the most powerful politician in the country has said.

Jaroslaw Kaczynski is the leader of Poland's ruling Law and Justice (PiS) party. PiS takes a nationalist, right-wing stance on most issues, vocally opposing EU plans to house and feed refugees fleeing the Syrian civil war and other humanitarian crises.

In a political broadcast published on YouTube, he said: "After recent events connected with acts of terror, [Poland] will not accept refugees because there is no mechanism that would ensure security."

The European Union has recently suggested that countries should be asked to accept a quota of refugees, or pay €250,000 (£200,000) for each asylum-seeker they turn away.

The money raised would be given to countries such as Greece, Germany and Italy who are currently housing a disproportionately high number of refugees.

But Mr Kaczynski also spoke out in opposition to these plans, which would see Poland asked to meet a quota of 6500 refugees or provide over €1.6bn (£1.25bn) in support for the humanitarian effort.

"Such a decision would abolish the sovereignty of EU member states – of course, the weaker ones," he said. "We don't agree to that, we have to oppose that, because we are and we will be in charge in our own country,"

Since taking control of the Polish government in 2015, the autocratic PiS has seized control of state media and the civil service, as well as passing a law to cripple the Polish supreme court by landing it with an unworkable caseload.

In 2015, Mr Kaczynski claimed that refugees were bringing "various parasites and protozoa" to Europe, including dysentery and cholera. PiS were elected on a vehemently anti-refugee and Eurosceptic platform.

With a population of nearly 40,000,000, Poland has a lower quota than other large European nations, though it is also a relatively poor country.

Last year, Eurostat found Poland accepted just 0.21 asylum-seekers per 1000 citizens, compared to 0.5 per thousand in the United Kingdom or 8.43 in Sweden.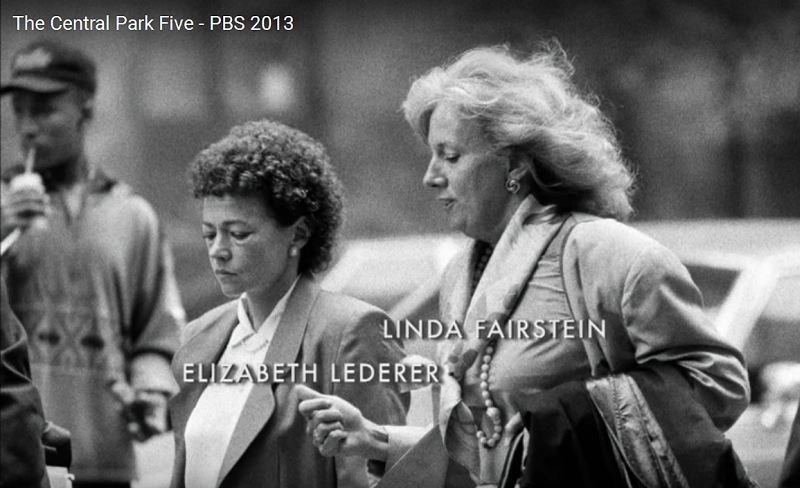 NYPD coerced confessions and prosecutors Lederer and Fairstein railroaded five kids (4 black, 1 Puerto Rican) for the 1989 rape and near murder of Trisha Meili (White), an investment banker who was jogging in Central Park. Despite my prejudices, I cannot imagine myself scripting confessions to a serious crime for some black kids to sign. The kids spent years in jail for a crime that they did not commit. As it turns out, a likely suspect, a black serial rapist at the time named Matias Reyes had committed the crime and could have been pursued, as there was plenty of evidence that could have led NYPD to find him the lone perpetrator. While Reyes was a DNA match that could have been corroborated at the time, Lederer and Fairstein are confronted with the fact that they forced the prosecution through, despite not having a DNA match in the case presented them by the NYPD, despite its coerced confessions and the contradictions that existed between those "confessions."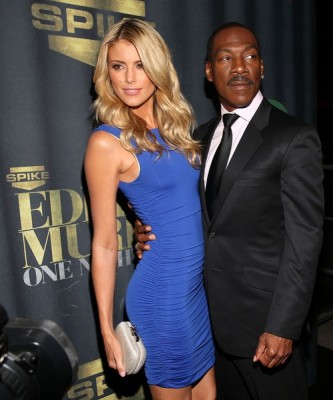 Maybe she should be "sifted-out", or maybe the naturalistic fallacy is cuck narrative itself.
- that nature can and OUGHT to take care of these matters unmediated by cultural (social rules) intervention.
Thank you for your understanding and support, acru ballist. I realize that unfortunately a huge percentage of Whites are used to this Jewish viral symbiosis - it seems at this point as if it is almost written into the genetic code of a huge percentage, now expressed as the Trump voter and Alternative Right - wherein Whites become more and more assimilated to Jews themselves - inasmuch as they remain HuWhite, compliantly accepting their role of being cows to breed stock that blacks and Jews can, in turn, breed with at their discretion.
But I think that this argument veers in the direction of passive naturalistic fallacy:
acru ballist: Maybe, this is evolution of the White People. A sifting out of the weak-minded, the 'mud-sharks', the gullible, the order-takers. Is the parasite controlling this process? It definitely does not need the strong, healthy and rebellious.
A naturalistic fallacy that Jews and Jew advocates like Brett Stevens would want us to accept as prescription - good right wing dolts, "nature" decides what is exactly good and true for us, unmediated by human, cultural intervention. At one time, when mudharkery was a rarity, I might have been more susceptible to arguments that it was me who isn't being naturally tough enough, but then, as it became commonplace and you began to see women who could not be considered merely something for the scrap-heep, the idea of merely letting "nature" weed out those without loyalty, judgement, intelligence, whatever it is that they are supposed to lack became more obviously an insufficient position to take.
...
Continuing with my response to Stevens article, next he goes on to say:
Brett Stevens: Whether or not Jews are a symptom of this problem, they are not its source.
DanielS: One can and should say that they are not the only source, but one should also add that they are a predominant source of our problems who should clearly be looked upon as another people and NOT among our "friends", to say the least.
Brett Stevens: Even more, whipping people up in a fury against them fails because it both distracts us from the actual cause, and inspires people to do ignoble things like genocide. We do not need to kill those who might appear to be our enemies; we need to fix ourselves, which includes excluding everyone else.
DanielS: I never said that it was our objective to genocide Jews or anyone else. Our objective is separatism from them and other non-European peoples, and sovereignty. That implies fixing our own problems for ourselves, thank you very much. We just need the Jews to butt-out.
Brett Stevens: It is the same way with the African-Americans. Some wish to blame them, but the actual cause is diversity, which in fact gets more deadly if it involves "nice" groups because then your people hybridize with them, erasing the original population. This type of soft genocide leaves behind a civilization capable of none of the great acts of the old.
DanielS: As I have said in many places, "Diversity" has been a Jewish red cape: because in a straight forward sense it would mean that different people co-exist in respect of each other maintaining their differences. However, in light of the Jewish marketing campaign of "Diversity" and the reaction to the reality of it in Jewish practice - which means imposition of alien integration against those goyim looking to maintain their difference - Jewish media disingenuously altercasts rights of display to suckers like Pat Buchanan who would argue against "Diversity" and, in effect, for integration (as opposed to "the sewer of multiculturalism and diversity" we should all speak English, be Christians, etc). Integration used to be the straight forward Jewish agenda back in the 60's and 70's but now they hide that agenda behind "diversity" and get Whites to react against diversity and into integration.
As far as the "nice" blacks go, I have long argued that the Uncle Tom and the Oreo are more dangerous than the ghetto thug in the long run because the thug is didactic whereas the Oreo and Uncle Tom, in "being so nice", open the gates for the pattern, which is more the thug and destructive to Whites. As far as this leaving behind a less capable populace, well, your Jewish friends would know, that's why they have imposed "diversity" and integration on our patterns while prohibiting it in Israel and among their more orthodox diaspora.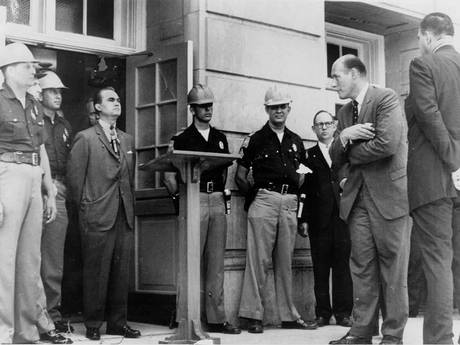 Katzenbach imposing integration upon Whites, in the days before that agenda was hidden behind the Jewish red cape of "diversity."
...and yes, just as we can "blame" (i.e., recognize) in Jews their inborn biological behaviors, uncaring and exploitative of our people to an extreme, and thus see the need to discriminate against them and separate from them, so too can we "blame" (i.e., recognize) in blacks an inborn lack of impulse control, along with an inborn tendency to aggression and hyper-assertiveness - translating to group predatory behavior as expressed typically in this episode in South Africa; and hence the need for "artificial selection", i.e., cultural rules of discriminatory separatism.
If you notice, at the beginning of this clip, the woman and her son were completely relaxed, had inculcated and cultivated no instinctual rules in vigilance for the inborn pattern of predation that would manifest in that moment: the anti-apartheid conditioning had worked that far to their detriment.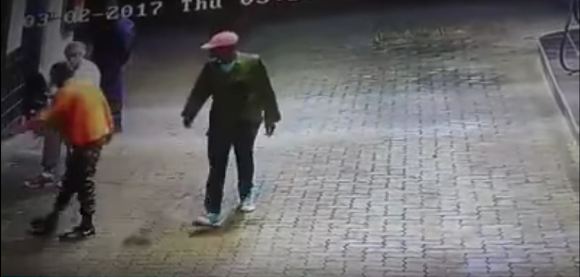 Predators sensing prey.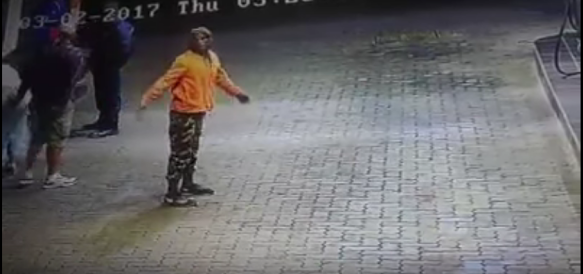 Predator signaling to pack that the coast is clear for the attack. White woman's son can now be seen in left of screen.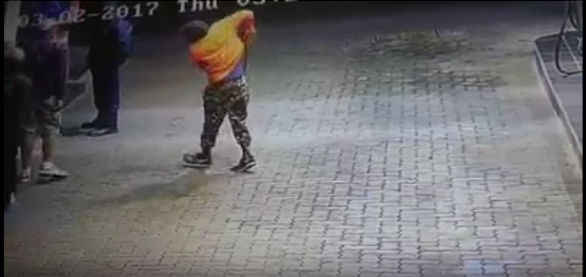 Predator pulls-out his weapon.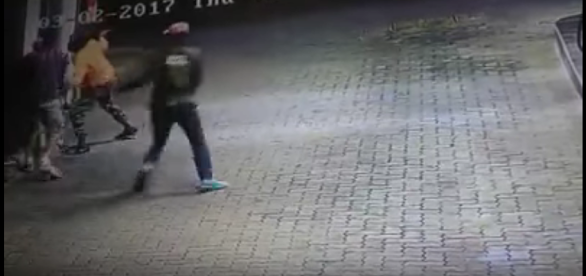 They start to attack the mother.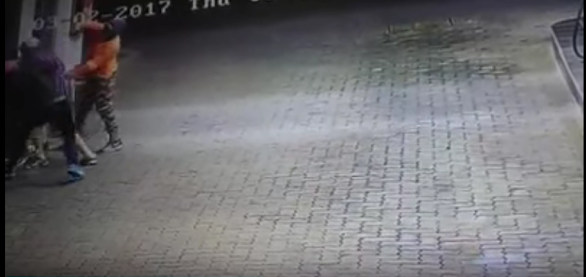 When the son tries to protect her, they try to hold him and aim for the back of his neck.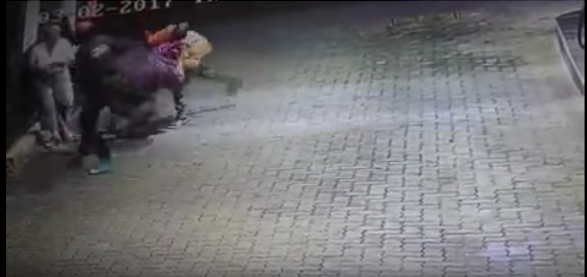 While they hold the mother, the son begins to put up a valiant fight.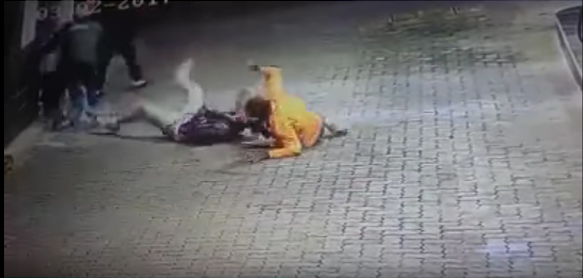 Outnumbered, they are subject to more beating before escaping (this time).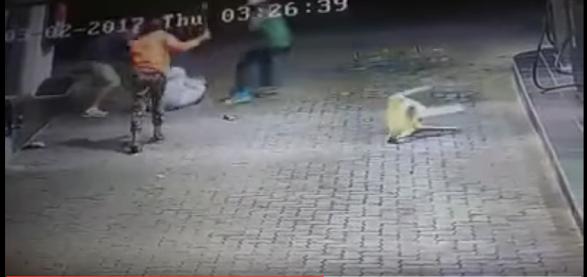 White man and his mother subject to the natural state of black predation.