Majorityrights News > Category: Christianity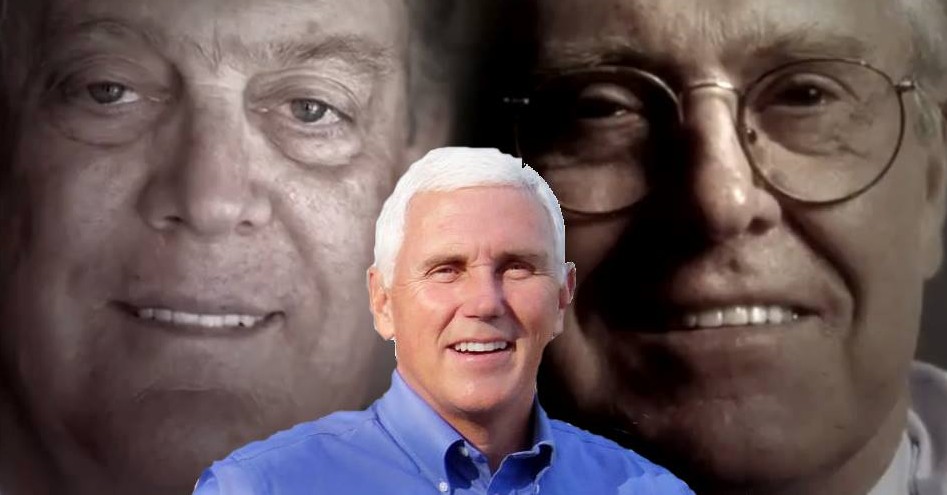 Pence owes his position to doing the dirty bidding of the Koch brother's interests, starting with lobbying against carbon tax, an initiative that wound up putting oil man Scott Pruitt in charge of EPA - the proverbial fox in charge of the hen house. That's not the half of Pence's classic story of right wing corruption.
NPR, "Understanding Mike Pence And His Relationship To Trump: 'His Public Role Is Fawning", 18 Oct 2017:

Though President Trump ran as an outsider, New Yorker writer Jane Mayer describes his vice president as "the connective tissue" between Trump and the billionaire donors in the Republican party.

TERRY GROSS, HOST:

This is FRESH AIR. I'm Terry Gross. Many of President Trump's critics are hoping he won't serve his full term, but what kind of president would Mike Pence make? That's one of the questions Jane Mayer sets out to answer in her new article about Pence titled "The President Pence Delusion." It's published in the current issue of The New Yorker.

She writes about how Pence became an evangelical Christian and how he became a favored candidate of billionaire backers, most especially the Koch brothers. She traces how religion and money shaped his ideology. She investigates how Pence became Trump's running mate and how much power he has in the White House and how he's used it.

Mayer is a staff writer for The New Yorker. She's also the author of the bestseller about the Koch Brothers titled "Dark Money: The Hidden History Of The Billionaires Behind The Rise Of The Radical Right." Last March in The New Yorker, she profiled another billionaire funder of right-wing causes, Robert Mercer, who she says has become a major force behind the Trump presidency.

Jane Mayer, welcome back to FRESH AIR. So I feel like I don't see Mike Pence very much, and I often wonder if he's a power behind the scenes or if he really doesn't matter that much within the Trump administration. So what's your impression?

JANE MAYER: Well, it's really hard to tell. He is - as Joel Goldstein, a specialist in the vice presidency, told me, he calls him the sycophant in chief because when you do see him, he's usually acting as an emcee to Trump or kind of echoing Trump and praising Trump. So his public role is really fawning. Behind the scenes, though, according to Newt Gingrich, he's 1 of the 3 people who have the most power in the Trump administration along with the chief of staff, John Kelly, and Trump himself.

GROSS: What are the signs that he's that powerful?

MAYER: Well, (laughter) that's a good question - because I think he acts as the connective tissue between the Trump administration and Congress, between the Trump administration and the - kind of the socially conservative base of the party. And most importantly, he is the connector between the Trump administration and the billionaire donors in the Republican Party. He is the guy who does most of the fundraising and outreach to the money.

GROSS: And the money includes the Koch brothers and Robert Mercer.

MAYER: It does. And one of the interesting things to me in writing about Pence is it poses such a juxtaposition between the way that Trump ran, which was as a populist outsider who was attacking the big-money forces in the Republican Party as corrupt and saying that they were puppeteers trying to control the candidates as puppets. And Trump made a huge point of saying, I'm my own man; I'm so rich; no one controls me. Yet as his vice president, he chose Mike Pence. And you could hardly find a candidate in the American political scene who has closer ties to the big donors and particularly the Koch brothers. He's been sponsored by them for years.

GROSS: So how do the Kochs first start backing Mike Pence?

MAYER: So this was when Pence was in Congress in 2009. He really did the Kochs a big favor. There was legislation pending that might have put a tax on carbon pollution, and it would have been terrible for Koch Industries. And Pence took up the cause and tried to help defeat that legislation and specifically carried around a pledge that the Kochs had created, trying to get people to sign it. And after he was successful in that, the Kochs invited him to come to their secret donor summits. And at that point on, they started showering him in money. So it was - it's really became a working relationship then. And I hadn't realized that until recently.

GROSS: One of the things you say Mike Pence is responsible for is bringing the Kochs and Donald Trump together. The Kochs didn't support Trump's candidacy. Charles Koch described the choice between Trump and Hillary as one between cancer or a heart attack. (Laughter) So what did Pence do to bring the Kochs and Trump together?

MAYER: Well, so this is what was interesting to me - is that Pence has been very close with the Kochs, and they have just showered money on his campaigns. And he's kind of act as a peacemaker between the Kochs and Trump. And but in that process, what interested me most was that I really do think that Trump ran as a different kind of Republican. He ran against the big-donors orthodoxy and kind of libertarian vision of people like the Kochs. He said he was going to deliver something for the little guys and build infrastructure all across the country and use the government in various ways that the Kochs disapprove of.

And what you've seen with Pence is that in many ways, Pence has brought in a ton of people who are allied with the Kochs into the government, and he's brought a lot of their policies in - so whether it's on environmental issues or tax policy now where the Kochs are working very closely with the Trump White House on the Trump tax plan. And it is a tax plan that the Kochs love, and it's a tax plan that's going to help the super-rich according to many nonpartisan analyses and not do very much for the middle class. So you're beginning to kind of see the government moving in the direction of the Kochs.

GROSS: You say 16 high-ranking officials in the Trump White House have ties to the Koch brothers.

MAYER: Well, and that's according to a study by a group called the Checks And Balances Program. And you can count them. You can see it online. They're - that's in the White House. There are also many, many people who've worked for the Kochs in the government at large, in the cabinet, in the other departments. And a tremendous number of people who work with and for Pence have gone in and out of working for the Kochs to the point that you had Politico saying - they quoted a Republican operative saying that the Koch operation really was the shadow campaign for Pence for president.

And chief among them really has been Pence's former chief of staff, Marc Short, who went - after working for Pence in Congress, he went to run the Koch's political operation, Freedom Partners. And then when Pence was chosen as vice president on the ticket, Marc Short came back, worked with Pence in the campaign and is now the head of Congressional Liaison in the Trump White House. So the man that actually ran the Koch's political operation is a key player inside the Trump White House.

"I got the phone call Nov. 12 at 2:39 in the afternoon," Tina Snyder recalled. Her 24-year-old son, Lee Winder, had been found in a shopping center parking lot near his car outside a Dunkin' Donuts.

Winder had become addicted to pain pills and died of a heroin overdose.


Washington Post, "Amid a targeted lobbying effort, Congress weakened the DEA's ability to go after drug distributors, even as opioid-related deaths continue to rise, a Washington Post and '60 Minutes' investigation finds", 15 Oct 2017:

In April 2016, at the height of the deadliest drug epidemic in U.S. history, Congress effectively stripped the Drug Enforcement Administration of its most potent weapon against large drug companies suspected of spilling prescription narcotics onto the nation's streets.

By then, the opioid war had claimed 200,000 lives, more than three times the number of U.S. military deaths in the Vietnam War. Overdose deaths continue to rise. There is no end in sight.

A handful of members of Congress, allied with the nation's major drug distributors, prevailed upon the DEA and the Justice Department to agree to a more industry-friendly law, undermining efforts to stanch the flow of pain pills, according to an investigation by The Washington Post and "60 Minutes." The DEA had opposed the effort for years.

The law was the crowning achievement of a multifaceted campaign by the drug industry to weaken aggressive DEA enforcement efforts against drug distribution companies that were supplying corrupt doctors and pharmacists who peddled narcotics to the black market. The industry worked behind the scenes with lobbyists and key members of Congress, pouring more than a million dollars into their election campaigns.

The chief advocate of the law that hobbled the DEA was Rep. Tom Marino, a Pennsylvania Republican who is now President Trump's nominee to become the nation's next drug czar. Marino spent years trying to move the law through Congress. It passed after Sen. Orrin G. Hatch (R-Utah) negotiated a final version with the DEA.

For years, some drug distributors were fined for repeatedly ignoring warnings from the DEA to shut down suspicious sales of hundreds of millions of pills, while they racked up billions of dollars in sales.

The new law makes it virtually impossible for the DEA to freeze suspicious narcotic shipments from the companies, according to internal agency and Justice Department documents and an independent assessment by the DEA's chief administrative law judge in a soon-to-be-published law review article. That powerful tool had allowed the agency to immediately prevent drugs from reaching the street.

Political action committees representing the industry contributed at least $1.5 million to the 23 lawmakers who sponsored or co-sponsored four versions of the bill, including nearly $100,000 to Marino and $177,000 to Hatch. Overall, the drug industry spent $102 million lobbying Congress on the bill and other legislation between 2014 and 2016, according to lobbying reports.

[TUESDAY UPDATE: Trump announces drug czar Marino will withdraw]

"The drug industry, the manufacturers, wholesalers, distributors and chain drugstores, have an influence over Congress that has never been seen before," said Joseph T. Rannazzisi, who ran the DEA's division responsible for regulating the drug industry and led a decade-long campaign of aggressive enforcement until he was forced out of the agency in 2015. "I mean, to get Congress to pass a bill to protect their interests in the height of an opioid epidemic just shows me how much influence they have."

Besides the sponsors and co-sponsors of the bill, few lawmakers knew the true impact the law would have. It sailed through Congress and was passed by unanimous consent, a parliamentary procedure reserved for bills considered to be noncontroversial. The White House was equally unaware of the bill's import when President Barack Obama signed it into law, according to interviews with former senior administration officials.

Top officials at the White House and the Justice Department have declined to discuss how the bill came to pass.

Michael Botticelli, who led the White House Office of National Drug Control Policy at the time, said neither Justice nor the DEA objected to the bill, removing a major obstacle to the president's approval.

"We deferred to DEA, as is common practice," he said.

The bill also was reviewed by the White House Office of Management and Budget.

"Neither the DEA nor the Justice Department informed OMB about the policy change in the bill," a former senior OMB official with knowledge of the issue said recently. The official spoke on the condition of anonymity because of the sensitivity of internal White House deliberations.

The DEA's top official at the time, acting administrator Chuck Rosenberg, declined repeated requests for interviews. A senior DEA official said the agency fought the bill for years in the face of growing pressure from key members of Congress and industry lobbyists. But the DEA lost the battle and eventually was forced to accept a deal it did not want.

[...]

Deeply involved in the effort to help the industry was the DEA's former associate chief counsel, D. Linden Barber. While at the DEA, he helped design and carry out the early stages of the agency's tough enforcement campaign, which targeted drug companies that were failing to report suspicious orders of narcotics.

When Barber went to work for the drug industry in 2011, he brought an intimate knowledge of the DEA's strategy and how it could be attacked to protect the companies. He was one of dozens of DEA officials recruited by the drug industry during the past decade.

Barber played a key role in early version of the legislation that would eventually curtail the DEA's power, according to an internal email written by a Justice Department official to a colleague. "He wrote the Marino bill," the official wrote in 2014.

Barber declined repeated requests for an interview.

With a few words, the new law changed four decades of DEA practice. Previously, the DEA could freeze drug shipments that posed an "imminent danger" to the community, giving the agency broad authority. Now, the DEA must demonstrate that a company's actions represent "a substantial likelihood of an immediate threat," a much higher bar.

[...]

Today, Rannazzisi is a consultant for a team of lawyers suing the opioid industry. Separately, 41 state attorneys general have banded together to investigate the industry. Hundreds of counties, cities and towns also are suing.

"This is an industry that's out of control. If they don't follow the law in drug supply, and diversion occurs, people die. That's just it, people die," he said. "And what they're saying is, 'The heck with your compliance. We'll just get the law changed.' "

[...]

'Drug dealers in lab coats'

2006: 52,277 deaths from prescription opioid overdoses since 2000.

Joe Rannazzisi came to DEA headquarters as an outsider with an attitude. He worked as an agent in Detroit, where he watched prescription drugs flood small towns and cities in the Midwest.

Hundreds of millions of pain pills, such as Vicodin and oxycodone, ended up in the hands of dealers and illegal users.

Rogue doctors wrote fraudulent prescriptions for enormous numbers of pills, and complicit pharmacists filled them without question, often for cash. Internet pharmacies, supplied by drug distribution companies, allowed users to obtain drugs without seeing a doctor.

"There were just too many bad practitioners, too many bad pharmacies, and too many bad wholesalers and distributors," Rannazzisi recalled.

[...]

Rannazzisi brought an aggressive approach to the diversion control office.

The year he took over, Linden Barber was promoted to run diversion control's litigation office, which crafted the legal arguments that supported the team. He was a former Army lawyer who served in Iraq. The cadre of attorneys who worked for him saw him as a tough litigator unafraid of an influential industry.

Barber and Rannazzisi formed a powerful combination that the drug companies would learn to fear. "Early on he did really good work," Rannazzisi said. "He jumped into the Internet cases when he first came here."

After shutting down the Internet pharmacies, Rannazzisi and Barber pursued the pain management clinics that replaced them and soon became as ubiquitous in South Florida as the golden arches of McDonald's. To get there, drug dealers and users would take the "Oxy Express" down Interstate 75.

"Lines of customers coming in and going out," said Matthew Murphy, a veteran DEA supervisor in Boston whom Rannazzisi hired to be chief of pharmaceutical investigations. "Armed guards. Vanloads of people from the Appalachia region driving down to Florida to get a prescription from a pain clinic and then get the prescription filled, going back to wherever they're from."

Back home, each 30-pill vial of oxycodone was worth $900.

DEA officials realized they needed a new strategy to confront this new kind of drug dealer.

"They weren't slinging crack on the corner," Rannazzisi said. "These were professionals who were doing it. They were just drug dealers in lab coats."

Rather than focusing on bad doctors and pharmacists, Rannazzisi and Barber decided to target the companies feeding the pill mills: the wholesale drug distributors, some of them massive multinational corporations.

[...]

"They definitely didn't like Joe Rannazzisi," Murphy said. "Not at all. He wasn't viewed as a person that they could work with. And maybe that was appropriate. He didn't want to work with industry much."

Rannazzisi was unmoved by their complaints.

"We're worried about their feelings being hurt because we were doing our job?" he said. "We were making them comply. We were holding their feet to the fire."

Murphy recalled a telling meeting with drug company representatives.

He said the president of one of the drug companies sat on the other side of the table, put his hands up and said, " 'You got us. What can we do to make this right?' " Murphy recalled.

Murphy said he had heard the same thing from drug dealers.

There was an important difference, Murphy noted.

"You know," he said, "the heroin and cocaine traffickers didn't have a class ring on their finger from a prestigious university."

'This is war'

2011: 121,468 deaths from prescription opioid overdoses since 2000.

In 2011, Linden Barber left the DEA to join the Washington, D.C., office of the law firm Quarles & Brady. He started a practice representing drug companies. "If you have a DEA compliance issue or you're facing a government investigation," he said in a promotional video for the firm, "I'd be happy to hear from you."

Barber's move turned out to be a key moment in the struggle between drug companies and the government, but it was far from the only one. Dozens of top officials from the DEA and Justice Department have stepped through Washington's revolving door to work for drug companies.

[...]

'it was bad'

2013: 149,853 deaths from prescription opioid overdoses since 2000.

The field generals in the DEA's war on opioids are men and women such as Jim Geldhof, a 43-year agency veteran who managed the diversion control program in the Detroit field office. He witnessed firsthand the heartbreak pain pills were causing across the Midwest.

One night, at a town hall meeting in Portsmouth, Ohio, Geldhof sat quietly as the Portsmouth High School gym fell dark and a large screen flickered with photographs.

Geldhof was in tears.

"Sons and daughters and grandsons and granddaughters in graduation pictures," he recalled. "Some were wearing football jerseys. They had their whole lives ahead of them, and then they were gone."


[...]

Geldhof, the DEA program manager in Detroit, was investigating a midsize Ohio-based drug distributor. Between 2007 and 2012, Miami-Luken had shipped 20 million doses of oxycodone and hydrocodone to pharmacies in West Virginia. About 11 million wound up in one county, Mingo, population 25,000.

Despite the rising death rate in West Virginia — the highest in the nation — Geldhof said his pleas in 2013 to halt Miami-Luken's operations were ignored by the legal office at headquarters.

"First we got blown off by the company," he said, "and then we got blown off by our own lawyers."

Novak suspected another reason for the slowdown.

At times, he said, some of his colleagues appeared more concerned with pleasing the industry than working on behalf of the public. Some of the lawyers had simply given up fighting the industry and seemed to be preparing for a future working with the companies they were supposed to be regulating, he said.

"It was not just one person who left the office; everyone started to leave. That's your payout. You do your time, and more and more people were auditioning for the industry. It stopped us from doing our jobs."

The departures gave the industry an unfair advantage, Novak said.

"There was a fear," he said. "It comes from seeing that some of the best and brightest former DEA attorneys are now on the other side and know all of the weak points. Their fingerprints are on memos and policy and emails."

[...]

Epilogue

2016: 197,713 deaths from prescription opioid overdoses since 2000.

John Mulrooney, the chief DEA administrative law judge, has been documenting the falling number of immediate suspension orders against doctors, pharmacies and drug companies. That number has dropped from 65 in fiscal year 2011 to six so far this fiscal year, according to the DEA. Not a single order has targeted a distributor or manufacturer since late 2015, according to Mulrooney's reports, which were obtained under the Freedom of Information Act.

Mulrooney said in his reports that the judges under him were handling so few cases at the DEA that they began hearing the cases of other federal agencies.

Mingo County

, West Virginia, racial makeup 97.1% White

[...]

A spokesman for Whitehouse said that the DEA could have expressed its opposition at any time.

"The fact that it passed the entire Senate without hearing any sort of communication that would have triggered concern of at least one senator doesn't really pass the smell test," the spokesman said.

Jim Geldhof, the DEA program manager in Detroit, retired from the agency at the end of 2015 after 43 years on the job. He said the companies were fully aware of their responsibilities under the law.

"When you're selling half a million pills to some pharmacy and you're telling me that you don't know what the rules are for a suspicious order?" said Geldhof, who is now working as a consultant to lawyers suing the industry. "All we were looking for is a good-faith effort by these companies to do the right thing, and there was no good-faith effort. Greed always trumped compliance. It did every time. It was about money, and it's as simple as that."

Just before Geldhof left, his two-year quest to persuade the DEA to take action against Miami-Luken finally paid off. In November 2015, the DEA accused the company of multiple violations of the law for allegedly failing to report orders for tens of millions of pain pills from pharmacies, most of them in West Virginia. That case — the most recent one to target a distributor — is pending.

Of the millions of pills sent to Mingo County, many went to one pharmacy in Williamson, the county seat, population 2,924. In one month alone, Miami-Luken shipped 258,000 hydrocodone pills to the pharmacy, more than 10 times the typical amount for a West Virginia pharmacy.

The mayor of Williamson has since filed a lawsuit against Miami-Luken and other drug distributors, accusing them of flooding the city with pain pills and permitting them to saturate the black market.

"Like sharks circling their prey, multi-billion dollar companies descended upon Appalachia for the sole purpose of profiting off of the prescription drug-fueled feeding frenzy," the lawsuit says.

...West Virginia was not alone among poor White areas targeted, but provides a graphic example of how much big pharma, big business, big money and the government care for disadvantaged Whites, as West Virginia is markedly the poorest and Whitest state in America.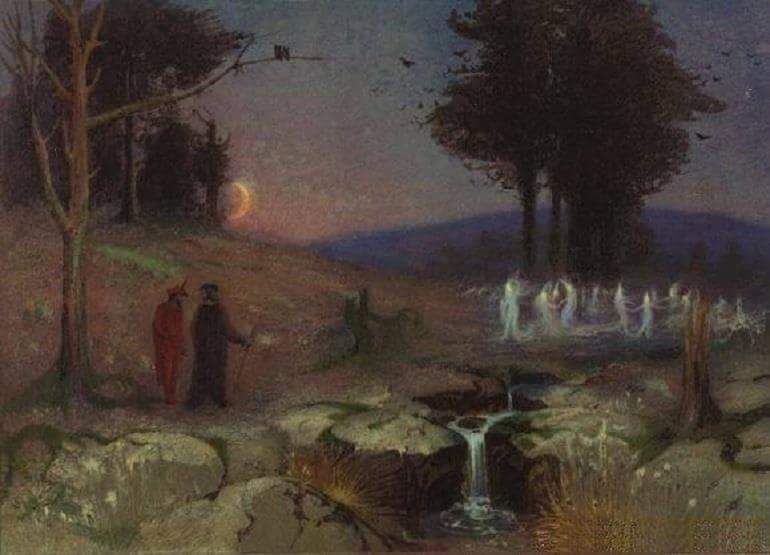 Almost heaven, West Virginia, the corporations can't lay off - Massey corp. strip mines its mountains, poisons its water and big pharma preys on the despair of the first casualties of cultural Marxism.
The Alternative Right, equipped with its Kremlin / Israeli backed notion of Imperium, returned to Charlottesville -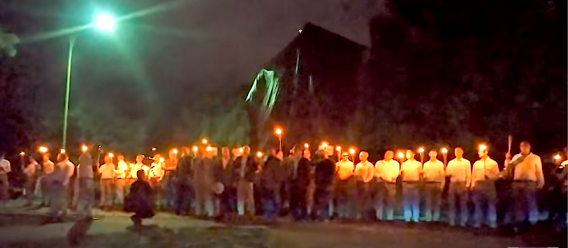 Alt-Righters back in Charlottesville, in front of statue of Robert E. Lee which is covered and slated for removal.
The Hill, "White nationalists return to Charlottesville", 7 Oct 2017:

White nationalists returned to Charlottesville, Va., on Saturday less than two months after one person was killed and dozens were injured when violence broke out after the "Unite the Right" rally.

White nationalist leader Richard Spencer led a group of roughly 30 white nationalists, who gathered at Emancipation Park, according to the Charlottesville's CBS affiliate.

Spencer announced the return on a live stream on Twitter.

The scene was similar to the white nationalist protest in the normally quiet college town in August.

The group carried tiki torches and chanted "You will not replace us," by a statue of Confederate Gen. Robert E. Lee in the park. They also reportedly said, "we will be back."

"Hello Charlottesville, we're back and we're going to keep coming back. You will not replace us, you will not erase us," a protester on a megaphone said.

"The left wing establishment is built around anti-white policies," Spencer told the group.

The group also chanted "The South will rise again" and "Russia is our friend."

The rally comes less than two months after violence erupted in the town between "Unite the Right" protesters and counter protesters.

The alt-right rally, which was meant to protest the removal of the statue of Lee, reignited the debate over the future of Confederate statues and monuments across the country.
Buzzfeed, "Here's How Breitbart And Milo Smuggled Nazi and White Nationalist Ideas Into The Mainstream", 5 Oct 2017:


Milo Yiannopoulos at the One Nostalgia Tavern in Dallas, belting out a karaoke rendition of "America the Beautiful" in front of a crowd of "sieg heil"-ing admirers, including Richard Spencer.

A cache of documents obtained by BuzzFeed News reveals the truth about Steve Bannon's alt-right "killing machine."

In August, after a white nationalist rally in Charlottesville ended in murder, Steve Bannon insisted that "there's no room in American society" for neo-Nazis, neo-Confederates, and the KKK.

But an explosive cache of documents obtained by BuzzFeed News proves that there was plenty of room for those voices on his website.

During the 2016 presidential campaign, under Bannon's leadership, Breitbart courted the alt-right — the insurgent, racist right-wing movement that helped sweep Donald Trump to power. The former White House chief strategist famously remarked that he wanted Breitbart to be "the platform for the alt-right."

The Breitbart employee closest to the alt-right was Milo Yiannopoulos, the site's former tech editor known best for his outrageous public provocations, such as last year's Dangerous Faggot speaking tour and September's canceled Free Speech Week in Berkeley. For more than a year, Yiannopoulos led the site in a coy dance around the movement's nastier edges, writing stories that minimized the role of neo-Nazis and white nationalists while giving its politer voices "a fair hearing." In March, Breitbart editor Alex Marlow insisted "we're not a hate site." Breitbart's media relations staff repeatedly threatened to sue outlets that described Yiannopoulos as racist. And after the violent white supremacist protest in Charlottesville, Virginia, in August, Breitbart published an article explaining that when Bannon said the site welcomed the alt-right, he was merely referring to "computer gamers and blue-collar voters who hated the GOP brand."

These new emails and documents, however, clearly show that Breitbart does more than tolerate the most hate-filled, racist voices of the alt-right. It thrives on them, fueling and being fueled by some of the most toxic beliefs on the political spectrum — and clearing the way for them to enter the American mainstream.

It's a relationship illustrated most starkly by a previously unreleased April 2016 video in which Yiannopoulos sings "America the Beautiful" in a Dallas karaoke bar as admirers, including the white nationalist Richard Spencer, raise their arms in Nazi salutes.

These documents chart the Breitbart alt-right universe. They reveal how the website — and, in particular, Yiannopoulos — links the Mercer family, the billionaires who fund Breitbart, to underpaid trolls who fill it with provocative content, and to extremists striving to create a white ethnostate.

They capture what Bannon calls his "killing machine" in action, as it dredges up the resentments of people around the world, sifts through these grievances for ideas and content, and propels them from the unsavory parts of the internet up to TrumpWorld, collecting advertisers' checks all along the way.

And the cache of emails — some of the most newsworthy of which BuzzFeed News is now making public — expose the extent to which this machine depended on Yiannopoulos, who channeled voices both inside and outside the establishment into a clear narrative about the threat liberal discourse posed to America. The emails tell the story of Steve Bannon's grand plan for Yiannopoulos, whom the Breitbart executive chairman transformed from a charismatic young editor into a conservative media star capable of magnetizing a new generation of reactionary anger. Often, the documents reveal, this anger came from a legion of secret sympathizers in Silicon Valley, Hollywood, academia, suburbia, and everywhere in between.

"I have said in the past that I find humor in breaking taboos and laughing at things that people tell me are forbidden to joke about," Yiannopoulos wrote in a statement to BuzzFeed News. "But everyone who knows me also knows I'm not a racist. As someone of Jewish ancestry, I of course condemn racism in the strongest possible terms. I have stopped making jokes on these matters because I do not want any confusion on this subject. I disavow Richard Spencer and his entire sorry band of idiots. I have been and am a steadfast supporter of Jews and Israel. I disavow white nationalism and I disavow racism and I always have."

He added that during his karaoke performance, his "severe myopia" made it impossible for him to see the Hitler salutes a few feet away.

Steve Bannon, the other Breitbart employees named in the story, and the Mercer family did not respond to multiple requests for comment.

Like all the new media success stories, Breitbart's alt-right platform depends on the participation of its audience. It combusts the often secret fury of those who reject liberal norms into news, and it doesn't burn clean.

Now Bannon is back at the controls of the machine, which he has said he is "revving up." The Mercers have funded Yiannopoulos's post-Breitbart venture. And these documents present the clearest look at what these people may have in store for America.

A year and a half ago, Milo Yiannopoulos set himself a difficult task: to define the alt-right. It was five months before Hillary Clinton named the alt-right in a campaign speech, 10 months before the alt-right's great hope became president, and 17 months before Charlottesville clinched the alt-right as a stalking horse for violent white nationalism. The movement had just begun its explosive emergence into the country's politics and culture.

At the time, Yiannopoulos, who would later describe himself as a "fellow traveler" of the alt-right, was the tech editor of Breitbart. In summer 2015, after spending a year gathering momentum through GamerGate — the opening salvo of the new culture wars — he convinced Breitbart upper management to give him his own section. And for four months, he helped Bannon wage what the Breitbart boss called in emails to staff "#war." It was a war, fought story by story, against the perceived forces of liberal activism on every conceivable battleground in American life.

Yiannopoulos was a useful soldier whose very public identity as a gay man (one who has now married a black man) helped defend him, his anti-political correctness crusade, and his employer from charges of bigotry.

But now Yiannopoulos had a more complicated fight on his hands. The left — and worse, some on the right — had started to condemn the new conservative energy as reactionary and racist. Yiannopoulos had to take back "alt-right," to redefine for Breitbart's audience a poorly understood, leaderless movement, parts of which had already started to resist the term itself.

So he reached out to key constituents, who included a neo-Nazi and a white nationalist.

"Finally doing my big feature on the alt right," Yiannopoulos wrote in a March 9, 2016, email to Andrew "Weev" Auernheimer, a hacker who is the system administrator of the neo-Nazi hub the Daily Stormer, and who would later ask his followers to disrupt the funeral of Charlottesville victim Heather Heyer. "Fancy braindumping some thoughts for me."

"It's time for me to do my big definitive guide to the alt right," Yiannopoulos wrote four hours later to Curtis Yarvin, a software engineer who under the nom de plume Mencius Moldbug helped create the "neoreactionary" movement, which holds that Enlightenment democracy has failed and that a return to feudalism and authoritarian rule is in order. "Which is my whorish way of asking if you have anything you'd like to make sure I include."

"Alt r feature, figured you'd have some thoughts," Yiannopoulos wrote the same day to Devin Saucier, who helps edit the online white nationalist magazine American Renaissance under the pseudonym Henry Wolff, and who wrote a story in June 2017 called "Why I Am (Among Other Things) a White Nationalist."

The three responded at length: Weev about the Daily Stormer and a podcast called The Daily Shoah, Yarvin in characteristically sweeping world-historical assertions ("It's no secret that North America contains many distinct cultural/ethnic communities. This is not optimal, but with a competent king it's not a huge problem either"), and Saucier with a list of thinkers, politicians, journalists, films (Dune, Mad Max, The Dark Knight), and musical genres (folk metal, martial industrial, '80s synthpop) important to the movement. Yiannopoulos forwarded it all, along with the Wikipedia entries for "Alternative Right" and the esoteric far-right Italian philosopher Julius Evola — a major influence on 20th-century Italian fascists and Richard Spencer alike — to Allum Bokhari, his deputy and frequent ghostwriter, whom he had met during GamerGate. "Include a bit of everything," he instructed Bokhari.

"Bannon, as you probably know, is sympathetic to much of it."

"I think you'll like what I'm cooking up," Yiannopoulos wrote to Saucier, the American Renaissance editor.

"I look forward to it," Saucier replied. "Bannon, as you probably know, is sympathetic to much of it."

Five days later Bokhari returned a 3,000-word draft, a taxonomy of the movement titled "ALT-RIGHT BEHEMOTH." It included a little bit of everything: the brains and their influences (Yarvin and Evola, etc.), the "natural conservatives" (people who think different ethnic groups should stay separate for scientific reasons), the "Meme team" (4chan and 8chan), and the actual hatemongers. Of the last group, Bokhari wrote: "There's just not very many of them, no-one really likes them, and they're unlikely to achieve anything significant in the alt-right."

"Magnificent start," Yiannopoulos responded.

Over the next three days, Yiannopoulos passed the article back to Yarvin and the white nationalist Saucier, the latter of whom gave line-by-line annotations. He also sent it to Vox Day, a writer who was expelled from the board of the Science Fiction and Fantasy Writers of America for calling a black writer an "ignorant savage," and to Alex Marlow, the editor of Breitbart.

"Solid, fair, and fairly comprehensive," Vox Day responded, with a few suggestions.

"Most of it is great but I don't want to rush a major long form piece like this," Marlow wrote back. "A few people will need to weigh in since it deals heavily with race."

Also, there was another sensitive issue to be raised: credit. "Allum did most of the work on this and wants joint [byline] but I want the glory here," Yiannopoulos wrote back to Marlow. "I am telling him you said it's sensitive and want my byline alone on it."

Minutes later, Yiannopoulos emailed Bokhari. "I was going to have Marlow collude with me … about the byline on the alt right thing because I want to take it solo. Will you hate me too much if I do that? … Truthfully management is very edgy on this one (They love it but it's racially charged) and they would prefer it."

"Will management definitely say no if it's both of us?" Bokhari responded. "I think it actually lowers the risk if someone with a brown-sounding name shares the BL."

Five days later, March 22nd, Marlow returned with comments. He suggested that the story should show in more detail how Yiannopoulos and most of the alt-right rejected the actual neo-Nazis in the movement. And he added that Taki's Magazine and VDare, two publications Yiannopoulos and Bokhari identified as part of the alt-right, "are both racist. … We should disclaimer that or strike that part of the history from the article." (The published story added, in the passive voice, "All of these websites have been accused of racism.") Again the story went back to Bokhari, who on the 24th sent Yiannopoulos still another draft, with the subject head "ALT RIGHT, MEIN FUHRER."

On the 27th, now co-bylined, the story was ready for upper management: Bannon and Larry Solov, Breitbart's press-shy CEO. It was also ready, on a separate email chain, for another read and round of comments from the white nationalist Saucier, the feudalist Yarvin, the neo-Nazi Weev, and Vox Day.

"I need to go thru this tomorrow in depth…although I do appreciate any piece that mentions evola," Bannon wrote. On the 29th, in an email titled "steve wants you to read this," Marlow sent Yiannopoulos a list of edits and notes Bannon had solicited from James Pinkerton, a former Reagan and George H.W. Bush staffer and a contributing editor of the American Conservative. The 59-year-old Pinkerton was put off by a cartoon of Pepe the Frog conducting the Trump Train.

"I love art," he wrote inline. "I think [Breitbart News Network] needs a lot more of it, but I don't get the above. Frogs? Kermit? Am I missing something here?"

Later that day, Breitbart published "An Establishment Conservative's Guide to the Alt-Right." It quickly became a touchstone, cited in the New York Times, the Los Angeles Times, the New Yorker, CNN, and New York Magazine, among others. And its influence is still being felt. This past July, in a speech in Warsaw that was celebrated by the alt-right, President Trump echoed a line from the story — a story written by a "brown-sounding" amanuensis, all but line-edited by a white nationalist, laundered for racism by Breitbart's editors, and supervised by the man who would in short order become the president's chief strategist.

The machine had worked well.

It hadn't always been so easy.

The previous November, Yiannopoulos emailed Bannon with a bone to pick. Breitbart London reported that a London college student behind a popular social justice hashtag had threatened the anti-Islam activist Pamela Geller.

"The story is horseshit and we should never have published it," Yiannopoulos wrote. "Reckless and stupid. … Strongly recommend we pull. it's insanely defamatory. I spoke to pamela geller and even she said it was rubbish. We're outright lying about this girl and surely we're better than that. We can and should win by telling the truth."

Six minutes later, Bannon wrote back to his tech editor in a fury. "Your [sic] full of shit. When I need your advice on anything I will ask. ... The tech site is a total clusterfuck—-meaningless stories written by juveniles. You don't have a clue how to build a company or what real content is. And you don't have long to figure it out or your [sic] gone. … You are magenalia [sic]."

(Geller clarified to BuzzFeed News in a statement that she believed it was "rubbish" that the London university characterized the threats against her as "fake.")
"Dude—we r in a global existentialist war where our enemy EXISTS in social media and u r jerking yourself off w/ marginalia!!!!"

On December 8, the New York Times published a major story about the radicalization of American Muslims on Facebook. Yiannopoulos published a story called "Birth Control Makes Women Unattractive and Crazy."

That afternoon, Bannon emailed Yiannopoulos and Marlow.

"Dude—-we r in a global existentialist war where our enemy EXISTS in social media and u r jerking yourself off w/ marginalia!!!! U should be OWNING this conversation because u r everything they hate!!! Drop your toys, pick up your tools and go help save western civilization."

"Message received," Yiannopoulos wrote back. "I will do a Week of Islam next week."

"U don't need that," Bannon responded. "Just get in the fight—-ur Social Media and they have made it a powerful weapon of war. … There is no war correspondent in the west yet dude and u can own it and be remember for 3 generations—or sit around wasting your God-given talents jerking off to your fan base."

Over the next several months, Yiannopoulos began to find the right targets. First it was a continued attack on Shaun King, the writer and Black Lives Matter activist whose ethnicity Yiannopoulos had called into question. Next it was then–Yahoo CEO Marissa Mayer, who Bannon called in an email to Yiannopoulos the "poster child for the narcissistic ecosystem."

And increasingly it was enemies of Donald Trump. In response to a Yiannopoulos pitch accusing a prominent Republican opponent of Trump of being a pill-popper, Bannon wrote: "Dude!!! LMAO! … Epic." And Bannon signed off on an April story by Yiannopoulos imploring #NeverTrumpers to get on board with "Trump and the alt-right." (Bannon did, however, veto making it the lead story on the site, writing to Yiannopoulos and Marlow, "Looks like we have our thumb on the scale.")

Why was Bannon so concerned with the focus of his tech editor's energies? In a February email exchange before Yiannopoulos appeared on Greg Gutfeld's Sunday Fox News show, Bannon wrote, "Gutfeld should become an object lesson for u. Brilliant cultural commentator who really got pop culture, the hipster scene and advant [sic] garde….got on fox and tried to become a political pundit…lost all credibility. … You r one of the potential heirs to his cultural leadership so act according." Bannon was grooming the younger man for something greater.

In May, Bannon invited Yiannopoulos to Cannes for a week for the film festival. "Want to discuss tv and film with u," he wrote in an email. "U get to meet my partners, hang on the boat and discuss business."

The boat was the Sea Owl, a 200-foot yacht owned by the hedge fund billionaire Robert Mercer, who is a major funder of Breitbart and various other far-right enterprises. That week, Yiannopoulos shuttled back and forth from the Cannes Palace Hotel to the pier next to the Palais des Festivals et des Congrès and the green-sterned, "fantasy-inspired" vessel complete with a Dale Chihuly chandelier. The Mercers were in town to promote Clinton Cash, a film produced by Bannon and their production studio, Glittering Steel. On board, Yiannopoulos drank, mingled, and interviewed Phil Robertson, the lavishly bearded patriarch of Duck Dynasty, for his podcast.

"I know how lucky I am," Yiannopoulos wrote to Bannon on May 20. "I'm going to work hard to make you some money—and win the war! Thanks for having me this week and for the faith you're placing in me chief. The left won't know what hit them."

"U just focus on being who u are—we will put a top level team around u," Bannon wrote back. "#war."

On July 22, 2016, Rebekah Mercer — Robert's powerful daughter — emailed Steve Bannon from her Stanford alumni account. She wanted the Breitbart executive chairman, whom she introduced as "one of the greatest living defenders of Liberty," to meet an app developer she knew. Apple had rejected the man's game (Capitol HillAwry, in which players delete emails à la Hillary Clinton) from the App Store, and the younger Mercer wondered "if we could put an article up detailing his 1st amendment political persecution."
Independent, "Evangelical leaders urge Donald Trump to condemn 'alt-right' as 'racist' and 'evil", 30 Sept 2017:

'White supremacy cannot be dismissed with moral ambivalence,' religious leaders warn



Faith leaders place their hands on the shoulders of Donald Trump as he takes part in a prayer for those affected by Hurricane Harvey earlier this month (Reuters)

Dozens of evangelical leaders have signed an open letter pressing Donald Trump to condemn the "alt-right" as "evil".

After a car slammed into protesters decrying a white supremacist march in Charlottesville, Mr Trump faced a tsunami of criticism for repeatedly equating the counter-demonstrators with neo-Nazis. While Mr Trump did later issue a statement and sign a resolution blasting bigotry and singling out groups like the KKK, detractors said he missed an opportunity to make a clear moral distinction.

The letter, endorsed by dozens of religious figures, urges Mr Trump to take a stand by specifically repudiating the "alt-right", a term that refers to a constellation of beliefs that assail diversity and celebrate America's white European heritage. Emboldened champions of the white nationalist movement have become more visible and vocal since Mr Trump's rise.
Read more

- California asks Congress to condemn Trump's Charlottesville comments

- Trump once again blames 'all sides' for Charlottesville violence

- Tillerson says Trump 'speaks for himself' over Charlottesville

Lamenting that "our nation remains divided racially and ideologically", the letter rejects the "alt-right" as a "white identity movement", noting that "the majority of its members are white nationalists or white supremacists" and cautioning that "white supremacy cannot be dismissed with moral ambivalence".

"This movement has escaped your disapproval," the letter warns, calling on Mr Trump to "join with many other political and religious leaders to proclaim with one voice that the 'alt-right' is racist, evil, and antithetical to a well-ordered, peaceful society".

"We fear that without moral clarity and courageous leadership that consistently denounces all forms of racism, we may lose the ground that we have gained toward the racial unity for which so many of us have fought," the letter says.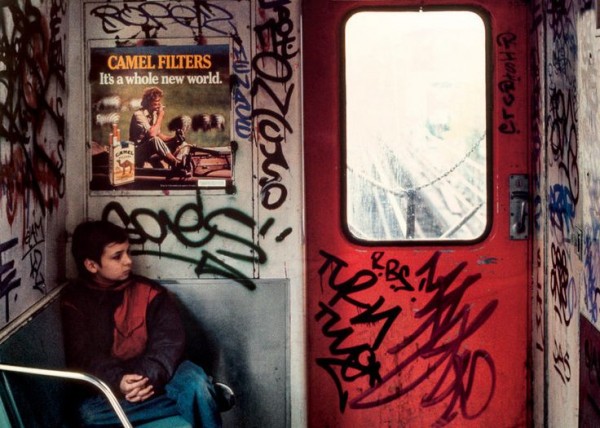 I have nothing against this particular chap; he isn't strictly European but he is grouped along with others who very much are not, and who spell genetic and neighborhood alienation and destruction when mixed in America.
It's a bit belated a discussion as news items go, but a few issues emerge worthy of consideration for ethnonationalists in regard to the matter of how Puerto Rican relief (of hurricane Maria) is being handled or mishandled as it were and why that is so:
I am always keen to discuss the concept of unionization and how it is an integral concept to model social organization, but I am also always eager to address problems of unionization - terrible obstruction along with the facilitation that they can bring.
As a facilitative model of the social group/system, only a person so retarded as to believe that the pre eminent concern for ethnonationalists should be a "model of the mind"* and with that, perhaps being fixated on Austrian school positivism in reaction to Jewish abuses of sociology, would try to suggest that unionization is a trivial concern. Nevertheless, there are real life problems in the assimilation of optimal form and function, especially if unionization is to be conducive to EGI.
1. There is the matter of the trucker's unions of Puerto Rico which apparently refused to break a strike and transport crucial relief items around Puerto Rico; at the same time, there were unions in the United States who went above and beyond to answer the call.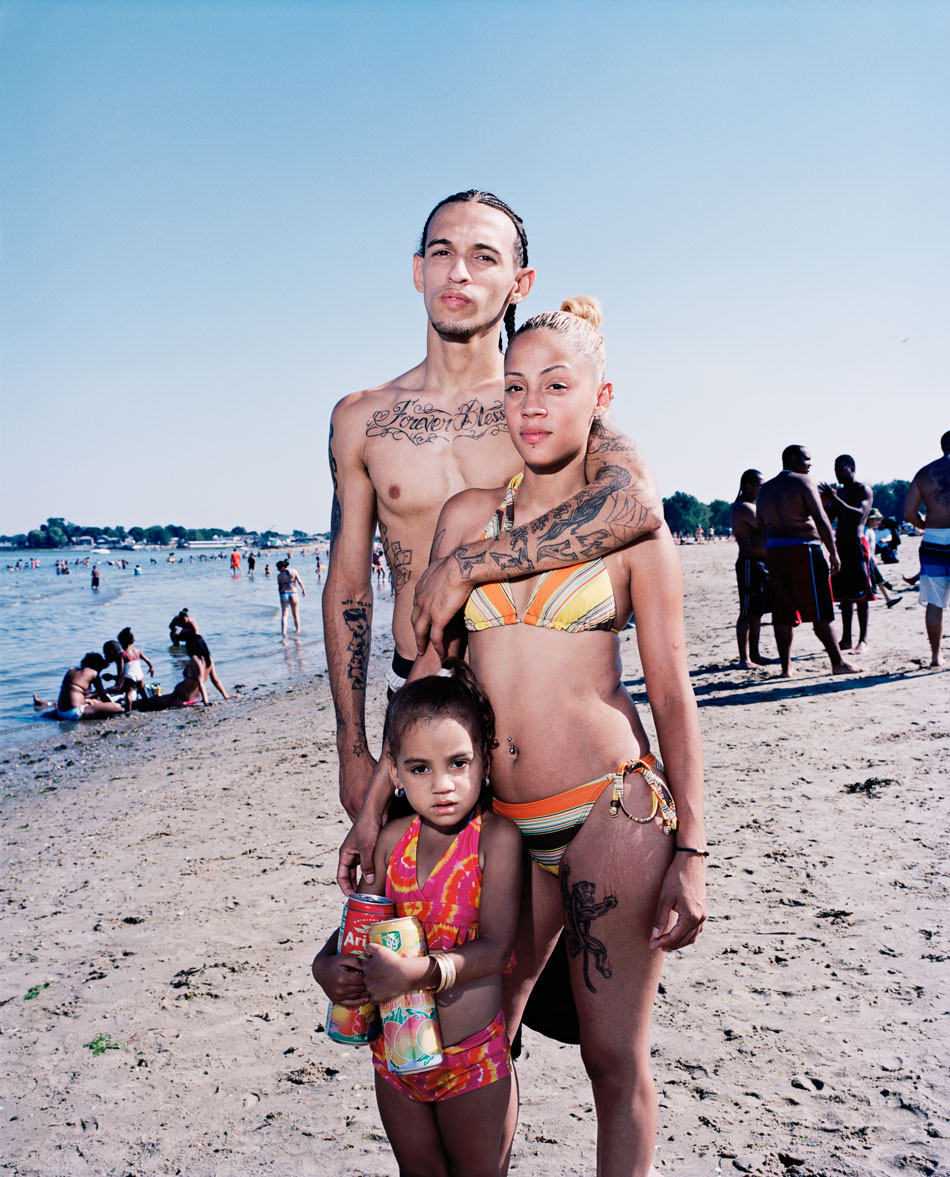 Namely, facile political alliance with Puerto Ricans brings along Amerindio/Spanish mixes of Puerto Rico but also Mulattoes such as this man's woman.
2. The next matter represents an existential choice between right wing economic advantage or the left nationalist protection of European genome (and Amerindian genome, for those of us who care).
If Puerto Rico had its independence and could figure out how to facilitate shipping container transportation of its sovereign accord, it has a potentially lucrative position to advance its GNP markedly for the sake of the Puerto Ricans; by the same token, if The US gave up control of Puerto Rico, it would be losing a great deal of profit that it gains from concomitant control of the Puerto Rican shipping industry. That is a gain economically for the proposition US Nation.
On the other hand, by having Puerto Ricans associated with the United States in any way, you are including to that extent a demography that is 25% black: they are a very strong, mixed people who are very destructive to the White genome where forced together with us; and other than blacks, the only people who tend to destroy their neighborhoods.
I don't have anything especially against the young chap in the top photo, but the alienating and nightmarish environment that surrounds him is apparently a typical byproduct of the Puerto Rican genome in aggregate. He typically comes along or is wrongly grouped with people who are largely black or mulatto, like this guy's woman (photo right, couple on beach). Like blacks, they are not only destructive to us genetically, but having a great deal of biopower (adding to their challenge), as anyone who witnesses their athletic prowess can attest.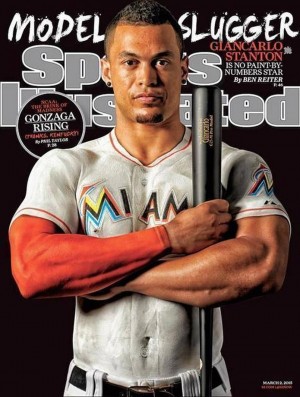 Puerto Ricans are not only destructive to our genome, but very strong and hard to defend against. Giancarlo Stanton, who is Puerto Rican / Irish, nearly passed Babe Ruth's single season home run record this year.
With Puerto Rico not having its sovereignty, one of the relief strategies that is on the table is bringing them to the United States: Hence the question - do you want the advantages of economic exploitation, or do you want to protect your genome?
* As a footnote: If one's concern is the integrity and interiority of individual mentation, then it is a different concern from EGI. One is assuredly expressing undue faith to presume the invisible hand will do what the "artifice of unioization" would otherwise for group-systemic homeostasis. The sure guidance of the invisible hand is more applicable to animals than humans. In fact, one should suppose that the very idea of a generic model, even if only applied to a specific group, is a contradiction to the goal of human nature, individual autonomy and authenticity.
Granting that one might not be quite that stupid, and can grasp the inexorable fact of interaction, and wants to trace check points of mentation and homeostasis that extend to the natural and social environment, then we are getting somewhere, but not until.
"A model of the mind" might be a good idea for the individual or, rather, the very act of "modeling" might betray the authentic expression of emergent mentation that one seeks to allow to manifest.
However, this (individual mind) is not the unit of analysis, the unit of model, as it were, that anyone should prioritize for racial defense - obvious to anyone but one who is perhaps insulated from the hurley burley of prohibitions against group discrimination that they might be somewhat buffered from, say, within a provincial English fishbowl.
A similar refrain with regard to faith in the natural invisible hand also applies to the principle of adaptive fitness: it is no guarantor of racial or even individual homeostasis and integrity.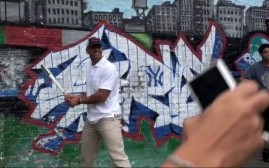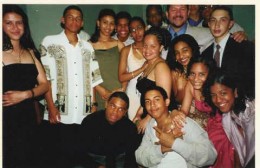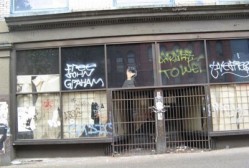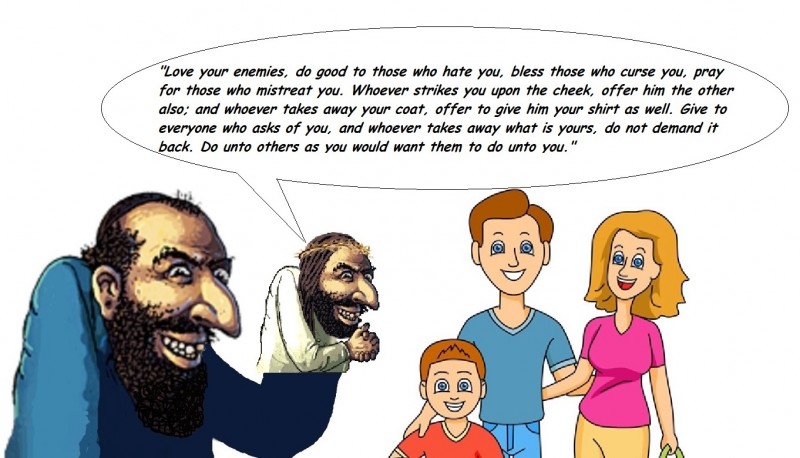 What could possibly go wrong?
Respect the flag that so many Americans died for -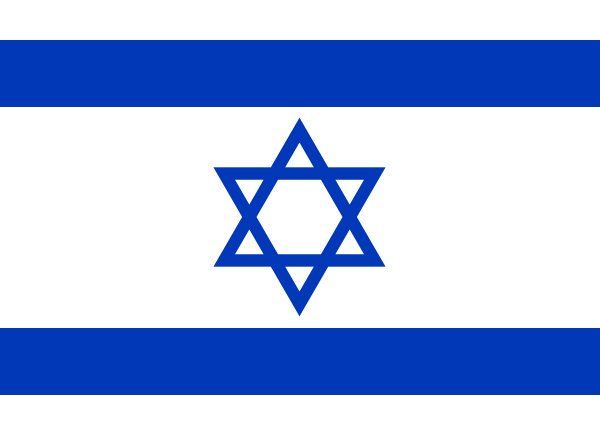 ABC.Net.Au, "Twitter shuts down 201 accounts linked to Russian propaganda operatives who posted to Facebook", 29 Sept 2017:

Twitter has shut down hundreds of accounts that were tied to the same Russian operatives who posted thousands of political ads to Facebook during the 2016 US election.

The company said it found 22 accounts which were directly linked to the 450 Facebook accounts, found earlier this month.

It also found a further 179 accounts related or linked to those Twitter accounts.

None of these accounts had been registered as advertisers, and all of them had already been or were immediately suspended, most for violating spam rules.

Twitter said Russian media outlet RT — which has strong links to the Kremlin — spent at least $274,100 on advertisements on the platform in 2016.

The three accounts — @RT_com, @RT_America, and @ActualidadRT — also promoted 1,823 tweets the company says "definitely or potentially targeted" the US market.

Those ad buys alone topped the $100,000 that Facebook had linked to a Russian propaganda operation, a revelation that prompted calls from some Democrats for new disclosure rules for online political ads.

Although Twitter's disclosures in briefings to US congressional staff and a public blog post were its most detailed to date on the issue, the top Democrat on the Senate Intelligence Committee called the company's statements "deeply disappointing".

Senator Mark Warner, whose panel is investigating alleged Russian interference in the election, said Twitter officials had not answered many questions about the Russian use of the platform and that it was still subject to foreign manipulation.

Twitter has been criticised as being too lax in policing fake or abusive accounts.

Technology companies including Twitter, Facebook and Google were asked by intelligence committees earlier this week to testify at a public hearing on November 1 about alleged Russian interference.

The pressure on the companies reflects growing concern among politicians in both parties that social networks may have played a key role in Moscow's attempts to spread disinformation and propaganda to sow political discord in the United States and help elect President Donald Trump.

Moscow denies any such activity and Mr Trump has denied any talk of collusion.
In front of building at 55 Savushkina Street in St Petersburg, Russia, where the Kremlin has a workforce of hundreds patrolling the internet as trolls.

Youtube video

ABC.Net.Au, "Inside Russia's Troll Factory: Controlling debate and stifling dissent in internet forums and social media", 12 Aug 2015 -

Inside an anonymous building in St Petersburg, the Kremlin commands a workforce of hundreds that patrol the internet as trolls — assuming false identities online.

Their task is to control debate and stifle dissent in forums and on social media.

The department at the centre of this effort is officially known as the Internet Research Agency.

But its reputation has earned it another name by which it is widely known: the Troll Factory.

Andrei Soshnikov is the investigative journalist who has led the efforts to expose the Troll Factory.

"Generally, they produce lies in a 24-hour regime, seven days a week," said Andrei Soshnikov, the investigative journalist who has led the efforts to expose the Troll Factory.

"In the morning, in the day, at night, something going on in world, or in Russia or St Petersburg, you will always find the comments from the Troll Factory."

Soshnikov started monitoring the activities at the Internet Research Agency a few years ago, not long after he graduated from journalism school.

After his first reports were published, he hit the jackpot.


He was contacted by activist Luda Savchuk, who had been hired to work as a troll.

"I spent two months there," Ms Savchuk told 7.30.

Photo: Luda Savchuck said she accepts the consequences that come with shining the light on Russia's trolls. (7.30)

"I saw that this is really a big factory to produce paid comments, posts, pictures, video, any content we face on the internet is produced there.

"There are four floors there, very many departments dealing with social networks, LiveJournal (the popular Russian online forum), YouTube, forums with the websites of different cities."

Working together, Ms Savchuk and Soshnikov published details of the Troll Factory's operations.

At least 300 employees are believed to work in the building.

Ms Savchuk managed to capture the only video ever filmed inside — a few shaky seconds of trolls at work.

Ms Savchuk managed to capture the only video ever filmed inside — a few shaky seconds of trolls at work.

"News is sent to your computer with instructions about how it should be presented," she said.

"It is not just objective information that is required, but in which tone it should be presented, to which conclusion one should drive a reader."

When opposition leader Boris Nemtsov was shot dead within sight of the Kremlin in March, suspicion immediately fell on those with links to Russian president Vladimir Putin.

Ms Savchuk said the orders at the Troll Factory were handed down quickly.

"They were just told: 'Nemtsov is killed. Everyone should urgently concentrate on this job. We shall write this and that'," she said.

"On that day they were writing that it was a provocation against the authorities, that he was killed by 'his own people'."
Kremlin moves focus to social networks

After smothering political dissent, the Kremlin is now targeting social networks.

They have been viewed as a threat since anti-Putin protests seemingly sprung up out of nowhere in late 2011.

The driving force behind the brief opposition surge was social media.

Journalist Andrei Soldatov writes about Russia's security agencies and their extensive online surveillance.

"You don't need any kind of organisations to do these things," he told 7.30.

Andrei Soshnikov is the investigative journalist who has led the efforts to expose the Troll Factory

"And that frightened the Kremlin in 2011.

"They still believe social networks [are] a major tool that might, if you have any kind of crisis, help people to send people in the thousands to the streets."

Right now, the priority topic for the Kremlin's trolls is Ukraine.

As the war in eastern Ukraine has dragged on, the Troll Factory has played a key role in the huge Russian propaganda campaign to demonise the Ukrainian government.

"In Ukraine, you don't have people, you don't have someone you can talk to," Soldatov said summing up the stereotypes reinforced by the Kremlin's trolls.

"You have only fascists."

The Troll Factory's actual address is 55 Savushkina Street, St Petersburg.

The building is surrounded by cameras, and employees do not appreciate being filmed.

Consequences for revealing secrecy behind trolls

"You have not just enemies, but someone who [is] completely unhuman."

7.30 tried to speak with someone from the Internet Research Agency, but the request was denied.

All of the companies listed in the directory in the building's foyer are fake.

Soshnikov said none of them could be found on St Petersburg's corporate register.

The secrecy makes Ms Savchuk's revelations about the work going on here all the more exceptional.

"I think Luda is a hero," Soshnikov said.

"I had serious concerns about my safety and I still have them now." - Luda Savchuk.

"Here in Russia is big atmosphere, strange atmosphere, of fear, of lies. And not everyone will act as a normal citizen, or patriot, in this situation."

Ms Savchuk and others are prepared to fight back against the methodical re-establishment of the security state in Russia.

She accepts the consequences that come with shining the light on Russia's trolls.

"I had serious concerns about my safety and I still have them now. Because the people who run this factory are quite serious," she said.

But she has no regrets.

"I did this with my eyes open."