Majorityrights News > Category: Race realism
60,000 join nationalist march carrying racist banners and chanting for 'White Europe.'
An estimated 60,000 people turned out in Warsaw for the march, with many chanting 'clean blood', 'pure Poland' and 'White Poland' and carrying posters with the words: 'White Europe of brotherly nations.'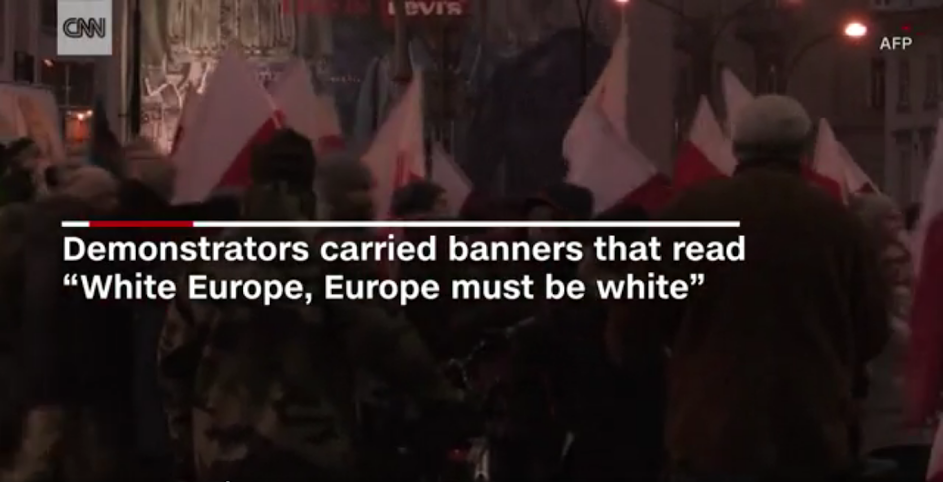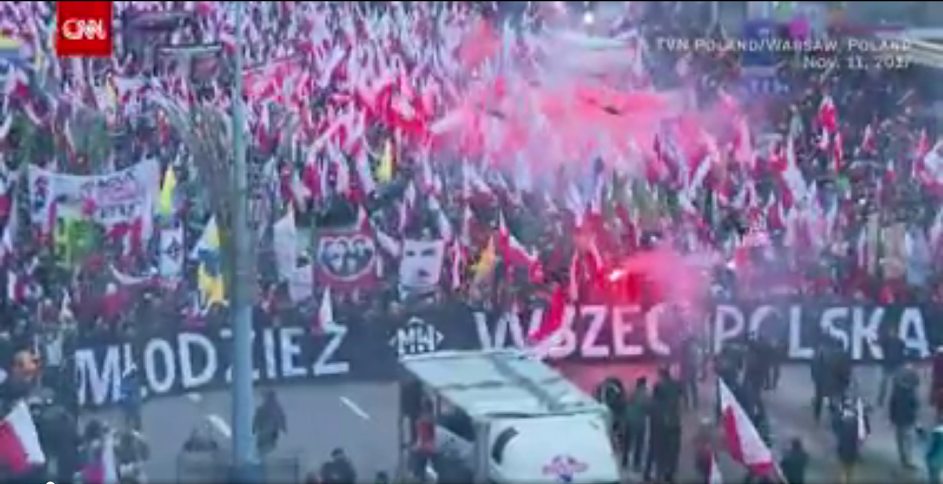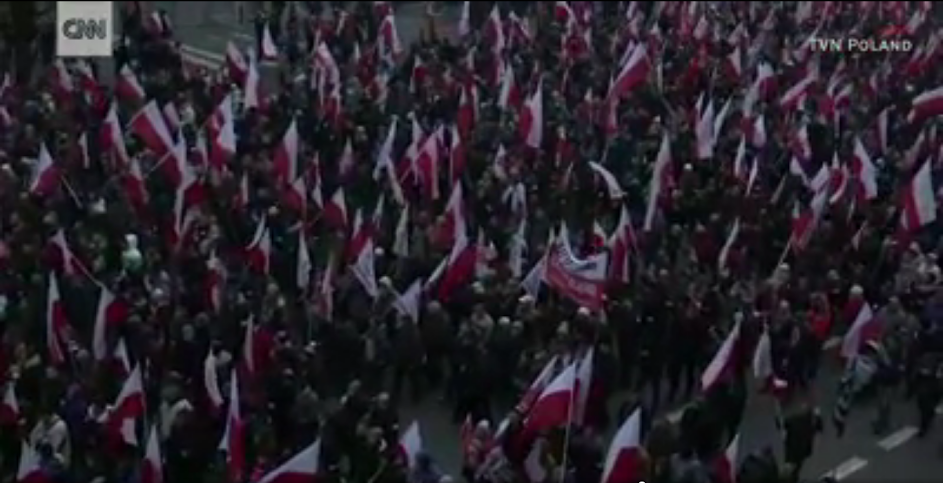 The Guardian, "'White Europe': 60,000 nationalists march on Poland's independence day", 12 Nov 2017:

60,000 join far-right march carrying racist banners and chanting for 'White Europe'

An estimated 60,000 people turned out in Warsaw for the march, with many chanting 'clean blood', 'pure Poland' and 'White Poland' and carrying posters with the words: 'White Europe of brotherly nations.

Demonstrators with faces covered chanted "Pure Poland, White Poland!" and "Refugees get out!". A banner hung over a bridge that read: "Pray for Islamic Holocaust."
Metro, "60,000 join nationalist march carrying racist banners and chanting for 'white Europe," 12 Nov 2017:

Tens of thousands of people carried symbols, religious slogans on banners and made racist chants during a march in Poland on Saturday.

An estimated 60,000 people turned out in Warsaw for the march, with many chanting 'clean blood', 'pure Poland' and 'white Poland' and carrying posters with the words: 'white Europe of brotherly nations'.
Poland's independence day celebrations turned ugly this weekend, as tens of thousands of nationalist protesters took to the streets, chanting anti-Muslim and anti-Jewish slogans and setting off flares.

The day celebrates the re-birth of Poland in November 1918, 123 years after the Prussian, Habsburg and Russian empires carved up Poland among themselves and erased it from the map of Europe. CNN.
Susan Grissom was found murdered in her home in a white oasis of 65 percent black Memphis (Harbor Town is nearly 70 percent white). She was murdered by a black career criminal.

Suspect arrested in Mud Island Murder

SBDL, "Her name is Susan Grissom: White Woman Living in Exclusive Memphis Neighborhood Murdered by Career Black Criminal", 12 Nov 2017:

Imagine living as a white minority in 65 percent black Memphis, a city where white taxpayers subsidize the enormous healthcare bill of black violence. Oh… did we mention Memphis is only 31 percent white?

It's not hard if you try.

Now, imagine living in a 70 percent white part of Memphis, an elite community and enviable zip code with a beautiful view of the skyline.

It's called Harbor Town, and it's an exclusive white enclave in a sea of Africans in America.


Imagine a white woman in her home in Harbor Town, only miles from where blacks have turned large portions of Memphis real estate into some of the most shockingly violent places in America.

Now, imagine a black male with a "history of burglary of a building, burglary of a motor vehicle, theft and vandalism" breaks into her home and murders her.

You'd have a situation where the white minority of Memphis, fleeing to an exclusive island whose population is nearly 3/4th's white, lives in a state of siege and persecution not unlike the white minority in South Africa. [Suspect arrested in Mud Island Murder, WREG.com, 11-12-17]:

Memphis police have arrested a man for the murder of a woman on Mud Island.

Kurtrell Williams was arrested in connection with the murder of Susan Grissom, who was found dead in her Harbor Town home on Island Drive on the night of Tuesday, Nov. 7.

Police obtained surveillance footage and a photo of a man using Grissom's credit card and shared it with the public Friday.

A flood of Crime Stopper tips lead to police positively identifying Williams as the suspect.

Police located Williams Friday night at a home on Brighton Road and arrested him without incident.

Her name is Susan Grissom.

She lived in an "aggressively white" area of Memphis where petty crime is unthinkable and a murder something you only see blacks committing on the nightly news. [Neighbors of murdered Harbor Town woman concerned about safety downtown, WMCA Action News Memphis, 11-9-17]:

Concerned residents met Thursday night to discuss safety concerns at the Downtown Memphis Commission's monthly safety meeting following the homicide of Susan Grissom.

Grissom was found killed at her Harbor Town home Tuesday night.

Memphis Police Colonel Gloria Bullock spoke at Thursday's meeting.

"I can assure you that we will find out the person/ persons responsible, as we always do," Col. Bullock said.

In the audience, listening with purpose, were friends and people who knew Grissom as a kind-spirited person and devoted mother.

"I was devastated because Susan was just a beautiful person," said Dawn Inman.

Inman said she came to the meeting looking for insight into the search for Grissom's killer and what city leaders are doing to ensure safety downtown.

"It takes a horrifying event for resources to be allocated?" Inman said. "I don't think that is the right approach."

Col. Bullock said downtown is one of the safest areas in the city and Police Director Mike Rallings has authorized extra patrols downtown and on Mud Island.

Councilman Berlin Boyd said he pushed for the extra patrols as a way to help residents feel safe.

"After I see that there is a homicide, I send an email requesting that we could get more patrol in that area," Boyd said.

Grissom graduated from Briarcrest in 1979. Her husband, daughter, and brother-in-law all also graduated from Briarcrest.

Grissom was a representative for optometric devices. She worked to connect optometrists in the Mid-South with contact lenses for their patients.

Memphis is a 31 percent white city.

Memphis is also a 65 percent black city, one of the most dangerous places in America.

White people sought refuge in Harbor Town, where the amenities of safe streets and rising property values were just a byproduct of their whiteness, just as violent streets and blighted property is a byproduct of blackness found all throughout Memphis.

Susan Grissom is now dead.

A daughter will never speak to her mother again.

A husband will never speak to his wife again.

And a career black criminal who is responsible for all of this will, more than likely, enter a plea deal to see his prison time reduced.

After all, the criminal justice system is inherently racist and the new Jim Crow, right?

But, it goes without saying, when Jim Crow protected a white majority population in Memphis, did home invasions by a black male such as the one you are reading about here, occur?
Anthony McClanahan, 46, a former player for the Dallas Cowboys, is accused of being a suspect in the grisly murder of his wife, Keri "KC" McClanahan, 28, who was found dead in a Park City condominium resort.

Adding another twist, McClanahan, a former college football star before he was signed and then cut by the Cowboys in the 1990s, is also accused of kidnapping his young son in an earlier case. He was identified as a suspect in the murder of Keri in court documents in the earlier case, which occurred in October.

On social media, the couple's photos tell the story of a happy couple devoted to fitness, children, and disaster relief (Keri was the mother of two children, but Anthony was not their father.) However, Keri's sister told a different story to the Tribune.

She told the newspaper that "there had been a history of domestic violence in the relationship," reported the newspaper. "Since Keri and Anthony McClanahan's marriage in January, Keri McClanahan had fled from him a couple of times, her sister said. On one occasion, she returned to her home state of Washington, where her family lives, but later returned to the home she shared with Anthony McClanahan in Arizona.

Recently, Keri McClanahan had 'sought refuge' in Utah, the sister said." According to the Salt Lake Tribune, Keri's sister said that "Anthony McClanahan tried to blame his behavior on injuries he'd suffered while playing football."

In the separate kidnapping case, he was accused in early October of "child kidnapping" in a case in which Anthony McClanahan "is accused of taking his son from school and refusing to release him to the boy's mother," KUTV reported. That case is still pending, but authorities revealed in court documents associated with it that McClanahan had been detained and was a suspect in his wife's murder. Source, Heavy.
Although Schumer remains as self righteous a bracket about immigration as ever, in point of fact, he was part of a group of eight which proposed a bill in 2013 to end the Visa Lottery Program. True, he was perhaps opposed to the Visa Lottery for the same reason that the Republican dominated Capital Hill shot down the bill to end the lottery - because it provided a loop hole in which some Whites, who might not otherwise be able, could actually immigrate to the Unites States despite the anti-White measures of the 1965 Immigration and Naturalization Act.
Either way - "lottery" or sheer "merit" - Trump's proposing a "merit based immigration system" to replace the Visa Lottery is just proposition-nation rigmarole; and in fact, disingenuous: Though he's promised to adopt a system that gives preference to skilled immigrants, in fact he's doing the exact opposite.
NBC News, "Trump: Suspect Entered U.S. in 'Diversity Visa Lottery,' Blames Schumer", 1 Nov 2017:

President Donald Trump said Wednesday that the Uzbek immigrant suspected of killing eight people in New York City with a rental truck entered the U.S. through the "Diversity Visa Lottery Program," and the president accused Sen. Chuck Schumer and other Democrats of having loosened the nation's borders.

Trump did not provide any supporting evidence for the claim about the visa program, which was being discussed on the morning TV program "Fox and Friends" that the president indicated in his tweets he was watching.

"The terrorist came into our country through what is called the 'Diversity Visa Lottery Program,' a Chuck Schumer beauty. I want merit based," Trump tweeted.

At a Cabinet meeting later, Trump said he would work with Congress to end the visa program.

"I am today starting the process of terminating the diversity lottery program. I am going to ask Congress to immediately…get rid of this program," said the president, who called the suspect an "animal." "Diversity lottery — sounds nice, it's not nice. It's not good. It hasn't been good."

Trump continued, "We want people that are going to help our country, we want people that are going to keep our country safe. We don't want lotteries where the wrong people are in the lotteries and guess what? Who are the suckers that get those people? We want a merit-based system."

A spokesman for the Department of Homeland Security later confirmed the suspect in the attack, a 29-year-old Uzbek immigrant named Sayfullo Saipov, had been admitted to the U.S. "upon presentation of a passport with a valid diversity immigrant visa to U.S. Customs and Border Protection in 2010."

After Trump's attacks on him, Schumer shot back on Twitter: "I guess it's not too soon to politicize a tragedy."

In a statement, the New York senator slammed Trump for "dividing America" and called on the president not to follow through on proposed cuts to "vital anti-terrorism funding."

"I have always believed and continue to believe that immigration is good for America," Schumer said. "President Trump, instead of politicizing and dividing America, which he always seems to do at times of national tragedy, should be focusing on the real solution — anti-terrorism funding — which he proposed cutting in his most recent budget."

Schumer also took on Trump in a passionate speech from the Senate floor, asking, "President Trump, where is your leadership?"

The New York lawmaker drew a comparison between Trump's conduct after Tuesday's attack and the way former President George W. Bush responded to 9/11.

Bush "understood the meaning of his high office" in the midst of a national tragedy, Schumer said. "The contrast between President Bush's actions after 9/11 and President Trump's actions this morning couldn't be starker."

The Trump-Schumer back and forth came less than 24 hours after eight people were killed and more than a dozen injured when a motorist in a rented pickup truck deliberately drove down a bike path in lower Manhattan and mowed down several people before crashing into a school bus in what officials said was a terror attack.

Police found a note inside the truck indicating the suspect claimed to have carried out the attack to show his support for ISIS.

In a planned attack which he declared on behalf of ISIL, Sayfullo Saipov rented a pickup truck and mowed down pedestrians and cyclists along a busy bike path near the World Trade Center memorial 31 Oct 2017, killing eight.

According to The New York Times, he had obtained a green card, giving him permanent legal resident status in the U.S.

Trump, in his tweets Wednesday, was apparently referring to the Diversity Immigrant Visa lottery, which was established by the Immigration Act of 1990. That bill was passed with bipartisan support and signed into law by then-President George H.W. Bush.

The program allows the State Department to offer 50,000 visas annually to immigrants from countries with low immigration rates.

Meanwhile, Democrats and Republicans alike hit back against Trump.

Rep. Adam Schiff, D-Calif., the ranking Democrat on the House Intelligence Committee, said on "Morning Joe" that "it was kind of absurd (for Trump)...to be using it as a fulcrum for…this kind of a debate."

New York Gov. Andrew Cuomo, at a press conference later Wednesday, said Trump's tweets "were not factual" and "were not helpful."

"You play into the hands of the terrorists," Cuomo, a Democrat, said when asked for his thoughts on the tweets. "The tone now should be the exact opposite on all levels."

Sens. Bob Corker, R-Tenn., and Jeff Flake, R-Ariz., who have both become vocal Trump critics since announcing they would not run for reelection next year, also took on the president.

"I don't think that brings out the best in our country," Corker told NBC News, while Flake called Trump's response "premature."

"He should express solidarity with those trying to fix this (visa) program," Flake said.

Another Republican defended the diversity visa lottery.

"To be honest with you, I've known a number of people in New York who come in under the lottery system — they've made outstanding contributions, they've become citizens," Rep. Peter King, R-N.Y., a former House Homeland Security Committee chairman, told the Fox Business Network. "So that really is separate from the idea of the vetting."

According to the State Department, diversity visa lottery applicants must meet certain education and work experience requirements, including having obtained "at least a high school education or its equivalent" or "two years of work experience within the past five years in an occupation that requires at least two years of training or experience to perform."

The State Department determines those accepted under the program through a randomized computer drawing, its website states.

In 2013, a bipartisan group of senators, including Schumer, known as the "Gang of Eight" proposed a compromise immigration reform bill that would have eliminated the diversity lottery. The bill did not make it through Congress.
Voice of Europe, "Seven bombings in twelve days in Sweden, what is happening? We ask it Swedish journalist "PeterSweden", 23 Oct 2017:

PeterSweden, real name Peter Imanuelsen, is a Swedish journalist, a YouTuber and a political commentator reporting on news from Sweden. Follow him on Twitter here and subscribe to his YouTube here

Peter, seven bombings in twelve days, what is going on in Sweden?

That is the question I've been asking myself. This is probably the worst I have seen in Sweden so far. Previously we "only" had perhaps 3 bombings a month in Sweden, but now it has really been ramped up. According to Swedish police they think some of these bombings have to do with work they have been doing in "certain" areas. As we all know these "certain" areas are the many no-go zones that now exist in Sweden.

Who do you think are behind these bombings?

Most of these bombings seem to be related to migrant criminal gangs that operate and run the no-go zones in Sweden. But there is evidence to suggest the latest attack against a bar where one person was injured could be terrorist related. The reason for this is that the attacker had religious texts in his backpack and according to a witness he had what appeared to be a suicide belt on him (which police later said was not dangerous).

Any ideas about how the Swedish authorities can stop this epidemic?

In my opinion the obvious solution to stop this epidemic is for the Swedish government to deploy the military into the no go-zones and clear them from these migrant criminal gangs. I very much doubt we will see that happen, at least not now. But the Moderate party, which is one of the opposition parties in Sweden, has actually suggested they want to deploy the military in the suburbs as they call them. At least this is a positive step forward, and a glimmer of hope for Sweden.

How does it feel for you to see your home country in this state?

It makes me incredibly sad. I remember Sweden as it was just 10 years ago. Peaceful. Quiet. Low crime rate. The worst things you had to deal with back then were young kids driving around loudly on mopeds. Today there are bombings on a regular basis. Not to mention the soaring rape statistics and gun crime.

Would you consider going back?

Sweden seems to be turning more and more into a war zone every day, and if you think about it, that's is probably how these gangs feel about it too. They see this as a war in which they are trying to conquer Sweden. I wouldn't advise women to go to Sweden, but you have to remember to never loose hope. The globalist elite want you to lose hope. That's how they win. Never loose hope.

Peter's YouTube video commentary on Sweden's bombing epidemic.
SBDL, "Pittsburgh Is 64.8 Percent White And 26 Percent Black… Between 2010 - 2016, 87 Percent Of Known Homicide Suspects Were Nonwhite", 17 Oct 2017:


This data was compiled by the Allegheny County Department of Human Services.

Between 2010 - 2016, 87% of known homicide suspects were nonwhite (84% black, 3 percent Hispanic or Asian).

In a 65% white city, 87% of homicides between 2010 - 2016 had a nonwhite perpetrator (84% were black).

Not much more to say. Pittsburgh Is 64.8 percent white and 26 percent black.
And not much more you'd better say according to the powers that be. A media gag order on blacks as a source of crime has been in effect for decades. Long time Pittsburgh TV News reporter Wendy Bell tried to buck the convention and report the facts on her Facebook page. She was imparting information that the public needs to know for their safety, but she got fired for not being obedient to black bio power and the YKW who wield it against us.

WTAE fired Wendy Bell because of her Facebook post. (Photo: WTAE)

Yahoo News, "Pittsburgh station fires newswoman over black-on-black crime Facebook post", 1 Aug 2016:

A Pittsburgh TV station cut ties with one of its longtime anchorwomen on Wednesday over a controversial Facebook post that many consider racist.

Wendy Bell, who had been with WTAE for 18 years, had speculated about the likely profiles of the gunmen who killed five adults and an unborn baby at a barbeque in Wilkinsburg, Pa., on March 9.

"You needn't be a criminal profiler to draw a mental sketch of the killers who broke so many hearts two weeks ago Wednesday. I will tell you they live within 5 miles of Franklin Avenue and Ardmore Boulevard and have been hiding out since in a home likely much closer to that backyard patio than anyone thinks," she wrote on Facebook. "They are young black men, likely teens or in their early 20s. They have multiple siblings from multiple fathers and their mothers work multiple jobs. These boys have been in the system before. They've grown up there. They know the police. They've been arrested."

The Facebook post from March 21 has since been taken down, but is preserved in its entirety on the Pittsburgh Tribune-Review's website and elsewhere.

A spokesman for WTAE's parent company, Hearst Television, emailed the following statement to Yahoo News but declined to comment further:

"WTAE has ended its relationship with anchor Wendy Bell. Wendy's recent comments on a WTAE Facebook page were inconsistent with the company's ethics and journalistic standards."

Many people were offended by the Emmy-winning newswoman's post, and characterized the views she expressed as racist and condescending. Her employer agreed.

On March 24, WTAE officially apologized for her words and sympathized with the viewers who took offense to them.

"Wendy has since apologized for what she wrote and acknowledged it was insensitive. Wendy is sorry for the words she chose, and so are we. It was an egregious lack of judgment," WTAE President and General Manager Charles W. Welfertz III said on behalf of the editorial board. "WTAE regrets it happened and is committed to making sure something like this doesn't happen again."

He said WTAE would take appropriate action after a comprehensive examination of the incident.

Wendy Bell @WendyBellPgh

I have removed a post that I initially placed here on Monday. I sincerely apologize for that post about the… http://fb.me/7M9ztMXiQ
11:54 PM - Mar 23, 2016

On the day of her dismissal, Bell told the Associated Press that she did not get a "fair shake" and that the story was about "African-Americans being killed by other African-Americans" — it was not about her.

"What matters is what's going on in America, and it is the death of black people in this country," she said to the wire service. "I live next to three war-torn communities in the city of Pittsburgh, that I love dearly. My stories, they struck a nerve. They touched people, but it's not enough. More needs to be done. The problem needs to be addressed."

Authorities have not made any arrests or publicly identified any suspects in the shooting.

Bell's WTAE Facebook page has been deleted, and her bio has been removed from the station's website.

According to her now-deleted bio, Bell is originally from Calabasas, Calif., has a master's degree from the University of Missouri-Columbia and had worked for WTAE since September 1998.
Chapo Trap House on How Richard Spencer Plays the Liberal Media, 14 June 2017:

Matt Christman

Angela Nagle (7:53): They think (also) that women making the completely voluntary choice to have children with a non-White man is White genocide (laughs) you know, it's just so ridiculous, I mean…

Matt Christman (8:05): interjecting sarcastically: Ah, excuse me, but, "cultural Marxism" much? Frankfurt School?

Angela Nagle (8:10): Laughs uproariously

Matt Christman (8:14): "It's not of their own volition."

Angela Nagle (8:14): laughing

Matt Christman (8:15): Porn! Jewish produced porn has brainwashed them into thinking that big dicks are more pleasurable to have sex with.

Angela Nagle (8:22): Continues to laugh in approval of the sarcasm.

Matt Christman (8:24): They literally believe that by the way.
It has always been theoretically uncomfortable when White advocates white knight or try to counter "the misogyny" of White advocacy on behalf of White mudsharks by suggesting that they are sheerly brainwashed by cultural Marxsim.
I have tended to lay off these arguments as I believe there is truth to cultural coercion and veritable psy-ops of cultural Marxism and demoralization through Jewish porn; and it is a help to take a step away from completely deterministic, objectivist arguments; better still, as opposed to the White genders blaming one another, to look critically at Jews, who have been egregiously critical of us and divisive of White men and women. These angles are true enough to consider along with being helpful to take the pressure off of gender antipathy and to put the social realm and culture (by which I mean rule structured practices) into play.
However, the cultural Marxism angle has always been insufficiently explanatory when dealing with "voluntary" miscegenation and White genocide. The little discourse above provides occasion for correction.
Angela Nagle might believe that outbreeding is not killing European genotypes; here White advocates haven't done that bad in showing that it (coercion that suppresses breeding of a race) can meet with the UN definition of genocide.
Matt Christman might think that all White advocates believe miscegenation and outbreeding is only a result of brainwashing; and maybe some do. But his and Angela Nagle's mockery exposes a puerility and weakness of their own argument, which calls for exploitation through the added sophistication of the hermeneutic circle.
White females, as any females, do have base drives that can incite genetic competition, miscegenation, incline toward strong black men with big weenies (though even I, in my distaste and disrespect for blacks on the whole, would not reduce miscegenation to only these causes) an inclination that can be activated under certain circumstances - particularly by pandering to them in atavistic circumstances such as the disorder of modernity. However, for a self proclaimed leftist, Nagle is making a surprisingly reductionist, liberal, right wing argument in saying "it's completely voluntary." There are definitely cultural rule structures that are encouraging and promoting it; even more significantly, there are heavy taboos against criticizing it; literal laws against taking critical and opposing stances against it. These are cultural/ political violations of even the most reasonable and natural extent for mature White men (and women) to protect their kind.
This would be a part of the pleasure pain matrix that Matt Christman invokes. As White men overcome their right wing reactionary position and adopt the reality of social construction and the hermeneutic circle, they will not have to accept the "way it is-ness" of Matt Christman's "white knighting" on behalf of mudsharks (likely overcompensating pandering for the fact that he is ugly - about as ugly as the typical black woman - and desperate to be in the good graces of Jews, if not part Jewish himself).
But as we step into hermeneutics, we move beyond the tropism of the high contrast porn episode of the gargantuan black weenie and the White woman. But first, porn does some corrective favor in the sense that it is compelled to show that we White men can be quite well hung - so, if that's what a woman feels she needs. Finally, porn does not tend to reveal the fact that blacks are not necessarily heavy hung; I don't need to belabor this point here, except for the fact that their Not having a big weenie does not suddenly make them OK to intermarry with by our estimation. And as a very fundamental point, we are not discriminating against White guys with big Weenies.
Our kind was averse to blacks as children, before sexuality was even an issue, let alone weenies. After that it was the presumtuousness, arrogance, hyper-assertiveness, aggression, brutal antagonism and violence against Whites. Things that the puerile might find titillating, perhaps puerile girls, but not us. Along the way, we noticed subtleties of our female co-evolutionaries which we found compelling; and the physicality of blacks generally displeasing by contrast, let alone their behavior and the fall-out of their way of life.
We did not expect that we would be blamed for everything and told we owe them everything, including those we might hope to be our wives and daughters. We never could have imagined that we would be expected to accept this in servitude. We thought others would naturally think as we do, and though some naive adults thought it was a good idea to integrate us with blacks, when we got old enough, that we would join the rest of normal Whites who want to get away from them and be with Whites.
That didn't happen in any articulate way. And we have to confront not only the fact of cultural Marxism, but that our enemies are playing the objectivist angle where it works against us - heavily now that they've hoodwinked the Alt Right and other large tracts of popular culture to argue against PC and "the left."
We have to confront the fact of thrownness, that our group co-evolutionaries can miscegenate, but by the same token, thrownness, we are thereupon able to invoke and collaborate on cultural rule structures; it is not something that we have to accept as just the way it is, merely a voluntary choice that owes nothing to the tens of thousands of years of evolutionary struggle that went into our differentiation; along with its hundreds and thousands of years of social capital.
Even if they argue that some black guy might provide a more pleasurable moment and episode than some White guy, might be more confident (and coherent of identity, in part as a Jewish backed thug coalition) in the Jewish provoked disorder of modernity, where the rule structure of our guard and classificatory boundary is down, we can easily counter that plenty of us White guys are going to provide not only quite fine moments, but as we rebuild our full class, a far more pleasurable and satisfying way of life than the blacks manage.
With that, rather than mocking and laughing at the servitude of black interests that has been imposed upon White men, we will be having the last laugh as we send miscegenators and their half cast broods to live with blacks and the way of life that they create. They will either accept that or the recognition that they are indeed the supremacists and slave masters who need to be overturned by any means necessary. Do you know Angela and Matt, a White guy might not want to be a slave, paying for the babies of the mudsharks who destroy the genome bestowed them through tens of thousand of years of struggle, might just find a White woman's face and skin color more appealing, a European's way of life more pleasurable.
Angela Nagle claims to be open to talking to people who are dealing in topics forbidden by PC. We have offered to talk to her and that remains a standing invitation.
More indication that Jews are favoring objectivist arguments against "the left" and using the Alt-Right and Lite to that end.
Stefan Molijew, er eaux (19:25): Again, I'm sort of paraphrasing from my perspective, which is that if you have a free market then the most intelligent will generally gather the most resources, become the wealthiest and therefore have the most children. And this is exactly how Jewish intelligence, particularly in language skills, verbal intelligence, has advanced so significantly; the most intelligent Jews had the most children and then you get a whole bunch of Ashkenazi Jews, you get a bunch of very intelligent Jews, I mean this is just how it works, this is evolution.


(49:00) I have a question for the media, how many Jewish experts does it take to overturn the hearsay of one non-Jew. Is it five Jewish experts versus one non-Jew, is it ten…I'm just curious what the ratio is because that seems pretty anti-Semitic to me. ..how many Jews do you have to stack up to overturn the hearsay of one non-Jew? if it's more than one, you might be an anti-Semite.